Aaaaaaand we're already on the 5th installment of The Halal Food Blog's #RamadanHop series! Have you been participating in the contests on our Facebook and Instagram accounts? Throughout the month, we will be featuring a total of 10 different eateries, each with their own FEATURED DISH!
What's the prize for the contest? You stand a chance to win a 3D2N trip for 2 to Bangkok!! So keep updated and look out for the information at the end of the post and be sure to take part to stand a chance to win!
Ah Dong, oh Ah Dong, where have you been all my life? LOL
It took me just one visit to Ah Dong and I was already hooked and making plans for my next visits. How could I have missed out on such a gem for so long? And does this mean that a lot of you have also not yet had the pleasure of visiting Ah Dong Teh House? It's got so much great food and it's open til late!!
Well, there's no better time than now! And you're probably gonna get hooked like me 😛
Besides their SUPER EXTENSIVE MENU, they also have THREE special 'Seafood Galore' dishes just for the month of Ramadhan and guess what – they are totally worth checking out!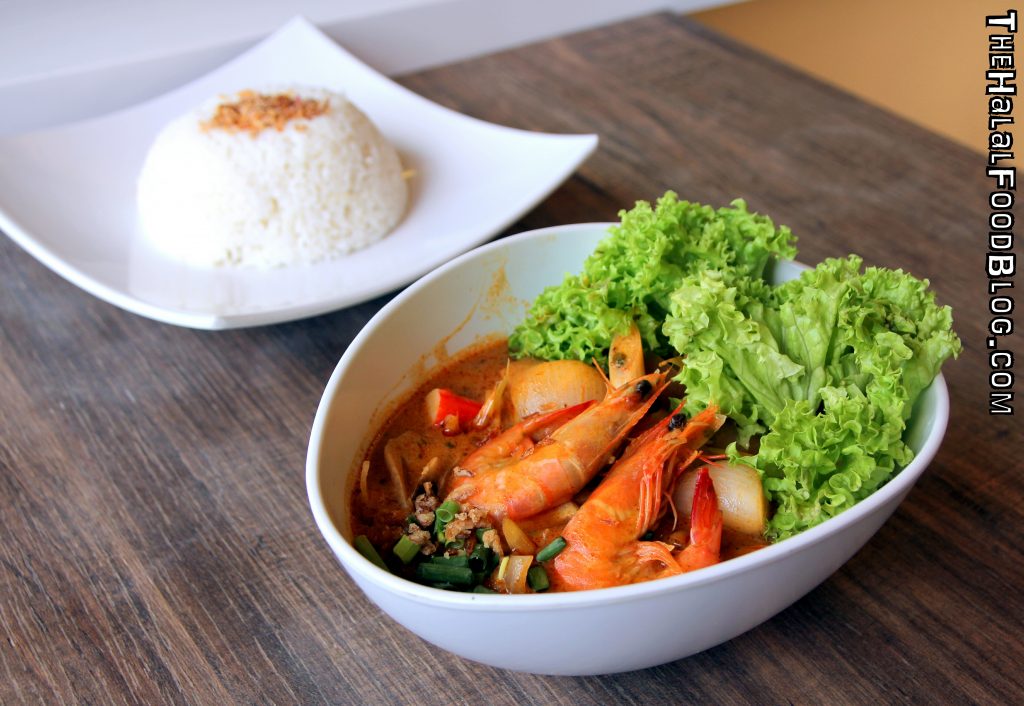 The first entry in the 'Seafood Galore' trio of dishes is the Tom Yum Seafood with Rice – a simple yet satisfying meal that really hits the spot! After all, sometimes, simple is best.
But when I say simple, I'm just referring to the combination of a plate of rice and a nice bowl of hot Tom Yum Soup with all the goodies! The Tom Yum Soup itself is actually anything but simple once you start to dig in.
The Tom Yum Soup on its own is actually super tasty. It's got a good Tom Yum flavour that's soooo addictive. Once you start, you will literally keep going back for more. Sipping straight from the spoon or savoring it with the rice that comes with. The Tom Yum soup is more on the thicker side which is probably why the flavours are so bold. Power!!
And of course, I haven't even started on the seafood goodies you'll find! You've got fish, squid, prawns, crabsticks and mushrooms – everything you need for a hearty serving!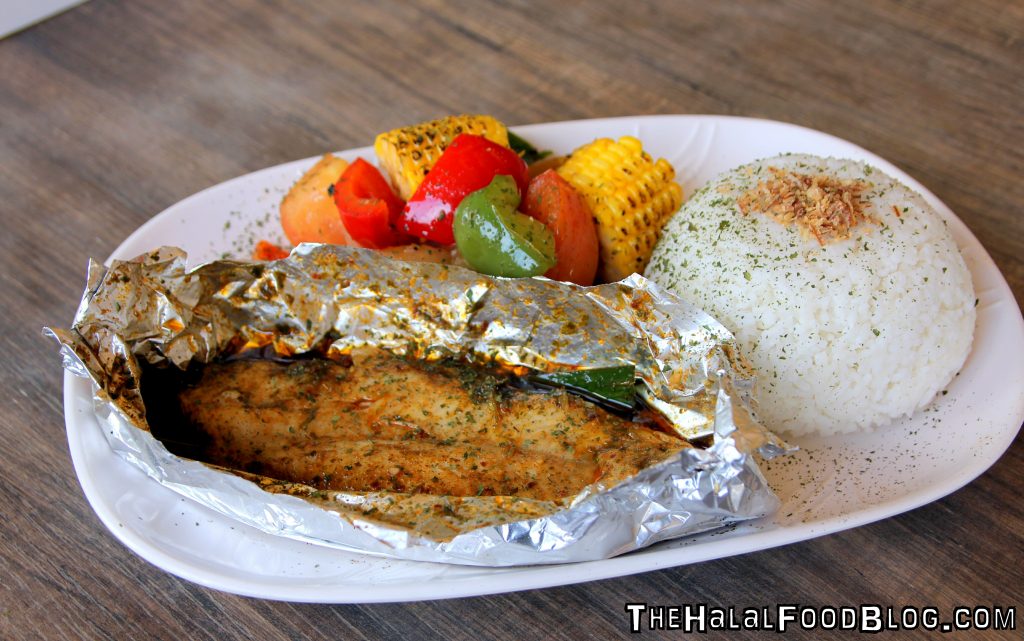 All you Thai food fans still looking for more Tom Yum? Good news – the 2nd dish in the 'Seafood Galore' menu is the Tom Yum Baked Fish!
Served with white rice and some veggies on the side, this is perfect if you're looking for something that's got a stronger Tom Yum flavour and also, if you're a fan of just fish then this is the one for you. The Tom Yum flavour is more profound here probably because the ingredients are more concentrated so the fish really absorbs the flavours especially when it bathes in it while baking.
The Dory fillet is actually pretty generous too so you can actually consider ordering this on the side for sharing while ya'll order another main for yourselves too.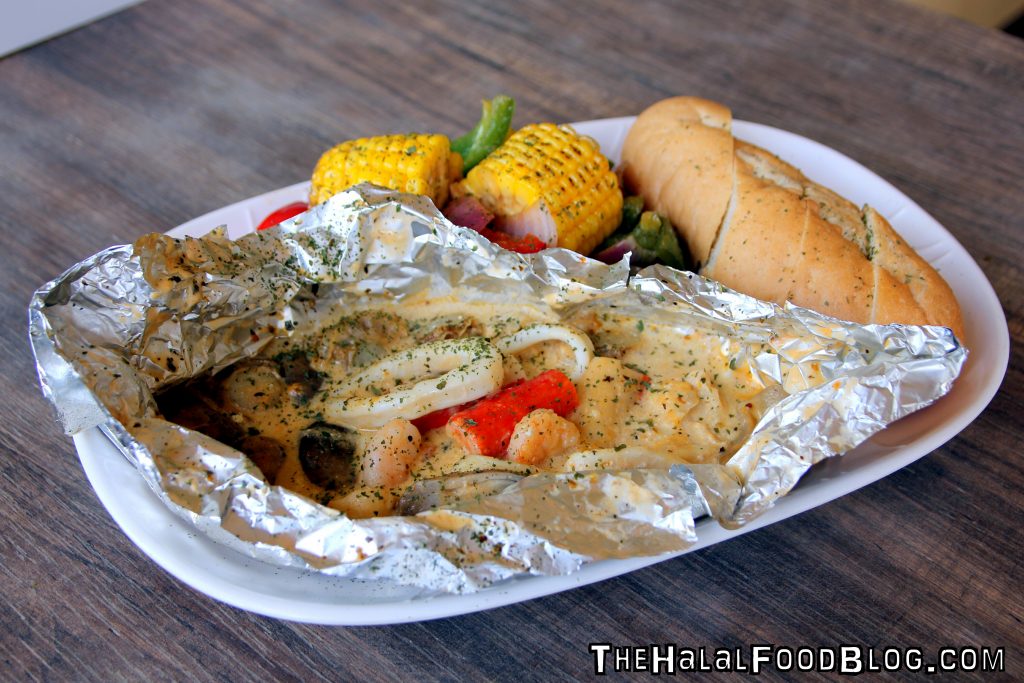 And the last (but definitely not least!) dish in the 'Seafood Galore' trio is the Italian Braised Seafood. Taking a shift away from the Tom Yum flavours of the first 2 dishes, this one is more of a creamy dish and it's also served with bread instead of rice.
A whole host of seafood (and other goodies) is wrapped in foil and cooked. The ingredients end up tender to the bite thanks to a good braising and of course, all those flavours are swimming in there just waiting to be mopped up with that bread.
Prawns, squid rings, crabsticks, fish and some mushrooms (yes, like the Tom Yum one but not Tom Yum lah LOL) make up the seafood party and they're all swimming in this delicious creamy gravy. Think of it as… a cream and herb gravy – perfect to go along with seafood!
And of course, perfect for mopping up with the soft loaf of bread that comes along with the dish.
Wahhhh super shiok!
But as always, we had a few more dishes for good measure 😛
There are really SO MANY good options on the menu at Ah Dong Teh House!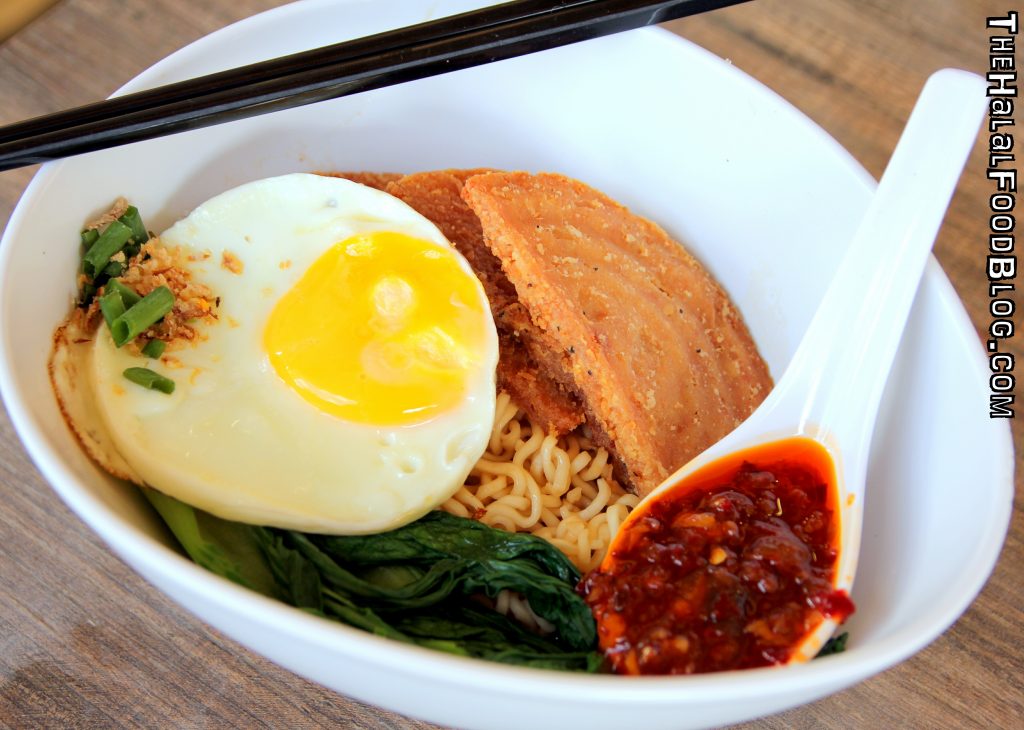 A dish I am quite a sucker for is those HK-style noodles. You know the instant noodles type with the meat and veggies on the side. Oh! And don't forget the egg! Well, Ah Dong Teh House has a few variations but I went with the classic one!
HK-style instant noodles paired with slices of Chicken Luncheon Meat (swoon!), some veggies and a fried bullseye egg on the side for good measure and you're all set! But Ah Dong has a special component that you probably won't get anywhere else!
There's a special Sambal that comes with your noodles. It's SUPER SHIOK and really makes a difference! Gives your noodles that extra flavour kick for sure! But don't worry – it's shiok but it's not super spicy. It kinda reminds me of Hebe Hiam aka the dried shrimp sambal to a certain extent but this one is a little different.
Well, I don't know exactly what's in it but it is super sedap and I reckon I'm probably gonna have this a few more times when I next visit Ah Dong The House LOL 😛
By the way, they also have Grilled Chicken Chop Noodles, Grilled Salmon Noodles, Cheez Sausage Noodles (good for the kids!), Seafood Noodles and one of the popular ones is the Ah Dong Curry Chicken Noodles. All can be either soup or dry (I always go with dry by the way)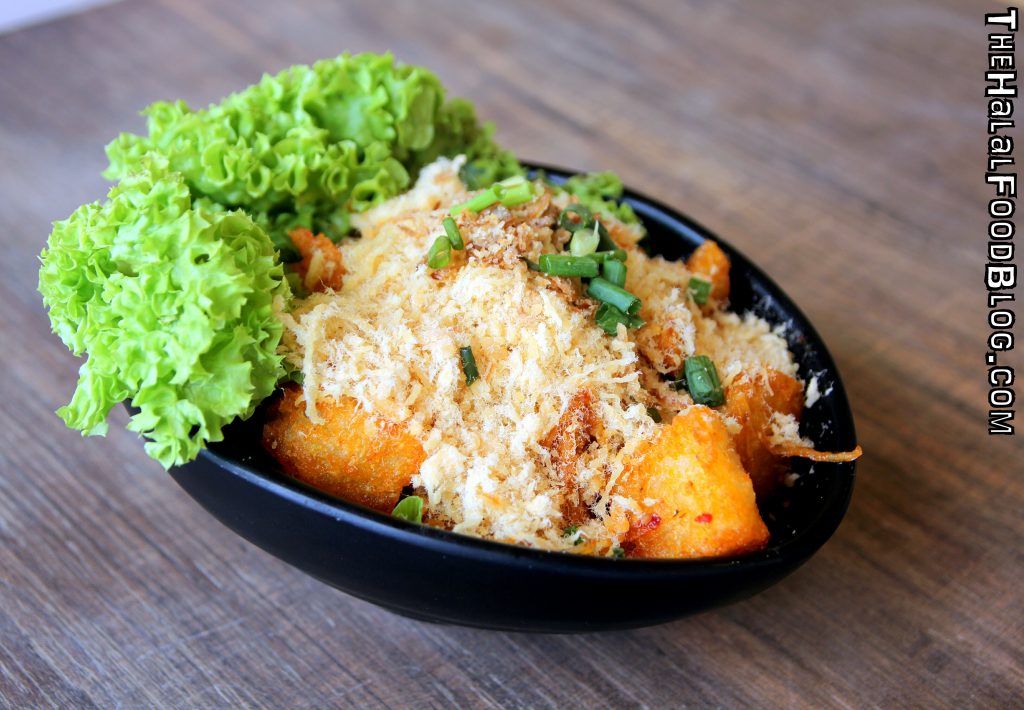 Have we mentioned that Ah Dong Teh House's menu is super duper extensive? It's got noodles, porridge, Wok-fried dishes, rice dishes, sizzling hotplate dishes, Western dishes and even Seafood platters too! And so much more!!
But their Starters section is probably where I have the biggest problem when it comes to choosing… because they all look so good! LOL
But if I had to choose just one, it would be the XO Carrot Cake for sure!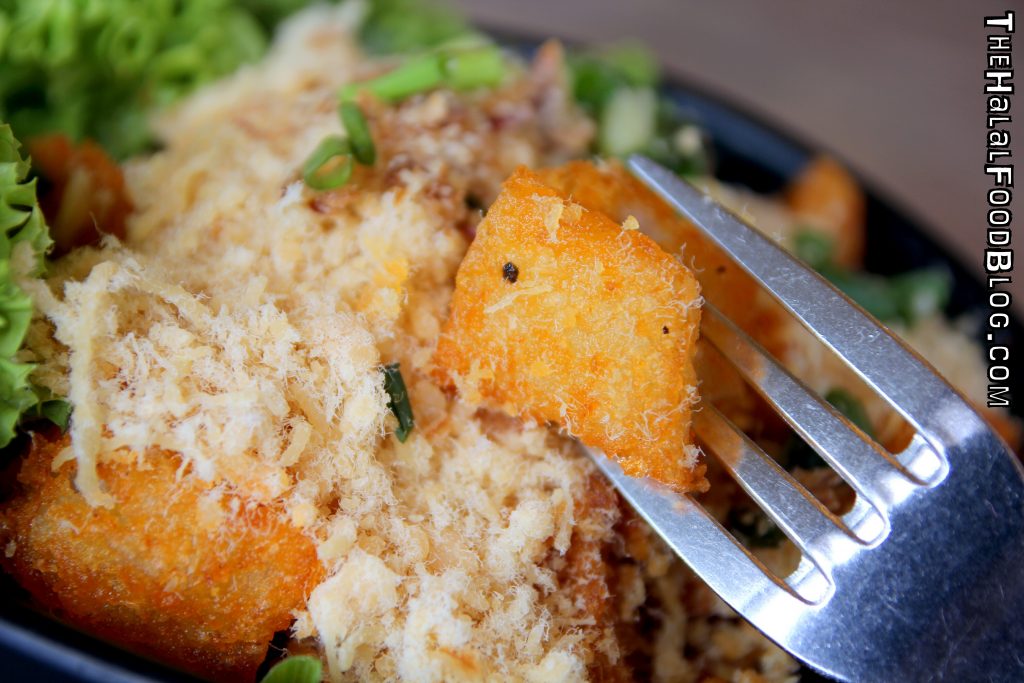 For those of you who may not be aware – don't panic okay. When they say XO, they are not referring to the liquor okay LOL it's actually referring to a very special sauce that originates from Hong Kong. I'm sure you've heard of it. Does XO Fried Rice or XO Fried Noodles ring any bells with you? (They also have those on the menu at Ah Dong too by the way!)
Well, XO Sauce is a seafood-based sauce. We're talking about stuff like dried scallops, fish and shrimps and, of course, chilies. You may see non-Halal versions but there are definitely Halal versions of XO sauce on the market.
The XO Sauce is probably what pushes the XO Carrot Cake to become so power. It's got a very distinct flavour and you can really enjoy it as you bite into the fried cubes of carrot cake. As an added bonus, they throw in some chicken luncheon meat cubes in there too! AND ON TOP OF THAT – they also crown the dish with a whole load of fish floss OMG it's so sedap!
No matter what mains I order at Ah Dong, I can guarantee you I will definitely order (at least) a serving of this XO Carrot Cake. You try it once and you will see why I love it so much!
Order some of the Seafood Galore + XO Carrot Cake = Settle the Kettle!

Here is your chance to win a 3D2N TRIP FOR 2 TO BANGKOK!!
We have contests running on both our Facebook and Instagram pages after you enjoy the Seafood Galore Menu at Ah Dong Teh House, be sure to take part in the contest!
HOW TO WIN ON INSTAGRAM
Visit the featured restaurant during the specific promotion period
Snap a photo of the FEATURED DISH and post it on your Instagram account, tag 5 of your friends and include the caption "Like my post and help me win #RamadanHop <tag 5 friends>! Thank you @thehalalfoodblog, #SendMeToBangkok"
Be sure to tag @thehalalfoodblog and the participating eatery in the post
Leave a comment on The Halal Food Blog's original post to let us know you've done the step
Be sure to set your Instagram profile to 'PUBLIC' so that your entry can be viewed (Private profiles will not be eligible)
At the end of the contest period, The Halal Food Blog will choose the most creative entry as the winner of the 3D2N trip for 2 to Bangkok!
HOW TO WIN ON FACEBOOK
'LIKE' this post on Facebook
'LIKE' the participating restaurant's Facebook page (they are tagged in each post!)
SHARE the article on your own Facebook page with the caption –
"Check out these #RamadanHop deals from The Halal Food Blog. Like this post #SendMeToBangkok guys, <tag 5 friends>!"
Be sure to set the Shared post to 'PUBLIC' so that your entry can be viewed (Posts not set to Public will not be eligible)
Leave a comment on The Halal Food Blog's original post to let us know you've done the step
At the end of the contest period, The Halal Food Blog will choose the most creative entry as the winner of the 3D2N trip for 2 to Bangkok!
So what you need to do now is head to our Facebook page and Instagram accounts, look for the relevant post and follow the instructions! Just a few simple steps and you could be a winner!! Take part in both the Facebook and Instagram contests to increase your chances of winning! Get all your friends to participate too! (And make sure they bring you to Bangkok if they win okay 😛
The prizes will be individual for the Facebook and Instagram contests. This means that there will be TWO WINNERS for this contest! One winner on Facebook and one winner on Instagram! Each winner will be walking (or in this case, flying!) away with a 3D2N trip for 2 to Bangkok! So start prepping yourselves for a super exciting month ahead filled with great food, great prizes and great times ahead! Woot Woot!!
Selamat berpuasa and all the best for the contest!!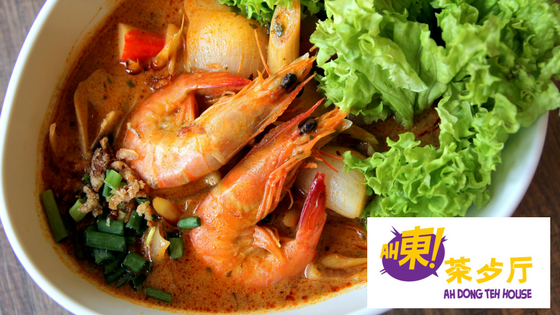 All information (including prices, availability of item on menu and Halal status of establishment) are accurate at the time of posting. All photos used in this site are property of The Halal Food Blog unless stated otherwise.