**UPDATE 29 DECEMBER 2015**
This post was originally put up as a review of dish called 'Mee Racun' at Pondok Upeh in Asli Village.
After the post was put up, a few of our readers started pointing out that the dish in the photos seemed to be Mee Bandung instead of Mee Racun.
Later that same day, The Halal Food Blog received a message on Facebook from the good people at Pondok Upeh to clarify that indeed it seems like we had been served the wrong dish. So instead of Mee Racun, we were in fact reviewing Mee Bandung instead.
To be fair, we have amended the review to reflect the correct dish – Mee Bandung – instead of Mee Racun.
Thanks to our beloved readers and to Pondok Upeh for clarifying the details. Insya Allah one day we will drop by again and hopefully get to review the correct dish next time! 🙂
******************************************************************************
Pondok Upeh has been open at Asli Village in Downtown East for the longest time. In fact, it's been there since Asli Village first opened if I am not mistaken and that's like really really long ago lah.
The dish featured in this review is one of the many noodle dishes offered at Pondok Upeh but it is arguably the most famous one there. Not only have I personally seen it on the menu and many people ordering it, quite a number of my friends have also recommended that I try it.
But of course, the problem is that the closer something is to you, the longer you seem to take to visit. I live in Pasir Ris and all these years I have known about this dish and I kept saying "Okay okay next time next time". Well, the time is now!
But alas, fate was against us and even though we ordered the Mee Racun, we somehow got the Mee Bandung instead! Oh well…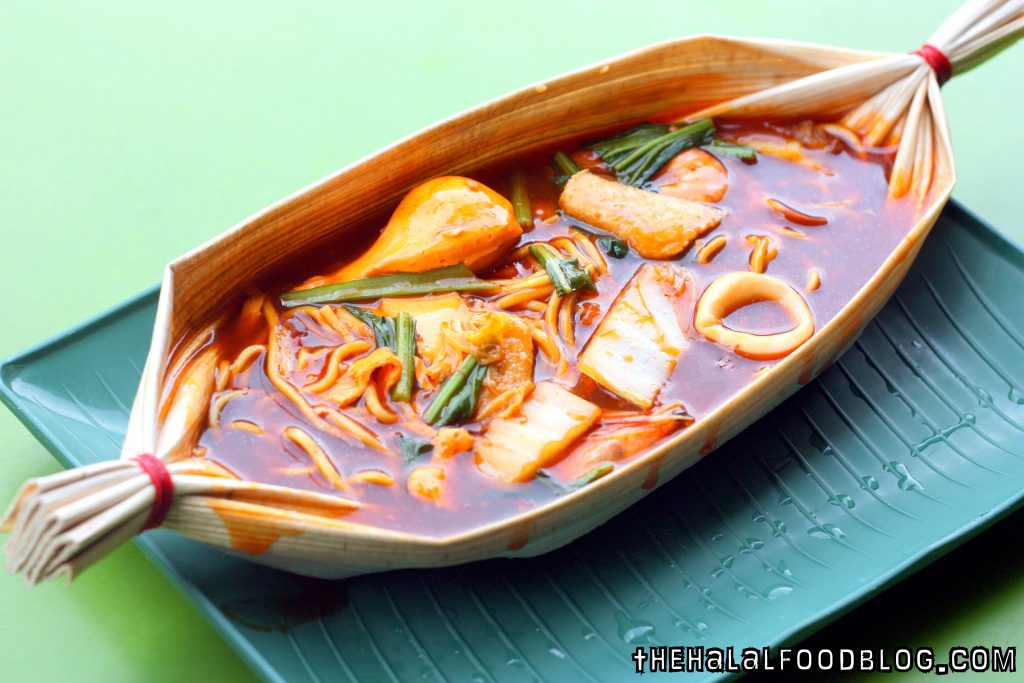 Firstly, we'd like to point out that the signboard says $6.50 but we paid $7.00 for the dish.
Either someone forgot to update the price on the signboard or we unknowingly upsized our meal LOL no big issue.
Next thing is that we notice you can actually choose the noodles you'd like for your Mee Bandung. We saw Kway Teow, Bee Hoon and also some other noodles (kinda instant noodles type) but for some reason, we were not told when we ordered so we got the default of yellow noodles.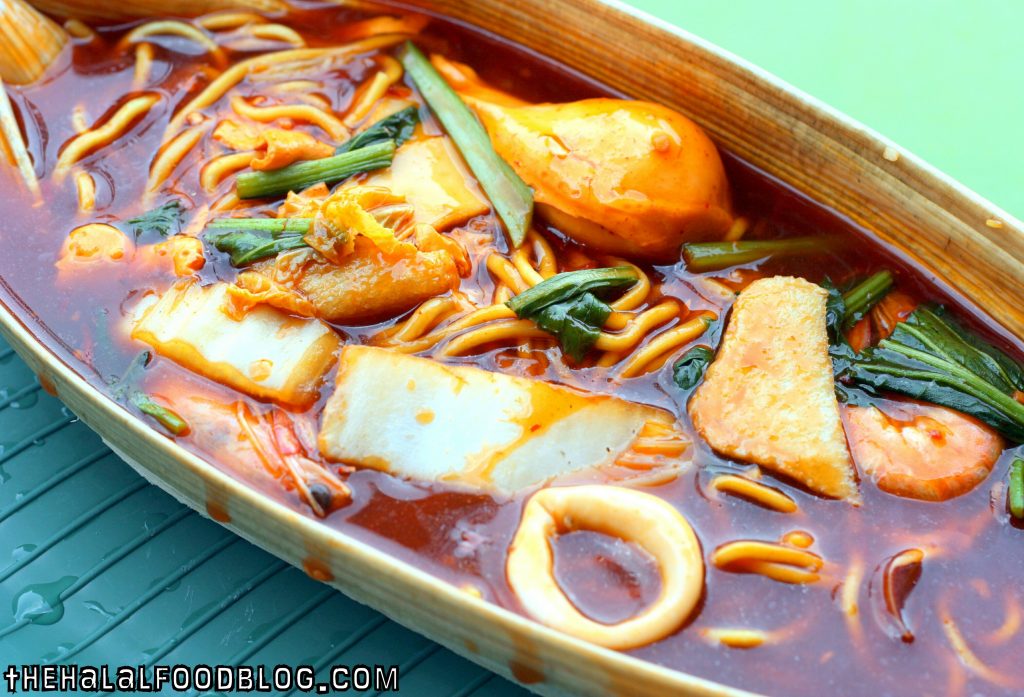 The is actually quite a lot of stuff that goes into the dish which is probably why it's priced on the high side. There's fish cake, squid, prawns, veggies and an egg that was unfortunately cooked all the way through so it became a little bit tough.
But alas, despite the generous serving, the flavour of the dish itself left a lot to be desired if we may be honest.
The kuah (gravy) itself looks like it might be pretty tasty and maybe even on the spicy side especially with the bright red colour but unfortunately that is not the case. The gravy was bland. Totally lacking spiciness and flavour and somehow the taste you will detect is that of chili sauce 😐
Even serving it in the traditional Upeh didn't have much of an effect on this occasion.
I guess to be perfectly honest, this wasn't like any Mee Bandung we'd tried before. It seemed more like a chili-based Seafood Noodles or something like that.
Adam's Verdict:
Mee Bandung 1.5/5
Maryah's Verdict:
Mee Bandung 1/5
Mum's Verdict:
Mee Bandung 0.5/5
Maybe we came on the wrong day and the regular chef was out because I don't think so we got the real McCoy when we visited.
Well, I guess we can file this under "Need to go back and try again".
Asli Village @ Downtown East
Pasir Ris Close
Tel: 8372 4719
Instagram: pondok_upeh_singapore
Operating Hours:
11.00am til 11.00pm Daily

All information (including prices, availability of item on menu and Halal status of establishment) are accurate at the time of posting. All photos used in this site are property of The Halal Food Blog unless stated otherwise.