Do you remember that old Pondok Gurame TV commercial?
"Deng deng deng deng deng deng deng deng GURAME!" with those ladies dancing in their traditional costumes?
That commercial has been stuck in my head since I was a kid! And so are the memories of Pondok Gurame over the years. Since our first visit to their outlet at Roxy Square and then over to the old Marine Cove and then we didn't hear about them for quite awhile.
Well, we recently heard that they are now located at Big Splash East Coast Park and that means only one thing…
"Deng deng deng deng deng deng deng deng GURAME!"
We were invited down by Pondok Gurame to try some of their signatures and also some new dishes. We enjoyed it so much that we actually went back again for dinner the next week! So the dishes you see below are a mixture of the first and second visit.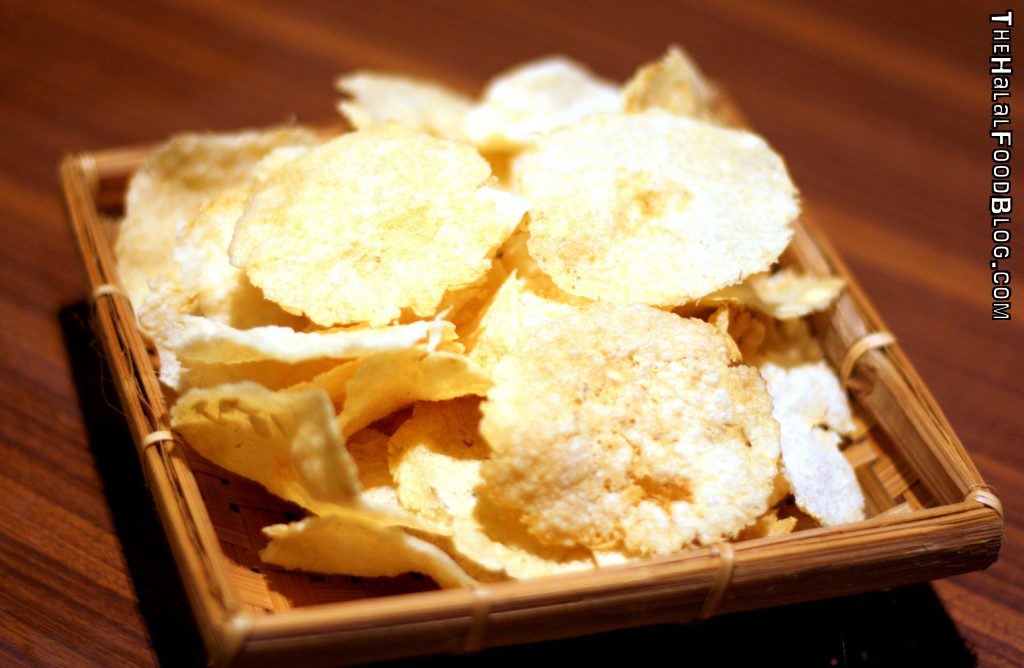 We were expecting the usual Indonesian restaurant appetizer of Emping Belinjo but we were pleasantly surprised by the Garut. What exactly is Garut you're asking? Well, it's actually Arrowroot crackers!
You might have tried them before but it's actually pretty rare that we come across it let alone in an Indonesian restaurant. They tasted great and were actually very light and a great start to the meal.
Even our Little Princess was enjoying them to the max LOL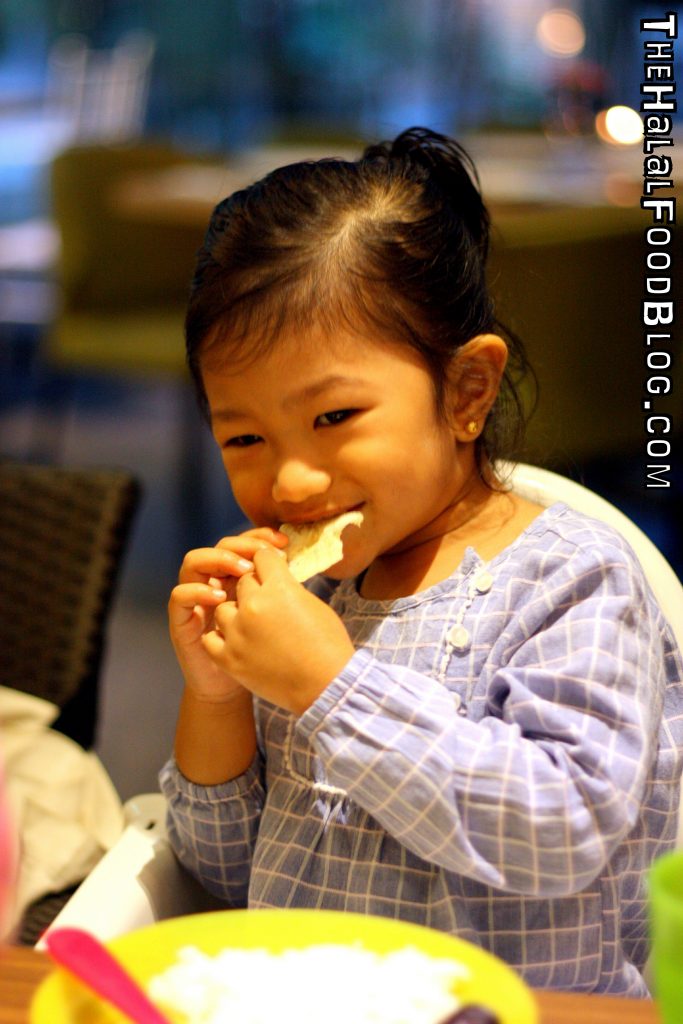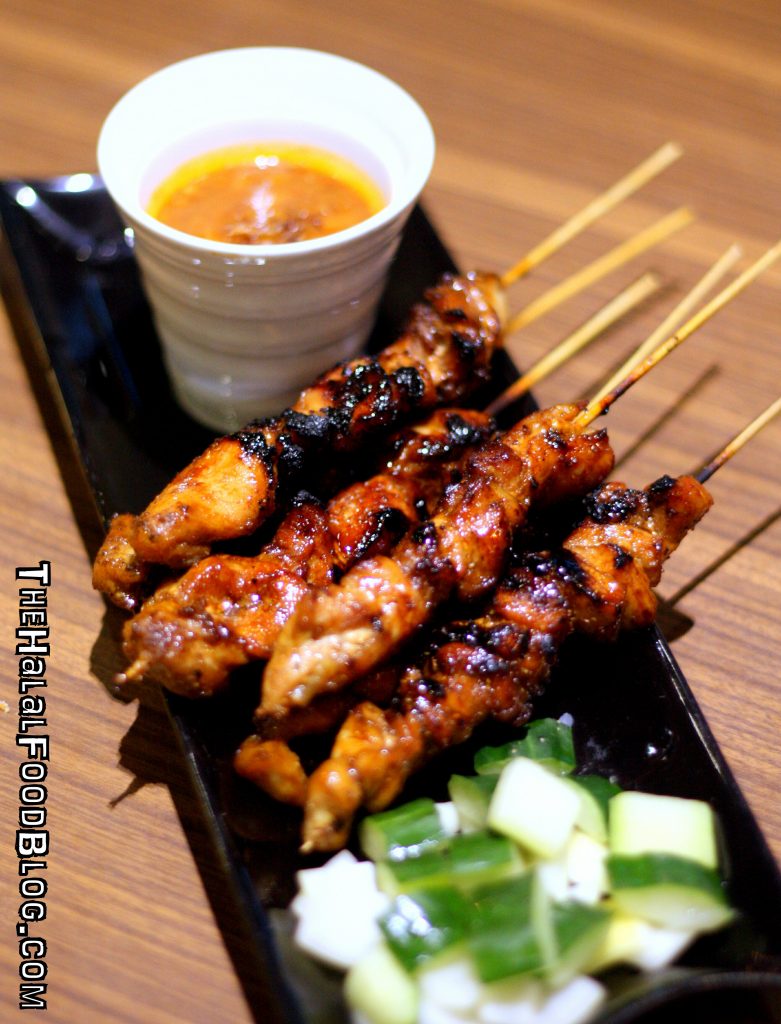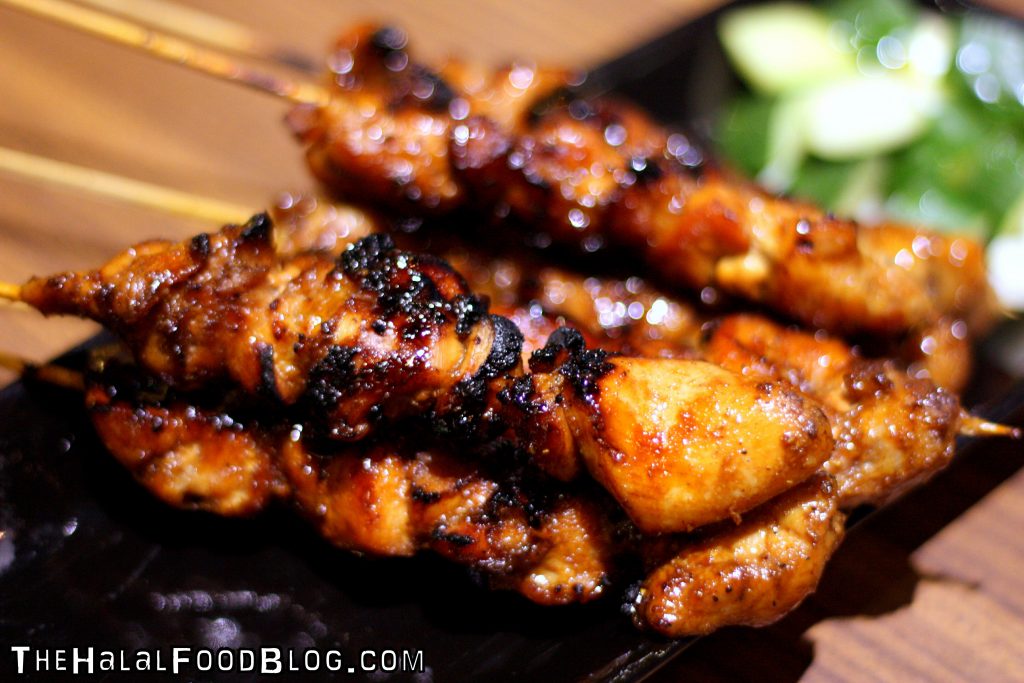 If you're looking for a great starter to your meal then Sate is always a great choice. The Sate Ayam at Pondok Gurame is tender and grilled to order so you get them nice and hot. Enjoy with other dishes or on its own because it's really quite good! In fact, each serving has a 1/2 dozen skewers of Sate and you may very well end up ordering more!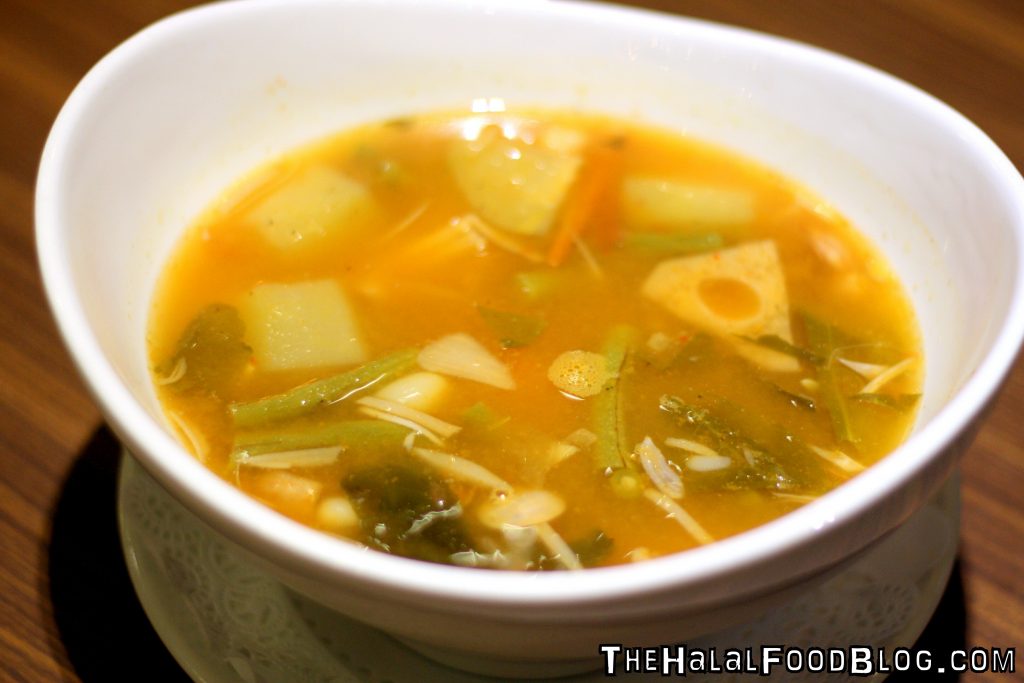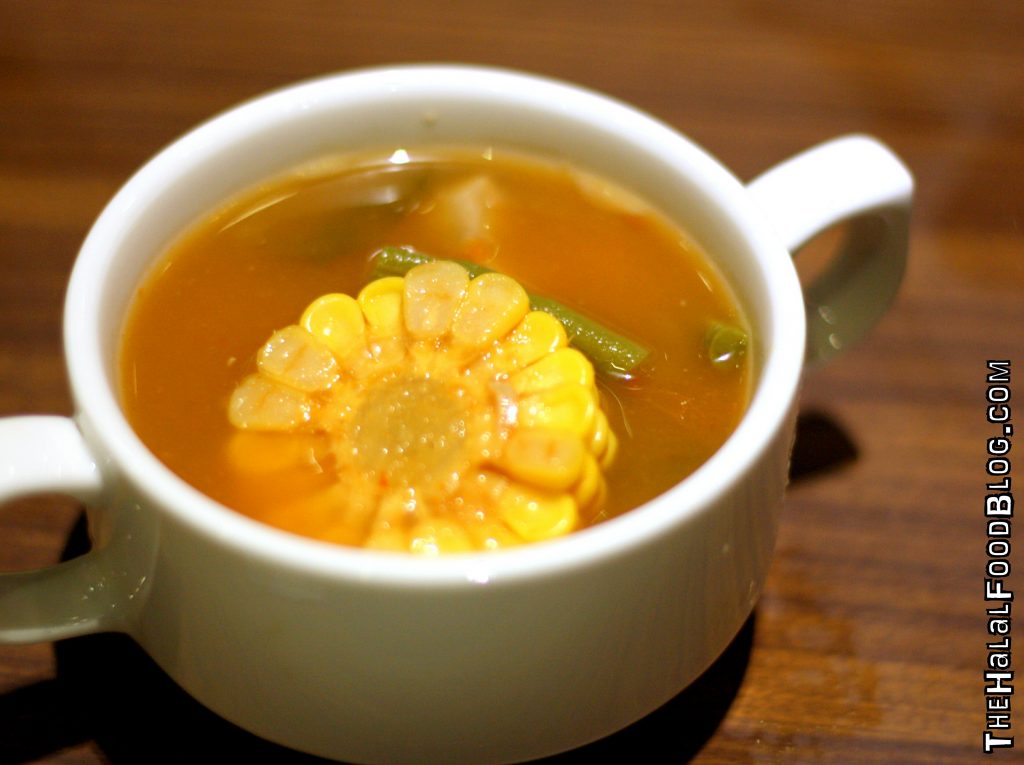 Sayur Asam is a personal favourite of mine and I always order it when it's on the menu. And how did it become my favourite? Well, the first time I had it at Pondok Gurame as a kid and it's stuck with me ever since.
And after all those years, it's still the bomb! It's got all the usual suspects in there.
Nangka Muda (young Jackfruit), squash, corn, cabbage, long beans, peanuts and belinjo all bathing in a sour and hearty soup. Power to the max!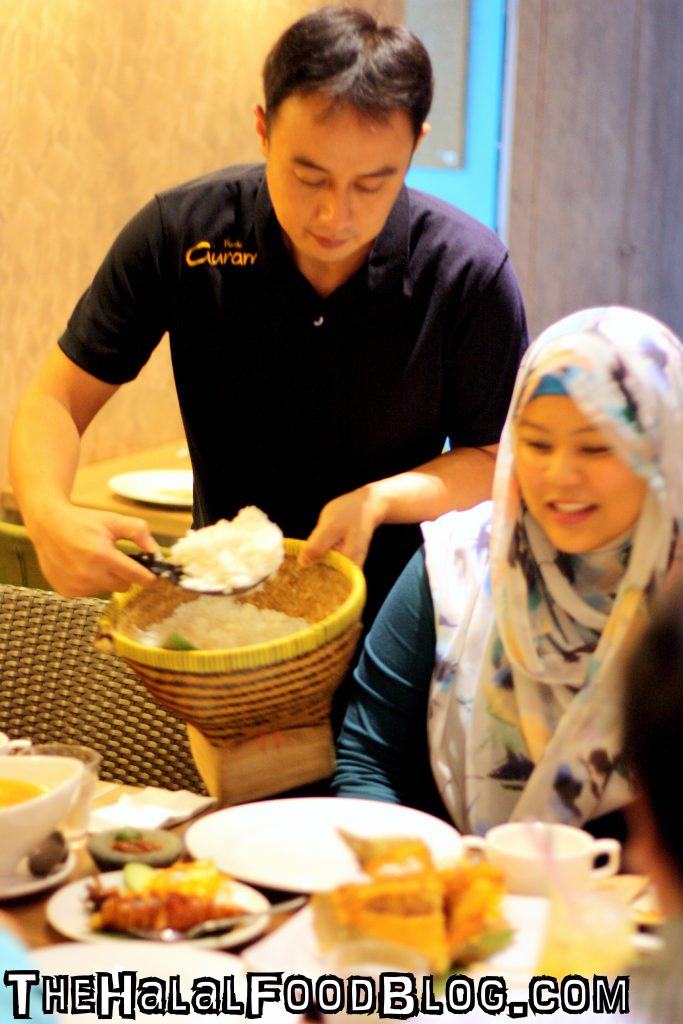 Say hi to Shams from Halalfoodhunt.com everyone LOL
Rice is always a good idea to enjoy all those dishes you order at Pondok Gurame. I love it that they still dish it out for you from these little baskets.
But if you're looking for something a little bit more level-up from plain White Rice, they have other choices on the menu too like Nasi Goreng, Nasi Kunung, Mie Goreng Spesial and Beehoon Goreng Spesial but we decided to try something we'd never even heard of on our second visit.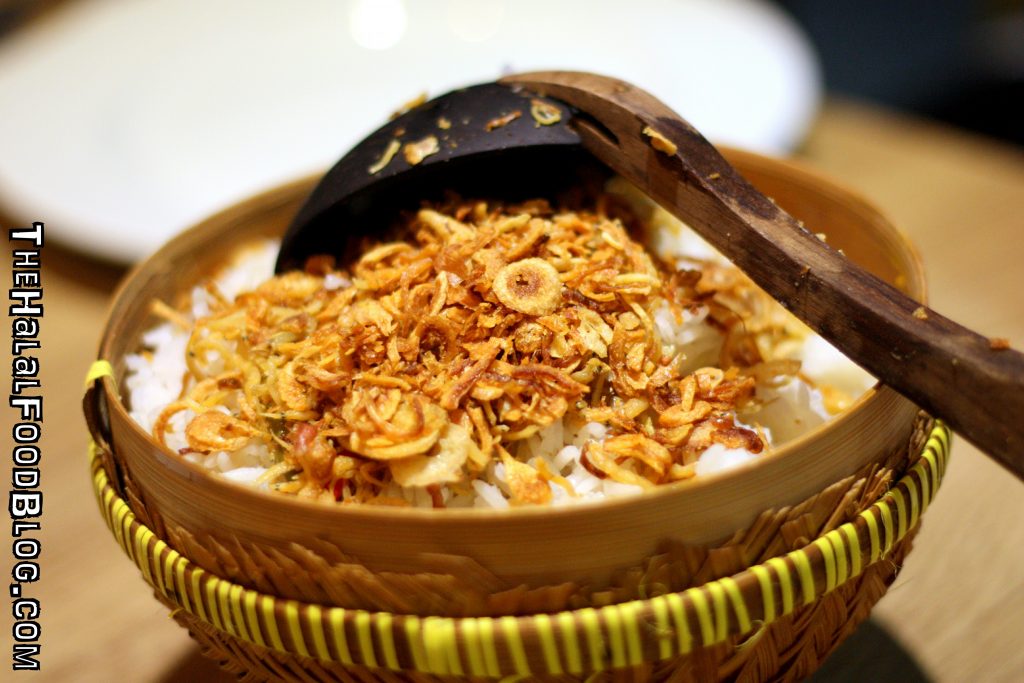 Nasi Liwet is actually rice that has been cooked with coconut milk and some spices like Daun Salam and Serai so you know that's going to have such a great fragrance and an even better flavour.
Definitely tasty and something different from the normal white rice. Each basket serves about 2-3.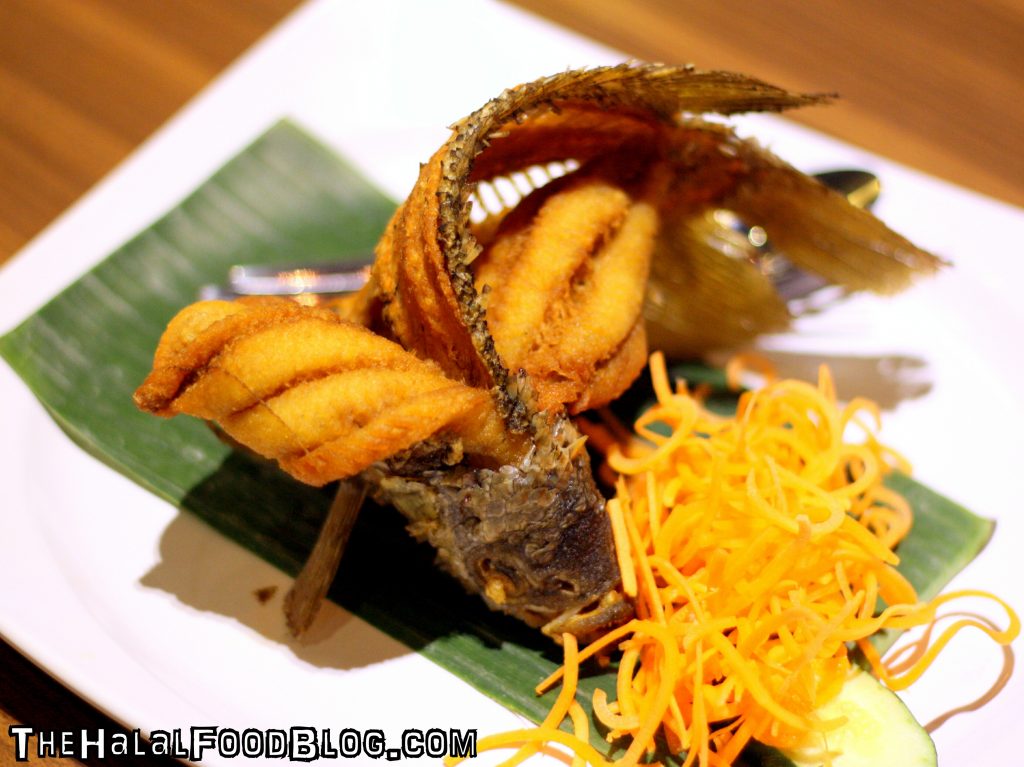 Without a doubt – the signature dish of Pondok Gurame is the Gurame Goreng.
Even the initial impression when you see it will be one of awe – a dancing fish ready to be enjoyed!
They have a few variations of the Gurame you could have. Gurame Bakar (which you will see a little later), Gurame Mangga, Gurame Sambal Balado and Gurame Sambal Hijau are all on the line-up but I think that Gurame Goreng is probably the first choice for a lot of people when they visit.
The fish is obviosusly super fresh because they are literally swimming about in the pool outside just before they get scooped up, prepared and deep-fried when you order. Can't get more fresher than that can you LOL
Minimally seasoned so you can enjoy the fresh and clean flavour of the fish that has been fried to a golden brown crispy perfection.
In fact, they deep fry it to the point that you can even chomp down on the bones!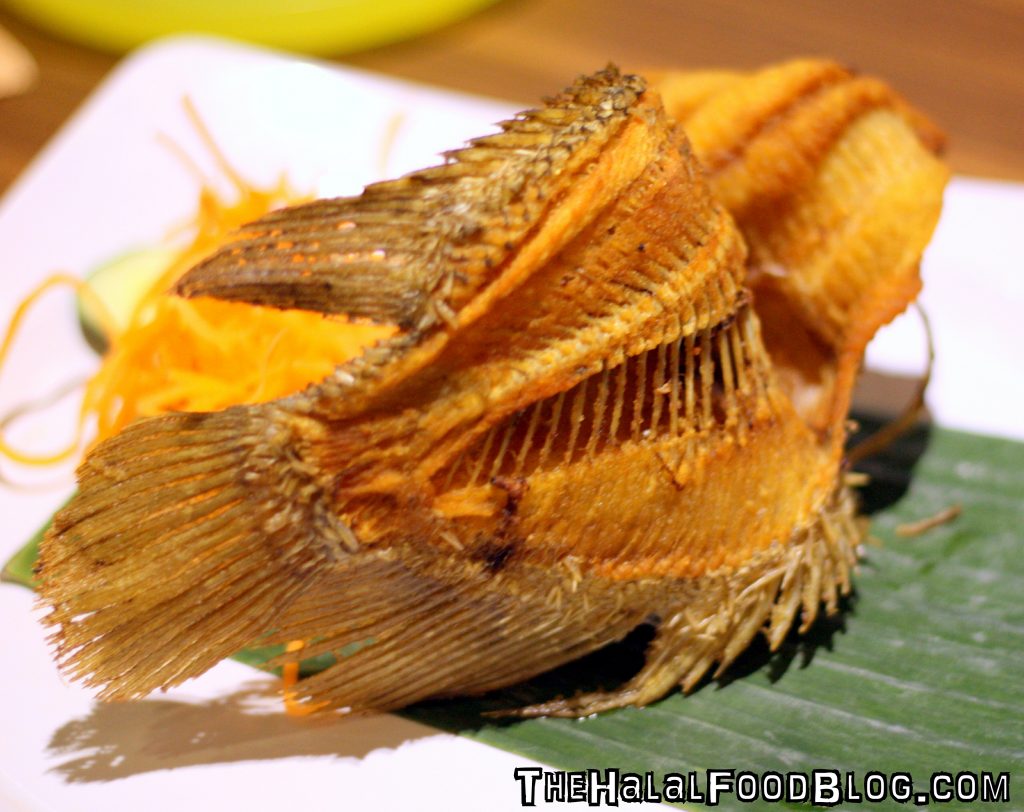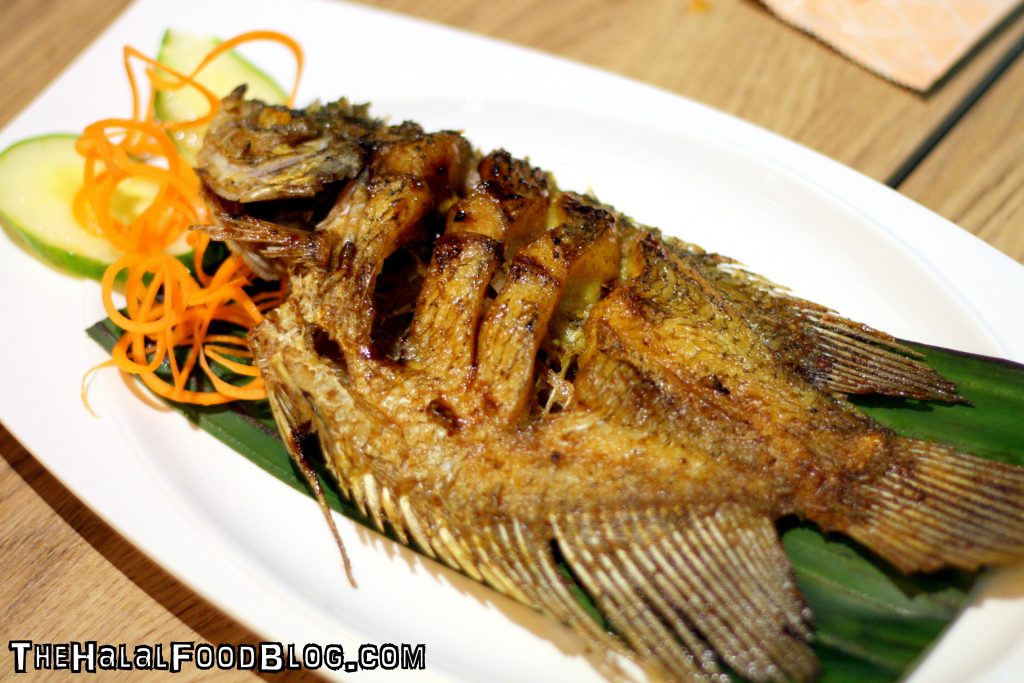 We did try the Gurame Bakar for good measure and also as a change from the usual because we pretty much ALWAYS order the Gurame Goreng hehehe
The Gurame Bakar is grilled to order and is also seasoned simply but since it is not deep fried, the flesh is a bit more tender thanks to the magic of the grill.
But personally, I can't help but think that we will probably go back to ordering the Gurame Goreng in the end even though the other variations on the menu do seem inviting.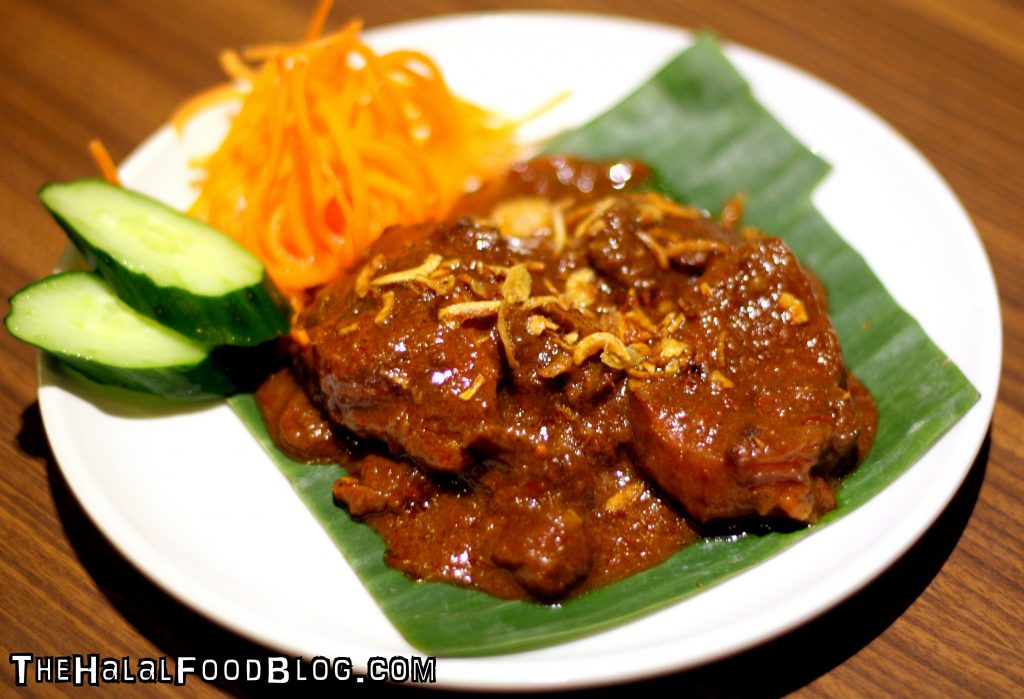 And speaking of dishes we will probably be ordering the next time, the Rendang Sapi is definitely on that list!
Super tender beef shank cooked in a super tasty and sedap Rendang gravy that brimming with spices and coconut flavour.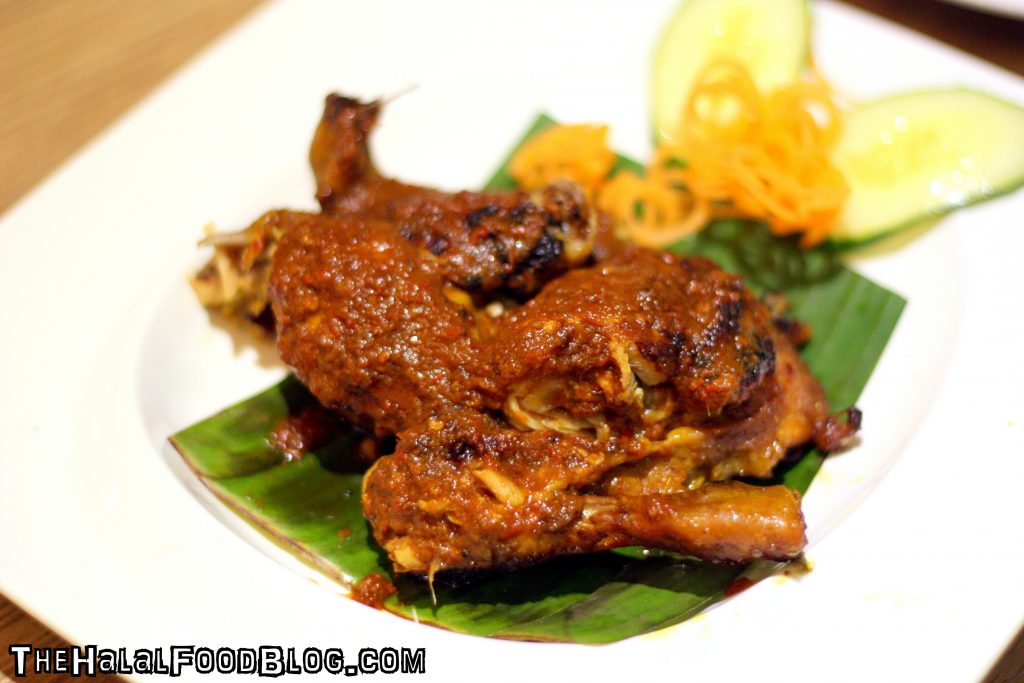 If you've gotta have a serving of chicken with your meal then the Ayam Bakar is definitely up for consideration.
It's a half spring chicken that's been char-grilled so you have that great smoky flavour and then topped off with a special spicy Pondok Gurame sauce.
They also have Ayam Penyet, Ayam Kalasan and Ayam Bogor by the way so you've got plenty of choices.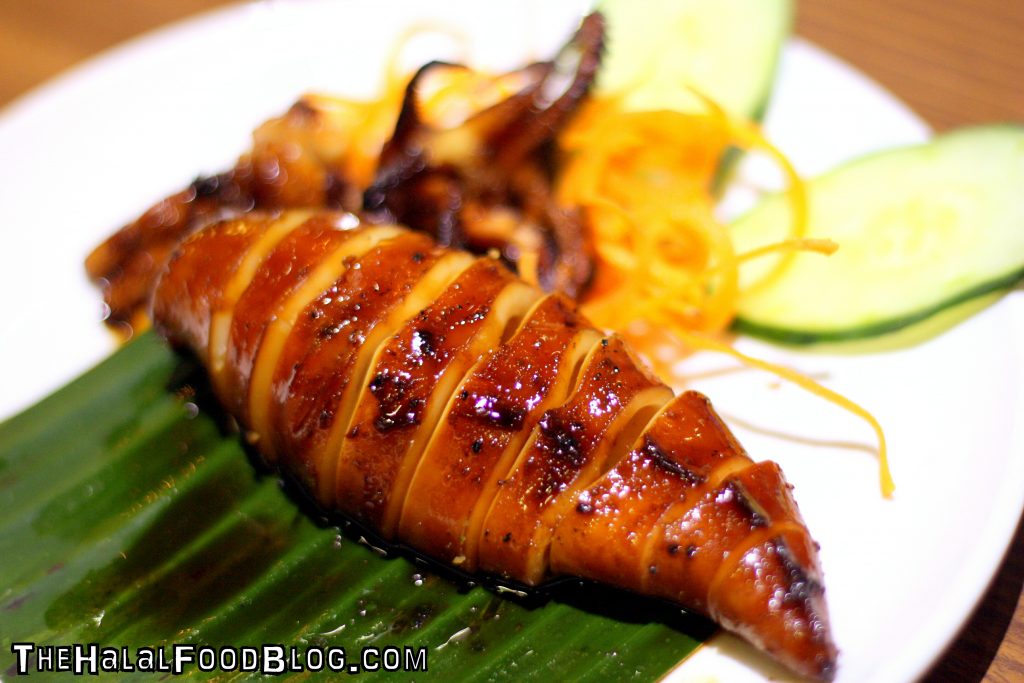 I also remember enjoying the Cumi Bakar from way back when and it was a pleasant surprise to get to enjoy it again. Tender squid marinated and char-grilled. It's got a sweet glaze on it (kinda like a kicap manis) so you get to enjoy a great flavour along with the smoky flavour from the grill too.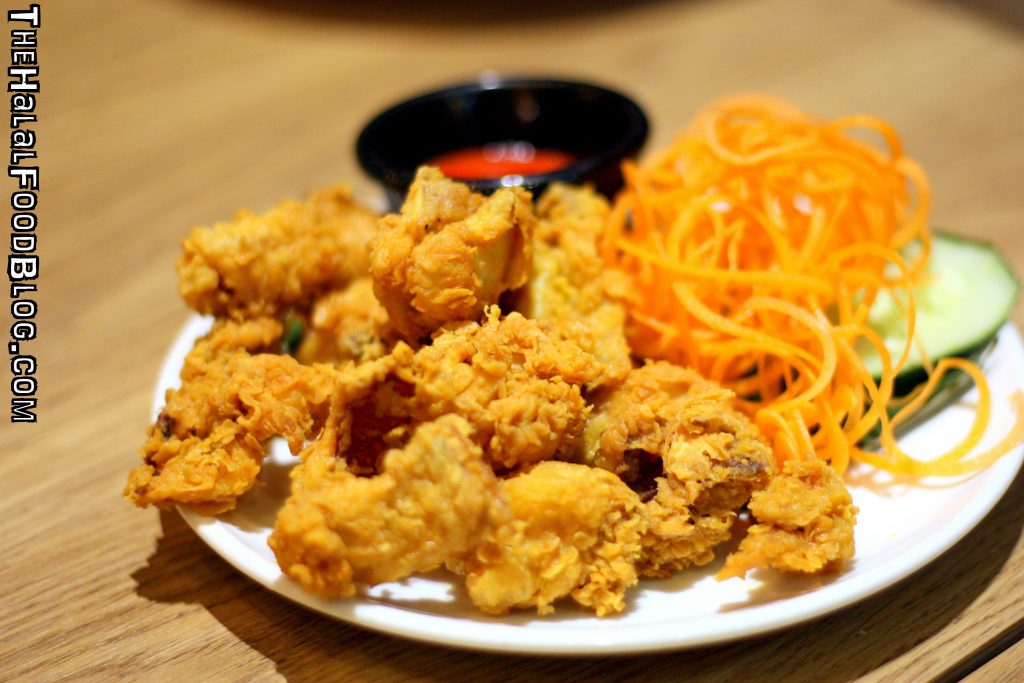 Om our 2nd visit, we wanted so much to try the Cumi Kecil (aka Fried Baby Squid) but it was not available.
So it was between the Cumi Goreng Tepong or the Cumi Sambal. No prizes for guessing which one we chose LOL
So the squid is cut up, seasoned and then breaded with flour and battered before getting the deep-fry treatment.
Nice and crispy and great with the chili that came along with.
I guess it's true what they say – when in doubt, choose the fried one LOL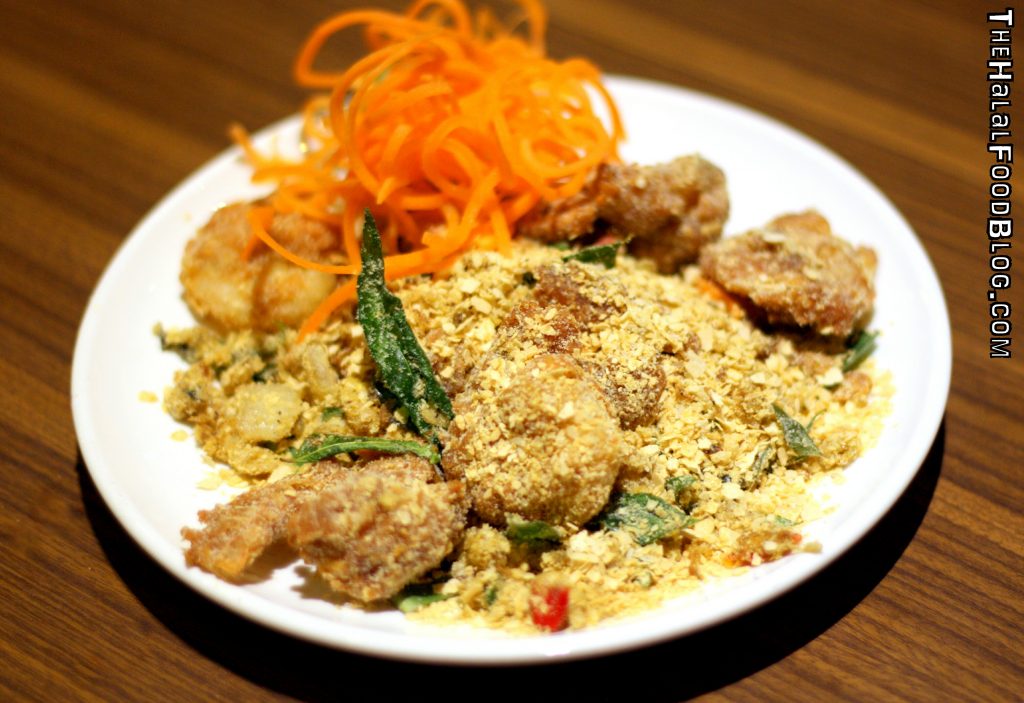 Here's a dish that's a pretty new addition to the Pondok Gurame menu but definitely a dish that plenty of us are familiar with. In fact, I'm willing to bet that it's quite a favourite with a lot of you!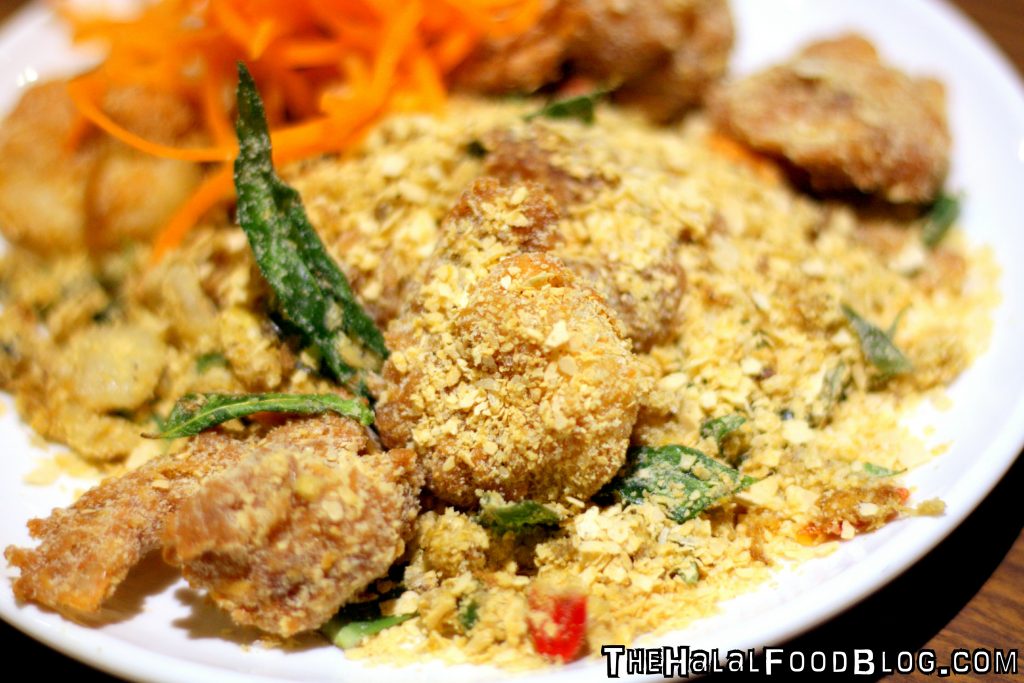 The Udang Goreng Tepong Sereal has crispy fried prawns absolutely brimming with good buttery flavour and loads of cereal! For me, one of the best things is that the prawns have already had their heads removed simply because I normally hate having to peel prawns because it's so messy so this was a very welcome development! I could not enjoy both the prawns and cereal (as opposed to just swiping all the cereal only LOL)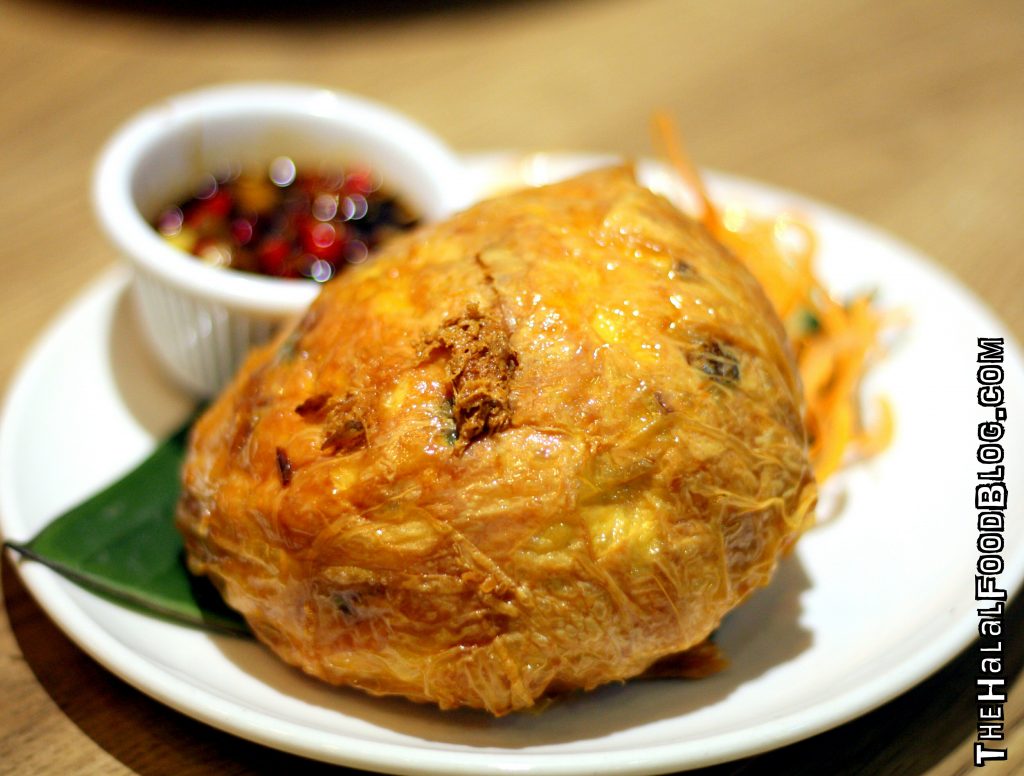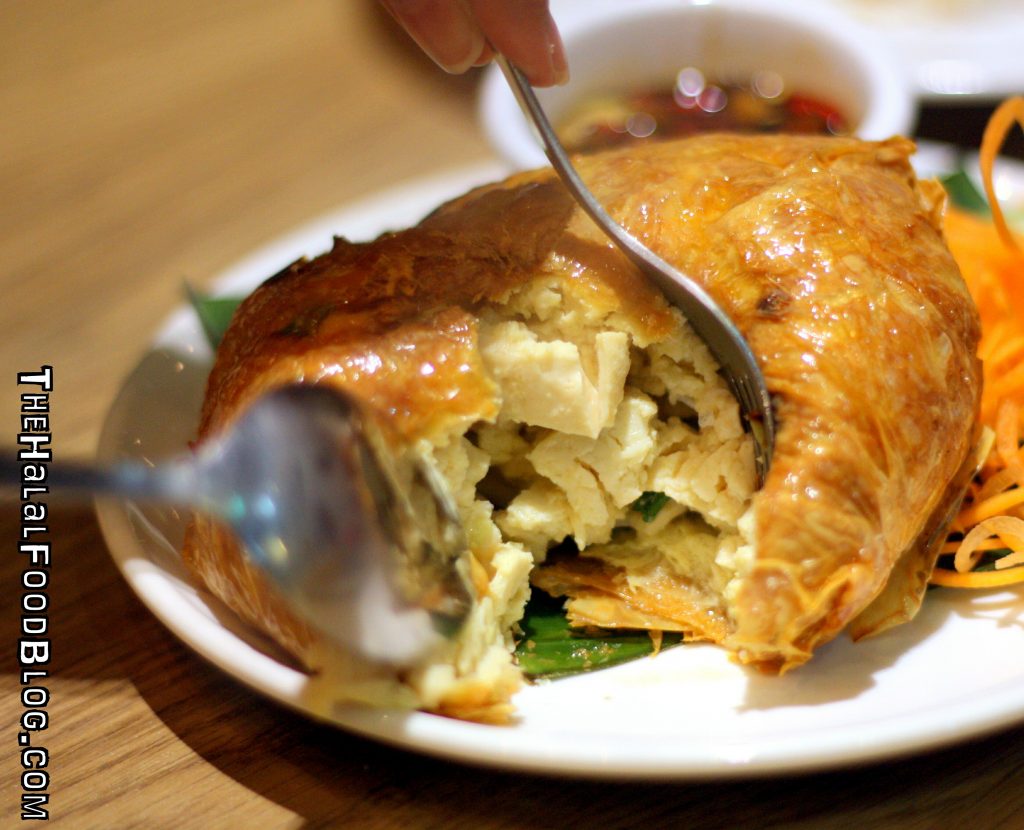 Another favourite is the Tahu Telor and they do make it quite uniquely at Pondok Gurame.
I normally see Tahu Telor in either a 'tower' form or a 'flat pancake' form but the one here is kinda like a 'ball' or a 'package'.
Well, besides looking different, I have to say that this actually seems to serve a purpose because the filling remains piping hot! When you break apart the eggy outer layer, the tahu (aka beancurd) inside is still fresh and hot and goes perfectly with the chili kicap that accompanies the dish.
Pretty generous serving too! Good for 3-4 people to share!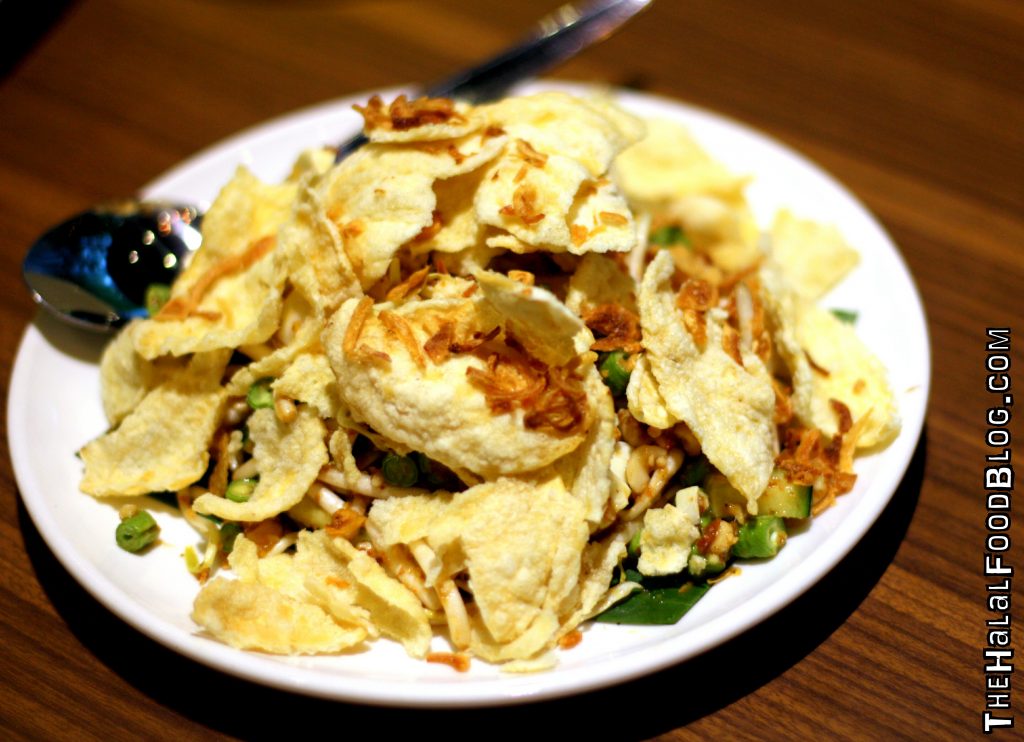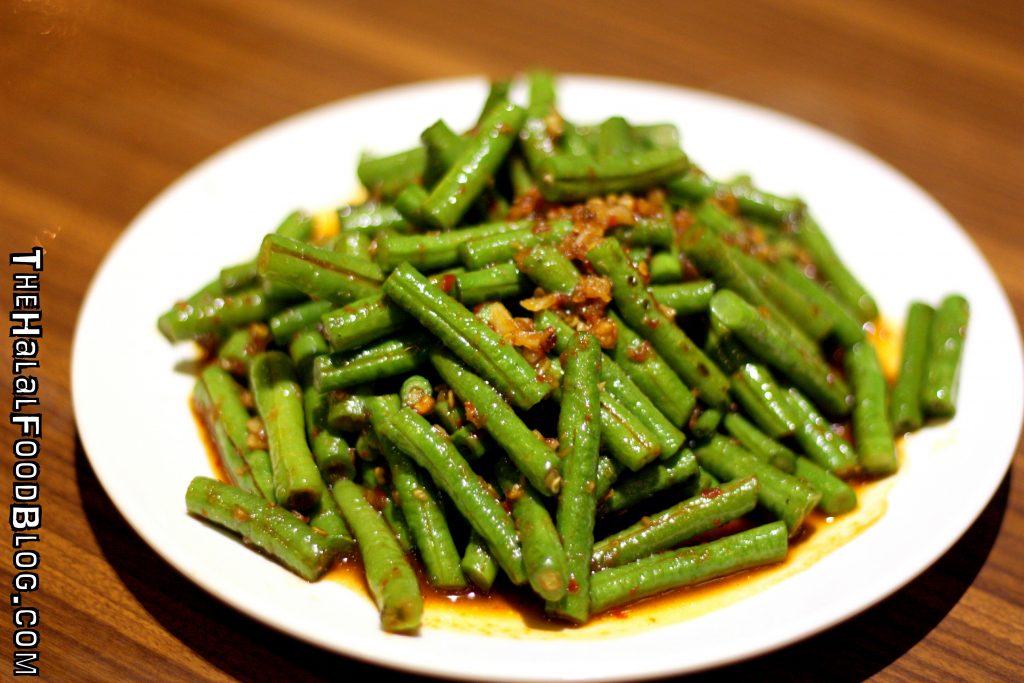 We also had a few vegetable dishes to accompany the others during our meal.
The Kacang Panjang Tumis was good serving of Long Beans fried with some chili and udang kering (aka dried shrimps) and great with the rice and the other dishes too.
The Gurame Gado Gado was an interesting take on a classic salad dish.
Besides the usual suspects like cucumber, long beans, cabbage, potaties, egg, beancurd and the spicy peanut sauce, they also add some Belinjo crackers in there for that extra kick!
Great as an appetizer / salad but also suitable to enjoy with the rest of the dishes too.
In fact, Pondok Gurame has a pretty impressive menu with no less than 24 different vegetable / vegetarian dishes so you're sure to find something for everyone there.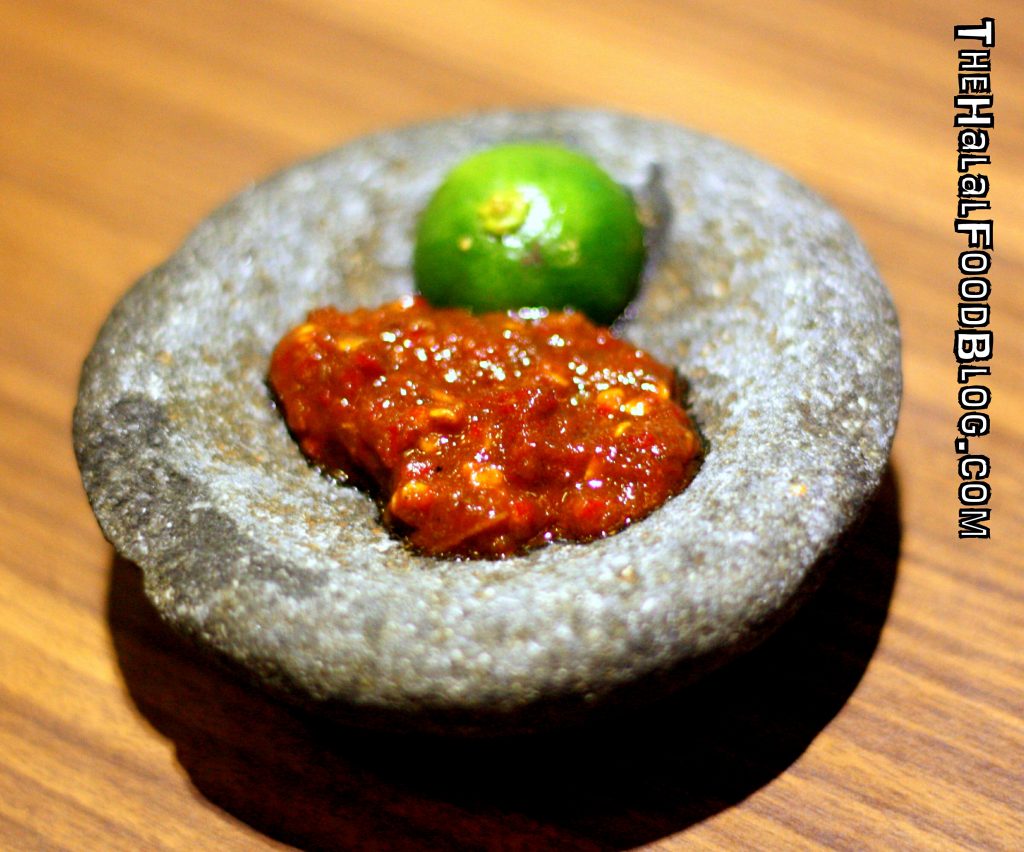 It would be so wrong of me not to mention what may very well have been the star of the whole meal because it went long with everything and made everything taste even better – the super Sambal Belachan.
It was spicy. It was tasty. It was the bomb. I am not kidding you.
They even sell it by the bottle so you can buy a a few home after you realize how power it is LOL
But seriously. The Sambal Belachan really power.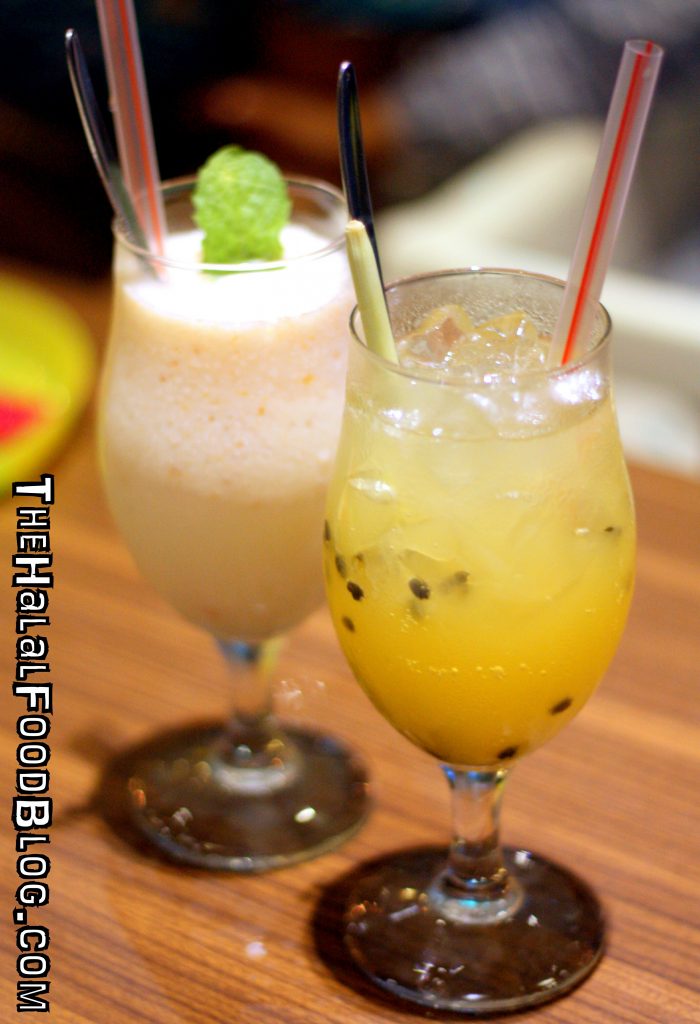 You're gonna need something to wash down all that great food so it's a good thing that they have quite a beverage selection at Pondok Gurame. Besides the soft drinks and fruit juices, they also have a great range of mocktails too, most of which are named after actual people!
Check out the Putri Salju and Soda Warni which have Lychee and Passionfruit respectively.
We quite liked the Putri Salju which was refreshing and pretty unique to be honest. A new favourite on the menu!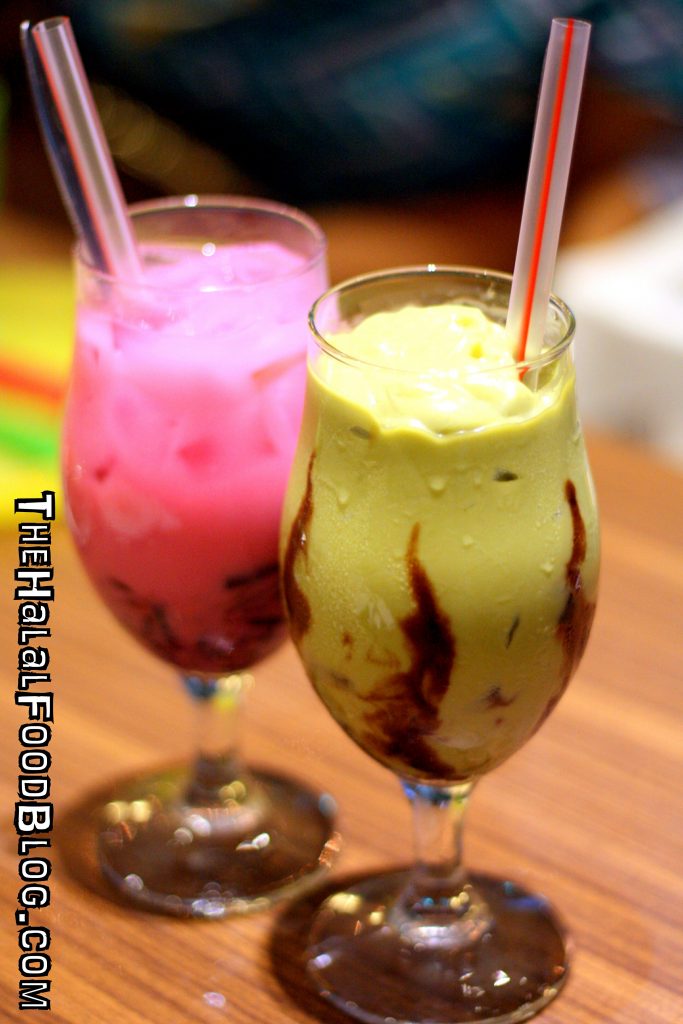 Here are 2 more popular choices that are probably on the top of a lot of peoples' list.
Soda Gembira is Bandung that's been given a little fizzy soda to add that extra special something. This is actually one of my personal favourites especially when it's nice and milky. The version at Pondok Gurame also includes some Grass Jelly for good measure.
As you can see, they're not messing about with the Sari Alpokat.
Pure fresh Avocado is blended into a smooth, thick, creamy milkshake and FUYOH it's absolutely delicious.
And this is not that diluted stuff you might get at some places.
This is what we like to call All Killer, No Filler. 100% definitely a must have when you visit Pondok Gurame!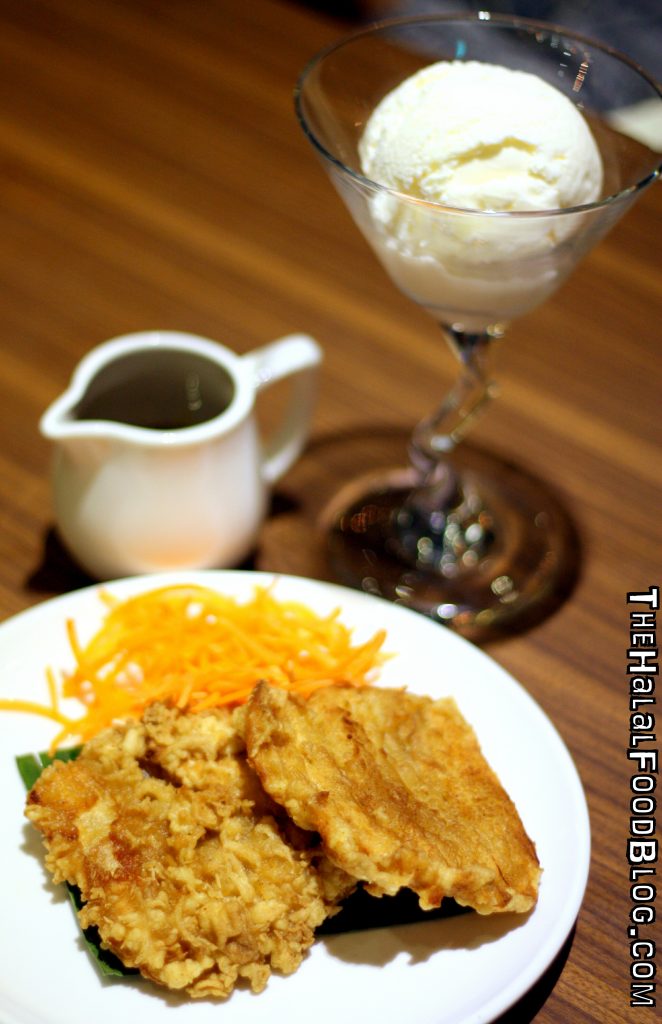 Onwards to dessert and the first one up was the Pisang Goreng Asli Kalimantan.
Like many of the dishes and desserts at Pondok Gurame, they really pay attention to detail and they actually ship in ingredients specially for that special dish. Case in point – the Pisang Goreng Asli Kalimantan where they actually import the bananas from Kalimantan.
You can choose to enjoy these sweet Banana fritter as they are or maybe with a little gula melaka for those of you with a sweet tooth. One of the best ways is with a scoop of Vanilla ice-cream.
Think of it as Pisang Goreng Asli Kalimantan Ala Mode LOL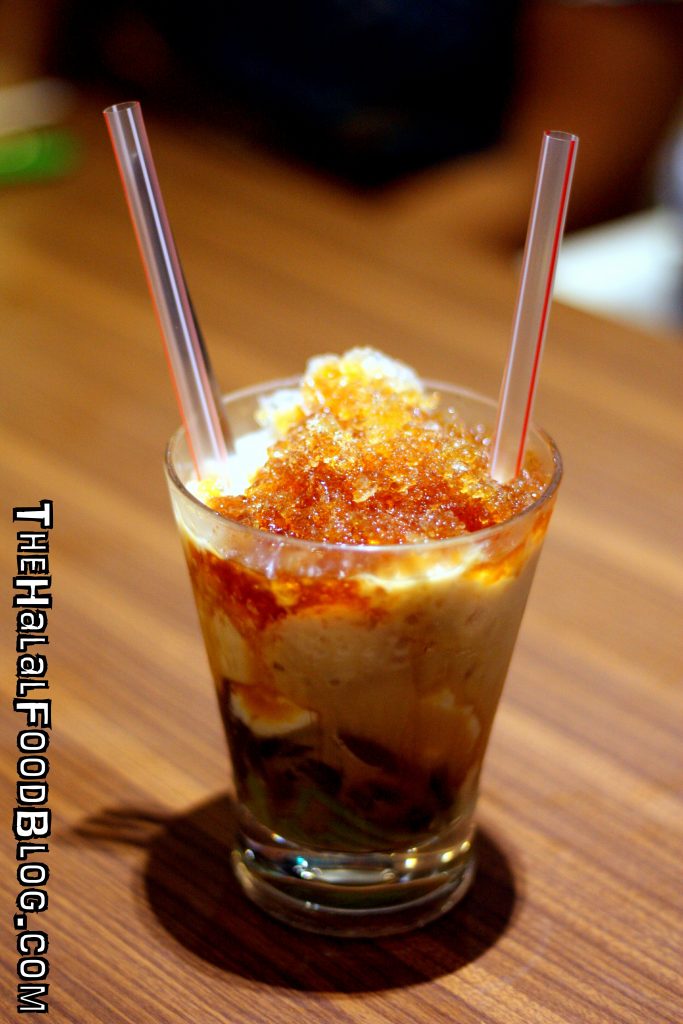 And last but definitely not least, we had some Es Teler and some Es Campur too!
Because we are greedy LOL
The Es Teler had all the usual goodies including Jackfruit but although it was milky, I found this version not as sweet as most others we have tried in the past. That might actually be a good thing for those who still want dessert but don't wanna overload on their sugar intake.
The Es Campur was definitely much sweeter and was pretty much a big mix of all the goodies like coconut, grass jelly and cendol among other things.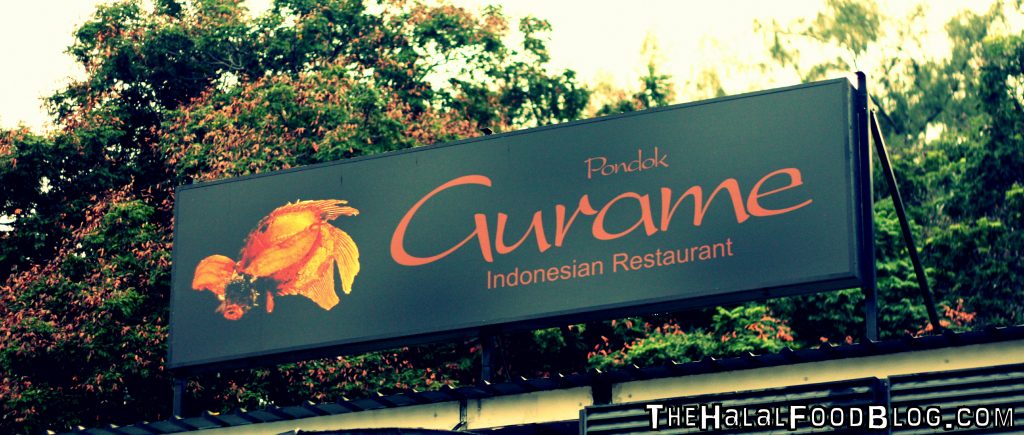 Personally, I think it's great that a brand like Pondok Gurame can stand the test of time. I'm sure it remains a favourite of many to this day and when it re-appeared after a bit of an absence, a lot of people were relieved because it really has become quite an icon.
Unlike a lot of Indonesian restaurants that concentrate on serving only 1 specific type of Indonesia cuisine (e.g. Sundanese, Javanees etc), Pondok Gurame differs by offering you dishes from a number of different regions in Indonesia. This is a great way to sample different Indonesian dishes all at one go.
This latest location is also very ideal for functions including weddings. After all, it's very scenic since it's right next to the beach.
With the redevelopment of East Coast Park in full swing, I'm not sure how long the Big Splash area will be in operation but whatever the case may be, I hope that Pondok Gurame continues their fine legacy of good Indonesian food for many many years to come.
And I also hope that someone uploads that classic Pondok Gurame commercial on YouTube.

You can make reservations for Pondok Gurame via Chope!
Just click on the BOOK NOW button and  you're one step closer to enjoying all the power makan at Pondok Gurame!
Big Splash
902 East Coast Parkway Blk E
www.pondokgurame.com
Facebook: www.facebook.com/PondokGurame
Operational Hours: 12pm-3pm Lunch / 6pm-10pm Dinner
All information (including prices, availability of item on menu and Halal status of establishment) are accurate at the time of posting. All photos used in this site are property of The Halal Food Blog unless stated otherwise.