Our first encounter with Perghh Sticky Chicken was at the 2015 Halal Expo and it was just a quick one where we had just a few pieces of their chicken wings.
Back then, their shop at East Village wasn't fully operational yet but now that it is, we decided to head down and check out some more including something that we didn't have the chance to try at the expo the last time around. East Village continues to have more and more Halal food offerings and this is one more worth checking out.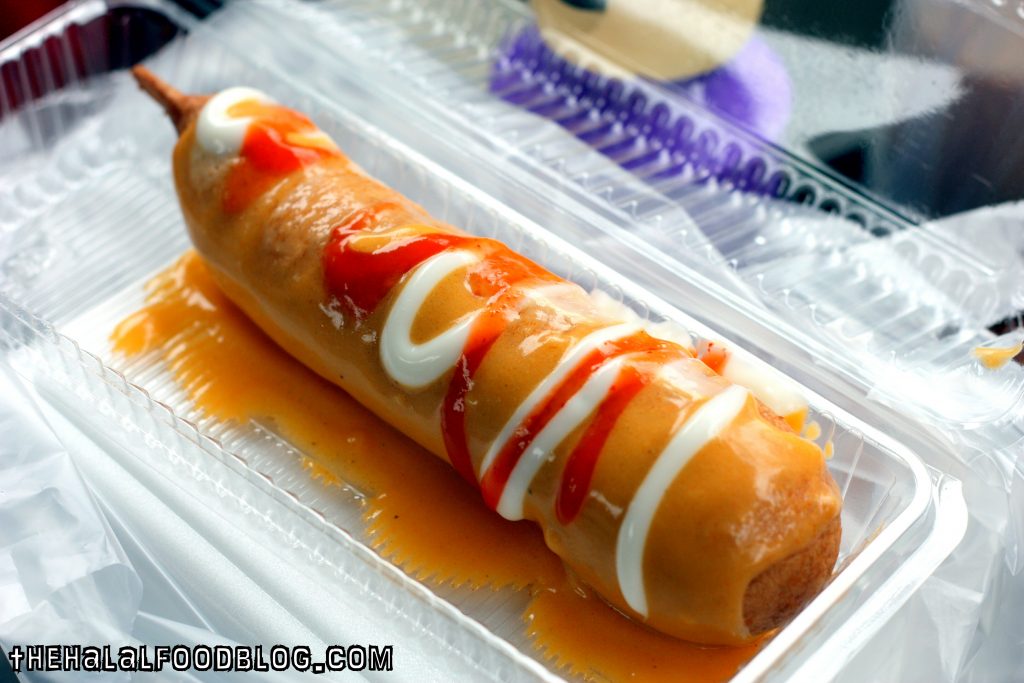 So top of our list was the famous Perghh Corn Dog and boy what a massive one it is LOL
What exactly is a Corn Dog? Well, it's essentially a sausage that's coated in cornmeal batterand deep fried. Oh yeah. That's right – deep fried goodness! And of course, you add some sauces on there to add to the Corn Dog experience.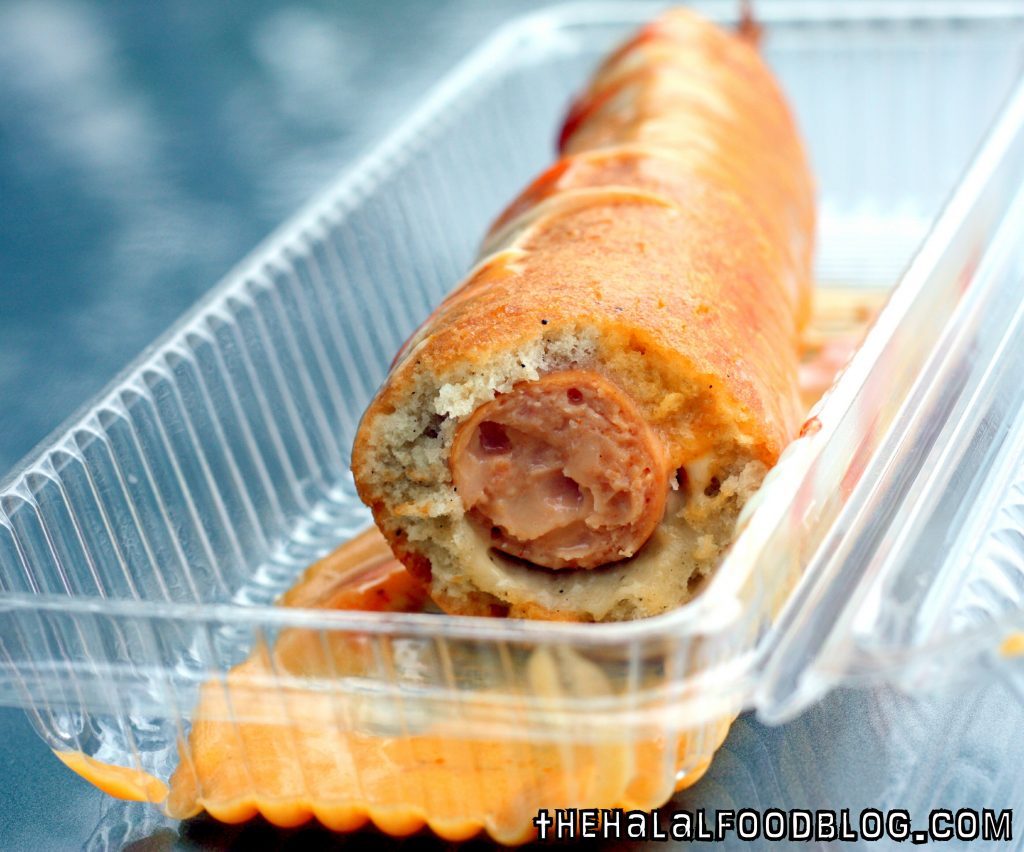 The sausage used in the Perggh version is this really big and cheesy chicken sausage. I believe the scientific term to use would be 'JUMBO'!! The cornmeal batter looks pretty thick but it's actually not too bad even though it may be quite a mouthful to some.
The cornmeal is actually pretty tasty too with a bit of a sweet flavour and this goes very well with the cheesy sausage. You also have the option of adding some Nacho Cheese Sauce for an extra 50 cents which is highly recommended.
If I have one bit of feedback about the Corn Dog – it'd be that I wish there was more stick to hold on to because as much as I appreciate the big size of the Corn Dog, it's pretty heavy and if its a short stick, like hard to hold on to it lah LOL oh well #justsaying
So here's what Perghh is known for – their Sticky Chicken Wings. And so named because of the sticky glaze which coats the wings and tends to stick to your fingers so it's even more enjoyable when you're licking your fingers clean!
They have 2 different flavours – namely the Original Sticky and the Sweet & Spicy Thai.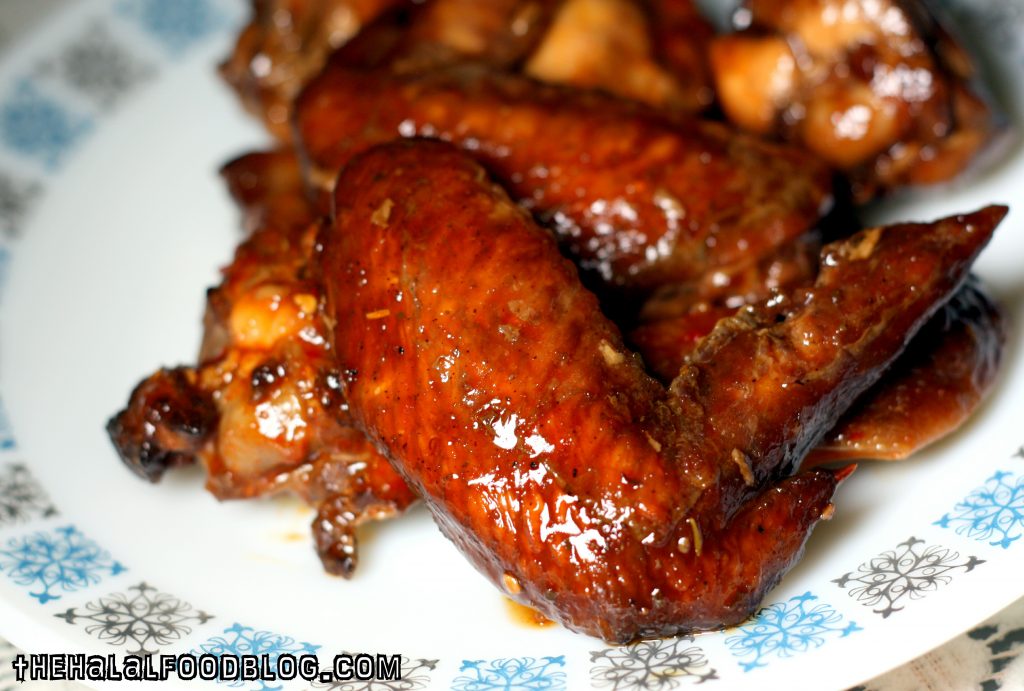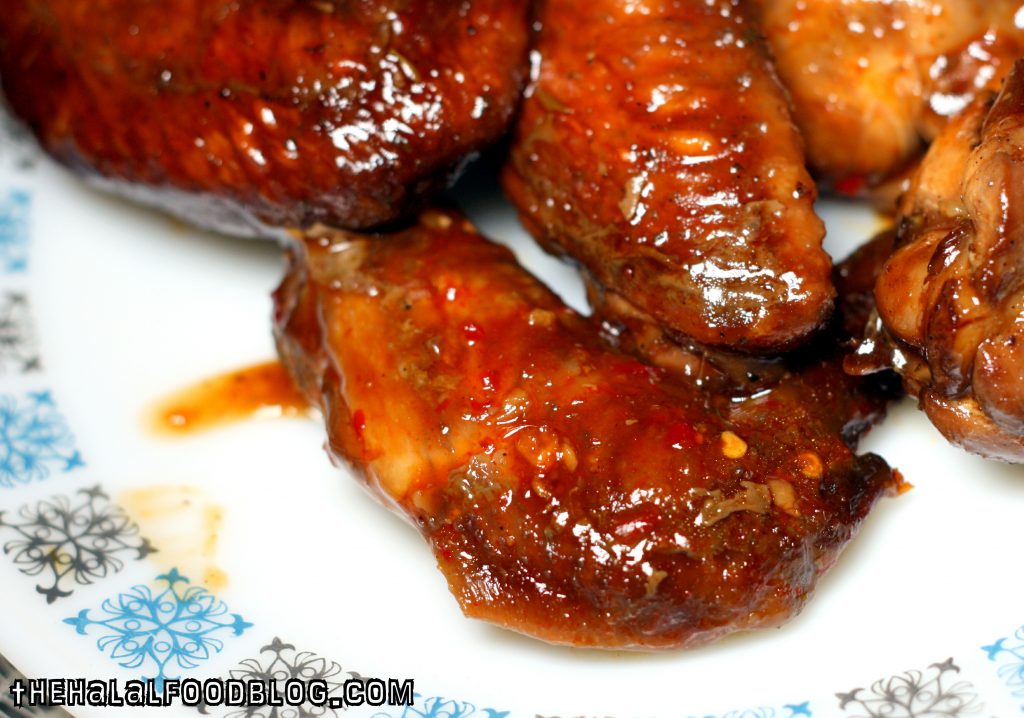 So first things first, you're gonna be taking the wings home so when you're ready to eat them which means you're gonna have to heat them up. Worth it to point out that the chicken wings are not crispy nor crisp so you can heat them up any way you please. I guess microwave or toaster over might be a good idea?
You can see from the 2 photos above the different glazes on the different chicken wings.
The Original Sticky has hints of soy, garlic, ginger and pepper. Very much like a classic recipe for roasted/baked chicken wings with that sweet and sticky coating which everyone loves.
The Sweet & Spicy Thai has a flavour very familiar and similar to the sweet Thai chili sauce we all know. But did you know that the sweet Thai chili sauce was made for and goes best when eaten with chicken? This makes it a natural pairing here and even though it's not a very high level of spice, it's definitely a good alternative for those who want more than just the salty-sweet flavour of the Original Sticky.
Adam's Verdict:
Original Sticky 3.5/5 — Sweet & Spicy Thai 3/5
Yeah the Original Sticky just about edges the Sweet & Spicy Thai (but you're gonna dip it in some chili sauce anyways right?). And I would have given higher ratings if the chicken skin was crispy cos I love crisp chicken wings but hey who's complaining right?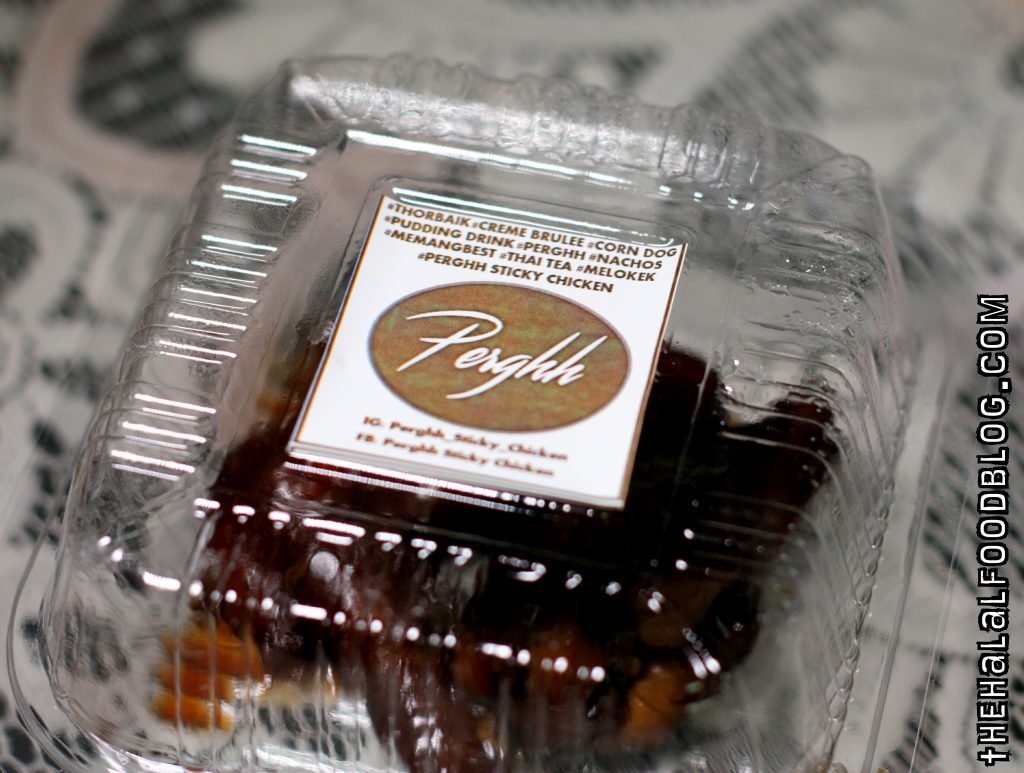 East Village
#01-53 430 Upper Changi Road (Simpang Bedok)
Tel: 94570236
Facebook: www.facebook.com/Perghh-Sticky-Chicken-1875953632629224/
Instagram: @perghh_sticky_chicken
Operating Hours:
1.00pm til 9.00pm Saturdays til Thursdays
3.00pm til 9.00pm on Fridays
All information (including prices, availability of item on menu and Halal status of establishment) are accurate at the time of posting. All photos used in this site are property of The Halal Food Blog unless stated otherwise.