*AS OF DECEMBER 2016, PAPA JOHN'S SINGAPORE IS NO LONGER CERTIFIED HALAL*
*This post will be retained for reference purposes and who knows, Insya Allah they might be Halal again in future
So you all remember our recent post about Papa John's right?
Yup that's the place that promises Better Ingredients. Better Pizza. And so far, they have delivered on that promise!
When we visited, we not only got to learn more about the Papa John's philosophy and taste some great pizza, we also got a hands-on experience into what makes a great Papa John's pizza! Oh yeah I know what you're thinking… but we survived LOL and the pizza was actually damn power lor!!
So how does it go when a pizza order comes in?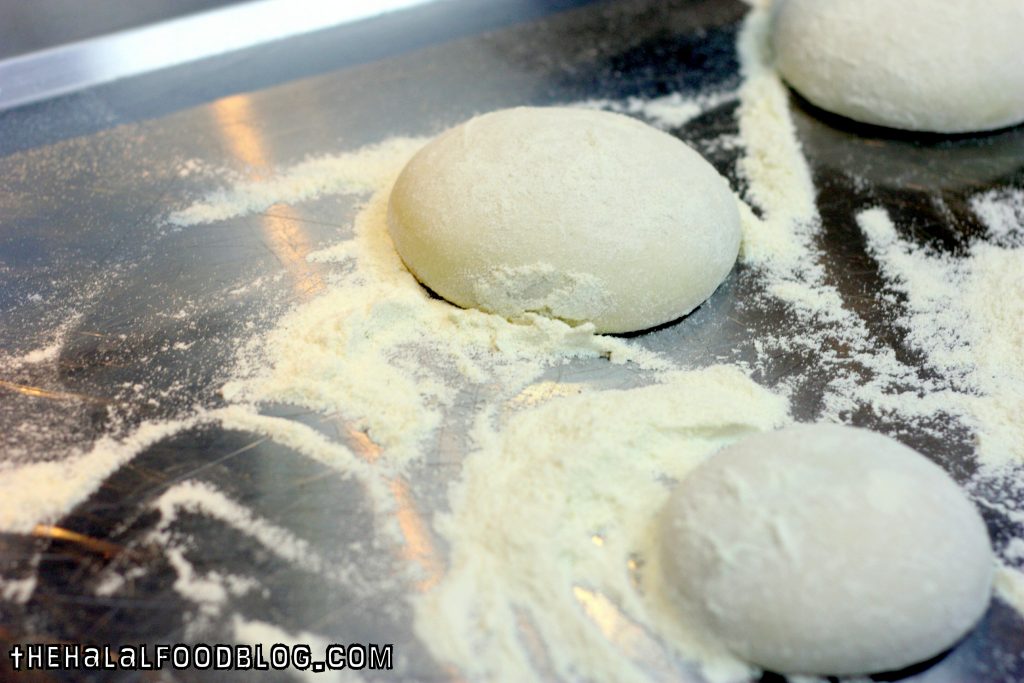 STEP 1 – THE DOUGH
This is not just the base of a great pizza, it's also the very foundation where we begin building a famous Papa John's pizza so it's needless to say how important this part is.
Papa John's pizza dough is always fresh – that means they never freeze it (which changes the structure and quality of the dough). The dough is made from top-grade premium high-protein wheat flour so youre guarantee a top-notch dough that is free from any of those artificial dough conditioners and chemicals.
But with a good dough, you've also got to know how to make use of it to make a great pizza.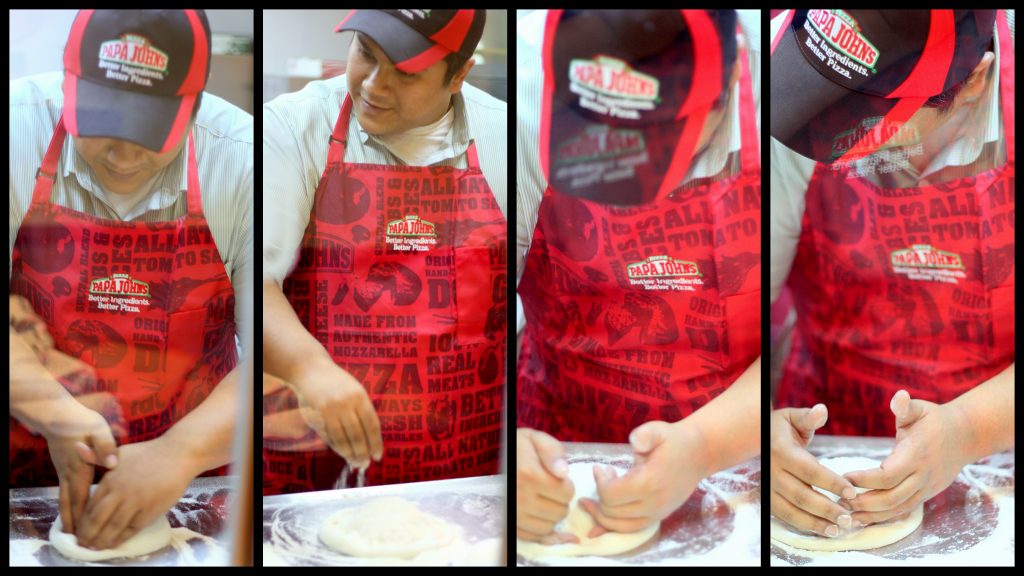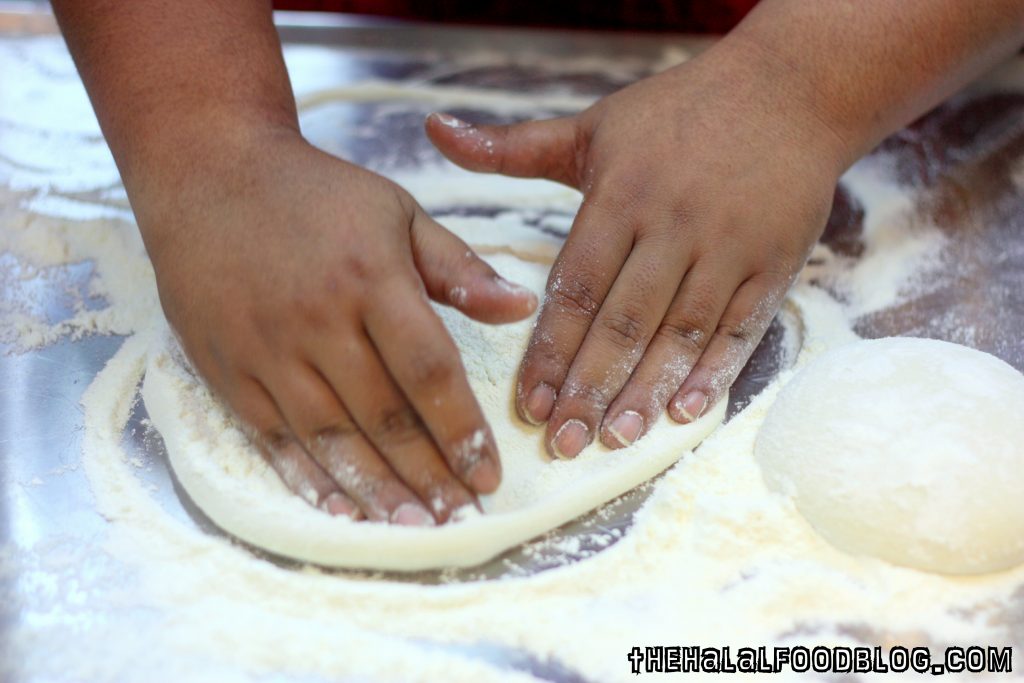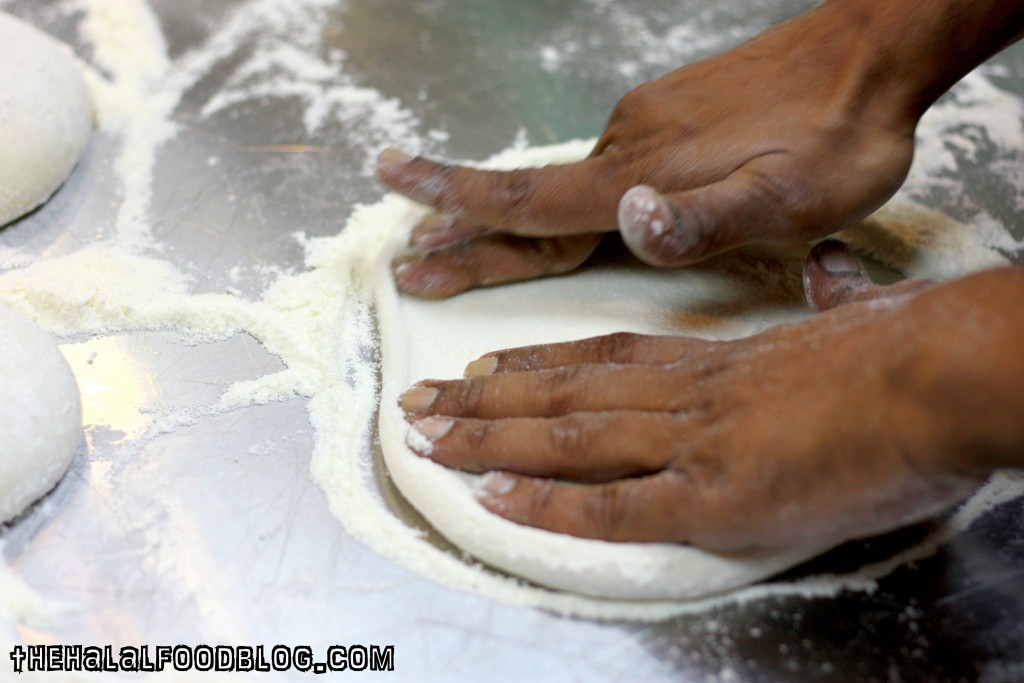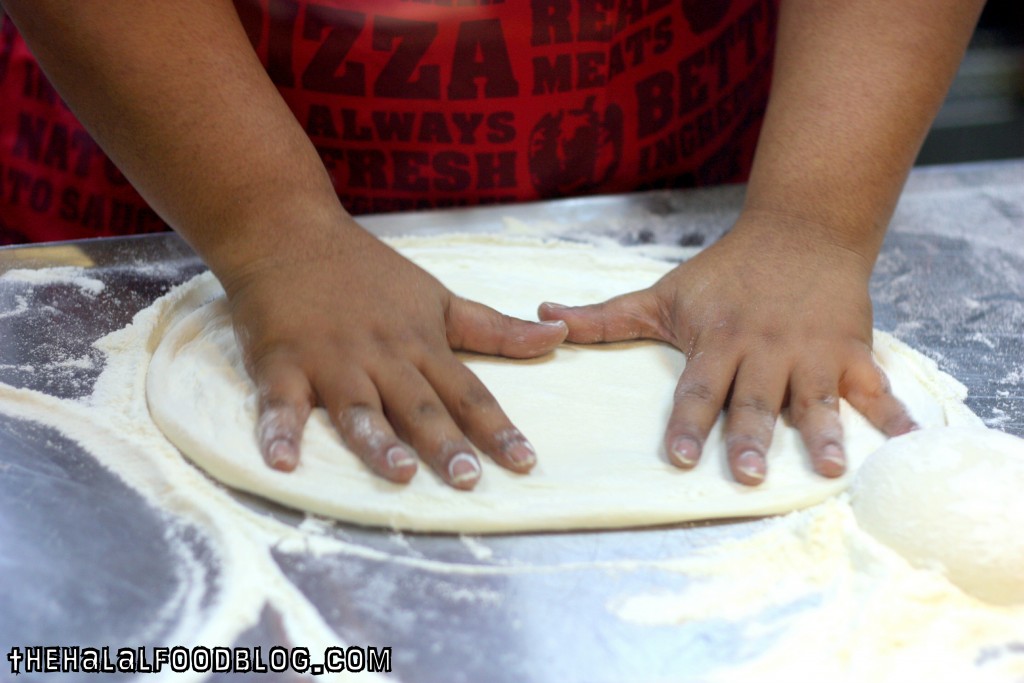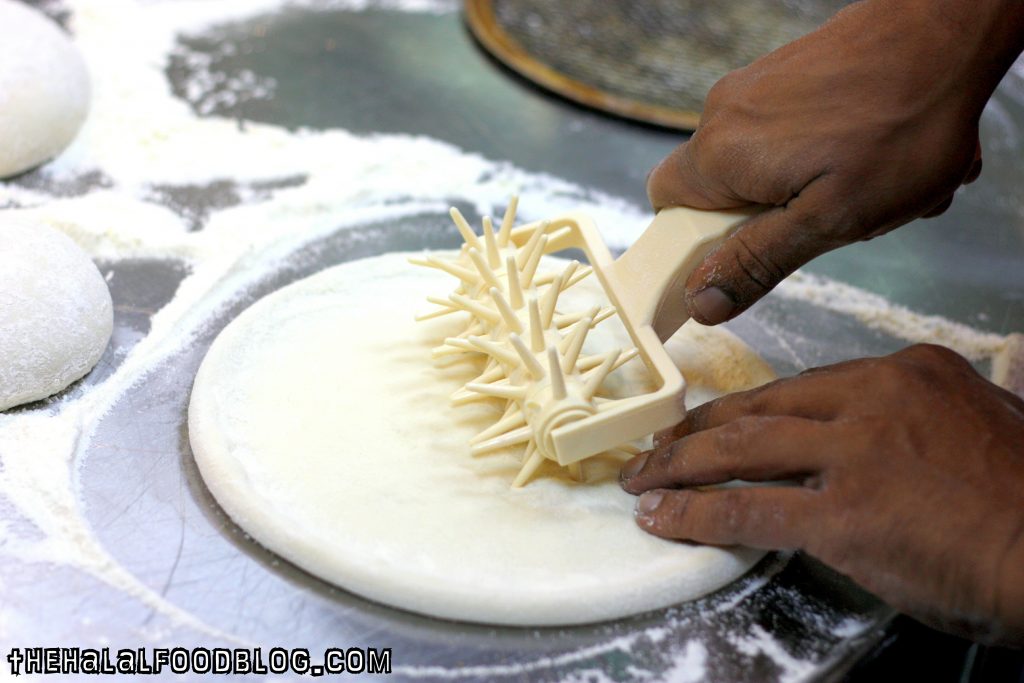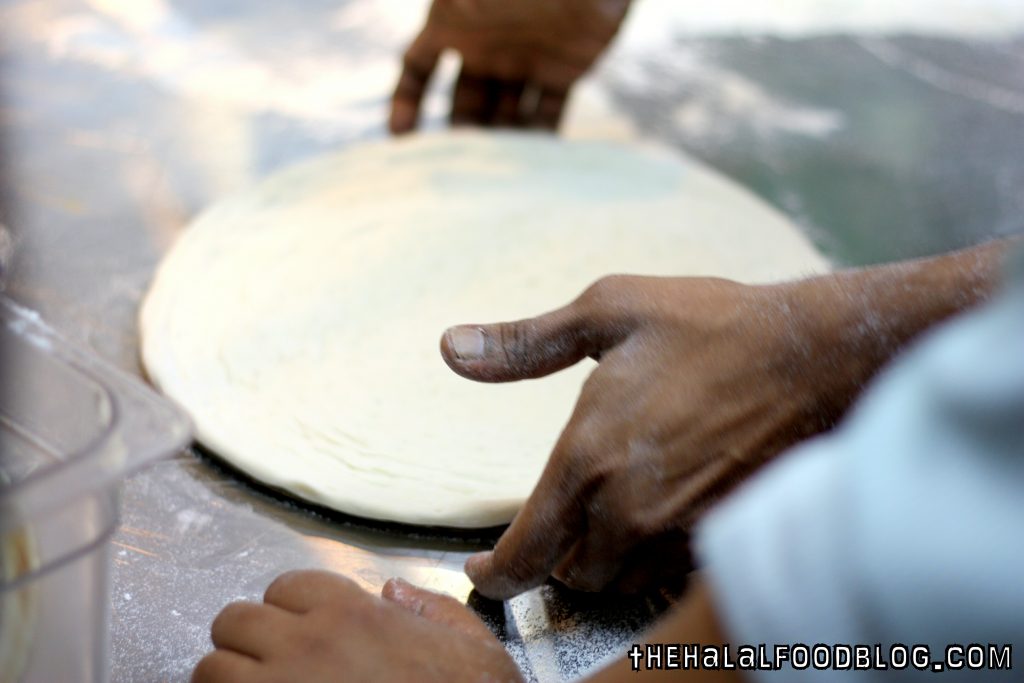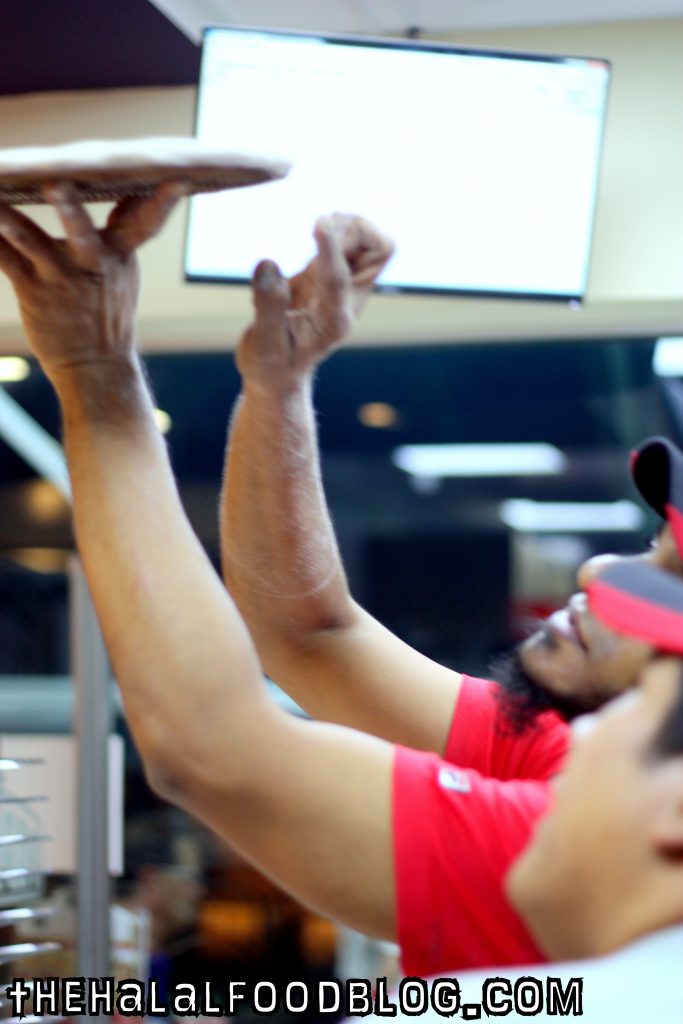 Yeah it looks really easy in the photos right? Well, believe you me, it's actually a lot of hard work!
Plus you really need to practice so you get the hang of things.
Papa John's pizzas are only hand-tossed and prepared to order. So you won't see any of that pre-made stuff just waiting to be cooked or re-heated. This means super fresh pizzas all the time.
And another thing we noticed about Papa John's is that everything runs in a system. This ensures consistently well-made pizzas every time an order is placed. And the dough is just the first stop on this journey to a great pizza…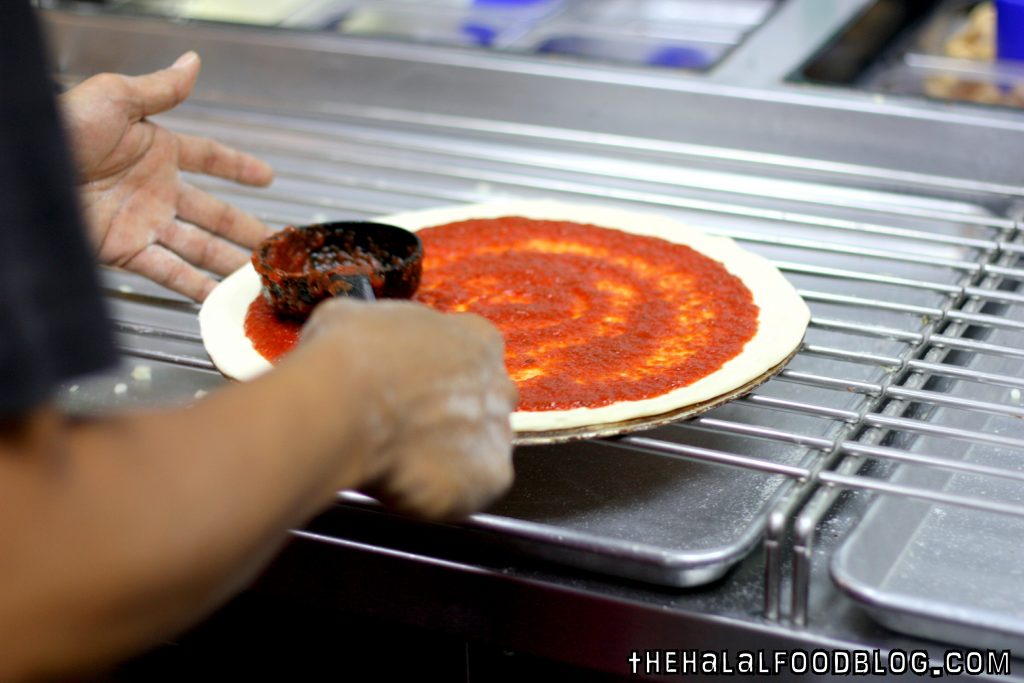 STEP 2 – THE SAUCE
Papa John's tomato sauce is really unique.
Did you know that they pack their tomato sauce within 6 hours from the time the tomatoes were picked?
That's right they cook and can their sauce within hours and then its shipped to Papa John's outlets worldwide. This means it's the same great consistent taste every time and everywhere you tuck into a Papa John's pizza.
There is no high-fructose corn syrup, artificial colors or artificial flavors.
All that's in there is extra virgin olive oil, sunflower oil, spices and a little salt and sugar. And tomatoes of course LOL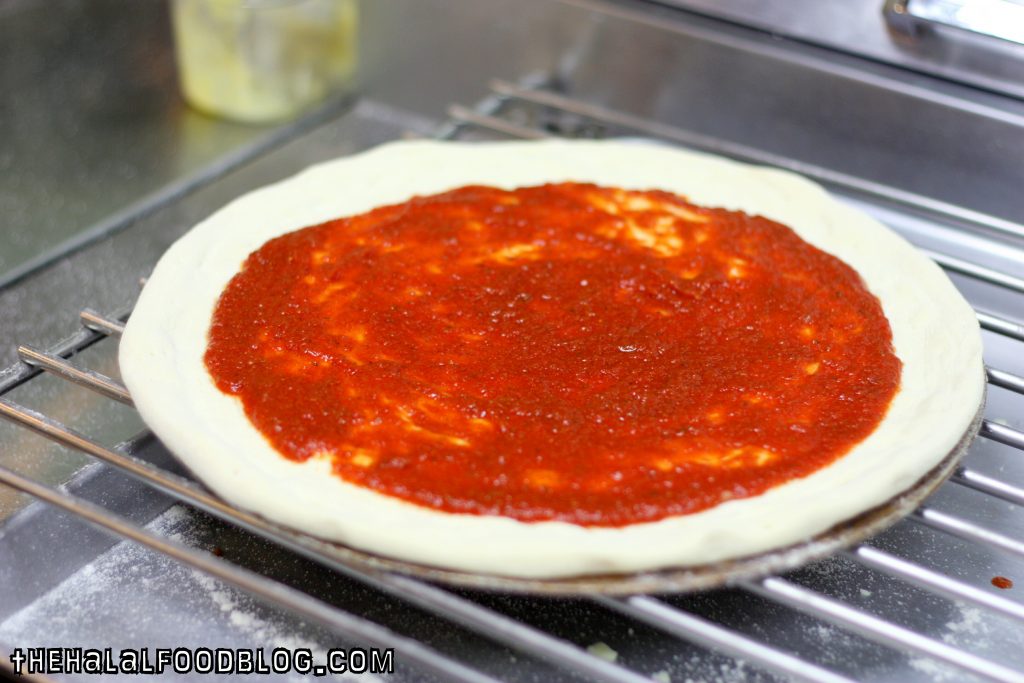 And once it's been spread out on your dough, it's on to the next step
(I know a lot of you have been waiting for this part LOL)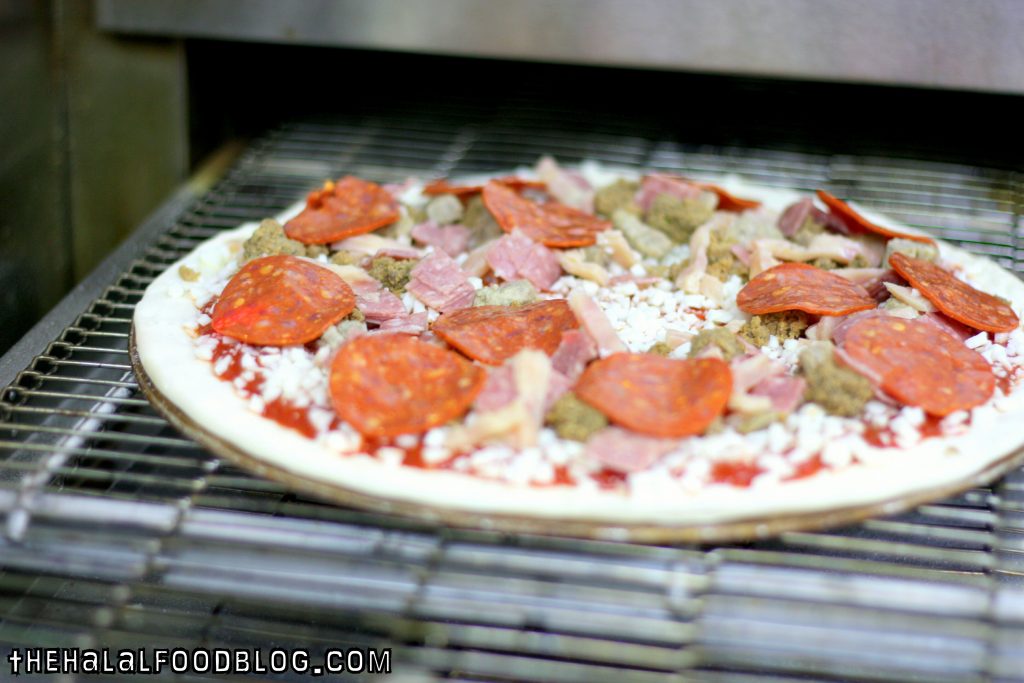 STEP 3 – THE TOPPINGS
They've got like  different pizzas on the menu at Papa John's and that equates to dozens on individual toppings that go onto these pizzas. Well, they may different in a lot of ways but one things is common – they're all top-grade.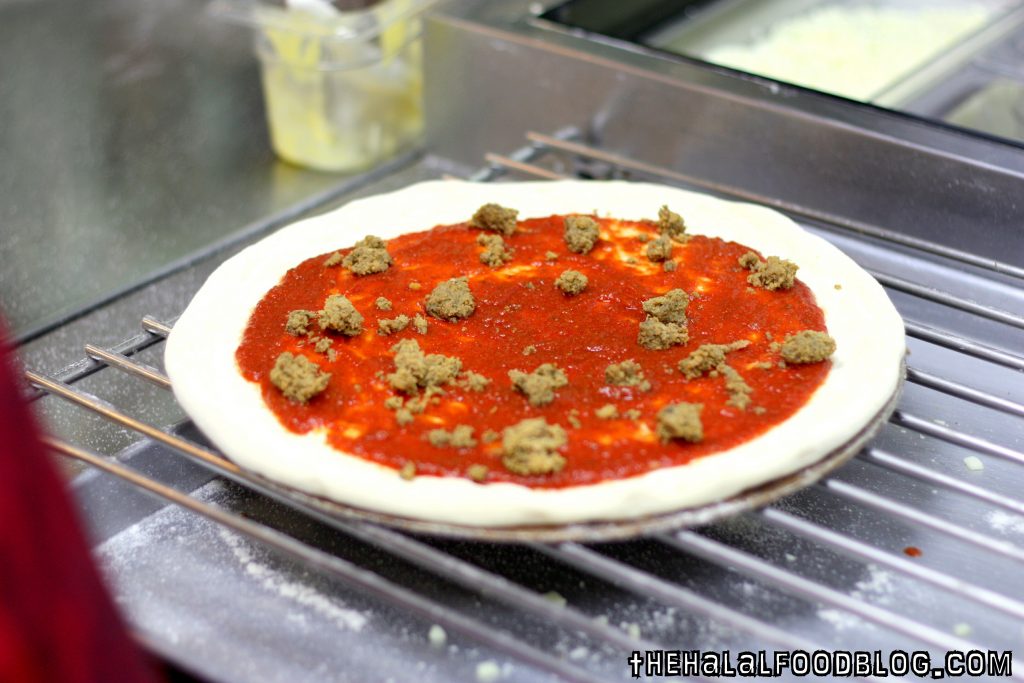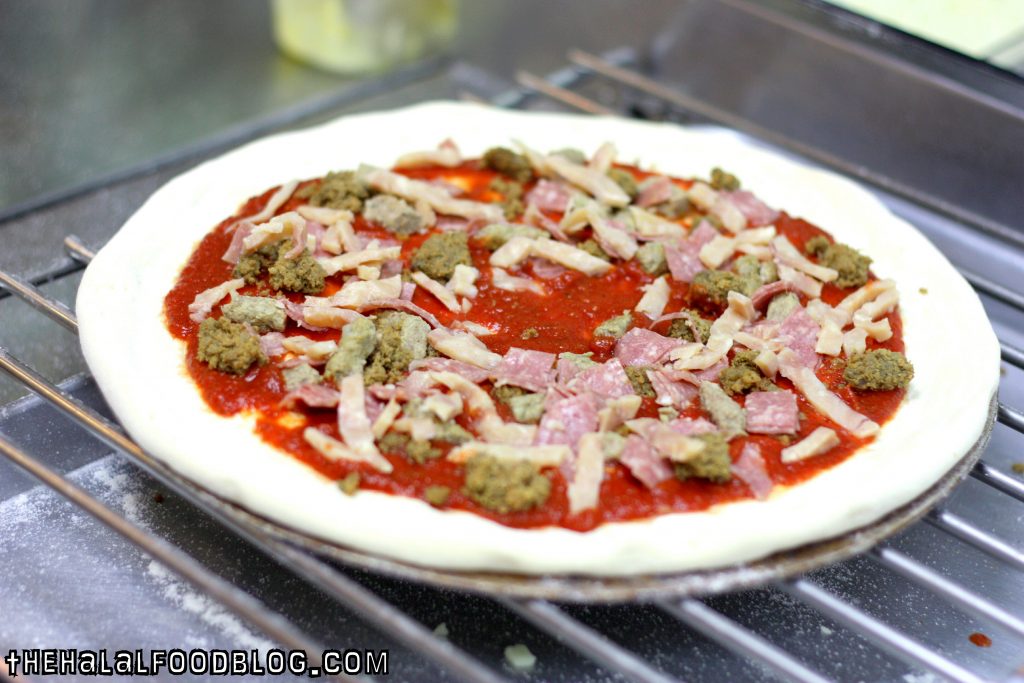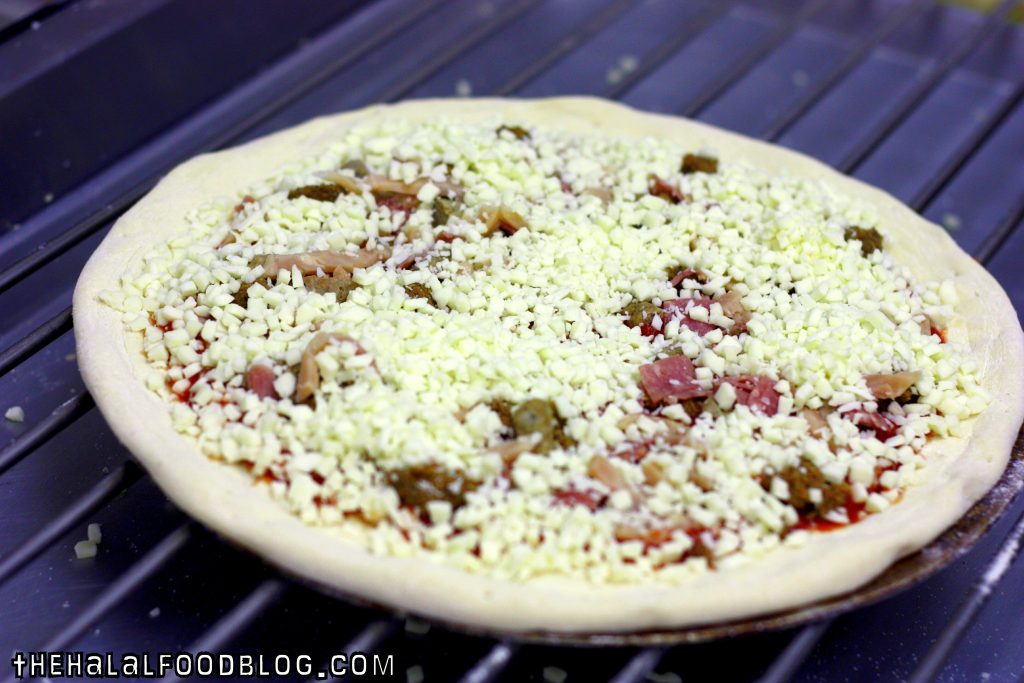 They use meats that are free from artificial flavors, colors, preservatives (that includes the chicken breast meat too!).
Their #1 cheese is the 100% Mozzarella which is made with high-quality skim milk. Even the rest of their cheeses (used in their 6 Cheese Pizza) namely Parmesan, Romano, Asiago, Provolone and Fontina are top quality cheeses.
The vegetables they use (green peppers, onions and Roma tomatoes) are also never frozen and are delivered fresh to the store several times through the week where they are hand-sliced daily so you know you've got the freshest stuff.
STEP 4 – THE OVEN
Yep after all that, it's time for the pizza to get cooked! And the versatile belt-oven at Papa John takes care of that mighty well. In fact, almost everything goes through this oven and comes out delicious LOL
And when it's all said and done, it's actually on to Step 5 which the EATING!!!
But, we have prepared a special montage for all of you… A montage of… Papa John's pizzas emerging from the oven. Seriously there's like 3 of them in this video.
Oooooohhhh yeeeaaahhhhhh *say it like Macho Man Randy Savage*
Power to the gedegak or what! All that bubbling cheesy goodness!!!!!
Anyways, in case you did not notice, that first pizza is actually the pizza made by Mein Bruder on behalf of The Halal Food Blog. It took a lot of hard work but I think it came out really well. Especially since first time making mah.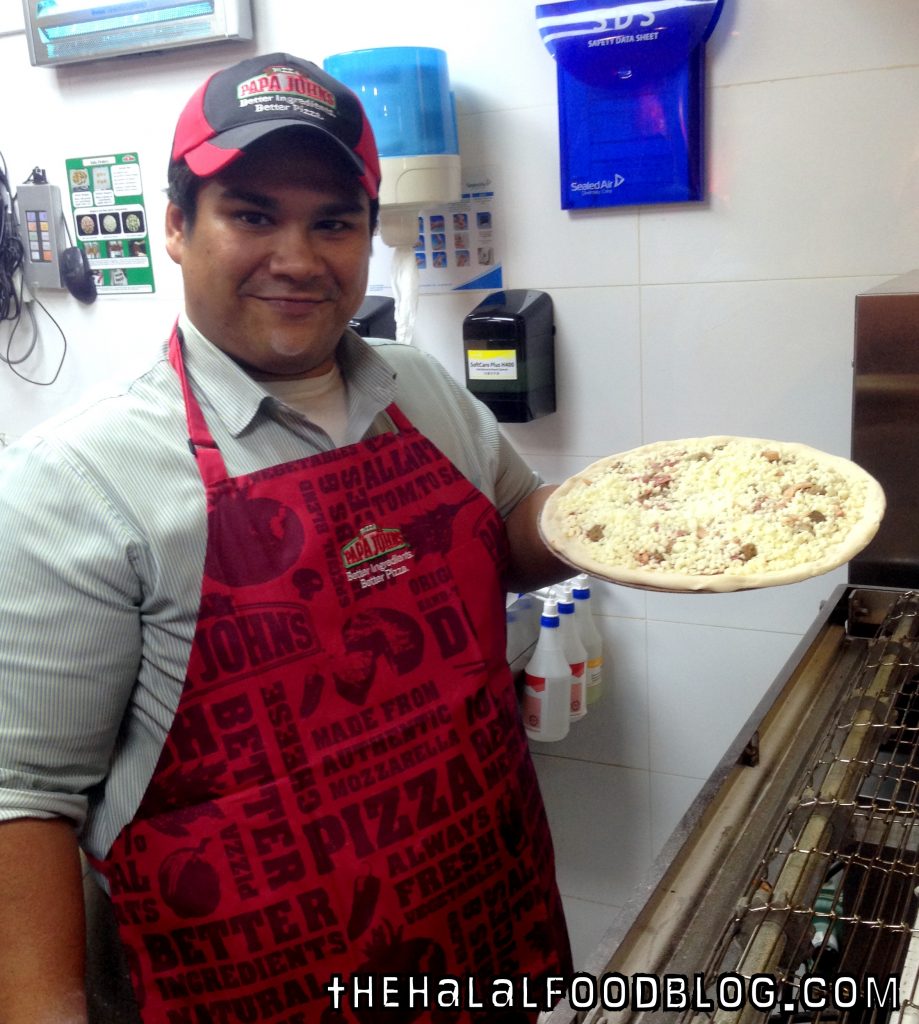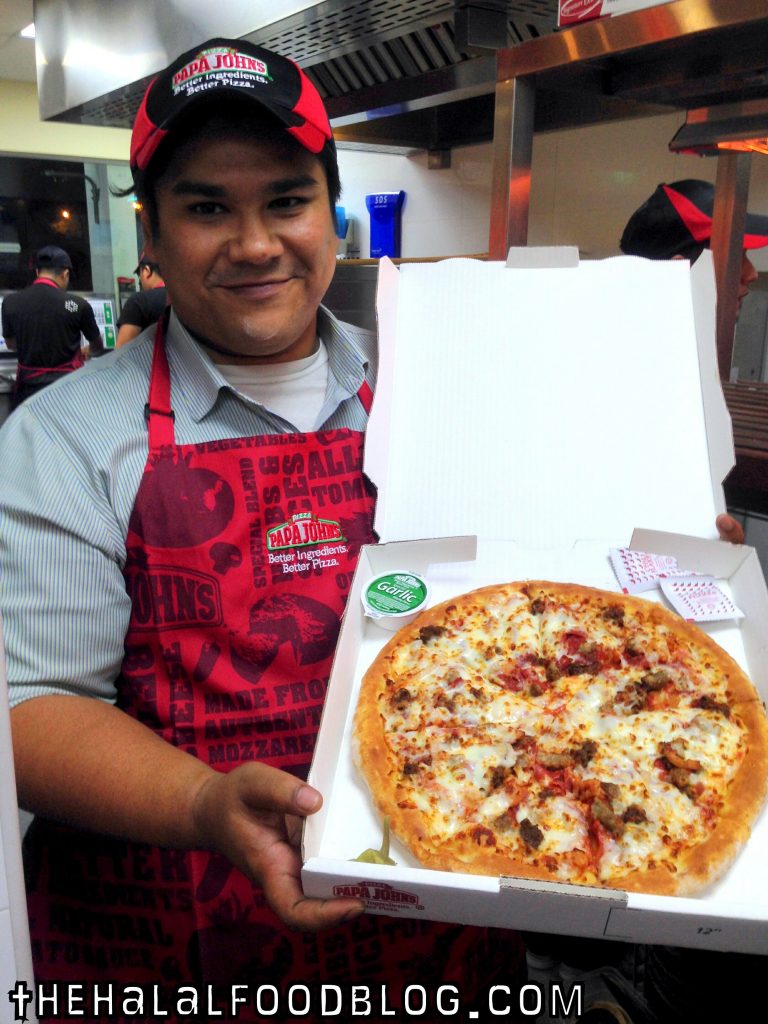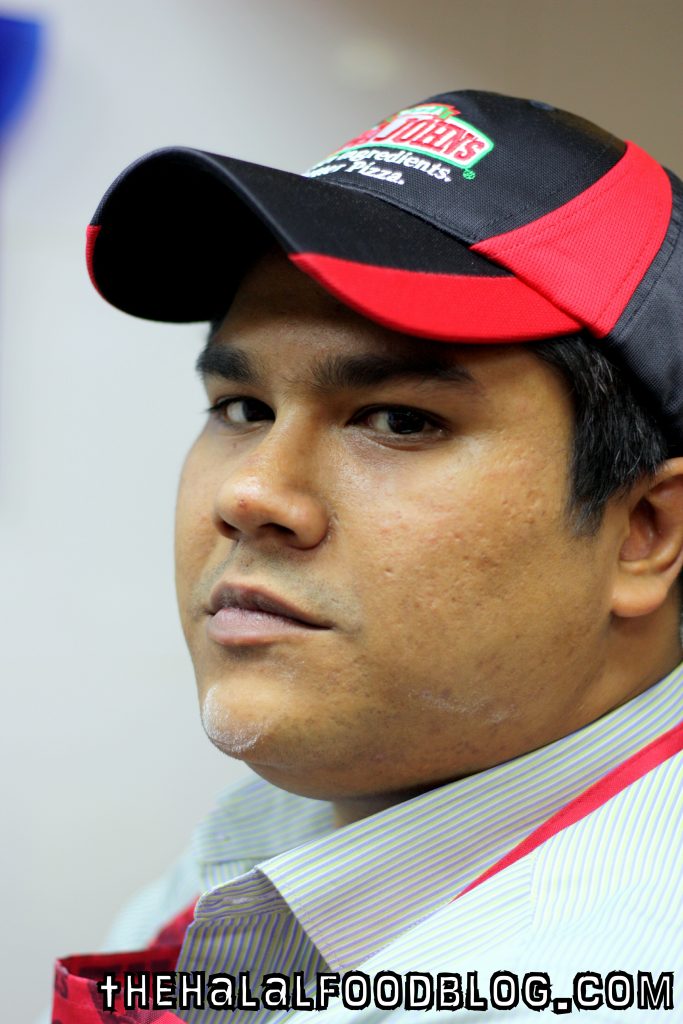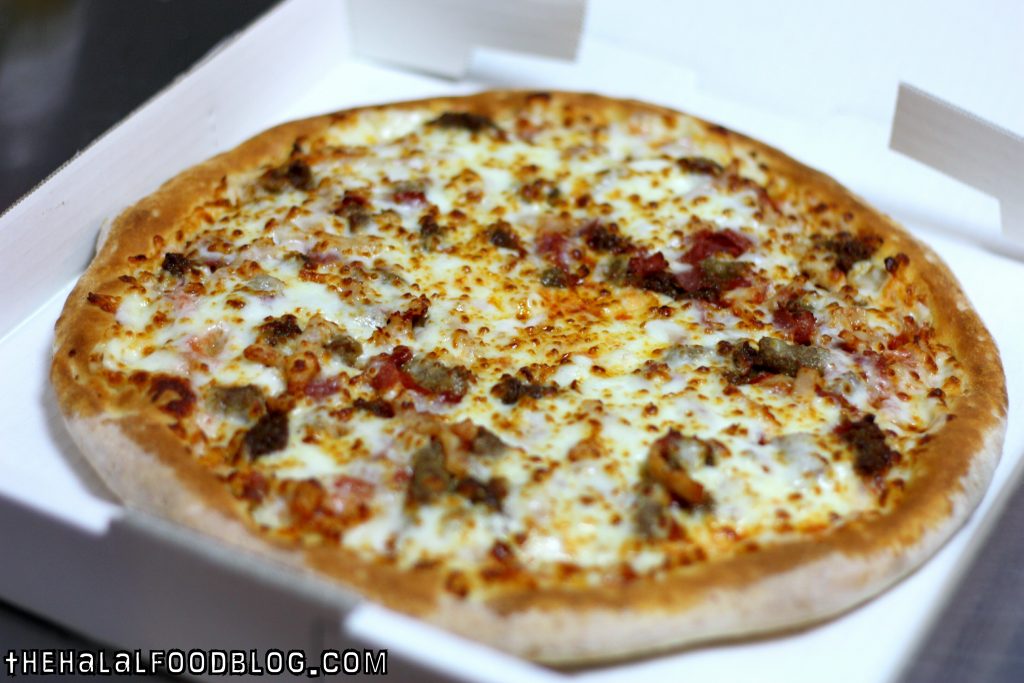 Looks damn power right actually. Makes me feel like having one now lah LOL
Well, there you have it kiddies. That's what goes into making a Papa John's pizza.
Okay lah maybe that's not ALL because there's obviously more but the message we got was clear – Papa John's "doesn't just sell pizzas, they are pizza makers".
And with such great pizzas and a great philosophy, it's easy to see why they have been so popular for so long.
It's about time we finally get the chance to enjoy it here in Singapore and here's to seeing more Papa John's outlets around the island very soon!! *hint hint*
Blk 801 Tampines Avenue 4
#01-279
Tel: 62626262
www.papajohns.com.sg
Facebook: www.facebook.com/PapaJohnsSingapore
Operating Hours:
11.00am til 11.00pm Daily
All information (including prices, availability of item on menu and Halal status of establishment) are accurate at the time of posting. All photos used in this site are property of The Halal Food Blog unless stated otherwise.