It's been awhile since we've let go a double-post in a day here at The Halal Food Blog so if we do, you know its gotta be for a good reason right 😉
So we are still here in Dubai as part of #TheAlshayaFoodTour so we're gonna put out as much information as we can.
In fact, here's another one that seems like a really popular makan place with our readers!
So P.F. Chang's is an eatery that specializes in American-Chinese food.
That's right – American-Chinese food and NOT Chinese food. There is a difference as I'm pretty sure all of you know and this is a bistro that apparently serves some pretty delicious food from all the buzz we've heard.
Well, lucky us! Got try have dinner at P.F. Chang's yesterday evening!
But I would like to apologize in advance because some of the photos in this review are a little dodgy.
I'm not sure how but I managed to accidentally switch off the Image Stabilization on my lens which resulted in some pretty blurry photos especially in low light conditions. Managed to spot the issue but there are still some photos I did not get a chance to re-snap. Sorry about that folks!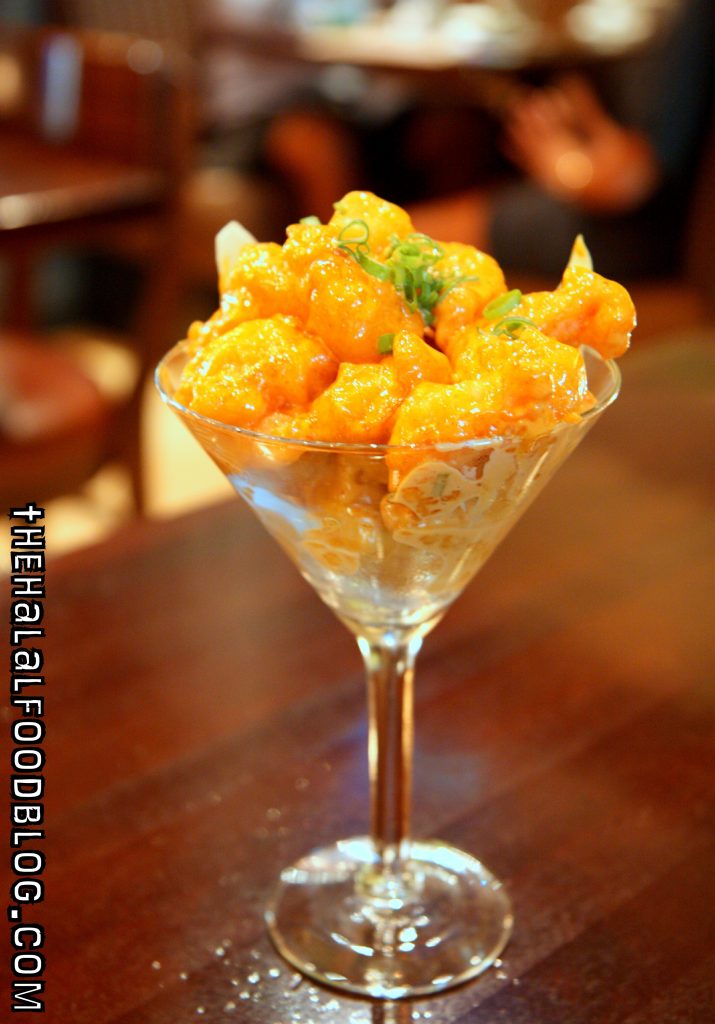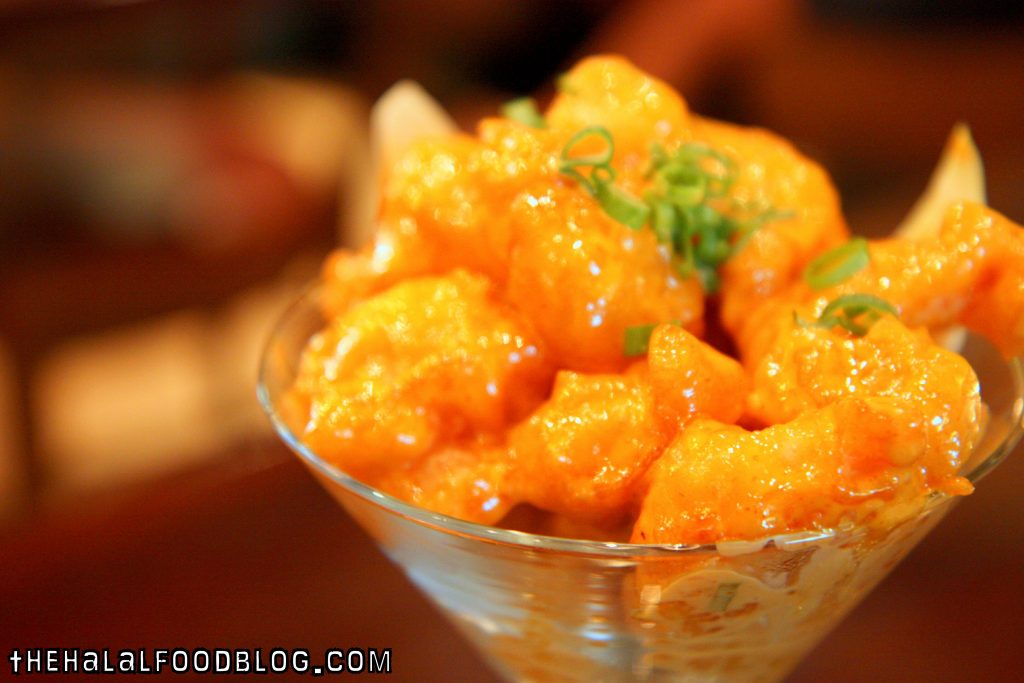 I believe this dish needs little introduction because it's YOU – our readers – who tipped us off on the Dynamite Shrimp at P.F. Chang's! So many of you told us that this is a MUST HAVE so of course we're gonna make sure we try it since you lot like it so much LOL
So we have got some battered shrimp that is tossed in some "explosive spicy sauce".
Well, I didn't find it particularly spicy to be honest. It's still a tasty dish but a little lacking in the 'spicy' department. But I do like the sauce because it's still pretty tasty and the shrimp have a great bite to them.
But let me ask you all this question – does this dish not remind you a lot of the Kickin' Shrimp at Tony Roma's? Seems really similar and even the serving presentation is pretty similar too. Well, anyways I have to give the edge up to this version at P.F. Chang's because the sauce is tastier.
There's also no doubting the popularity of this appetizer. We saw wait staff bringing 2-3 servings to a table seated with only 2 people. Oh yeah it's that good! It's little wonder why this dish is one of the best sellers here. Indeed a MUST HAVE just like our readers called it.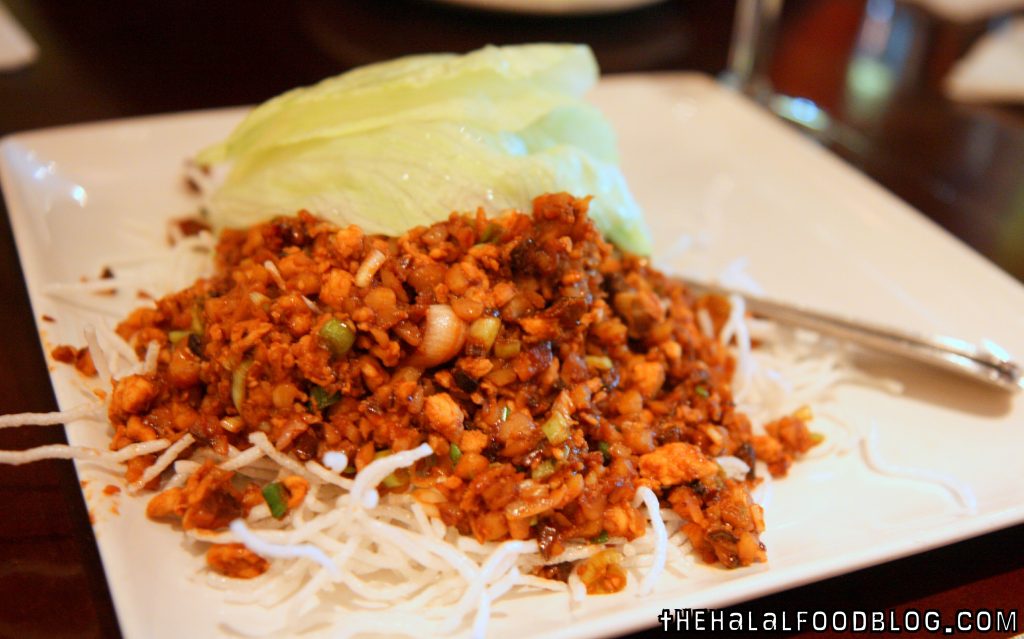 Here's one that took me totally by surprise because just by the looks of it, I was not really expecting much but boy oh boy was I mistaken I can tell you that.
So for this dish, you have stir-fried chicken that really has a great soy/spice flavour to it and you scoop it and some of the crispy noodles and wrap it up in some iceberg lettuce. And when you have your wrap all prepared, you take a nice big chomp.
The explosion of flavour in my mouth was power lah. Coupled with the nice crunch from the iceberg lettuce and I was all set. The stir-fried chicken is also good to have with rice and other dishes too. I can think of a few people that might think this has a bit to much of a salty edge to it but for me personally I didn't really think it was too salty. I quite like my food to have a little bit of extra kick in the flavour department and this one delivers.
And it's great for sharing too because everyone has to dig in!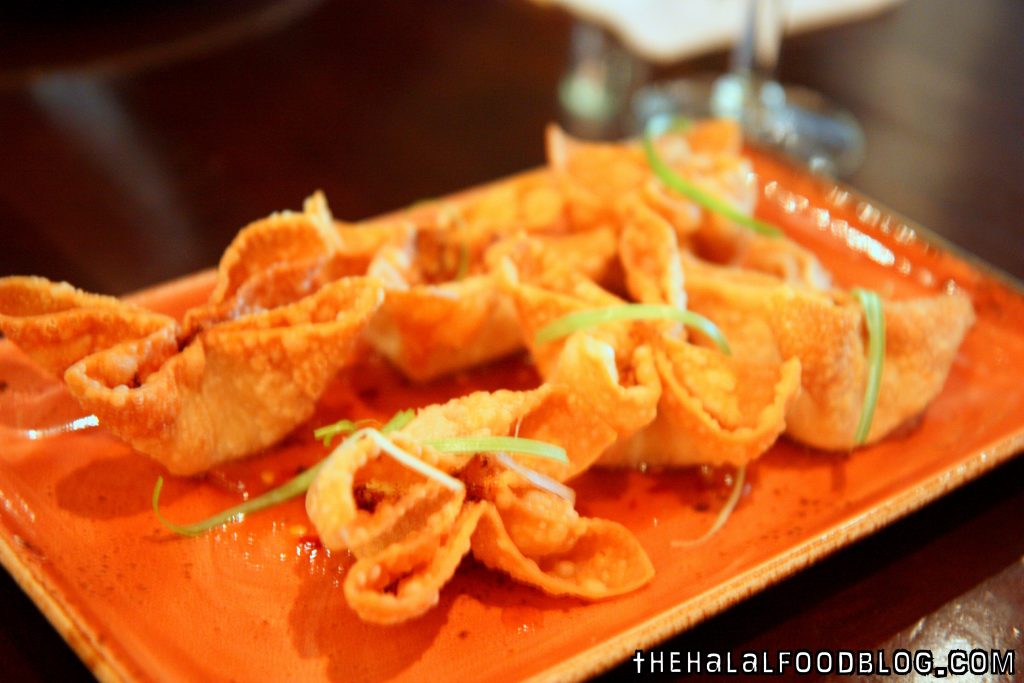 Here's one where I messed up the photo but you can roughly see the wontons right?
I found the wonton skins to be a little on the thick side. This may have meant a little bit of extra crisp when I chomped down on a wonton but this also meant it was a little difficult to swallow because it was pretty dry. The wontons actually rest on some Spicy Plum Sauce on the dish but it was apparently not enough for me.
So I asked for an extra serving of the Spicy Plum Sauce for dipping in the hopes that it might make the wontons a little more enjoyable to chow down. But I'm afraid it didn't work either simply because the Spicy Plum Sauce totally overwhelmed everything. Guess maybe a bit of adjustments needed to this dish.
Plus, at that price, you could just as well order another serving of Dynamite Shrimp or the Chang's Chicken Lettuce Wraps because the prices for those dishes is lesser than the Crab Wontons.
Anyways besides that, they also have plenty of other choices for appetizers so take your pick.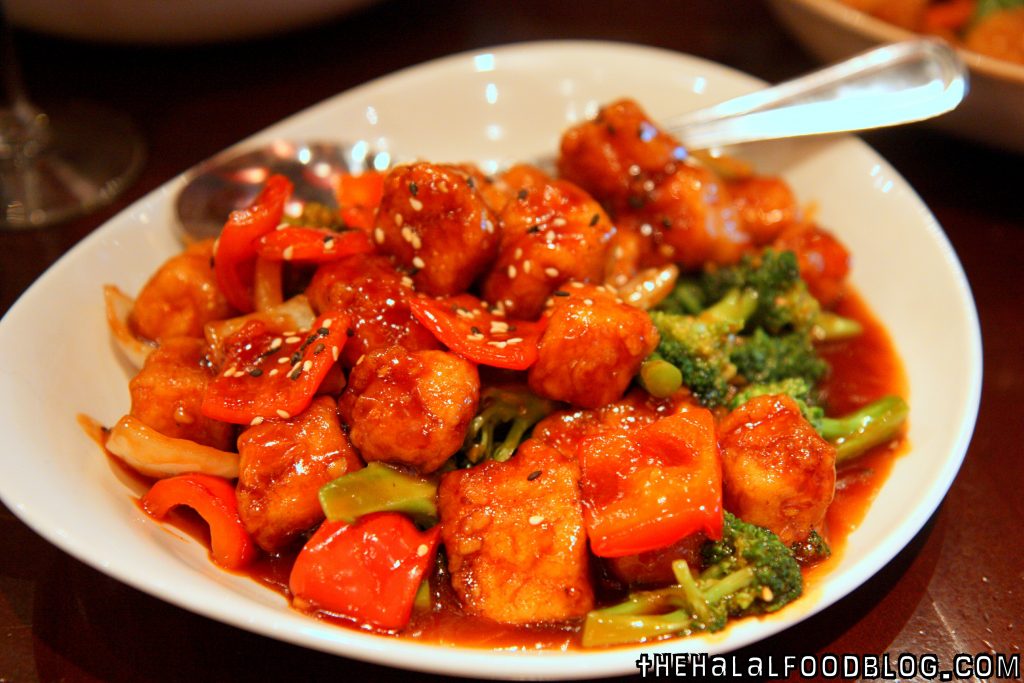 First chicken dish of the night and it seemed like it was one of the popular dishes at P.F. Chang's.
The Chang's Spicy Chicken has diced chicken that is coated in a sauce that's spicy, sweet and tangy (kinda like Tiga Rasa now that I think about it).
It had a nice flavour to it but again I was wishing it had more of a spicy kick to it.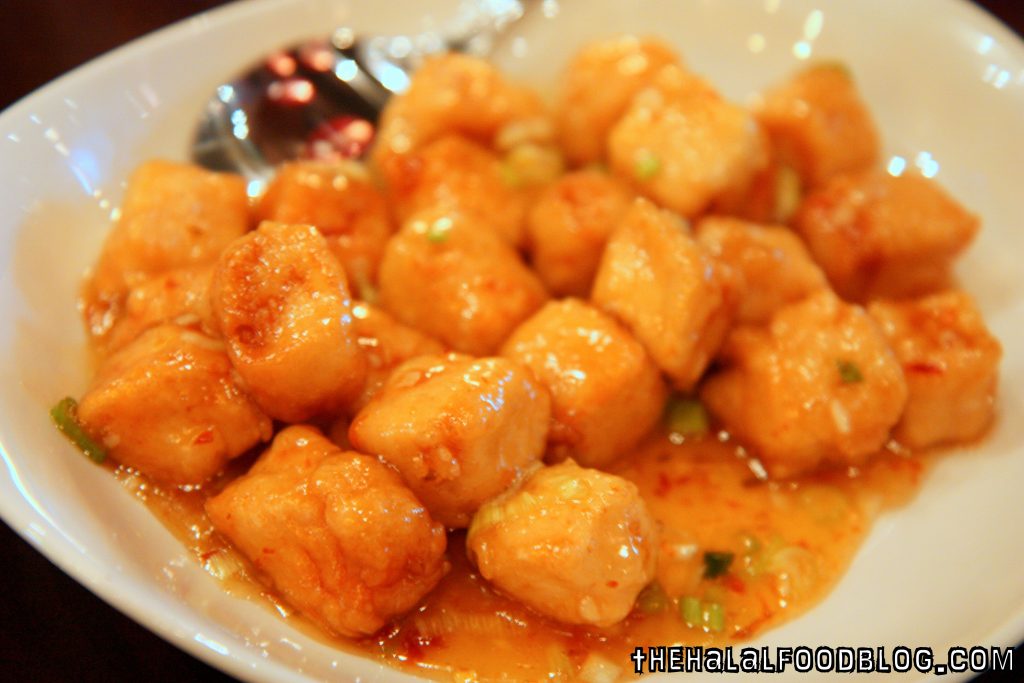 Another chicken dish this time and was more on the sweet side thanks to the honey. It's also described in the menu as a "tangy sauce" which is pretty accurate because I could get the hints of citrus in the dish.
Again not too spicy I'm afraid and also I'm not sure where the 'crispy' part is because the chicken breast meat doesn't seem like it has any coating or skin to give it a crisp.
Other chicken dishes you might consider are familiar favourites like Kung Pao Chicken, Sweet and Sour Chicken, Cantonese Lemon Chicken, Almond & Cashew Chicken, Orange Peel Chicken, Sesame Chicken, Ginger Chicken with Broccoli and Chicken with Black Bean Sauce. They've also got dish on the menu called the "Dali Chicken' which they tout as "one of their spiciest dishes". Hmmmm… next time we visit means gotta try for sure!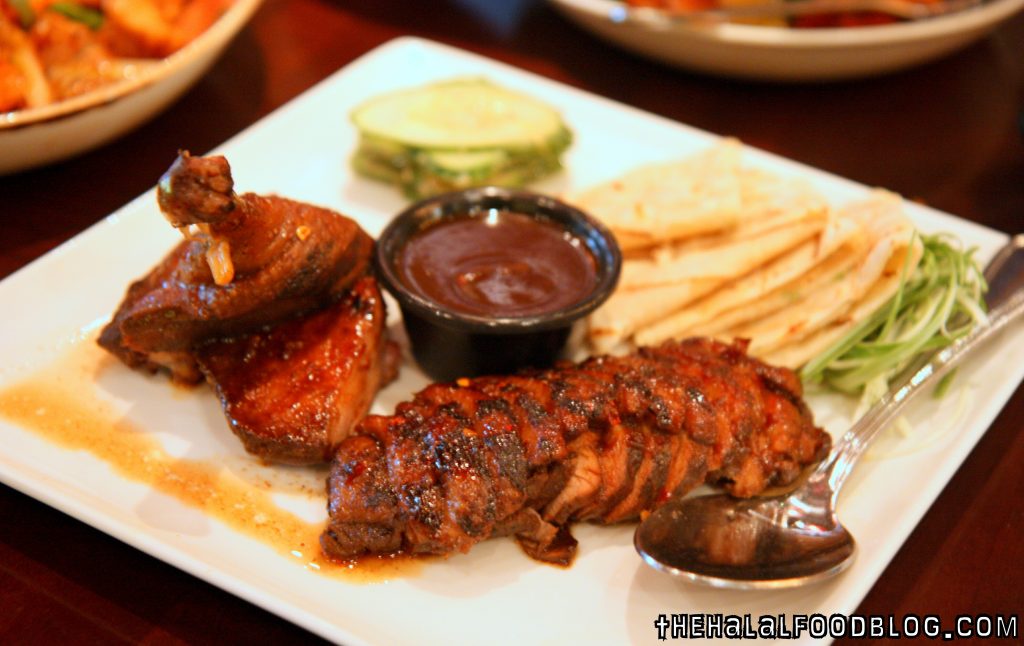 They call this dish the VIP Duck and quite rightly so! It was one of the best dishes we had that evening!!
They serve 2 parts of the duck – the breast and the leg – that's been marinated with and then basted with (while on the grill) with a special concoction which includes soy and Hoisin sauce so it has a good balance of sweet and savoury which was absolutely perfect here.
And let me tell you – I really enjoyed the leg of duck! It is probably the most tender duck I have ever tried myself. I guess the fact that they steam the duck first and then finished it off on the grill. There was also no gamey/ducky taste at all which tells me they really did a good job here. Nice layer of fat and tender meat. Power!
So it's served with some scallions, cucumbers and  something like a little tortilla wrap type thing and you 'build' it up by putting some duck meat, cucumber, scallions and the accompanying sauces (which were really tasty by the way) kinda like how you might enjoy Peking Duck.
But it's not quite the same and I think I would prefer to enjoy the duck as it is without the wrap part.
Anyways you know how difficult it is for us to find Halal duck back in SG right let alone Halal duck that is as good as this here at P.F. Chang's!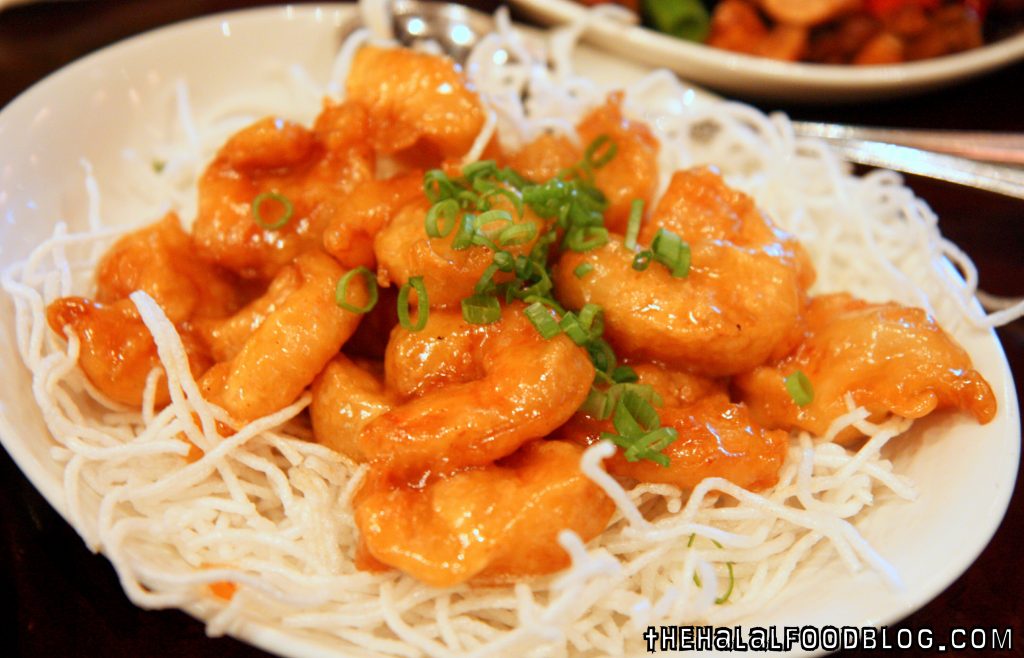 They also have quite a selection of shrimp dishes in the menu that are bigger servings than just appetizers (like the Dynamite Shrimp) not too bad but I felt the batter was a bit too thick. Sauce had a good flavour to it thankfully! LOL
I also noted that the Shrimp dishes on the menu were a little on the high side I guess? Well, that's probably because it costs a bit more to get fresh and quality shrimps.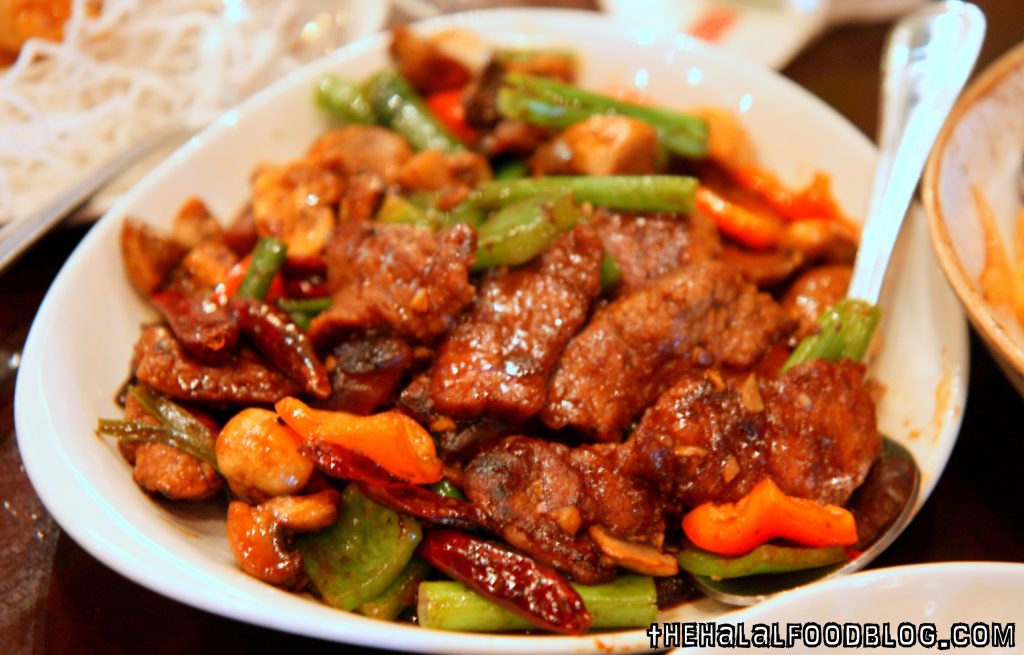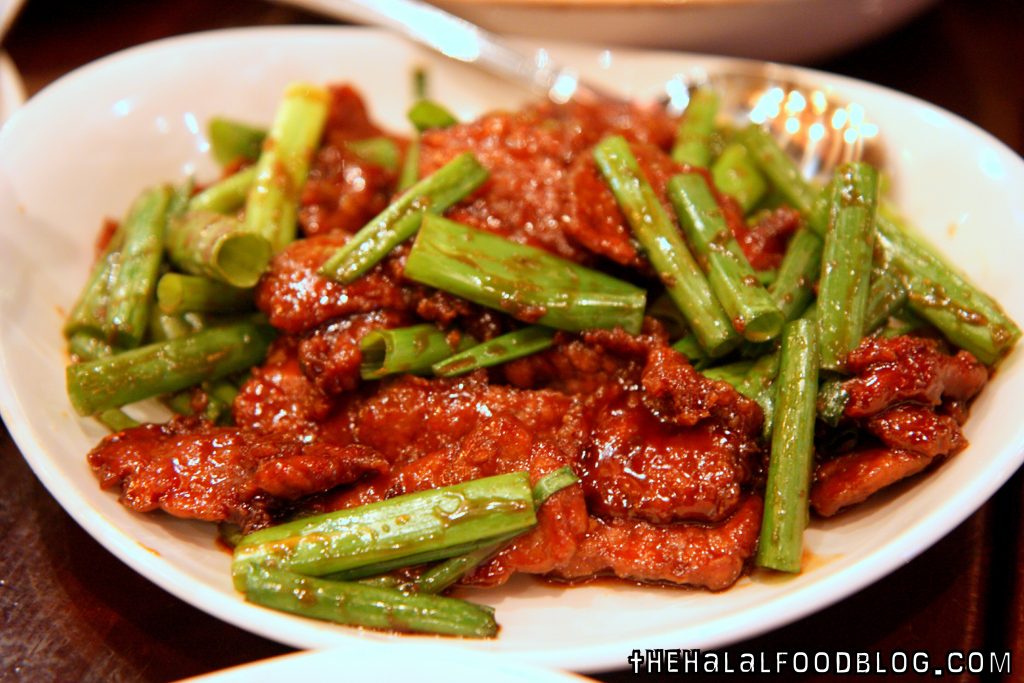 So we were having some trouble choosing a Beef dish and when we were finally settled, we decided to try 2 and see how they matched up to each other.
For the Wok-Charred Beef, they actually sear the meat to give it a little extra grill/char flavour. Mix in some mushrooms and peppers and there you have it!
The Mongolian Beef seems like a really simple dish when you look at the picture. Just beef slices in some sauce and scallions and that's it. But between the 2, I'd have to say the Mongolian Beef wins.
Both dishes apparently use the same beef slices but for some reason, the Wok-Charred Beef slices were a little tougher compared to the Mongolian Beef. I also much preferred the sauce from the Mongolian Beef!!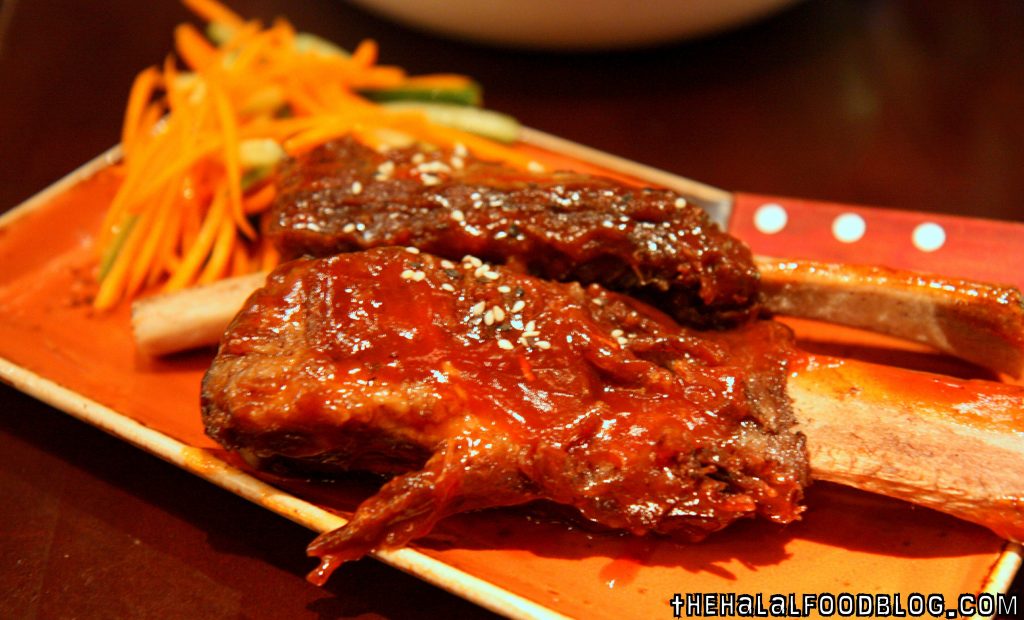 On the menu, they say you can possibly enjoy this as a "great starter or light meal" errrr but we think cannot lah
So big how to consider as light meal and/or starter LOL
Yeah we are talking about fill-sized Beef Short Rib here!
But I guess therein lies the problem. When I think of Beef Ribs I guess I'm expecting something with a strong and full flavour (e.g. BBQ etc) but the flavours here were actually quite subtle.
The marinade/baste is similar to the soy/Hoisin Sauce one used for the VIP Duck so the flavours were on the sweet/savoury side but not very strong. But I guess that mean you can enjoy the natural grilled flavour of the beef instead. I kinda found this one on the pricey side though.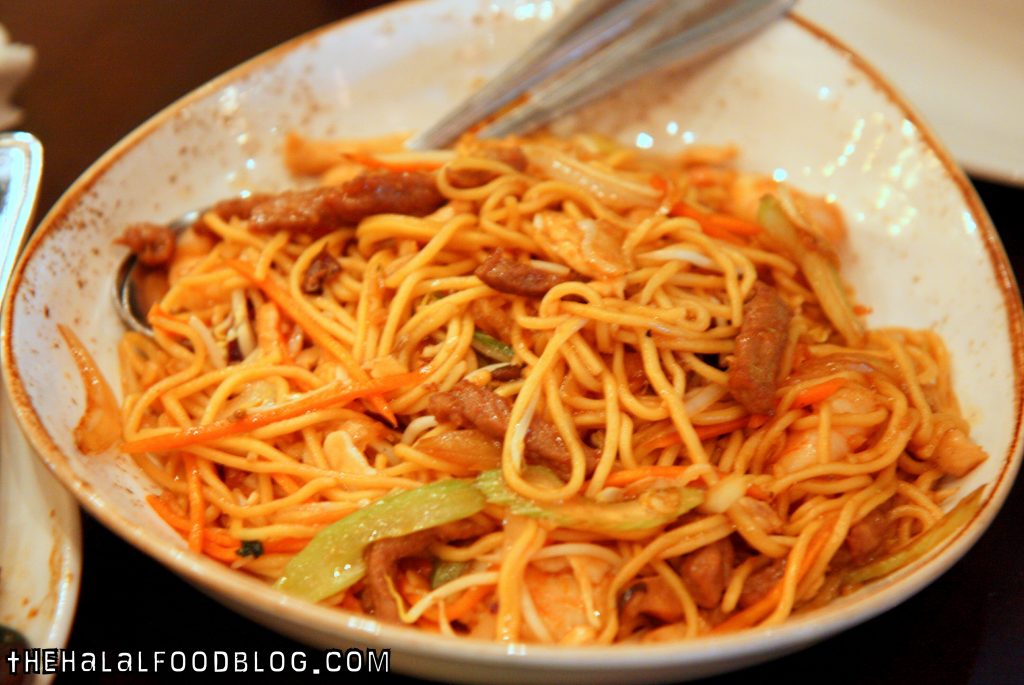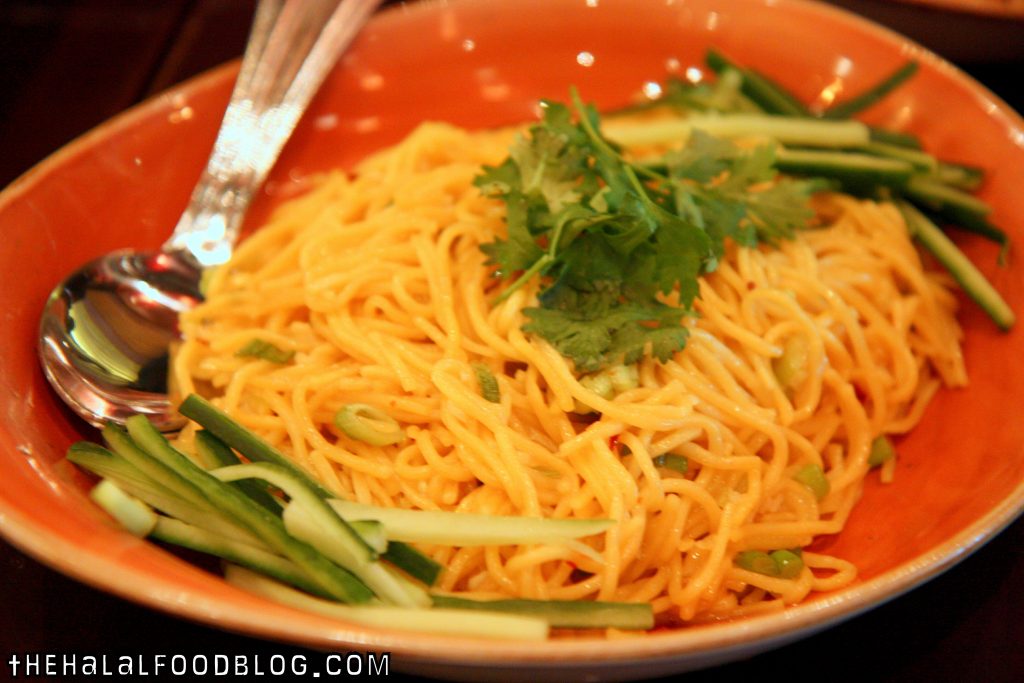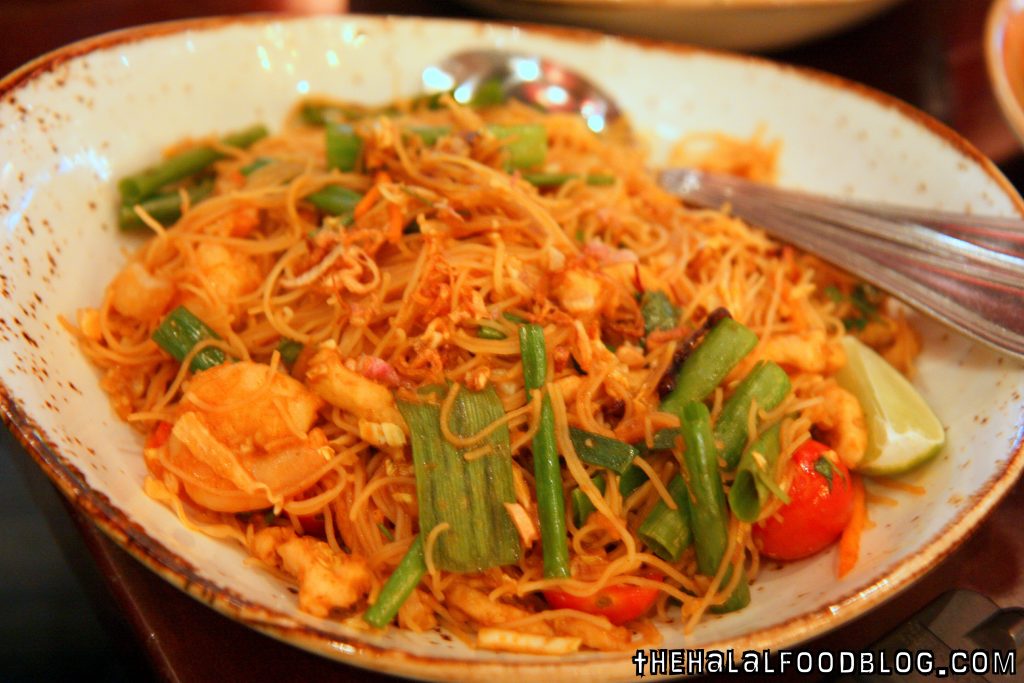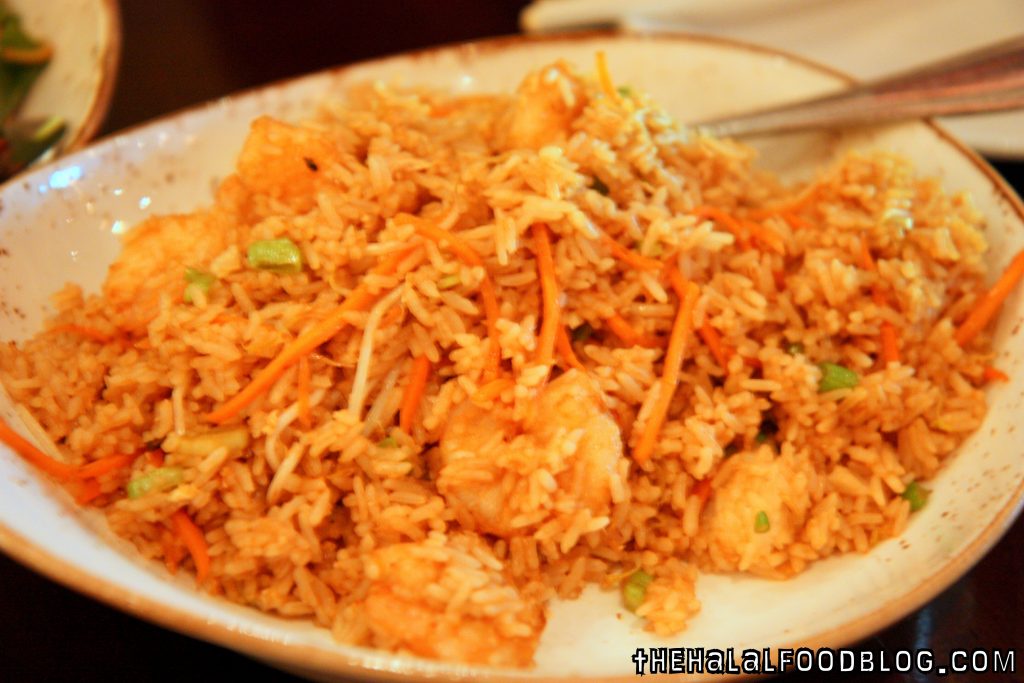 And of course, we had to have some noodles and rice with the rest of our dishes right!
Of the 4, I actually liked the Lo Mein the most probably because it has a tasty and familiar flavour (very much like our Mee Goreng back home in SG). For the Lo Mein and the P.F. Chang's Fried Rice, you can actually choose if you want the Vegetable, Chicken, Beef or Shrimp version but if you're greedy like us, go for the Combo version which is everything thrown in LOL
The Singapore Street Noodles was actually pretty interesting. I guess I ordered because I saw the word 'Singapore' in the name so I wanted to see what was exactly so 'Singapore' about it. Well, it's not so clear cut to be honest LOL it's got a very interesting flavour to it. I personally feel it reminds me a lot of our Mee Siam Goreng back home actually.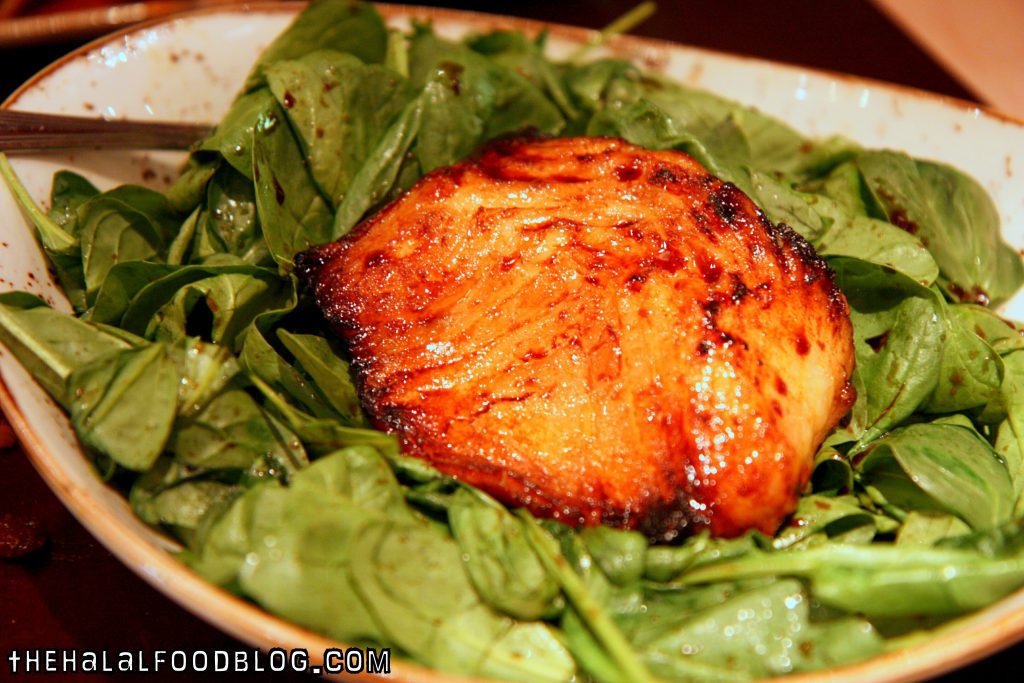 Last and very definitely not least, this is a dish that the menu mentions as a popular favourite with the diners at P.F. Chang's so much so that it might actually be their "best dish". Well, they might actually be right!
The seabass fillet is marinated in Oolong Tea and ginger before they grill it to absolutely perfection. They also baste it with a special soy sauce it packs in extra flavour and also gives the fish a nice glaze. Quite a few might say that the soy sauce (which actually collects below) is too much on the salty side but again, I was actually okay with it.
Besides the excellent seabass, I was actually also very impressed with how it was presented!
They could have gone the usual route like the Chinese restaurants and serve is just plain on a white dish (you know what I'm talking about) but here they serve it on a bed of baby spinach. Well, like we said at the start – this is an American-Chinese restaurant and not just a Chinese one 🙂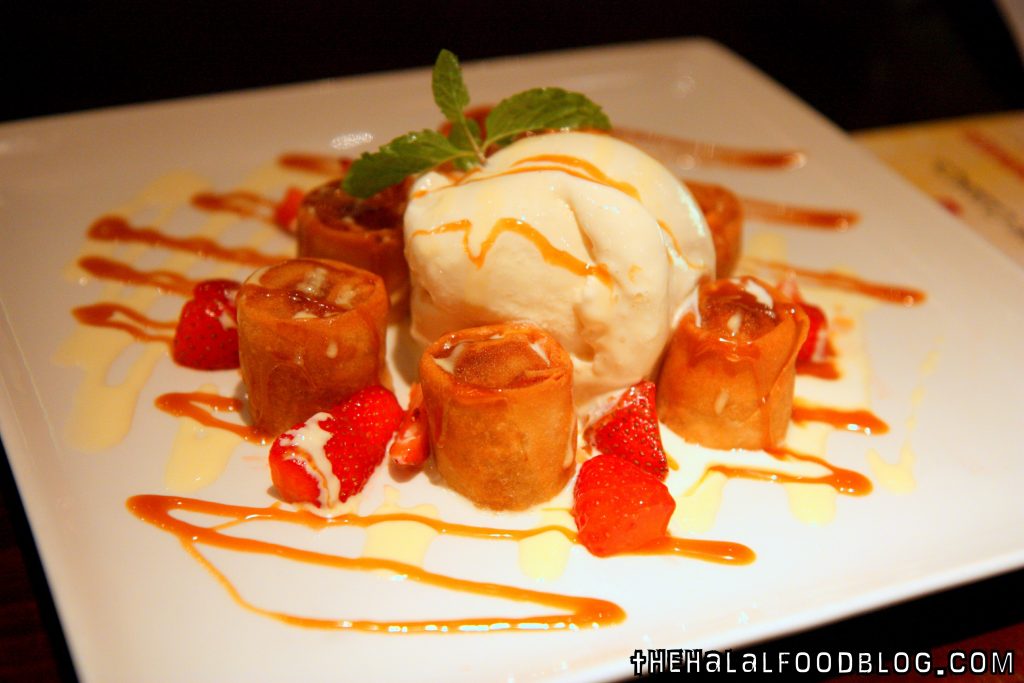 And onto dessert!
First up was the Banana Spring Rolls which has some bananas rolled in cinnamon sugar and then wrapped in some spring roll (aka Popiah) skin and then fried to a crisp. Served with some vanilla sauce, ice-cream and fruits too.
The banana was nice and sweet and the spring roll skin gave it a nice crisp bite.
I'd say this is actually a really simple dessert with a really good presentation.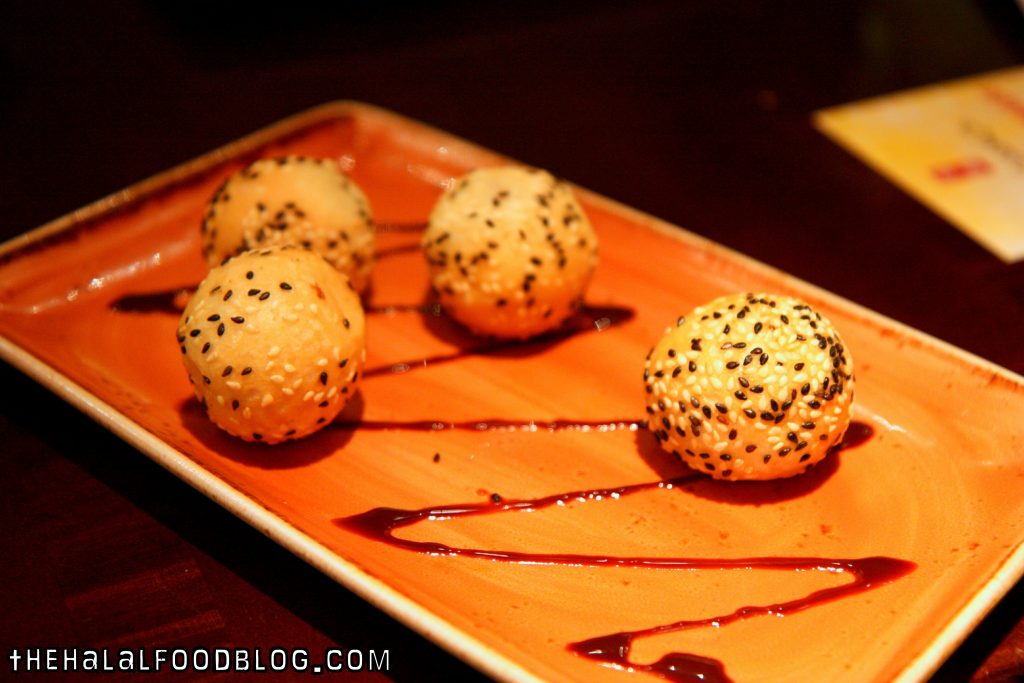 Here's a dessert that seems pretty familiar I'm sure but all dressed up of course.
So the rice dough balls have some filing in them namely chocolate or Nutella and some chocolate sauce on the side for good measure.
I didn't quite enjoy this one because it seems like it was overfried and so the rice balls became really tough. I had some problems cutting through it with just my fork actually.
The fillings were also pretty mediocre and maybe they might consider trying out some other unique fillings which might have a bit more Asian influence like Azuki or Matcha or something like that.
It seems like our meal at P.F. Chang's was a very interesting one because we had a lot of food and while some of it was just so-so, we found some real gems here! I'd go back to P.F. Chang's for the Dynamite Shrimp, Lo Mein, VIP Duck and Oolong Marinated Seabass for sure!!
But having said that, there are still plenty of other dishes on the P.F. Chang's menu that seem like they are worth trying! The concept of the restaurant is also very hip and modern I'd say so it'll be a nice place to visit for any occasion.
The Dubai Mall
Waterfall Promenade, Lower Level
Tel: +971 4 4190209
www.alshaya.com/brands/food/p-f-chang-s
Facebook: www.facebook.com/PFChangsMiddleEast
Operating Hours:
11.00am to 11.30pm Daily
All information (including prices, availability of item on menu and Halal status of establishment) are accurate at the time of posting. All photos used in this site are property of The Halal Food Blog unless stated otherwise.