Omoomodon was recently certified Halal recently (in June!!) and after glancing through their menu on their website, it definitely seemed like a place worth making the trip for to try! So one sunny afternoon, I met up with one of our fellow foodie buddies – The Halal Eater – to check it out.
So what exactly does Omoomodon have to offer exactly that warranted a journey to the west?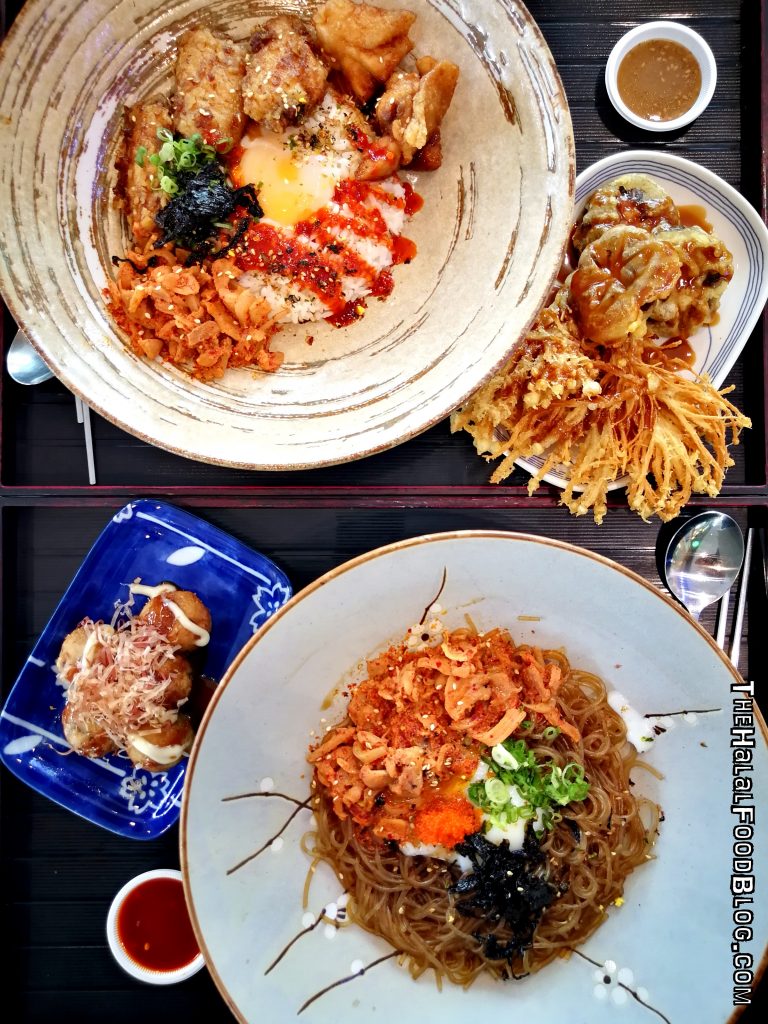 Okay first things first, some of you might be wondering how to pronounce Omoomodon right?
Because to be honest, even I was trying to figure it out for quite awhile LOL
I originally thought it was pronounced as "Omoo-mo-don" because, well, that's how it's spelt out in one word right? And then when we got there, we noticed that on the sign, the name was a bit more stylized with bold font etc. So we figured out that the correct way to pronounce it is – "Omo-omo-don".
And to further back things up, The Halal Eater's vast knowledge of foreign lingo pointed out that "Omo" is actually a popular Korean slang which translates to "Oh my!" or the more extreme "Oh my God!". Maybe you've heard it while watching your favourite Korean drama?? So technically, we're saying "Oh My Oh My Don!" when we say "Omoomodon". Well, that's our story and we're sticking to it LOL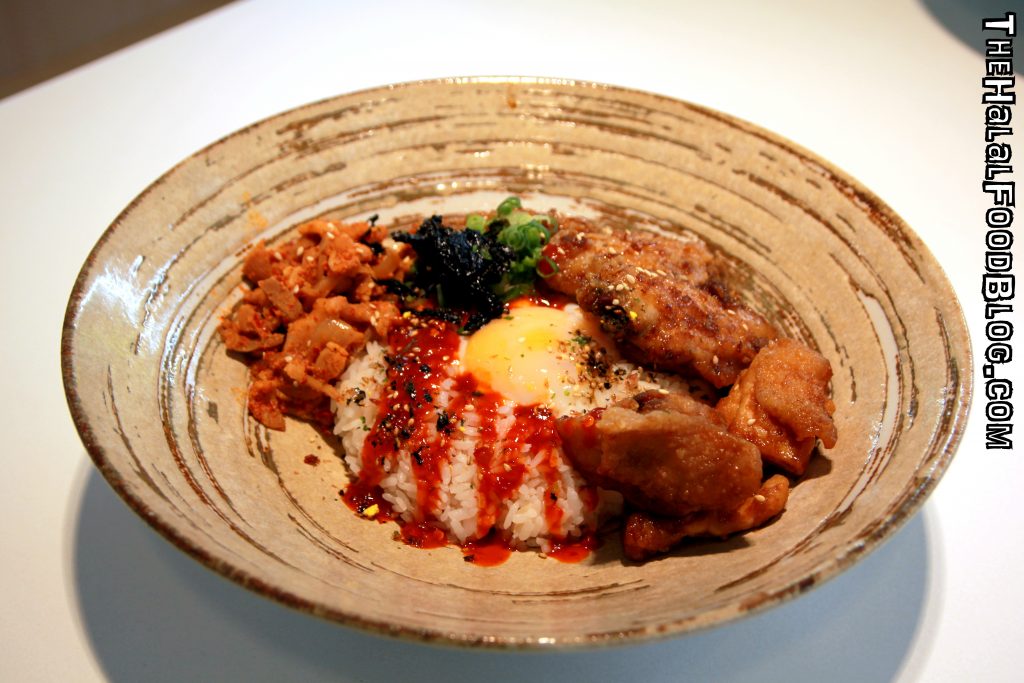 Their biggest (and most fearsome) don happens to be a special one that was apparently created especially for CNY a few years ago. It was the Year of the Rooster hence all the chicken in this particular dish! Omoomodon is pretty much a Japanese-Korean fusion concept so this dish is a perfect example of that.
So we have not one, not two but THREE different types of chicken served with a bed of Korean white rice!
You've got Spicy Chicken (which is pretty much like Chicken Bulgogi), Teriyaki Chicken and Soy Garlic Winglets. Now that's what I call A LOT OF CHICKEN!! LOL! Oh and there's also a nice, runny Onsen Egg to enhance the whole flavour of the don. Mix them all up (like enjoying Bibimbap) or enjoy them individually – it's totally up to you.
This was The Halal Eater's dish so I only stole a few bites of the Spicy Chicken Bulgogi and to be honest, it wasn't as spicy or flavourful as I expected. I mean, normally, Korean chicken has a really strong flavour and that was kinda lacking. Although the Teriyaki and the Soy Garlic Chicken did well to represent their respective flavours overall, I think we were both had really high hopes for the Spicy Chicken Bulgogi.
By the way, there's pretty much no veggies but they do add a bit of Bibimbap sauce to add to the flavour.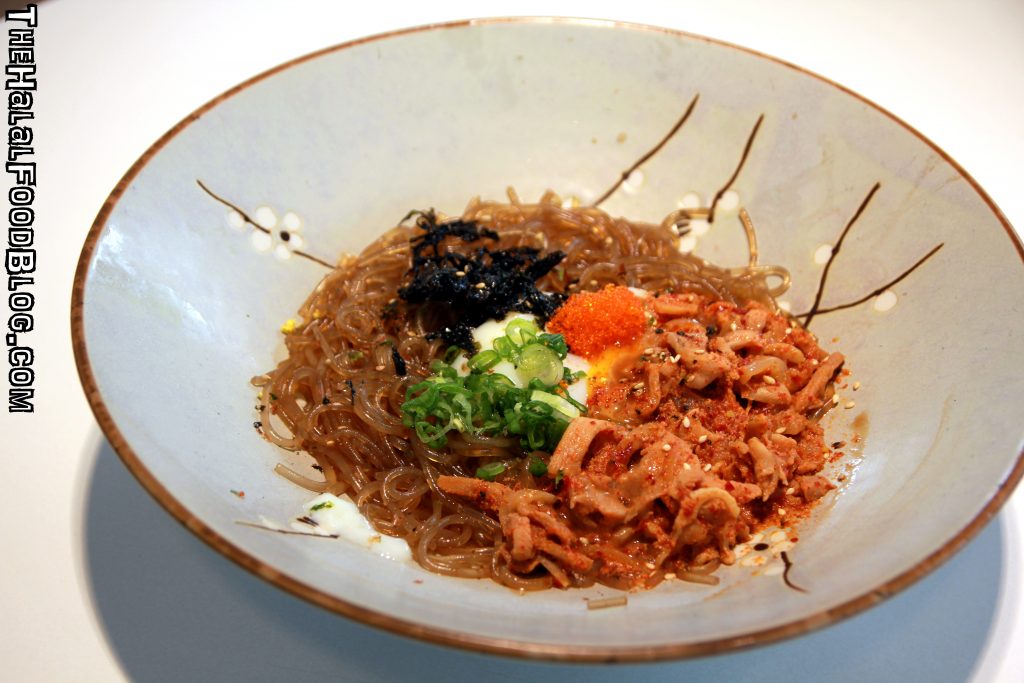 I decided to try something with noodles instead of rice and settled on the Bird's Nest.
No, it's not really bird's nest okay LOL
So it's actually Korean Glass Noodles and it also comes with that Spicy Chicken Bulgogi, an Onsen Egg, some Tobiko and also Korean BBQ Sauce.
I have to say that I actually really quite liked the Korean Glass Noodles!
I thought it was gonna be like Tang Hoon but the Korean Glass Noodles were a bit thicker, had a great bite (a little chewy which was nice texture-wise) and not as slippery to handle with chopsticks as you might have expected. Flavour was good too!
They have a few other dishes featuring other noodles (both Japanese and Korean) like Udon and Soba which I fully intend on trying the next time we visit but to far, this one is a winner in the noodles department!
Well, we all know how I feel about the Spicy Chicken Bulgogi but I think I was most disappointed that my Onsen Egg was not a pretty as The Halal Eater's… I WANT ONSEN EGG LIKE HIMMMMMMMMMM 🙁
Okay lah but on the flip side, because the yolk already ran all over the noodles, turned out quite nice because the noodles got a bit more creamy and definitely more flavourful thanks to that. The Tobiko (Flying Fish Roe), although it was not a lot, still made a difference thanks to the briny flavour which contrasted well with the rest of the flavours in the dish.
So far, I'm quite impressed with how Omoomodon has married Japanese and Korean in the dishes we have tried so far. Interesting ideas! (But please, the Onsen Egg…)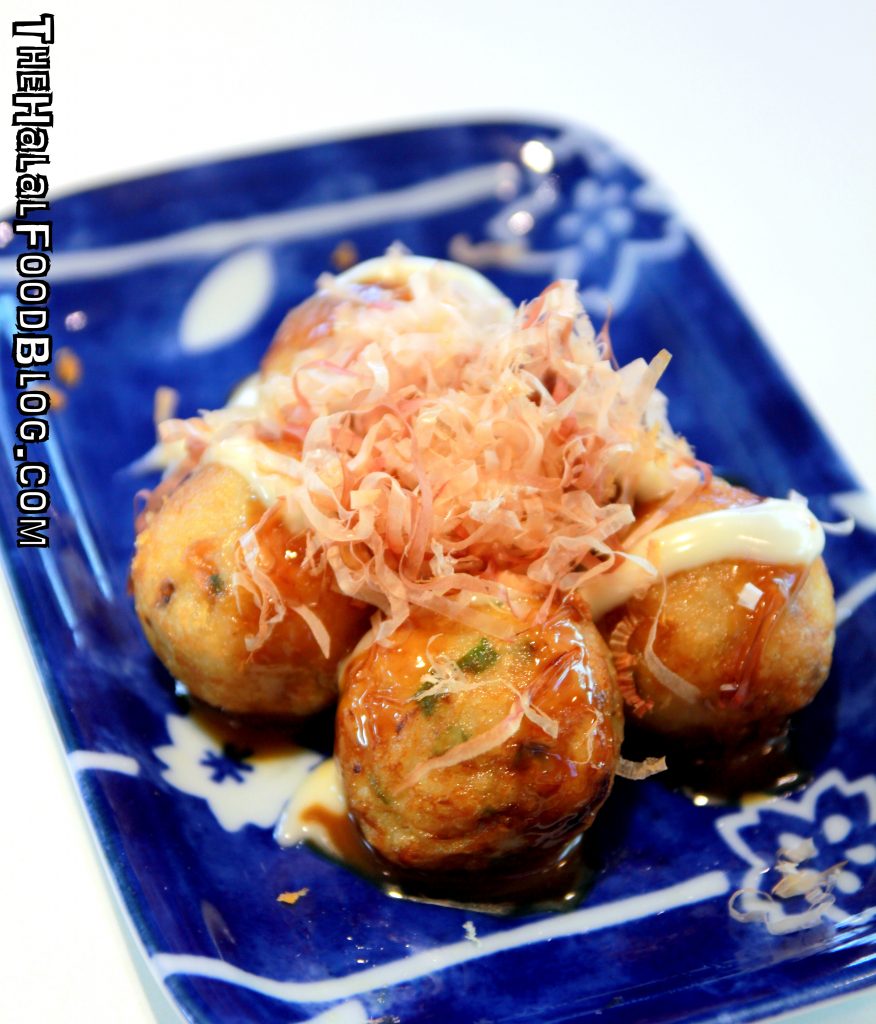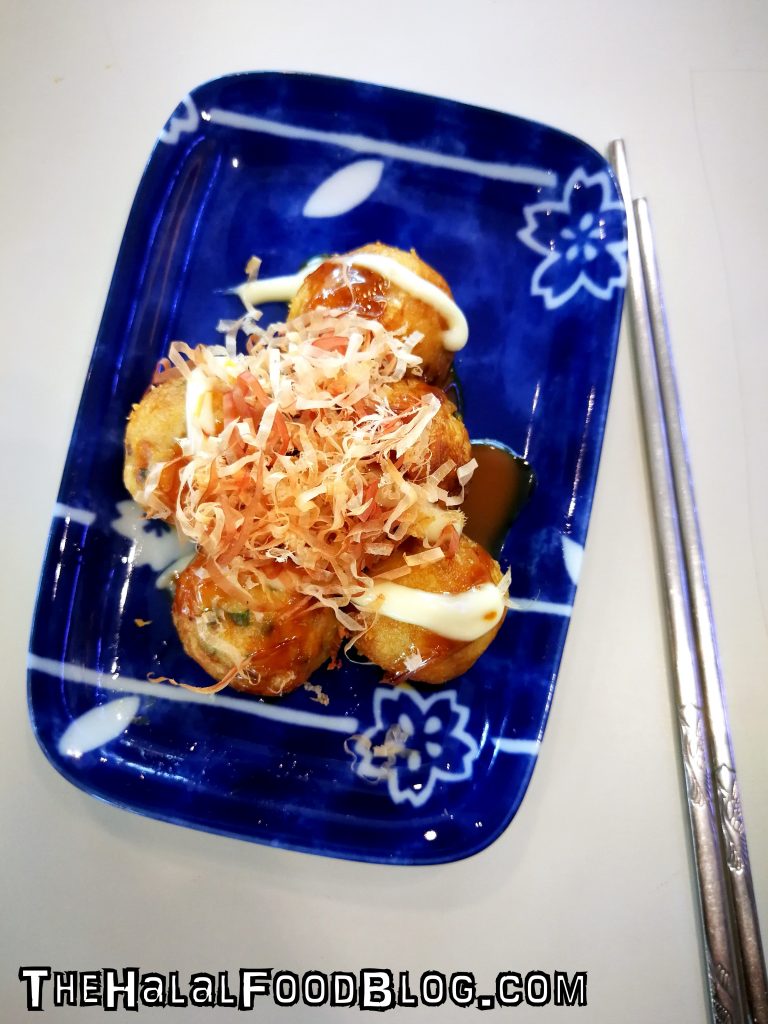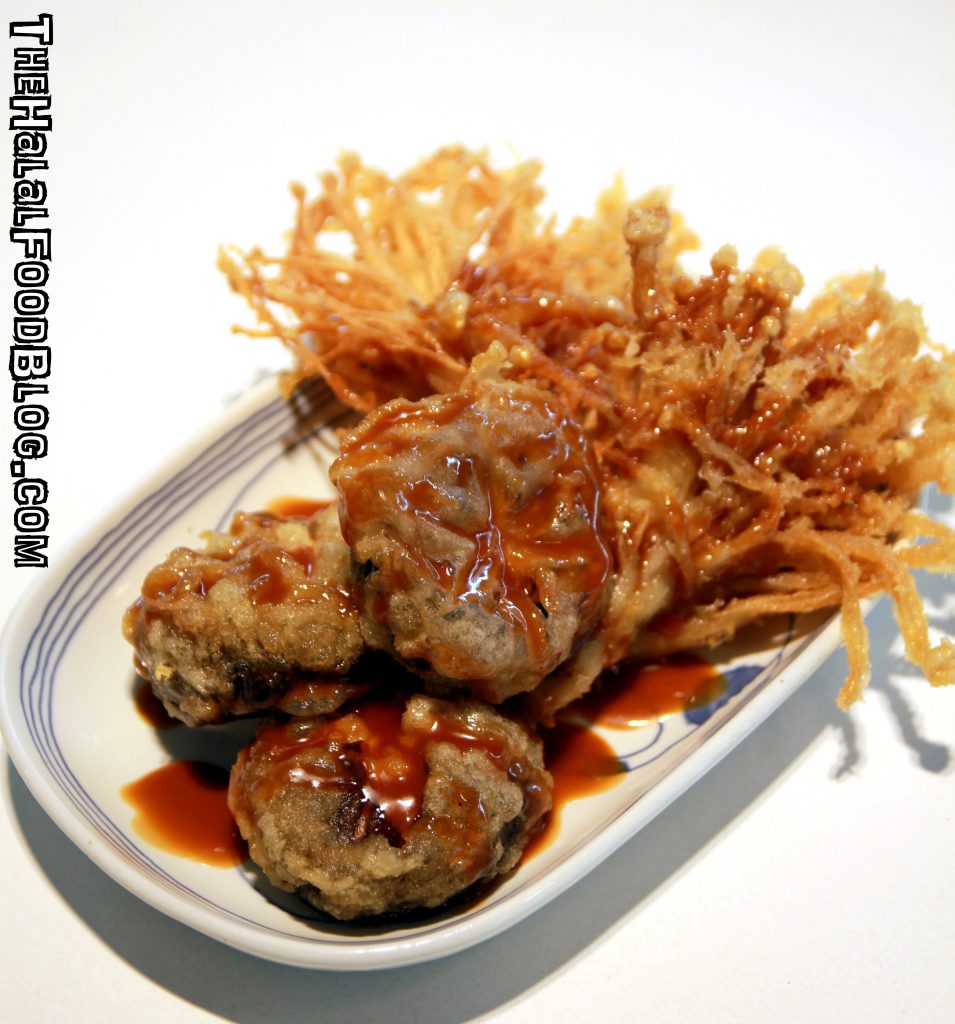 You also have the option of topping up $5 to get a Side Order + a Drink so that's exactly what we did.
We had 10 different sides to choose from and it was no easy feat because we wanted to eat them ALL but alas, we settled on 2 familiar favourites.
The best advice we can give for the side dishes is 1) Eat them while they're hot and 2) don't underestimate how filling your main dish is going to be! Whether it be rice or noodles, it's gonna be quite a meal!
Other side dish options include Fried Dumplings (Gyoza), Croquette, Chicken Cutlet, Chicken Karaage, Spicy Tofu, Vegan Tofu, Breaded Salmon and Fried Ebi. I can't remember if Soup is given as an option for the top-up but Soy Based (aka Miso Soup) and Kimchi Soup are on the menu too.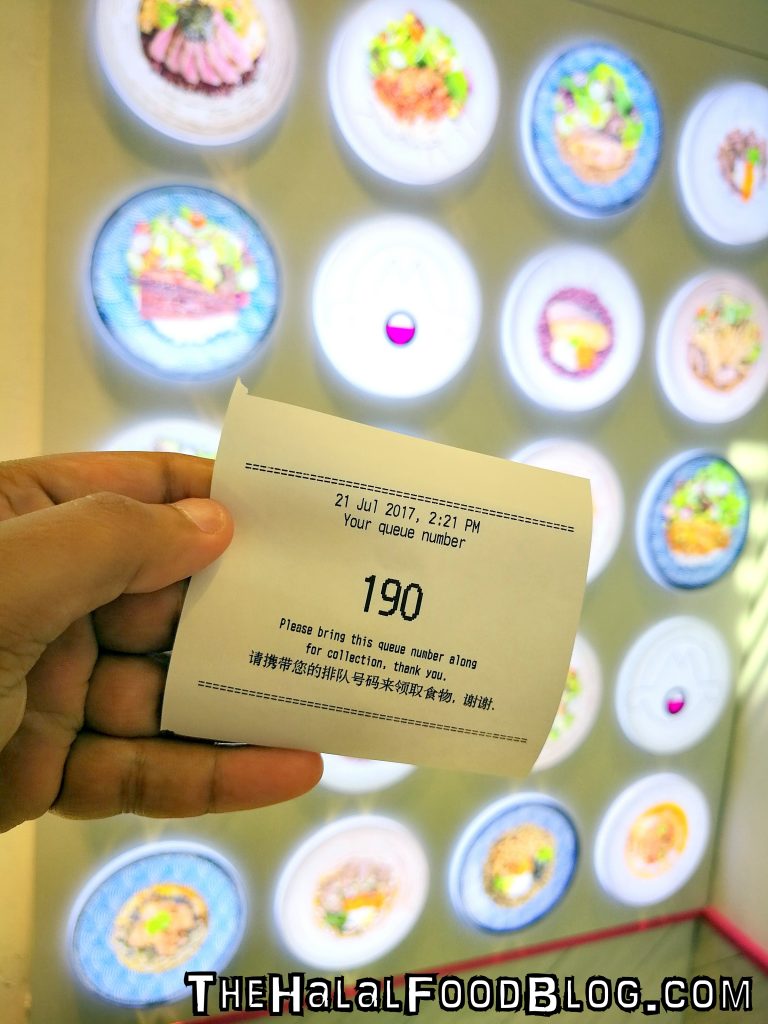 So you place your orders via these electronic ordering kiosks (including payment too!) which is super convenient and then you wait for your number to be called. Now, if you're seated outside, keep a lookout on the (pretty small) screens because when we were there, we didn't hear like any sound effects along with the number alert.
In fact, we didn't even notice the number flashing on the screen (because it's really quite small and inconspicuous) and only noticed it was out turn for pick-up because there was food on the counter and nobody else ordering except us LOL so yeah that's something that you might want to look out for.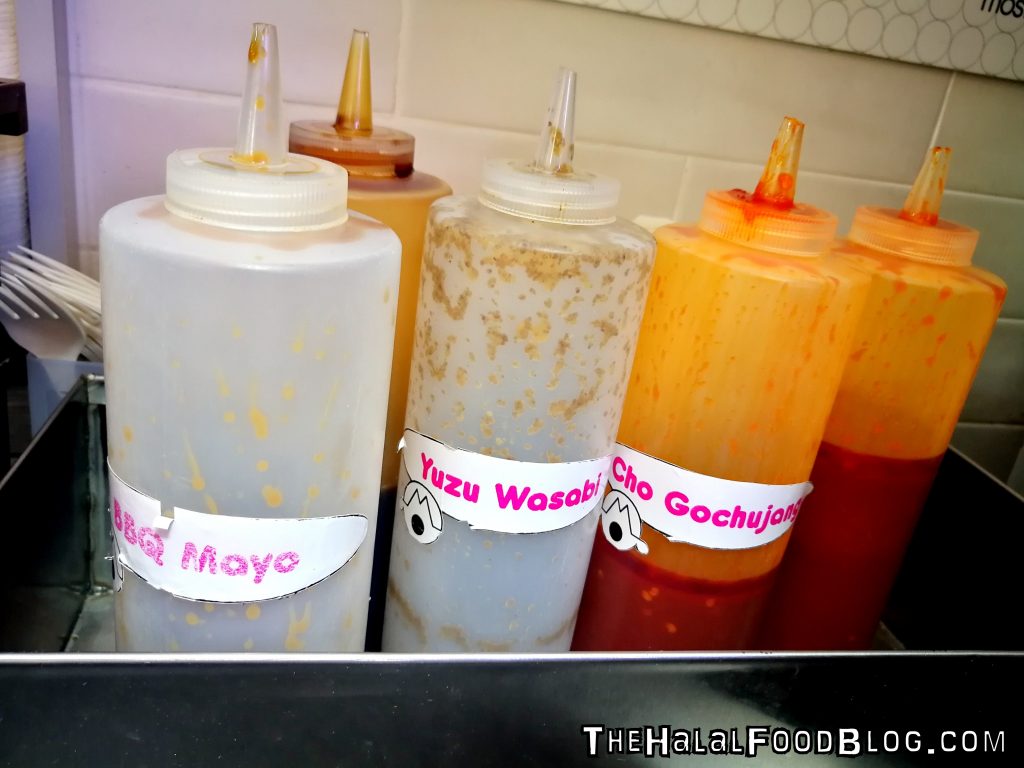 After you pick-up your food, don't forget to head to the side counter and get some extra sauces for your dons or even just for dipping. There are quite a few options for you to choose from so take your pick based on your preferences! For us, the Gochujang tasted a bit too much on the sweet side. Kinda like the sweet sauce you enjoy with Yong Tau Foo y'know what I mean?
And I didn't snap a picture but there's a special rack for you to return your trays and utensils when you're done with you meal. So please do your part and return your trays and clean up your table a little if you can okay!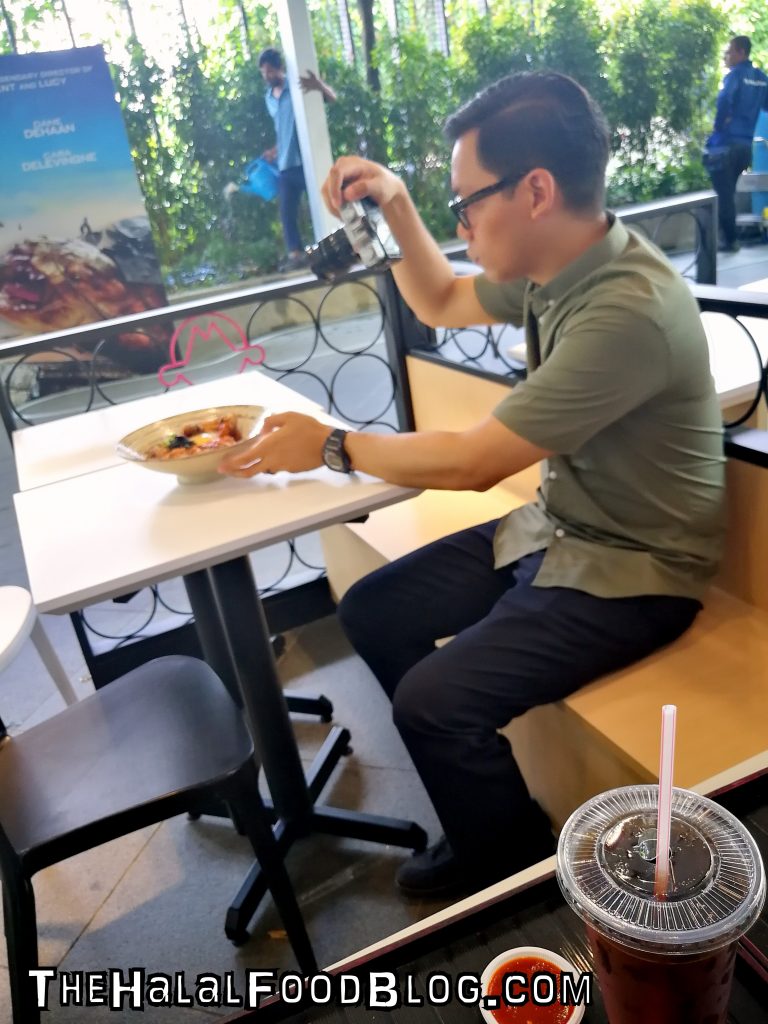 Just in case y'all don't believe that I met The Halal Eater for lunch, I snapped that photo LOL
So the big question – would we go back to Omoomodon? Of course!
Yeah there were a few things that caught us off-guard and a few things that we thought could definitely improve but this seems like a pretty interesting concept!
After all, they've got 18 Signature Dons on their menu (ranging from chicken to seafood to beef) and we've only tried TWO so far! And we haven't even started talking about their 'Build My Don' where you can DIY your own Don from scratch and decided exactly what you'd like to have in your Don! Interesting right??
Well, Omoomo Food Concepts also has other concepts like Steak, Ramen and Bingsu that do not appear to be certified Halal yet (no indication of plans for certification now btw) but Omoomodon should be enough to keep everyone busy for now we reckon. So say "OMO!" as you enjoy your Omoomodon!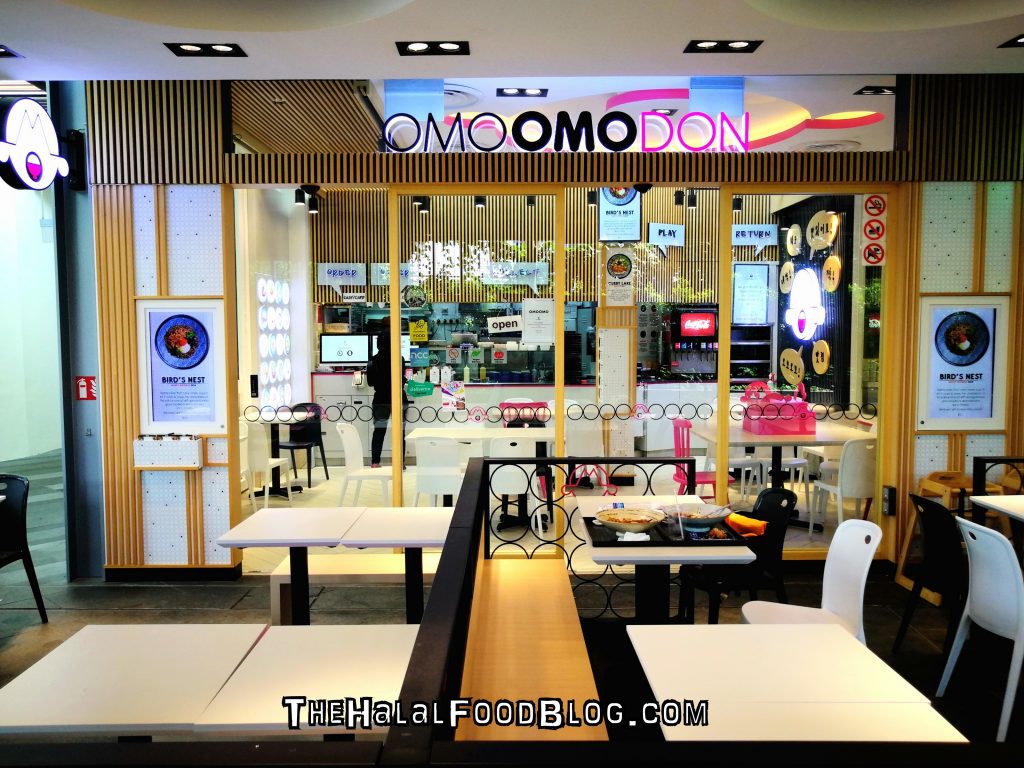 Omoomodon

The Star Vista
1 Vista Exchange Green #02-14/15
Singapore 138617
Tel: 67341863

www.omoomodon.com
Facebook: www.facebook.com/omoomodon
Instagram: @omoomofoodconcepts
Operating Hours:
11.00 til 9.30pm Daily
All information (including prices, availability of item on menu and Halal status of establishment) are accurate at the time of posting. All photos used in this site are property of The Halal Food Blog unless stated otherwise.