Here's a quick one to tide you over til the next big post and it happens to be something from lunchtime in the neighbourhood of my office.
We've actually visited New Rezki quite a few times and have tried many many different dishes but somehow, with each visit, the resulting dish we ordered can (and probably will) be different from the last time we ordered. I guess consistency is definitely a problem.
By the way, this is the new New Rezki at Chai Chee Road and not the one we might be familiar with near Bedok Interchange.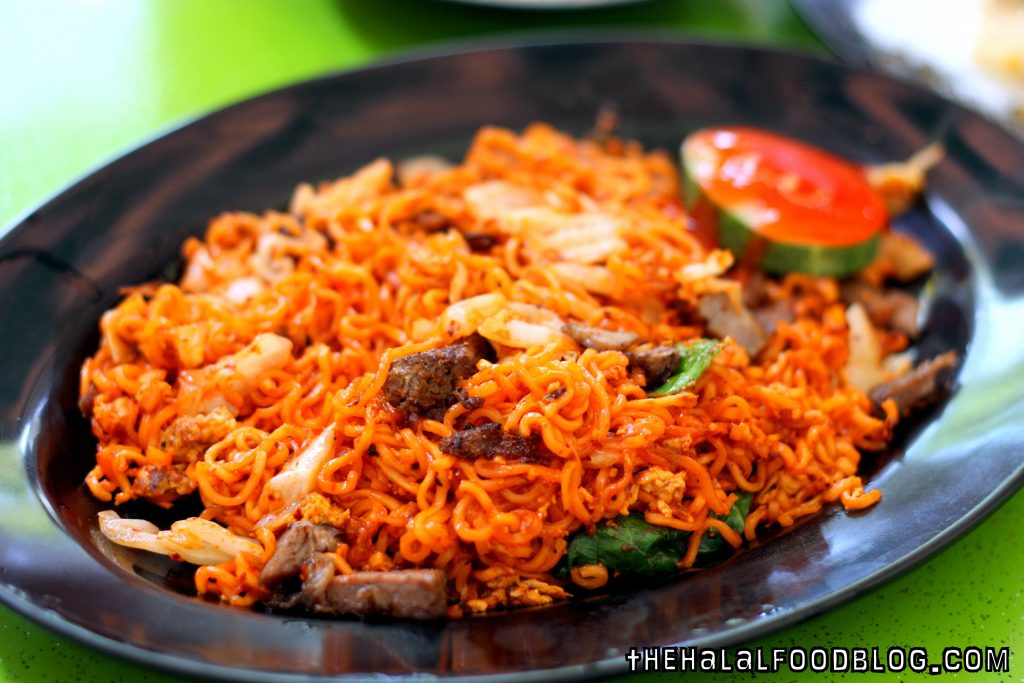 The very first time we visited New Rezki (Chai Chee), we tried the Maggi Goreng and it was actually really really nice. I guess good first impressions really play a big part and we kept going back to New Rezki in the hopes that maybe we can get the same quality of sedap food again.
Sad to say that it's been quite a varied journey (to say the least) but at least, today, we got a plate of Maggi Goreng that was decent (even though I asked for 'goreng basah' and mine was dry while my colleagues got the 'basah' treatment instead').
The noodles were tasty and at was not too salty. I bring up the salty because most of the time, the food ends up salty at New Rezki. And I absolutely LOVE salty food so if I say it's too salty, means it must be really bloody salty.
You can actually choose the Daging or Ayam variations instead of just the normal Maggi Goreng but it will cost you like an extra $1.50 which is not too bad if you're looking for an extra bite in your noodles.
More often than not, I end up ordering the 'Daging' version of everything from the Mee Goreng to the Nasi Goreng and definitely to this Maggi Goreng.
Today, we got these little morsels of meat which were tender and really a great addition to the noodles. And when I say Daging, I mean Mutton.
But having said that, the last time we ordered, we got minced meat instead. And the time before that, the meat was shredded. So like we said, consistency seems to be an issue.
But of course, add the always popular Mata Lembu aka Bullseye Egg aka Sunny Side-Up for an extra $0.50.
Because. You know you want to LOL
Adam's Verdict:
Maggi Goreng Daging 2.5/5
Despite the inconsistency with the food, the only thing consistent at New Rezki so far is the rather lacklustre service. Not all the staff. But some of the staff. I mean, someone can take and repeat your order 3 or 4 times and the come back to reconfirm it again but in the end it still comes out wrong. No joke!!
Well, at least the visit, the food was not bad. But to be honest I'm really doubting I'll be visiting New Rezki for awhile. I guess you could say that it's too rizky. Geddit. Like risky but I said it rizky like Rezki in New Rezki *crickets*
New Rezki
Blk 20 Chai Chee Road
Singapore 461020
Facebook: www.facebook.com/New-REZKI-Restaurant-170412416466279/
Operating Hours:
6.00am til 12.00am Daily
All information (including prices, availability of item on menu and Halal status of establishment) are accurate at the time of posting. All photos used in this site are property of The Halal Food Blog unless stated otherwise.