"No way." – That was my initial reaction when I heard that there was a stall at Asli Village in Downtown East selling Nasi Kandar. Could it really be true?
A bit of asking around and it didn't exactly boost my hopes that there was actually Nasi Kandar available right here in Singapore. Siput Sedut? Lemak Turi? Definitely not your typical selection at a Nasi Kandar stall. Sounds more like a normal Nasi Campur stall to be honest. And if you read our previous posts about Nasi Kandar, you can probably tell that it's pretty near and dear to our hearts (and stomachs).
Well, there was only 1 way to find out and so we made our way one fine sunny day to the nearby Asli Village.
And what did we find there?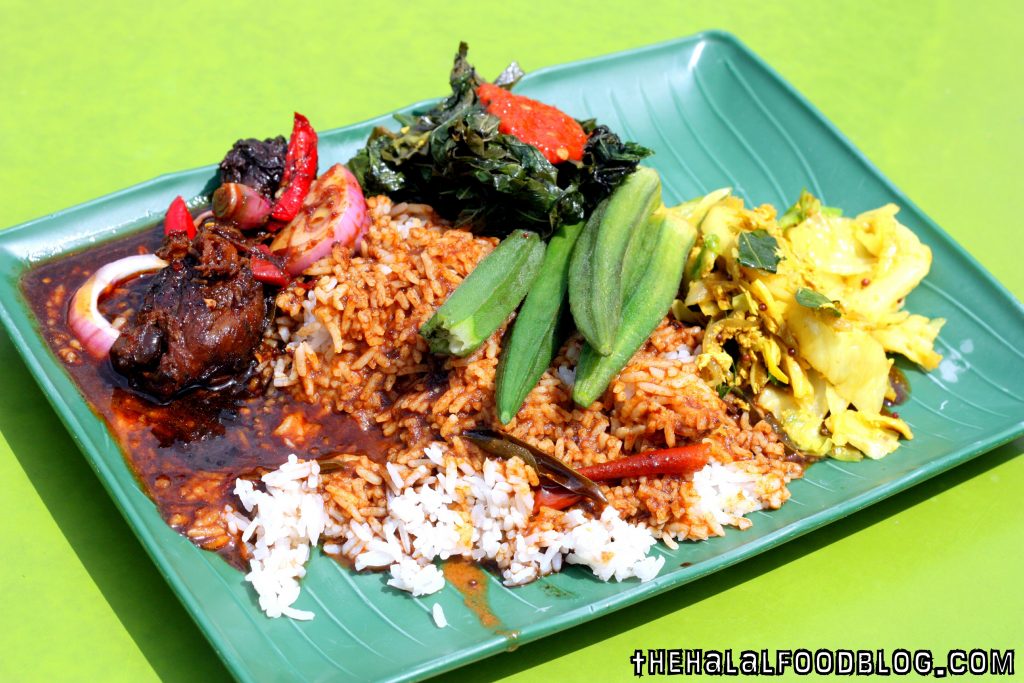 Well well well what a pleasant surprise!
When we ordered up a plate of rice, the first thing the guy behind the counter asked was whether we wanted Nasi Campur OR Nasi Kandar? Well, the choice was obvious and so Nasi Kandar it was. And as soon as we had made our choice, he dishes out fish curry and (what we like to call) the Black Sauce aka the Nasi Kandar sauce onto our rice.
And so the foundation was set! LOL
Next, we piled on some Ayam Kicap, Daun Singkong, some cabbage and some Bendi aka ladyfingers aka okra.
First things first – wow this was actually not bad at all! The flavour of the fish curry really shone through and like my Dad says, the curry makes the Nasi Kandar and in this case, the curry was really quite good! It's not a spicy curry though but it's pretty tasty. The flavour of the Black Sauce may not be as authentic as the ones we've had in KL and Penang (this version was more watery) but still very flavourful nonetheless. At least they got the curry spot on.
When I order Nasi Kandar in Malaysia, I always order the Black Sauce Chicken which is basically chicken cooked in the famous Nasi Kandar Black Sauce. The Black Sauce is primarily made up of molasses, caramel and a few other ingredients and it's truly one of a kind. Here, there's no Black Sauce Chicken to be found so Ayam Kicap will have to do!
There's also an assortment of vegetable dishes to choose from including Daun Singkong, Turi, Cabbage and other assorted leafy veggies. But it's actually very impressive that they had just the plain old boiled Bendi which is a staple in the Nasi Kandar joints in Malaysia. Thumbs up, man!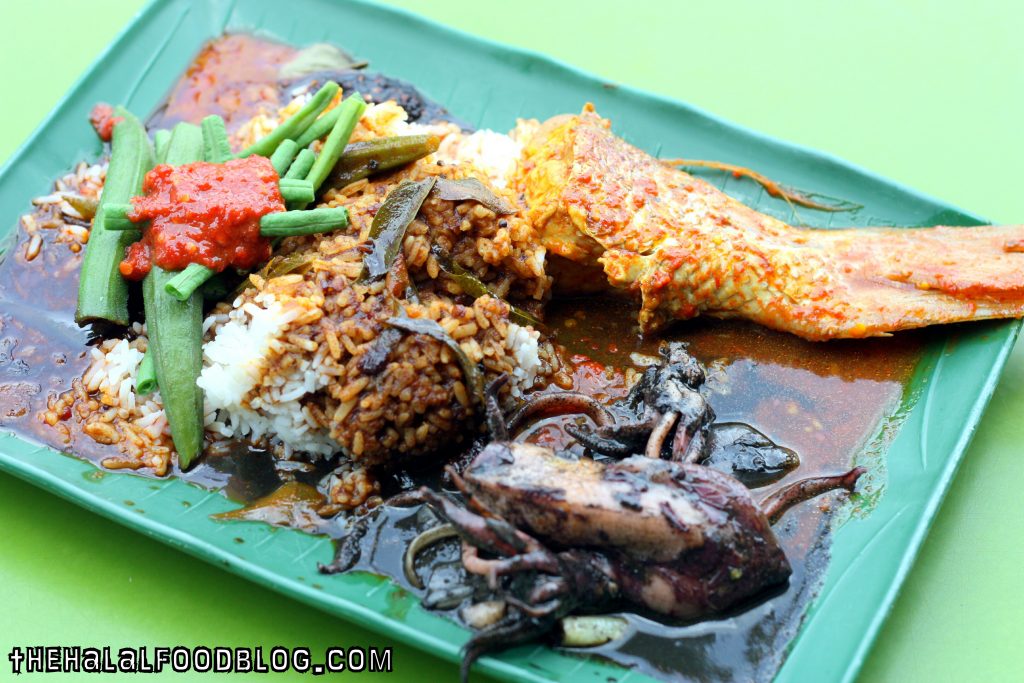 Well, we ordered a 2nd plate to try more stuff! Mum chose some seafood dishes that she fancied.
Okay so the selection of sefood dishes is not so great but I guess you can get some of your favourites here and they are apparently quite tasty.
None of those giant prawns or crabs like you'd get over in KL or Penang but we did spot some fried Fish Roe! But no we didn't order any LOL
Adam's Verdict:
Nasi Kandar 3/5
Maryah's Verdict:
Nasi Kandar 3.5/5
Dad's Verdict:
Nasi Kandar 3/5
Mum's Verdict:
Nasi Kandar 3.5/5
I guess the best way to describe the Nasi Kandar at Nasi Kandar Penang Mari is – better than expected.
And that's being brutally honest because we really think it would meet our expectations but we stand corrected. This was actually a pretty decent version of this dish.
It may not be exactly like what you'd get in Penang or KL but it's close enough.
Like my Darling Wife said – "If I'm pregnant and I'm craving for Nasi Kandar but can't travel to Malaysia, this is close enough! Jadi lah!"
PS this stall is actually run by the same people behind Pondok Upeh which is the place that sells all the noodles and more in daun upeh (they even share the same IG account!) just FYI
Asli Village @ Downtown East
Pasir Ris Close
Tel: 8372 4719
facebook: https://www.facebook.com/Nasi-Kandar-Penang-Mari-1164025216948411
Instagram: pondok_upeh_singapore
Operating Hours:
11.00am til 10.30pm Daily
Closed on Wednesdays
All information (including prices, availability of item on menu and Halal status of establishment) are accurate at the time of posting. All photos used in this site are property of The Halal Food Blog unless stated otherwise.