Nando's is known for it's PERi-PERi Chicken and for good reason too! It has its own unique spicy flavour and is a proven hit with its many fans not just in Singapore but all over the world too!
Well, if you're like me, you're probably gonna order the PERi-PERi Chicken whenever you visit am I right?
But let's face it – sometimes we want to have a little bit of variety so we can try new things but yet still enjoy that great taste that Nando's is famous for.
Great news – Nando's is not only revamping some of the items on its existing menu but we will see some new additions too! And not just 1 or 2 but…. NINE!! Yeah that's right – 9 new and exciting choices!! But don't worry, you can still choose your spiciness level with each one LOL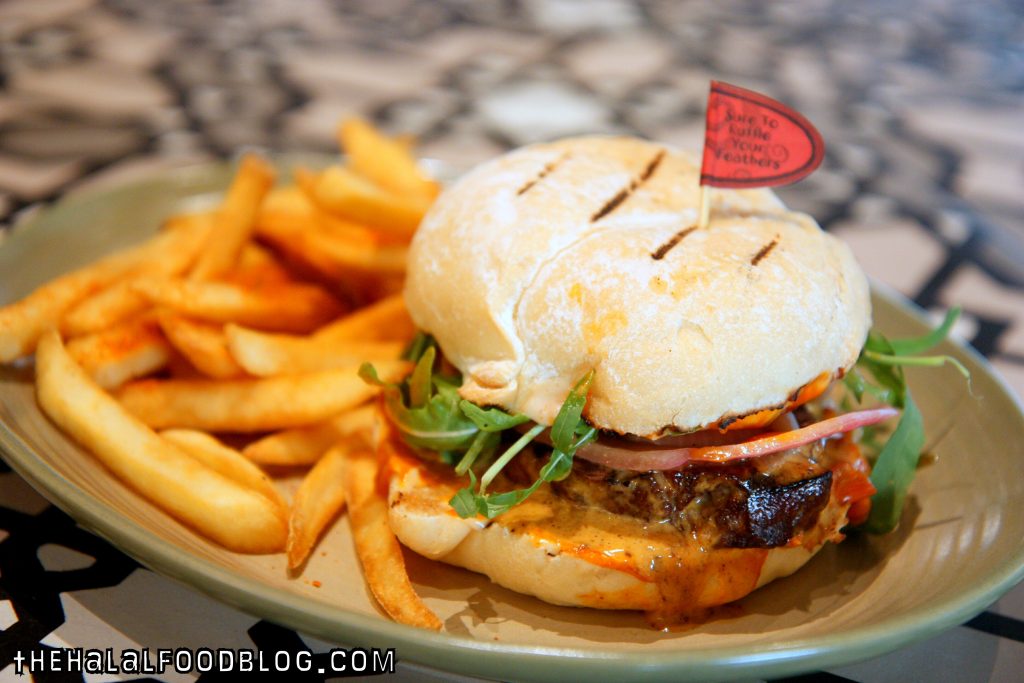 Well, they have 9 new ones on the menu but unfortunately we didn't have the space to try all 9 LOL but we did choose 3 of the most interesting-looking ones from the new selection and the first one up was the Steak Burger.
A beef fillet that's basted with PERi-PERi sauce (your desired spiciness of course) and topped with fresh arugula (aka rocket), pickled red onions, PERinaise sauce and spicy red pepper all in between a toasted Portuguese roll. You have got to admit that sounds like it's gonna be pretty awesome right?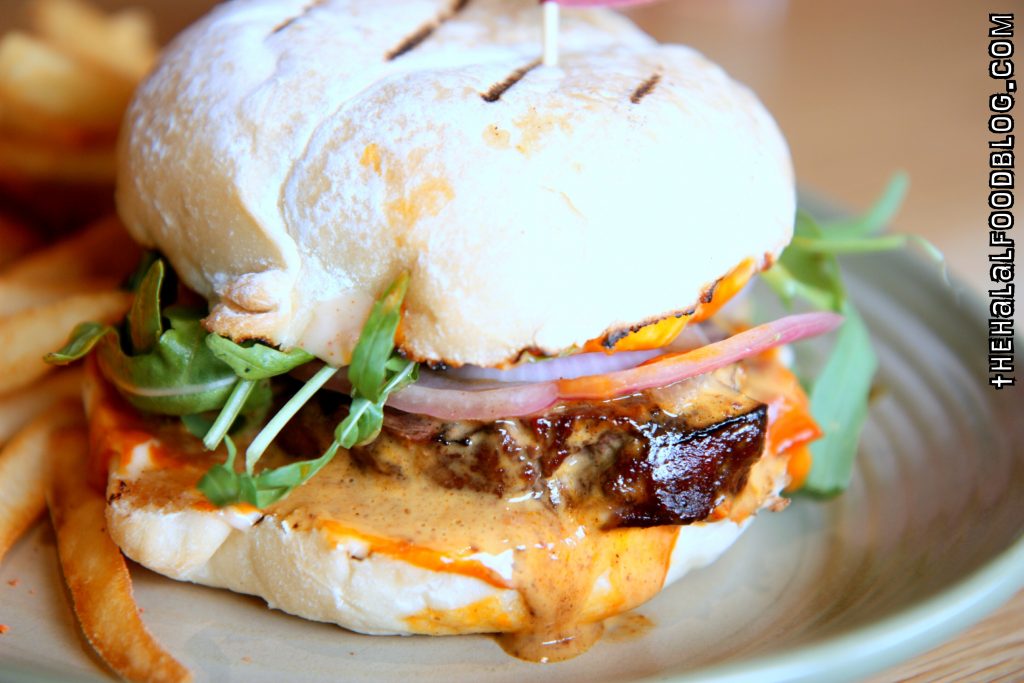 And not only did it look good in the picture in the menu but it looked really good up close too!
I chose the Extra Hot for the spiciness level because I wanted that Peri-Peri kick. The flavour was, as usual, very satisfying and the tang from the sauce makes you want to take more bites even though the spiciness is working its magic in your mouth.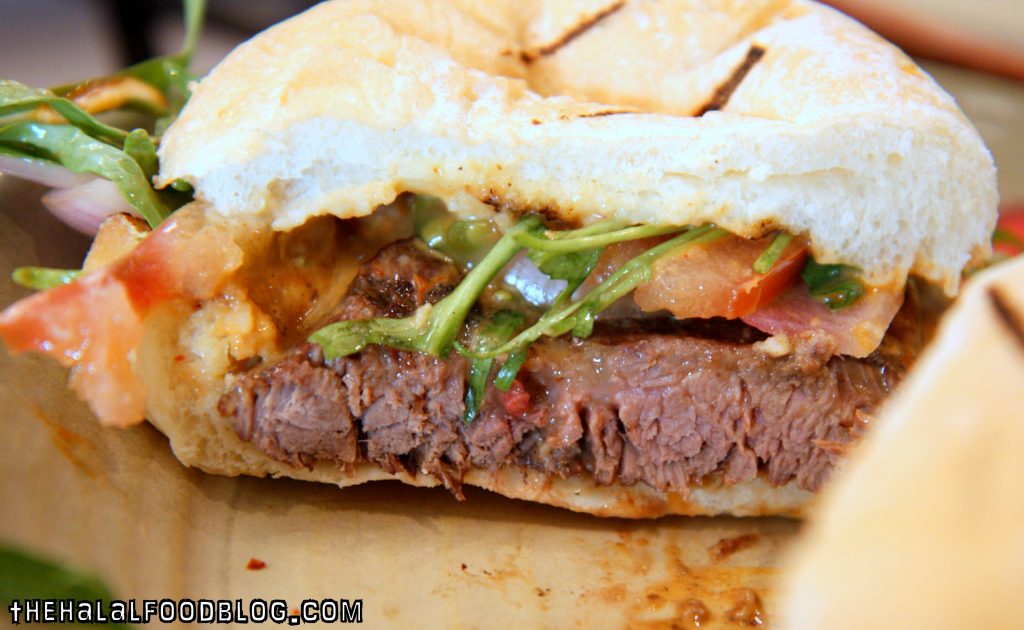 It's actually a real pity then that the meat itself was actually pretty tough.
I'm normally a guy who orders my meat well done so I'm not too bothered when meat is cooked all the way through but that's quite a difference from being tough.
I mean, it's tough but of course you can still it, don't get us wrong.
Guess it would just be a better burger if the meat wasn't as tough. Maybe it was our bad luck and it's not the same for all Steak Burgers who knows.
And we quite like the Portuguese Roll because it's definitely something better and more interesting than a normal burger bun but it did have a bit of problems holding everything in after awhile LOL looks like the PERinaise (which is Nando's special concoction of light mayo + some PERi-PERi) sauce took its toll. Anyways eat faster a bit lah shouldn't be a problem. We all take photos lah what lah confirmed a bit longer than usual.
Anyways, besides the Steak Burger, you also have a choice of the Nandoca's Choice Burger (which is a chicken burger that is a creation of the Nando's employees aka Nandocas!!), there's also a Chicken Breast Burger and even a Veggie Burger too!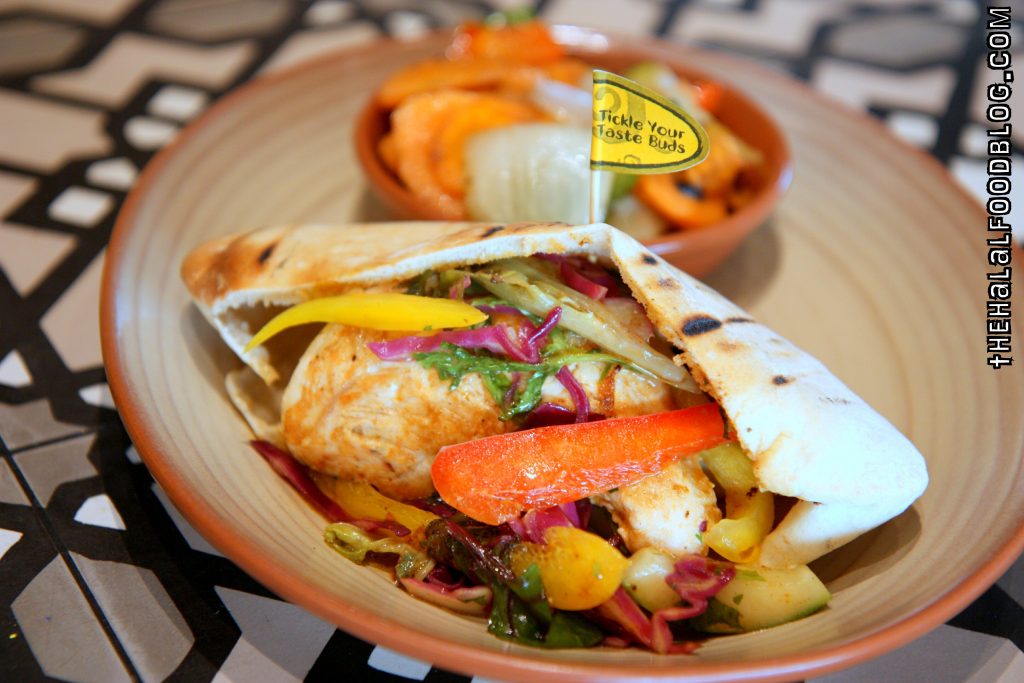 There was only 1 choice for a Pita so obviously we're gonna choose it LOL
Lo and behold – the Chicken Pita! A Pita is stuffed with tender chicken breast strips, some salad and a creamy whip sauce for good measure.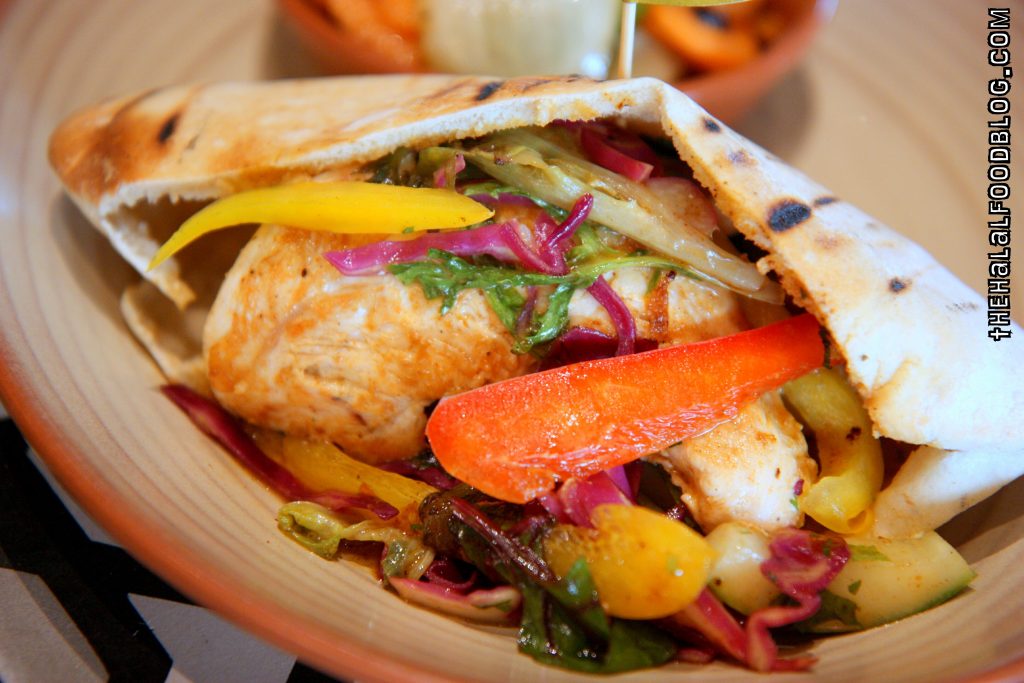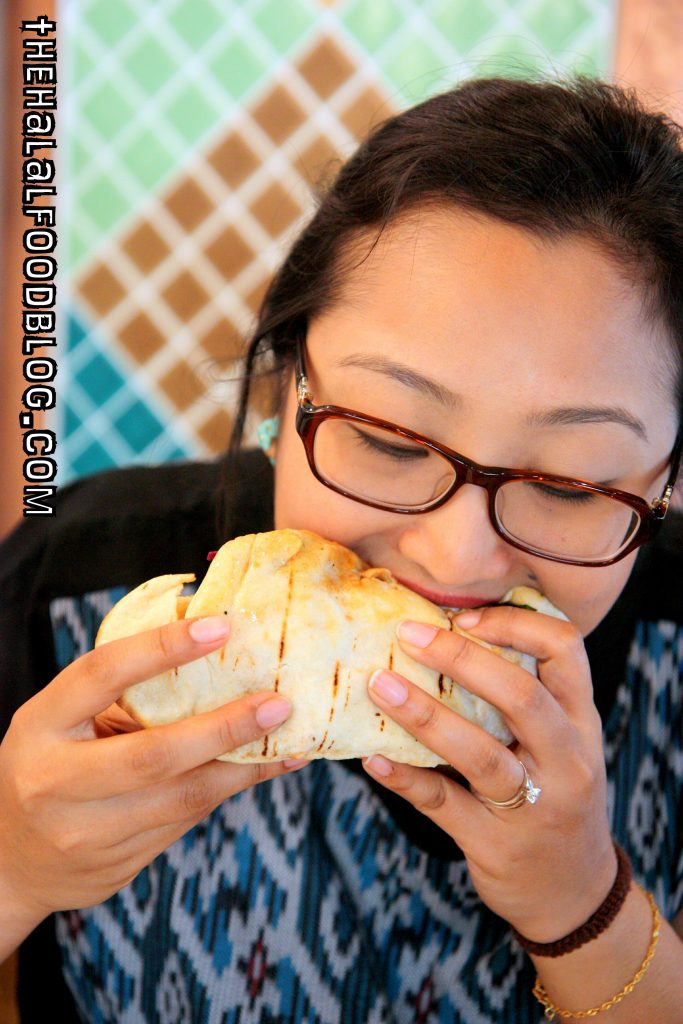 And please don't be fooled okay. Some of you might be thinking "Oh Pita? Confirmed not filling one lah!"
Errrr as you can see it's a very generous serving size and the pita is really packo to max!
You've got strips of chicken breasts (we chose just the Hot this time) plus this really great salad. I say great because it's got a crunch to it and the dressing give it a very nice tang that works very well with the chicken!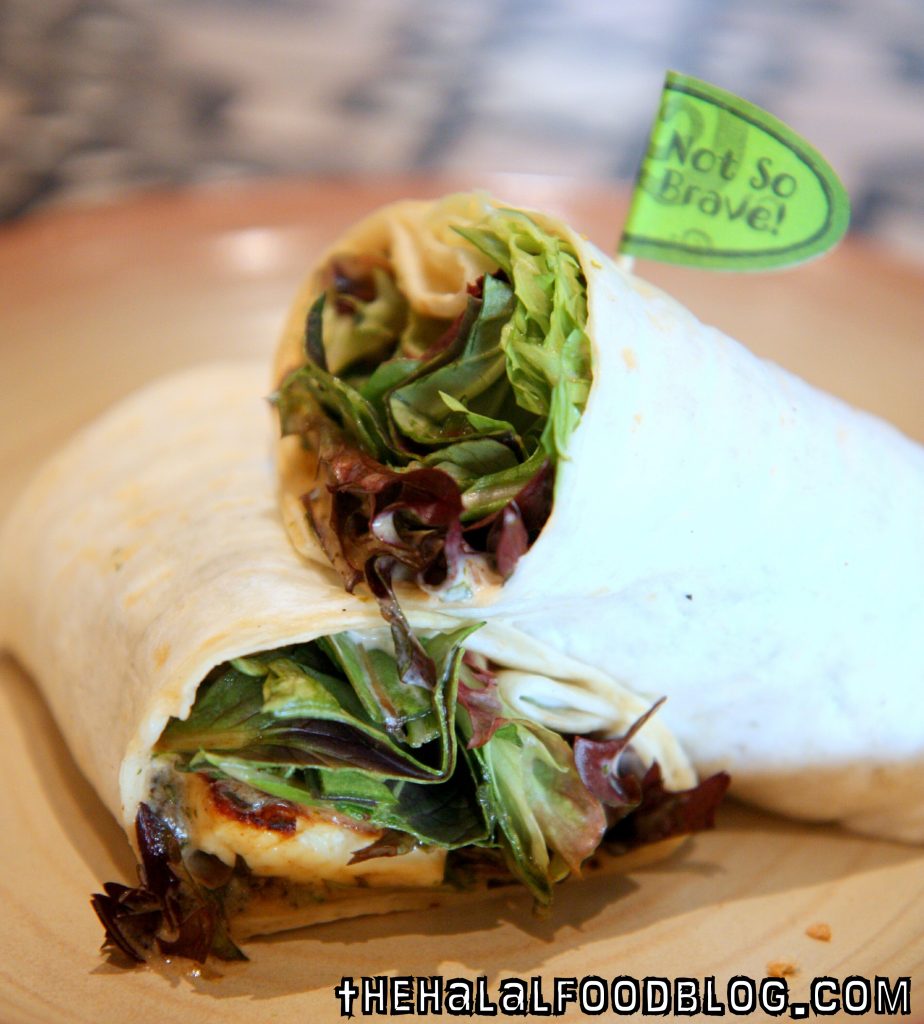 Now here was the big surprise of the whole meal. We ordered it out of curiosity and in this case, it definitely paid off big time let us tell you that!
The vegetarian-friendly dish has black mushroom and Halloumi cheese which is actually a very unique ingredient that we definitely didn't expect to see on the menu. Halloumi cheese is from Cyprus/Greece that has a distinctly salty flavour similar to mozzarella but this cheese does not melt very easily which means that you can grill or lightly pan-fry it to enhance its flavour and texture with no problem.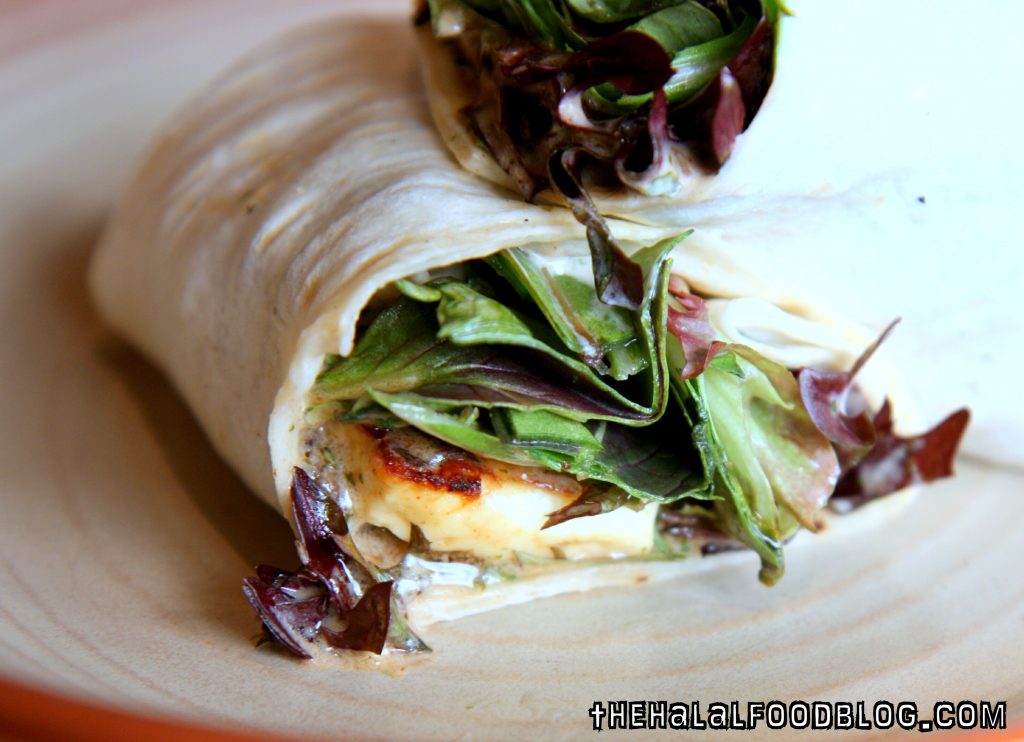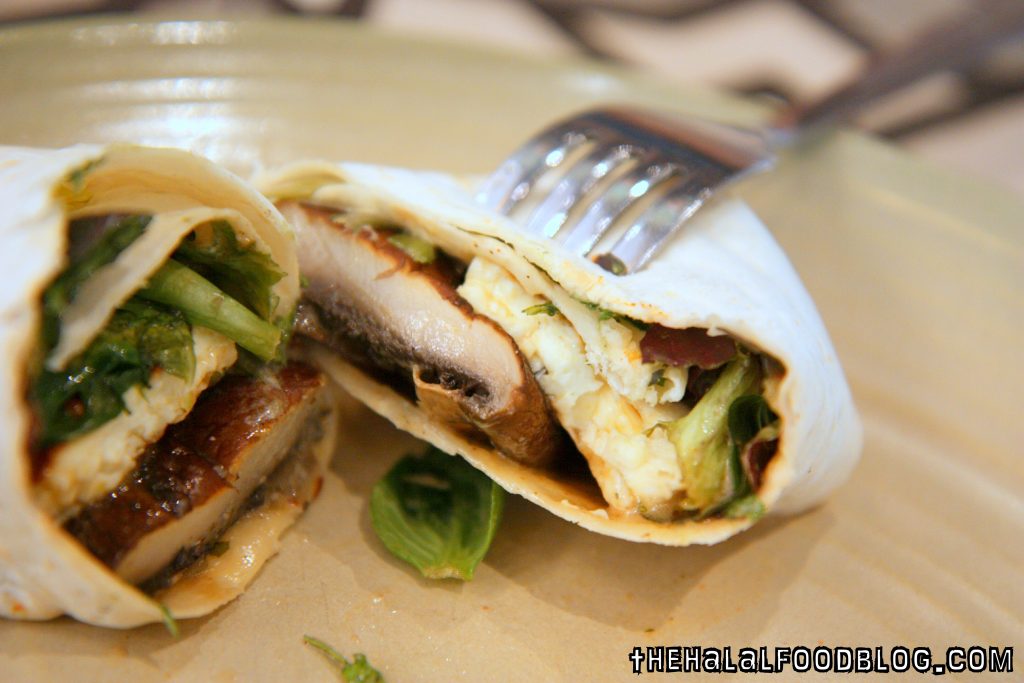 There's a very generous helping of Halloumi in there along with some veggies. The black mushroom was a great addition with a nice earthy flavour. Definitely going to be a hit with mushroom fans. There's also some chili jam and yoghurt sauce in there but to be honest we didn't really taste it.
Like I said, this dish was actually the best we had and totally unexpected. And it's not like we had it first or anything like that (I actually attacked the Steak Burger first in excitement LOL) so the fact that it was a big hit after we'd already had quite a bit to eat says a lot.
They've also got the Chicken Wrap, the Chicken Caesar Wrap and the Roasted Veggie Wrap too.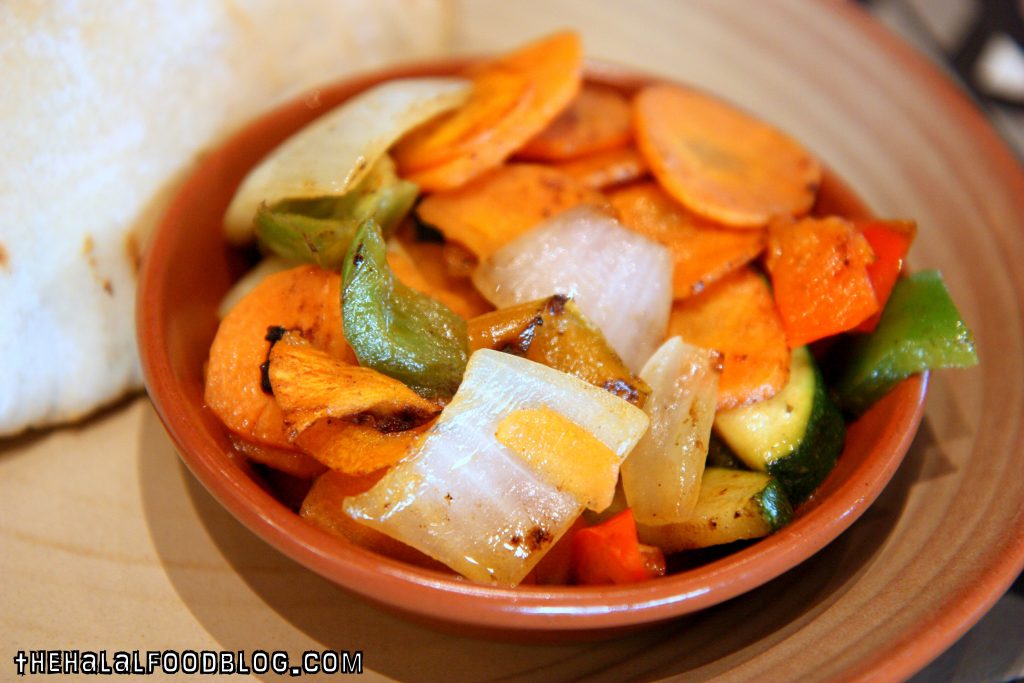 You can order any of the meals at Nando's, including the new 9 of course, with the option to have some Sides to complete your meal and this is highly recommended.
They've got Spicy Rice, Mediterranean Rice, Coleslaw, PERi Chips, PERi Wedges, Garlic Bread, Three Bean Salad, Corn on the Cob and the Grilled Veg which is pictured above. This was the first time we were trying the Grilled Veg and it was actually really good! Good enough that we'd leave this special mention! So next time, try the Grilled Veg as something new instead of your usual sides yeah.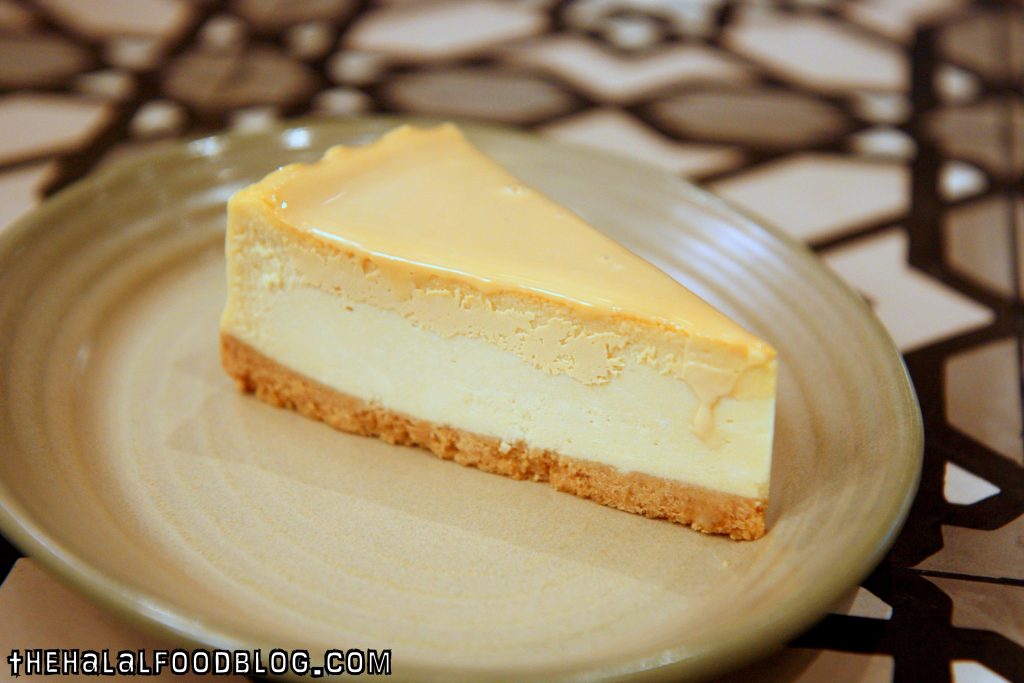 Always nice to end a meal with dessert! And no matter how full you are, there's ALWAYS extra space for dessert (oh yeah it's true what they say about the extra stomach we have just for desserts LOL)
The Caramel Cheesecake was up this time and not that bad.
Worthy to point out that Nando's does keep this well-kept in the chiller so it is not as soft-creamy as you'd like I guess. Some people will like it a little firmer so that's fine but if you prefer a bit of a softer and smoother texture, order this earlier and let it sit so it'll be perfect by the time you end your meal.
And I can't help but mention that the caramel reminded me a lot of condensed milk. But I'm not complaining because I love condensed milk LOL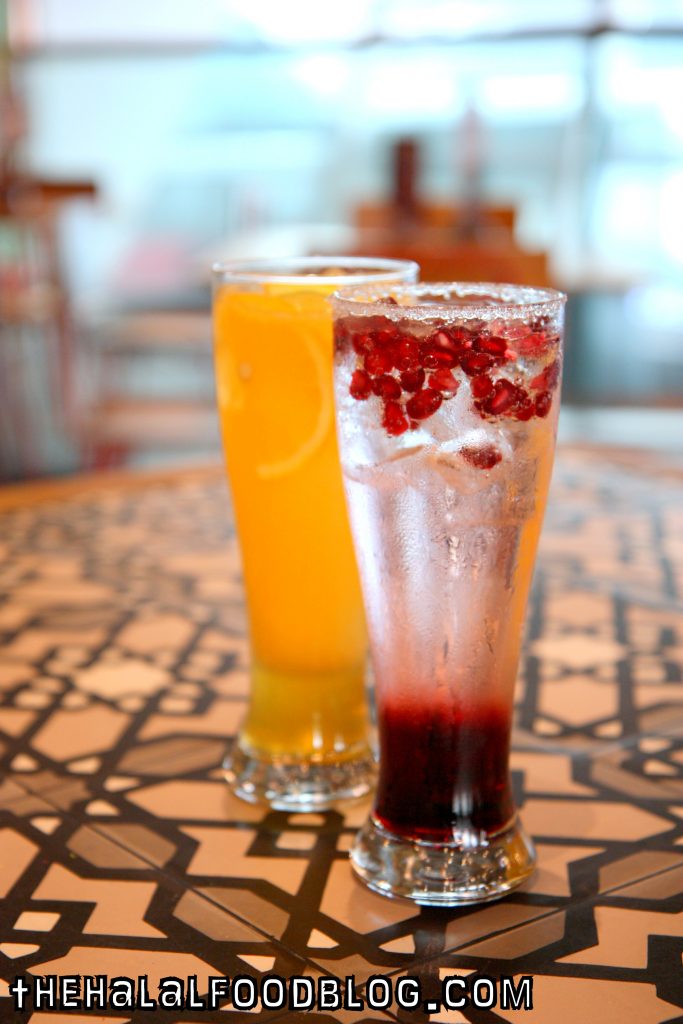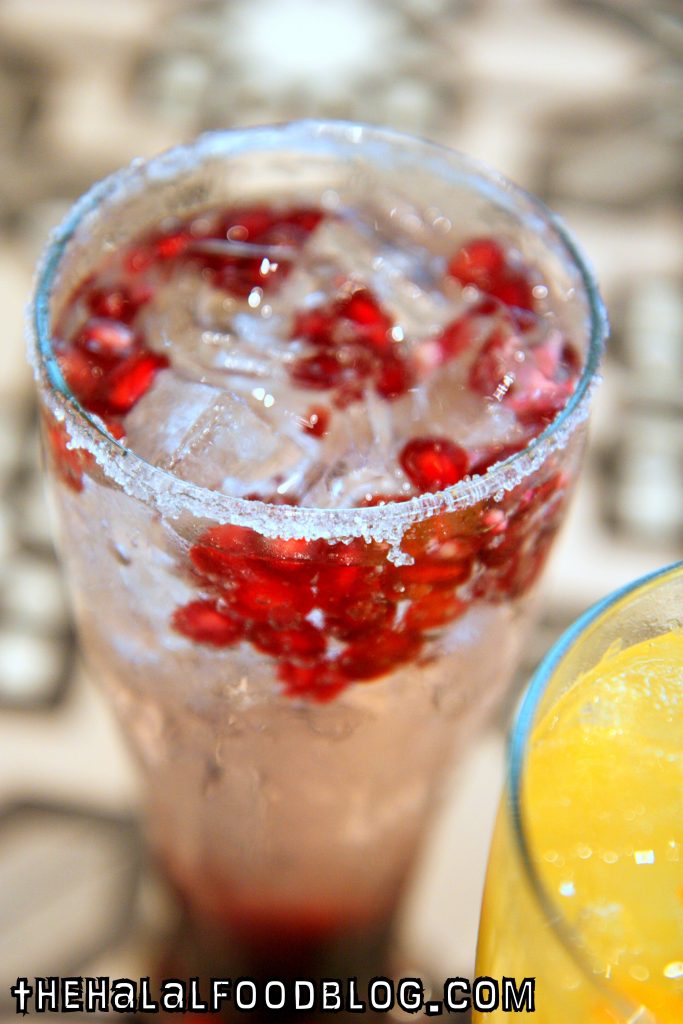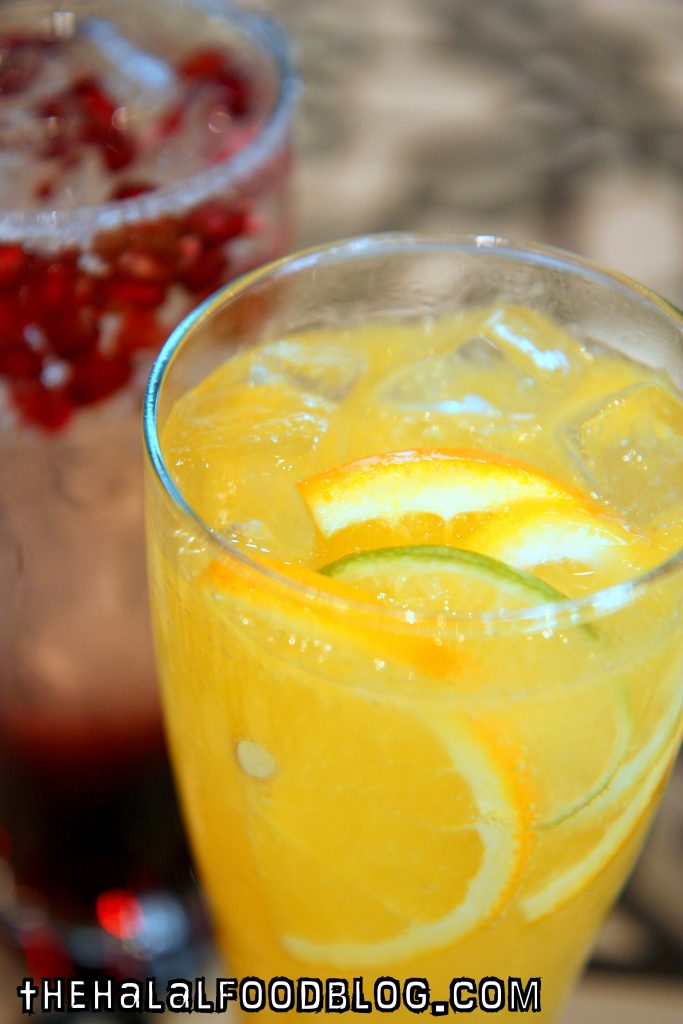 And to wash it all down, we tried some of the Designer Drinks available on the menu!
The Madeira Red was my choice. Lemonade with Sprite and pomegranate finished off with a sugary rim on the glass. I like the pomegranate bits that were in the drink but didn't really go for the sugary rim because the lemonade and Sprite were great as they were.
The Citrus Bliss mint syrup, grapefruit juice and Sprite. They've got mint leaves and slices of fresh citrus fruits like oranges and calamansi so this drink was super refreshing. Nice and tangy too to cool you down with all the spicy food you're having LOL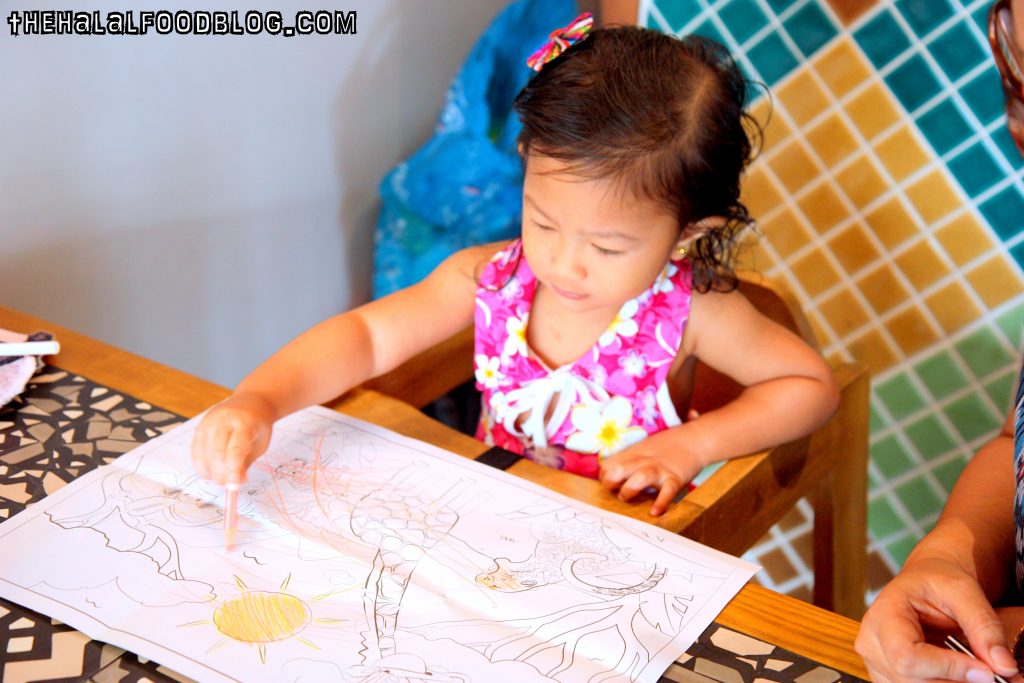 We visited the Nando's at Bishan Junction 8 which has some really great decor which adds to the great Nando's vibe (you can read about it and see pics by clicking HERE) but of course, you can visit any one of the 11 Nando's restaurants across the island.
Another great thing we found out was how child-friendly Nando's is. It's spacious and they have baby-chairs. They even have colouring activities complete with crayons too! Power or what! Everyone can enjoy at Nando's!
So whether it's the new items on the menu or the classic PERi-PERi chicken, head down to Nando's and #TrySomethingNew okay!! Fulfill those cravings okay LOL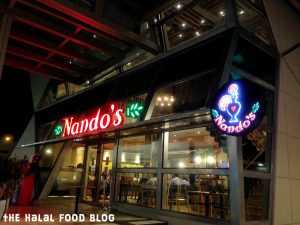 Nando's
11 Restaurants Islandwide
www.nandos.com.sg
Tel: 6397 5889
Operating Hours:
10.00am til 10.00pm Daily
All information (including prices, availability of item on menu and Halal status of establishment) are accurate at the time of posting. All photos used in this site are property of The Halal Food Blog unless stated otherwise.