안녕하세요?
This is a great example of how you – our beloved readers – play such a big part in our hunt for Halal food. So one of our readers tags us in a comment to say that they saw Muk-Bang Korean Restaurant was now freshly certified Halal. And within the hour, we were seated at a table in Muk-Bang Korean Restaurant LOL
I guess what we are trying to say is that… you make us hungry LOL
Anyways, yes it's true – Muk-Bang Korean Restaurant is now freshly and officially certified Halal. It prides itself on serving "authentic" Korean cuisine and is located at Viva Business Park (formerly known as Chai Chee Technopark). It now joins the list of many Halal dining options that have emerged at Viva Business Park since I stopped working in the compound almost a year ago LOL (can you hear the bitter tone of my text?)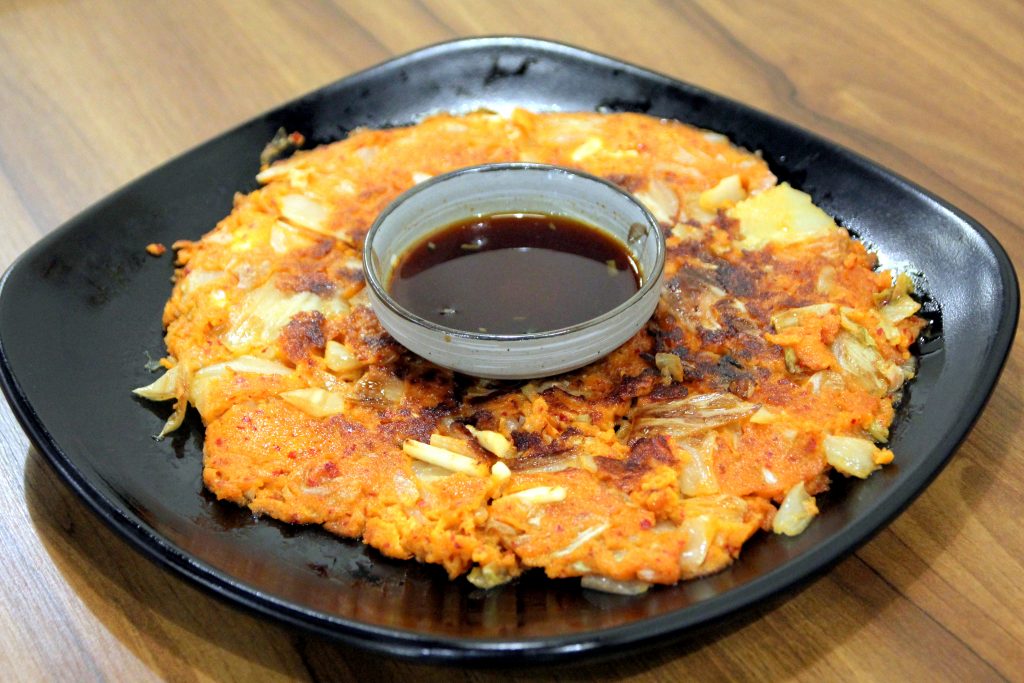 We'd tried 해물파전 <Haemul Pajeon aka Seafood Pancake> before but since we saw 김치전 <Kimchi Jeon aka Kimchi Pancake> on the menu, it was pretty much auto that we were gonna order it because we LOVE Kimchi!
I think even from that photo, you can tell that it's not the Kimchi cabbage that's been incorporated with the batter. Instead, it's just regular cabbage and the Kimchi flavour (maybe it's just the spicy paste?) is actually incorporated instead.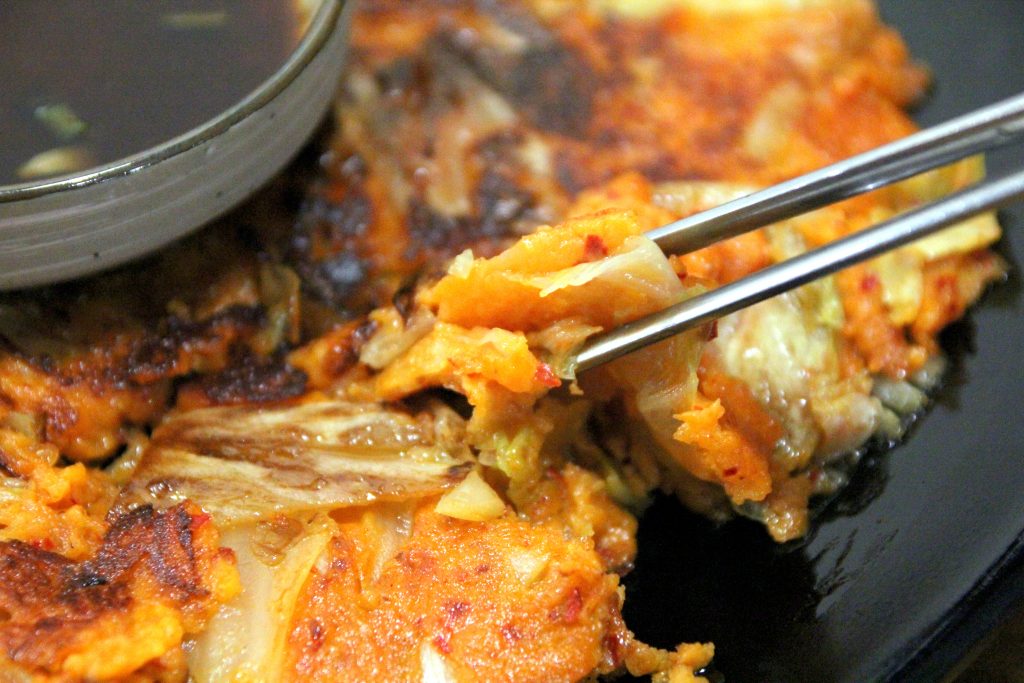 To be honest I was (just a little) disappointed because I was expecting the actual Kimchi cabbage y'know what I mean. But oh well. That being said, the taste was actually not bad.
But the main issue I had with the Kimchi Jeon was that there was only one size. The serving we received costs $16 which is on the high side mainly because this was a serving big enough for 4-5 people. And mind you, we're talking about a starter / side dish here.
So I gave some feedback that perhaps they might consider having maybe a smaller-sized serving available too. Because if people are gonna have other dishes (which they most probably are right?), it might put people off from ordering this dish. Hopefully we might see some difference in future?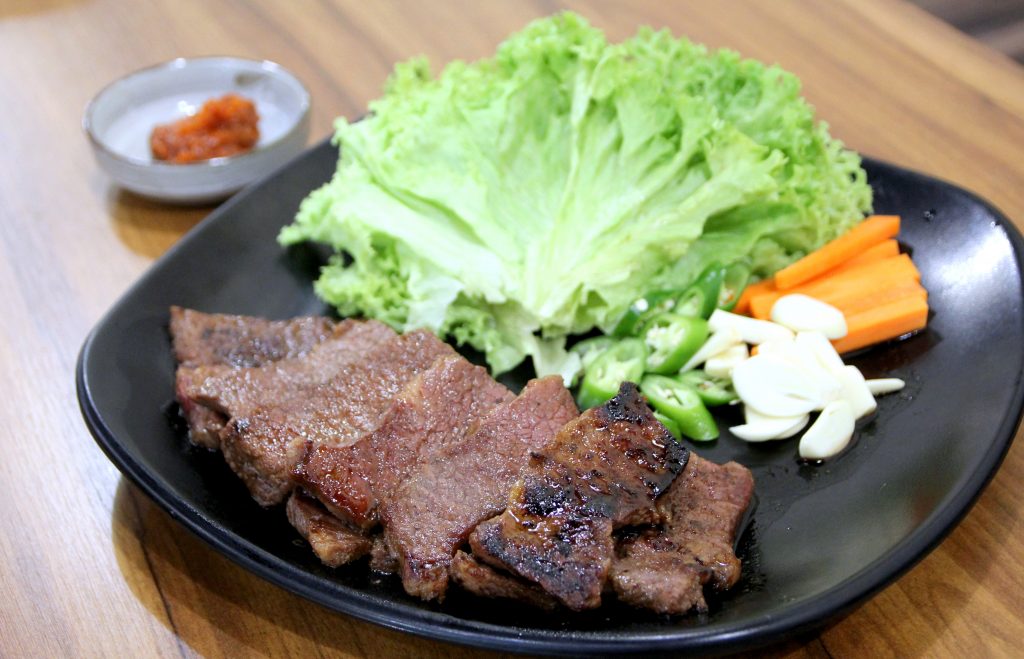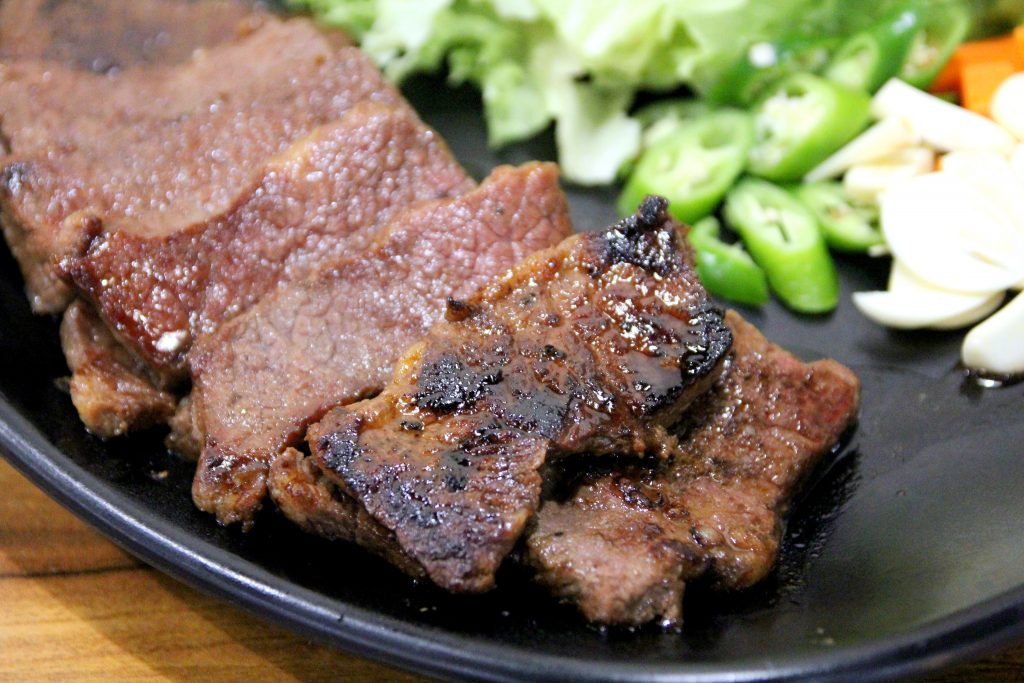 So you might see 'Galbi' commonly listed on menus at Korean eateries. For those who may not know, Galbi basically translates to 'ribs' (beef ribs) which is the meat of choice especially when it comes to grilling.
The basic favourite is the 생갈비 <Saeng Galbisal aka Boneless Beef Short Ribs> which they also have on the menu but we decided to go with the 양념갈비 <Yangyeom Galbisal aka Marinated Boneless Beef> instead.
The first thing we'd like to point out is that you do not grill the meat yourself (like you might expect). Instead, the kitchen staff prepares and cooks everything so you're all ready to eat once it arrives at your table. The dish comes complete with lettuce, garlic plus some other veggies so you can wrap everything up and take a nice big chomp.
I personally just enjoyed eating the meat on its own. Really reminded me of the first time I tried BBQ Galbi as part of a Yakiniku meal in Japan. The marinade made the meat really tasty and you can still enjoy the flavour of the beef despite it being a little tough. Oh, and it's pretty thick slices too!
And yes, this is probably another dish you'd like to share with others!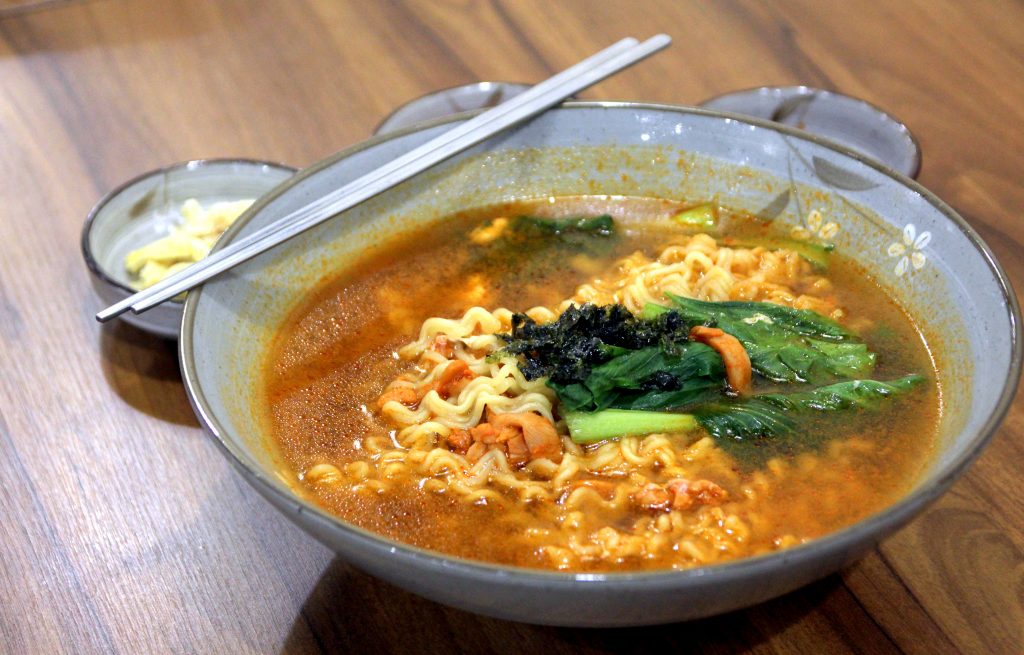 치킨 라면 <Chicken Ramyeon> is a hot favourite. We cook Ramyeon at home all the time but it's always nice to have a good proper serving with all the extras in it when you makan at an actual Korean place right?
They also have Beef and Kimchi Ramyeon variations too by the way with Beef being the least spicy and Kimchi being the most spicy on the advice of the staff.
The flavour of the soup was REALLY good! It had a bit of a spicy edge to it and on a cold day (like it was when we ate this), this really hit the spot. A nice, piping hot, spicy bowl of Ramyeon!
I think the only disappointing part was the chicken. It's basically Chicken Bulgogi but majority of it was really small in size so you get like slivers of chicken. If that were the case, fine but then I'd expect a bigger portion to be served with the noodles please.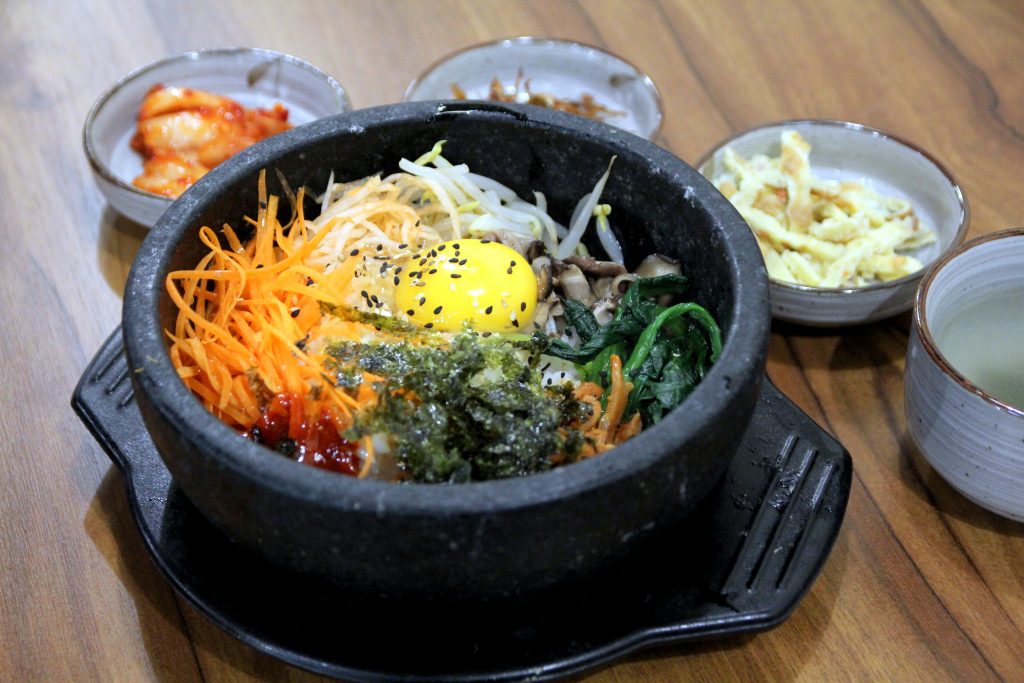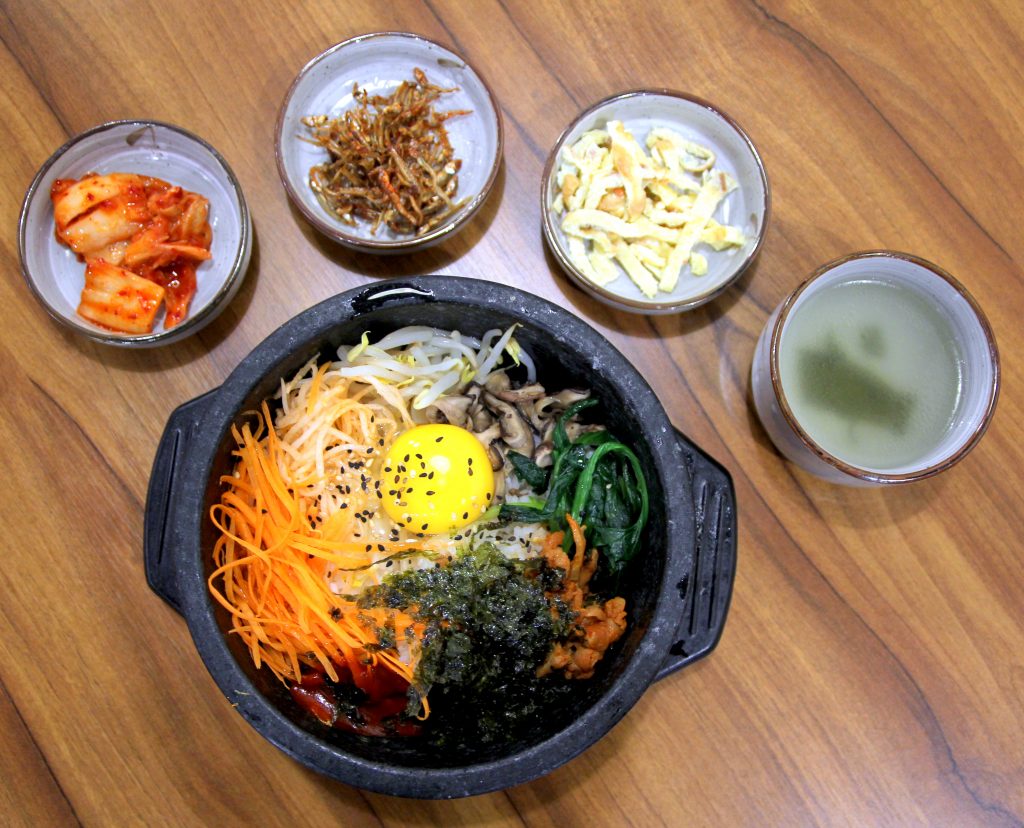 Hot Stone Bibimbap might very well be one of my most favouritest Korean dishes ever ever ever.
At Muk-Bang, you could go for the 비빔밥 <Bibimbap> but for an extra $2, you could get it served in a stone hot pot which I highly recommend!
So 돌솥 비빔밥 <Dolsot Bibimbap aka Hot Stone Bibimbap> has a bed of rice adorned with goodies like carrots, beansprouts, mushrooms and a few other veggies along with some meat and an egg yolk. I normally have beef but (surprisingly) at Muk-Bang they only have chicken.
So once you mix everything up, you have a beautiful albeit messy serving of mixed rice that is one of the most popular and recognizable Krean dishes. Overall, I found this version at Muk-Bang a little lacking in the flavour department. Maybe I should have asked for more sauce to mix in.
Well, truth being told, it's a decent serving of Bibimbap but not the best one I've had.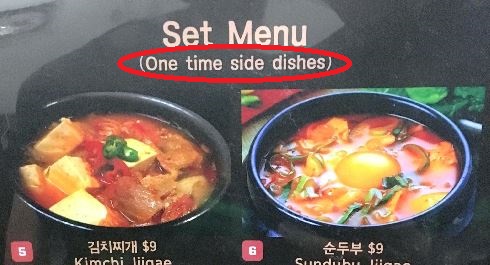 Now, to clear up a bit of confusion we encountered when we were reading the menu…
The Set Menu items have a phrase "One time side dishes" indicated there so we thought this means we could choose one of the side dishes under the 'Side Dish' section of the menu.
But apparently, "One time side dishes" means you'll be served some Namul (aka side dishes) along with your choice of dish. This could vary from day to day but is generally made up of stuff like Kimchi and the likes.
But if the smaller servings that come with the Set Menu are not enough, you can always order more ala carte!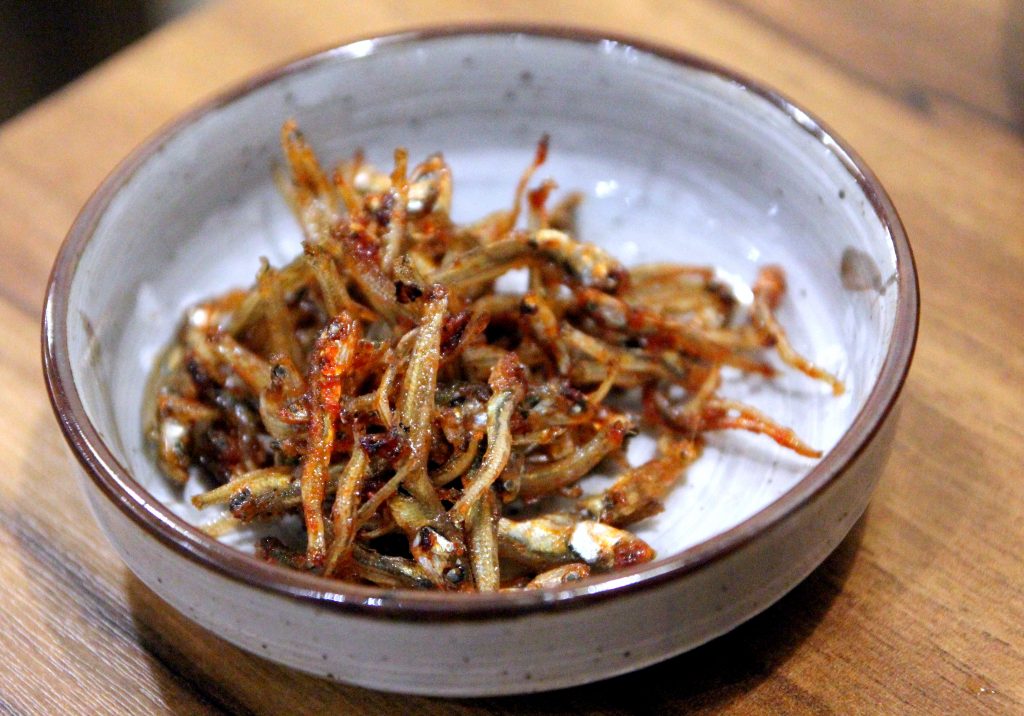 There were only 2 of us there (and even then we still technically over-ordered) but we're planning to head back because there are quite a few things we want to try on the menu but it's for the Dinner menu and it's for at least 3 people or more to share.
We're talking about dishes like 부대찌개 <Budae-jjigae aka Army Stew> and 닭갈비 <Dak-galbi aka Stir-fried Chicken> among others. They also have interesting dishes like Korean Fried Chicken and Jjajang Myeon too!
Adam's Verdict:
Kimchi Jeon 2.5/5 — Yangyeom Galbi Sal 3/5 — Chicken Ramyeon 3.5/5
Hot Stone Bibimbap 3/5
Maryah's Verdict:
Kimchi Jeon 2/5 — Yangyeom Galbi Sal 3.5/5 — Chicken Ramyeon 4/5
Overall, I'd say that Muk-Bang is not bad actually for a first try. Yeah, there might be teething issues as always with a new eatery but the staff were actually really nice and helpful while we were there and also very receptive to feedback we had to humbly give.
As far as authentic goes, we tried to order some "Canned Drink" from the menu expecting to order Coke or Sprite or something but the staff said that they only had Korean brand sodas as they were trying to be as authentic as possible which is very admirable.
May I then please recommend that they consider putting some 식혜 aka Shikye on the menu LOL
SHIKYE!! *pumps fist in the air*
Viva Business Park
750 Chai Chee Road #01-02
Tel: 6604 6328
Facebook: www.facebook.com/mukbangofficial
Operating Hours: 11.30am til 10.00pm Daily
All information (including prices, availability of item on menu and Halal status of establishment) are accurate at the time of posting. All photos used in this site are property of The Halal Food Blog unless stated otherwise.