So we recently heard someone comment that there were "not many" Japanese food options for us here in Singapore. Well, to be honest, we could not disagree more! There are plenty of Halal Japanese dining options for us here in Singapore with some even giving us the added advantage of being able to enjoy in the comfort of our own homes.
Perhaps a more accurate statement would be that there "could be more" Halal Japanese food options in Singapore am I right? Because after all, Japanese cuisine is one of the top favourites!
We have got more and more Halal Japanese makan / makan places becoming available (with a big one currently undergoing Halal certification now!) to us but we're putting up this list for the time being. Plus, we're not even including stuff like Okonomiyaki and Yakitori that you might be able to get at selected pasar malams / cafes too.
So in the meantime, here are (More Than) 6 Halal Japanese Makan In Singapore!
1. Santaro by Gion
Location: Amara Hotel (2nd Level)
Operating Hours: Lunch – 11.30am – 2.30pm // Dinner 5.30pm – 9.30pm
Facebook: www.facebook.com/santarobygion
The latest addition to a growing list of quality Japanese restaurants, Santaro by Gion offers a premium dining experience in the heart of the CBD.
Many will be familiar with the name 'Gion' and with good reason too. Now, Santaro by Gion takes things up a notch with an excellent spread of quality Japanese dishes including a unique Omakase menu that's guarantees a top quality and more than satisfactory dining experience in a very fitting and comfortable ambiance (max seating of 30 pax!).
Be it from the ala carte, set or Omakase menu, Santaro by Gion is especially perfect of that special celebration.
2. The Ramen Stall

Location: 787 North Bridge Road
Operating Hours: 5.00pm til 5.00am on Weekdays // 12.00pm til 5.00am on Weekends
Instagram: www.instagram.com/theramenstall // Facebook: www.facebook.com/ramenstall
Definitely one of our (and so many others') go-to places to Japanese makan for so many reasons!
With a super duper extensive menu that has everything from sushi and sashimi to Ramen and Don to Kushiyaki and various side dishes, you can get pretty much everything Japanese at The Ramen Stall. Besides the great selection for the makan, they are also open late til 5am!
You can read about all our visits (and the great makan there of course) by clicking HERE!
3. Maki-San
Location: 5 outlets islandwide
Operating Hours: 11.30am til 9.30pm Daily
Instagram: www.instagram.com/rollwithmakisan // Facebook: www.facebook.com/rollwithmakisan
Maki-San is a great choice when you want a quick sushi fix and especially so if you're the type who loves to customize your food! You literally get to choose what you want in your Maki sushi rolls. With a plethora of possible combinations, mix and match your favourites (including the wrapping too!) and enjoy the end results. Besides the Maki, they also have other stuff like salads on the menu too by the way.
If you can't make it down to any of their 5 outlets across the island (namely The Cathay, Cineleisure Orchard, I12 Katong, Bedok Mall and Compass One), you can also get Maki-San delivered too!
You can read about our original visit to Maki-San by clicking HERE.
4. Hei Sushi

Location: 4 outlets islandwide
Operating Hours: Varies depending on outlet
Instagram: www.instagram.com/heisushisg // Facebook: www.facebook.com/HeiSushiSg

Hei Sushi's claim to fame is being the first Halal-certified 'Converyor Belt Sushi' restaurant in Singapore. Well, it's been quite a journey since then for this Halal -certified subsidiary of Sakae Sushi and they are still going strong with a a recently updated menu!
Besides your favourite sushi being paraded for you on a handy conveyor belt carousel, you can also get other Japanese delicacies plus a few fusion surprises too!
Our visits to Hei Sushi can read HERE!
5. Inari-ku
Location: Pasir Ris
Operating Hours: NA
Instagram: www.instagram.com/inariku // Facebook: www.facebook.com/inariku.myinari

Believe it or not – all the delicious offerings from Inari-ku is home-made!
Yes, that's right. Inari-ku is a home-based business and churns out some of the best Japanese food! We're talking about everything from Kitsune Udon to Takoyaki to Sushi to Ramen to Bentos! But a MUST HAVE is their signature Lobster Inari for sure!
Read our reviews of the fantastic Inari-ku by clicking HERE!
6. Oohnique Takoyaki

Location: Bukit Batok East
Operating Hours: NA
Instagram: www.instagram.com/oohnique // Facebook: www.facebook.com/oohnique

While we're talking about home-based Japanese makan, we definitely have to mention Oohnique who specializes in Takoyaki!
Takoyaki is one of those great Japanese streetfoods that we are normally confined to having at pasar malams here in Singapore. But over the past year or so, with the emergence of more home-based businesses, Oohnique Takoyaki offers us the advantage of not needing to hunt for pasar malams when we want our Takoyaki (which they lovingly refer to as Tako Yums btw) fix LOL and you get to choose from 7 different fillings and 3 different flavours.
Read our review of Oohnique by clicking HERE!
7. Ramen Ten

Location: Far East Plaza #01-22
Operating Hours: 11.30am til 10.00pm Daily
Facebook: www.facebook.com/ramenten
Ramen Ten has been around for a long time! In fact, it's the first memory we have of a Halal-certified Japanese restaurant in Singapore. And even though we have not visited in a really long time, it's still located in Far East Plaza with several more outlets opening outside of Singapore mostly in the Middle East.
Besides Ramen, they also have Shin Tokyo Sushi too!
The last time we visited was not particularly notable but we guess it's definitely time to visit again!
8. Junshin Express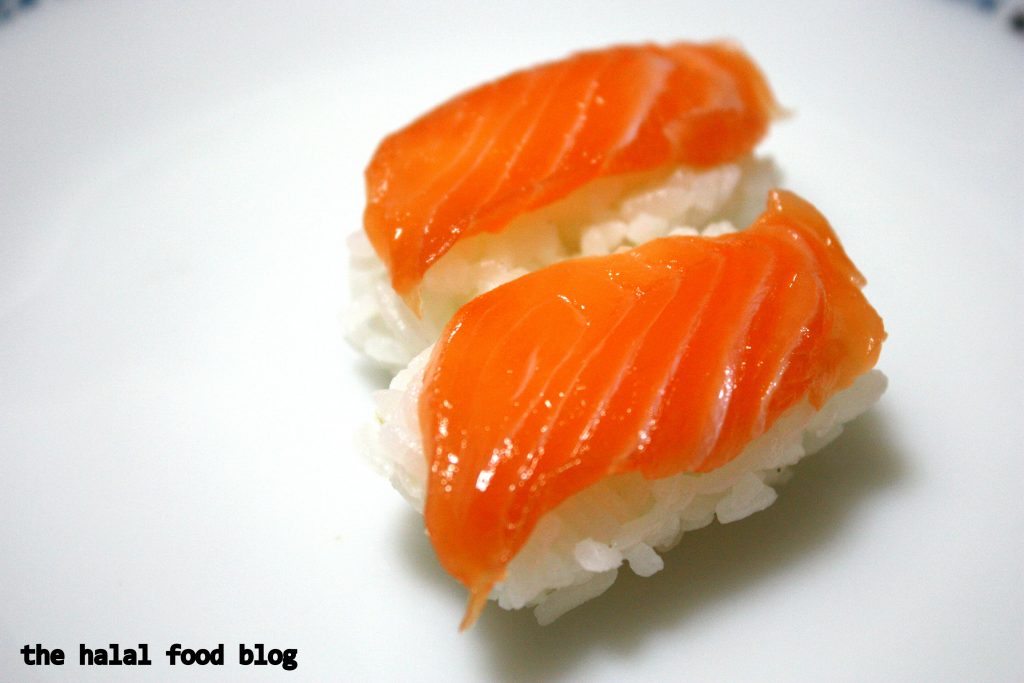 Location: Bedok Mall B1
Operating Hours: 10.00am til 10.00pm Daily
Instagram: www.instagram.com/junshinexpress // Facebook: www.facebook.com/junshinexpress

We even have Junshin Express which offers us sushi at super affordable prices! Famous for their 50 cent sushi!
When we first visited them at their first outlet in (the then newly-opened) Bedok Mall, it was a really big deal that we could get sushi at such a great price. Yeah sure, the quality is not like in your restaurants but the quality was definitely okay and a pretty wide variety too! You could even get more premium items for a slightly higher price if you'd like.
Oh! And they also carry some Halal-certified products like Teriyaki sauce too!
Read about our original visit to Junshin Express HERE!
Honourable Mention – Buffets!

That's right! Buffets are a great chance to enjoy a wide array of cuisines and dishes and any good buffet line is gonna have a quality Japanese spread too!
For example, Aquamarine at the Marina Mandarin Singapore has one of the best Sashimi spreads that is freshly prepared when ordered at the counter. You've also got a great Sushi spread at 21 on Rajah's buffet line too. Let's not forget other famous buffets like Carousel and even Sakura International Buffet too.
Well, as you can see, there's still quite a bit of choice for us here in Singapore when it comes to Halal Japanese food. No doubt, we'd surely love to see more in the future. But I think that with the quality and variety we have now, it's pretty hard to complain 🙂
All information (including prices, availability of item on menu and Halal status of establishment) are accurate at the time of posting. All photos used in this site are property of The Halal Food Blog unless stated otherwise.