Seems like wraps are gaining more and more popularity these days eh. Yeah people still have bread for breakfast when they're at the table but wraps are a good choice especially when you're on the move.
Whenever my Darling Wife gets wraps, it's Mission brand because they have the best wraps and even comes in a few flavours too. They go great with all sorts of fillings you can whip up at home like eggs, beans, meats like chicken and even tuna too!
Well, Mission Wraps is spicing things up with a new flavour for their wraps – CURRY!!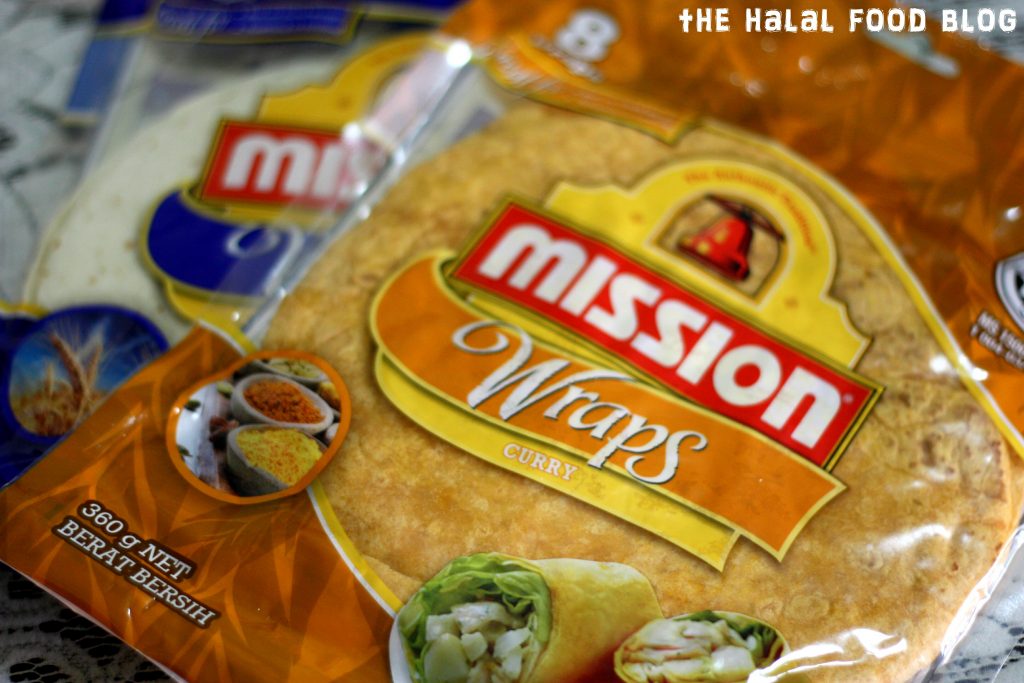 Mission Foods, the global leader in flatbreads (they really are!) presents the latest in their range of wraps!
Curry is definitely a fave with a lot of people I know for sure. Well, now you enjoy the flavour of curry in your wrap without having to add in any curry on your part!
The wraps smell so good! We could really get the aroma of curry when we opened the packet and it really got our appetites going! We cut up the wraps into triangles and toasted some of them. Great for enjoying with some dips! We also made some rolls with scrambled eggs which was handy as a to-go snack on the way to the office.
The possibilities are endless! If you can think of it, you can probably enjoy it with the Mission Curry Wrap.
But if you're short of ideas, our friends at Mission Food have these 2 handy recipes for you to try at home!
I know some of you are always asking us for recipes and ideas to try so here you go! 🙂
Mission Chicken Satay Rolls

Marinade:
3 stalks lemongrass, finely sliced
3 shallots, sliced
1 tsp ground turmeric
1 1/2 tsp salt
50 g sugar
3 Tbsp (50ml) oil
Additional 2 Tbsp oil – for frying
Filling:
500 g chicken breast (skinned and bones removed)
1 medium cucumber
6-8 lettuce leaves, washed and patted dry
Directions:
1. Combine the sliced lemongrass, shallots, turmeric, sugar and oil in a small food processor. Blend into a fine paste.
2. Cut chicken breast into 2cm x 8cm strips and pour marinade over. Mix well, cover and refrigerate for 1-2 hours. Cut cucumber into long strips 1cm thick and 8-10cm long. Set aside.
3. Heat 1 tablespoon oil in non-stick frying pan and cook half the chicken strips for 3-4 minutes per side til slightly charred around the edges but the center is still juicy.Remove and cool on a plate. Heat remaining tablespoon of oil and cook remaining pieces of chicken likewise.
4. To make Mission Curry Wrap more pliable, place each wrap on a well-heated frying pan for about 10 seconds. Turn and heat the other side for another 10 seconds.
5. Lay 1-2 lettuce leaves on Mission wrap and place chicken and cucumber strips in the middle. Roll up tightly. Cut each roll into neat 3cm slices and secure each piece with a toothpick. Enjoy! Best served with satay sauce or any accompanying sauce!
Mission Middle-Eastern Lamb and Egg Wedges
Ingredients:
3 Tbsp oil
1 medium-sized onion, finely chopped
1 Tbsp finely chopped ginger
200 g minced lamb (beef or chicken also can no problem!)
1 tsp ground cumin
2 tsp chili powder
1/2 tsp ground cinnamon
1/4 tsp ground black pepper
6 eggs
1 stalk spring onion, finely sliced
4 Mission Curry Wraps
1/2 cup coarsely grated Mozzarella cheese
Salt to taste
Directions:
1. Heat oil in a non-stick frying pan and cook chopped onion and ginger over medium heat for 10-12 minutes until softened and beginning to brown. Add minced lamb and continue cooking until crumbly and brown – about 10 mins. Sprinkle in cumin, chili, cinnamon and black pepper. Mix for another 2 mins and season to taste with salt. Keep pan on low heat.
2. Crack eggs into a bowl and add 1/2 tsp salt and spring onions. Beat slightly to incorporate salt into eggs.
3. Turn up heat on lamb mixture in the pan. Pour in eggs and stir around gently to allow mixture to set in little lumps. When eggs are no longer runny, take pan off the heat but please ensure eggs are still creamy and not-overcooked.
4. Lay a Mission Curry Wrap on a plate and spread half the egg mixture in an even layer all over the wrap leaving a 1cm border all around. Sprinkle half the cheese over the egg mixture. Cover with another Mission Curry Wrap and transfer to heated frying pan. Cook on low/medium heat until crisp and lightly brown.
5. Cut into wedges and serve hot. Best with some salad!
Well, those are just some ideas but I'm sure a lot of you have your own ideas and recipes on how you're gonna enjoy your Mission wraps right right right!!! 😛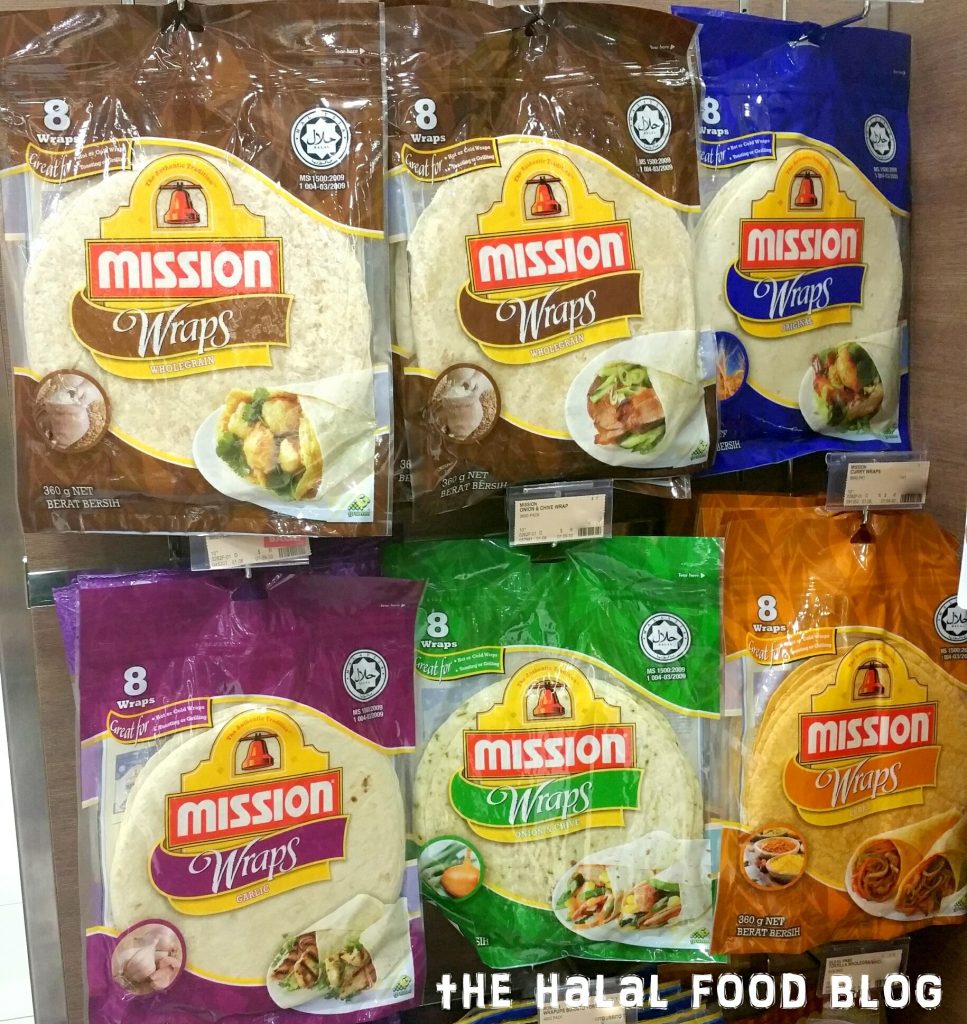 Besides the new Curry wraps, they still have the good ol' Original, Wholemeal, Garlic, Onion & Chive and Potato wraps too. Mission Wraps are available at all major supermarkets and packet of 8 wraps (in a re-sealable bag) retails at $5.35 each.
You can get more information on their products plus great recipe ideas and updates on latest products and promos at their site www.missionfoods.com.sg and follow their Facebook page at www.facebook.com/missionfoodssingapore today!
All information (including prices, availability of item on menu and Halal status of establishment) are accurate at the time of posting. All photos used in this site are property of The Halal Food Blog unless stated otherwise.