Awhile back, we saw Cinnamoroll visiting Kumoya. And now, another cutie pie cartoon character is making an appearance at everyone's favourite Halal-certified Japanese-French cafe! Everyone say "Hallo!" to Miffy!!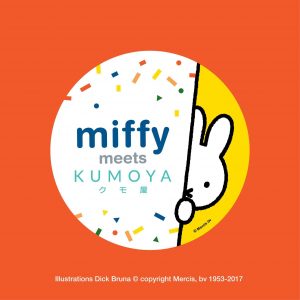 Now, some of you might not be too familiar with this cute little rabbit. Don't worry – to be honest – I hadn't heard of Miffy either until I heard she was visiting Kumoya!! Well, this Dutch cartoon creation has been appearing in her own series of children's' books since 1955 and has such a following that she even has her own TV cartoon series and even a movie too!
What's most important (to me) is that Miffy is now at Kumoya and just in time to celebrate Kumoya's 1st anniversary too! This obviously means great news 😛 A special menu created just for this special pop-up cafe and extra special decorations to commemorate the event!! But more on that a little bit later okay.. I'm sure y'all are excited to read about the food!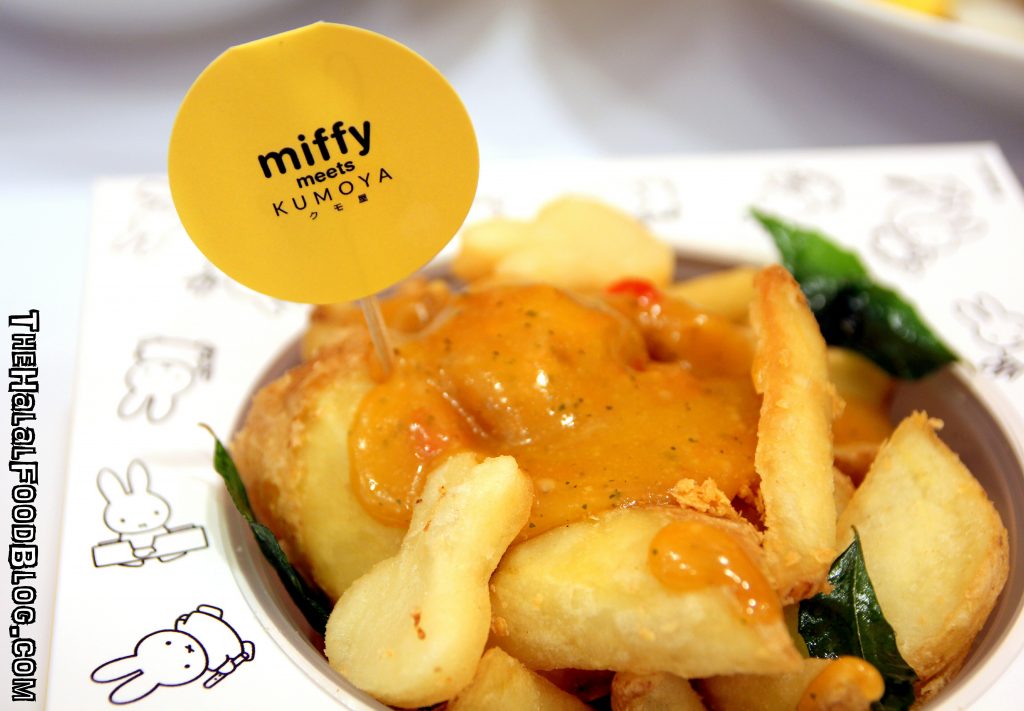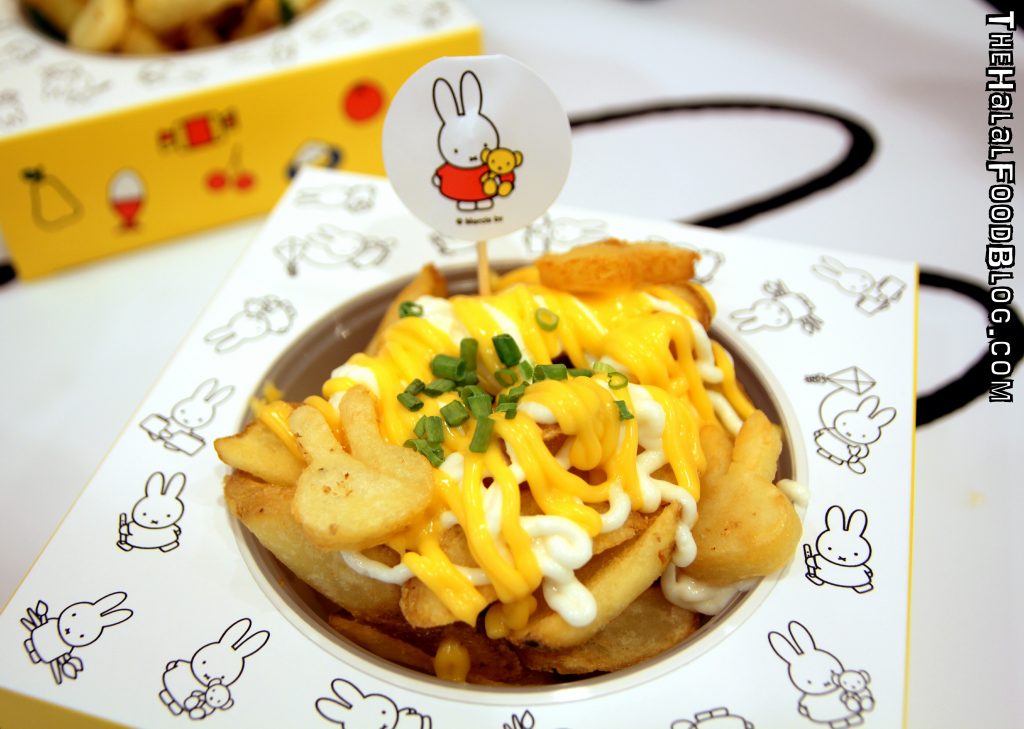 What better way to start a meal than with some appetizers and snacks am I right? Miffy and friends lend their special touch to 2 different potato fries dishes! To be honest – we actually had a difficult time choosing which one to get (because they both looked so good!) that we ended up ordering both! 😛 #PBG to the max!
The Nice Nacho Cheese Fries will be a delight for all you cheese lovers. Nacho cheese and creamy mayonnaise adorn a serving of fries (including some cute rabbit-shaped ones too!)
But hey, y'all know we're suckers for #SaltedEggAnything so the Sunny Salted Egg Yolk Fries is more than up our alley. I saw some some people dipping their fries into the small bowl of delicious Salted Egg Yolk sauce that comes with the fries but we decided to go all out and pour it all over everything LOL (but dipping is fine too lah if you like it that way)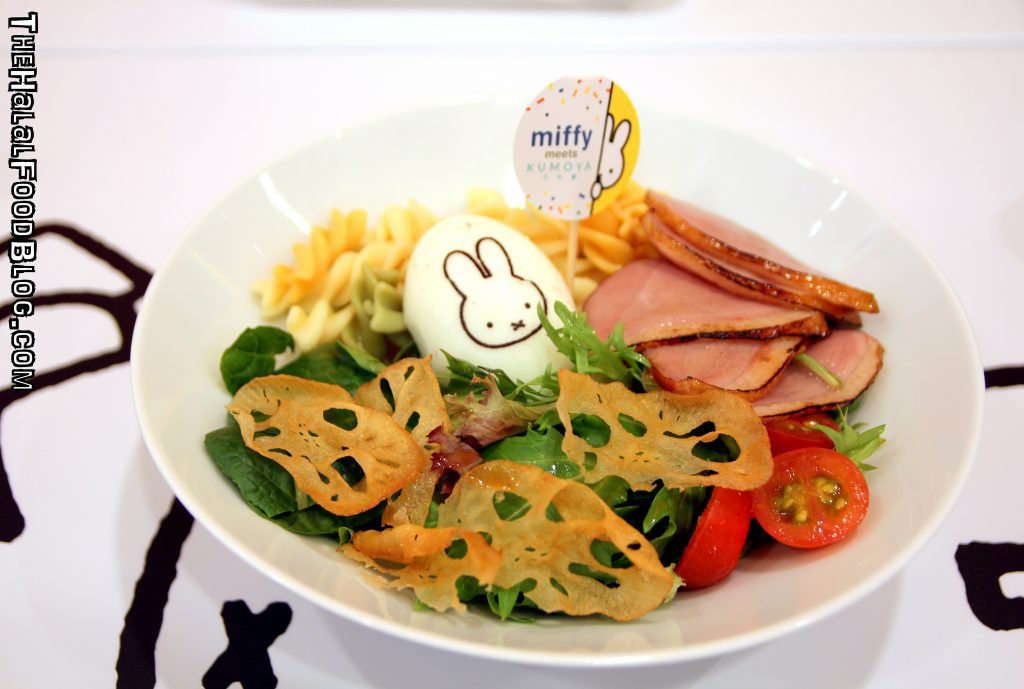 So there are 6 different mains you can choose from on the special Miffy pop-up cafe menu and we tried FIVE 😛 And they really do have quite a wide variety of dishes so there's something for everyone.
First up is the Egg-citing Miffy Smoked Duck Cold Pasta which combines Fusilli pasta which is cold (like, it's in the dish name like duh) and paired with smoked duck, some greens and hard-boiled egg.
It was quite a nice touch to sear the smoked duck a little for that added smoky flavour and the sliced lotus root was pretty cool too! Definitely a good choice for those who like duck and/or looking for a somewhat light meal because the rest are definitely more considerable servings.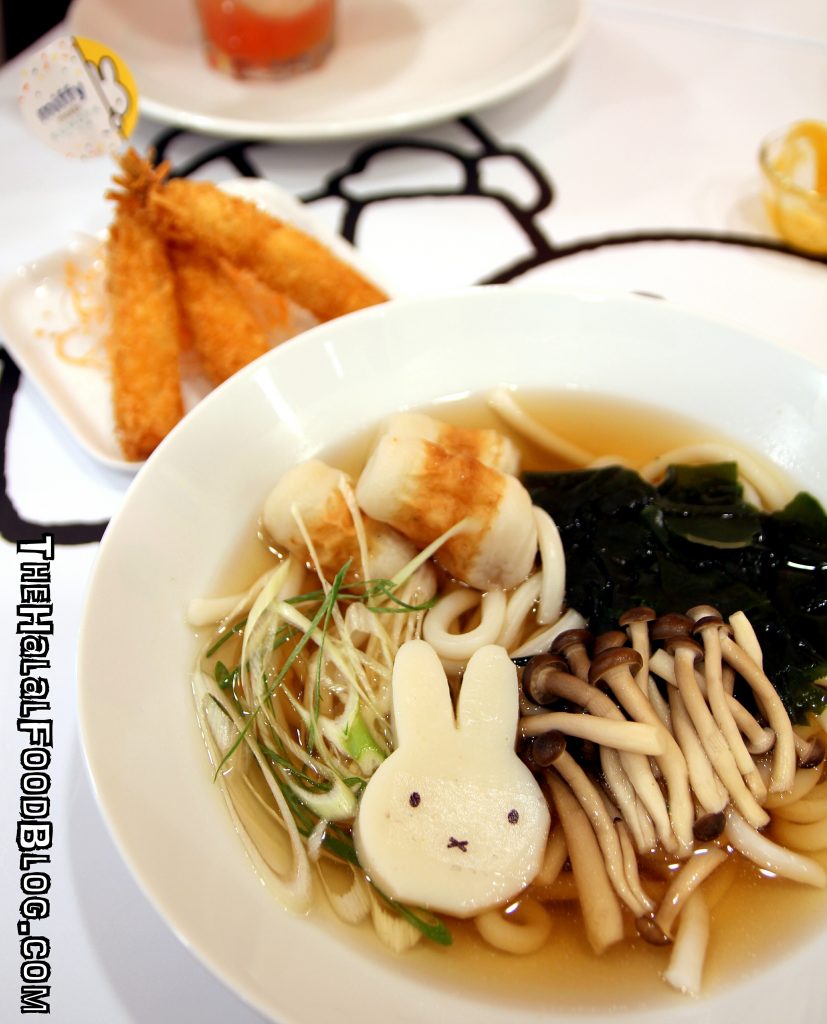 So you want or U-don want? GEDDIT GEDDIT 😛
*crickets*
A soup-erlicious time awaits indeed with Souperlicious Hot Udon with Breaded Ebi – Udon noodles in a hearty broth complete with all the cute trimmings like a Miffy Kamaboko (Japanese fishcake), Chikuwa, Wakame and Shimeiji Mushroom for good measure. And let's not forget the deep fried goodness that is the Breaded Ebi!
This was not my dish at the table but I now, I do wish it was my dish because it looks amazing and I reckon it's gonna be damn shiok to slurp up those noodles LOL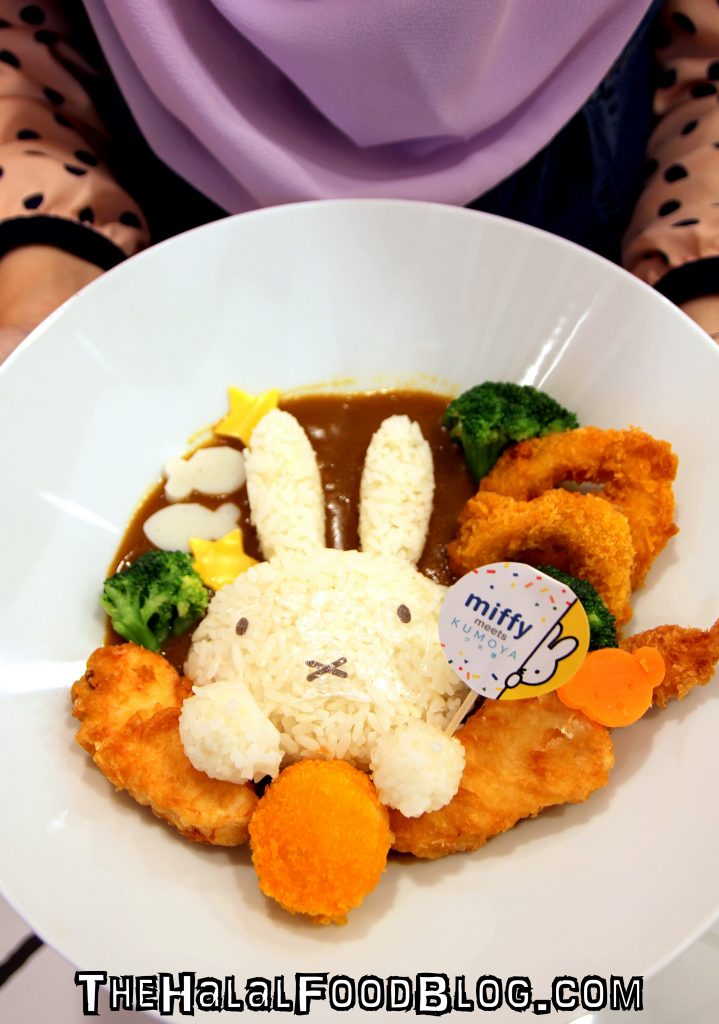 If you can't get enough of that Japanese Kare from Kumoya, you're in luck! Don't worry, there's no rabbits in this dish except for Miffy's cute face (and tiny paws!) staring up at you as you tuck into your food!
Rice with Kumoya's Seafood Tempura and Curry are a winning combination for fans!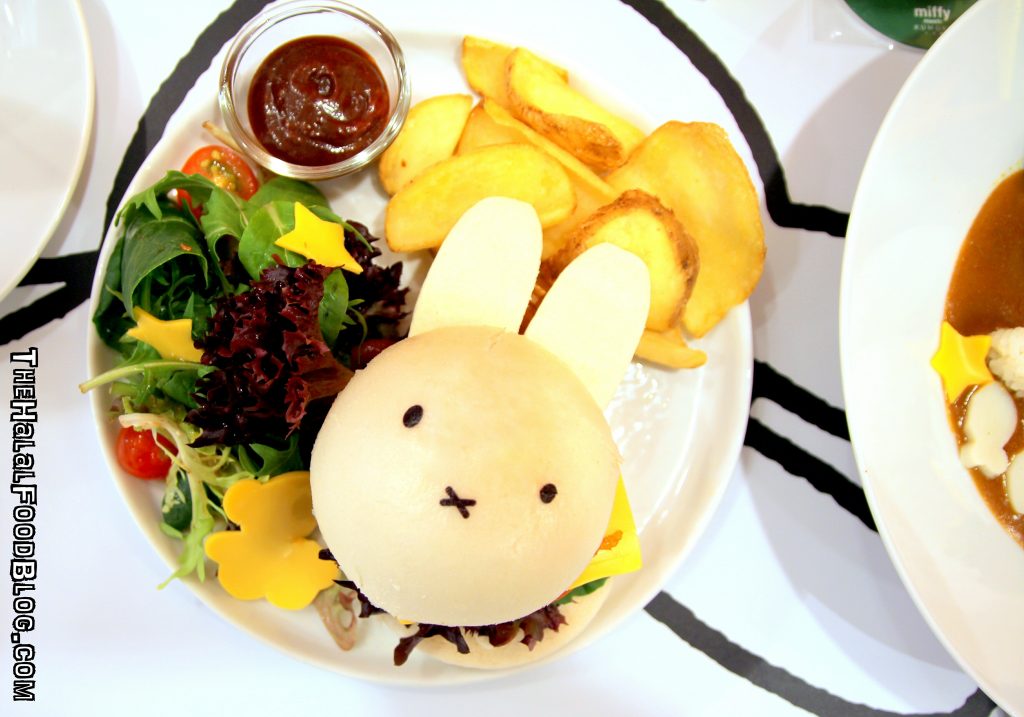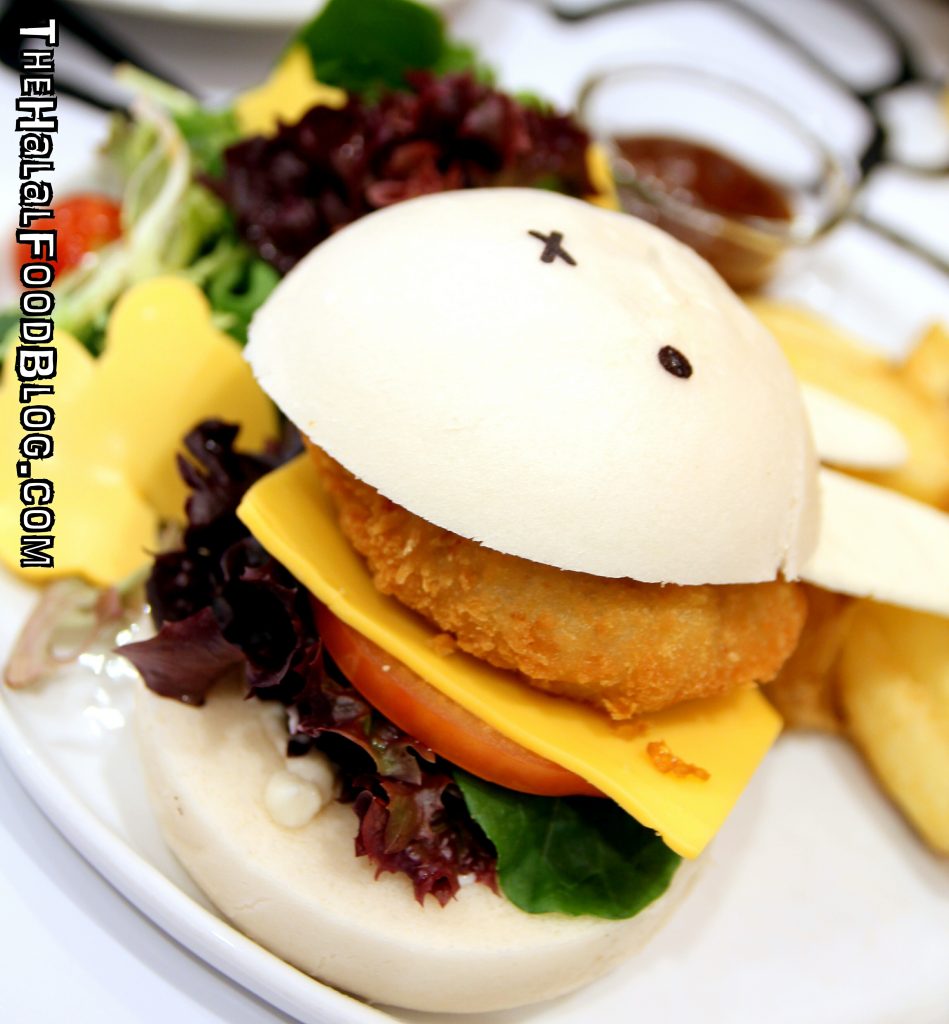 This was my order simply because I was so craving for some Chicken Katsu and this one did not disappoint!
So a hot, crispy Chicken Katsu is sandwiched between Mantou buns (pretty much like Pau!) with some veggies and some cheese (which I wish was a little more melty!). On the side is some fries with BBQ sauce and also some salad (because, eat your veggies!) with these cute little teddy bear and star cut-outs!
Me thinks this one is also a great idea for the kiddies 😀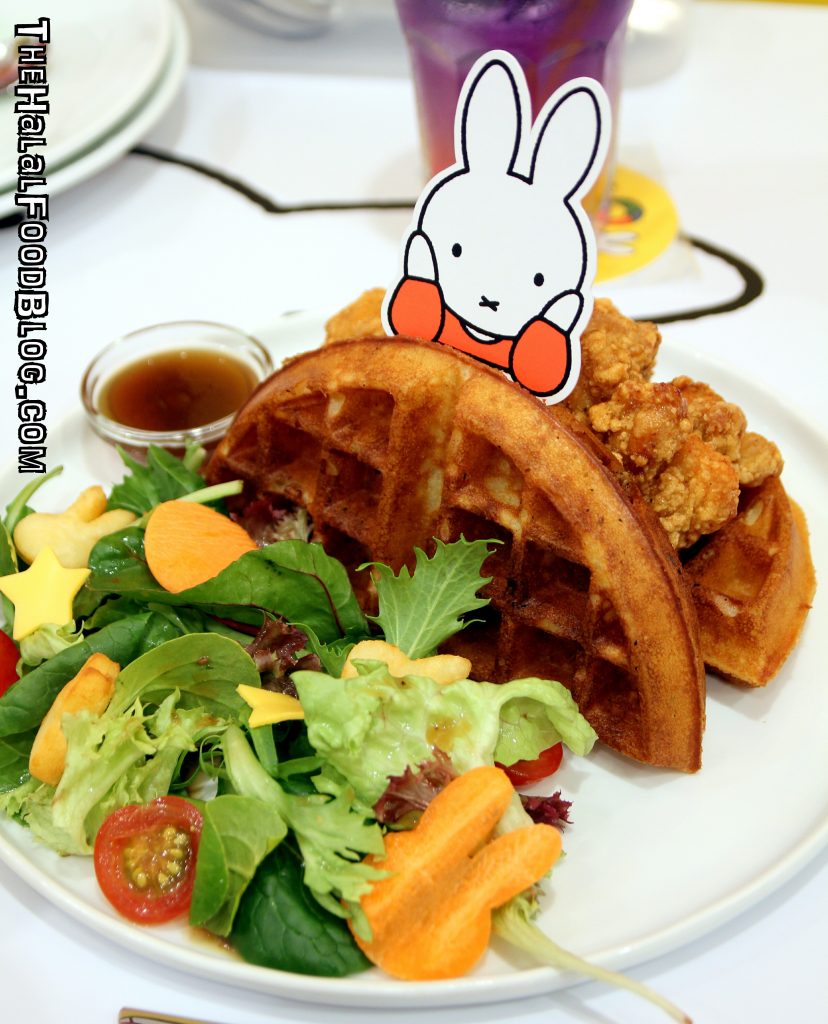 This is the dish I have ordered more times than any other dish at Kumoya. I have extolled the virtues of this dish many times and it remains one of the all-time favourites there!
There's just something about the combination of fried chicken and waffles am I right? And trust me on this one – that Shoyu Glaze that comes with is simply THE BOMB!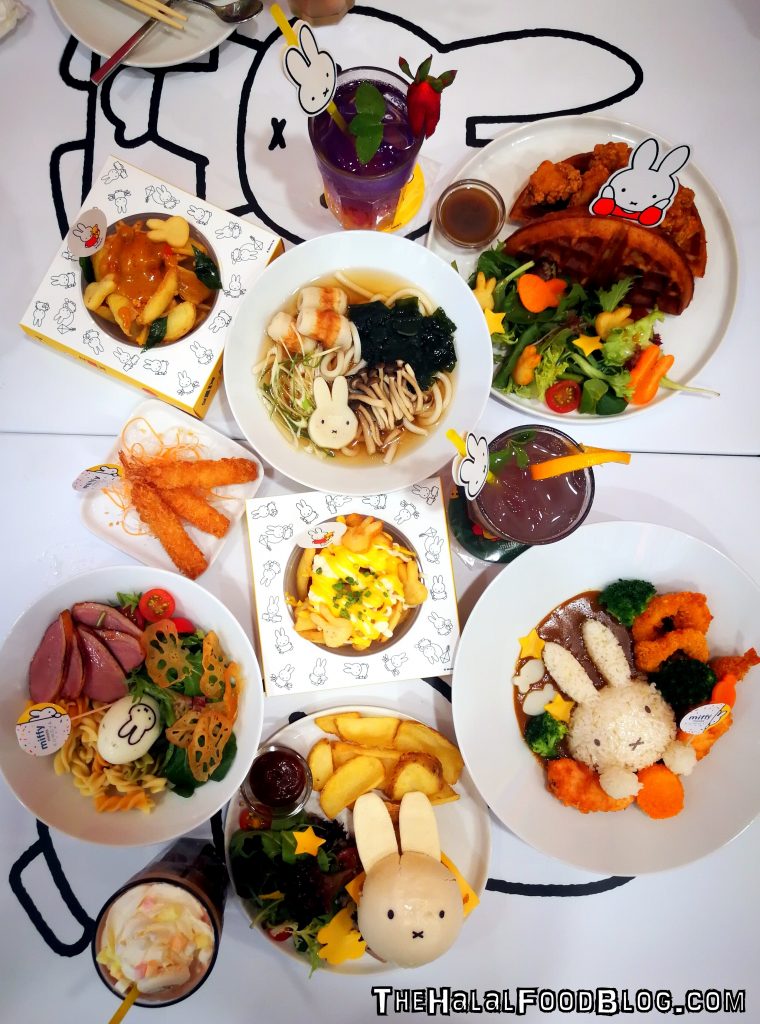 The only other main we did not order (because dah banyak sangat!!) was the Peek-A-Boo Miffy BLT which is the Kumoya take on a classic BLT sandwich! Bottom line is that there's Salted Egg Yolk sauce involved so it's definitely worth checking out!
If you thought the mains were impressive, wait til you see the desserts!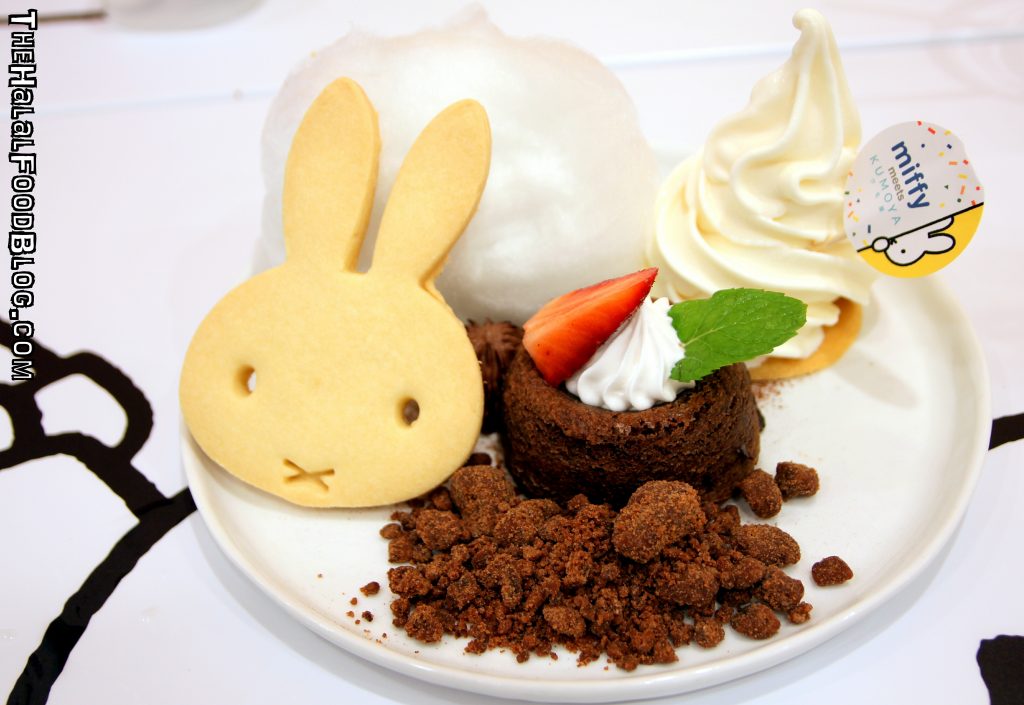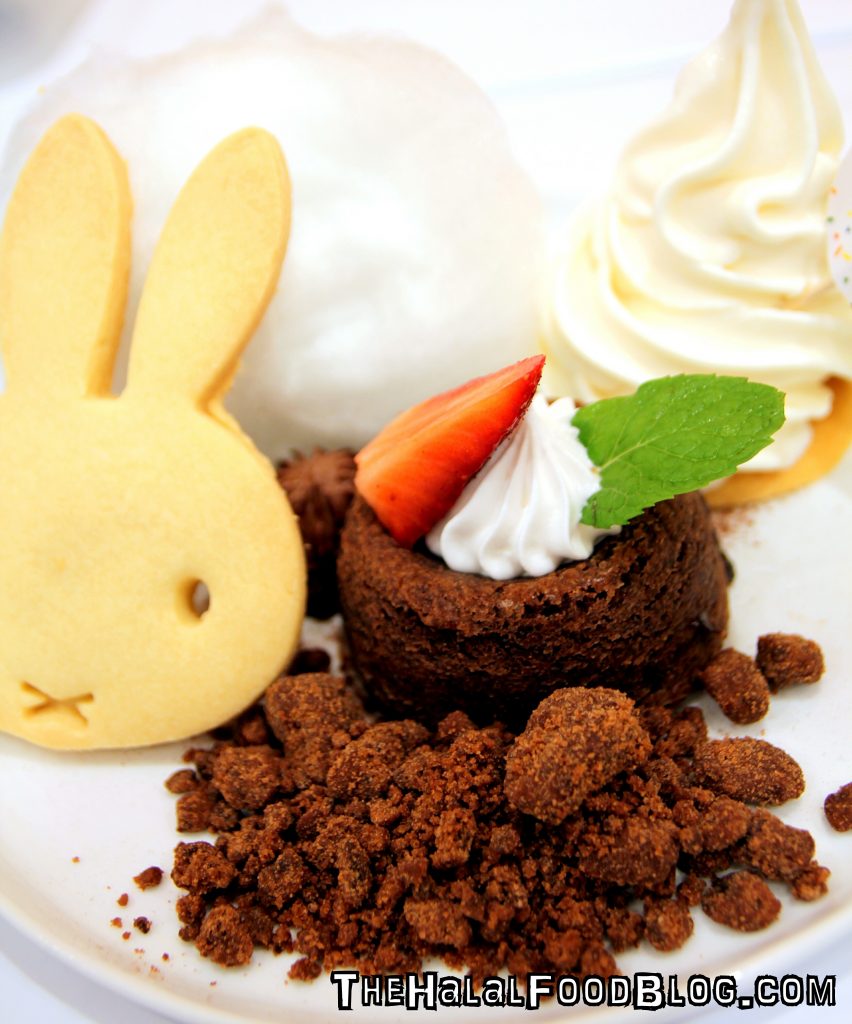 Oh we all love Chocolate Lava Cakes!!
Miffy makes an appearance as butter cookie on this one with some cotton candy, Chocolate Sable (that's the crumbly cookie bits there. You're welcome LOL) and… Hokkaido Soft Serve!
YASSSSSSSSS Hokkaido Soft Serve!! I know we're all used to the famous and tasty Yoghurt swirls at Kumoya but they've gone the ice-cream route this time and it is SO SEDAP!! Milky and creamy and the perfect match with the chocolate!
And sorry eh I know I snapped a photo of the warm lava within but I seem to have misplaced it 😐
Anyways they also have a Matcha Azuki version of this dessert just in case Chocolate is not your thing (WHAT?!?!)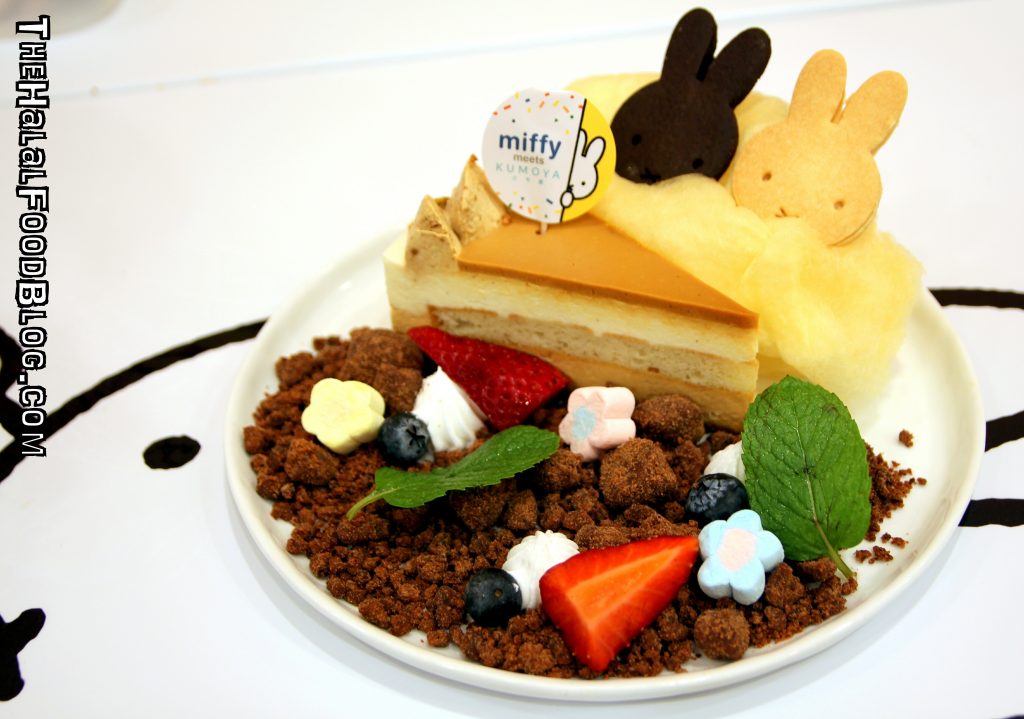 We could have gone with the Deliciously Dark Belgium Chocolate Cake but since we already had some chocolate with the first dessert, we went with the Double-Take Salted Caramel Cake instead.
The Salted Caramel Cake was good  and best enjoyed with the rest of the sweet treats on the dish including Miffy & Melanie butter cookies! Macam too cute to eat like that LOL but if you're gonna eat the cookies, eat them together at the same time so Miffy & Melanie can still be together in your tummy *evil smile*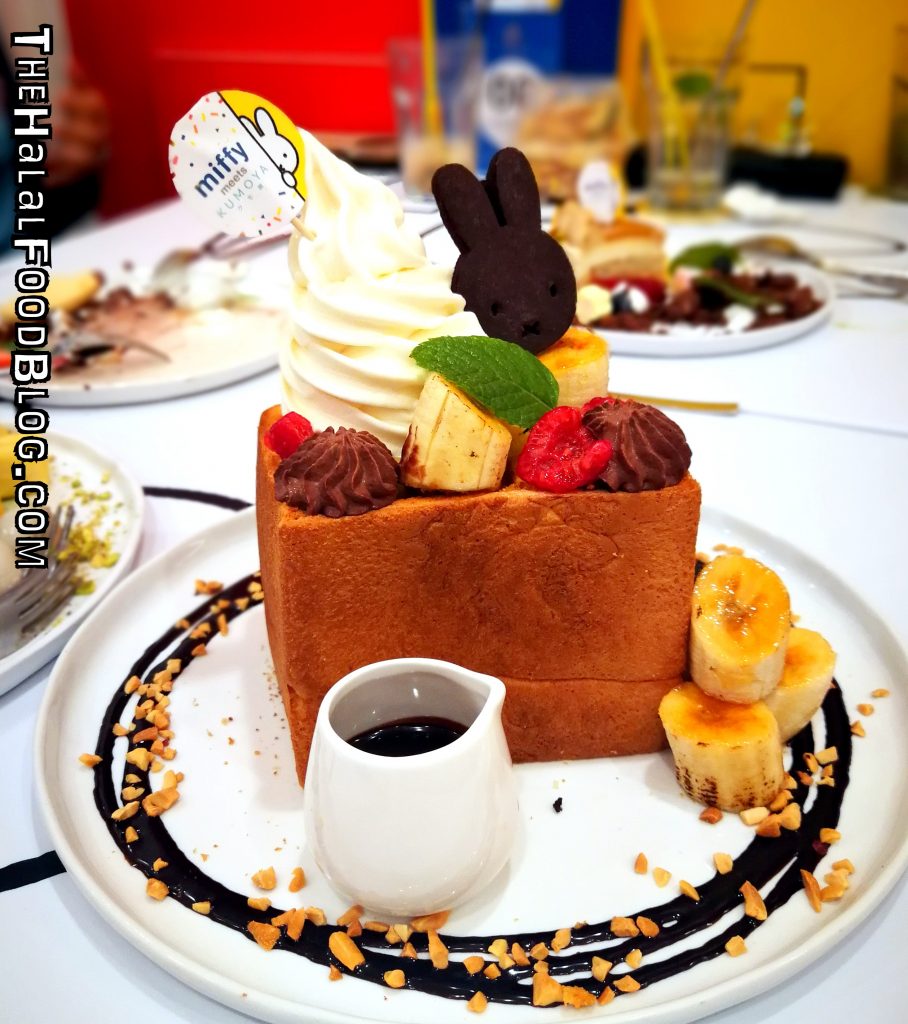 ZOMG ZOMG ZOMG Shibuya Toast has arrived at Kumoya!!!
YES YES YES SHIBUYA TOAST!!! *calm down calm down*
This dessert originates from Shibuya (like duh) but seems to have taken some really fantastic twists and turns over the years and is now one of the most spectacular desserts around! In fact, I cannot think of a single other makan place that offers a Halal Shibuya Toast in Singapore!
The Chock-ful Chocolate Banana Shibuya Toast has more of that delicious Hokkaido soft serve, caramelised bananas, brownies, fresh cream, some fruits and topped off with a dark chocolate sauce. FUYOH!! Wah this was really delicious lah. Sinful. But delicious. LOL
And yes, it's as big as it looks (probably even bigger in real life) so unless you're gonna go into BEAST MODE to eat this by yourself, share with someone okay 😛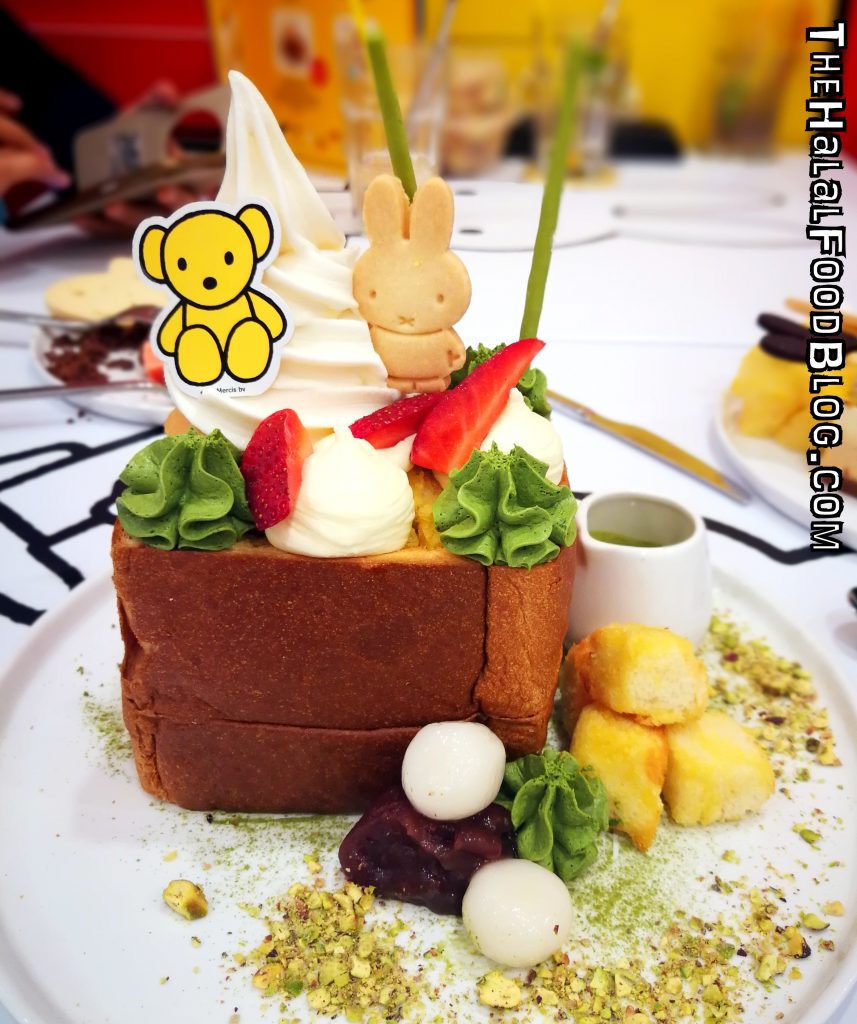 Looking for a bit of alternative flavour for your Shibuya Toast? The Mountain Matcha Azuki Shibuya Toast is really quite opposite from its chocolate-y counterpart.
Besides the Hokkaido Soft Serve and butter cokies, almost everything else is new – fresh Matcha cream, fruits, Matcha sticks, Dango (which is those small rice balls), Azuki (which was my favourite part because it contrasted well against the Matcha), crunchy pistachio bits and more Matcha sauce. Only Green Tea fans need apply 😛
Oh, and for both versions, within the giant toasty shell are small cubes of bread that have been toasted and buttered. SEDAP!!
The other 2 desserts up for selection are the Awesome Miffy Orange Sponge Cake (which used the same orange-infused sponge cake from the last pop-up cafe so it's confirmed sedap giler) and the Yuzu Mango Parfait Merriment.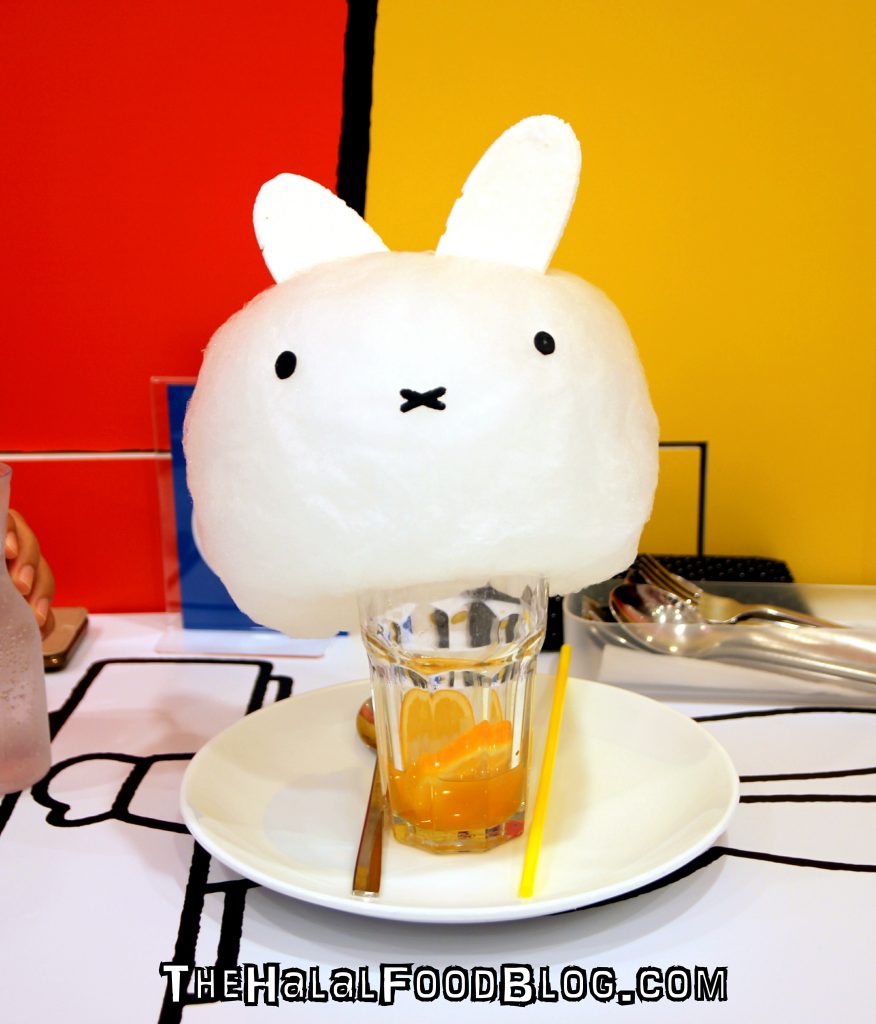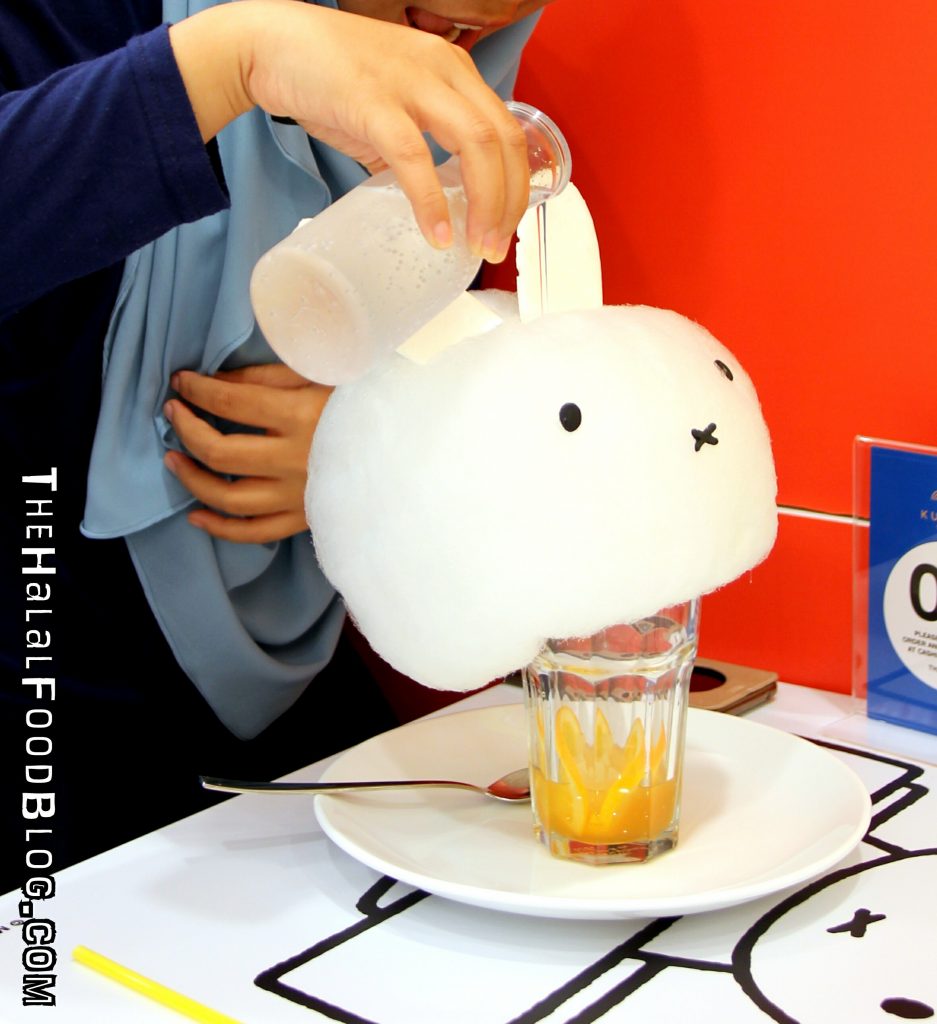 LOL do you remember this drink with the cotton candy and you're supposed to pour THROUGH it to complete you drink? So fun but it can be quite a challenge lah okay (based on our last experience) but we decided to give it another try with the Miffy Original Orange Soda!
Okay lah we did much better this time 😀
PS I don't know they're always leaning away from me. First Cinnamoroll and now Miffy. Both leaning backwards away from me after awhile. Is it my breath?? LOL kidding lah it's called gravity.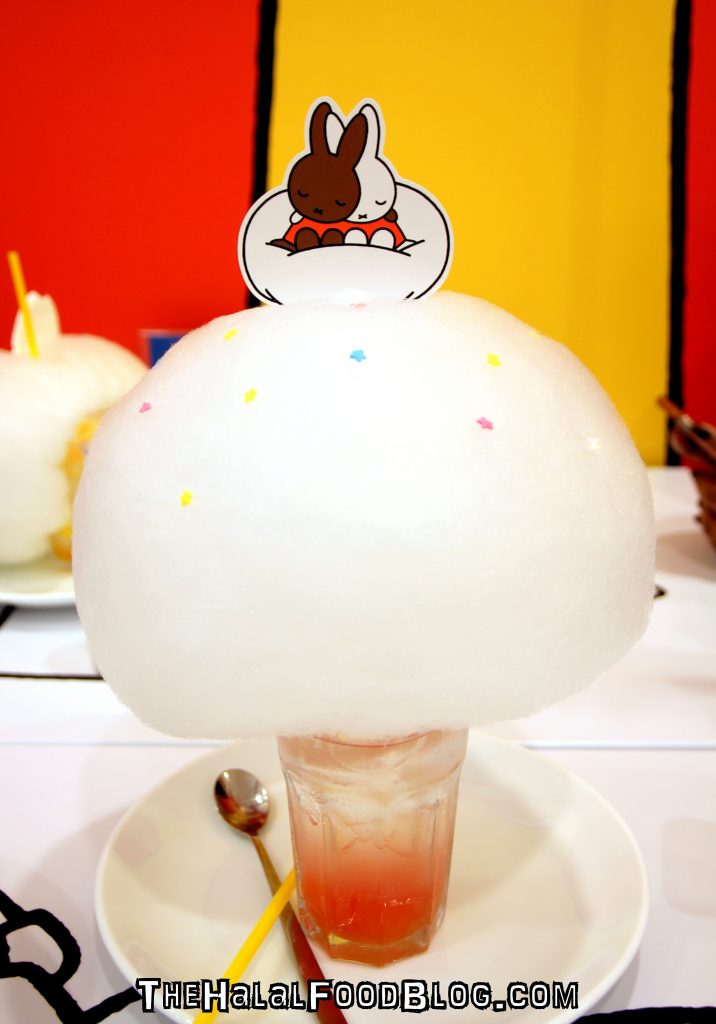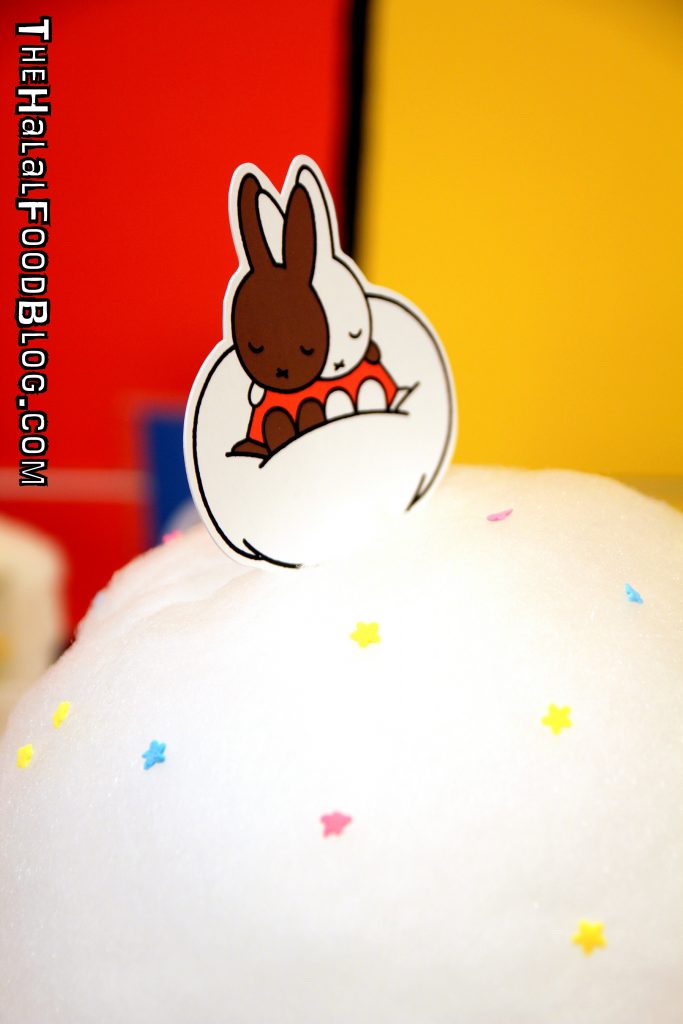 Equally cute and tasty is the Miffy & Melanie's Dreamy Lychee Rose Soda which already comes poured for you but is no less fun to enjoy! Miffy & Melanie rest atop a bed of fluffy cotton candy. Dreaming of you drinking this drink *evil smile*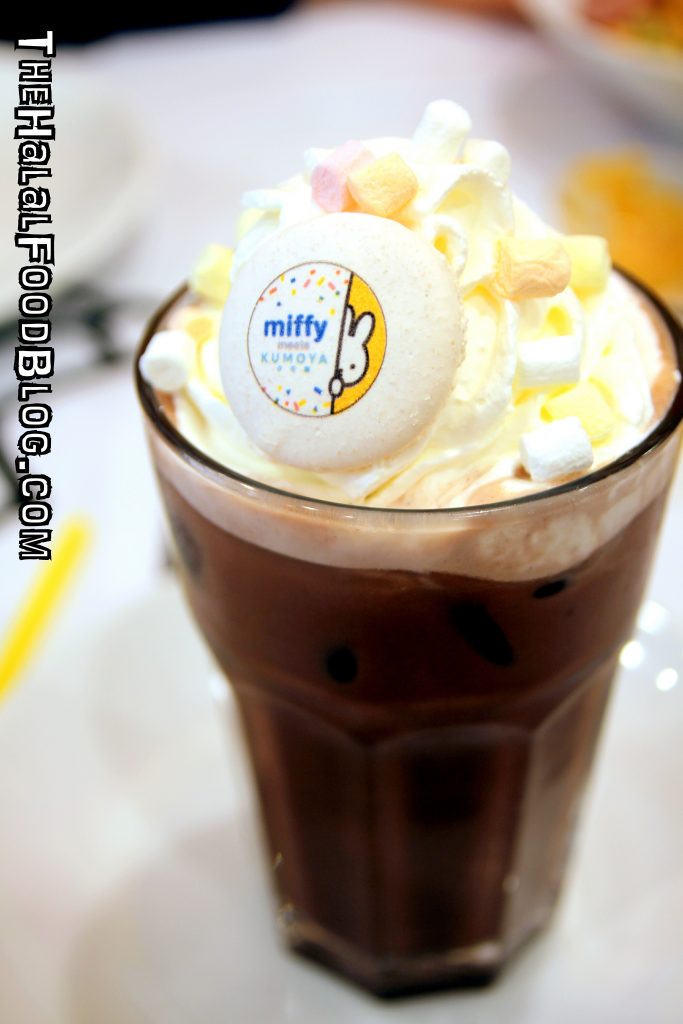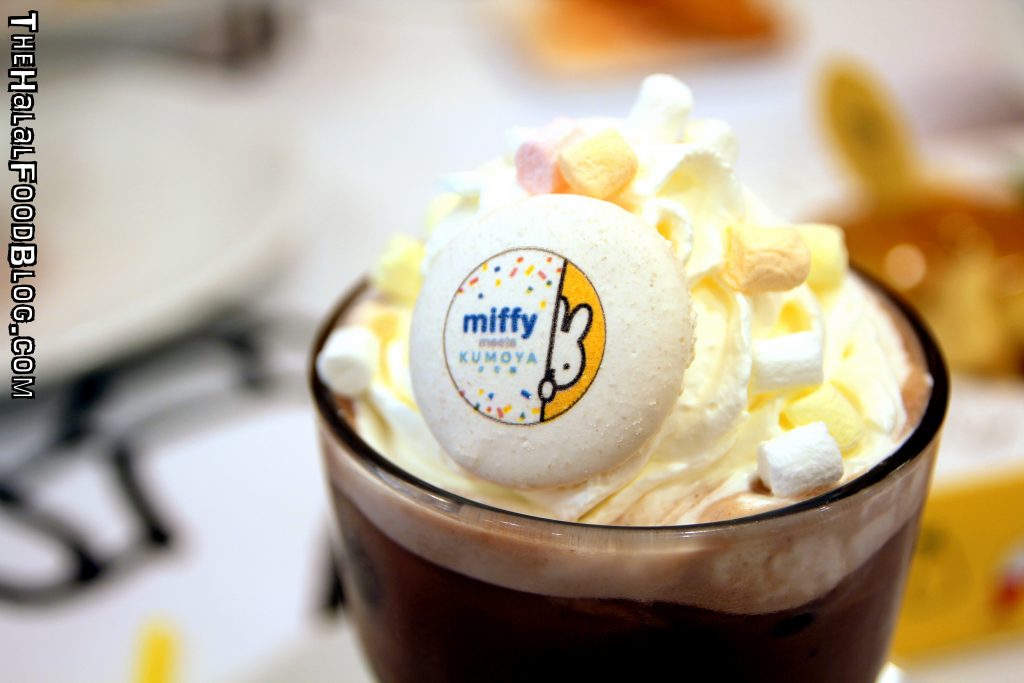 Q: Do you know why they call this drink Iced Chocolate Cheer?
A: Because on a hot day, when this arrives at your table, everybody cheers! #TrueStory
What could be more satisfying that a rich iced chocolate am I right or am I right. Really hits the spot! Also topped off with fresh whipped cream, marshmallows and a Miffy macaron!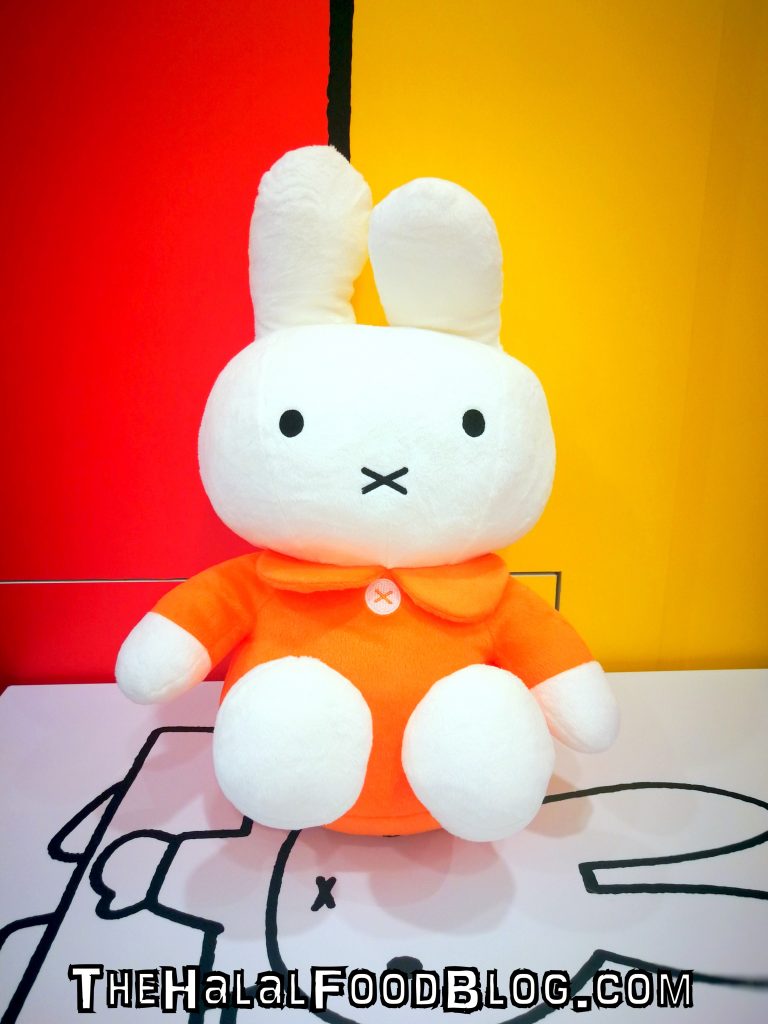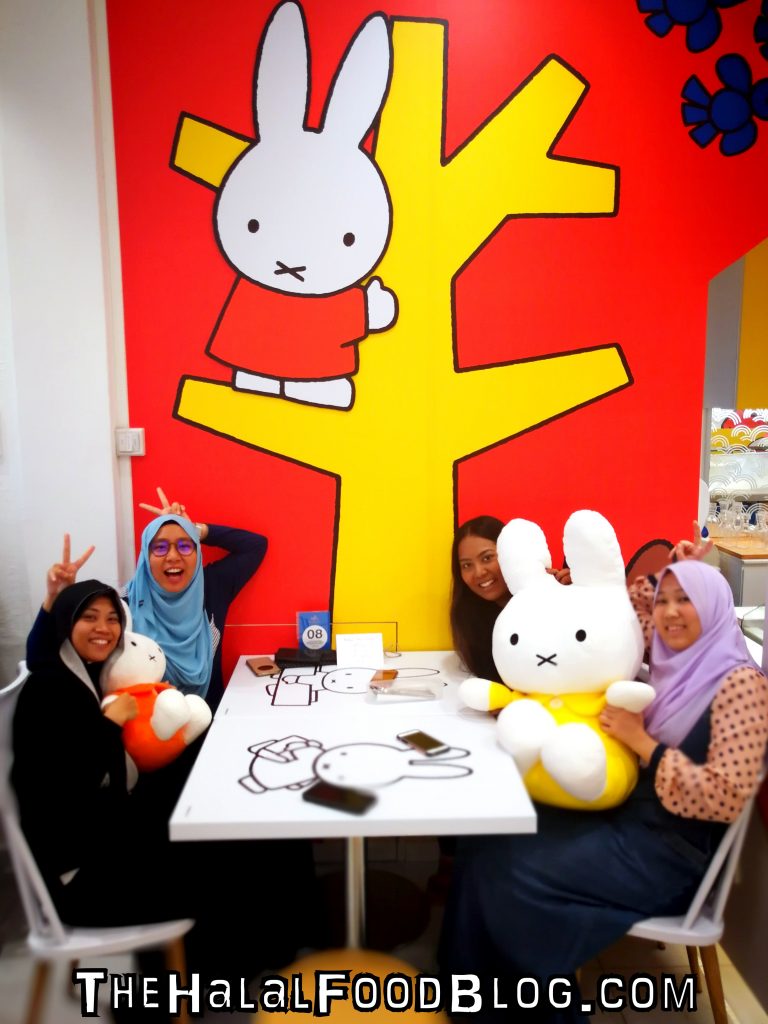 And don't forget – Kumoya is all dressed up specially for Miffy's visit! Enjoy the colourful and cute motifs and decorations that adorn the walls, the exterior and pretty much all of Kumoya!
Snap plenty of photos and videos okay! It's too pretty not to!
You can also grab yourselves some special Miffy merchandise while you're there including a special Miffy cookbook authored by none other than the famous Ms Shirley Wong aka Little Miss Bento who played a big part in creating a lot of the dishes for this special pop-up!
The Miffy Visits Kumoya pop-up cafe will run from 5th October til 31st December 2017. It may seem like you have a lot of time but time flies so be sure to visit while you still have the chance! Bring the kids and enjoy the good food and colourful ambiance with family and friends!
Special thanks to the ladies from Halalfoodhunt.com for dining with me and definitely a big thank you to Kumoya Singapore for having us down! Happy 1st Anniversary to Kumoya!!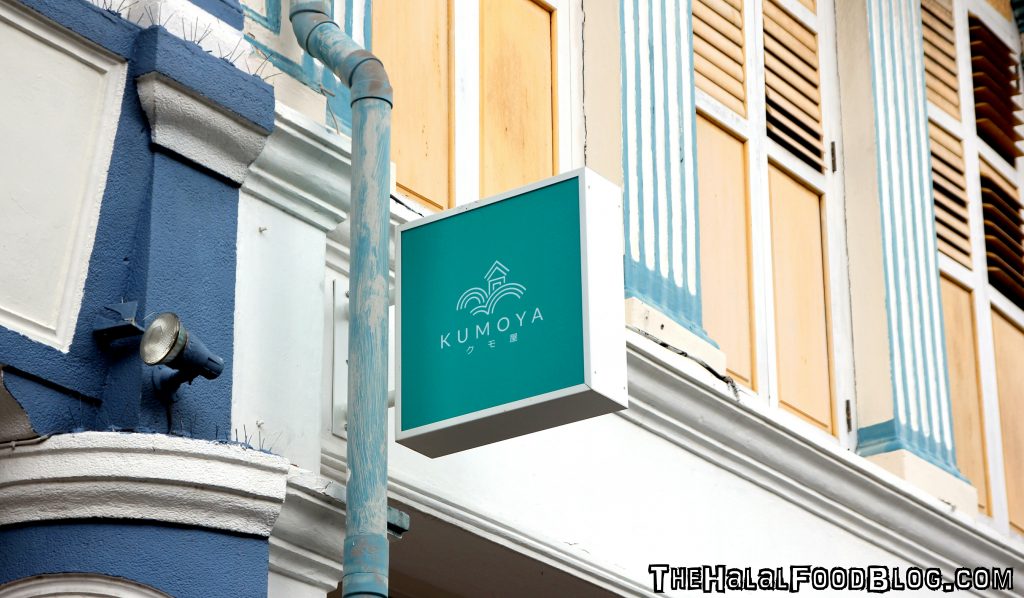 Kumoya
Miffy Visit Kumoya Pop-Up Cafe (5th October til 31st December)

8 Jalan Klapa
Tel: 6297 3727
Facebook: www.facebook.com/kumoyasingapore
Instagram: @kumoya_singapore
Operating Hours:
12.00pm til 9.00pm Daily
All information (including prices, availability of item on menu and Halal status of establishment) are accurate at the time of posting. All photos used in this site are property of The Halal Food Blog unless stated otherwise.