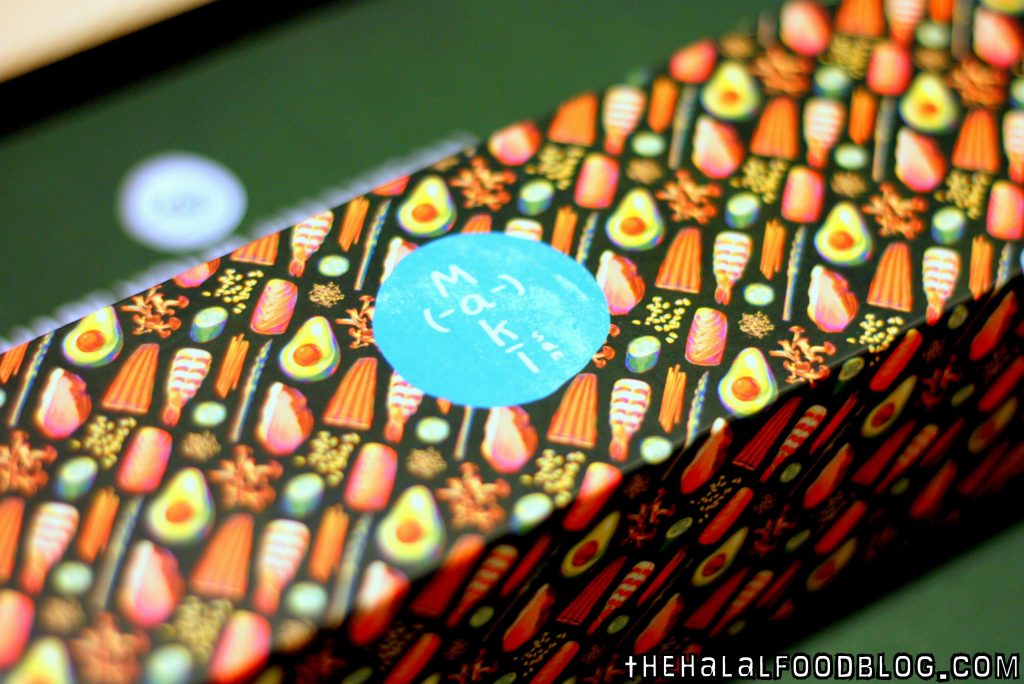 How quickly the year has passed! A blink of an eye and we are already bidding farewell to 2015 and very soon we will be saying to 2016, "Hello" (It's me. I was wondering if after all these years you'd like to EAT).
So we are ending the year with a post that has been making waves because of its ingenuity and great-tasting food. Oh yeah we're gonna let Maki-San ROLL us into the new year (geddit geddit).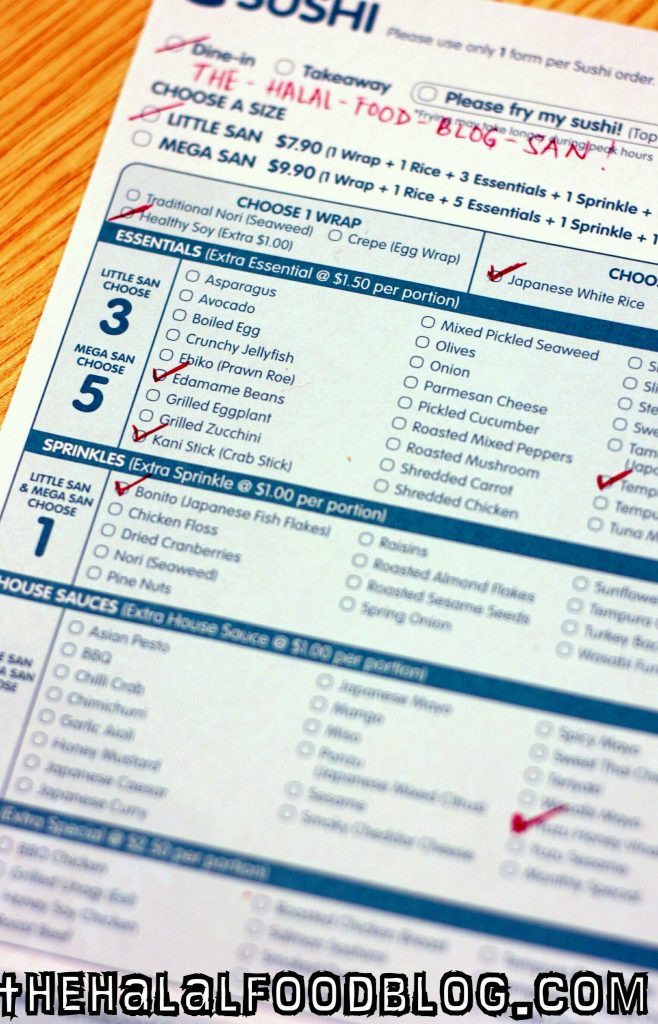 So how does Maki-San work exactly? Well, the easiest way to put it is that Maki-San is a DIY Sushi place.
Now, we know the first thing that comes to mind is the image of you and your friends choosing your ingredients and then rolling them up into sushi rolls (which is what we thought we'd be doing) but you'd be only half right. You will be choosing your ingredients and designing the type of sushi roll (aka Maki) you'd like but leave the rolling to the experts! ROFL (ROLL on the floor with laughter. Geddit geddit)
Anyways, Sushi is not the only thing on the menu and even if you're not in the mood to get all picky and choosy for your Maki, they also have some ready-to-order choices so there's something for everyone.
So they way we did this was each member of The Halal Food Blog Team got to make their own Maki. We could choose absolutely anything we wanted (aka asalkan lu bahagia lah beb) which really emphasizes the fact that at Maki-San, you have total and complete freedom to build your own Maki!
Ready? Let's rock and ROLL (geddit geddit)
Creator: Maryah
What's in it: Traditional Nori (Seaweed) with Japanese White Rice, Avocado, Ebiko, Roasted Mixed Peppers, Pickled Cucumber, Wasabi Furikake sprinkles, Monthly special sauce and Tempura Softshell Crab special
So when you start by getting the order chit which is a long list of stuff you can choose for your Maki.
You have to choose which type of roll you'd like (they have 3 choices), what type of rice you'd like and then you get to choose from 26 'Essential' fillings, 13 'Sprinkles', 21 'Sauces and also 11 'Special' fillings in case you feel like levelling-up your Maki.
And we know that with so many choices on the menu, you might have a hard time designing your Maki but our advice is – just ROLL with it (geddit geddit!)
Anyways, don't worry. We will be going more into detail about your choices as we go along!
Creator: Adam
What's in it: Traditional Nori (Seaweed) with Japanese White Rice, Asparagus, Mixed Pickled Seaweed, Parmesan Cheese, Roasted Mushroom, Tempura Onion, Turkey Bacon Bits sprinkles, Honey Mustard sauce and Roast Beef special
For my own sushi roll, I decided to take the option of FRYING MY SUSHI! Oh yeah! They do that at Maki-San! But please note they can only fry your sushi if you choose the Traditional Nori (Seaweed) wrap option.
And my creation is a good example of how much freedom you have when it comes to designing your Maki. You will be inclined to choose all your favourite things but be mindful of combining strong flavours which will ultimately overpower the taste of your Maki. Case in point – Mixed Pickled Seaweed + Parmesan Cheese. Ugh.
In most cases, your choice of sauce will be in your sushi roll but when it's fried, you will probably get it on the side and you can use it as a dipping sauce. Not a bad idea and you can still enjoy the crisp outer layer of tempura batter on your sushi.
Creator: Yana
What's in it: Crepe (Egg Wrap) with Healthy Brown Rice, Shredded Chicken, Tempura Onion, Chicken Floss sprinkles, Wasabi Mayo sauce and BBQ Chicken special
Here's an alternative to having Seaweed as your outer wrap. Go for the Crepe (Egg Wrap) for something with a bit more bite. It's quite a thin layer so don't worry about it being too thick and all that.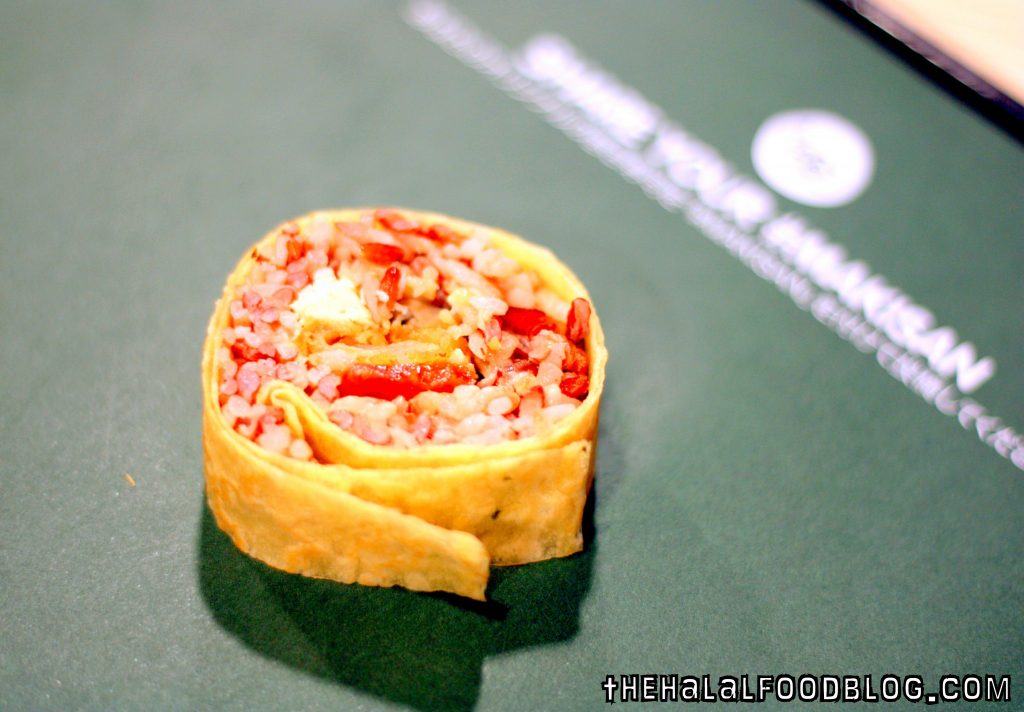 We also went with the Healthy Brown Rice for this Maki instead of the traditional Japanese White Rice. This is a healthier option for sure and definitely a good choice if you're watching what you eat but still wanna indulge. Combine it with more of the healthier options on the ingredients menu and you're all set.
Creator: Azlan
What's in it: Healthy Soy Wrap with Japanese White Rice, Edamame Beans, Kani Stick, Tempura Enoki Mushroom, Bonito Fish Flakes sprinkles and Yuzu Honey Vinaigrette sauce.
So while the rest of us were fiddling with our ideas for our own sushi roll, Mein Bruder had this great idea of creating a special Maki for The Halal Food Blog. So, feast your eyes on – The Halal Food Blog-San!! (Yes we named it after ourselves)
We went with the most unique choice for our wrap – the Healthy Soy wrap!
It's this really really thin layer which reminds us a lot of the type of wrap you'd get when you order those Vietnamese Rolls you know what we mean? Well, these ones are PINK so that's automatically an extra 1000 points!
Anyways, this is one pretty power to the max Maki and probably the best of the lot we created.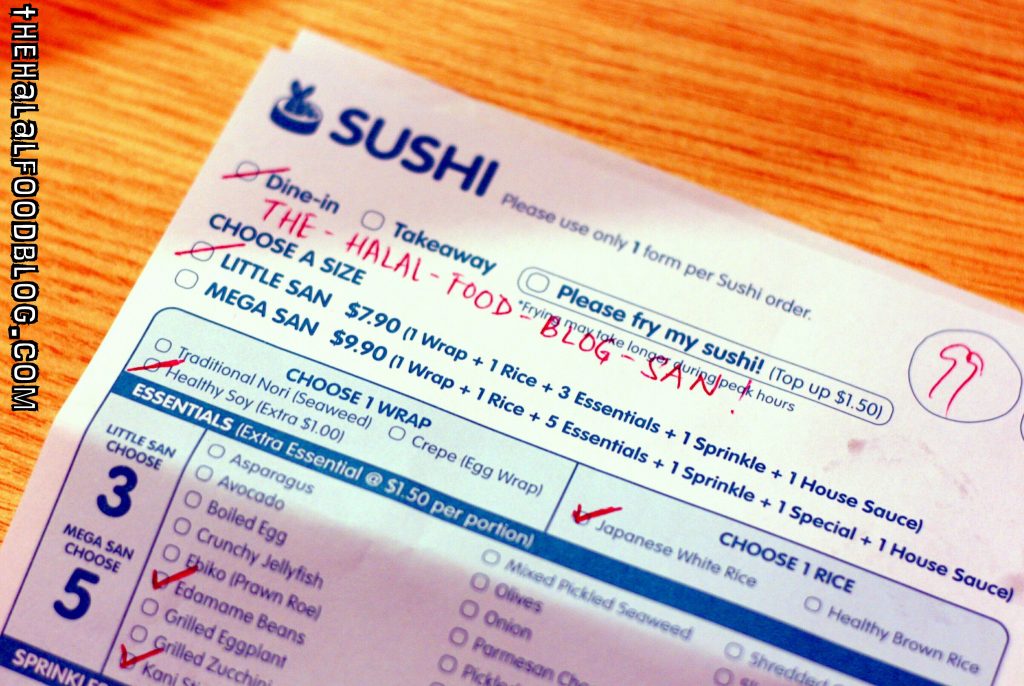 Now, you can't exactly walk up the counter and say "Gimme 3 The Halal Food Blog-San Makis please" without the guy behind the counter giving you a weird look but just tick the boxes on the order chit for those components we listed above and give this Maki a try.
Worried tak sedap? Hey! Confirmed sedap! You can bet on it. Expecially if you're a high ROLL-er (geddit geddit)
By the way, you get to choose whether you'd like a Little San or a Mega San depending on how hungry/greedy you're feeling when you drop by Maki-San.
The Little San ($7.90) gets you 1 Wrap + 1 Rice + 3 Essentials + 1 Sprinkle + 1 House Sauce.
The Mega San ($9.90) gets you 1 Wrap + 1 Rice + 5 Essentials + 1 Sprinkle + 1 Specials + 1 House Sauce.
Both the Little San and the Mega San get your full up and satisfied.
Didn't you catch the part about the pre-set Maki choices above? Or have you just been looking at the photos of all the yummy sushi? LOL No problem if you wanna re-read you can always SC-ROLL (geddit geddit) to the top.
They have 6 House Maki Rolls available to choose from and we chose the California Dreaming which is Maki-San's take on the traditional California Roll.
Japanese White Rice, Avocado, Ebiko, Shredded Carrot, Shredded Cucumber, Kani stick, Tamagoyaki, Edamame Beans ans Japanese Mayo sauce all bound within a Nori Seaweed Wrap. Simple and delicious!
Child's Play, Very Veggie, Salmon Says, Roast N' Roll and Keep on Shrimpin' make up the rest of the list so there's really something for everyone. Prices range between $7.90 and $9.90 so take your pick!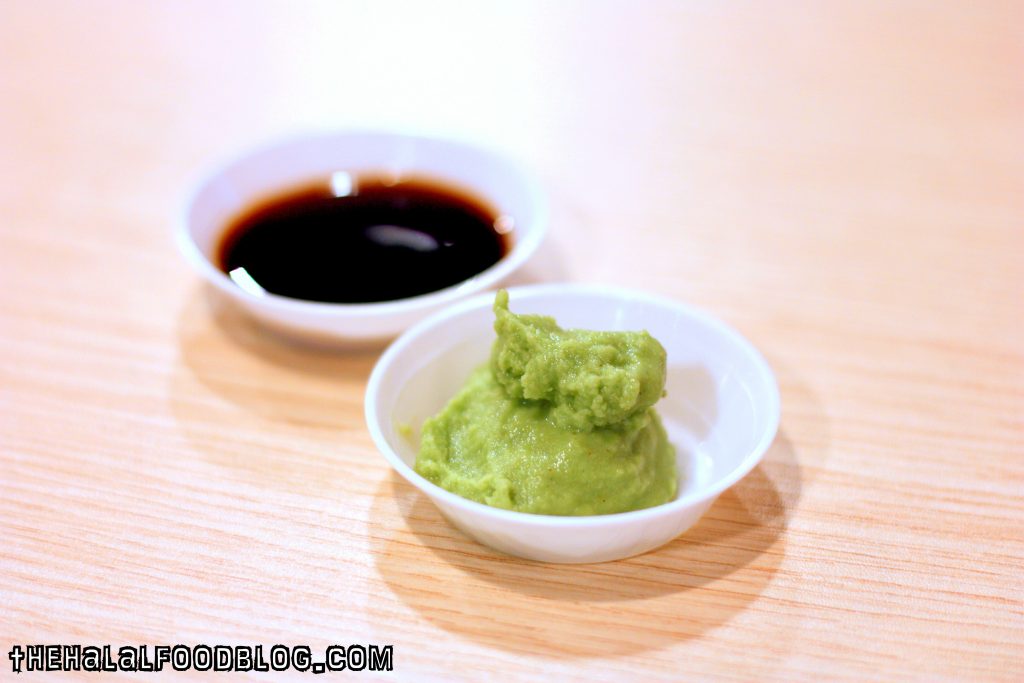 And of course, let's not forget our favourite things to go with Sushi – Wasabi and Shoyu!!
Besides sushi, they also have Salads at Maki-San too!
And to be honest – really not bad leh!
They have 3 sizes ranging between $7.90 and $11.90 and you get to choose from a whole long list of ingredients (they have like 80!) to make up your salad! And there's stuff there that you won't find on the list for Sushi because, well, it's more suitable for a salad than sushi.
Your salad base can be either Mixed Lettuce, Cold Pasta, Cold Soba, Healthy Brown Rice or Sweet Potato Glass Noodles and from there, you can ROLL the dice (geddit geddit) and take your pick of what you'd like in your salad.
You can also whip up a salad for the kids! Perhaps a Little San for your… little son? (See what I did there?) LOL
By the way, the Sweet Potato Glass Noodles are highly recommended!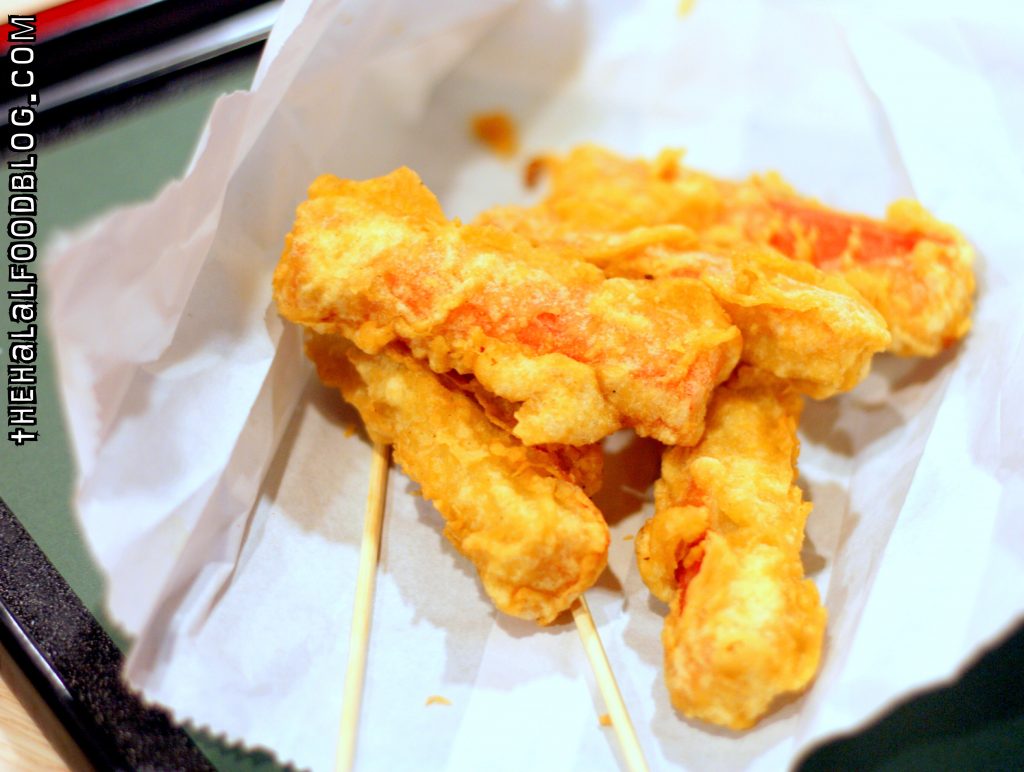 Maki-San also offers a range of side snacks to go along just in case you're still feeling peckish.
They have Tempura Enoki Mushrooms, Tempura Onions, Tempura Calamari, Tempura Soft-shell Crab and Tempura Ebi (Prawn) plus you get to choose 1 dip – either Paprika Seasoning, Japanese Mayo or Smoky Cheddar Cheese.
We went with….. *drum ROLL (geddit geddit) please* the simple choice of the Tempura Kani Sticks with Japanese Mayo which is always a winner.
Miso Soup ($1.00 with main order)
If you're like me, then you've GOTTA have some Miso Soup with any Japanese food. Maki-San offers theirs in a handy cup so you can slowly sip and enjoy (even on the go) or you could also play a cruel joke on your coffee-loving friends. Nothing like Miso Soup to perk you up y'know what I mean? LOL
Maki-San is not just about great tasting food and a multitude of choices but they also have some really creative and great designs when it comes to their boxes, packaging and ideas around and about the store.
For example, check out their Maki boxes. There are 5 different designs and each have a special motif of ingredients you might find on the menu at Maki-San when building your sushi roll or salad. In fact, you could even start a collection because they're just so darn good looking.
And take a look at the labels for Maki-San and you'll see that each one has a different 'face'.
Don't see it? Well, don't ROLL your eyes (geddit geddit).. Just take a closer look and you'll see it.
And that's not all.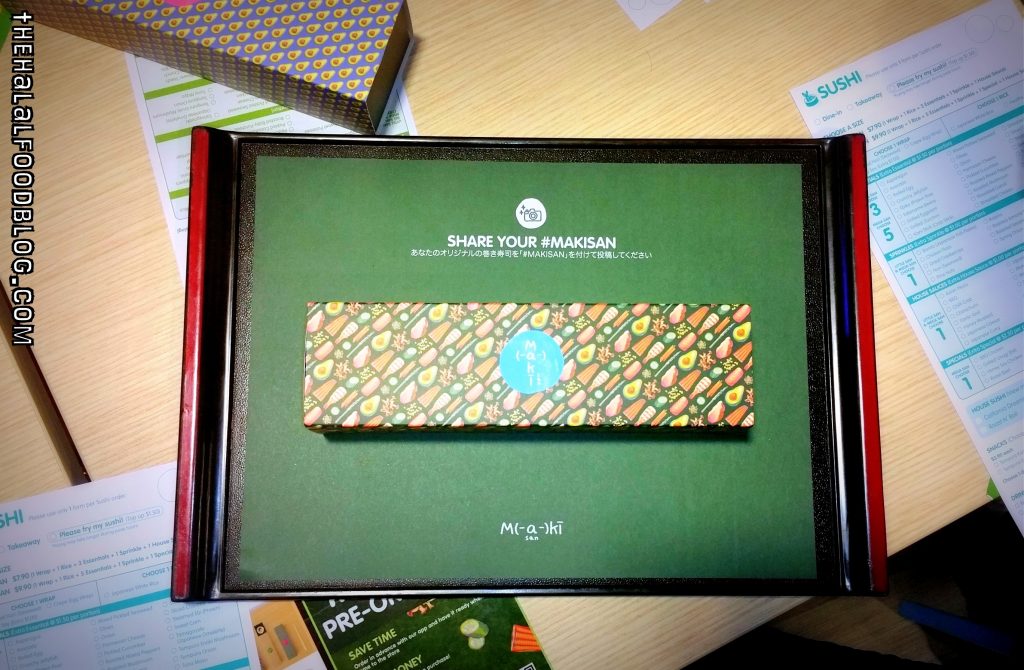 With food and packaging that's so photogenic, confirmed plus chop a lot of you (and us) (and we) are gonna wanna snap some pics right? Maki-San has you covered! Even their trays are formatted to get you that picture-perfect shot!
Maki -San has a few locations namely The Cathay (in Dhoby Ghaut), The Arcade @ Raffles Place and I12 Katong (yeah EAST SIDE!!) so take your pick and grab a roll or three. But if you cannot make it down, don't fret. Maki-San also has their own delivery or you can even order via foodpanda!
We've cracked quite a few puns in this post but all jokes aside – At Maki-San, it's all about YOU.
You make the choices. You enjoy the food. And you may just keep going back for more.
I12 Katong
112 East Coast Road, #B1-19
Tel: 9712 5119
www.rollwithmakisan.com
Facebook: www.facebook.com/rollwithmakisan
Instagram: @rollwithmakisan
Operating Hours:
11.30am – 9.30pm Sundays to Thursdays
11.30am to 10pm Fridays, Saturdays and Eve of PH


All information (including prices, availability of item on menu and Halal status of establishment) are accurate at the time of posting. All photos used in this site are property of The Halal Food Blog unless stated otherwise.