JENG JENG JENG!!!
If you have dropped in to or passed by any Maki-San outlet in the past week, you might have noticed that there is a new special item on the menu! This limited edition item is available for a limited time only and we're proud to say that The Halal Food Blog was a part of the creation process!
That's right – over the course of close to a month, we worked closely with the Maki-San team to create a special Maki that was going to be the highlight of the upcoming fasting month and also something that had a local flavour that everyone could identify with.
And so, the Maki Lemak was born!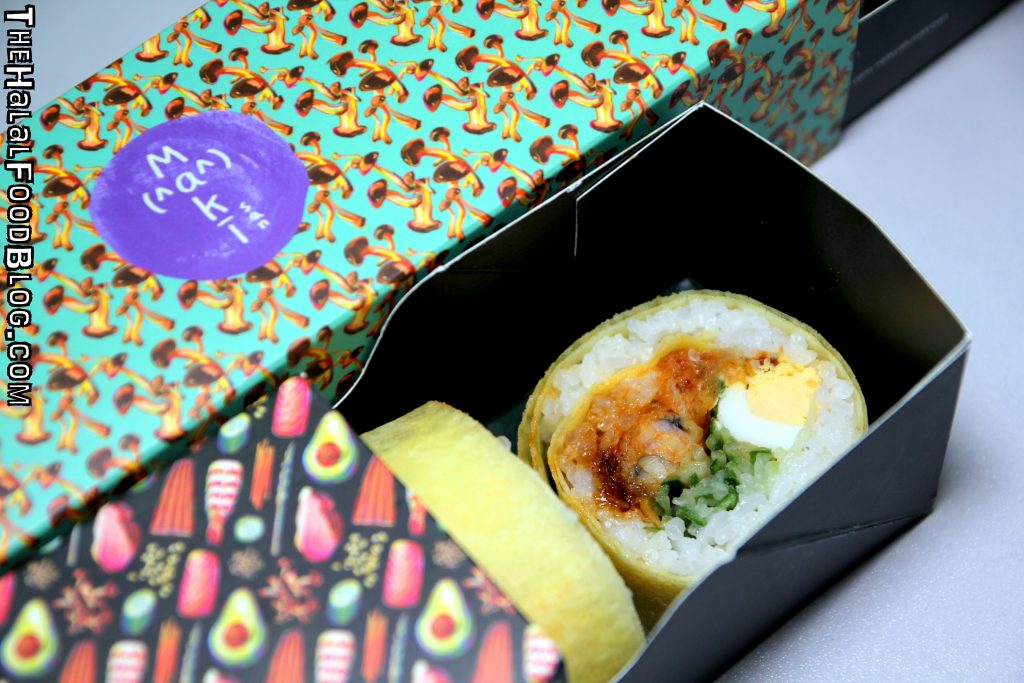 So the Maki Lemak is actually made up of pretty much almost all the components we enjoy with our conventional serving of Nasi Lemak save for a few minor changes here and there.
I know that the first idea that comes to mind is "How hard can it possibly be to create something like this? Should be super easy lah!" right? Well, trust me – I had the exact same thought when we first started this project! But as things progressed, I realized it was not as simple as just throwing stuff together, rolling it up and then just start selling it with the expectation that people are just gonna buy it.
Those 2 shots are probably the first photos that were taken of what we deemed as close to the final product. This was just about… maybe a week before the actual launch of the product I think! And what a journey it was to get to that point!
Okay, so what actually goes into the Maki Lemak and why is it so complicated? Well, let me give you the inside scoop on my experience during the whole process from conception to finished product!
So the components of the Maki Lemak are – Tempura Otah, shredded cucumber, hard-boiled egg, fried anchovies, crushed peanuts, toasted desiccated coconut and a special Sambal we created from scratch!! All of which sit atop a bed of your traditional Japanese sushi rice and all rolled up in a signature Maki-San egg crêpe wrap.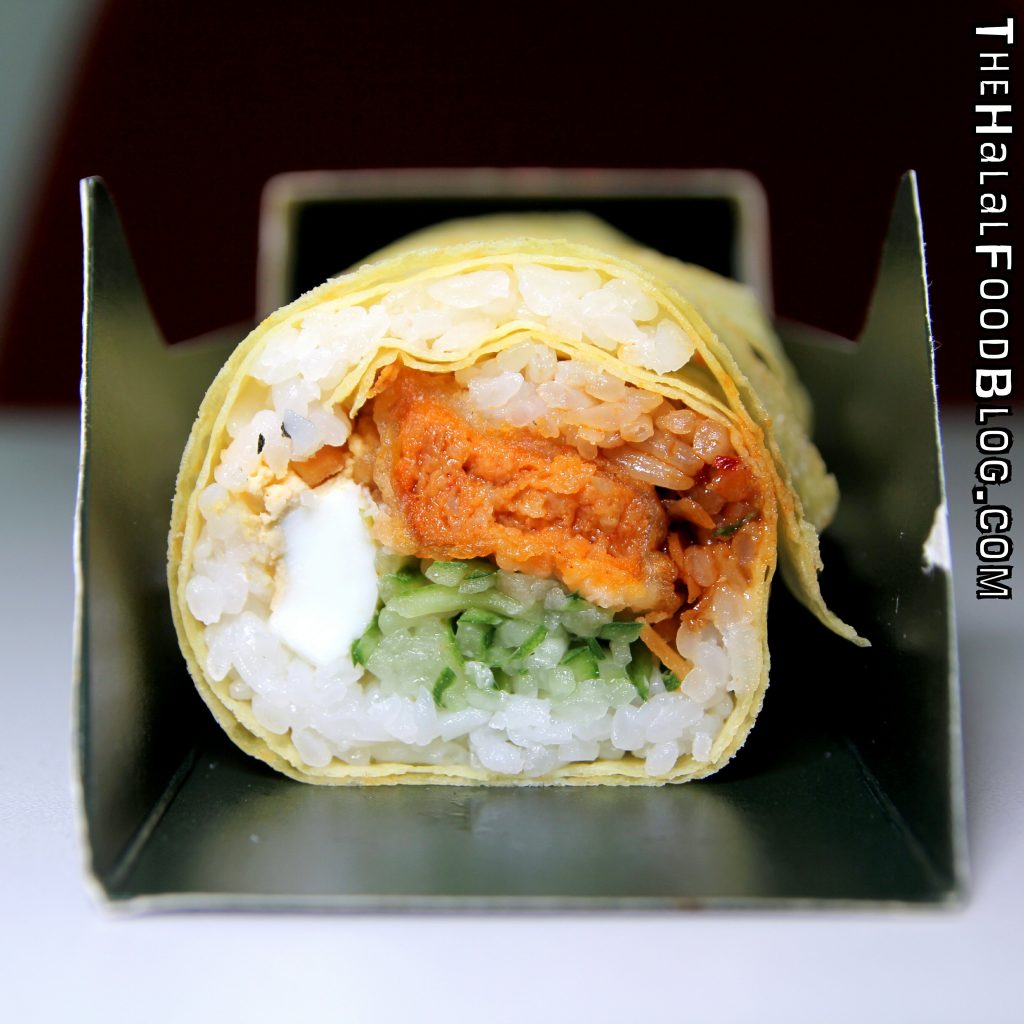 So here are some questions that came up during the creation/testing process and even asked by people who tasted the Maki Lemak after the launch!
Why Tempura Otah? Why not go with something that's more associated with Nasi Lemak?
Well, we tried! We tried the shredded chicken that is a mainstay on Maki-San's ingredients list and we even tried using an actual fried chicken wing from a packet of Nasi Lemak! But in all the cases, either the texture of the flavour was a little off! We also considered fried fish fillet (you know the one we're talking about right1) but it was also a no-no. So in the end, we decided on the Otah which is also something we enjoy with Nasi Lemak and we made it a Tempura so you get the crunch from the batter, just like a chicken wing!
Couldn't the rice be incorporated with coconut milk/cream to simulate the Nasi Lemak?
Simple answer is no because the texture was off PLUS there's always the quality to think about right? Because anything with coconut milk doesn't really keep for very long if you know what we mean!
The fried ikan bilis (anchovies) and peanuts give added flavour and crunch to the Maki Lemak and the cucumber gives it a refreshing feel when you chomp down. All of these are like MUST HAVES with your Nasi Lemak right! And what else is a must have? The sambal of course!
The Shiok Sambal was created from scratch with several special ingredients being combined to achieve the sweet and spicy flavour that gives most of the flavour kick to the Maki Lemak. Believe it or not – the Shiok Sambal was probably the most complicated component! In fact, the final product is like the 5th or 6th version that was created! We tweaked and we tweaked and we were satisfied with the end product!
I will definitely say that the sambal is not exactly the spiciest out there (which I think is something a lot of people would like!) but this is because we had to find a bit of a balance to suit everyone out there. I mean, if we made it super spicy then not everyone would be able to enjoy the Maki Lemak! So we decided a little spicy and a little sweet was the way to go! Also good for dipping your Tempura Kani!
My advice – make sure they put plenty in the Maki! If too little, no shiok! LOL
So the Shiok Sambal is the Special Sauce of the Month at Maki-San but the Maki Lemak is going to be available from 8th May 2017 (already in stores!!) until 31st July 2017! If you guys really like it and buy a lot, who knows it might even become a permanent item on the menu maybe? 😛
The Maki Lemak is available at almost all Maki-San outlets (except NUS). They have like 9 outlets islandwide so head down to your nearest Maki-San and get your fix!
But having said that, let's not forget about one of the things that made Maki-San so great – this is a DIY joint! That means you have the freedom with choose whatever you want in your Maki and that includes the Maki Lemak too! If you wanna swap out, exclude or add anything, go ahead! Experiment a little and you might find a new power combination!
Super big special thanks to the great team at Maki-San for the opportunity to be a part of this amazing and super exciting project!
*** SPECIAL ANNOUNCEMENT ***
We've posted about it on social media already but here's a reminder for you all…
You can now enjoy a special discount at Maki-San with your Friends with Halalfoodhunt Rewards Card!!
Enjoy 10% off at Maki-San outlets islandwide (except at NUS outlet) every day!! This means more of your favourites including the newly-launched limited edition Maki Lemak! 😝
What's that? You don't have the card yet? Fret not! Visit www.friends.halalfoodhunt.com to apply now! It's ONLY $18 a year and you can enjoy deals and discounts at almost 100 Halal eateries and counting!
10 outlets islandwide
(The Cathay, Cineleisure Orchard, I12 Katong, Bedok Mall, Compass One, White Sands Mall, Hillion Mall, JEM, Junction 8, NUS)
www.rollwithmakisan.com
Facebook: www.facebook.com/rollwithmakisan
Instagram: @rollwithmakisan
All information (including prices, availability of item on menu and Halal status of establishment) are accurate at the time of posting. All photos used in this site are property of The Halal Food Blog unless stated otherwise.