Well this is the last in our 'Makan In Malacca' series.
We sampled all kinds of delicious food in this wonderful city and our last meal on Malacca soil happened to be a place we had decided to go to from the very start.

In December 2012, we were invited by Mr Ridzuan Yeo posted on our FB wall, inviting us to sample his delicious Cantonese/Nyonya food at Sri Mawar Ria in Melaka.


"Si nyonya Melaka menyimpul sanggul,
Diselit dengan si bunga cempaka.
Pelbagai kaum sudah berkumpul,
Makanan dipilih mengikut selera."

Well when people open 'pantun' to invite, surely we must humbly accept!

I think that one of the best things about Sri Mawar Ria is that it's located at Melacca Sentral Station.
This basically means that you can eat there when you get off the bus in Malacca or before you get on the bus headed back home.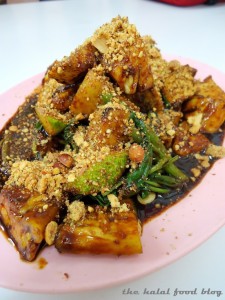 Rojak Petis (RM4.00)
For starters we went with some Rojak.
And this is not just Rojak Buah like you'd normally get around the area. This is 'Chinese style' Rojak with you char kway and tau pok amidst the veggies.

I simply love petis (fermented prawn paste).
And this is not too spicy but I reckon you can ask for it to be spicy if you'd like.
A nice generous sprinkling of nuts and this is a winner.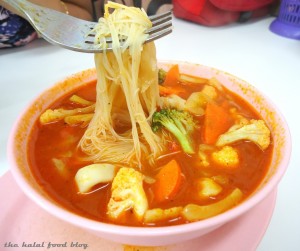 Sup Sayur Campur Tom Yam Seafood Bihun (RM6.00)
My darling wife was hankering for something a little spicy so she went with the Tom Yam.
They have a few types including 'Chicken' and 'Seafood' and you either have just the soup or add some noodles to it for a full meal.

But don't be fooled by the fiery colour because this wasn't that spicy.
The Tom Yam taste was very overwhelming either to be honest. I think our palettes are so accustomed to having super spicy food (especially when you think of something like Tom Yum) that we forget it may not be the same everywhere we go. Even though this was not what we were used to, it was still very tasty!

If you REALLY want, then try and tell the guy taking your order to make it extra spicy. Maybe he can throw in a few extra chilli padi for you.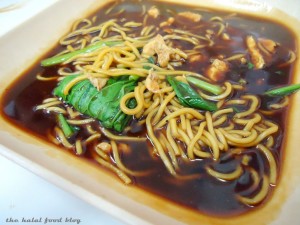 Hokkien Mi Ayam (RM4.90)
I haven't had Hokkien Mee in YEARS so I was pretty excited to have this BUT it didn't come out as what I remembered as Hokkien Mee unfortunately. Maybe I was thinking of something else.

This dish reminded me of Mee Hong Kong but with black gravy.
It's tasty but I was expecting a bit more of a vinegar-sour which was absent so I kicked it up a notch with some chilli jeruk. Yummy!

The only real problem I had with this dish was that I found the serving too small.
Or maybe I was just really hungry.

Oh and you can have the Seafood version if you like.
You can substitute the yellow noodle for bee hoon or kway teow if you'd like.

Adam's Verdict:
Rojak Petis 4/5 — Hokkien Mi Ayam 3.5/5

Maryah's Verdict:
Rojak Petis 3.5/5 — Sup Sayur Campur Tom Yam Seafood Bihun 3/5

This was definitely one of the more popular makan places at Melaka Sentral.
And it's location is so convenient for us to stop by and grab a bite before or after our bus trip.
Be sure to try it the next time time you're in Malacca. Especially if you took the bus!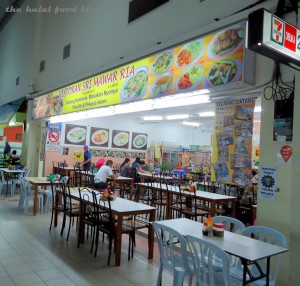 Restoran Sri Mawar Ria

Terminal Melaka Sentral
Jalan Tun Abdul Razak, Peringgit, Melaka
Tel: +60 17-690 1450
www.facebook.com/RestoranSriMawarRia