Just about 2 weeks ago, we were at Changi Village for some weekend makan and we spotted an interesting banner hanging in the area. And after we posted it, so may readers confirmed a few things…
Yes! There's a Halal 'Mookata'-style steamboat at Changi Village!
As usual, we all very 'lambat' because this place has apparently been Halal for awhile
And it's apparently very CHEAP AND GOOD!
Sooooooo we don't get to visit Changi Village very often but hey hey hey this was news to us and as always we find it hard to resist when our readers affirm that a makan place is worth the visit! Just so happens that Mein Bruder was celebrating his birthday around that time so we took the opportunity to visit!
Here's our experience at Lukhon Thai! **Thai Thai Thai Thai Takathai Takathai Thai Thai Thai**
(Yes, that's like a fast-paced sound I make whenever I say Lukhon Thai. It's fun, you should try it!)
So Lukhon Thai is actually a stall (yes, like a literal hawker stall) and it's located at the extended annex (connected to the market) of the popular Changi Village Food Centre. I think that might also be one of the reasons why some people (including us) might miss it. Everyone is flocking to the main food centre to get their Nasi Lemak fix that they might not realize the other stalls at the market side!
It's a Thai-style BBQ and Steamboat popularly known as 'Mookata'.
Now, before there's another big debate, I think we better just mention from the start here lah okay.
"Moo" = Pork (as in Babi) + "Kata" = Pan (as in hot pan)
So technically, 'Mookata' literally translates to 'Pork Pan' which kinda puts a little people off. Well, nowdays, you might see the term 'Halal Mookata' a lot (which is technically an oxymoron if you think about it) which means that pork is eliminated from the equation. Just so happens that they can't seem to find a catchy name. I think someone tried .Ayamkata. awhile back but I think you'll agree that it doesn't quite have the same ring to it.
Generally, I think majority of people are aware of the meaning and the difference between the Halal and Non-Halal version. But in case you are reading this for the first time, now you know! Anyways Lukhon Thai is CERTIFIED HALAL by MUIS!
So the photos above are the menu (thanks to Dad for being my hand model) and you have quite a few things to choose from including meats, veggies and a few extra goodies.
So the pan itself is about medium-sized and is just nice for between 1-4 people. If you have more, it might be a good idea to get another so everyone has space to cook up their food! But I can totally see myself just going alone and ordering one for myself and just relax there grilling the day away.
The first choice you probably have to make is which soup base you'd prefer. They have Chicken or Tom Yum.
If you like Tom Yum, trust us – this one is actually quite power. Tasty and brimming with Tom Yum flavour. Super shoik! It's an extra $2 compared to the Chicken stock but well worth it!!
So we ordered the set which was good for about 4 people plus we added on some extras too. You can look at the menu above and see there's pretty much something for everyone. Beef, chicken, fish, prawns and all the other usual suspects like fishballs and sotong balls etc too.
And by the way, we also ordered some veggies but just no photos. Remember to eat healthy and eat some veggies!
(This public service announcement was brought to you by The Halal Food Blog)
Anyways, once you have your selections and once the pan is hot and the soup is bubbling… APA LAGI!!
Once that pan get full of stuff and the grill is fired up, that great aroma of meats and seafood grilling is gonna waft in the air and woooooo it's super shiok! There's just something special about grilling and then immediately eating your food like this. It's not surprise that all these types of Korean BBQ and Halal Mookata are so popular nowadays!
And let's not forget the goodies swimming in the moat filled with that soup!
And as the meal progresses, that soup is gonna soak in all the flavour from the cooking and absolutely more power by the end of the night!
But, we have just one bit of feedback please!
I think it would have been nice if we had some oil or butter or margarine or something lah to grease up the pan! Because it ca tend to get quite dry plus some oil would definitely enhance the cooking!
Oh! By the way! I almost forgot to mention! You can also add some noodles too! They have Udon as a (strange) option on the menu but we went with the more fitting and power instant noodles! LOL some more they use Mama brand which is big in Thailand!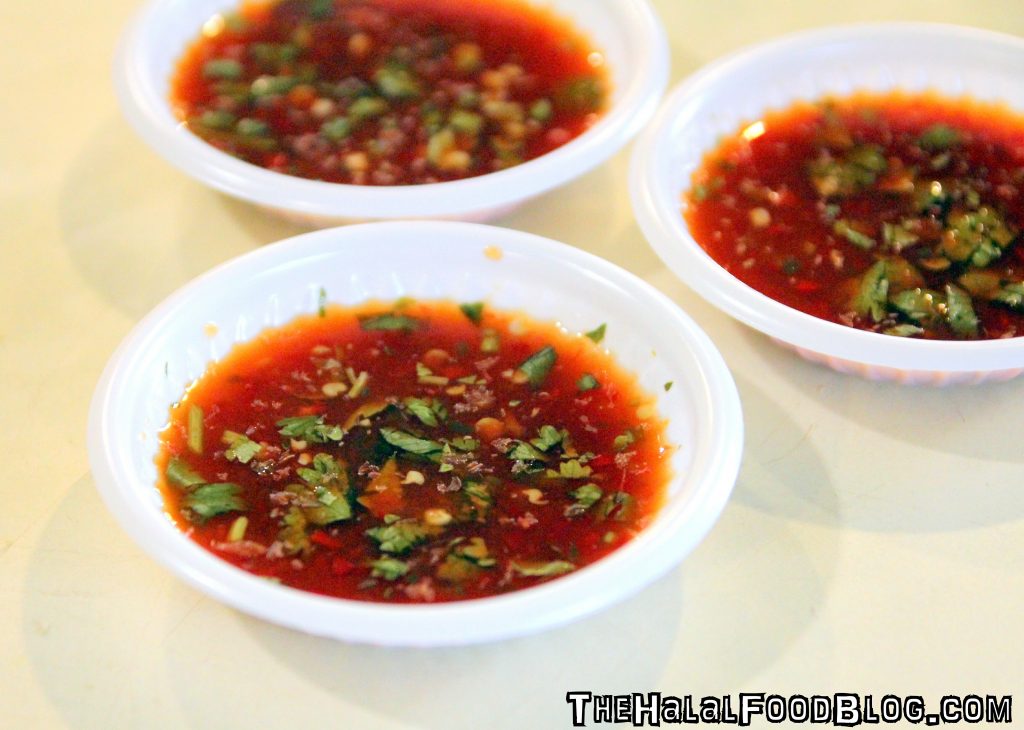 Here's something that Lukhon Thai prides itself on – it's special Chili dipping sauce!
It definitely has a great flavour to it! A little spicy here and a little sweet and salty there. Definitely goes well with all the grilled and steamboat-ed food! Seems like Coriander leaves are playing a big part too? Well anyways, it's great as a dipping sauce for sure but I also put some on the meats as the cook on the grill for that extra flavour kick! Hmmmm but I think could be a bit spicier lah 😛
I think it's easy to see why such dining concepts are always gonna be big. You get involved in the cooking. You enjoy the flavours. You soak in the atmosphere. It's comfort food! I know some people don't like the idea of having to cook their own food when they eat out but for me, BBQ Grill / Halal Mookata / Steamboat is like one of the best experiences you can enjoy for makan!
Thanks to all our readers for recommending Lukhon Thai and also thanks to the staff at the stall for being so helpful and friendly! Definitely would head back there for another makan session soon!
**Thai Thai Thai Thai Takathai Takathai Thai Thai Thai**
Changi Village Hawker Centre
Blk 3 Changi Village Road, #01-84
Tel: 9675 5849
Facebook: www.facebook.com/LukhonThai
Instagram: @lukhonthai
Operating Hours:
3pm til 10pm Tuesdays til Sundays AND Public Holidays
Closed on Mondays
All information (including prices, availability of item on menu and Halal status of establishment) are accurate at the time of posting. All photos used in this site are property of The Halal Food Blog unless stated otherwise.