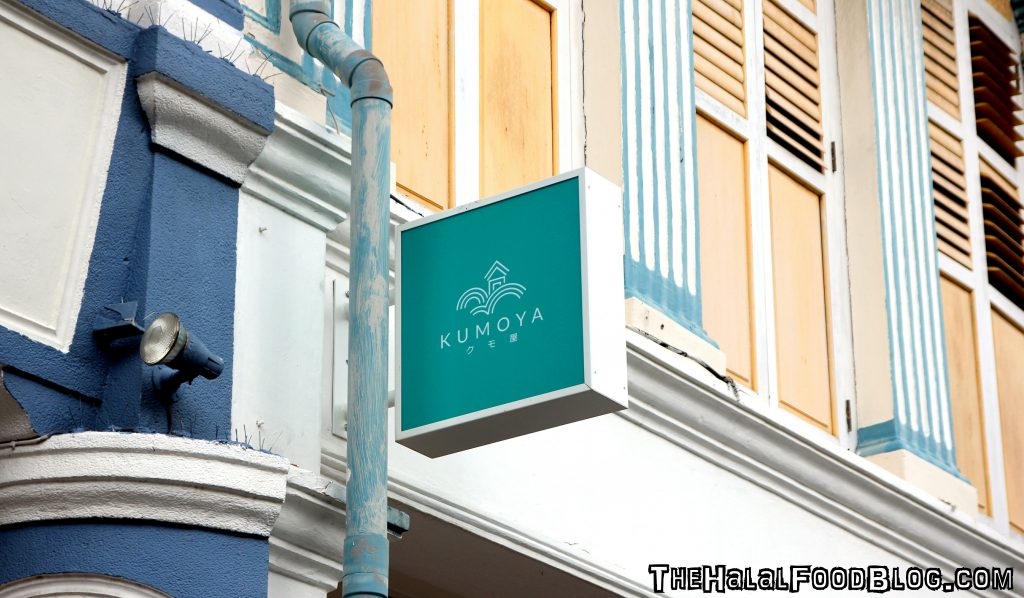 Tucked away along Jalan Klapa is a cafe that has been making waves recently. But we're guessing that you would probably have heard about Kumoya by now.
It opened awhile back but was only just recently certified Halal. In fact, it is the very first ever Halal-certified Japanese-French inspired cafe in Singapore and there is definitely plenty to be excited about! And even though it's the desserts that are getting rave reviews, some might not realize that they offer a lot more than just pretty-looking sweet treats.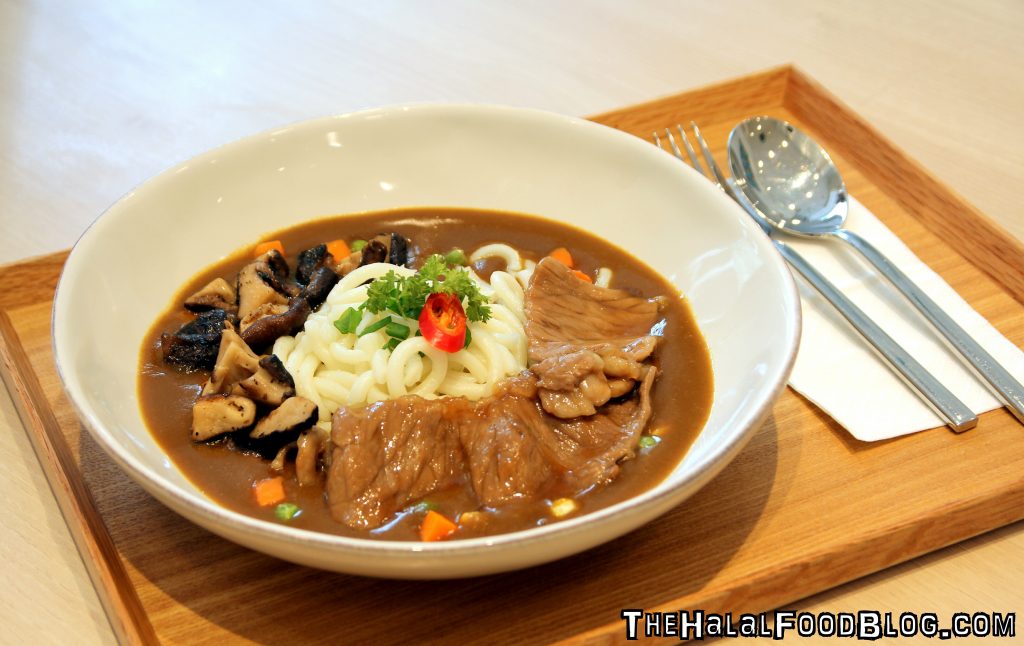 They have a few Udon dishes on the menu at Kumoya and 2 out of 3 are Curry-based. So if you're a fan of Japanese Curry dishes or you're looking to try something unique, this is a great chance!
First up was the Sukiyaki Beef Japanese Curry Udon which actually turned out to be pretty good.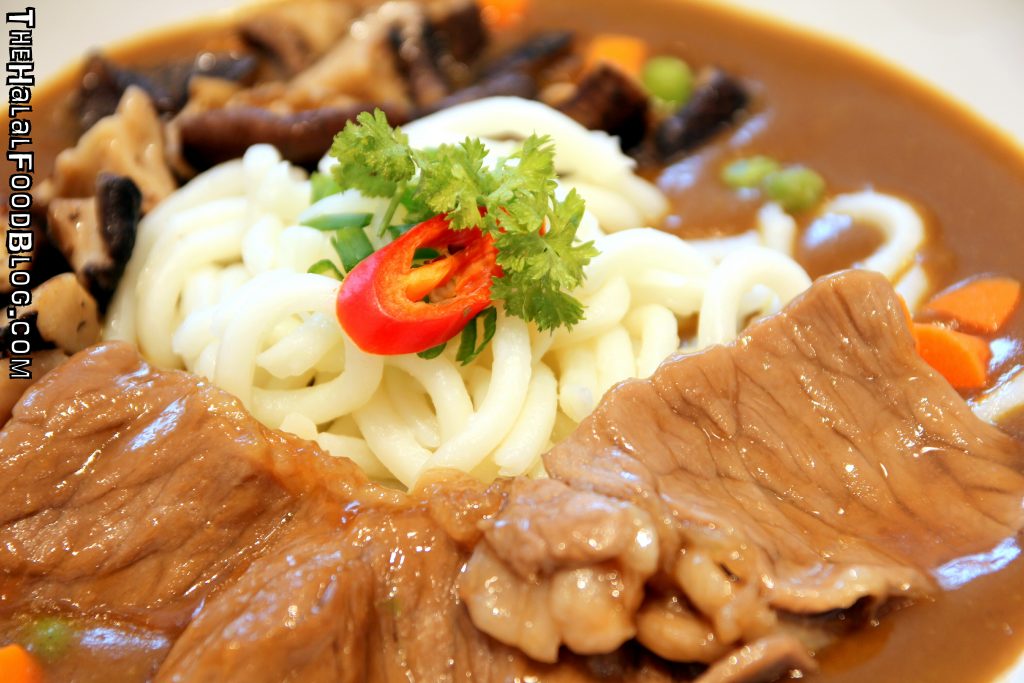 Japanese Udon noodles are dished with some Japanese Curry, Sukiyaki beef slices and some sauteed Shiitake mushrooms (and a few other veggies) on the side.
Japanese Curry is generally a little bit more on the creamier and sweeter side as compared to the other curries we might be used to. Even the consistency is a bit thicker so if it'd the first time you're having it, it might take awhile to get used to it. Overall, I think the Udon went really well with the curry especially when enjoyed with the other components on your plate.
The thinly sliced Sukiyaki beef slices were super tender and delightful. Definitely one of the best parts of this dish.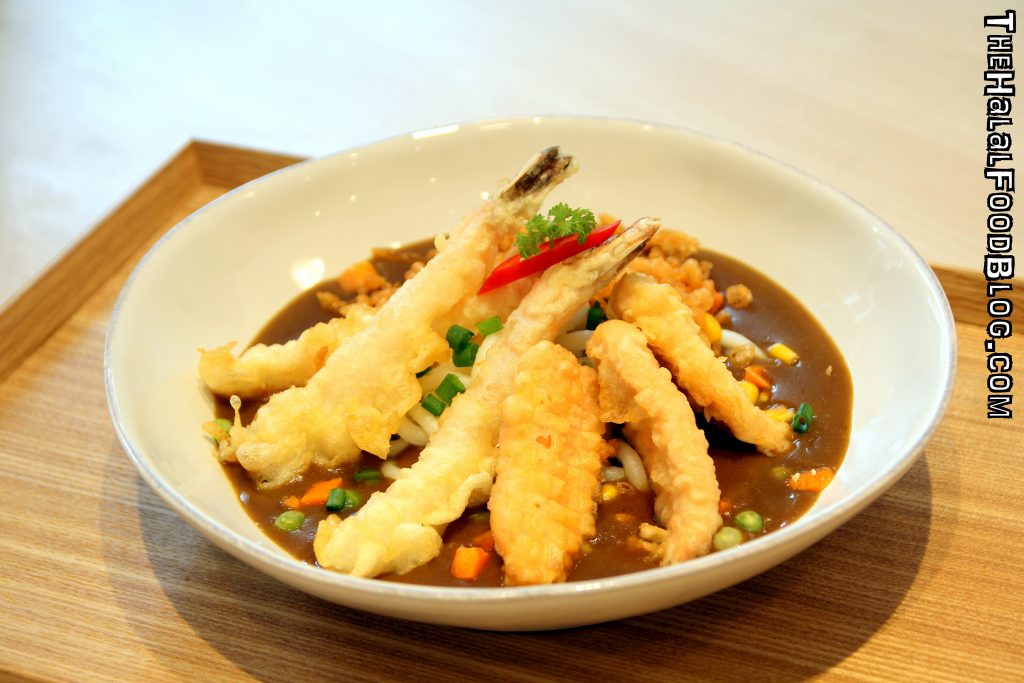 The other Curry Udon dish on the menu is of the seafood variety. Instead of Sukiyaki Beef, you get your Udon served with some Seafood Tempura!
A good mix of Ebi (Prawn) and Salmon Tempura for this dish serve as a good contrast in texture. The Udon Noodles are springy with a good bite while the Tempura has a nice crisp to it. For that extra crunch, there is also a little Tempura Crunch on the side – this is basically Tempura crumbs but it's sooooo good.
Between the 2, I actually preferred the Sukiyaki Beef version. Because – beef. LOL
Serving size is also just nice for 1 person so you can leave space for other dishes and also don't forget the desserts!
The other Udon dish on the menu by the way is the Cold Udon which you might want to try if you're not such a big fan of Japanese Curry.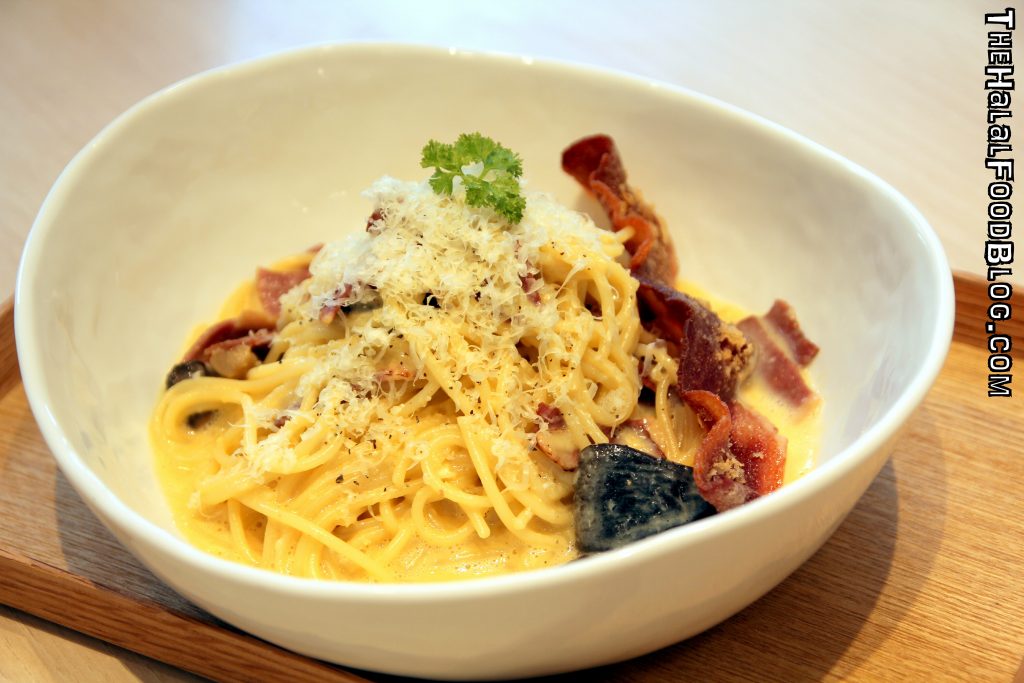 Pasta may be a traditional Italian dish but Japanese cafes have been known to dish out some pretty power servings. Great example is this Pasta Carbonara with Turkey Bacon which Kumoya prepares (mostly) the traditional way.
A traditional Carbonara is based on 4 ingredients – eggs, cheese, some meat (i.e. Turkey Bacon) and black pepper. Those 4 things plus your pasta and you're all set for Carbonara.
Some places tend to add stuff like cream which is fine but is not really counted as a Carbonara anymore. Well, at Kumoya – they do it the traditional way and it's definitely a more than decent serving of Carbonara! They do put a little bit of a Kumoya twist with the addition of some Shiitake Mushrooms for good measure.
A hearty serving of spaghetti (and don't forget the Parmesan!) means this is a sure hit with pasta fans.
Besides their Carbonara, you might also consider the Pasta Pomodoro with Tempura Soft Shell Crab or the Pasta Aglio Olio with Smoked Duck from the pasta selection at Kumoya.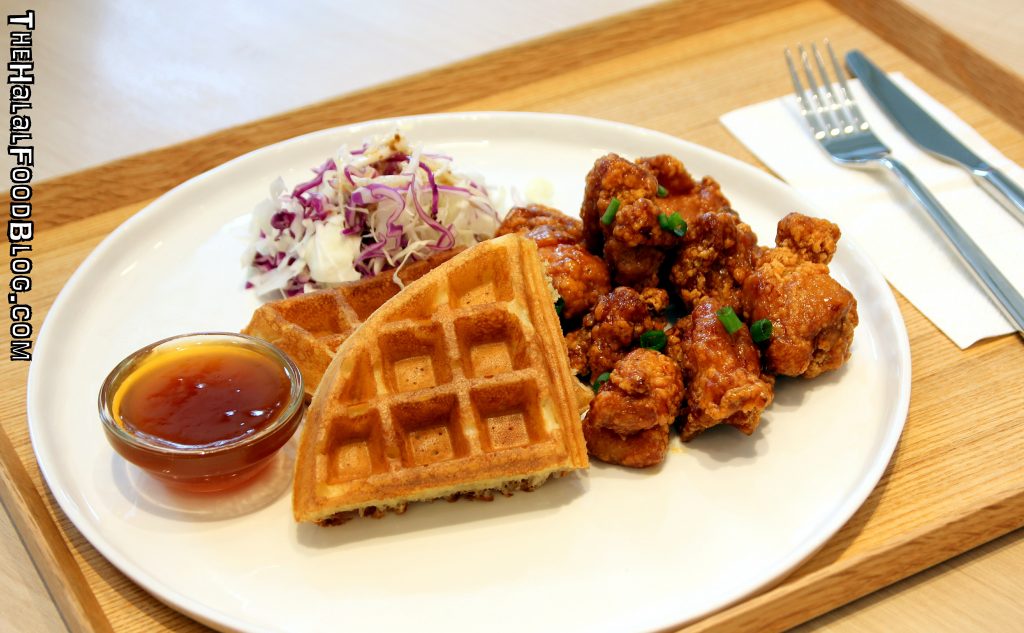 They have a couple of Savoury Pancake selections on the menu and we tried one, the Waffles With Sweet Shoyu Glaze Karaage Chicken (the other being the Waffles with Tempura Seafood and Japanese Curry).
And this might be a bold statement to make but this might actually be my favourite dish on the menu out of all the dishes I have tried so far at Kumoya!
The waffles are powerrrrrrrrr. They are crisp but they are fluffy. #CrispyFluff
I'm not kidding you! You really have to try them!
And of course, how can you say no to crispy fried chicken? These bite-sized Chicken Karaage are the absolute bomb and to add on to their greatness, they're tossed and coated in the special Kumoya Sweet Shoyu Glaze!
Wow this Sweet Shoyu Glaze is really delicious! True Umami flavour!
You've got a salty soy flavour courtesy of the Shoyu but this is a glaze so you also get a bit of sweetness in there as well. Bottom line – sedap giler and goes so well with the waffles! You could spread the glaze on your waffles or save some as an extra dip for the chicken karaage if you'd like. Definitely a 5-star dish in my books!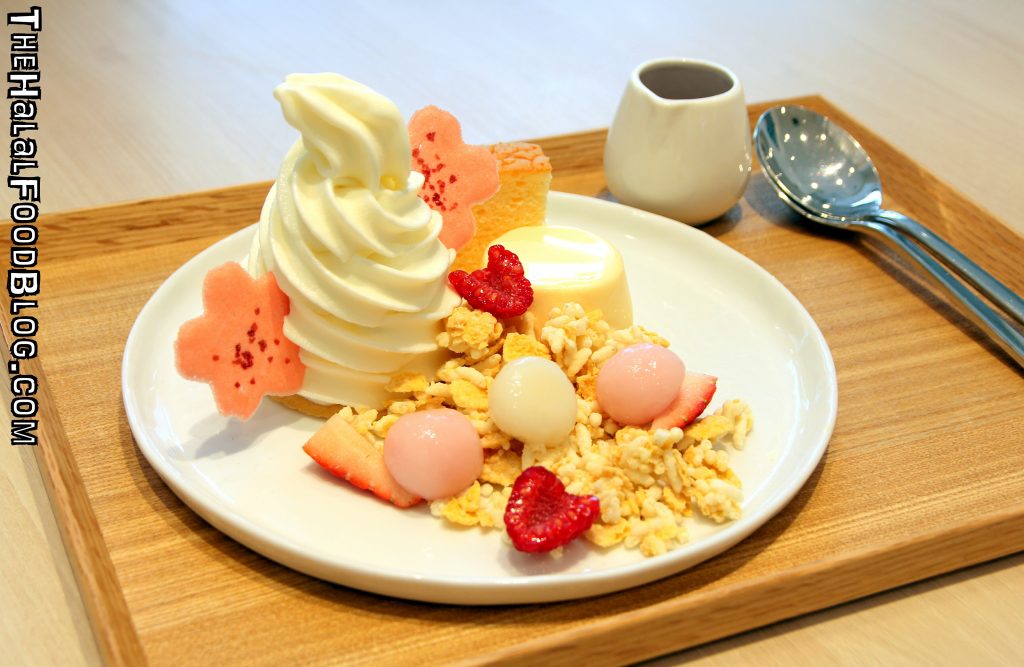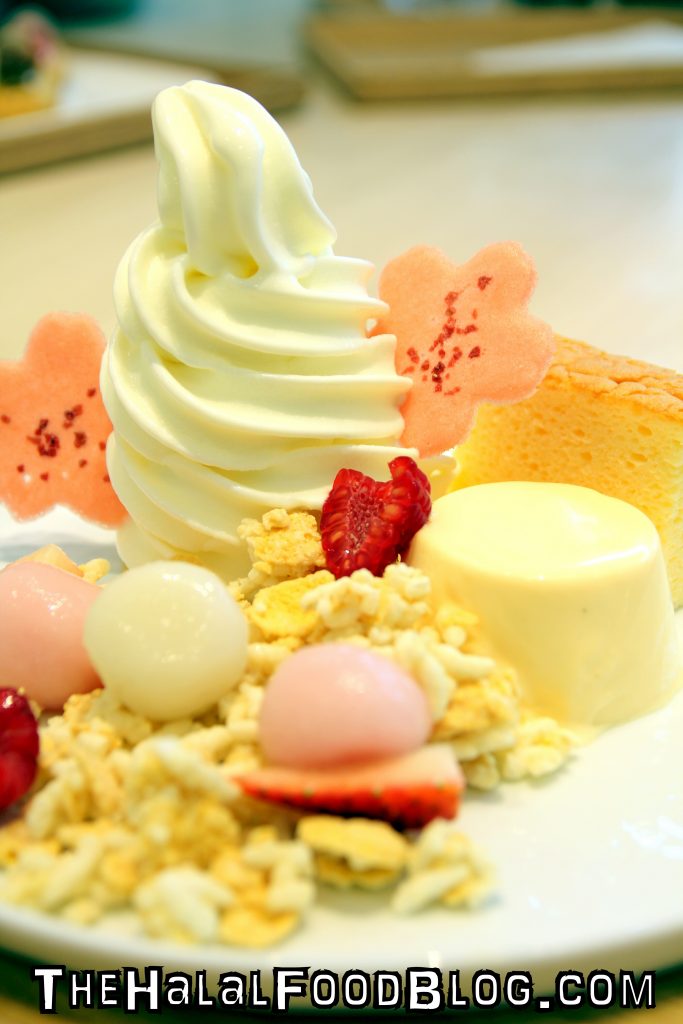 The Yoghurt Parfaits at Kumoya are definitely a visual treat. It's like they built a miniature wonderland of flavours and textures on your plate for you to explore. From the crunchy to the creamy to the chewy.
The have 4 different variations and the first on our list was the Sakura which is made up of frozen yoghurt, vanilla pudding, a slice of souffle cheesecake, cereal crunch, dango (which is a sweet Japanese rice flour dumpling kinda like mochi), some berries, Sakura langue de chat (a biscuit wafer) and a red fruit coulis which you pour in yourself.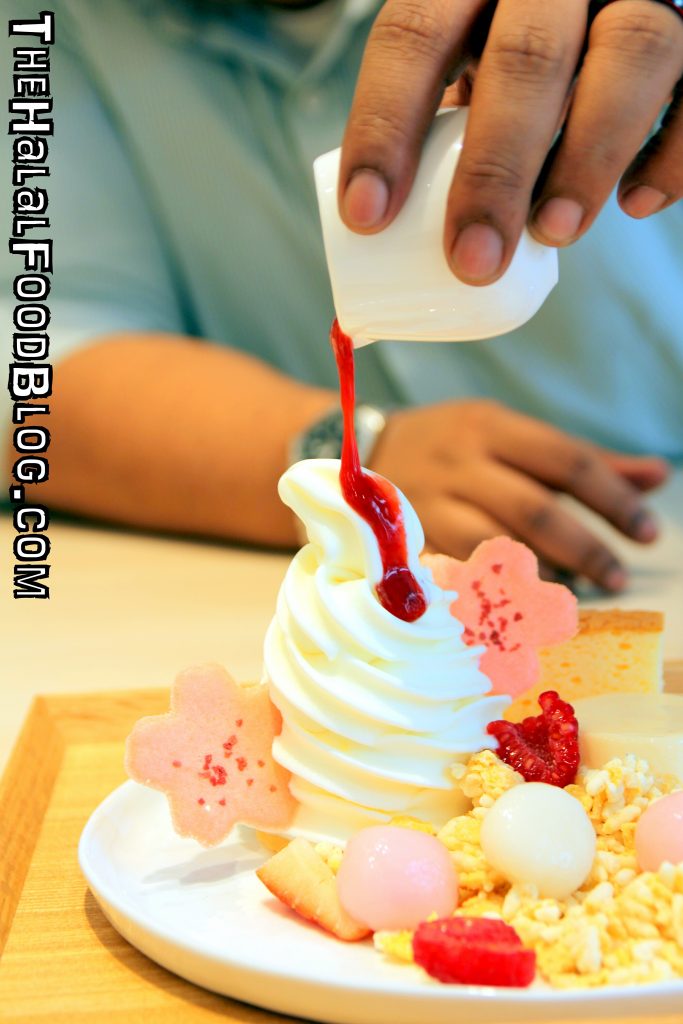 With such a myriad of flavours all on one dish, you'd be under the impression that there's too much going on but all the flavours actually really compliment each other.
The strongest flavours come from the yoghurt and the red fruit coulis with hints of sakura. Besides the tart, delicious flavours, it's also a very interesting experience to explore the different textures of the components that make up this pretty dessert.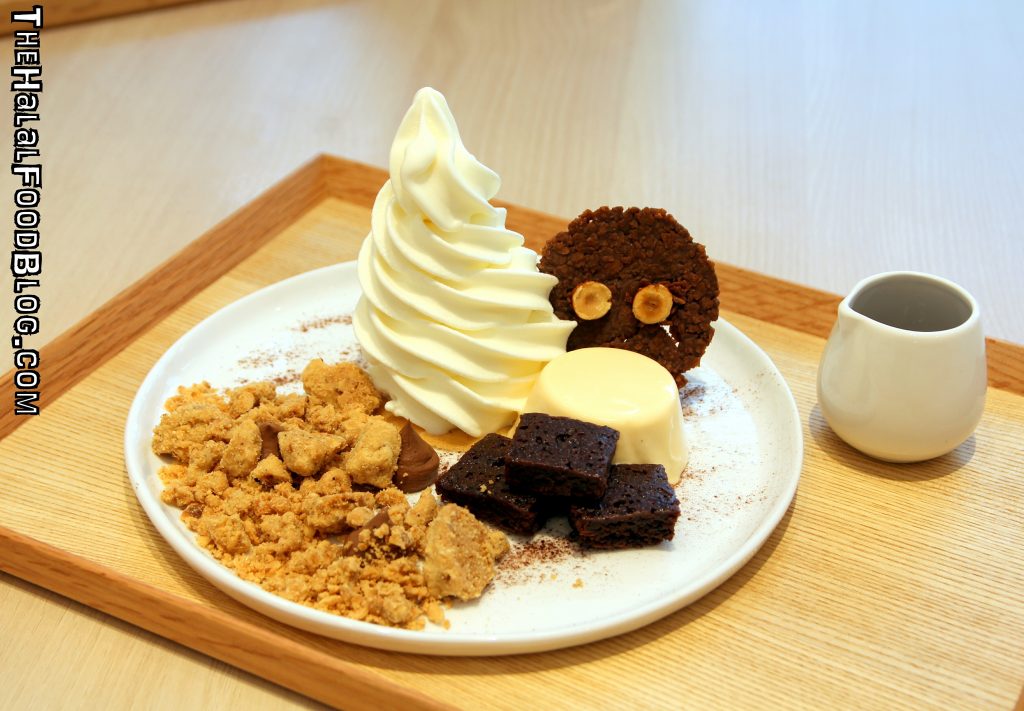 If you're more of a chocolate lover then the Hazelnut Chocolate Yoghurt Parfait is probably a good choice! Still a wonderland on a plate but… more chocolate! LOL
With the Hazelnut Chocolate Yoghurt Parfait, you've got that great Kumoya Yoghurt (that is made in-house by the way!) served with some more of that delicious vanilla pudding, praline sable, dark chocolate creameux kisses, hazelnut feuilletine crisp and a dark chocolate sauce that you can drizzle over everything as you please.
And yes, this dessert is as decadent as it sounds!
They have 2 other Yoghurt Parfaits to choose from, namely the Matcha and the Yuzu. I can almost guarantee you that we're gonna try those 2 the next time we visit because they look and sound just as fantastic as these two!
So far, we were finding out why the desserts at Kumoya were generating plenty of buzz.
We started out with the Yoghurt Parfaits and then we moved on to their famous selection of Petite Eclairs which really takes the cake (pun intended!)
They've got a pretty impressive selection of Petite Eclairs on the menu but, at Kumoya, they're constantly looking to improve the experience so you may see a few changes from time to time. But rest assured, the eclairs that are available are the cream of the crop.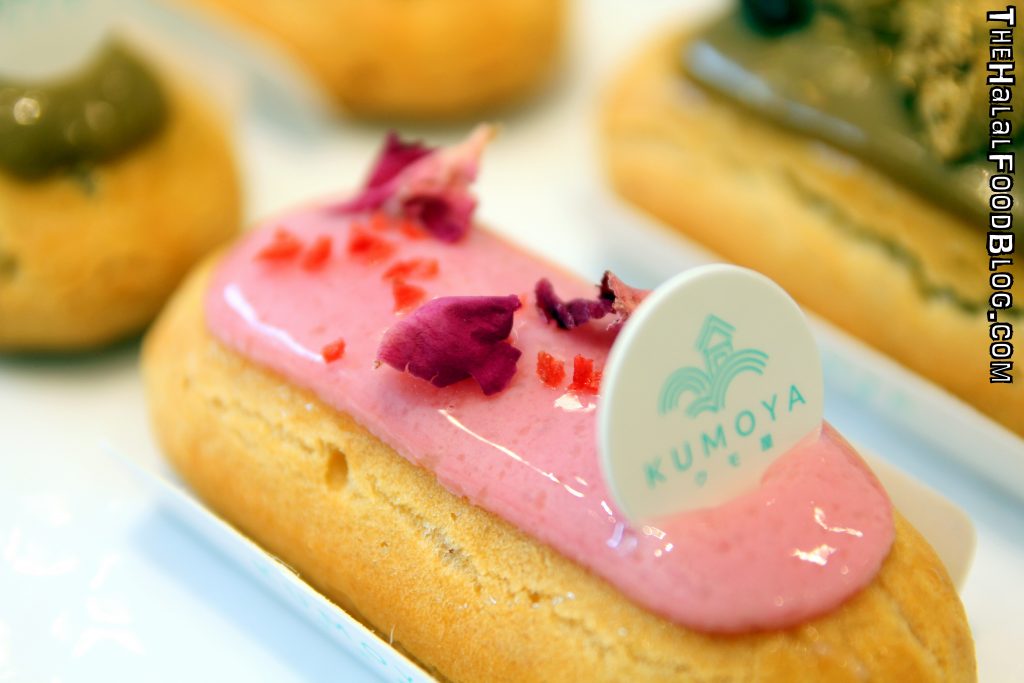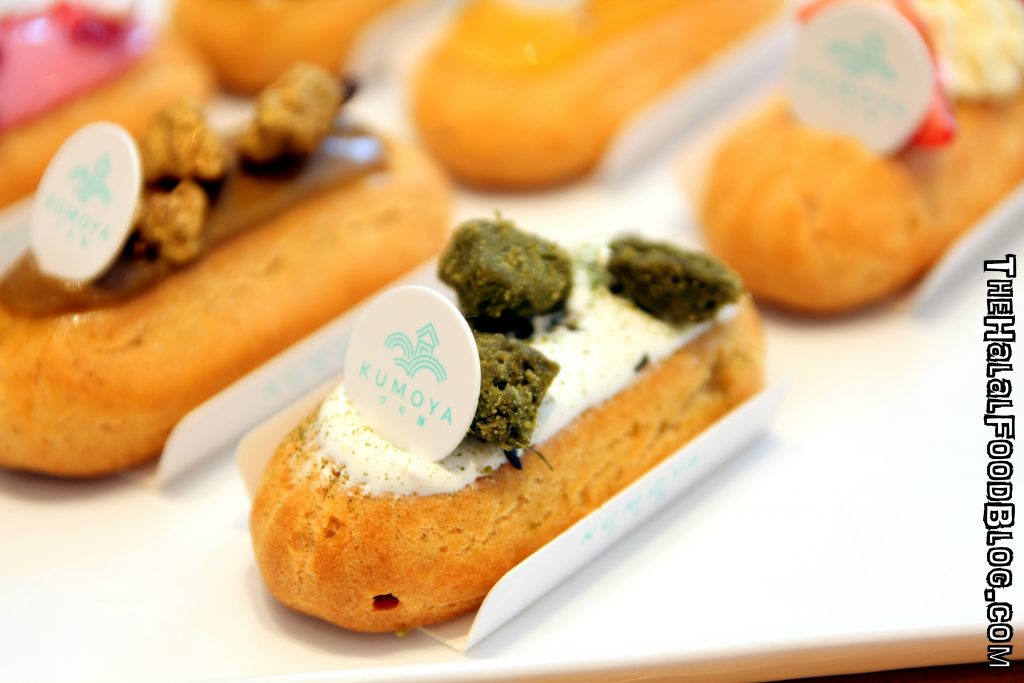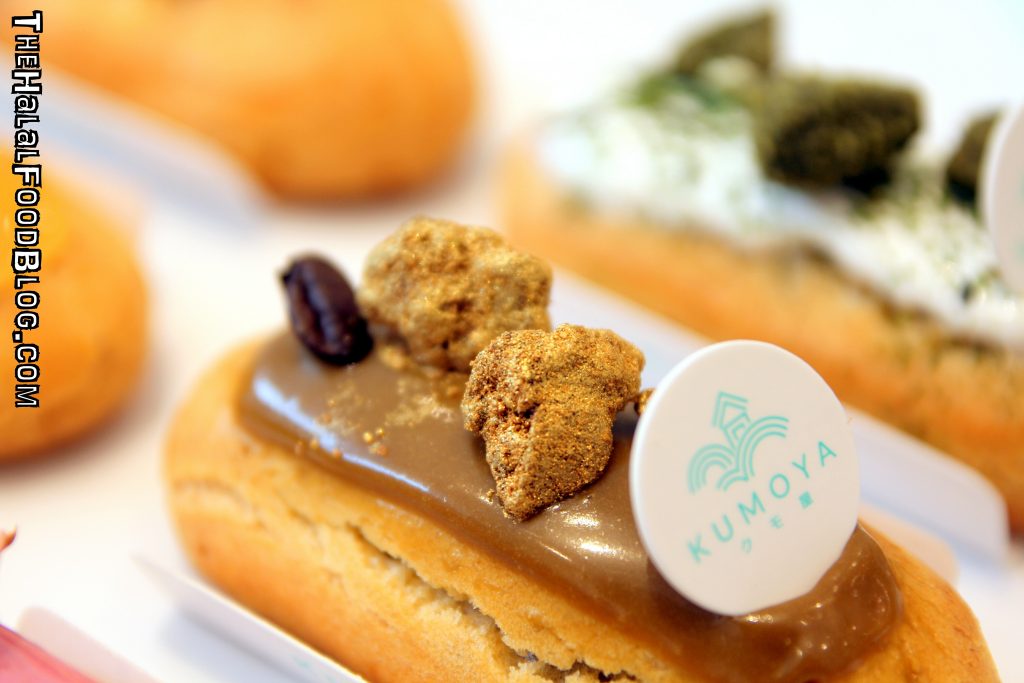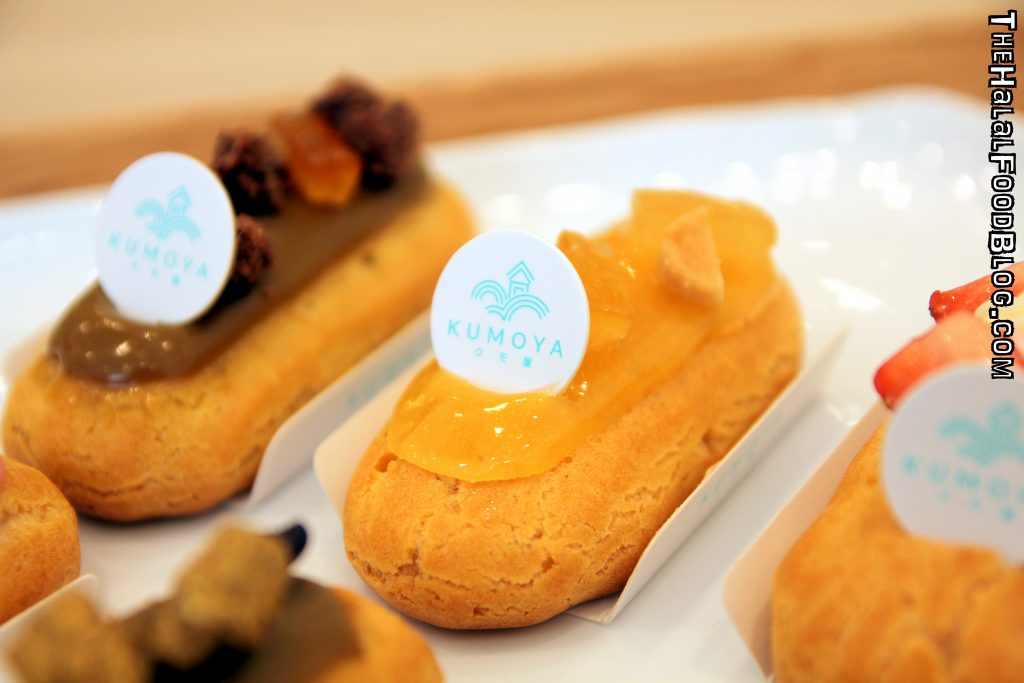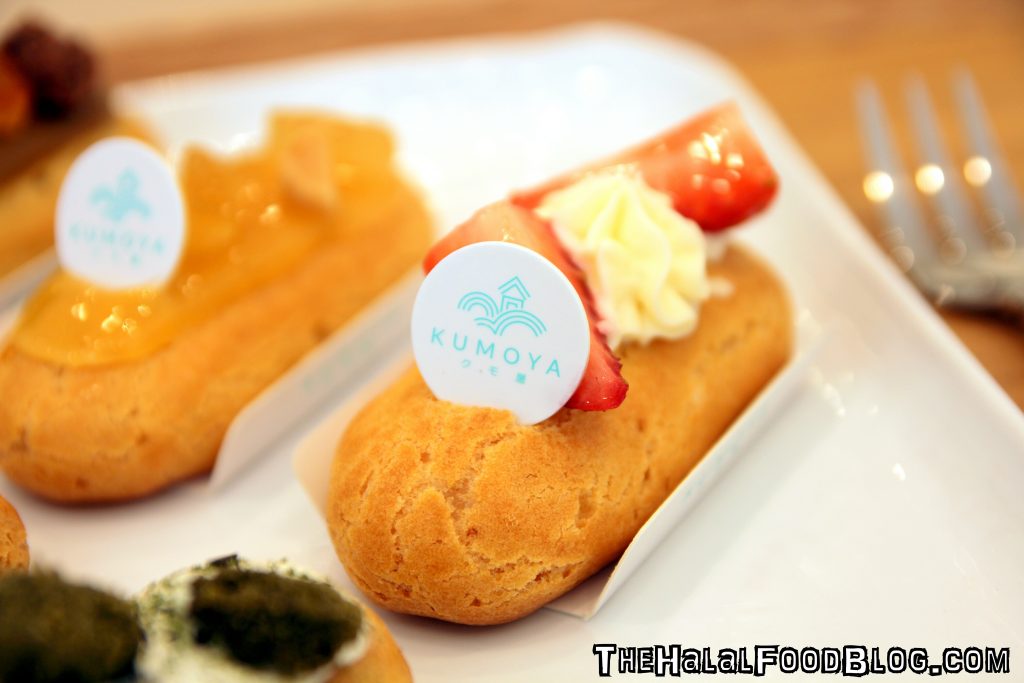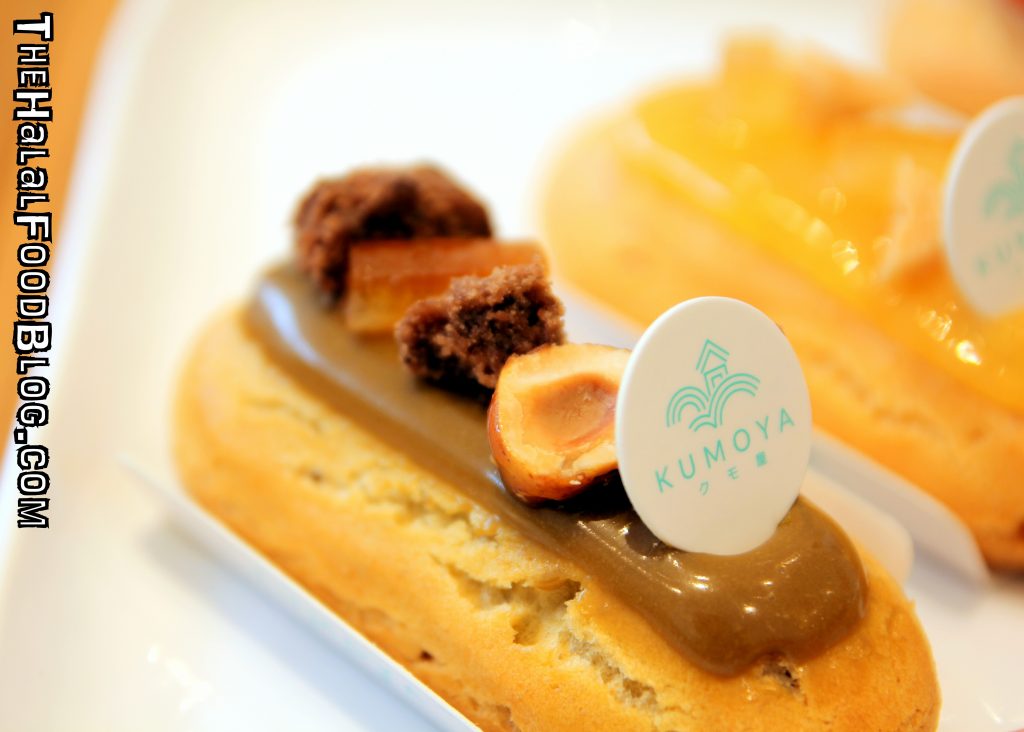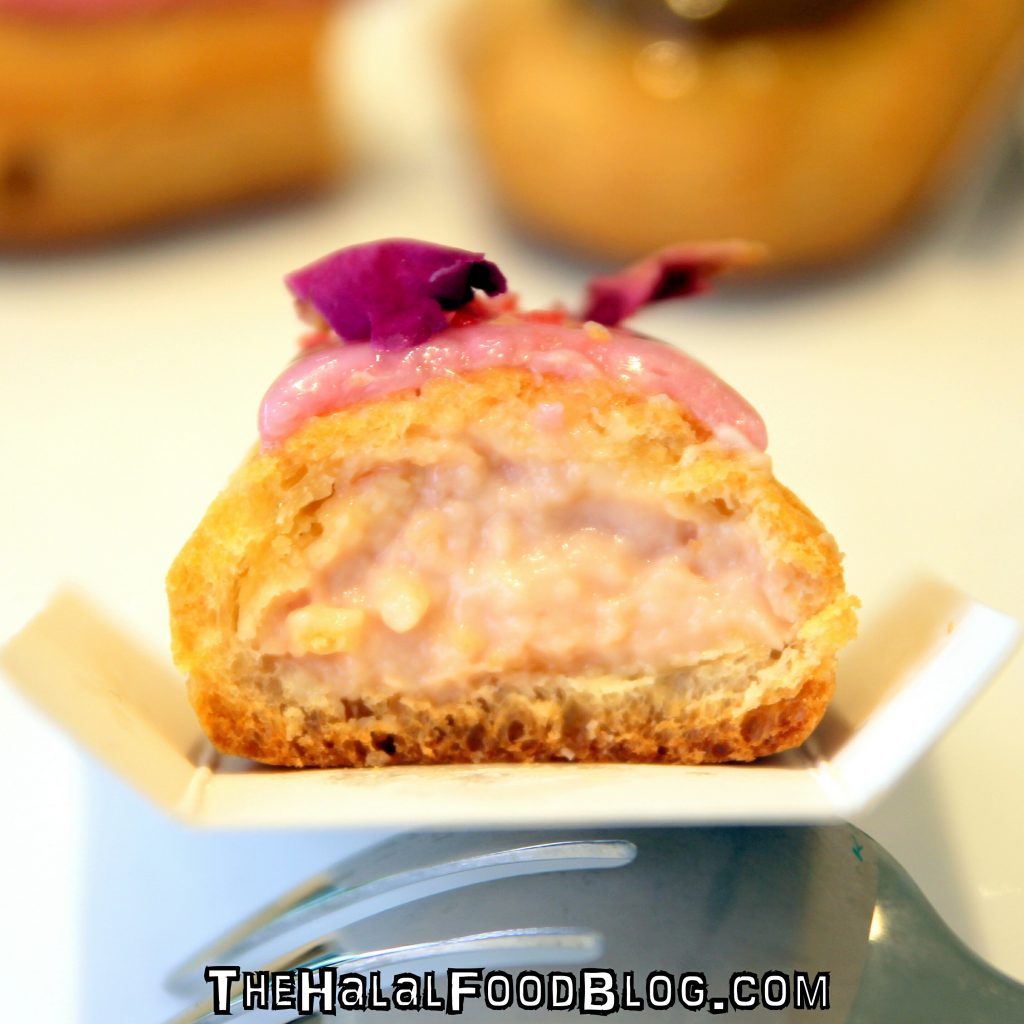 A light pastry and a smooth cream within make these absolutely delightful. What makes them even better are the unique flavours that are carefully incorporated.
You could go for classics like the Ichigo Chantilly, Cafe Au Lait or the Hazelnut Chocolate but be bold and try flavours like the Sakura, Matcha and the Yuzu. You'll be hard-pressed to find a favourite for sure because they're all good in their own way. You'll surely be tempted to grab a box for takeaway especially since they come in this cute little package (perfect to bring to tea parties!!).
I can't wait to see what new flavours they introduce over time.
To wash down all those great dishes, we took our pick from a selection of refreshing beverages on the menu. We settled on the Fresh Sodas which are basically some fruit syrups with soda which you mix in yourself.  A nice touch is the accompanying fruits like the Red Berries and the Momo Peach which you see in the photo above.
Here's a tip though – be sure to stir your drink well and do so before every sip because if you don't, you'll be finishing up that sweet syrup really quickly which will leave you with a tall glass of soda water LOL
Oh! And another tip – add some of that great Kumoya Yoghurt to your Fresh Soda!
If you prefer a hot beverage, select from their range of teas and coffees to compliment your desserts.
Well, there you have it kiddies. If you haven't been yet, then maybe it's time to pay a visit. We've only been there once and we're already making plans to head back because there are so many great treats on the Kumoya menu that we simply can't resist trying!
楽しんで!
8 Jalan Klapa
Tel: 6297 3727
Facebook: www.facebook.com/kumoyasingapore
Instagram: @kumoya_singapore
Operating Hours:
12.00pm til 9.00pm Daily
All information (including prices, availability of item on menu and Halal status of establishment) are accurate at the time of posting. All photos used in this site are property of The Halal Food Blog unless stated otherwise.
---
Kumoya offers 10% off for all FRIENDS Card holders. Valid with a minimum spending of $50 in a single receipt. Not valid for use for online orders and not available in conjunction with other promotions.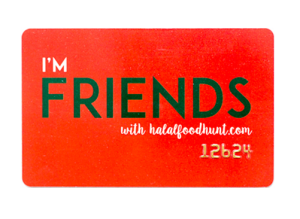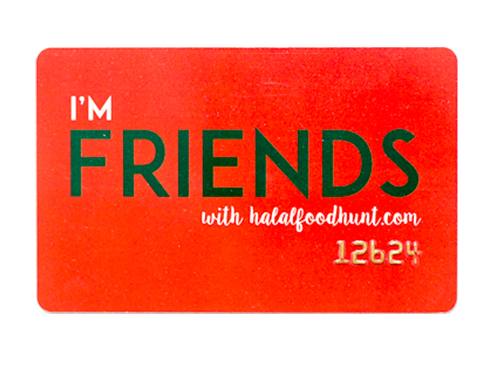 Get your FRIENDS with halalfoodhunt.com Rewards Card now at only $18/year and unlock discounts at over 60 halal restaurants, cafes, bakeries including online e-commerce businesses in Singapore. For a full list of where you can enjoy your card, click here.