Kumoya is famed for being the first Halal-certified French-Japanese cafe in Singapore. It fast became the go-to venue for quick meet-ups and long chit-chats with friends and family and this is thanks to more than one or two reasons.
Besides really chic-yet-cozy decor and ambiance, Kumoya also boasts a very impressive menu with French-Japanese cuisine galore that's not only tasty but also very Instagram-mable 😛 and we haven't eve started on their glorious desserts that you are bound to order even if you're feeling 'almost full' (as if there is such a thing LOL). After all, they say there's a special separate stomach for desserts right? Well, you're gonna want to access that separate stomach at Kumoya for sure!! (Psssst read up on our past visits Kumoya HERE!)
From time to time, lovers of all things kawaii will also see special pop-up themes at Kumoya which is apparently not just delightful for the kids but also the kids in us too!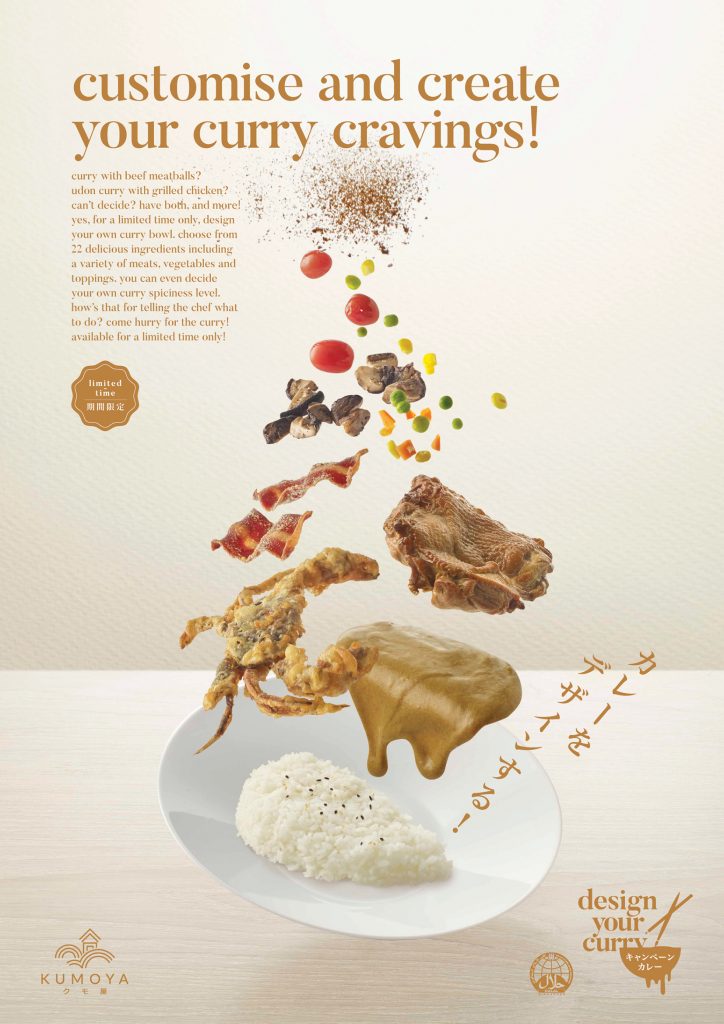 For a very limited time, Kumoya has something new and pretty interesting up their super cute French-Japanese sleeves – you get to DIY your own Curry!!
Curry Bowls at Kumoya are pretty unique – I cannot even count the number of Halal-certified Japanese Curry Bowl options in Singapore. And now, Kumoya is allowing you to literally Design Your Curry! You can choose from 23 different components to be added to your Curry Bowl!! Everyone loves to DIY now right! 😛
Chicken Katsu, Grilled Chicken, Sukiyaki Beef Slices, Karaage Chicken, Beef Meatballs, Tempura Salmon, Breaded Calamari, Breaded Scallops, Tempura Softshell Crab, Tempura Ebi, Mixed Seafood, Breaded Ebi, Duo Ebi, Crispy Turkey Bacon, Tempura Enoki Mushrooms, Tempura Capsicum, Sauteed Shiitake Mushrooms, Mixed Vegetables, Broccoli, Tomato Confit, Brulee Pineapple, Shredded Parmesan Cheese and Ramen Egg. FUYOH!!!!
I would say the list goes on and on but that's it – 23 items to build and design your own Curry Bowl. And that part comes after you've already made to monumental decisions – Rice or Udon + the spiciness level of your curry! But more on that later.
And trust me – it's not easy feat to decide what you want to include in your Curry Bowl.
But we tried anyway LOL!!
Jums (from Halalfoodhunt.com), Izad (aka The Halal Eater) and myself (aka the handsome guy from The Halal Food Blog) converged upon Kumoya one afternoon to see what all the hubbub was about.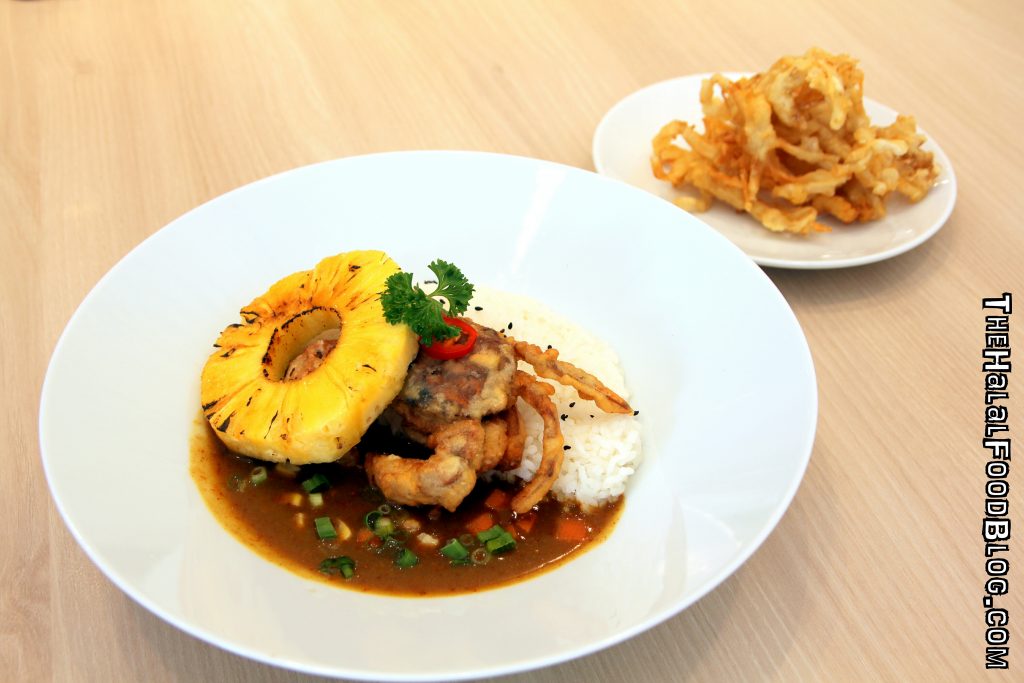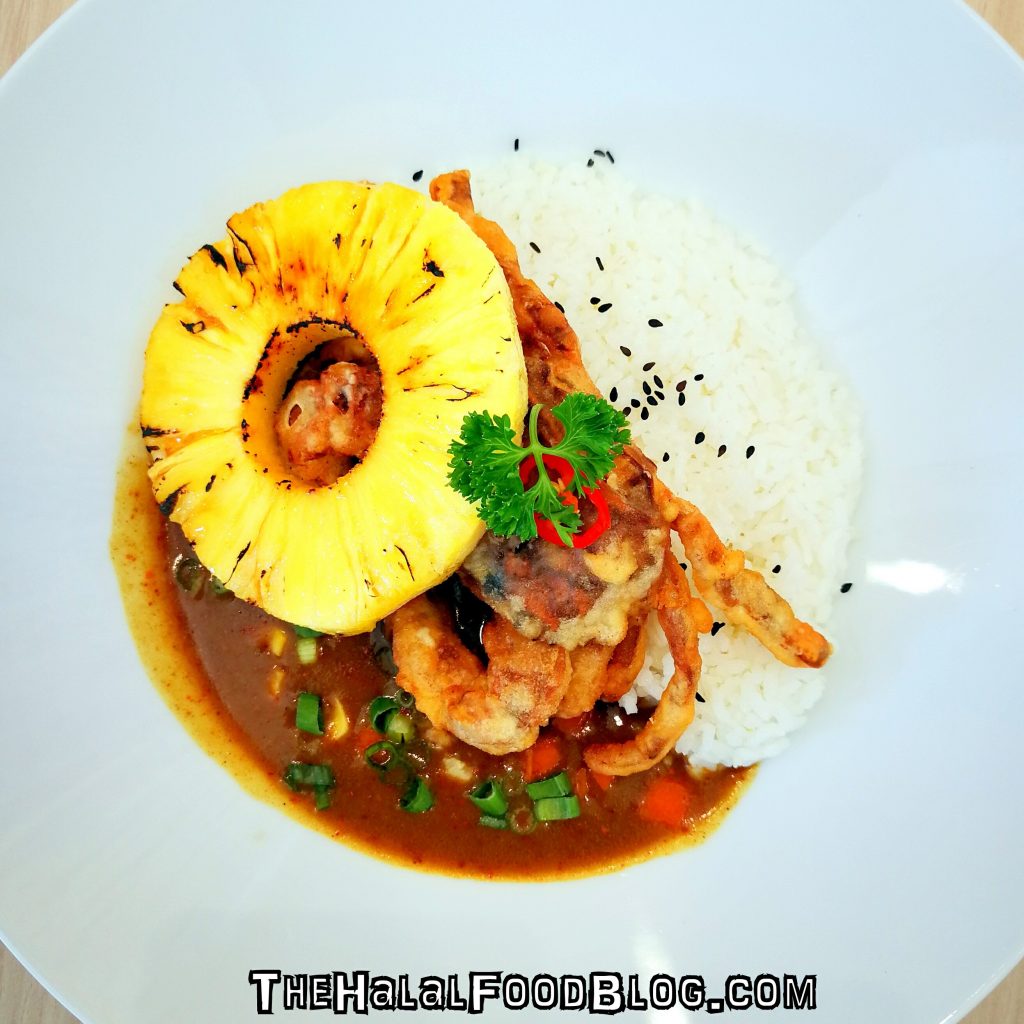 So it's ladies first and Jums made her selection for her very own Curry Bowl!
Okay, so for the spiciness level right – you can choose either Regular, Mild Spicy, Medium Spicy and Extra Spicy. If you want to make some comparison, the Regular is the level you get with your usual Curry Bowl dish at Kumoya. Japanese Curry is typically sweet (and a little) creamy so this is your chance to add a few notches to the fire.
Jums chose Medium Spicy which is apparently quite spicy! Izad and myself went Extra Spicy but a little more on that later!
Jums selected to have a Rice base with Medium Spicy level curry.
She then added Softshell Crab, Mixed Vegetables (which they add into the curry), some Tempura Enoki Mushrooms and a Brulee Pineapple.
A pretty standard bowl but an above average spiciness level apparently (alamak then our Extra Spicy how ah???). Seems like natural pairings all around here with the exception of the Brulee Pineapple. But having said that, the inclusion of the Brulee Pineapple turned out to be great because not only was it a nice contrast of flavours, it also helps cool down the heat (in case you chose higher than you can handle LOL)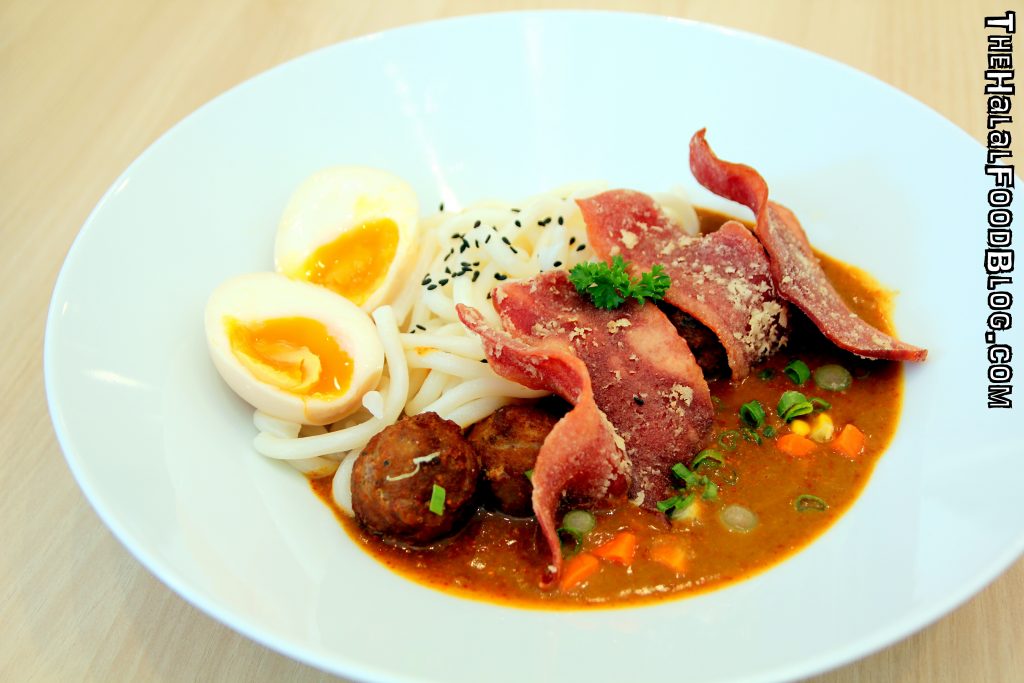 Izad definitely went the way of the carnivore with his order LOL
He piled on the Beef Meatballs and Crispy Turkey Bacon atop his order of Udon noodles. Mixed Vegetables bathed in the EXTRA SPICY level curry he selected and of course, let's not forget the gorgeous Ramen Egg!
So you're not having Ramen but admit it – you'd add an egg every chance you got right? LOL
Especially if it's a nice, delicious, semi-runny egg like this! Totally goes with your Curry Bowl whether you choose Rice and/or Udon.
You can actually also see from the pic above the chili powder that's in the curry. That's what's gonna make you sweat! And trust me – we really started sweating! DO NOT UNDERESTIMATE THE EXTRA SPICY LEVEL!!
But it's a good kind of spicy lah. The slowburn kind of spicy that is super shiok and makes you wanna have more and more. Just be sure to have tissues and a drink(s) nearby LOL 😛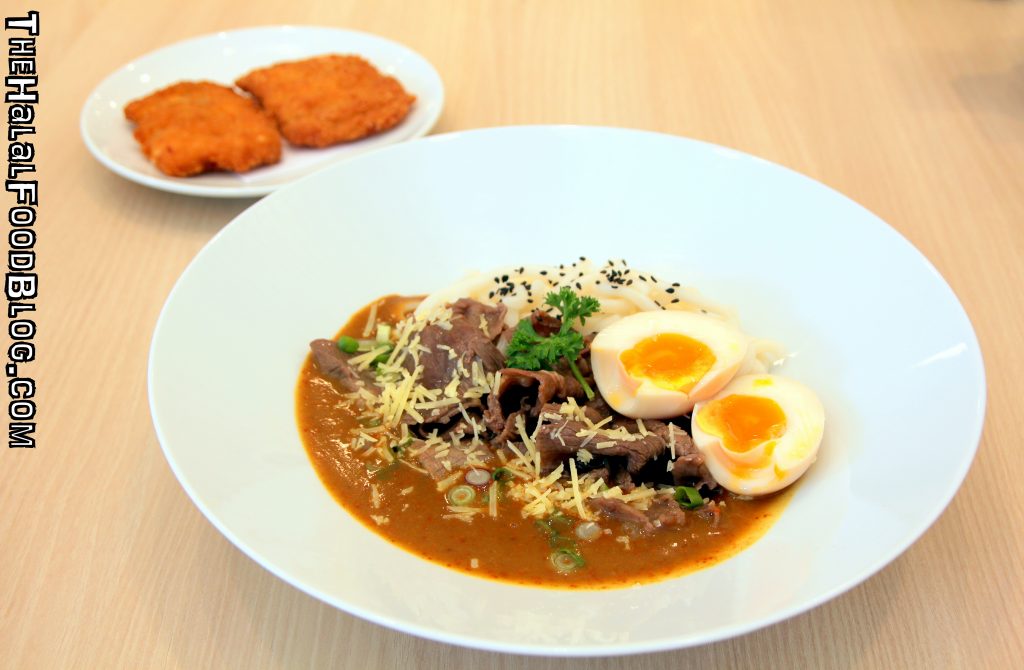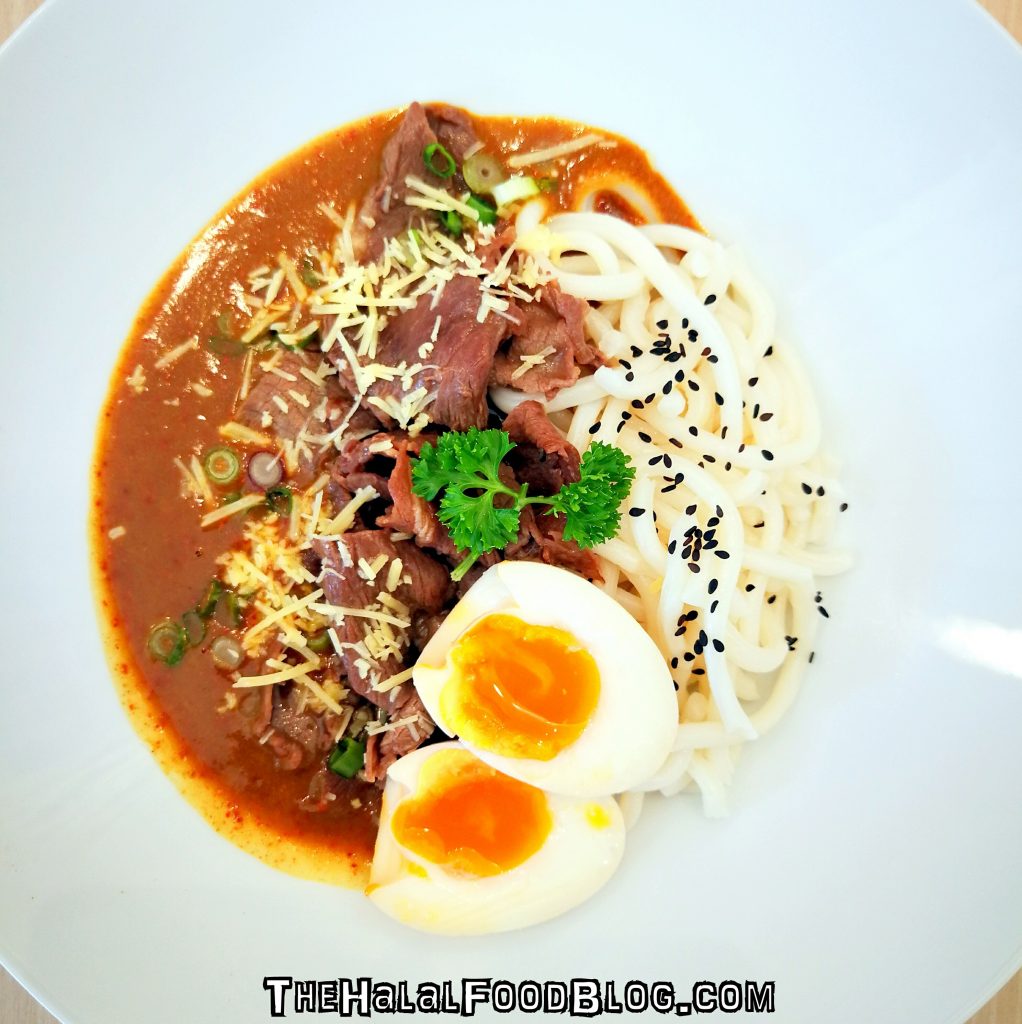 I think I took  pretty safe route when it came to my selections. But then again, I chose something that's not on the regular menu LOL
Udon base with EXTRA SPICY level curry. I added Sliced Sukiyaki Beef Slices, Ramen Egg and some Shredded Parmesan Cheese. And on the side, Chicken Katsu!!
First of all – let me say that the Sliced Sukiyaki Beef Slices are sedap giler. A little but sweet but a good match against the spicy curry plus definitely tender and welcome in my curry bowl anytime.
Next – the Ramen Egg also damn satisfying!! *stands up and starts a slow clap*
Thirdly – The Chicken Katsu is the bomb! It's not on the regular menu under any dishes (it was under the Cinnamaroll Menu as a burger) at this point of time. But it's sedap to the max and you should definitely try it. Crispy and tender and power!!
And last but not least – a reminder that THE EXTRA SPICY LEVEL IS ACTUALLY QUITE SPICY
*wipes away sweat from fevered brow*
PS the Parmesan Cheese did not help at all against the heat of the curry LOL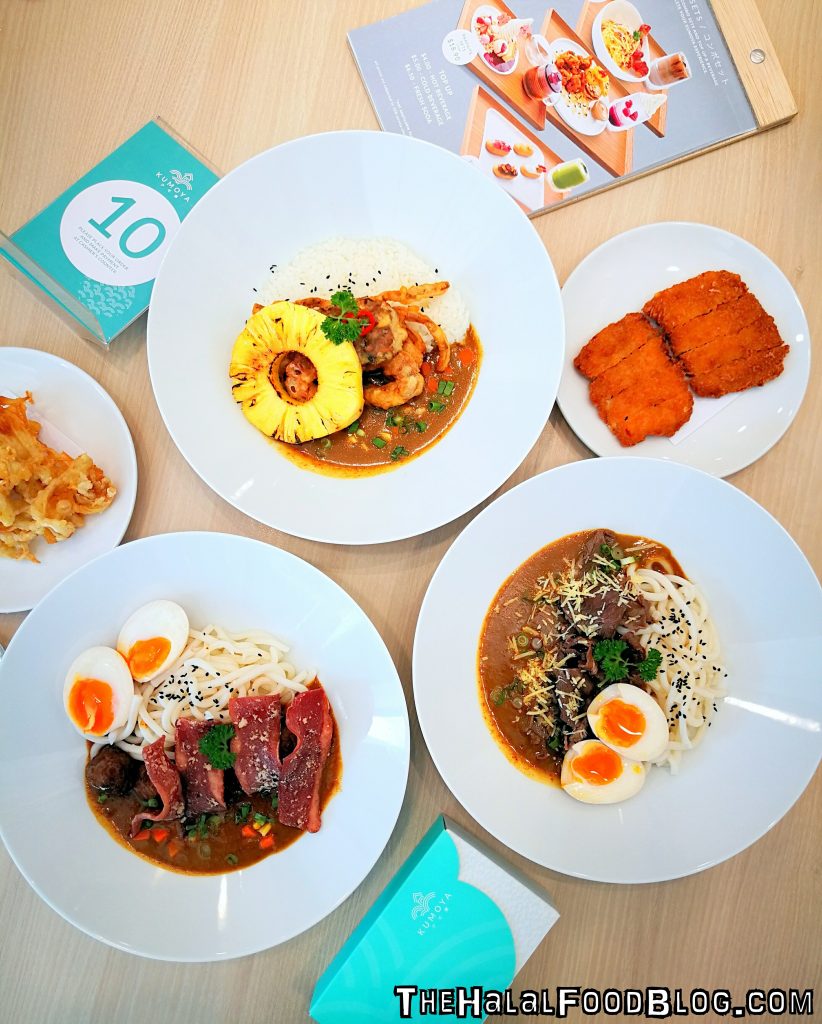 Those are just 3 bowls we designed but do you realize – the possibilities are almost endless!! You can pick and choose and ultimately design the Curry Bowl of your dreams!!
The base of Rice/Udon + your Curry is priced at $9.90 and then you can go crazy with your toppings! Toppings are priced between $1.00 – $10.00 so get creative (and greedy) but remember – don't overdo it because you don't wanna end up wasting any food okay!
The Design Your Curry is available at Kumoya from now til the end of the month, 30 September 2017! So don't wait and wait and then miss out okay!
Get hungry, get creative and get yourselves to Kumoya!! 楽しんで!
(Thanks to Jums and Izad for sharing a meal with me!)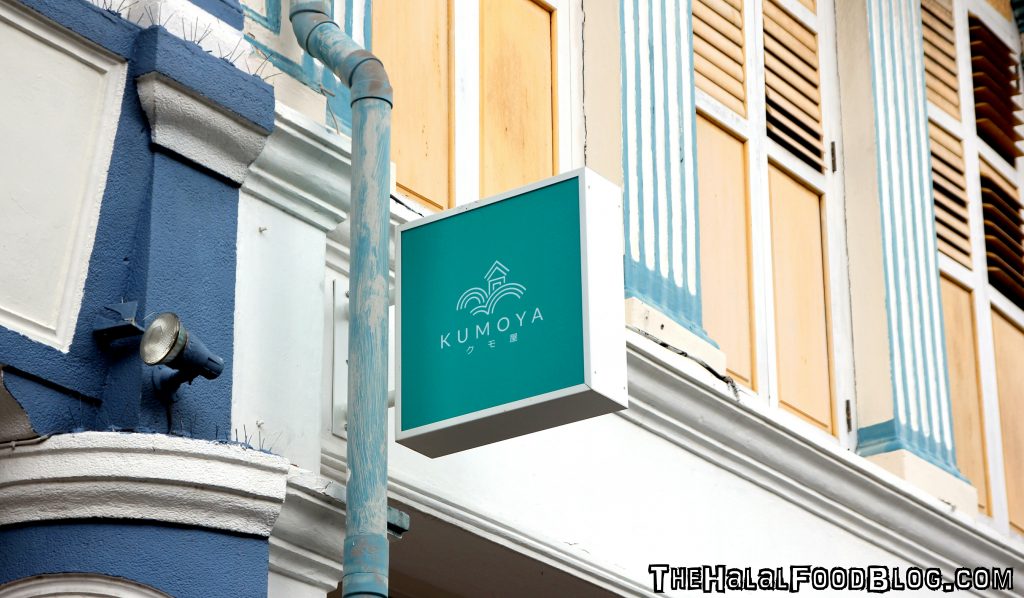 Kumoya
8 Jalan Klapa
Tel: 6297 3727
Facebook: www.facebook.com/kumoyasingapore
Instagram: @kumoya_singapore
Operating Hours:
12.00pm til 9.00pm Daily
All information (including prices, availability of item on menu and Halal status of establishment) are accurate at the time of posting. All photos used in this site are property of The Halal Food Blog unless stated otherwise.