I'm not sure when this recent craze for Jeruk Mangga Asam Boi started but in the past couple of months, it really seems to have exploded on the scene! I mean, in the past month or so, we've had a few recommendations and even invitations to check out some of these brands of Jeruk Mangga Asam Boi, most of which are home-based.
Well, here's one (in fact, the ONLY one) we have tried. The good news – it's really POWER!!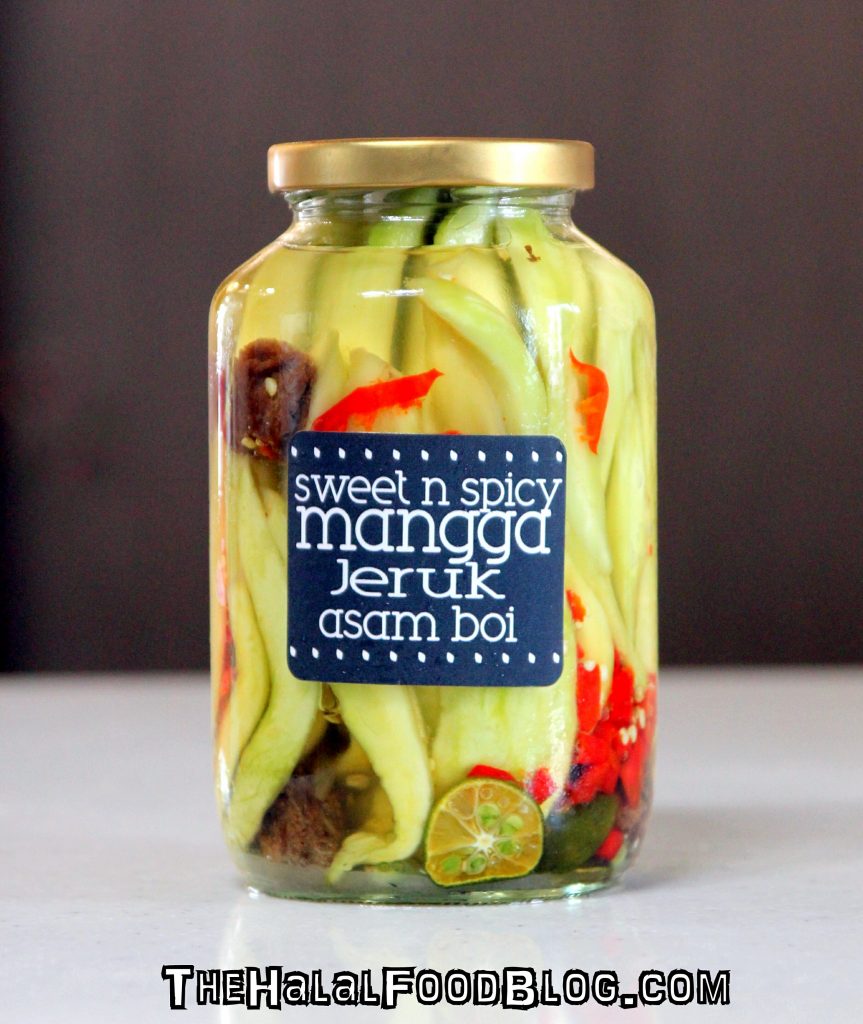 Kreyv is a home-based business and they sell only one thing – Jeruk Mangga Asam Boi.
From what we got in the jar, it's a seemingly simple combination of mangoes, Asam Boi, limes and Chili Padi. I say seemingly because even though it seems simple enough that perhaps anyone can master making this, it's actually pretty challenging to get that right combo. If it was so easy, everyone's would be nice right!
And something interesting is that Kreyv does not use any vinegar or preservatives at all! This means that their Jeruk Mangga Asam Boi is suitable for pregnant ladies and also people who might have allergies/sensitive tummies. Plus you can definitely get those great flavours like the tang from the Asam Boi and limes plus that spicy hint from the Chili Padi!
The mangoes were nice and crunchy fresh out of the jar. So satisfying to munch on them one after another! LOL
If you want the mangoes to go a little bit more mellow while having the chance to soak up all that goodness from the brining fluid in the jar, leave it in the fridge for a bit longer until you achieve the desired result. The jar can actually last in the fridge for up to about a month. But I think so it'll be finished much much earlier than that!
I'm actually really curious to know how the name/term Asam Boi came along. Does anyone know??
Well, each bottle of Kreyv Mangga Jeruk Asam Boi is $10 and totally worth it.
You can WhatsApp +65 9103 1631 to order yours. They deliver the Mangga Jeruk Asam Boi to you for a fee of $5 and you only pay the rider for the jeruk/delivery when the delivery is received which is really convenient.
They're churning out like hundreds of bottles weekly so you'd better order early to avoid disappointment.
Thanks to the Kreyv team for sending us some jeruk and showing us how good it can be!
WhatsApp to Order: +65 9103 1631
Facebook: www.facebook.com/kreyv.sg
Instagram: @kreyv.sg

All information (including prices, availability of item on menu and Halal status of establishment) are accurate at the time of posting. All photos used in this site are property of The Halal Food Blog unless stated otherwise.