So over the weekend I was in the Arab Street area. I was headed there for an event that was set to start in the afternoon but I found myself there a little early (like 2 whole hours early lah!!). Apa lagi – lunch ah!
To be perfectly honest, I headed for the makan place that was nearest to me. I knew it was close by because I had missed it on my last visit. But alas – it was closed!!! :\
Hmmmmm…. what else could I find that was worth trying in the area?
And then it came to mind – KRAVE. And so that's where I headed.
It was a scorching day and the walk had made me not only sweaty but also very parched. The bottle of water waiting on the table when I was seated was a very big plus. Extra points for that! LOL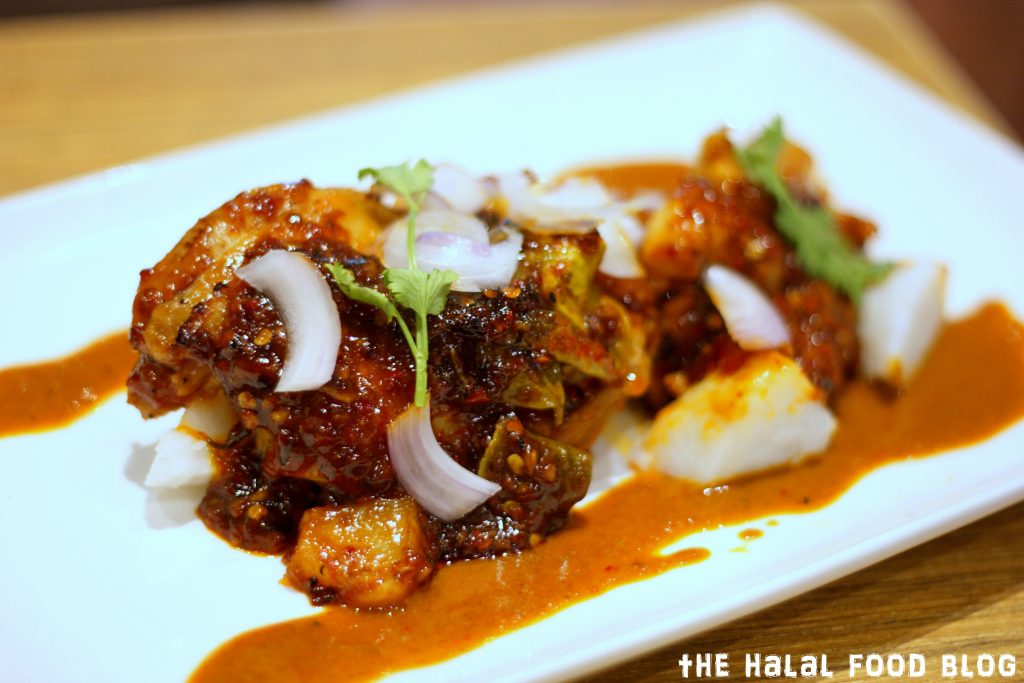 I was contemplating having the famous Krave 'Steak "N" Chips' but I figured I'd try that the next time when the real steak experts (aka the rest of The Halal Food Blog Team) were around. So I decided to try something that had a little bit more Asian flavour and seemed a bit mysterious judging by the description on the menu.
The menu's description of the dish merely stated – "The chef styled ayam bakar!"
Hmmm… very minimal but it obviously worked because I ordered it LOL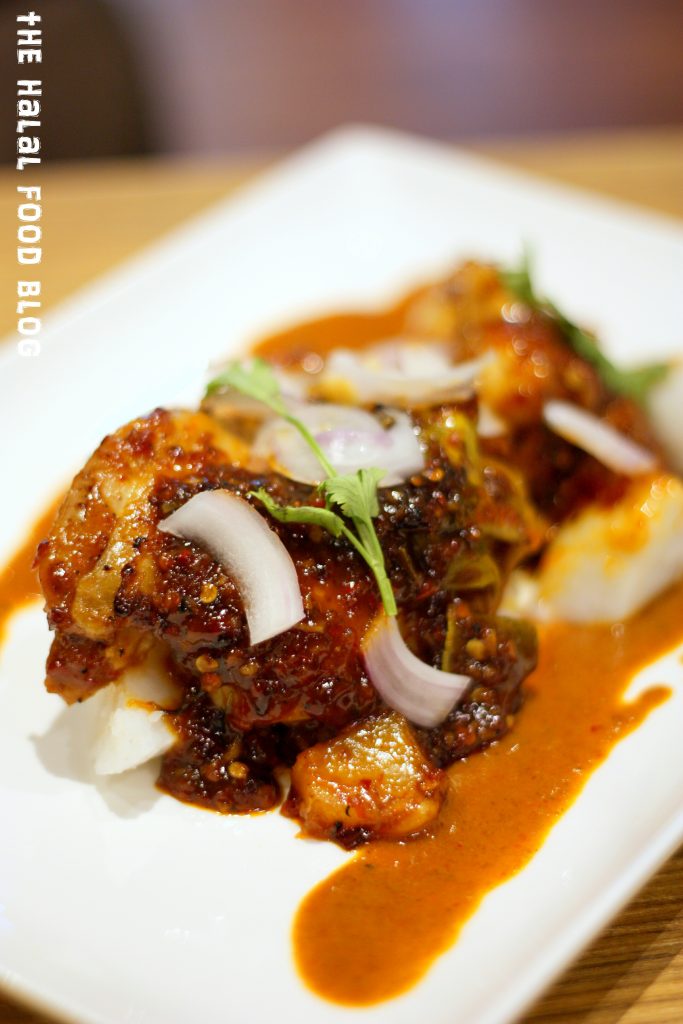 So you have a nicely grilled chicken thigh that's got great flavour to it. The main glaze / coating was kinda like a 'cili kicap' type of sauce which had a nice spicy kick to it. It wasn't spicy enough to burn your mouth off but you can enjoy the flavour without breathing out any fire LOL
Now that I think about it, the glaze sauce was actually very tasty. Spicy, sweet and full of flavour.
Besides that, you've also got another sauce to accompany the chicken. It was a peanut-based sauce that really reminded me of the type of sauce we get with Sate Padang for example. The peanut sauce was very smooth by the way and you can taste the spices involved. Very full-flavoured!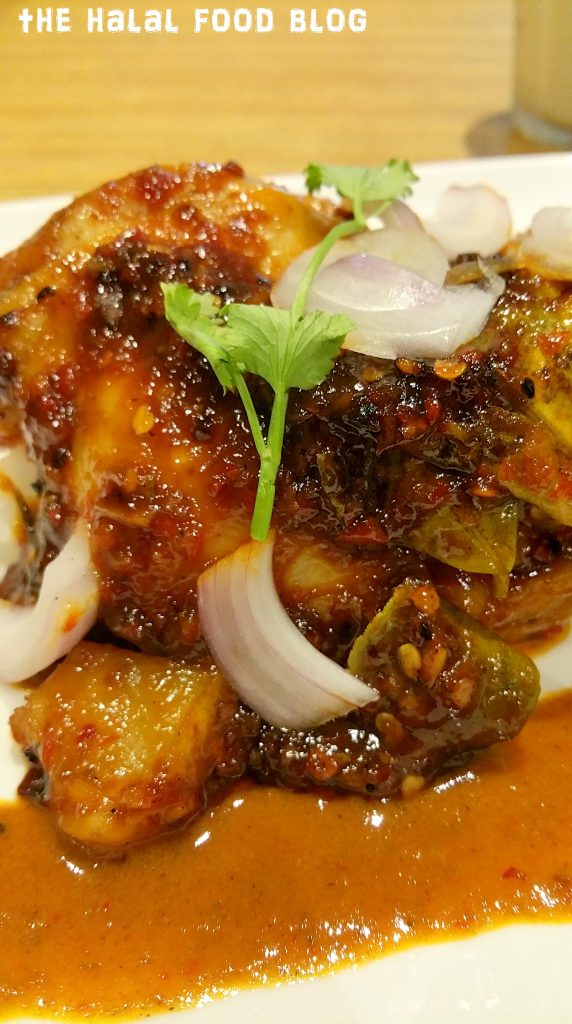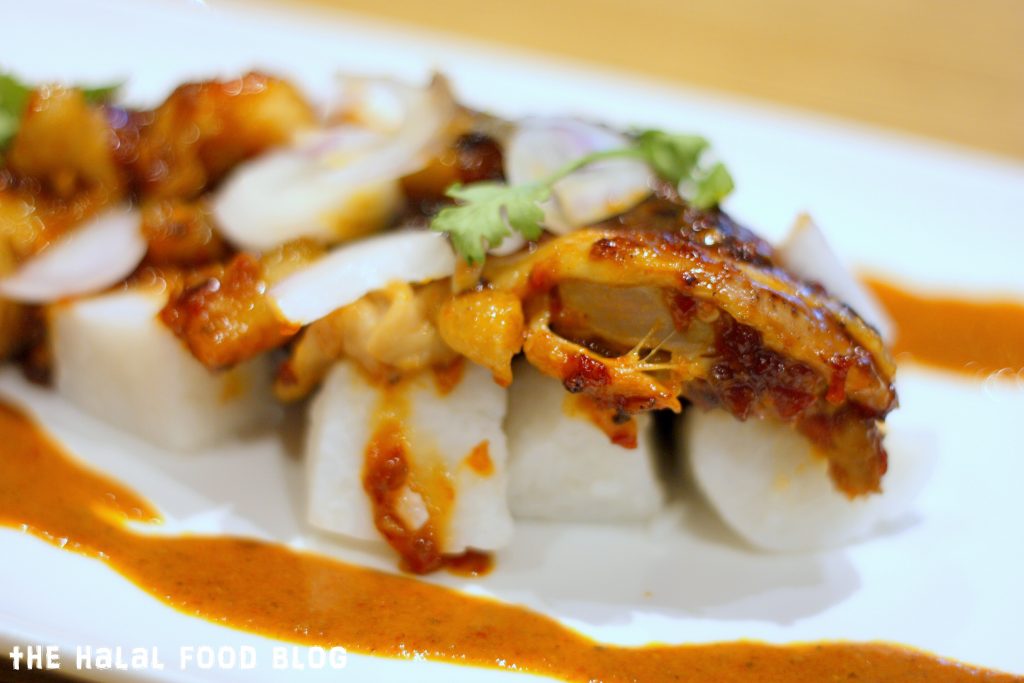 Since the menu doesn't mention it, I figured I'd better tell you then.
The ayam bakar is accompanied by some pieces of Lontong (rice cakes) which represent the carbs in the dish. A very natural choice given the Indonesian/Balinese nature of the dish.
Other things you might find on your plate? Some pieces of pineapple (which are part of the cili kicap glaze and a source of the sweetness to the sauce) and also some sweet onions s a garnish.
And as I type this – I realized I may have been eating a deconstructed Sate dish! You've got the chicken, onions, lontong, chili and the peanut sauce!
Overall the dish was really good I guess. But if I had one thing I wish was different, I'd probably have liked if the chicken skin was grilled a bit more. Maybe a little char on it? But hey, that's just me 🙂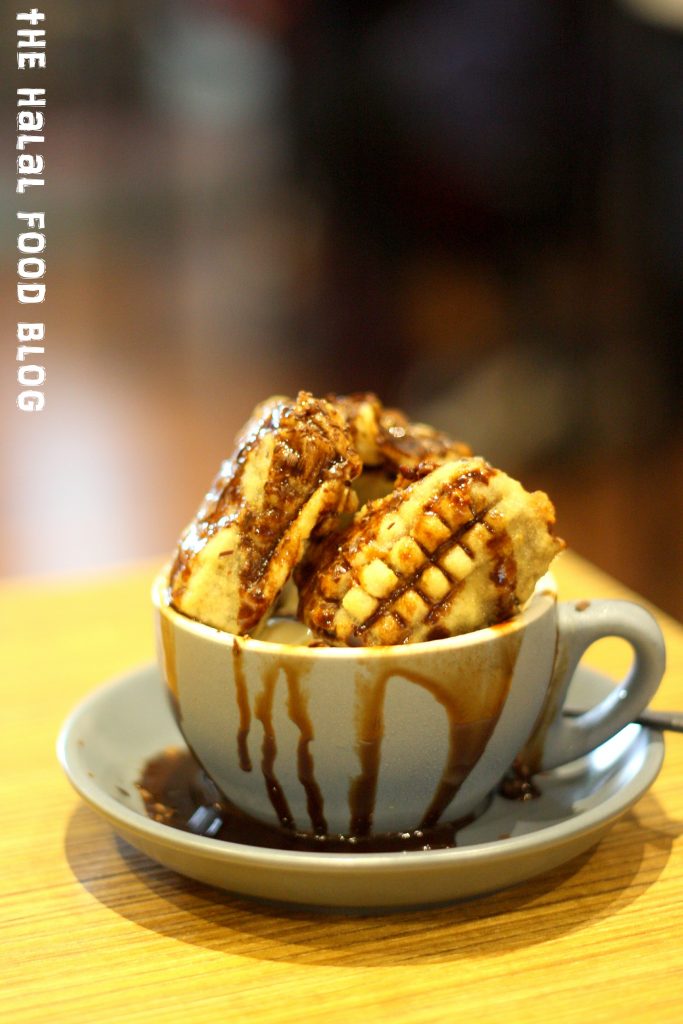 Actually, one of the reasons I'd walked all the way to Krave was because I'd heard so much about their famous dessert – the Cempedak Creme Brulee. But just my luck that I had arrived too early and it was not ready yet. I'd arrived there at around 12.45pm and was informed that it would be ready to be served probably in about 2 hours…
So I decided to have something else instead. And the Mars Attack seemed like a good idea.
So the Mars Attack is Krave's version of the legendary Deep-fried Mars Bar which we're sure you've probably heard of somewhere or other. Here you've got some pieces of Mars bars coated in a batter, deep fried and then served with some Vanilla ice-cream and chocolate sauce to added enjoyment.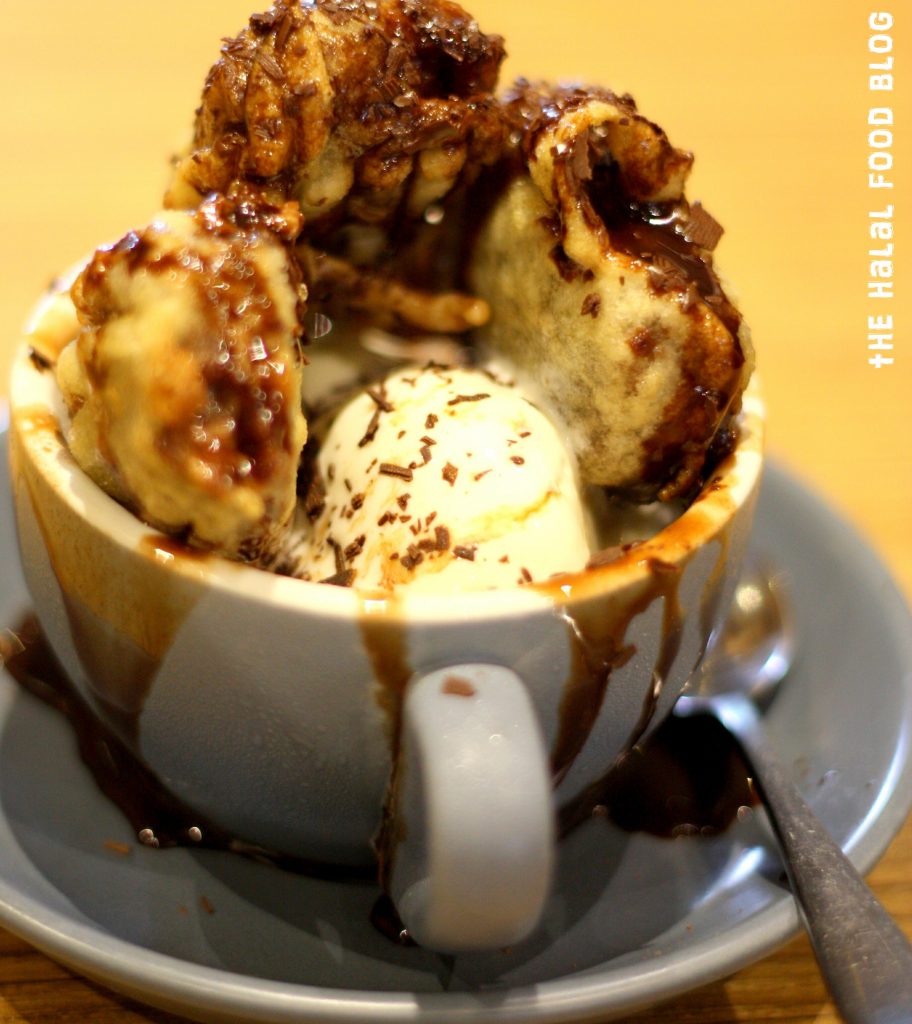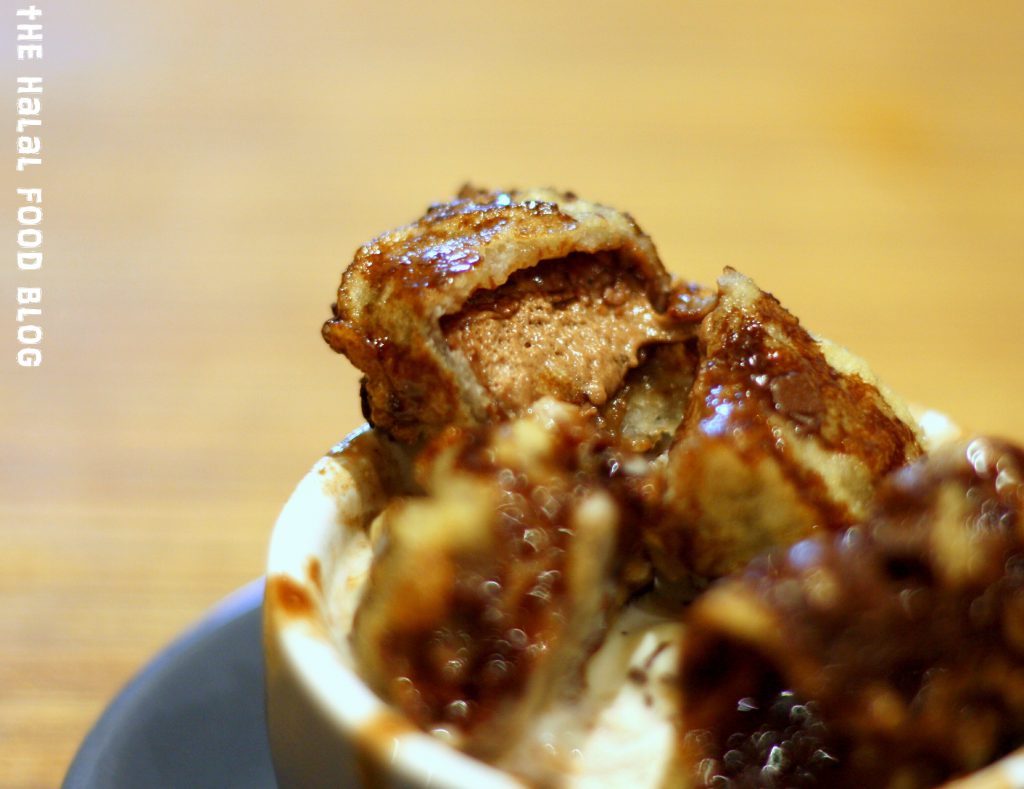 To be honest I found the batter / coating on the Mars bar a little too thick. I had quite a hard time taking a chomp out of that little thing actually. Not sure if batter too thick or fried for too long maybe?
But I've got a sweet-tooth so I always enjoy something sweet. I guess maybe the other feedback I have was the cup the dessert was served in. It's a nice idea aesthetically of course but because it's quite small, it's a little hard to maneuver it when you wanna dig in. I ended up dropping the Mars bar on the table twice! I still ate it of course (5 second rule LOL). Maybe better served in  small dish so not so stressed LOL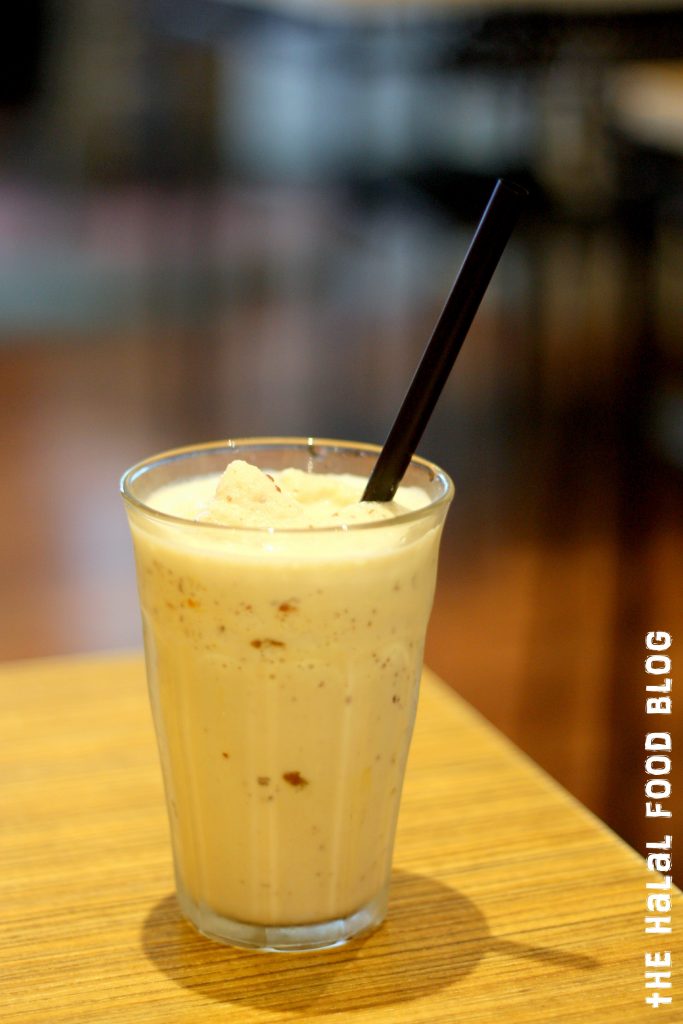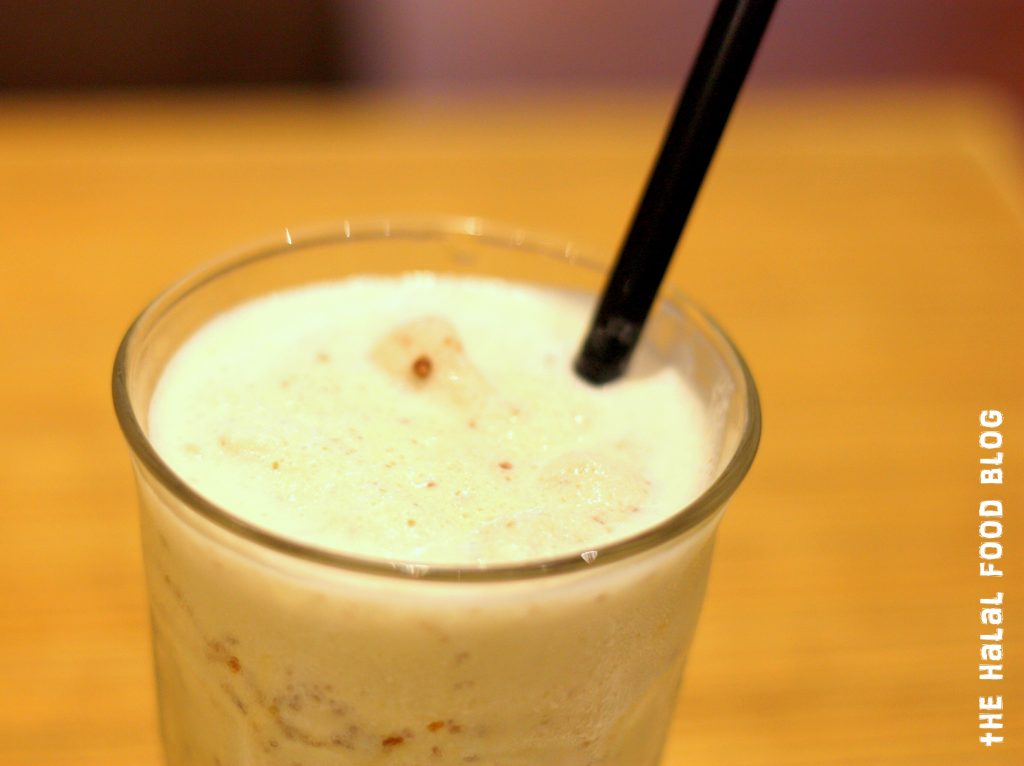 Since I had an Asian-inspired main, I decided to have an Asian-inspired beverage to go along!
That Gula Melaka Drink is an ice-blended concoction of Coconut, Red Bean and Palm Sugar (aka Gula Melaka). You'd be hard-pressed to find a drink on the menu that's more Asian than that my friends (okay maybe the Raja Bandung also counted).
Since it was a hot day, automatically ice-bended drinks win. This will probably be nice for you if you like flavours like coconut and/or red bean because you'll get subtle hints of both along with the Gula Melaka. Overall I'd say not bad lah since I quite like coconut shakes.
Errrr… but not sure if this was intentional. Well, at least I know they use proper Gula Melaka LOL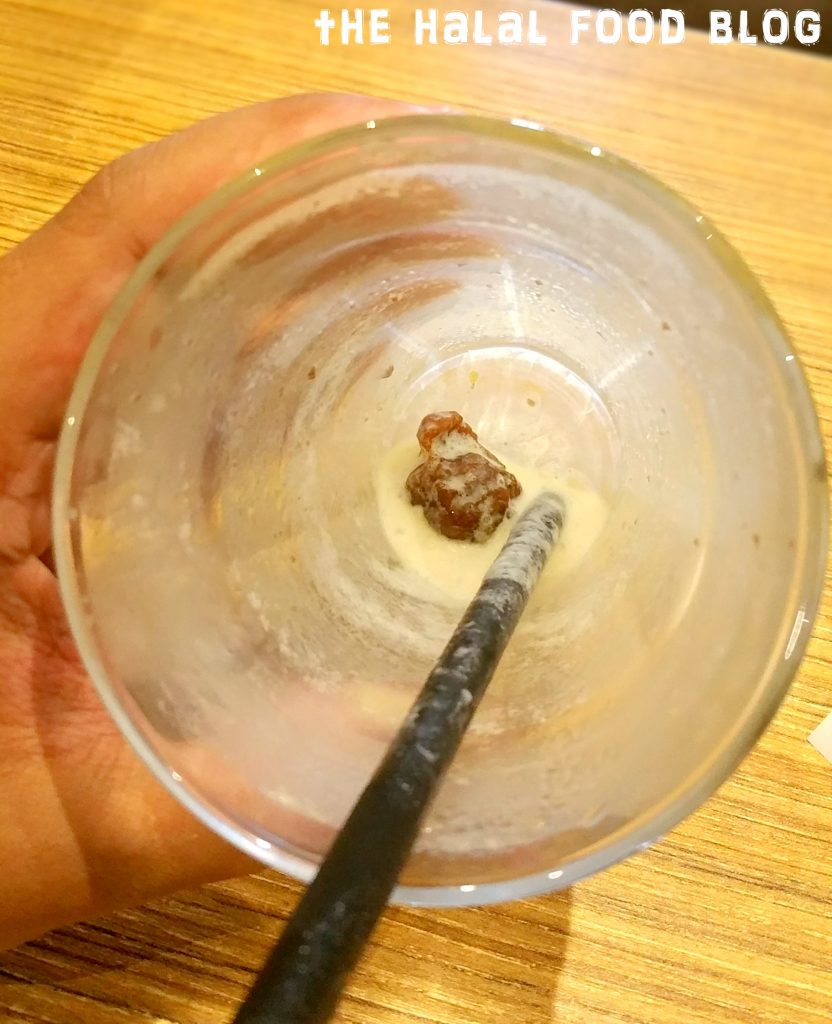 Adam's Verdict:
Ayam Bakar Kraving 3/5 — Mars Attack 1.5/5 — That Gula Melaka Drink 3/5
Krave Cafe has a really nice ambiance and seems great for get-togethers and chit-chat sessions. I saw small groups of 2-3 and even big groups of 5 or more (they have seating upstairs!) so it's a good choice of you're in the area.
The staff there were also very attentive and welcoming. Definitely a plus!
And look out for Chef Sufiyan behind the kitchen counter when you visit. You can see he puts a lot of effort and pride into his food.
They have quite an extensive menu at Krave by the way. Pasta, Pizza, assorted Mains and Desserts. All of course with that special Krave touch. You'll probably be spoiled for choice.
Would I visit Krave again?
Yes. That Cempedak Creme Brulee will be mine one day. LOL
28 Bali Lane
[email protected]
Facebook: www.facebook.com/Krave.sg
Instagram: @kravecafe
Operating Hours:
11.30am – 10.00pm Tuesdays til Thursdays and Sundays
11.30am til 11.00pm Fridays and Saturdays
Closed on Mondays
All information (including prices, availability of item on menu and Halal status of establishment) are accurate at the time of posting. All photos used in this site are property of The Halal Food Blog unless stated otherwise.