I first met the ladies from Halalfoodhunt.com somewhere around 2014 and I remember them mentioning this name as far back as 2 years ago – KOH NANGKAM!
As usual, we all so slacko and lambat setapak (or maybe even a few tapaks in this case) and finally, in 2016, we sat down for a meal at Koh Nangkam and time to find out what all the fuss was about.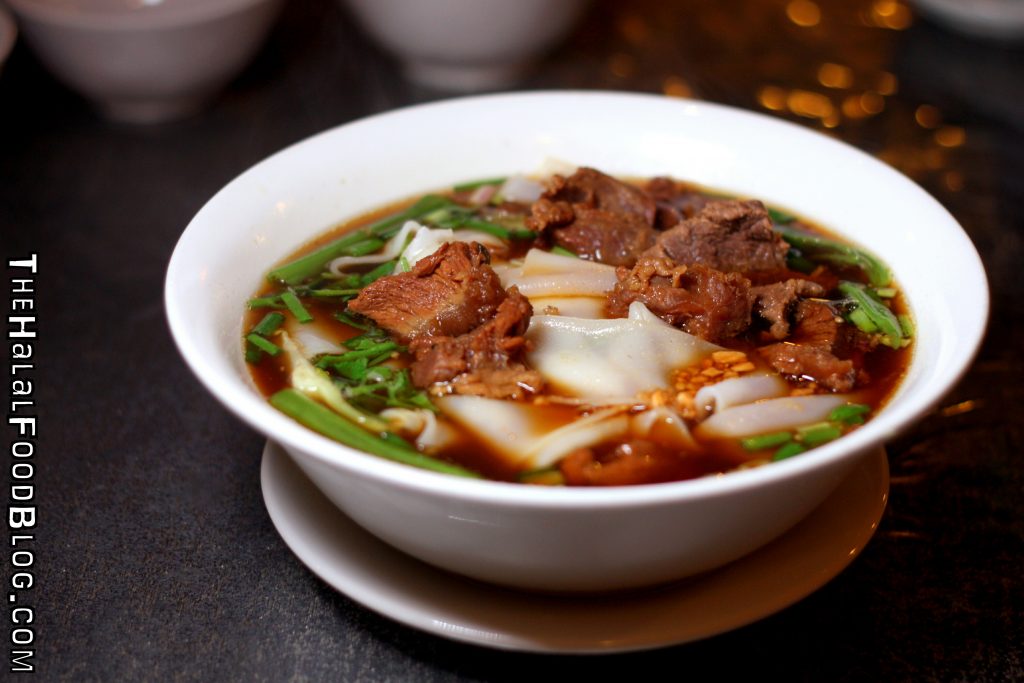 The #1 recommendation from the Halalfoodhunt.com ladies – the Stewed Beef Noodles! And since they visit this place A LOT, you obviously have to take their advice on what's good on the menu am I right? And boy were they right! Big time!
The beef was chunky and super tender. I have no idea how long they stew it for but this dish was totally on point! Beef lovers – this is the obvious choice for you! That beef broth is hearty and tasty and we are talking about comfort food to the maximum level.
The rice noodles are those extra large kway teow type and the perfect choice here. Finished off with some kangkong for that little bit of crunch and you are all set!
How good was this dish? Well, possibly one of the best things we have eaten in 2016! No joke!!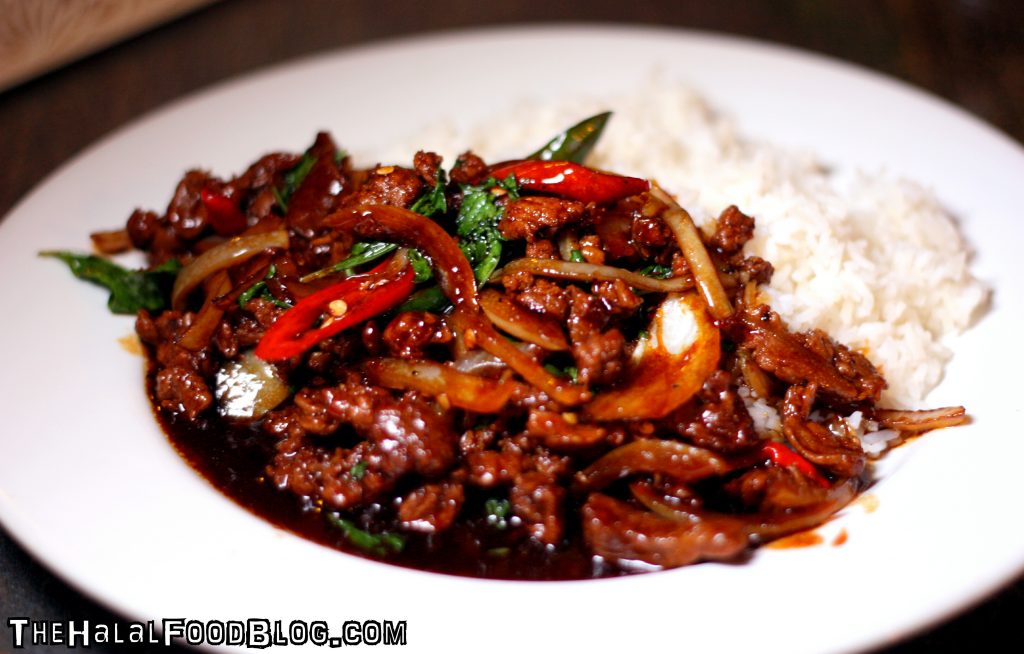 As you may or may not know, we travel up to Thailand quite a fair bit – mainly to Phuket actually. One of the dishes we have very often there is the Thai Basil Chicken/Beef and we've had a lot of it so I reckon we roughly know what the dish should taste like.
Unfortunately the version at Koh Nangkam was a miss for us.
The beef was stir-fried with some Thai Basil (rightfully so) but the other main flavour you will get is the sweet and the salty which is present courtesy of the sweet soy sauce used. I'm guessing it might even be the thick sweet soy sauce. This kinda overpowers everything and as much as I love food a bit on the salty side, I'm afraid this one kinda went off the reserve for me if you know what I mean.
Plus, it's missing an integral part of Pad Kra Pow (which is interestingly called 'Kapraw' on the menu) and that is the fried bullseye egg! Oh well.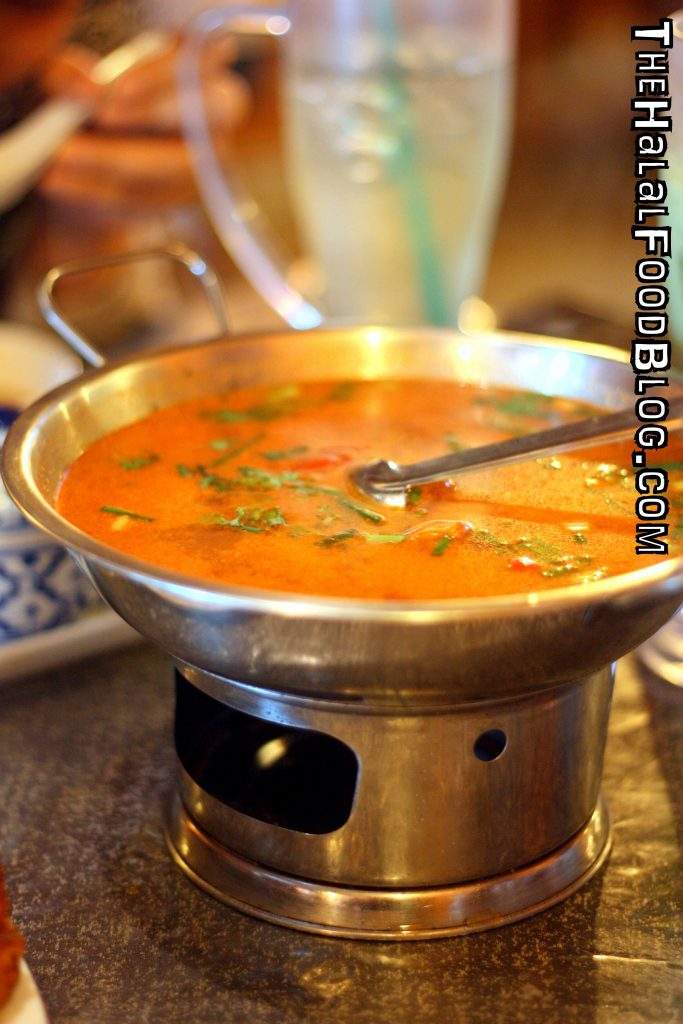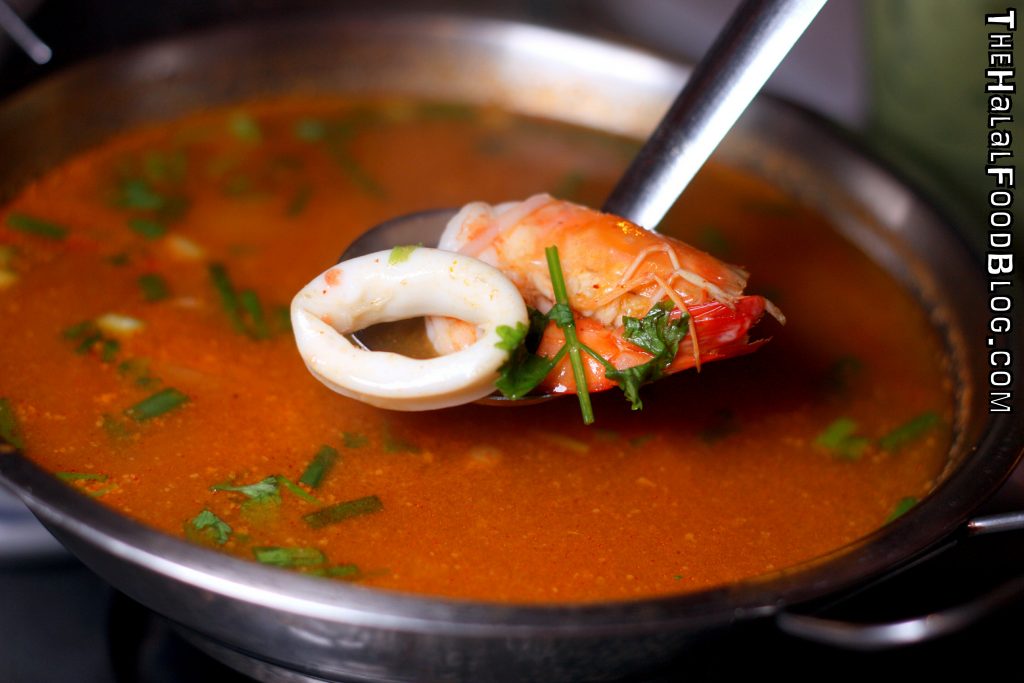 If you're having Thai food, you're most probably gonna have Tom Yum Soup to go along right? After all, Tom Yum is probably one of, if not the most, associated flavour with Thai cooking!
A nice touch that they serve the soup in mini-hotpot by the way! LOL
The soup had a good flavour with a little bit of sweet and sour and spicy in there. Well, not very spicy actually but you can definitely detect at least a little bit of heat in there.
You've got bits of seafood like fish, prawns and squids in there for good measure. Perfect for sharing so everyone gets to order their main dish plus enjoy some Tom Yum Soup along.
But, next time, we're going to try the CLEAR version of the Tom Yum Soup. You'd be surprised but the Clear Tom Yum Soup version is normally the spicier version! Well, that's at least based on our experience from having it in Thailand anyways LOL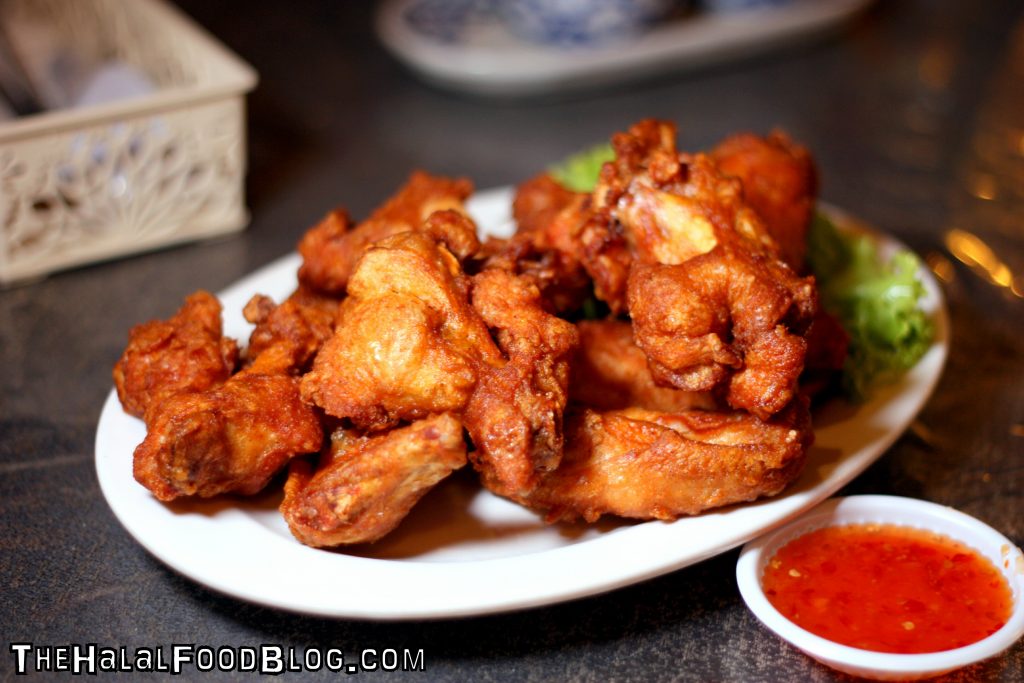 Side dishes aplenty on the menu at Koh Nangkam too by the way. Ranging from Chicken to Beef to Seafood. Take your pick from the wide array!
We went with chicken and as tempting as it was to order the Pandan Chicken or the Prawn Fritters, we went with the Hatyai Chicken which was also highly recommended by the Halalfoodhunt.com team!
Crispy spiced deep fried chicken wings served with a sweet Thai chili sauce? I believe the appropriate term to use here is "Errrrmaghd" LOL!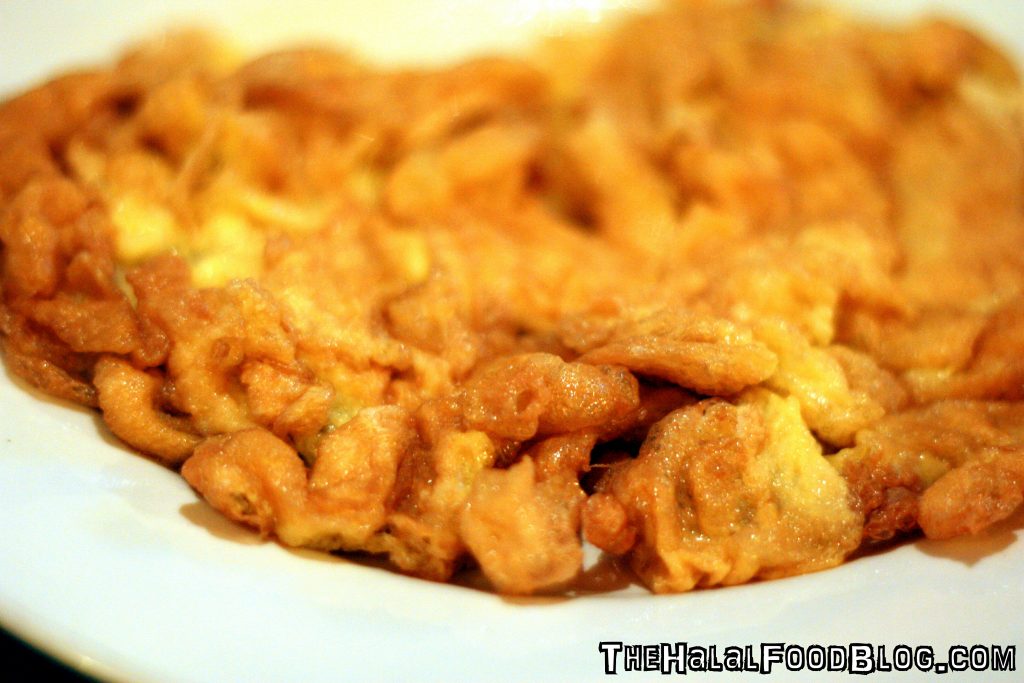 Another perk of dining with regulars is that you get in on special secret dishes that may not even be on the menu!
So what you wanna order is the 'Omelette' or 'Telur Dadar' but don't be confused by the one on the menu. There's a 'Thai Omelette' on the menu priced at $8.00 which has a beef stuffing in it. You could definitely order that if you want but the one in the picture is not that one.
The one in the pic above is priced at $2.50 and is the perfect accompaniment with whatever you're having. It's crispy on the outside and fluffy on the inside – just the way a good omelette should be! Total win!!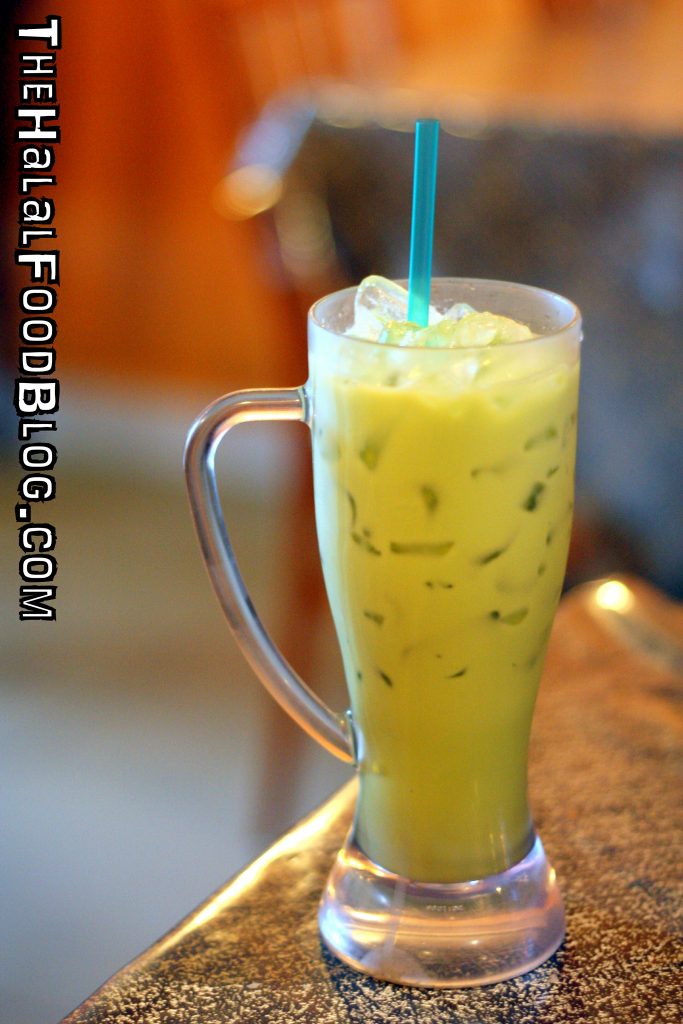 And of course, some tasty and refreshing beverages to wash it all down.
The Thai Iced Tea is good but I've kinda taken a liking to Thai Iced Green Tea a little bit more these days. Nice and milky and the tea flavour is not too strong. Definitely a good pick!
I also tried the Iced Lemongrass which was nice and refreshing. No pic though cos I was extra thirsty LOL
So there's plenty else on the menu to enjoy at Koh Nangkam including set meals for group dining plus other familiar favourites too. Next on our list is definitely the Pad Thai and Pandan Chicken among other stuff.
I guess it's really easy to miss this place because it's not exactly screaming out at your with it's simple and humble appearance. You could even walk past without knowing it's there (which is literally what happened to me). But check it out when you're there because some of the stuff on the menu is really quite power! Aroy mak mak!
Oh and be prepared for a bit of a wait especially during peak hours because they cook the dishes to order!
Thanks to the Halalfoodhunt.com team for introducing us!
6 Jalan Kledek
S 198711
Tel: 6392 2172
Facebook: www.facebook.com/pages/Koh-Nangkam-Thai-Muslim-Restaurant/166959036670895
Operating Hours:
11.00am til 10.30pm Daily
All information (including prices, availability of item on menu and Halal status of establishment) are accurate at the time of posting. All photos used in this site are property of The Halal Food Blog unless stated otherwise.