Hajimemashite! The Halal Food Blog is reporting from Tokyo, Japan!
Yes yes yes our adventure in Japan has begun and we will be in Tokyo for a few days before heading up north to Hokkaido! Figured we'd start posting what we have now so there'll be time to space things out since we plan to do A LOT of eating here!
So our flight into Tokyo landed at Narita Airport Terminal 1. We'd heard that there were Halal dining options at both Terminal 1 and Terminal 2 but since we were already there, we made our way to the 1 apparent Halal dining option there – Kineya Mugimaru!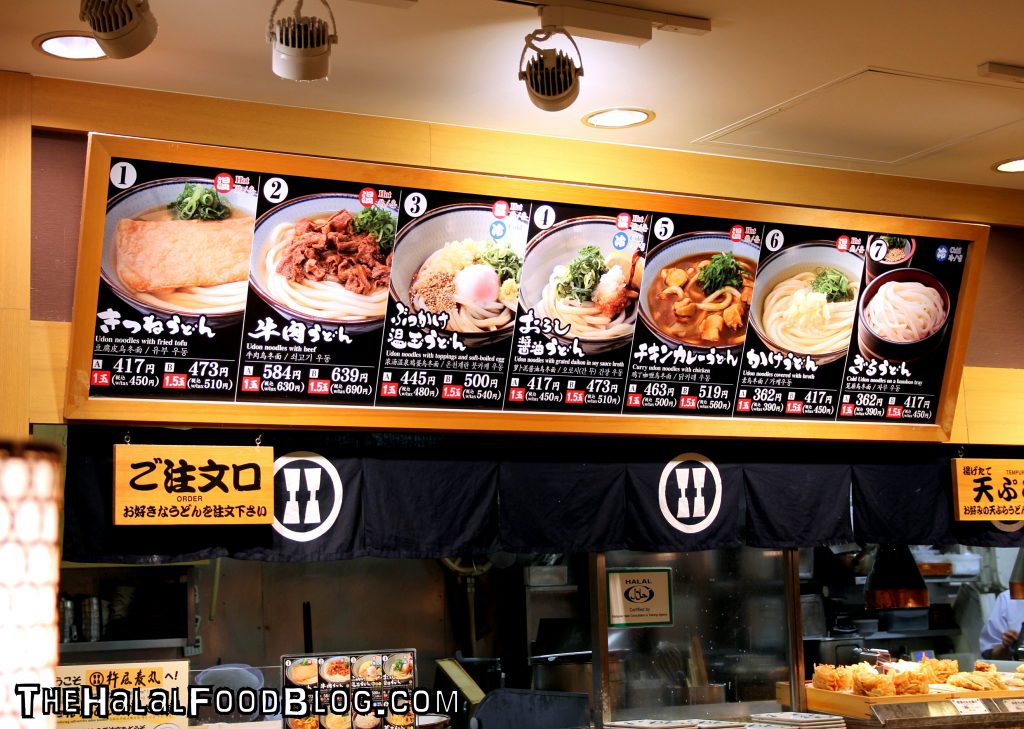 Kineya Mugimaru is a joint specializing in Udon! These tasty Japanese noodles were definitely on our list so it was great that we had the chance to cross something off our list as soon as we arrived!
But having said that, airports do have a reputation for having mostly mediocre food. Would this be the case here?
So the flow at Kineya Mugimaru allows you to order as much or as little as you'd like. If you're hungry and/or have a little extra Yen to spend, feel free to take more off the counter which includes Onigiri (aka Rice Balls) and assorted Tempura.
In case you can't read the signage above, it says;
First, order your Udon noodles
Select a Tempura or Rice Ball
Pay for your meal at the cash register
Pour broth into your bowl.
Add Leek and ground red chili peppers if you'd like
Now it is time to enjoy your meal!
I think it's important that we remind you that you can pretty much just order just only the Udon alone if you want or just the Onirigi or Tempura on its own. You do not have to order everything because it's literally you're paying for what you take.
Udon costs between ¥390 – ¥630 and Tempura / Onigiri is ¥130 each (those prices after taxes by the way) so choose what you'd like. Just remember that the more you pile on, the more you pay that's all! LOL
You might also spot a "1.5盛り" on the menu which denotes a "1.5 person" serving so you pay a bit more for a slightly bigger serving!
So my Darling Wife and I each chose our own selections and, of course, we tried to take as many different things as possible so we had the chance to try as much as possible!
So this is what we had…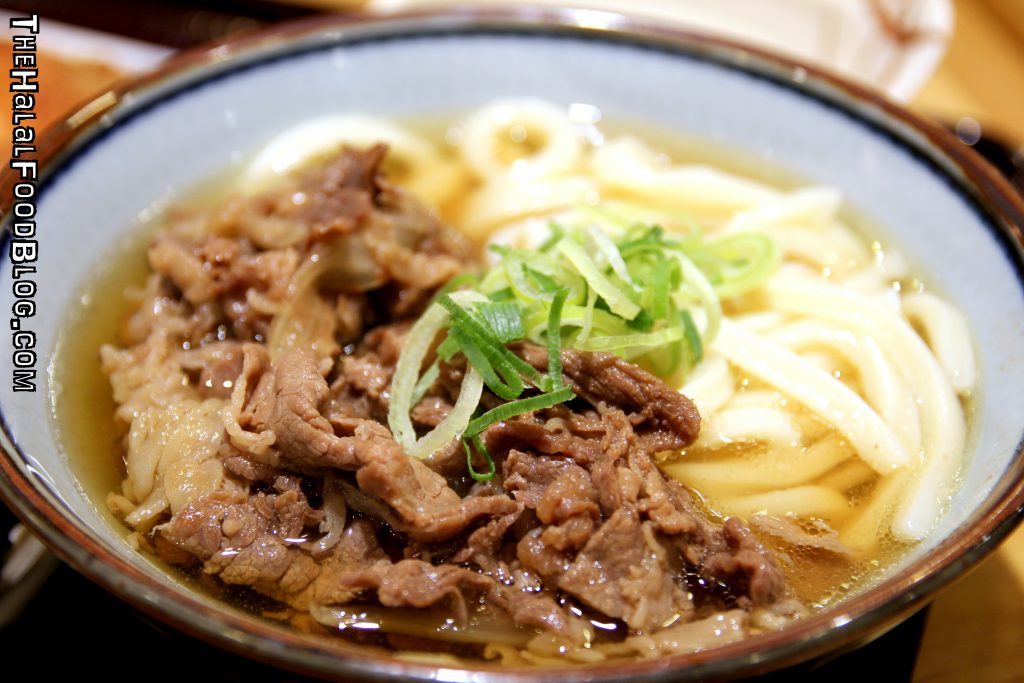 Definitely had to try this cos it looked so good on the board!
So what you'll get is a bowl full of Udon then the pile on the sliced beef woooooooooooooooooo!
Then you go to this dispenser and fill up your bowl with as much broth as you'd like.
Wah let us just confirm what the pics are suggesting – POWER LAH THIS UDON!!
The broth was so flavourful and hearty. Paired perfectly with the Udon and the tender slices of beef. Good ol' beefy goodness at its very best if we do say so ourselves. Some more weather was cold and after a long flight – nothing like a hearty serving of Udon like this!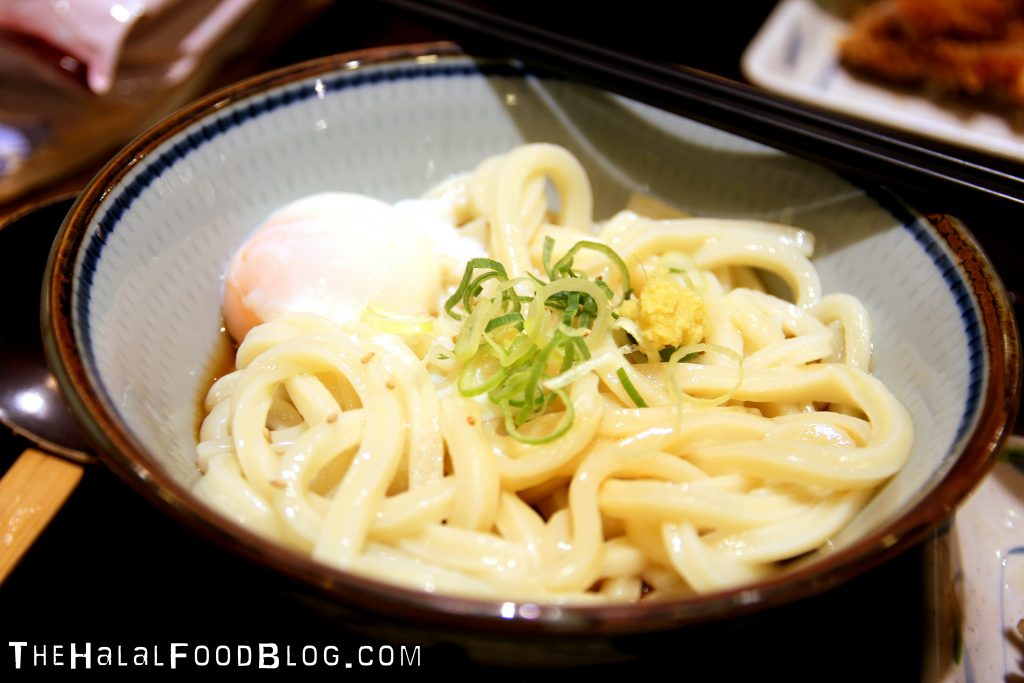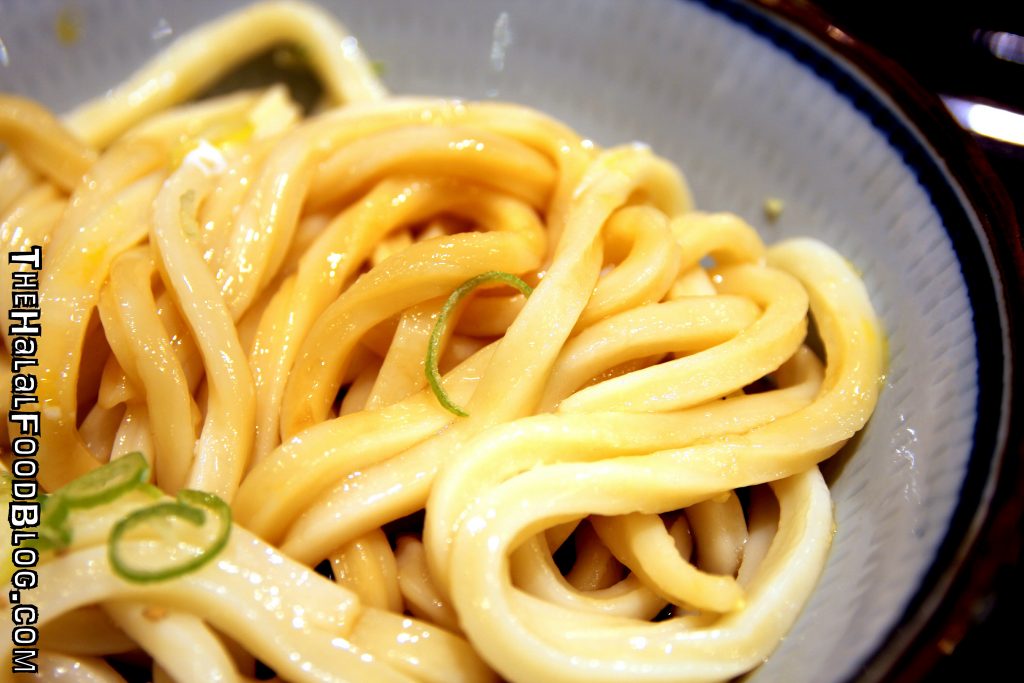 I went for what was seemingly a simple serving of Udon but sometimes the simple ones also sedap!
I skipped adding any beef broth to this one because the Udon were bathing in a simple 'kakejiru' broth which is basically made up of Dashi and soy sauce. The simple broth went perfectly with the Udon noodles that were springy and had a great bite. Ended up slurping up to Udon to show my approval 😛
The only other component to this dish was a soft boiled egg… JENG JENG JENG!!
FUYOH is that a perfect soft boiled egg or what!!!
Mix it all up and you have yourself a super satisfying bowl of Udon for sure.
Besides those two Udon dishes we featured, they have others too like Kitsune Udon, Curry Udon and Cold Udon among others. But of course, you still have the option of picking up a few extra sides to compliment your meal.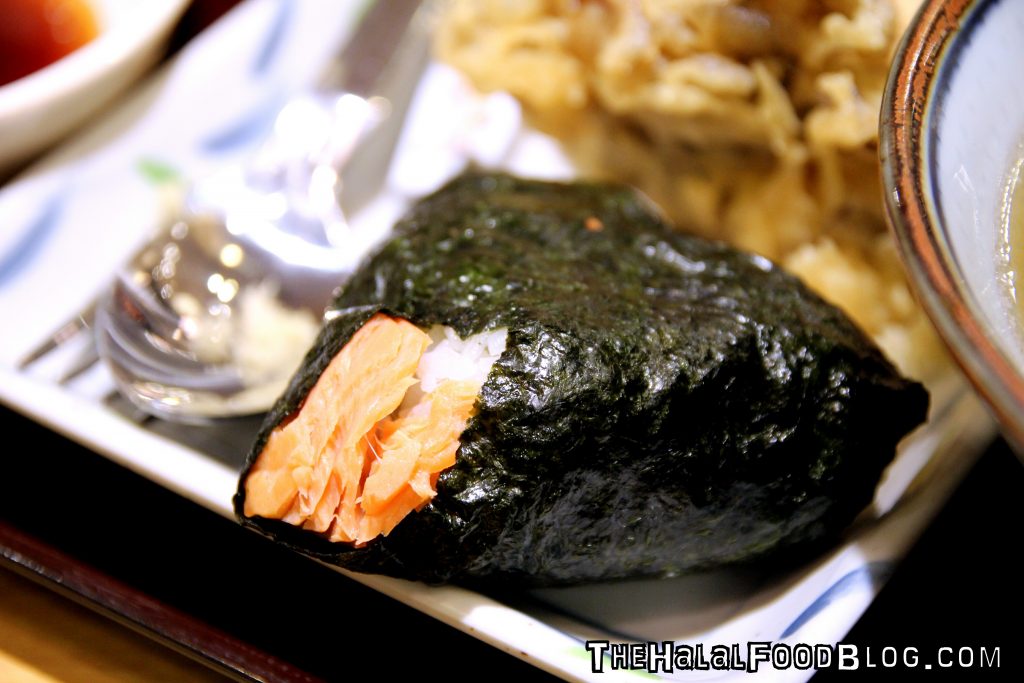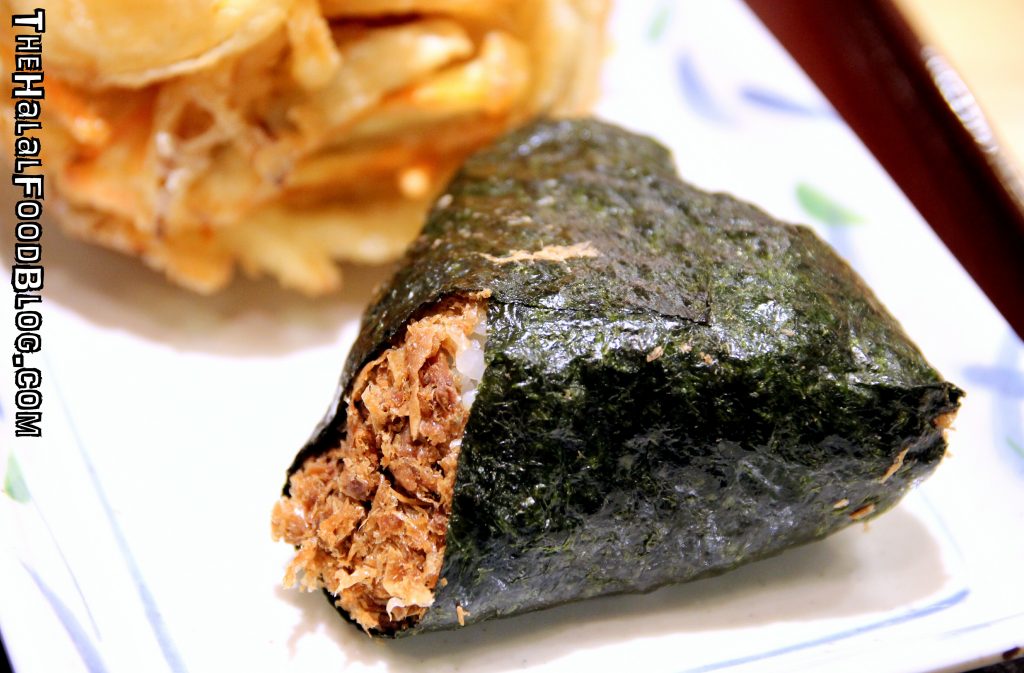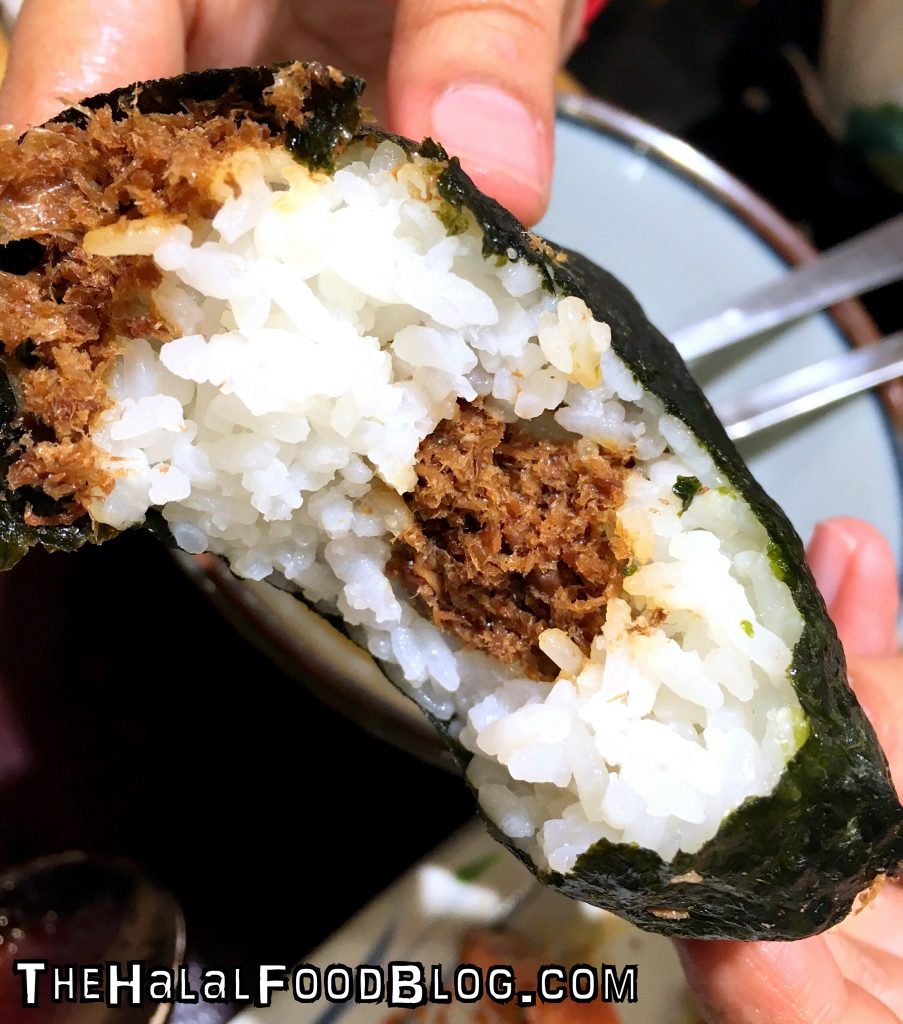 There were a few choices for Onigiri aka the Japanese Rice Balls. These are basically rice with some fillings and wrapped in seaweed. Traditionally triangle-shaped. I actually classify them as more of a dumpling maybe? But anyways, they are definitely a tasty snack and you can normally find a few different fillings to choose from.
We chose the Salmon and also the Bonito for ourselves. Definitely very tasty and if the Udon did not fill you up, the Onigiri will definitely help you on the way LOL! the Bonito Onigiri was actually a little (errr a lot) on the salty side but I loved it because I love salty food. Plus you can see that the filling is actually very generous.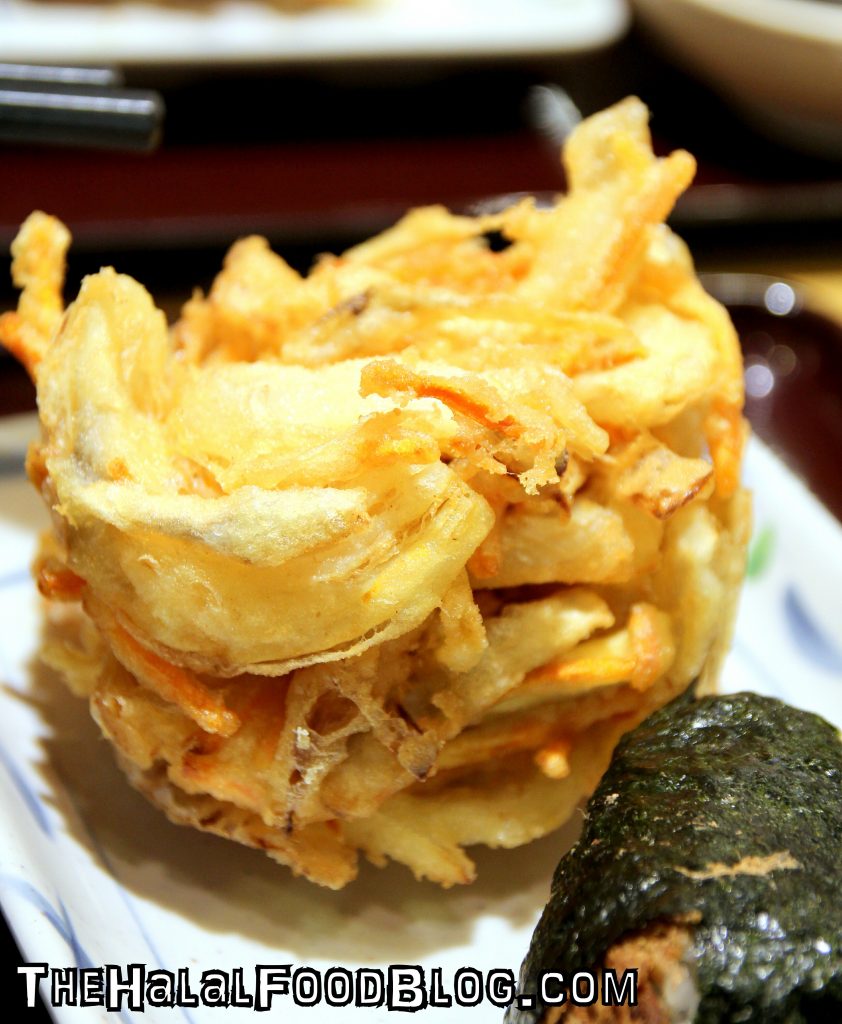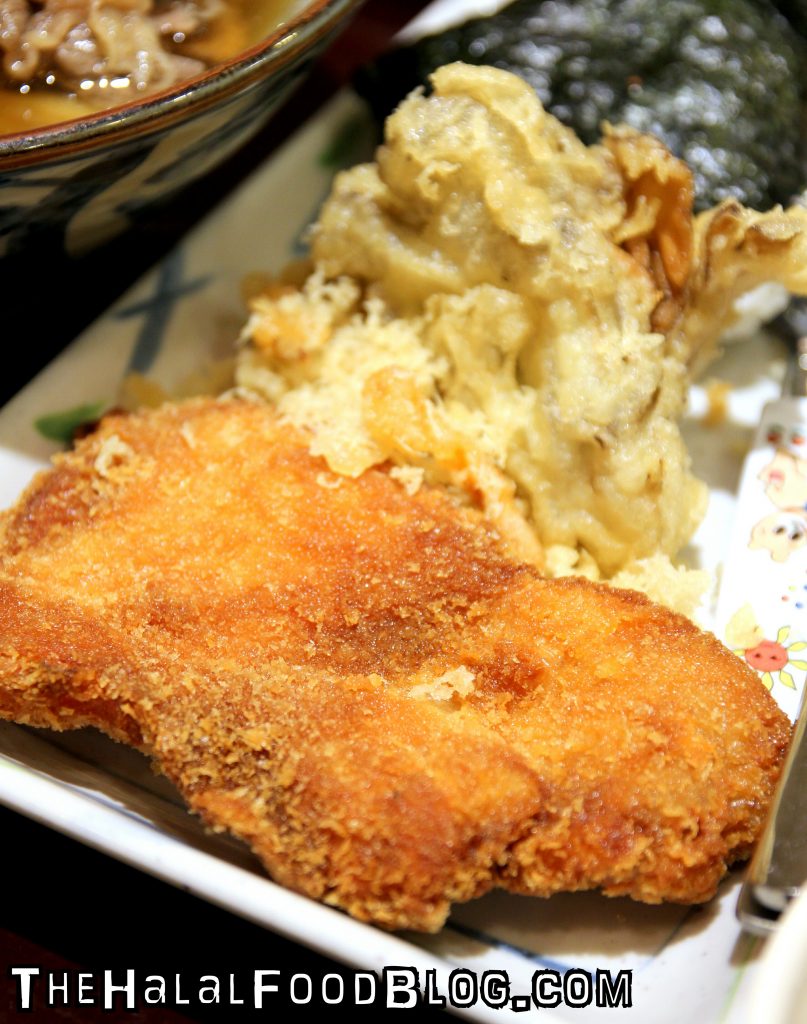 If there is one side dish I'd recommend as a MUST HAVE at Kineya Mugimaru, it'd most definitely be the Chicken Katsu. Breaded, crispy, tasty chicken cutlet. Soupy Udon + Fried cutlet = so much win!
The Mushroom Tempura was not too bad also but the Kakiage (Batter-fried carrots, eggplant, onions) was definitely a no-go for me. To make it even worse, they didn't have any teriyaki sauce to go along with the Kakiage :\
The sides including the Onigiri cost ¥130 each by the way.
So as you can see, definitely plenty to choose from and a lot of our readers concur that this is a great choice as a first stop when you arrive at Narita Airport but we think maybe we'd better point out a little detail…
So this sign greets you at the entrance and points out a disclaimer that although the food part of Kineya Mugimaru is Halal, they do serve alcohol on the premises (which is via a dispenser and into disposable cups).
This reminds us a lot of eateries you might come across in Malaysia where restaurants can be certified Halal but still serve alcohol on the premises. Well, I guess it's little wonder that a consultancy firm was engaged in the certification process after all.
Well, there you have it folks – our first post in a series of our time in Japan!
Look out for more in the coming weeks! ありがとうございます!
Kineya Mugimaru is located within a food court called 'Sky Food Court'. This is located at Level 5 of Narita Airport Terminal 1. Refer below to the full details including the listing for Kineya Mugimaru at Halal Gourmet Japan (a site by Halal Media Japan – your #1 source of information for Halal in Japan!)
Narita Airport Terminal 1
Level 5F 1 Furugome, Narita-shi, Chiba 282-0004
www.halalgourmet.jp/restaurant/680
Operating Hours: 7.30am til 9.00pm (Last order 8.30pm)
All information (including prices, availability of item on menu and Halal status of establishment) are accurate at the time of posting. All photos used in this site are property of The Halal Food Blog unless stated otherwise.