We were pretty excited when we heard that Kaw Kaw SG was finally certified Halal awhile back. It had gained quite a reputation for having some pretty good food on the menu and pretty chillax and laid back atmosphere including live music at times too.
Sounds good right? Well I happened to passing by one afternoon (after a failed attempt at eating somewhere else on my list LOL) so I decided what better time than now right?
Well, the first thing I noticed when I stepped in is what a large space it was! I could see why people said it has a nice and laid back vibe with pretty original and unique decor and furniture that you could even buy too along with the artwork in the place. But more on that later, for now it's on to the food!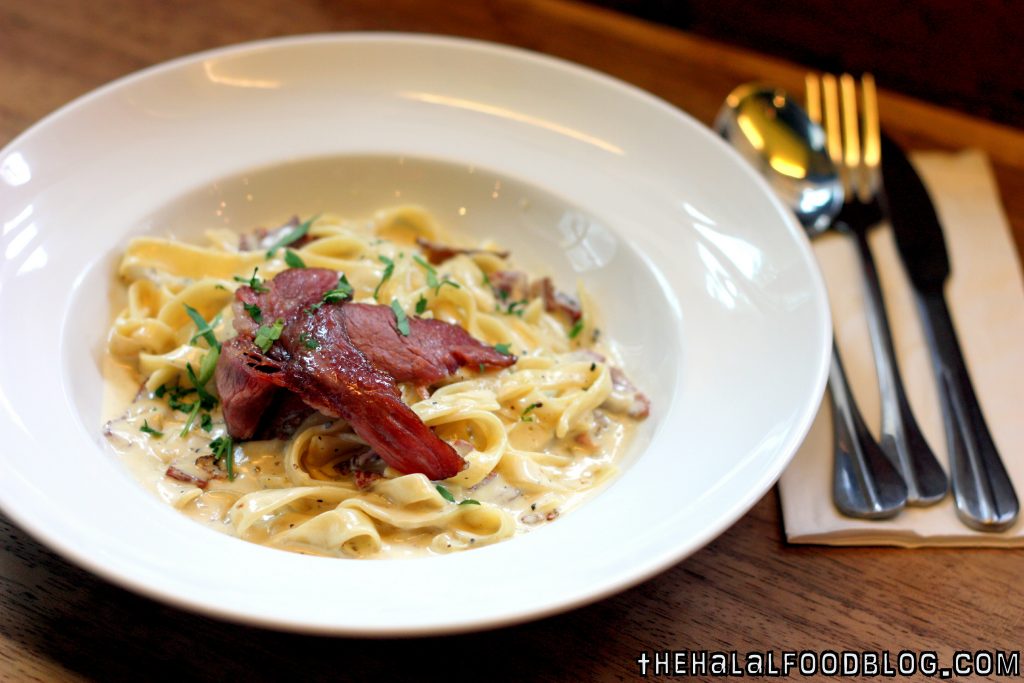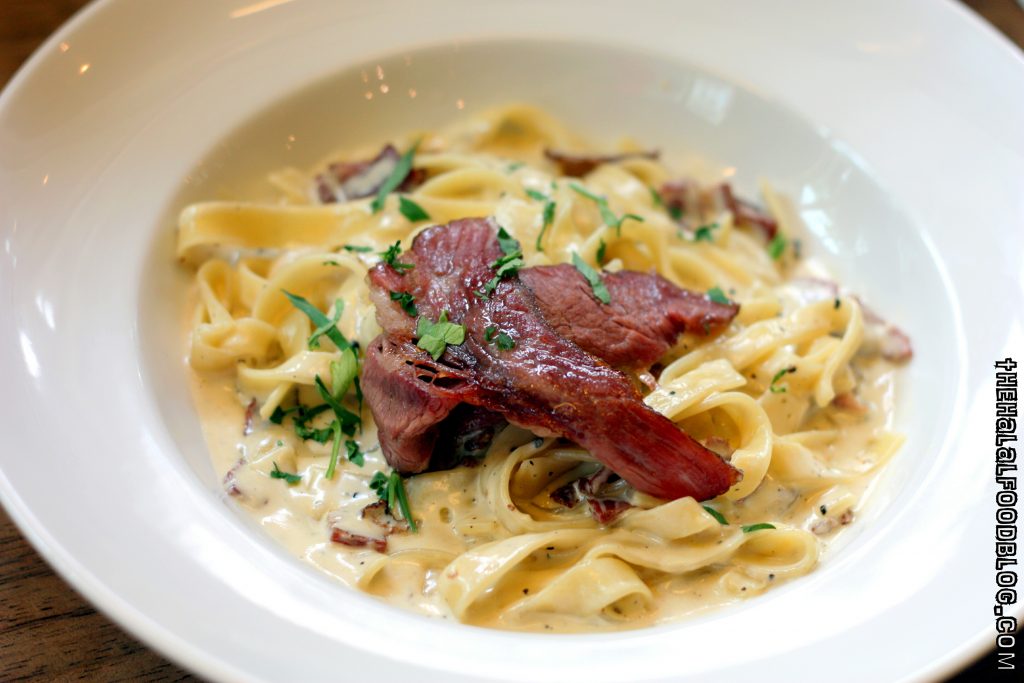 The menu was REALLY quite extensive and I honestly had trouble choosing what I was gonna order. I mean, they had everything from pastas to burgers (11 types of burgers!!), salads, sides and mains that included classics like Steak and Fish and Chips too.
Luckily for me, the super friendly staff was on hand to make some recommendations for me and eventually, I settled on something that seemed like a pretty good choice.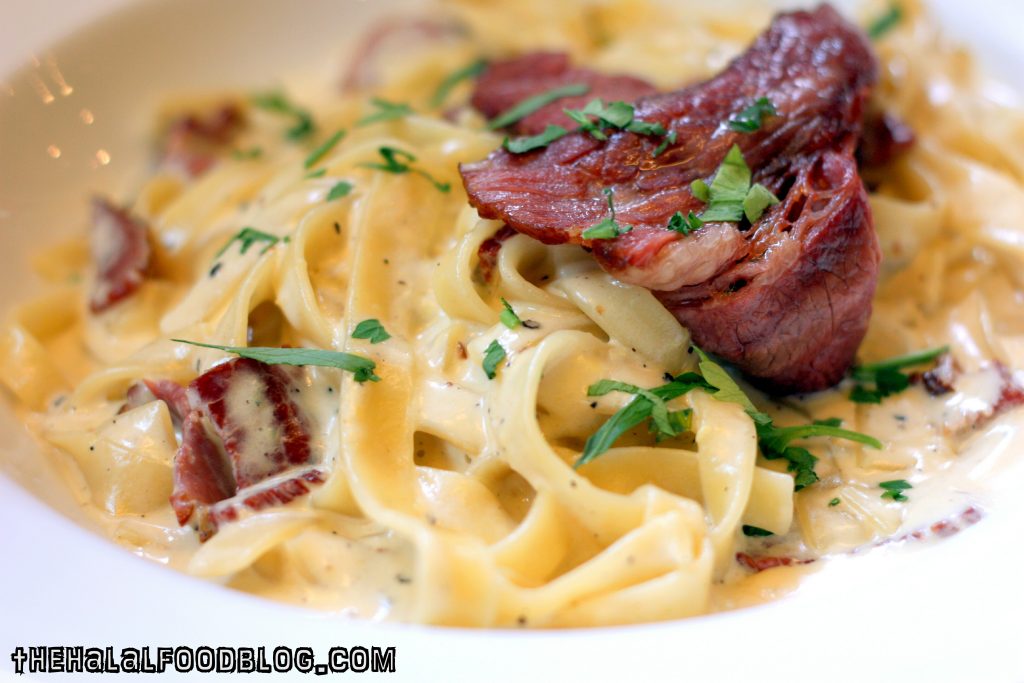 When it comes to pasta, the three most common types are Alio Oglio, tomato sauce-based and creamy. They have all three on the menu at Kaw Kaw SG but if you're like me, you're going to give priority to the creamy pasta for sure LOL
Well, I think this is one of those times I wish I had ordered either the Aglio Olio or the tomato-based pasta LOL
First of all, this dish was salty. And believe you me, I REALLY REALLY loved salty food. But if I say it's salty, means it's too salty LOL I'm being serious here. It wasn't salty to the point that it was not edible because I did finish it after all but I think maybe the salt level here was underestimated.
Next thing was the actual pasta noodle itself. It was kinda on the thick side (I'm not sure if they make it themselves in-house or not) and because of this, it was a little under-cooked. I guess because of the thickness of the noodle, a little bit of a longer cooking time would probably have helped it along to the Al dente point.
I think the under-cooked pasta bothered me more than the saltiness of the dish LOL
But like I said, I love salty food right.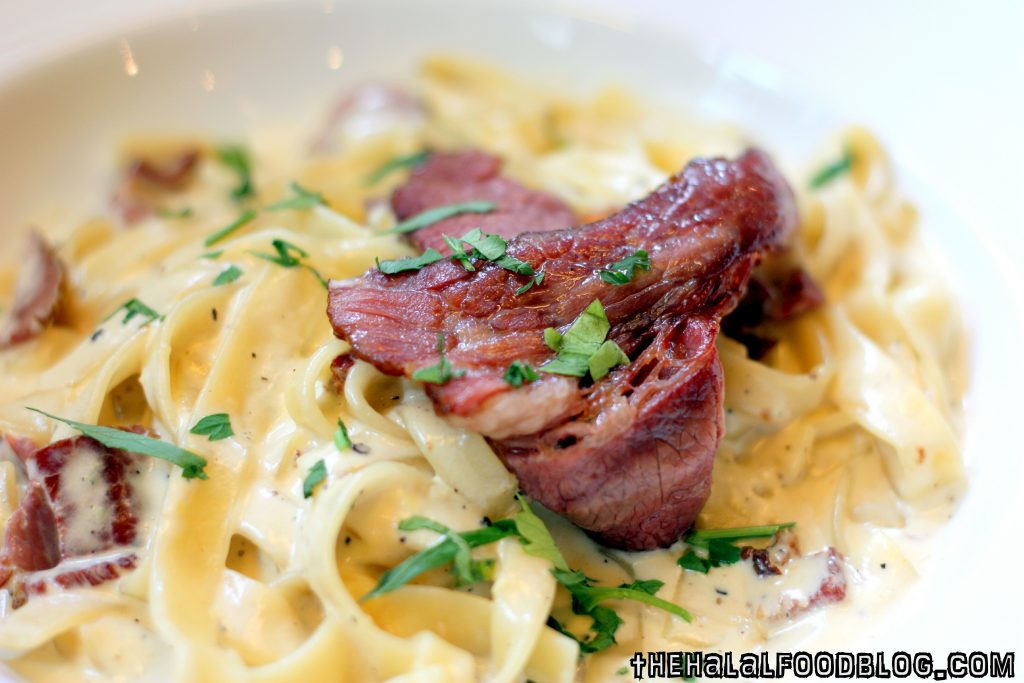 One of my favourite ingredients – stringy beef Bacon.
So good you can even eat it on its own! LOL
Pretty generous with the beef bacon in this dish which is always welcome but I guess this is probably why the price tag is also on the high side. And now that I think about it, maybe this is why the dish is pretty salty. After all, the beef bacon will definitely have its own salty edge to it so when mixed in with the pasta…. Hmmmm….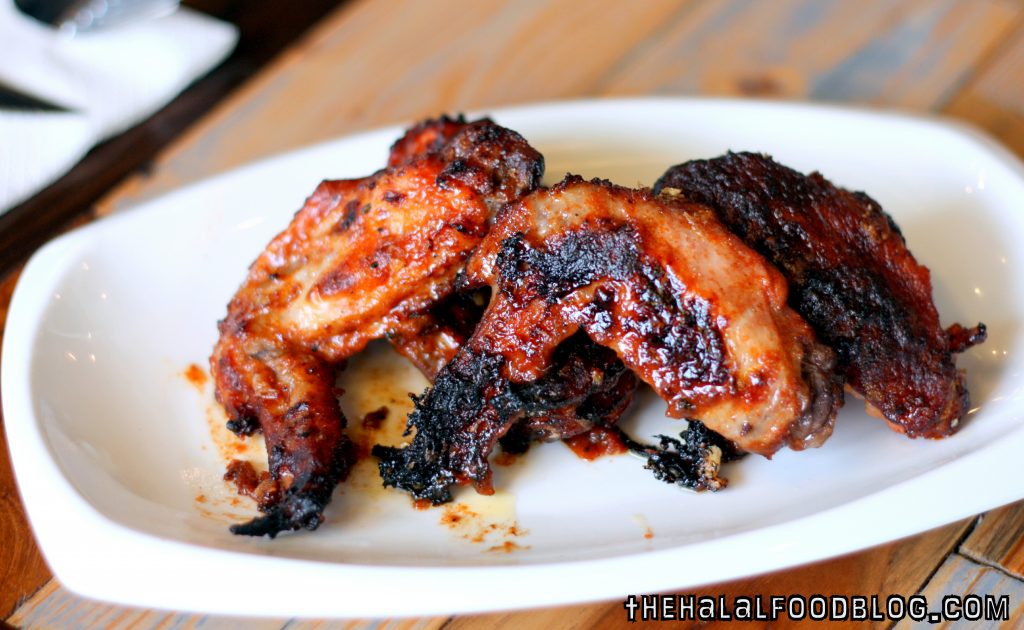 I wasn't going to have just one dish on my first visit to Kaw Kaw SG right? So obviously I'm gonna order a side dish! Plus I was looking for more chicken wings dishes to add to our upcoming special Chicken Wings post (yeah you heard it here first!)
And then I saw it on the menu – Castro Chicken Wings!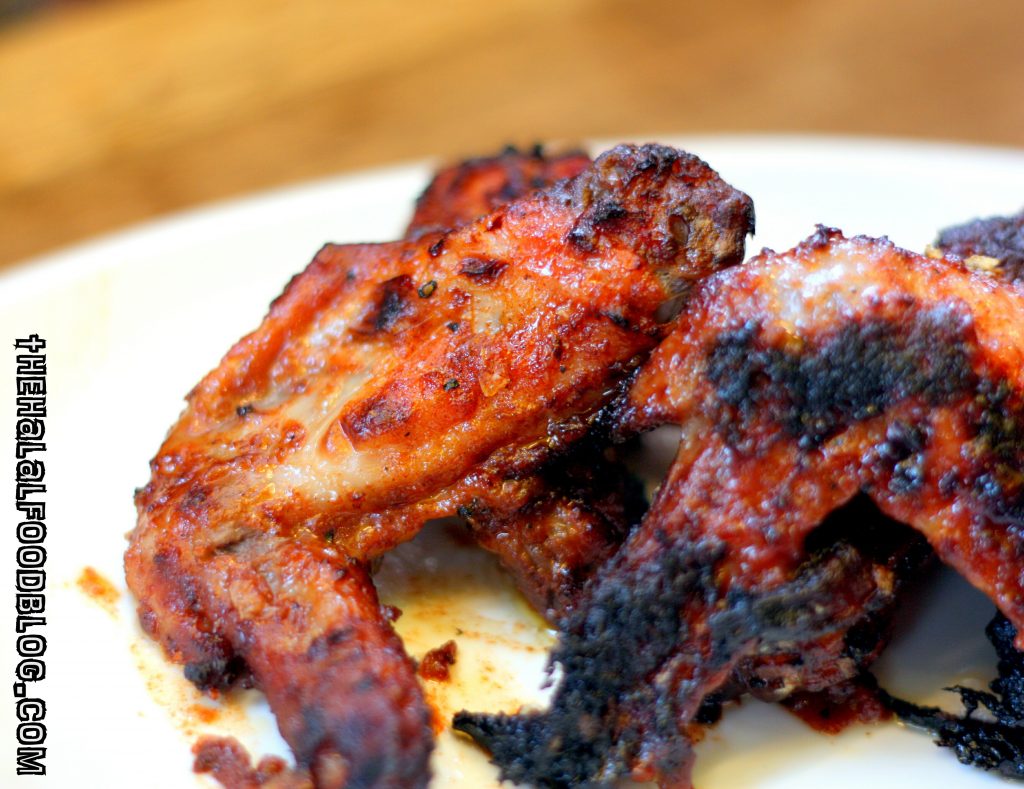 I have no idea why the call it Castro Chicken Wings to be honest.
At first, I thought it might be because the wings had some Cuban flavours to it but I didn't really get any. I tried asking the staff but when they confirmed the basic ingredients which include spices and honey and the likes, I was still trying to figure out the reason for the unique name.
Oh well, maybe the chef's name is Fidel or something LOL
The wings itself were not bad. They had a good flavour which was a mix of sweet and  savoury from the spice rub. The char on that chicken skin also gave it a good smoky flavour. I do wish they'd dressed up the presentation a little though. Kinda bare with just the wings on the plate that way.
$10.90 gets you 3 chicken wings which I guess some might consider pricy as well but I guess it'a good for sharing.
Other Sides include fries like Chili Cheese Fries and Sweet Potato Fries plus look out for finger foods like Fried Portobello Fingers (!!!), Butter Mussels and Salmon Canapes.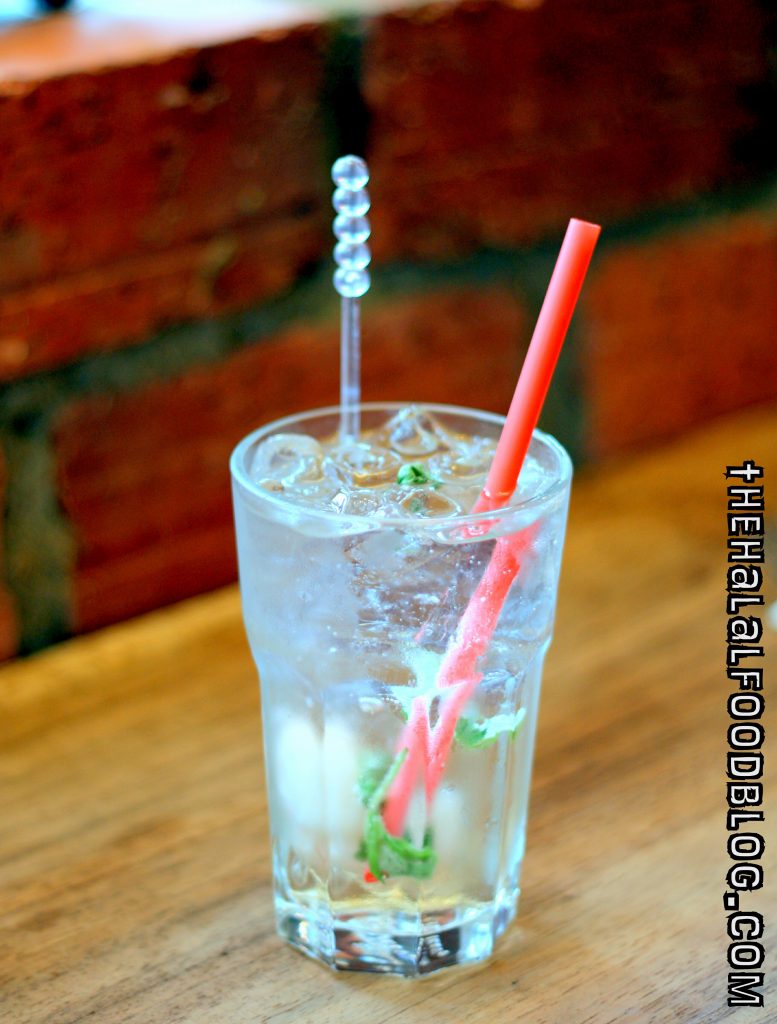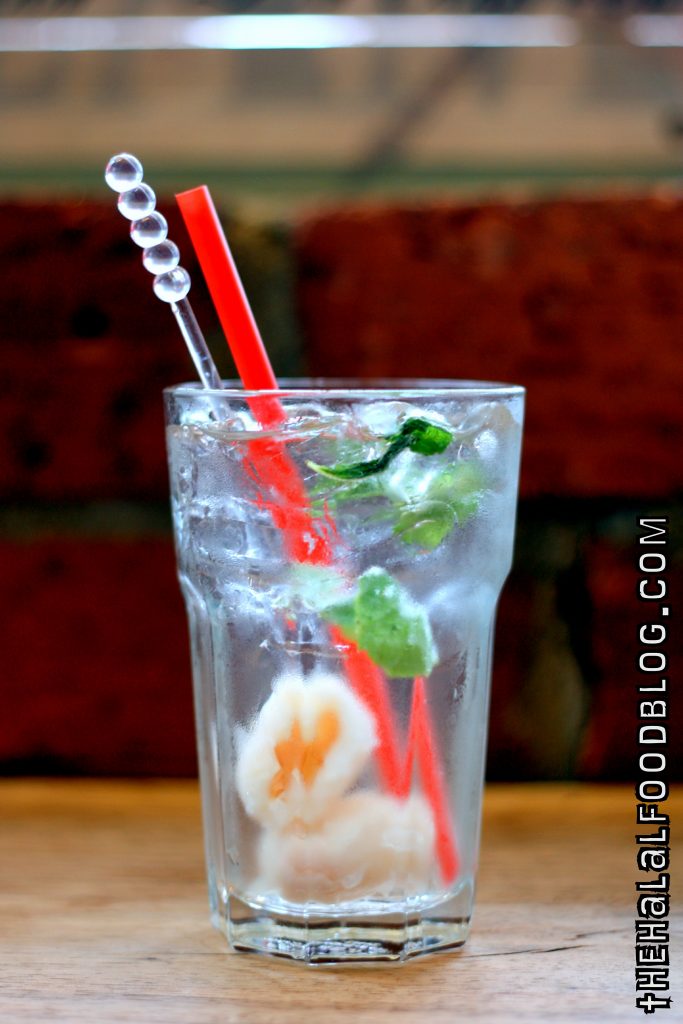 Another recommendation from the staff was the Cooling Kit which was very welcome because it was was paticularly scorching hot afternoon that day.
Lychee is served in a nice fizzy mixture with mint leaves for that extra refreshing touch.
And before you complain that the drink is bland, be sure to stir it up because the lychee syrup is at the bottom of the glass LOL yes yes we always forget to stir.
Adam's Verdict:
Beef Bacon Carbonara 2.5/5 — Castro Chicken Wings 3/5 — Cooling Kit 4/5
As you can see, it's a REALLY big space and definitely the kind of place you can visit with a group of friends to enjoy some good food and good company. I'm not too sure what the schedule is like but you can check out their website Facebook page to see when the live music acts are performing (weekends I think?)
And yes, you will see a notice that says that the furniture and/or the artwork in the place are all for sale so it's not just the food you might end up buying when you visit LOL
And want even more good news? Kaw Ksw SG is Friends with HalalFoodHunt.com!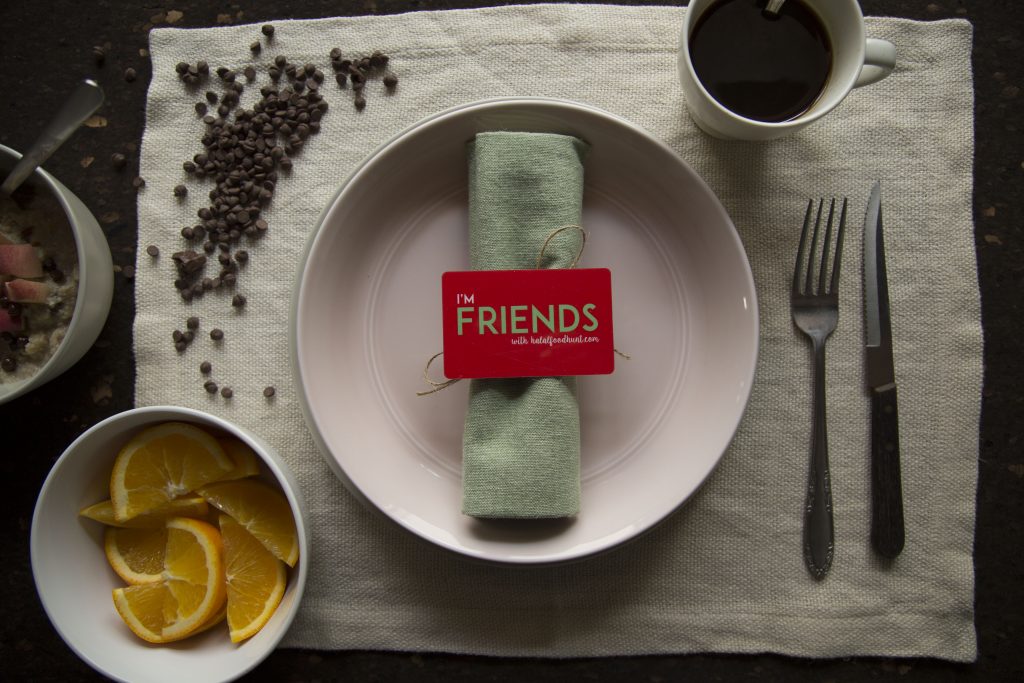 The Friends With Halalfoodhunt.com Rewards Card brings you a magnitude of benefits when you dine and choose Halal! Be it discounts, 1-for-1 deals or special offers, this is the card to have that will make your dining experience and even more enjoyable one!
Dine at Kaw Kaw SG as a Friend With Halalfoodhunt.com, enjoy 10% off your total bill!*
*Terms and Conditions apply
As a valued reader of The Halal Food Blog, you can enjoy 10% off the sign-up fee!!
Just enter the special code 'THFB16' at the check-out when you sign-up for the Friends With Halalfoodhunt.com Rewards Card and you'll be on your way to enjoying great deals!
Sign up for the Friends With Halalfoodhunt.com Rewards Card today!! CLICK HERE!

You can make reservations for Kaw Kaw SG via Chope!
Just click on the BOOK NOW button and  you're one step closer to enjoying all the yummy food at Kaw Kaw SG!
So make plans and we will see you again at Kaw Kaw SG because there are so many more things on the menu we wanna try!
28 Aliwal Street
Tel: 6444 8349
www.kawkawsg.com
Facebook: www.facebook.com/Kaw-Kaw-SG-792979937499278
Instagram: @kawkawsg
Operating Hours:
12.00pm to 11.00pm Mondays til Thursdays
3.00pm to 11.00pm Fridays til Sundays

All information (including prices, availability of item on menu and Halal status of establishment) are accurate at the time of posting. All photos used in this site are property of The Halal Food Blog unless stated otherwise.
---
Kawkaw SG offers 10% off for all FRIENDS Card holders. Valid only on weekdays.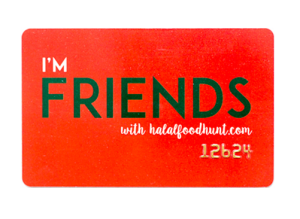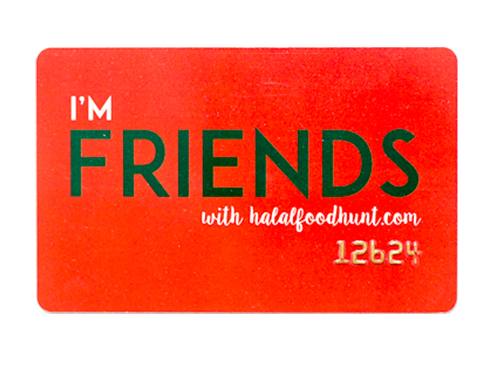 Get your FRIENDS with halalfoodhunt.com Rewards Card now at only $18/year and unlock discounts at over 60 halal restaurants, cafes, bakeries including online e-commerce businesses in Singapore. For a full list of where you can enjoy your card, click here.