Hey everyone! There's a new fast food place in town!
It is located right in the heart of Bugis which means it's really convenient to get to when you're in the area. In fact, you've probably already seen it before!
Oh yeah that's right. We're talking about Jinjja Chicken!
And what do they have? Korean Fast Food. And it's popular foods in Korean culture that apparently so many of our readers are familiar with it all! But of course, we all jakun lah LOL
Their main specialty is actually chicken.
Like duh, you can tell by the name right? LOL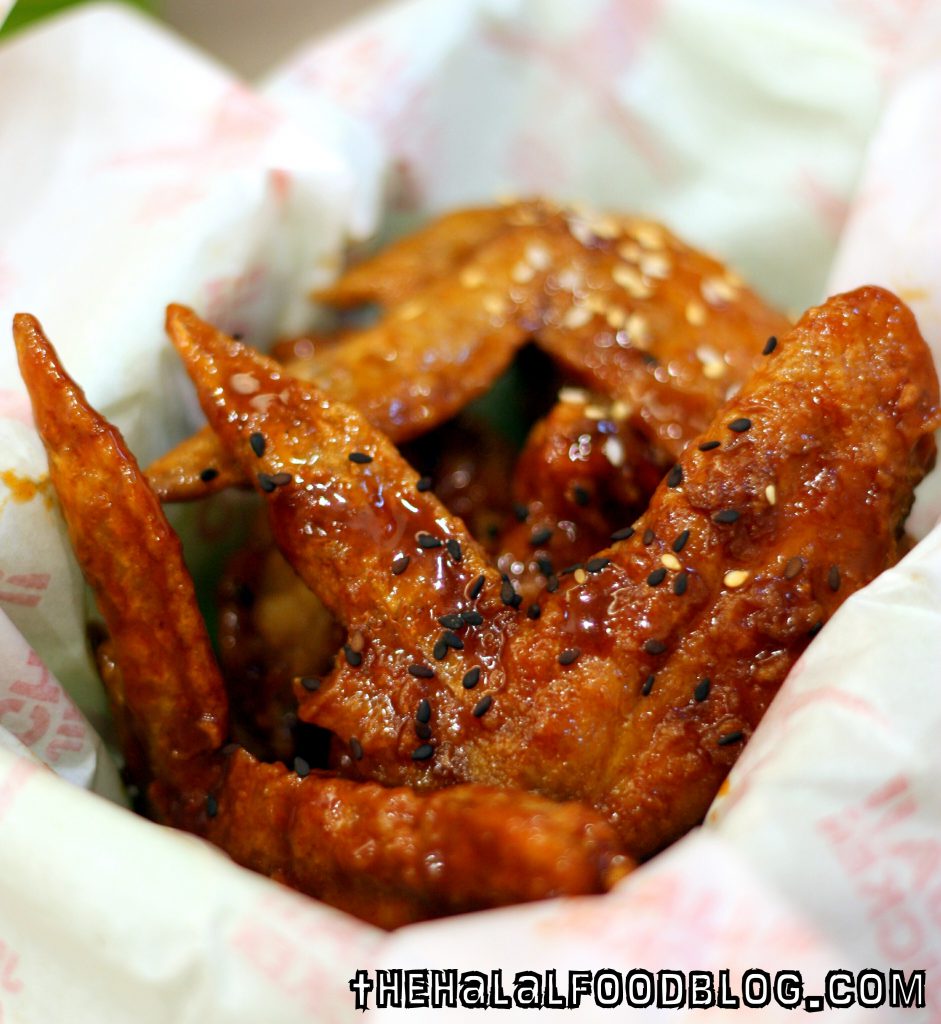 They have Korean Fried Chicken! And apparently the Jinjja Wings are as authentic as they get?
There have been sooooo many chicken joints opening in recent times and they all have their own unique points but this would actually be the first time we were trying 'Korean' fried chicken.
Like I said – we all jakun lah.
They have a few types to choose from and they are differentiated by their 'spicy' level.
The Yangnyeom is the spicier variety. It's not exactly 'burn your mouth off' spicy but you can detect a bit of the heat there. Anyway it's not meant to be the super spicy type of wings. You can enjoy the flavour of the chicken and the glaze without reaching for your drinking in between every bite LOL
They also have the Soy Garlic which is on the milder side and has a great salty edge to it. Quite similar to something you might get at other chicken joints but still very satisfying!!
And in case you have not noticed, the 2 different types of wings are identified in a very unique way!
The Yangnyeom (spicy) has black sesame seeds while the Soy Garlic has white sesame seeds!
And did you know that 'Jinjja' actually means 'Really' in Korean? It's REAL chicken!
And they get a lot of their ingredients direct from Korea!!
Anyways, you can of course choose to mix the 2 flavours together to maximum enjoyment.
The wings go at $7.90 (6pc), $14.90 (12pc) and $19.90 (18pc). They also have special party packs with 50pc and 100pc wings at a special price. Perfect for your party or gathering! Or in case you're feeling really greedy! LOL
But that is not all…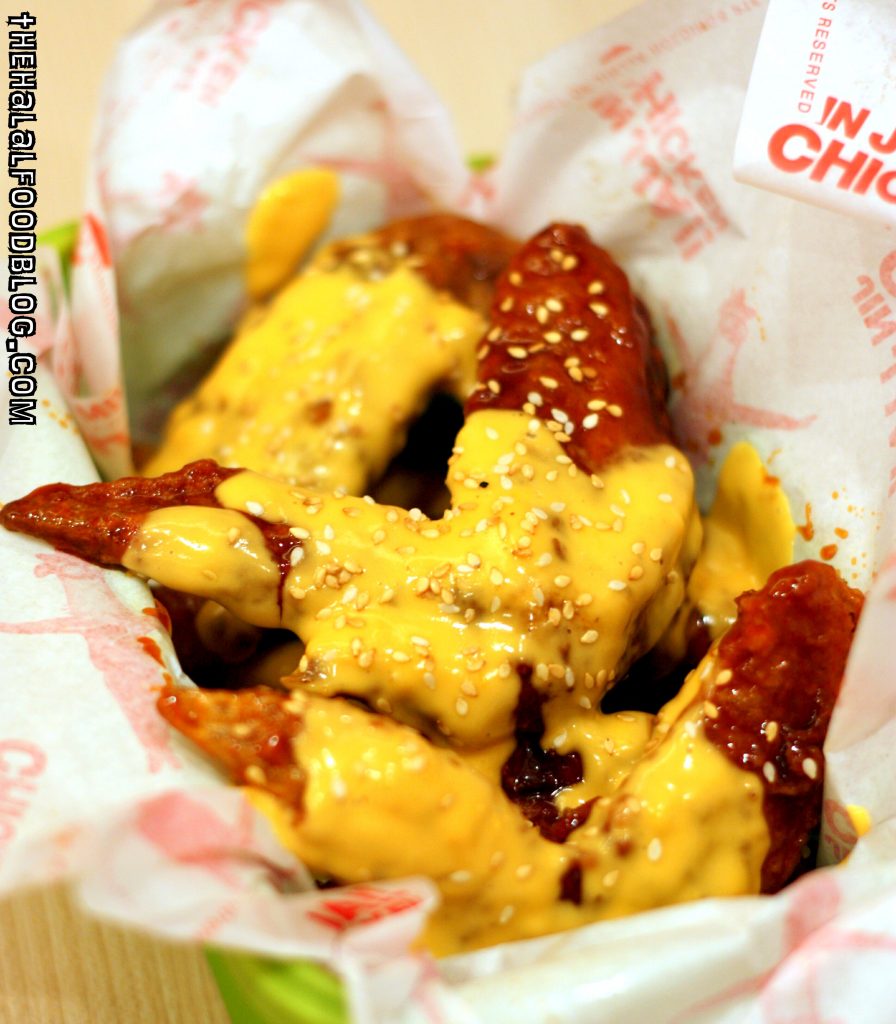 There's a Korean craze about adding cheese to their food. And as weird as it sounds, no complaints from us because we LOVE our cheese right! And at Jinjja Chicken, you have just that option!
For an extra $1, they can add cheese sauce to ANYTHING you order!! No joke!!
And a natural choice seemed to be the chicken wings!!
The wings were delicious but it's really a level up with the cheese sauce!!
Just imagine that chicken with the sauce (be it the Yangnyeom or the Soy Garlic) all covered with creamy cheese sauce! Power!
And this is not Nacho Cheese let us just point that out. So it doesn't have that distinct tang that you'd get with Nacho Cheese (that's the one you eat with Nachos like duh) but this one is the creamy one that tastes of pure cheese!
I know it might sound weird to a lot of people (including us when we first learned about the cheese phenomenon in Korean food culture) but you really have to try it to know what we mean. Anyways, for an extra $1.00, this is totally worth it!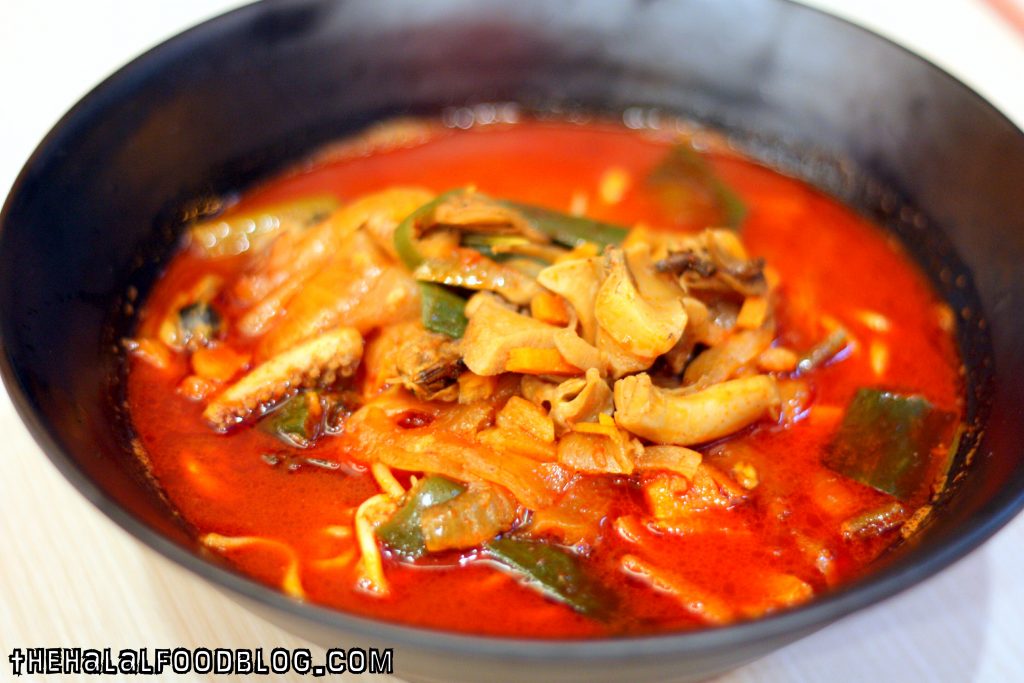 They also have a few noodles dishes on the menu at Jinjja Chicken. The first of which seems like a good choice if you're looking for something with a spicy kick!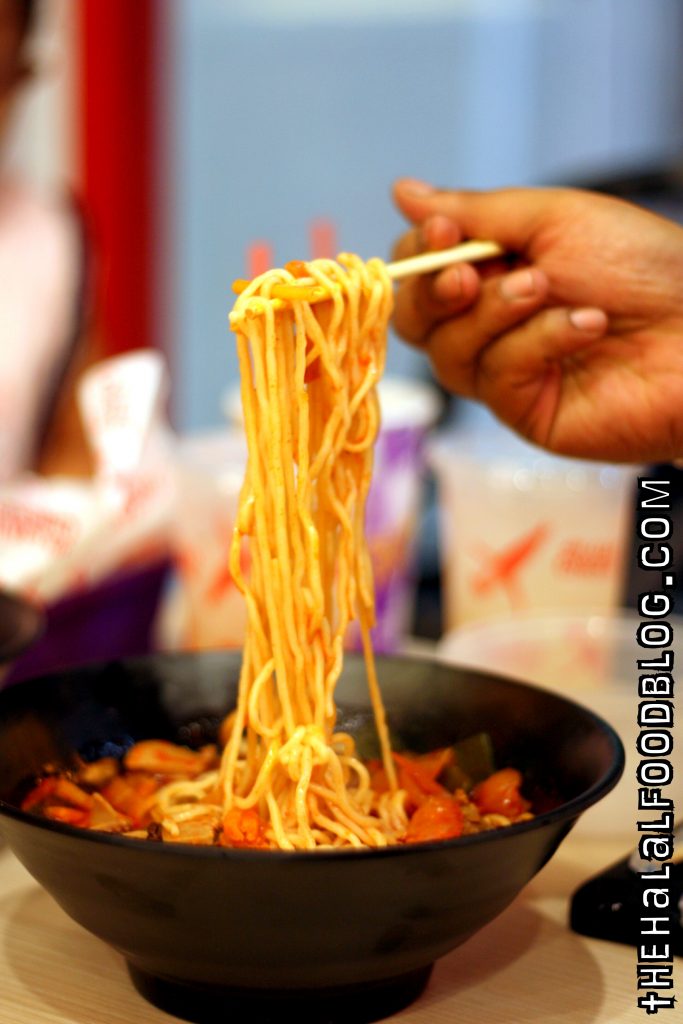 Ramen noodles bathe in a spicy seafood broth that really has a good flavour from all the seafood and spices that go into the many hours of preparing the broth itself.
You will find bits of seafood in there too like clams and mussels for good measure.
The Ramen noodles are springy and a good filler-upper. Take big mouthful of noodles and broth together for maximum flavour!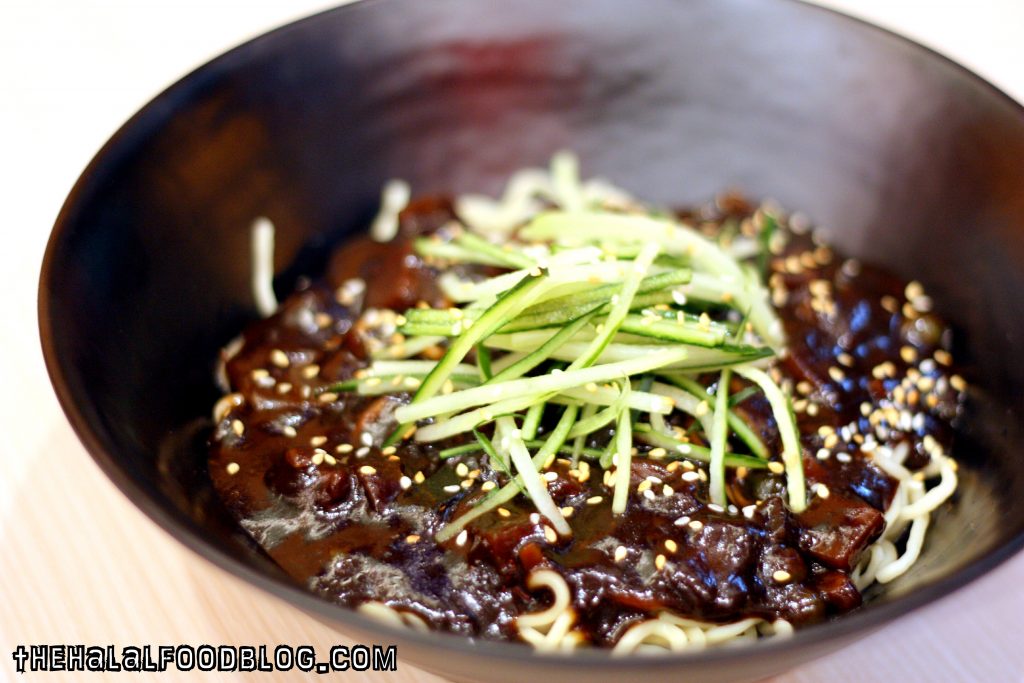 Here's a very unique dish with a very unique story that got to know about when visiting Jinjja Chicken!
But more on that later okay hehehe
So you have Ramen Noodles but the sauce is actually very special. It's made of salty soybeans in a special recipe so you get this kinda sweet-salty flavour in the sauce. We call it more of a sauce because it's thick instead of soupy so you might actually consider this a 'dry' noodle.
Traditionally, this dish has some meat element to it (like minced chicken etc) but the version at Jinjja Chicken only has some potatoes and radishes and this dish is suitable as a vegetarian option!
So here's that unique story – apparently on a special date in March, singles in Korea actually commemorate that date as 'Black Day' or 'Singles' Day' (kinda like the opposite of Valentine's Day) and they will eat this noodles to mark the event. I guess it's something that is incorporated into modern popular culture. A lot of our readers actually seemed excited to see this on the menu at Jinjja Chicken so I guess it might have been featured on some Korean TV shows!!
Oh and you can also have the Bap (Rice) version.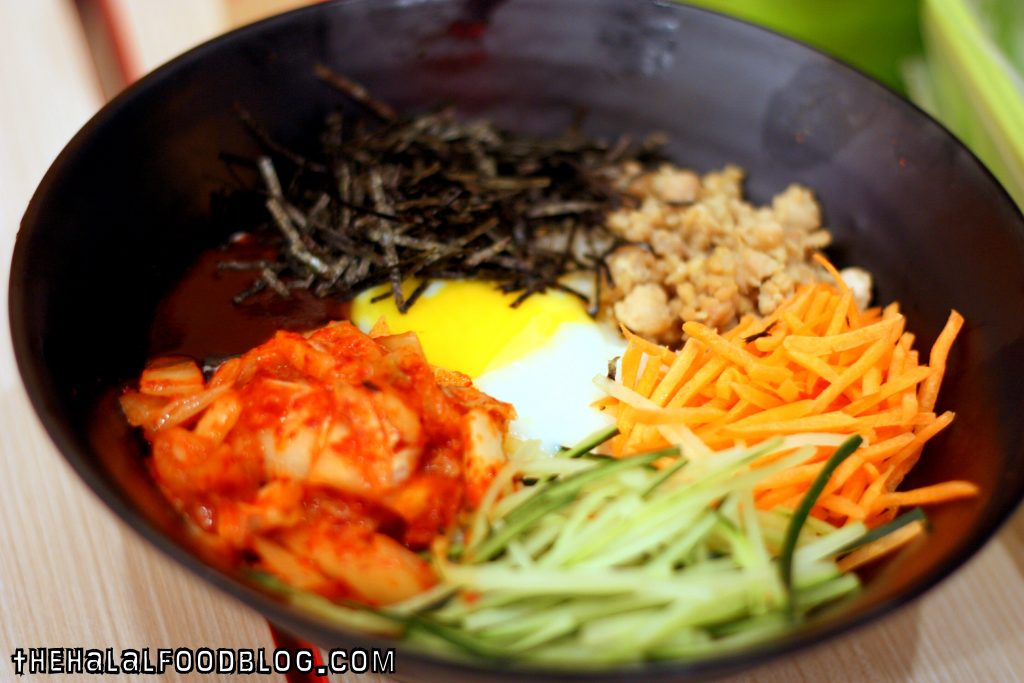 Here's definitely a dish synonymous with Korean food and something that I personally quite enjoy! I guess it's recognizable whenever we spot it and the first thing that comes to mind is "that Korean dish" whenever Bibimbap is mentioned.
A bed of rice lies at the bottom of your bowl and a plethora of goodies adorn the dish in a circle of beautiful colours! Minced chicken, carrots, cucumber, kimchi, seaweed and some sauce to tie it all in. And don't forget the egg!!
Kimchi is always welcome at our table! You can even order a side order of Kimchi at $2.50 for the Small and $3.50 for the Large.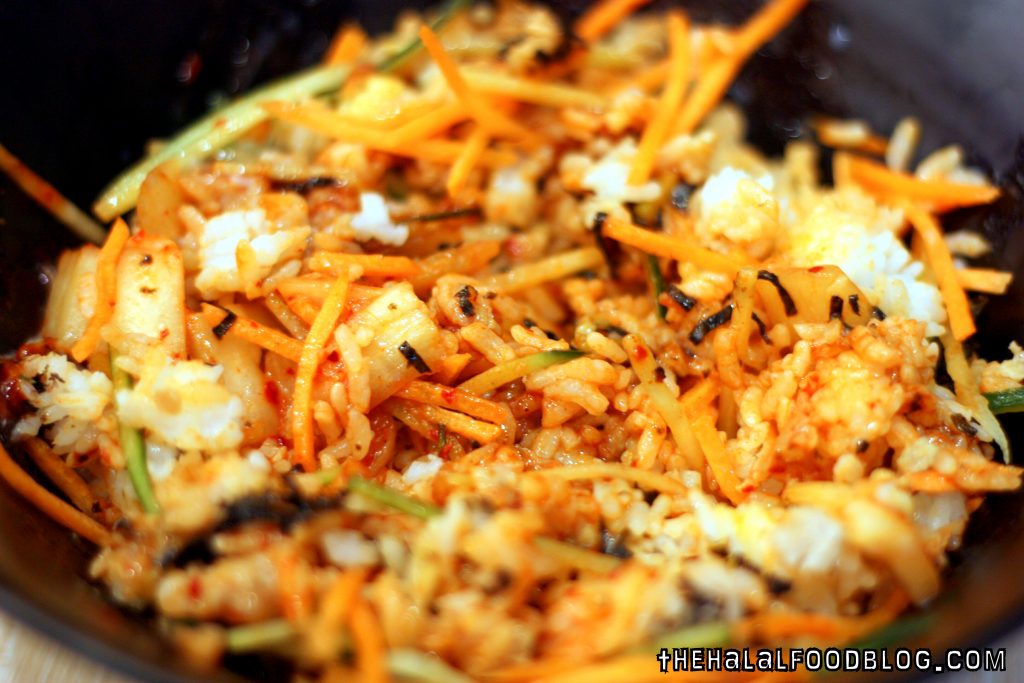 So you mix it all up and dig in!
We've only be able to enjoy Bibimbap at one other place because it's so difficult to find a Halal version in Singapore. The other version is in a hotpot kinda thing so it's hot and technically you're cooking up the components as you eat.
But since this one is in a regular bowl, the fact that it's not hot is something worthy to point out.
And in case you're wondering about the egg, don't worry it's not raw LOL since it's not gonna cook in a hotpot with you, they cook it up a little already so it's perfect for mixing up your Bibimbap.
You can also order a Myeon (noodles) version if rice is not your thing.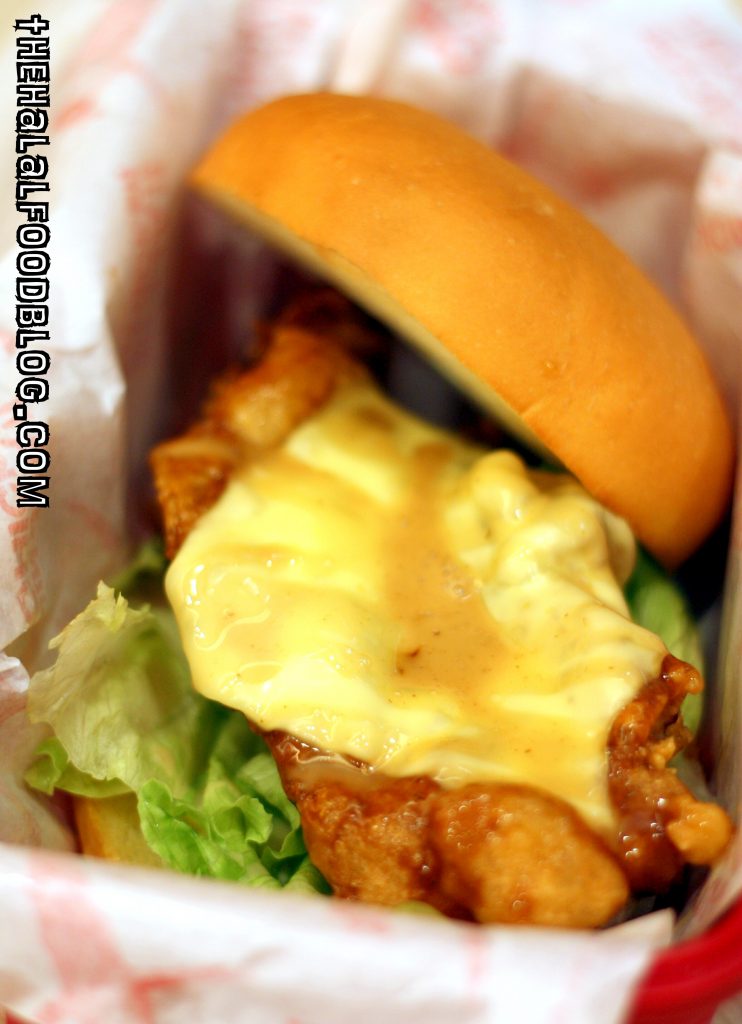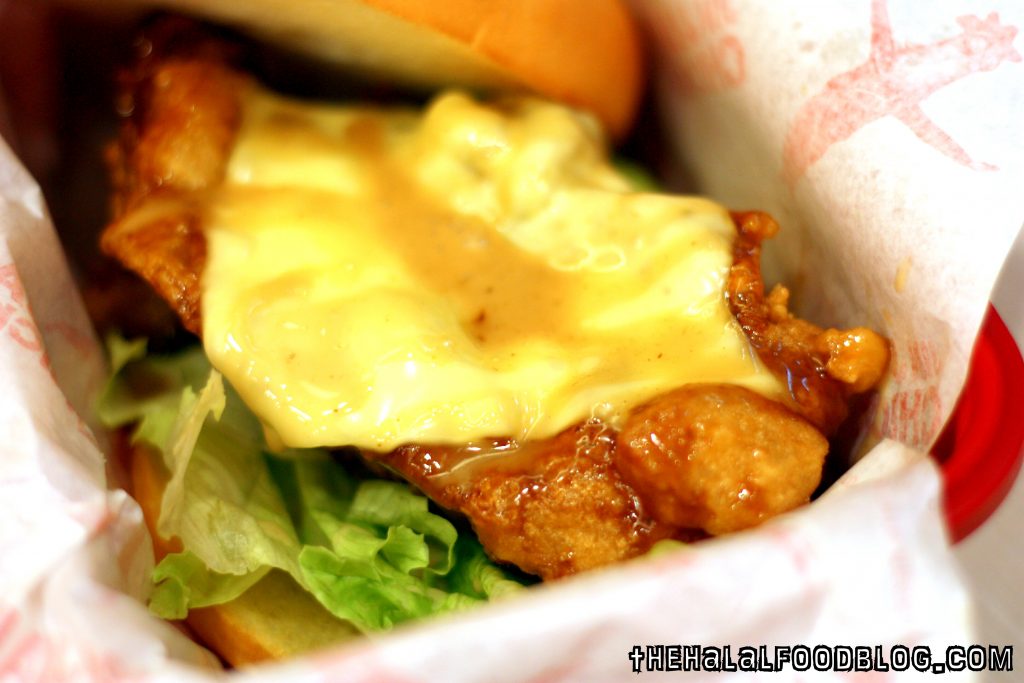 Looking for something to pick up and chomp down on? Why not the Chicken Burger?
It's got a big chicken cutlet-like patty that's been battered and fried to golden crispy perfection. End that with some cheese (melty cheese!!!), veggies and sauce to complete the burger.
Not too bad actually. The batter was good and not too thick so you get to enjoy the chicken too. The sauce went very very well and overall a good bite.
They also have a Kimchi Tofu Burger on the menu if you're looking for something different plus it also happens to be suitable as a Vegetarian option.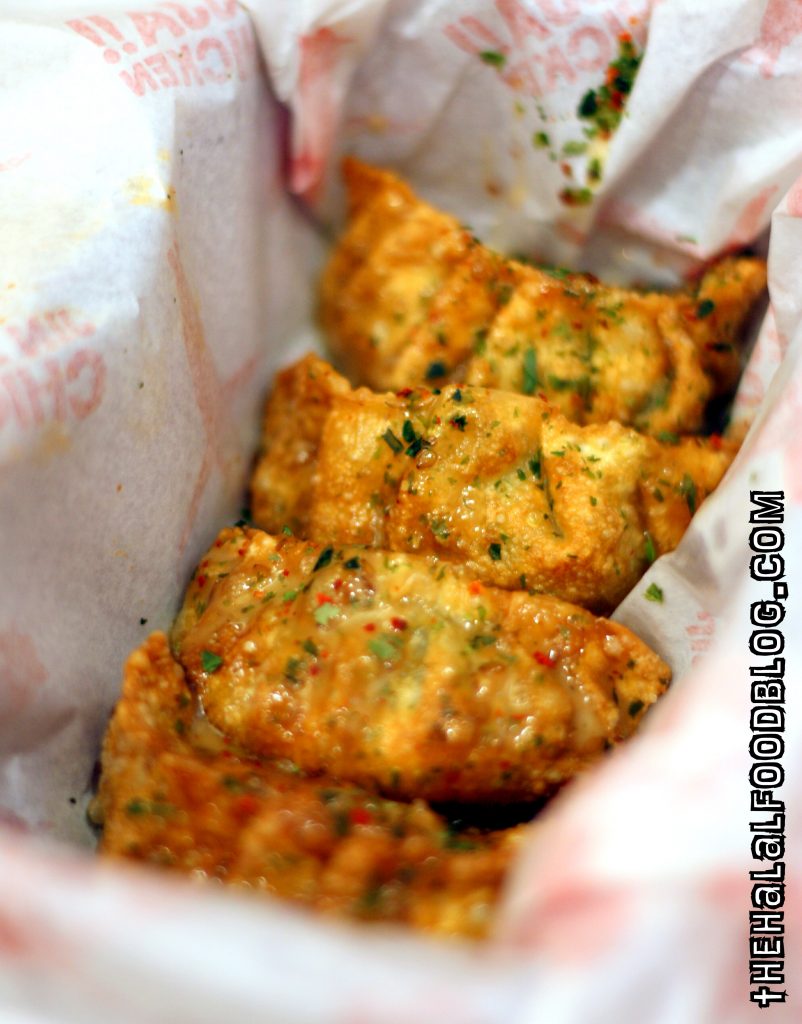 Here's another popular Korean favourite because it's a great and simple snack!
Plus I think they fact that it's deep fried makes a big difference LOL
Dumplings are traditionally boiled or steamed but our favourite is obviously the fried variety.
The Mandu has a great crispy exterior that you're gonna love chomping down on to get that great crisp.
Inside this little parcel of yumminess is prawns and chives. That's right it's so simple but so sedap!
It comes with some of this soy-sesame sauce drizzled over it and it is an absolutely perfect pairing.
4pc not enough? Order the 9pc for $7.50! Puas hati!!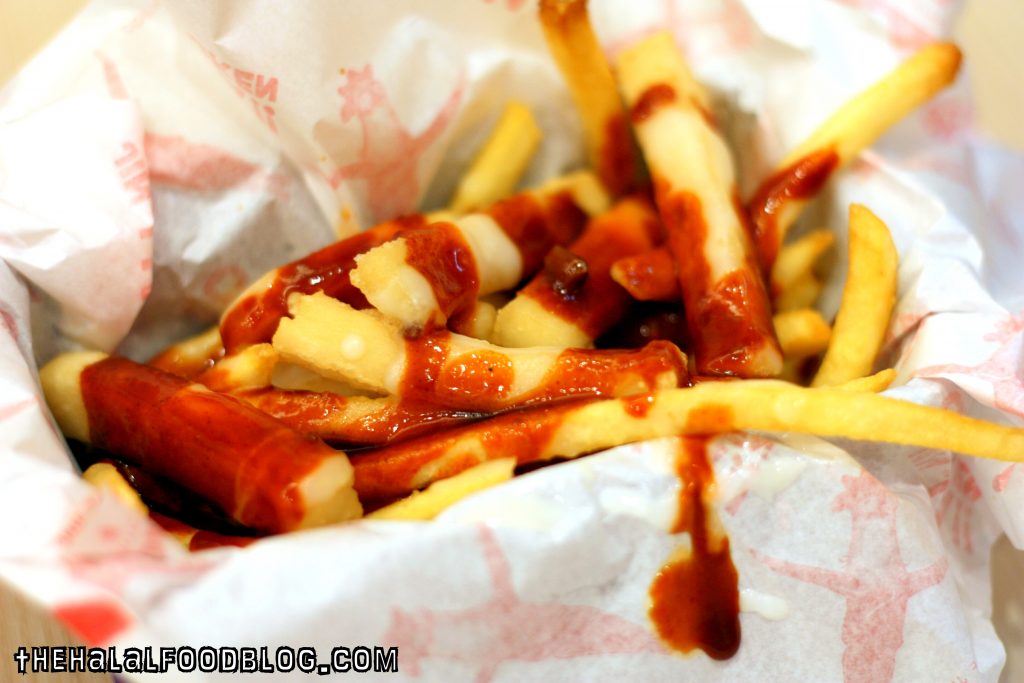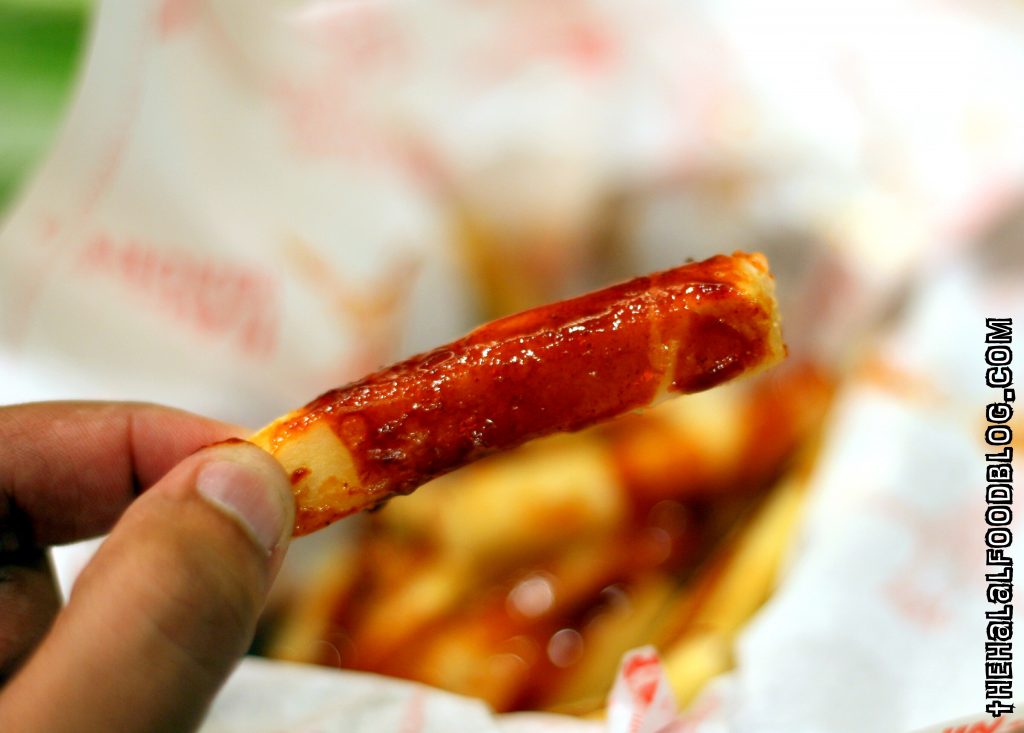 Tteokbokki is something we might recognize in its original form as a rice cake which has been steamed/braised but Jinjja Chicken puts a twist on it and fries it up instead!!
When we first saw it, we thought it was french fries or something LOL totally unexpected but a very nice surprise!
The rice cakes have been shaped into sticks and then deep fried. Topped off with a special sauce that's savoury-spicy and apparently called 'Gojuchang' thanks to our readers!
But in case you can't spot it in the photo, there are in fact some french fries mixed up in there too!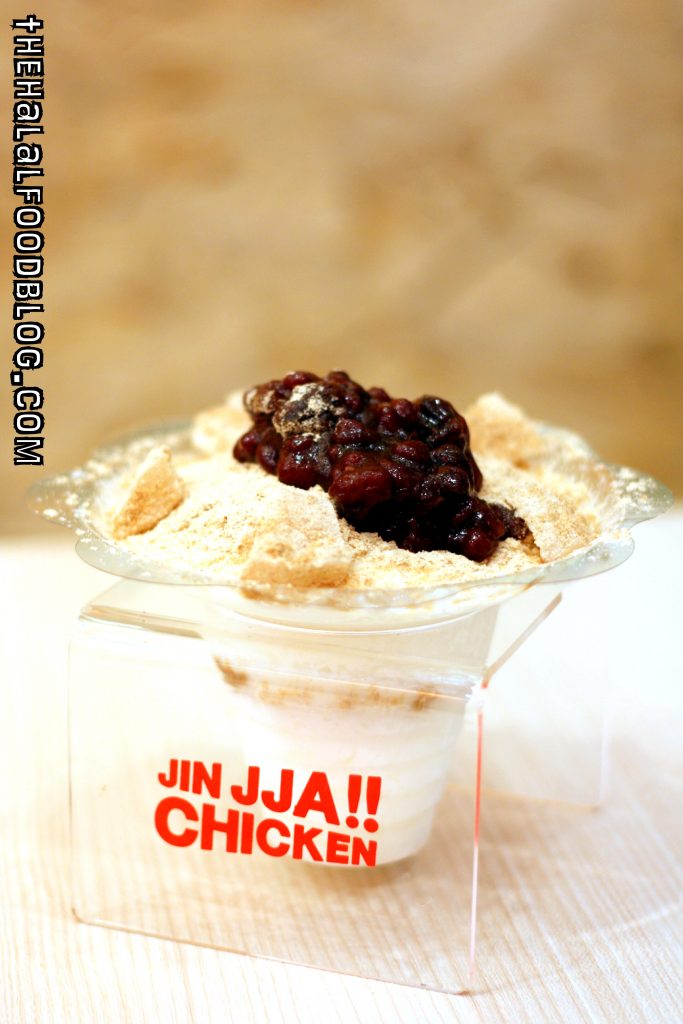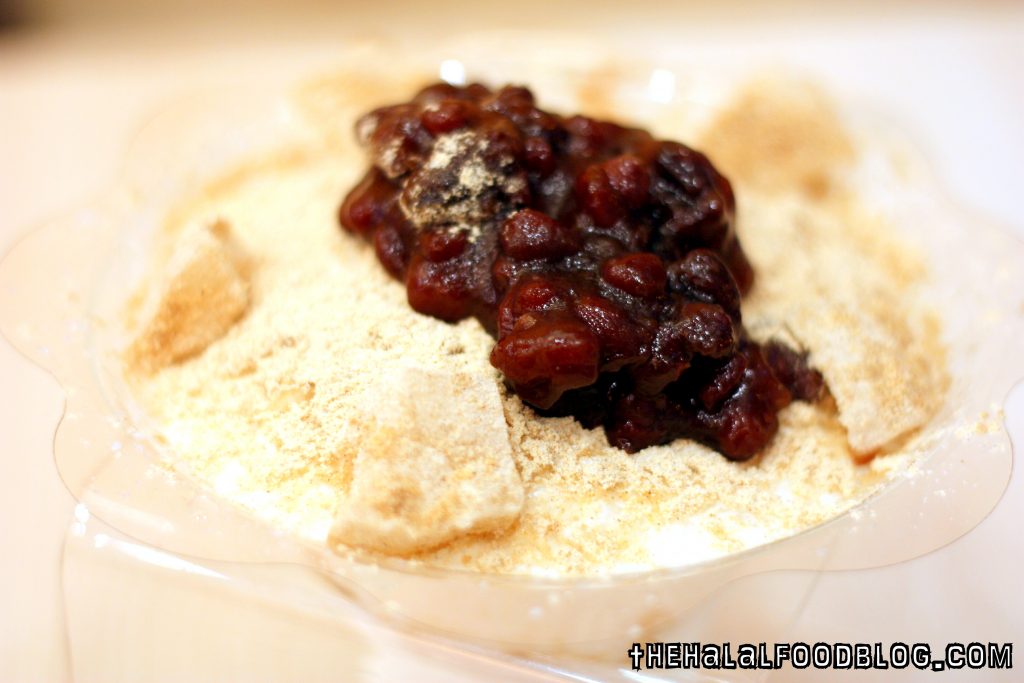 We've hear a lot about Bingsu and seen so many photos of it and it looks really spectacular!
Apparently there might be a few other places you can get Bingsu but this would actually be the first time we were gonna try this famous Korean dessert.
At Jinjja Chicken, we started with the Patbingsu which apparently a classic favourite.
It's basically milky snow ice topped off with a cereal soy powder, some sweet red beans and some soft and chewy pieces of Mochi for good measure.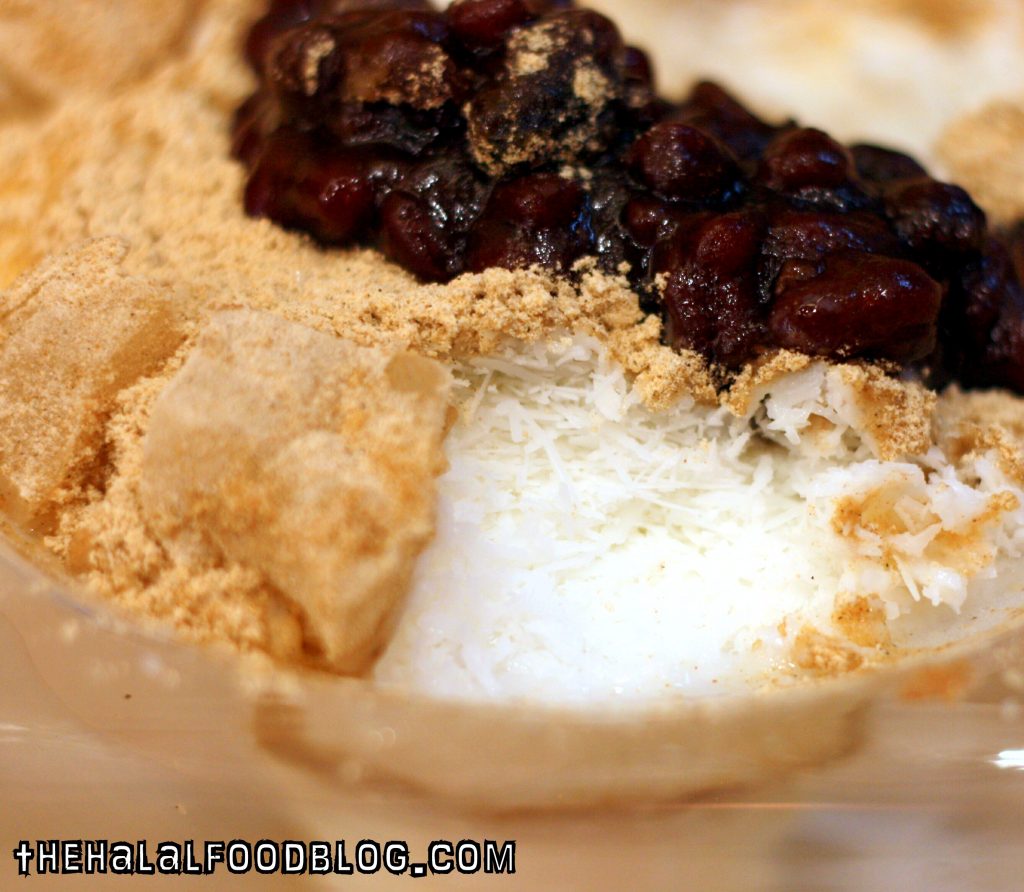 Wow! Really power lah!
Wasn't so sure about the soy cereal powder but it actually has a very nice taste to it and ZOMG the milky ice is so yummy even on its own! We thought it'd be like shaved ice but its more like… shredded ice LOL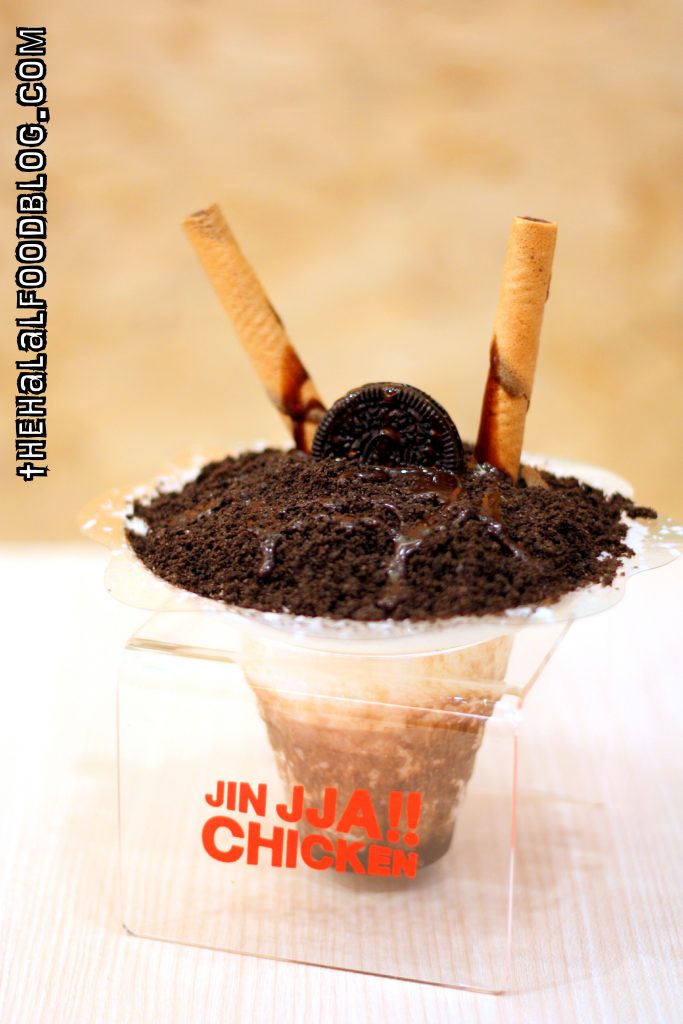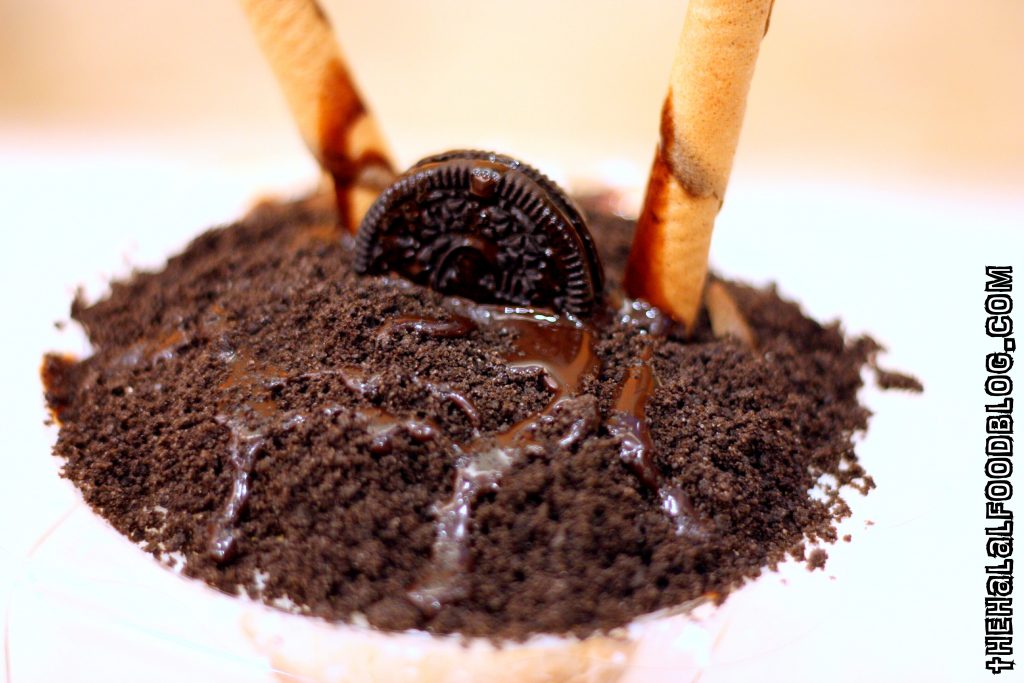 They also have an Oreo Bingsu in case you're in the mood for something a bit more spectacular and/or wanna enjoy some chocolatey flavour with your dessert.
Crumbled Oreo, chocolate sauce plus some choco wafer sticks. Sounds chocolatey to us!
Paired with that milky snow ice? Fuyoh.
And you can see that the Bingsu comes in this little cone thingy that you can also pick up and eat on the go too. Plus to be honest, at $5.90, this is really quite a steal.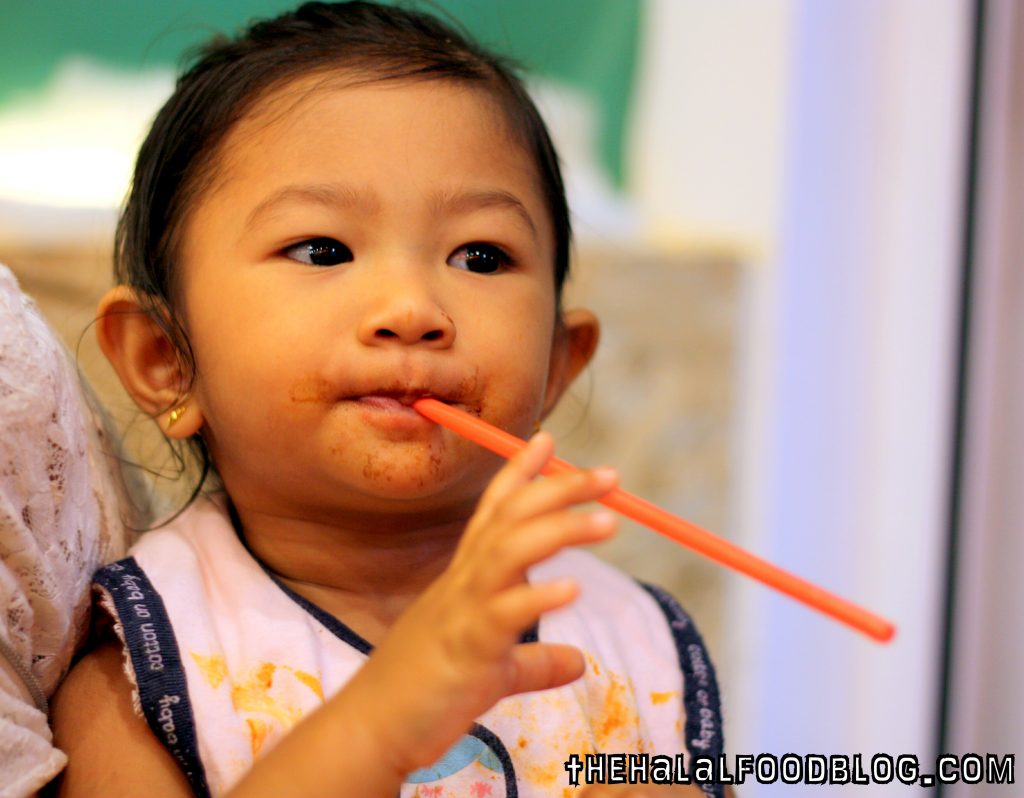 As you can see, our Little Princess has been enjoying herself at Jinjja Chicken LOL
She whacked the Jinjja Chicken Wings, the Jjajang Myeon and the Bingsu! Looks like she's ready for something to wash it down.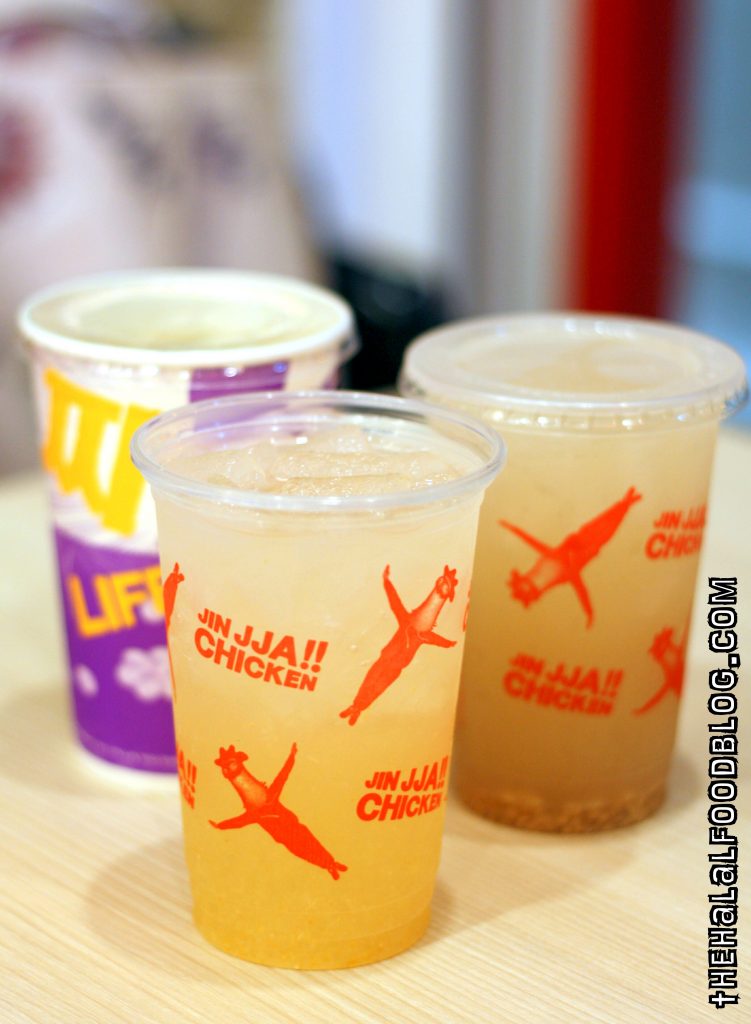 They've got some soft drinks on the menu at Jinjja Chicken but we recommend you try some of their specialty drinks while you're there. Not only are they tasty, they're also not carbonated which means more space for the food LOL
Try the Shikye Rice Drink which kinda reminds us of Barley but not quite. It's got a very mild but unique flavour and very refreshing. Turned out to be everyone's favourite beverage that night. Plus, just for fun, when you order this – try saying it really loud like you're angry – "Can I order one SHIKYE!!! please" LOL that would be awesome.
They also have the Yuzu Drink which is a citrus drink that most of you are probably familiar with.
Very refreshing and the tangy flavour will definitely help your appetite gather strength.
Well, there you have it. The latest addition to the Korean food scene in Singapore that's certified Halal. Jinjja Chicken definitely has some items on their menu that you probably can't get anywhere else right now so it's definitely worth the trip down to check it out especially if you're a fan of Korean food.
Oh and they even have a TV playing all the K-Pop music videos for all you fans out there.
Maybe The Halal Food Blog Team should make a K-Pop vid just for fun. Errrr… on second thought maybe we will just stick to the eating LOL
249 Victoria Street
Bugis Village
www.jinjjachicken.com
Facebook: www.facebook.com/jinjjachicken
Instagram: @jinjjachicken
Operating Hours:
11.00am til 10.00pm Sundays – Thursdays
11.00am til 11.30pm Fridays & Saturdays
All information (including prices, availability of item on menu and Halal status of establishment) are accurate at the time of posting. All photos used in this site are property of The Halal Food Blog unless stated otherwise.