뱅!
The comments and messages came flying in when we posted a teaser about this last week! Well, the time has come! You need wait no longer because – Jinjja Chicken's K-FRIES are here!!
Wooooooo just look at that! *droolz*
So what exactly is that beautiful mess made up of eh? So let's run it down shall we?
So first, we have a bed of fresh, hot, crisp golden potato fries. Under normal circumstances, just that with a good load of ketchup is enough to satisfy most people. But these are not normal circumstances… WE WANT MORE!!
Pile on some of the super delicious Jinjja Bulgogi Beef (yes, the same one they use in their power sedap to the max Kimbap), some Chicken Spam Fries (think of it as fried chicken luncheon meat strips), creamy mayonnaise and 2 different types of cheeses.
YES – TWO DIFFERENT TYPES OF CHEESES!
We've got some creamy and tasty Nacho Cheese to give it a super great cheesy flavour and to go that extra notch up, they've piled on a whole heap of Mozzarella Cheese and melted it down for that stretchy stringy effect we all love!
YASSSSSSSSSSSS we knew photos would be good but a Boomerang would show you just how cheesy the K-Fries are LOL so is your mouth watering yet???
If you really want to kick it up a notch, Jinjja also gives you the option of adding on some Kimchi at no extra charge! All this yummy (and pretty sinful) goodness for the super great price of just $6.90!! (We totally recommend adding the Kimchi by the way!)
But that's not all…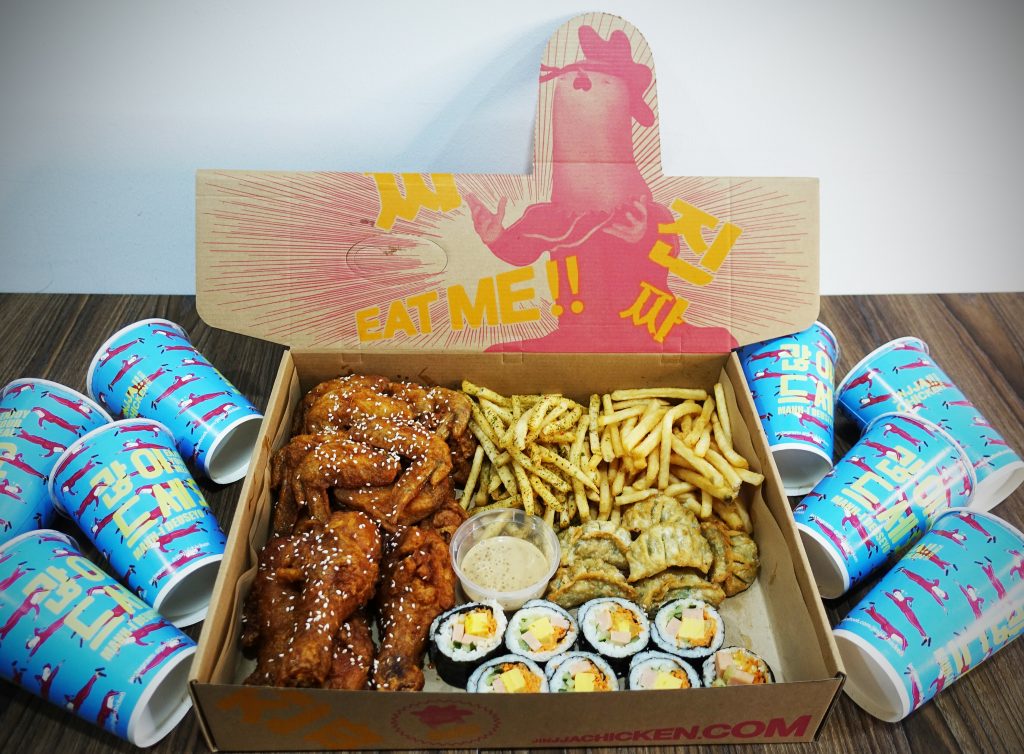 Here's a great chance to Iftar with your Jinjja Chicken favourites all packaged into a great combo set meal! It's got a bit of everything you love from Jinjja Chicken and there's plenty to go around so gather all your friends and family!
You can go 뱅뱅 with the BIG BANG COMBO ($44.90) that consists of 16 Jinjja Chicken Wings, 4 Jinjja Chicken Drumsticks, 1 Chicken Kimbap, 6 Fried Mandu plus 4 drinks to go around. That's good for about 4-6 people by the way.
If you wanna go 뱅뱅뱅 and even BIGGER then go for the BIGGER BANG COMBO ($79.90) with even more great stuff! Enjoy 32 Jinjja Chicken Wings, 8 Jinjja Chicken Drumsticks, 2 Chicken Kimbaps, 10 Fried Seafood Mandu and 8 drinks! Perfect for 8-10 people and now that I think about it, you can also enjoy this in the office with colleagues if you have to work late eh!
You can drop into the outlets at Bugis and/or Clementi Mall to dine-in or takeway but don't forget you can also have your Jinjja Chicken delivered!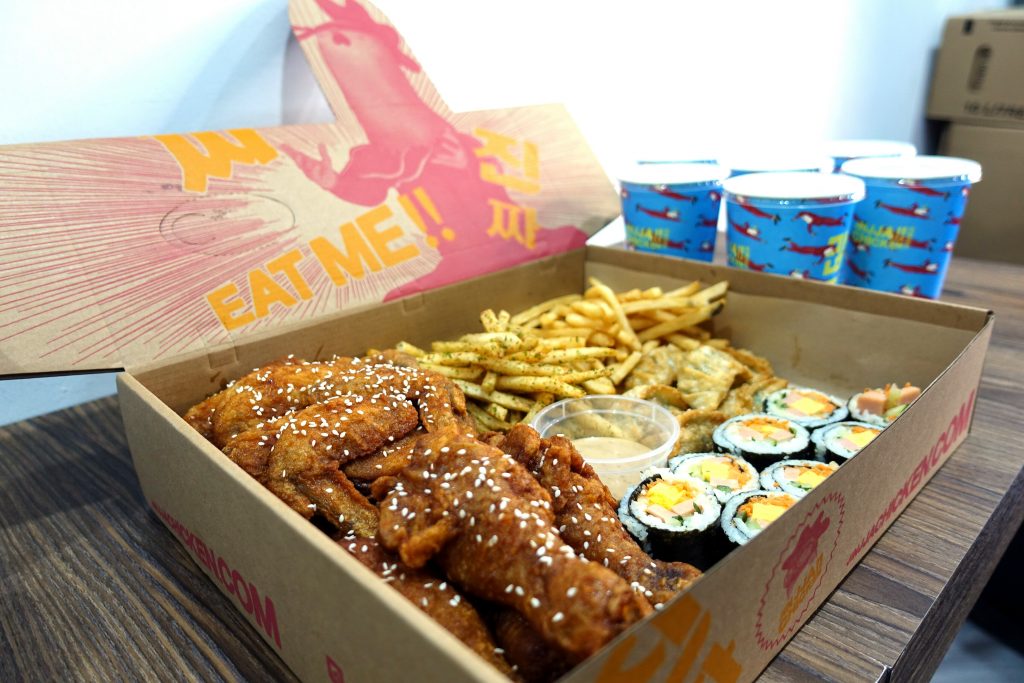 Well, there you have it folks! A brand new offering from Jinjja Chicken plus some pretty great combo set meals to enjoy throughout the coming month or so! Having said that, don't forget – you can still enjoy your other Jinjja Chicken favourites like Jjajang Myeon, Seafood Jjamppong, Tteokbokki Fries and Bibimbap!!
Head down to their website at www.jinjjachicken.com and of course, don't forget to follow them on Facebook and Instagram okay! And in case you haven't figured it out yet… 뱅 = BANG!
JINJJA!! **pumps fist in the air**
249 Victoria Street (Bugis Village)
Clementi Mall

www.jinjjachicken.com
Facebook: www.facebook.com/jinjjachicken
Instagram: @jinjjachicken
Operating Hours vary with outlet
All information (including prices, availability of item on menu and Halal status of establishment) are accurate at the time of posting. All photos used in this site are property of The Halal Food Blog unless stated otherwise.