I am pretty sure that the name 'Inspirasi' is a very familiar one with a lot of people.
Ever since my school days when the old Bedok Interchange Food Centre was around, Inspirasi has been around dishing out bowl after bowl of Mee Rebus and Soto.
In fact, dare I say that the name Inspirasi is somewhat of a legend now that I think about it.
It is the first name that comes to mind when someone asks me to recommend a place to visit for Mee Rebus or Soto!
People wondered if Inspirasi would re-open with the newly renovated Bedok Interchange Hawker Centre. I had even heard rumours that the stall might not reappear when the new food centre was ready. I think quite a few people gave a collective cheer (or more like a sigh of relief LOL) when the Inspirasi signboard went up a few weeks before the opening.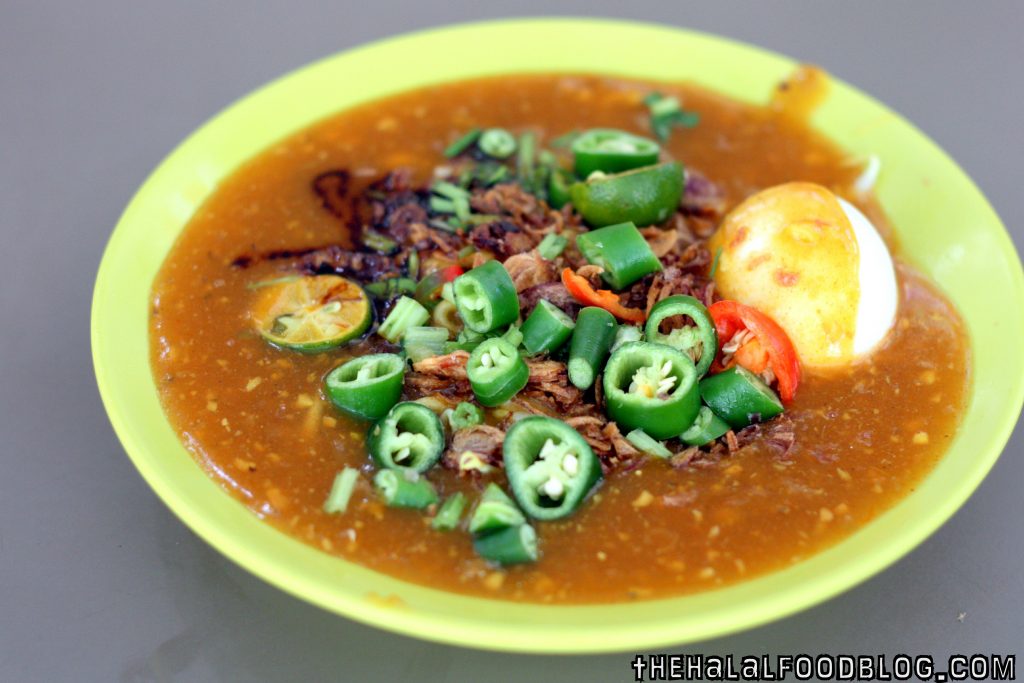 My personal favourite at Inspirasi is the Mee Rebus and after recently having it after a long time, I can safely say that it is still as sedap as the last time I tried it at the old Bedok Interchange Food Centre!
Price has (understandably) gone up by $0.50 compared to the old food centre days and now that I think about it, that's very reasonable after all these years and $2.50 is still a good price compared to some other places which charge more for food that may not even be at the same standard.
A generous serving of noodles bathe in a rich, thick and tasty gravy that is full of flavour.
I can tell that this gravy is the real deal because it does not turn watery when it gets a bit colder a the meal goes on. If they had used any shortcuts (like using corn starch like some places) instead of the original recipe calling for sweet potatoes, then that gravy is going to turn watery pretty fast.
But, like most foods, this is best enjoyed and slurped don while piping hot!
And I always add a Bagedil (potato cutlet) which is missing from this particular serving!)
I think this might actually be the crowd favourite at Inspirasi because probably 7 people out of 10 will probably get the Soto based on what I see when I visit the stall.
You can have the Mee Soto which comes with Yellow Egg Noodles, Bee Hoon Soto which comes with Bee Hoon aka Rice Vermicelli or go for the Soto (which is normally my choice) which is served with Lontong aka Rice Cakes.
The Soto itself is a flavourful soup that is brimming with great flavours thanks to the myriad of spices that go into it thanks to Indonesian roots. Slurping that delicious soup is the highlight of enjoying the dish no matter which noodle you choose to go along with.
But… there is something else that enhances the dish…
There's a big container at the front of the stall full of Inspirasi's signature Chili.
This chili-vinegar concoction is generally meant to be enjoyed with the Soto but I have seen people pile some on even on their Mee Rebus LOL!
DO NOT let the watery consistency of the chili fool you! You might be thinking "the chili is so watery… there's no way it can be spicy lah" but trust me, this chili packs quite a kick okay! Super shiok for all you chili lovers!!
Besides those 2 dishes, they also sell Chicken Porridge but I've never tried it because I always end up ordering my Mee Rebus LOL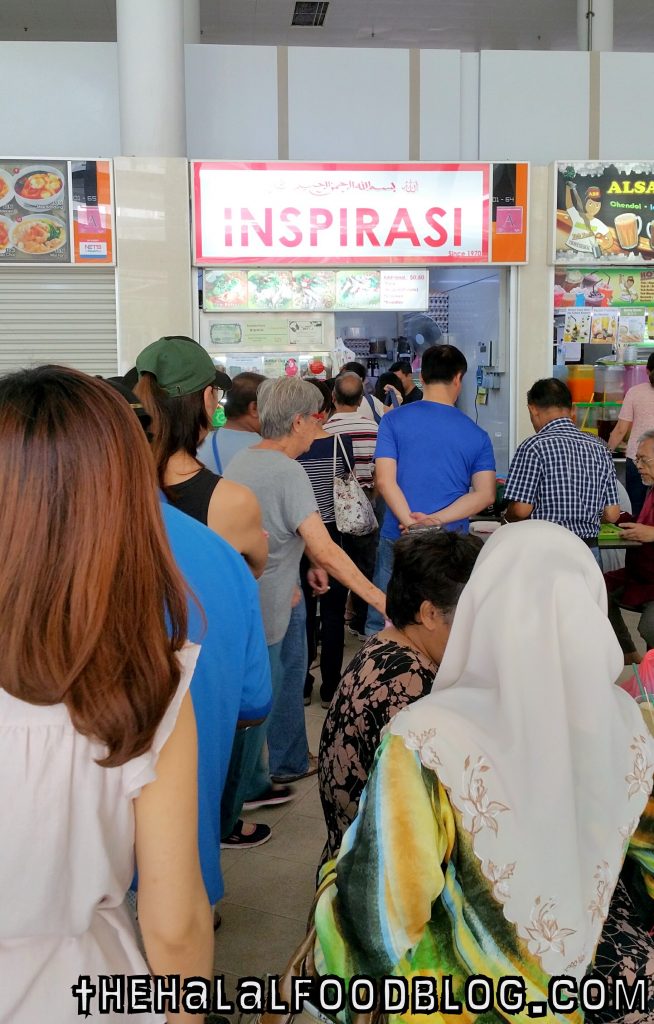 How to locate the famous Inspirasi stall? Look for the long queue!
But despite the long snaking queues, it moves pretty quickly and this is thanks to the efficient team and smart system they have in the stall where orders are fulfilled chop-chop!
I guess with most stalls that have been around, there's always talk that standards have dropped and food is not as good as it was and all that. That's common I guess. And for some people, they may very well feel that way. For me, I personally feel that Inspirasi remains one of the best I have had and I can think of probably only 1 or 2 other places where I have enjoyed their Mee Rebus / Mee Soto as much as at Inspirasi.
I guess the best way to judge is to have it yourself. If you've never tried it before, maybe now is the time. And if it's been awhile since you visited Inspirasi, go relive some memories.
At the start of the post, I used the word "familiar" in reference to the name Inspirasi.
I think a more appropriate word would be – Legendary.
Blk 208B New Upper Changi Road
Bedok Interchange Hawker Centre #01-11
Operating Hours:
11.30am til 9.30pm Mondays til Saturdays
Closed on Sundays
All information (including prices, availability of item on menu and Halal status of establishment) are accurate at the time of posting. All photos used in this site are property of The Halal Food Blog unless stated otherwise.