So as you may probably know by now, I'm in Dubai for a few days with one purpose – TO EAT!!
LOL I know I know please don't be jealous. In the end I'm doing this all for you – our readers! Well, mostly lah anyways 😛
So we are here to makan makan makan and the very first official stop was this morning!
We visited IHOP for breakfast nice and early and boy oh boy were we in store for A LOT of food!
Seems like quite a few of you are already familiar with the restaurant because you were all giving us tips on what to eat! And you all were right – this is one of the must-visits when you're in Dubai.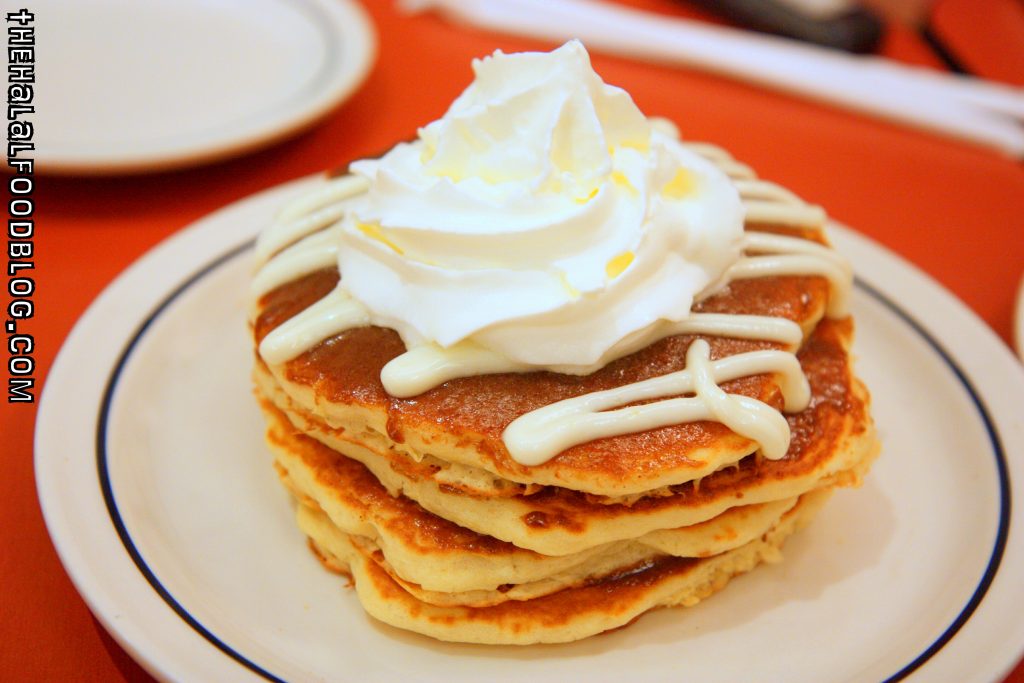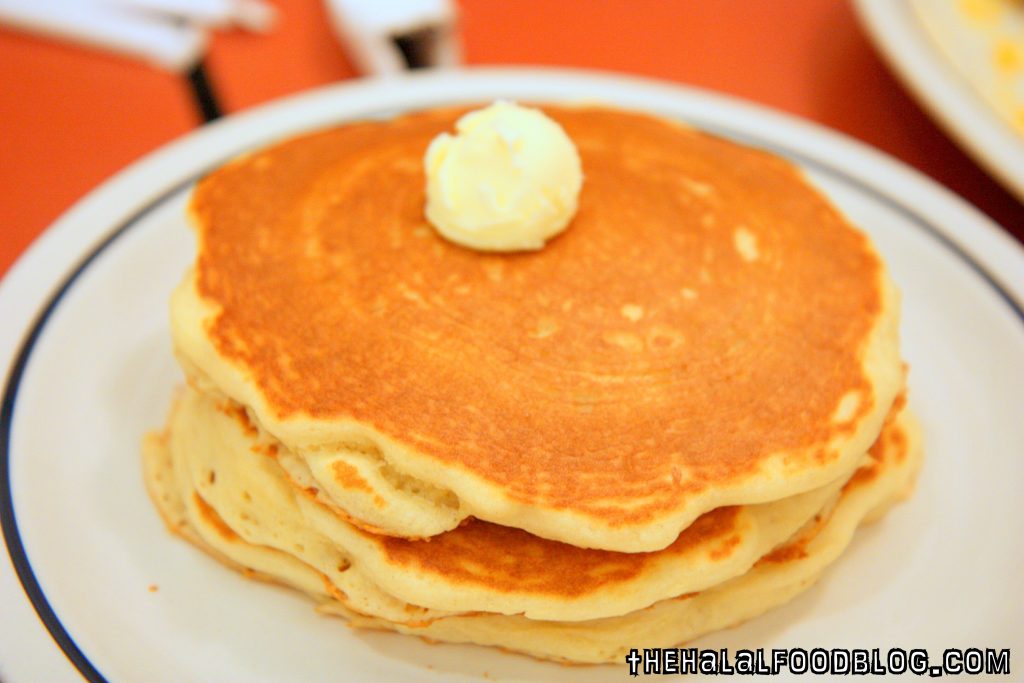 So when you visit IHOP (aka International House of Pancakes which is its original moniker), you have GOT to have the pancakes am I right? They've got quite a few to choose from on the menu but we had one on the spectacular side (or at least so we thought) and one of the classics.
The CINN-A-STACK Pancakes serves you 4 Buttermilk pancakes which has been spread with cinnamon roll filling and then topped off with some cream cheese icing and whipped cream.
To be honest, this looked quite different in the menu picture so we were kinda disappointed with how it looked when it arrived. Taste-wise was pretty okay with the cinnamon roll filling flavour taking center-stage. I didn't really taste the cream cheese icing (in fact, I didn't even realize it was cream cheese icing until I took a closer look at the menu much later on) but I'm a sucker for whipped cream so that was just fine with me.
But if you want a good ol' classic serving of pancakes then go for the Original Buttermilk Pancakes!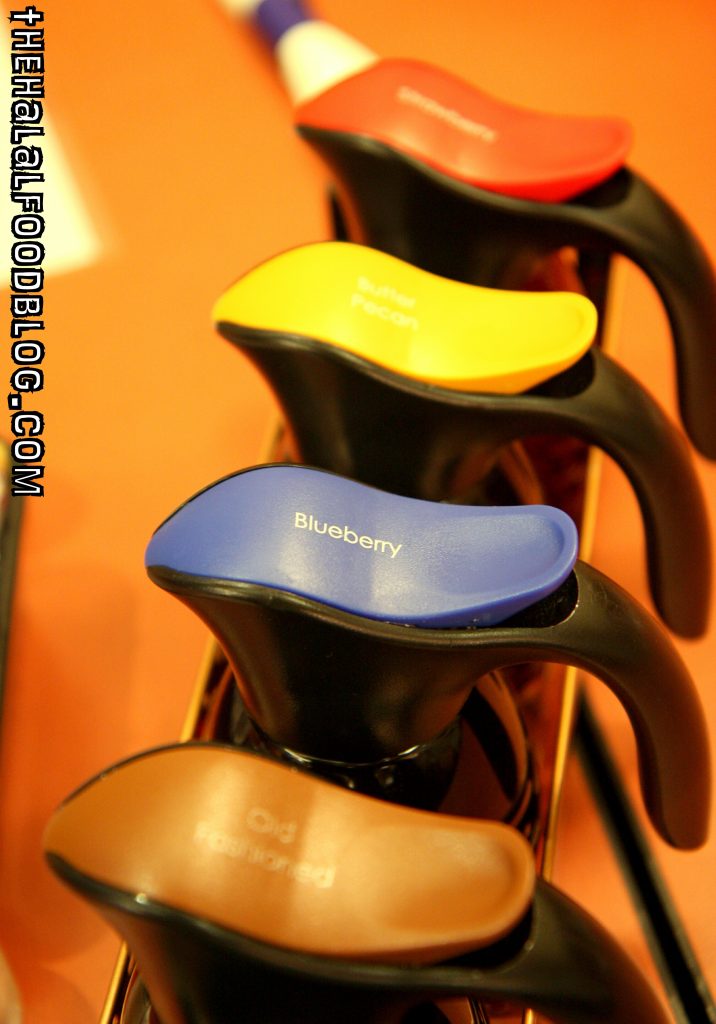 So they have all the all the favourite syrups for you douse all over your pancakes (and waffles too which you'll read about a little later) I'm simple so I went for the Old Fashioned Maple Syrup!
I like the fact that the pancakes were a little 'rough around the edges' instead of being uniform like some places. I guess small details like this make a difference to me LOL
By the way, you can also order a 'Short Stack' of 3 pancakes for AED 27 if you prefer.
Other pancake choices include the New York Cheesecake Pancakes (!!!), Double Blueberry Pancakes, Chocolate Pancakes and the Strawberry Banana Pancakes.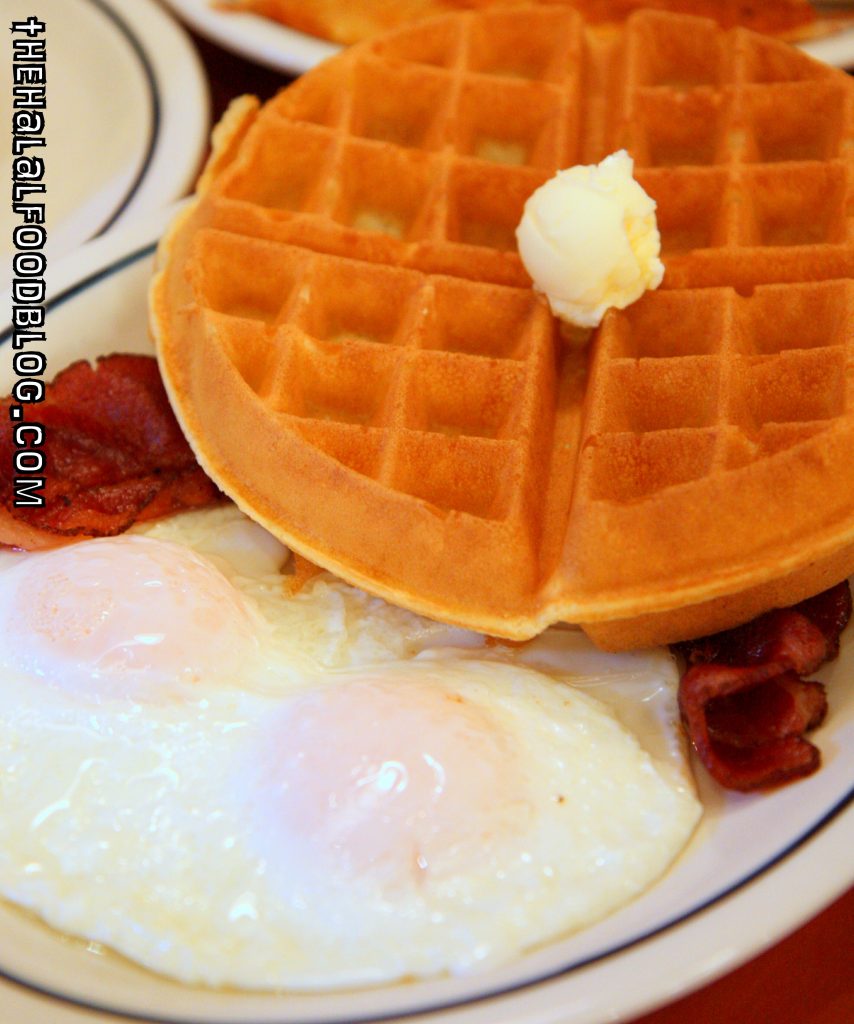 We had 2 Waffle dishes and the first was the Belgian Waffle Combo.
Comes with a Belgian Waffle, 2 eggs Sunny Side Up and you can choose two strips of Beef Bacon (like we did) or two veal sausages. You could also top-up AED 10 for some extra toppings like Strawberry Compote for example.
This was pretty simple dish but the waffle was excellent. Nice and crisp on the outside and simply perfect on the inside. But maybe we got lucky? The only way to confirm is.. to have another waffle dish LOL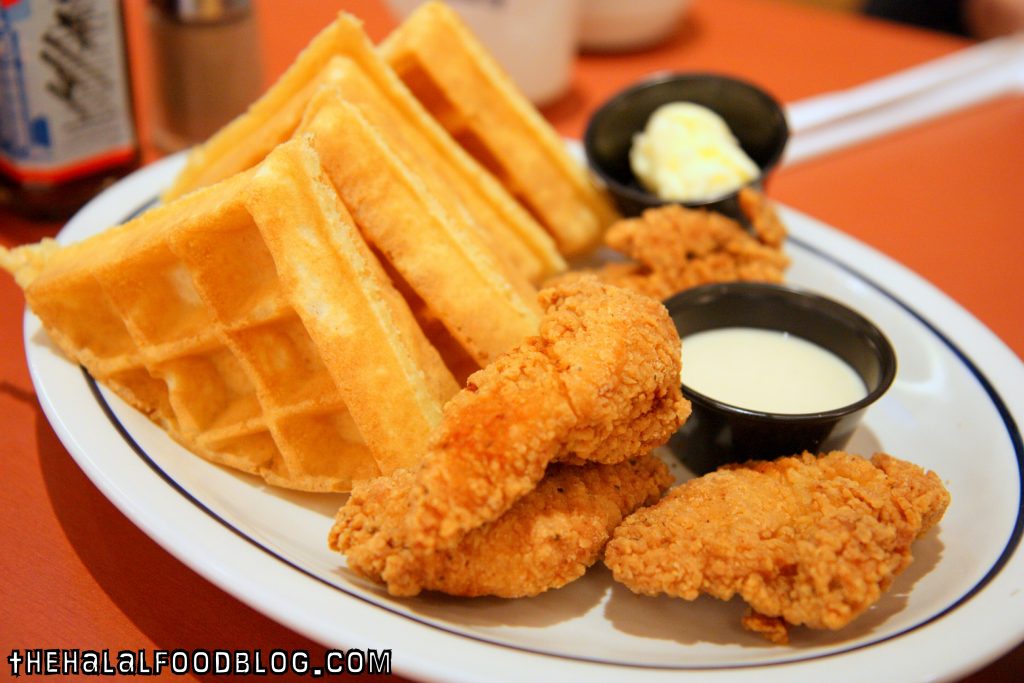 So here's another chance for me to try a dish that seems strange to a few because it does seem like a weird combo but its something I quite fancy for some reason (if you can recall our other post with a similar dish).
And just to confirm – it was not a fluke. The Belgian Waffle at IHOP is indeed power to the max!!
2nd time I'm having Chicken and Waffles and both times it's not served with the whole pieces of fried chicken! Hmmmmm guess I have to keep searching! But I will say that these chicken breast strips are actually not bad because the outer coating is really crispy and the seasoning was tasty. The Honey Mustard sauce was comes with is an absolutely perfect accompaniment!
And yes I pour Maple Syrup all over my waffles when I eat them with the chicken! LOL it's not that strange lah just head down to IHOP when you're in the area, try it and you will see what I mean.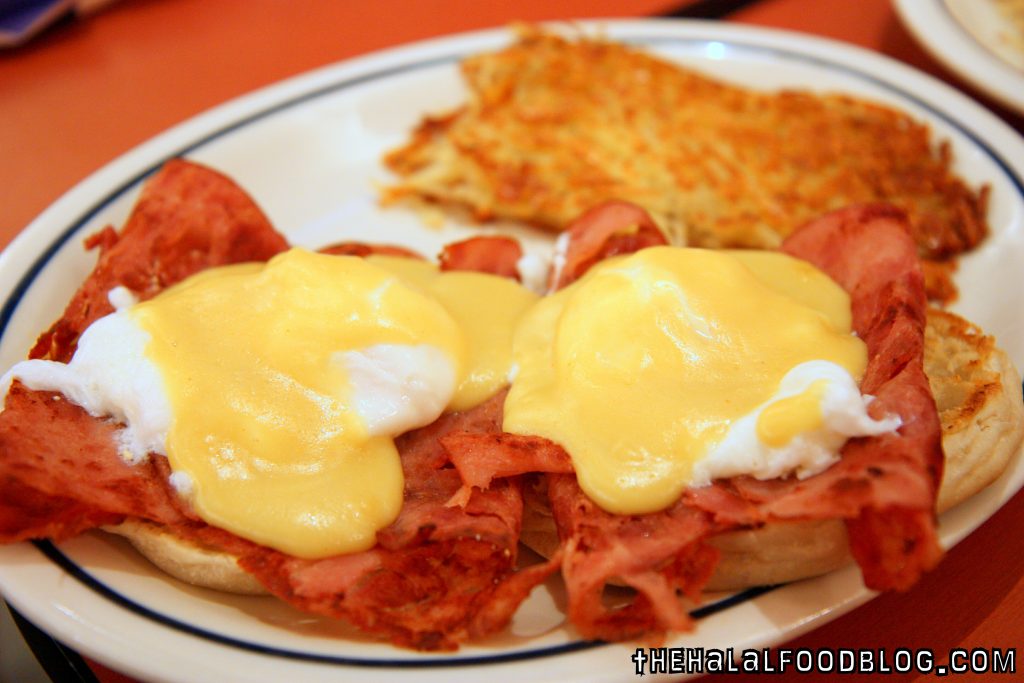 When we see Eggs Benedict on the menu, how can we not order!! LOL
Guess it's just one of those breakfast/brunch dishes that we will keep ordering when we have the chance so we can compare even though we've had it sooooooo many times before.
This version is served on the classic English muffins. The poaches eggs rest atop some turkey ham and of course, some Hollandaise sauce to round it all up. Oh and don't forget the hash browns on the side!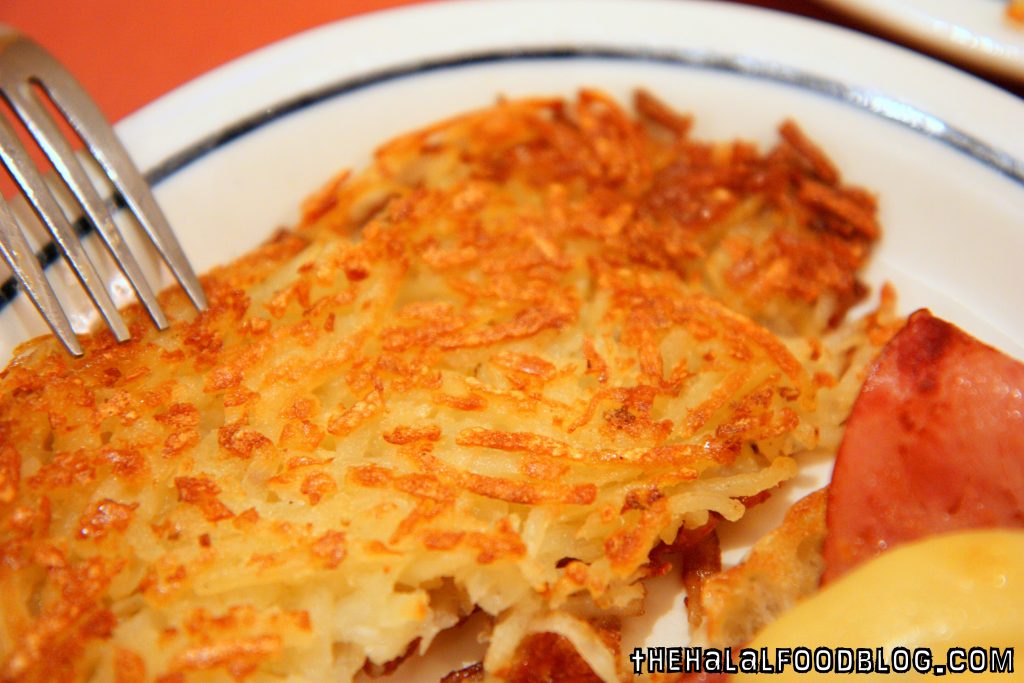 This one was just so-so for me to be honest. It wasn't bad or anything like that but I guess there wasn't anything to make it stand out or give it a wow factor. A pretty standard serving of Eggs Benedict – if that is what you're looking for then you can definitely find it here.
The hash browns were not bad too by the way. Nice crisp on the outside while the potato hash inside still tasty and best enjoyed while hot of course. The hash browns are served with quite a number of dishes on the IHOP menu.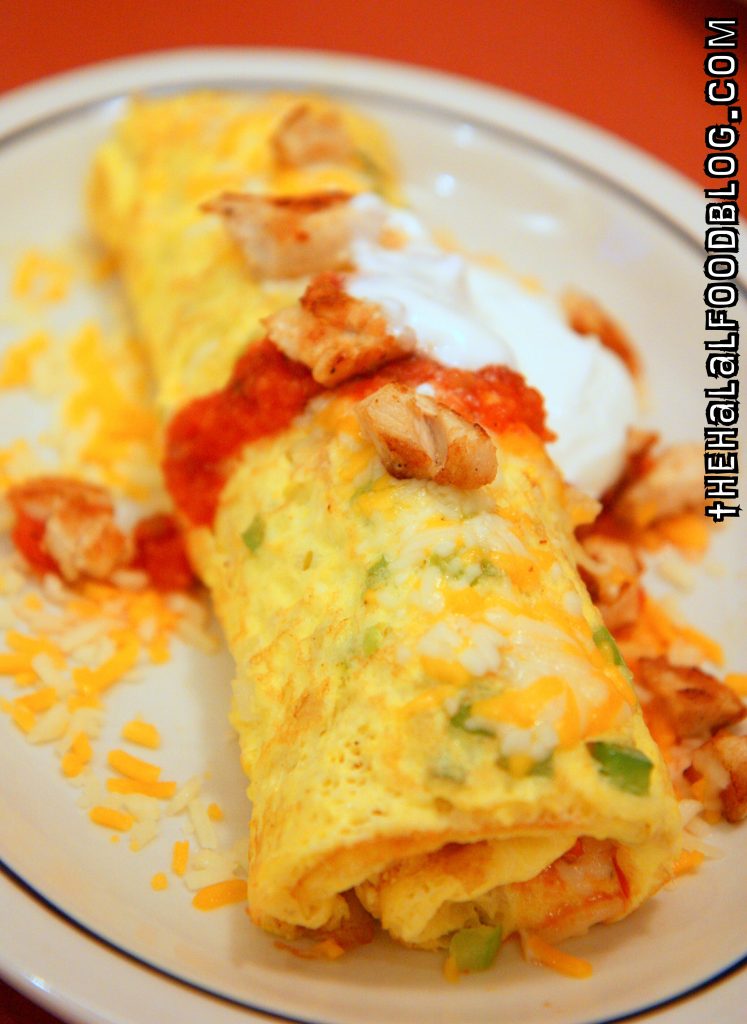 This dish was quite a surprise actually.
You've got what is basically a Fajita in an omelette! Fajita-seasoned chicken, bell peppers, salsa, onions plus you've got cheese and sour cream all packaged with an omelette! This dish was very flavourful and I really could taste all the Fajita seasoning in the chicken. But I did feel that the omelette was a bit thick. It's actually a big omelette which the fold up into 2 when they wrap it up which results in the 2nd layer.
The serving size is pretty big too. I personally feel this is a good dish for sharing. Maybe order a main dish each and then this omelette to share perhaps? Unless you REALLY love omelettes then go ahead and have this all to yourself LOL
They've also got a Big Steak Omelette, Country Omelette and Beef Bacon Temptation Omelette for all you omelette lovers out there. That should get you pretty egg-cited. Geddit? *crickets*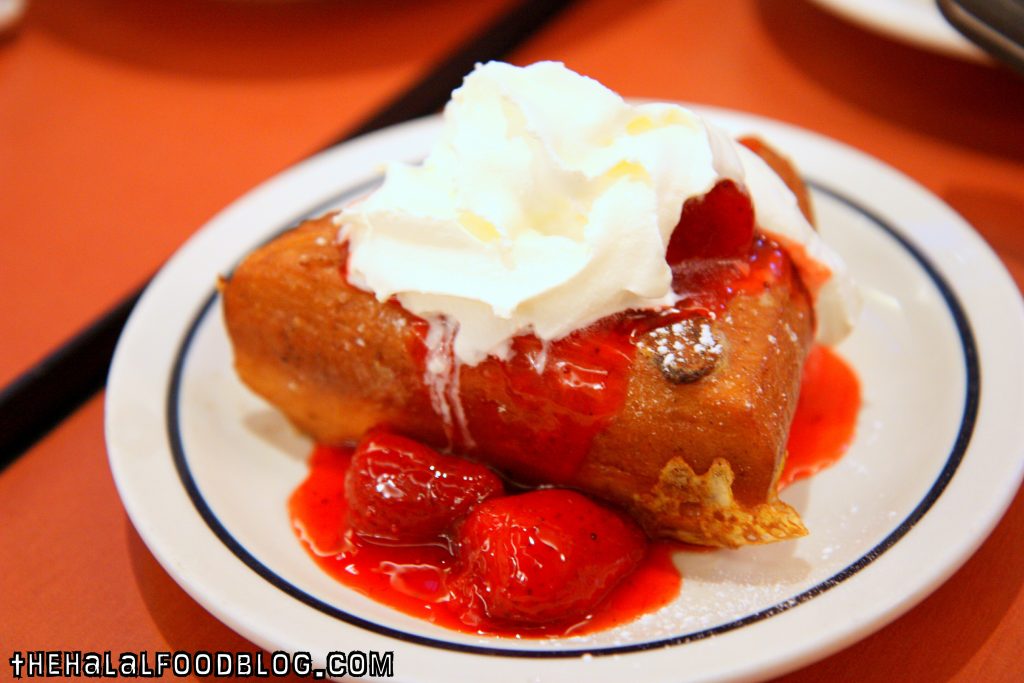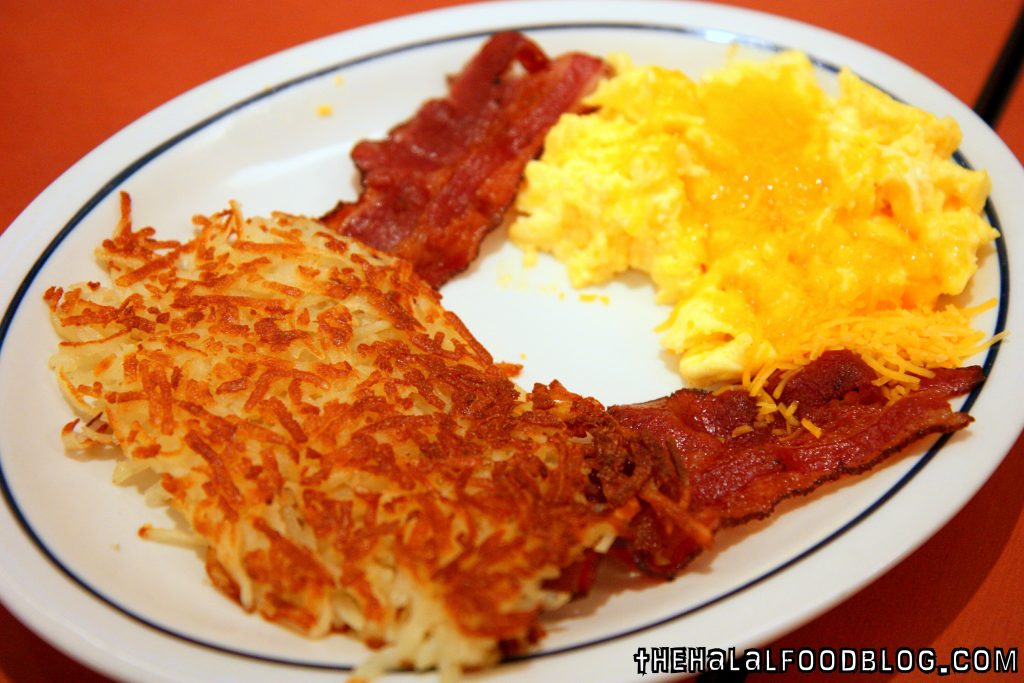 Those 2 pictures actually go together because that's all actually one dish.
That's right – ONE DISH.
You've got a stuffed French Toast stuffed with sweet cream filling (that looks absolutely amazeballs and super appetizing) which is a few layers of individual French Toast bread slices which make up the whole big thing. Also comes with some eggs (we chose the scrambled with cheese), beef bacon strips (or choose the veal sausages) and hash browns.
Errrrr the French Toast was quite disappointing actually. I guess the multiple layers made it pretty tough so when you cut into it, you can pretty much tell it's super tough. You can choose either Strawberry topping, Blueberry or Cinnamon Apple compote but as tasty as they are, couldn't really help the stuffed French Toast though. Good idea but didn't quite work for us I guess.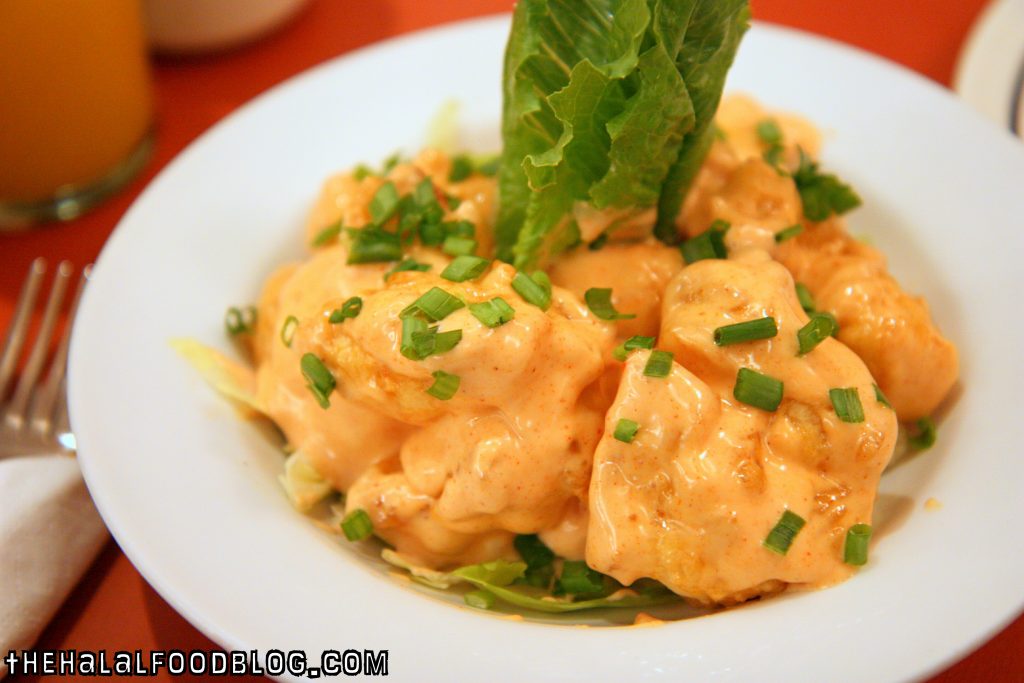 Yeah we went for breakfast but we ordered some non-breakfast dishes too because hey we love to eat right?
When I saw the Volcano Shrimp, I knew I was going to order it simply because it had the word 'volcano' in it which made me want to test how spicy it was going to be LOL never mind that it was really early in the morning I was sure my tummy could handle it *GULP*
Well, it's not that spicy after all. The sauce is creamy, sweet and a little spicy and reminds me a lot of a less tangy Thousand Island sauce. The vinegar tang is replaced by a Tobasco tang here I reckon.
But I do like the shrimp itself because it was lightly coated and has a nice crisp to it even though there was sauce all over the place. Much better than the type of shrimps with the thick batter coating (like tempura style). Best enjoyed while hot and fresh (before the sauce takes over the shrimp!!)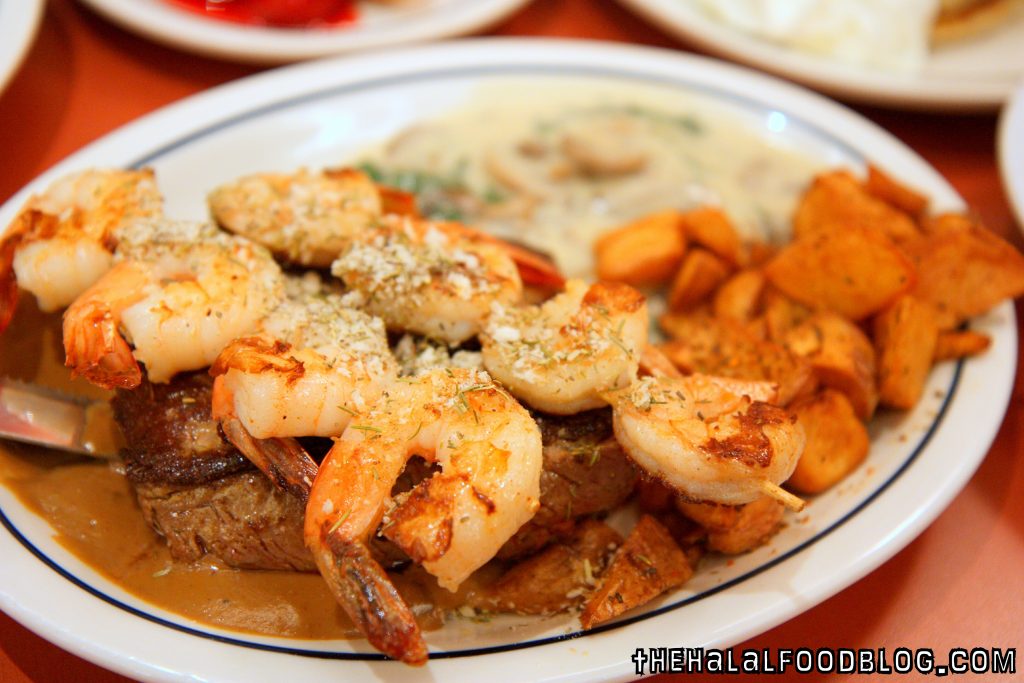 Breakfast? Let's have some steak! LOL
Here's a hearty meal for you all to consider. A nice hearty Ribeye steak and a couple of skewers of grilled shrimp for good measure. You've also got some spinach and mushroom sauce on the side and some fried potato bits (because you've gotta have potatoes with your meat right?)
I didn't try any of the steak but I did try the shrimp which was seasoned well but a little dry. I did quite like the spinach and mushroom sauce too.
Last but definitely not least, we had some dessert and the Fruit Crepe seemed like a good choice!
So you've got a crepe with a choice of Strawberry topping, Blueberry or Cinnamon Apple compote topped off with Vanilla ice-cream and whipped cream! The Blueberry compote we chose really reminded me of what we get when we order 'waffles' from the bakeries back in SG and choose the Blueberry filling. Sedap!
But a little bit of Blueberry overload because not only is it on the side, it's also INSIDE the crepe too.
So as you can see, we had A LOT of food but you know what – that's not even half of the menu lah!
The menu at IHOP is so huge! We didn't get anywhere near the IHOP Classic Burgers, Hash Brown Stacks, Savory Crepes, a whole load of appetizers, Griddle Melts, Sandwiches, Wraps, Salads and so many other things too. They've even got a great looking menu for kiddies too!
And in case you were wondering, it's ALL DAY BREAKFAST at IHOP!!
A very interesting experience at IHOP because we don't have many of this type of makan places in SG that is Halal. Yeah we've got some but the menus are nowhere as extensive as the one at IHOP. So many dishes look super delicious and if anyone is ever in the area of an IHOP, I'd definitely say step inside and have a go!!
Mall of the Emirates
Barsha 1
www.ihop.com
http://www.alshaya.com/brands/food/ihop/
Facebook: www.facebook.com/IHOPMiddleEast
Operating Hours:
10.00am til 11.00pm Daily
All information (including prices, availability of item on menu and Halal status of establishment) are accurate at the time of posting. All photos used in this site are property of The Halal Food Blog unless stated otherwise.