Korea and everything Korean is super big these days! I mean, we've had the K-Pop wave, movies and TV shows like Running Man on the rise for the past few years. Korean beauty products for both men and women have definitely also been very popular recently. And don't forget – Korean food is also gaining more and more popularity everywhere including our very own Singapore.
Well, now, the next big thing that people are adopting from Korea are health products and supplements! We're seeing all kinds of interesting products coming out of Korea but let's not forget that we still have to make sure that they are suitable for our consumption. So are there any such Halal products?
YES! Just so happens that we have been trying these 2 great products from IDooRi for the past few weeks!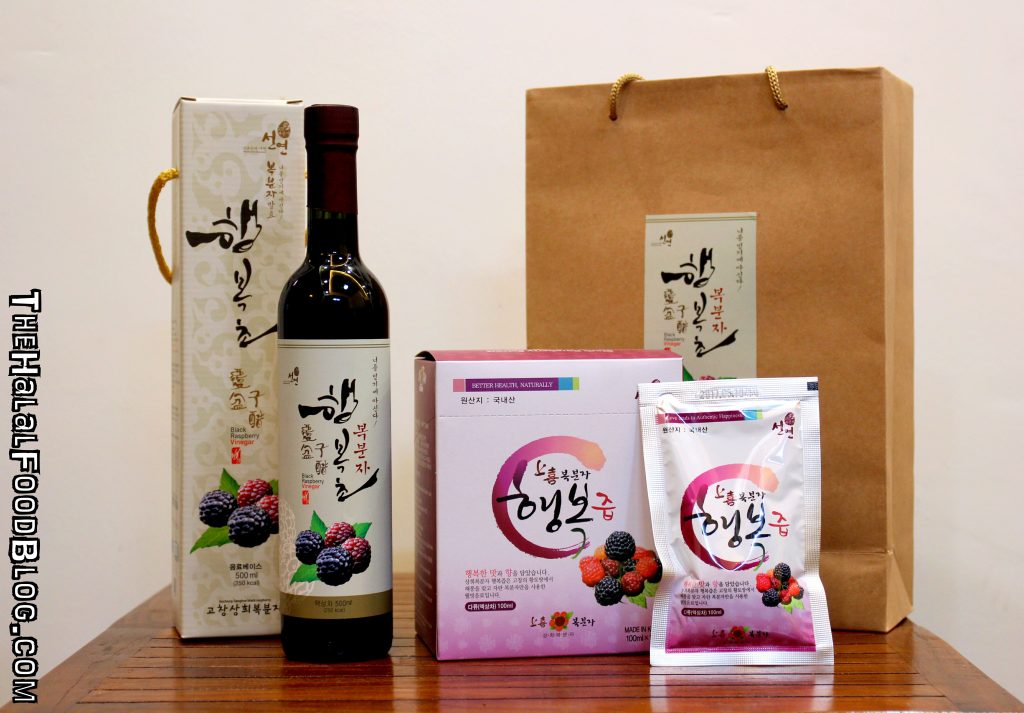 So we've been trying the Black Raspberry Juice & Black Raspberry Vinegar from IDooRi for the past few weeks. We figured it's about time we started paying a bit more attention to our health and we've been reading that taking some healthy products like this does make a bit of a difference so here we are!
They actually have quite a few different products to choose from at IDooRi and each one has their own unique specialty when it comes to specific ailments. For example, Black Chokeberries are supposed to be good at staving off infections like UTI and Aronia berries are good for regulating blood sugar levels etc.
Now, even though these products are not exactly medical products nor substitutes for medical products, some of them do have some pretty profound results so we thought we'd give it a try!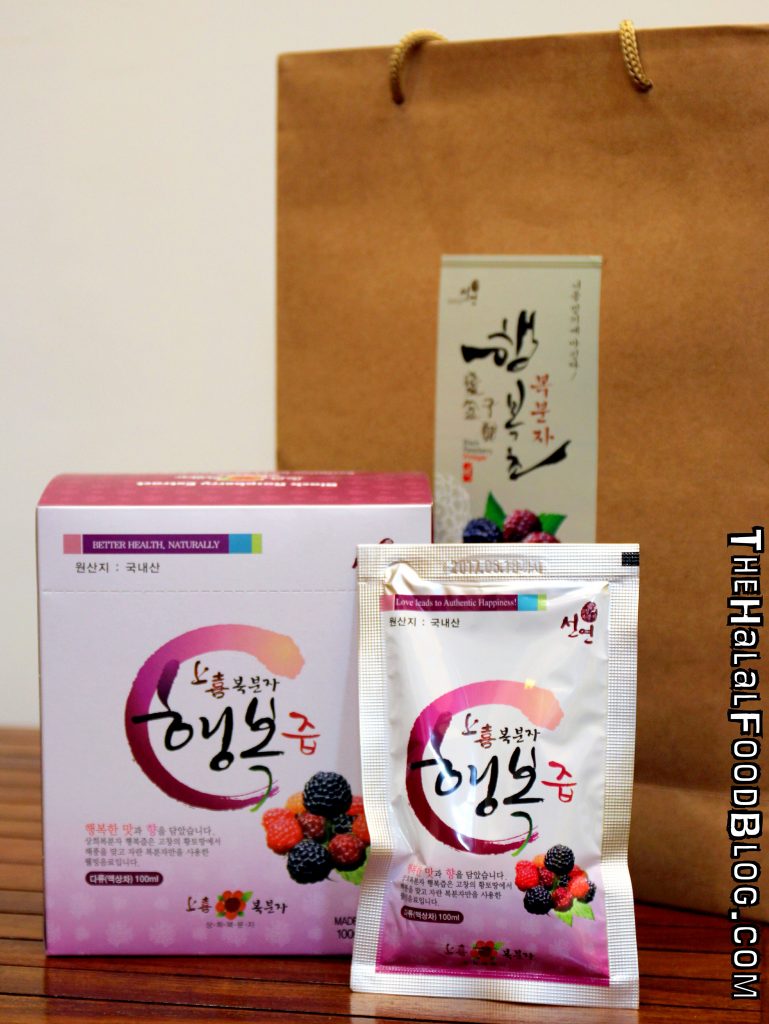 The first product we tried was the Gochang SangHee Black Raspberry Juice.
This is essentially a 'fruit juice' product that you can drink on its own to enjoy the benefits. The Black Raspberries are harvested from the Gochang region in Korea and the product is manufactured there too so you're assured of a good quality product.
Black Raspberries have been known to have potential health benefits such as regulating blood chelosterol and sugar, helps to prevent uric acid build up (aka Gout) and is also good for heart health. Black Raspberries are also high in antioxidants! By the way, this product extracts the juice using cold press method which helps lock in the goodness!
One sachet a day is pretty much all you need and it does actually taste very delicious!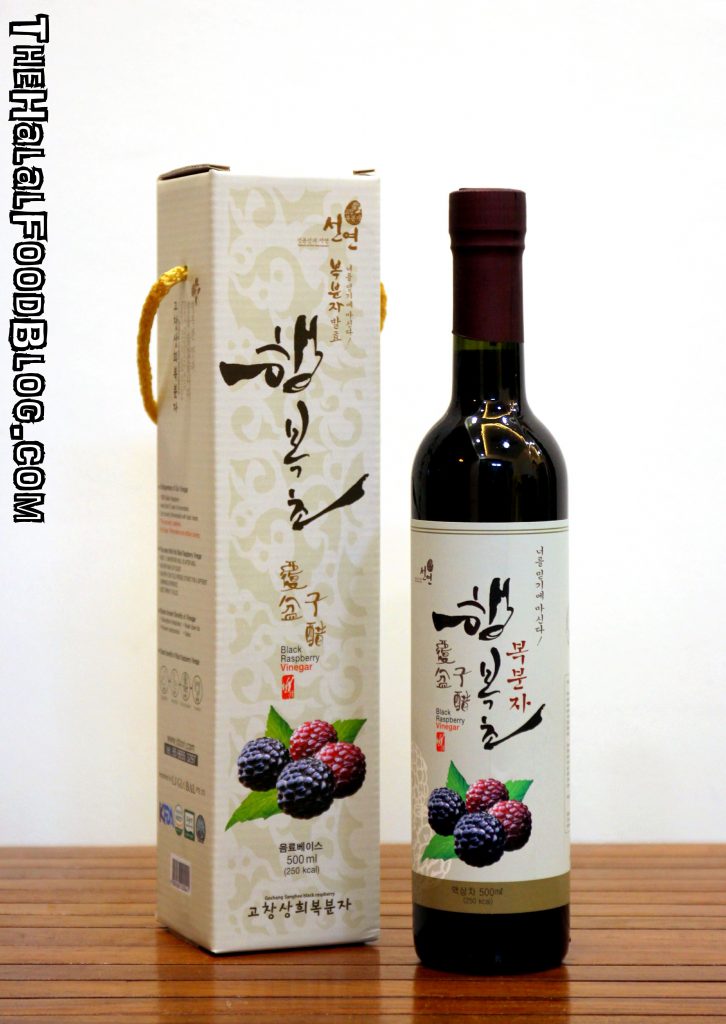 Here's one that I actually personally enjoy because I'd taken fruit vinegars before. It may not be for everyone because of the strong flavour of the vinegar but the Black Raspberry Vinegar is a great choice for those who can stand a bit of a more robust flavour.
Besides aiding digestion, vinegar is also supposedly good for weight loss too (which is what I had heard when I previously took fruit vinegars too!)
Gochang SangHee Black Raspberry Vinegar has actually been fermented for FIVE YEARS! They have a special patented process for manufacture of this product in Korea and there is no sugar and no artificial colourings or preservative present in this or the Black Raspberry Juice too.
You don't even need to drink a lot. Just a little before or after a meal would be just nice. In fact, if the vinegar flavour is too bold for you, you could also mix it in some milk, yoghurt or even the Black Raspberry Juice too.
Besides these 2 products, they also have a wide variety including Aronia Berries products, Bamboo Salt products, Aloe Vera products and the list goes on and on! The best part is that they are certified Halal by MUIS! You can see the logo on the products 🙂
You can check out the full range of products on their website www.idoori.com plus you can also read more about the various health benefits of each of the products there too. You could get them for yourself or they are also good gifting ideas too!
Special thanks to the IDooRi team for letting us try these great products! Here's to good health!
All information (including prices, availability of item on menu and Halal status of establishment) are accurate at the time of posting. All photos used in this site are property of The Halal Food Blog unless stated otherwise.