***UPDATE***
ICEBOX CAFE SG HAS CLOSED UNTIL FURTHER NOTICE W.E.F 6TH FEBRUARY 2017
Okay sorry we lambat a bit with this one but it's finally up!
Remember the time we posted about visiting Icebox Cafe? Well, this is what we had!
It was the middle of the night one weekend when we decided – okay let's go. LOL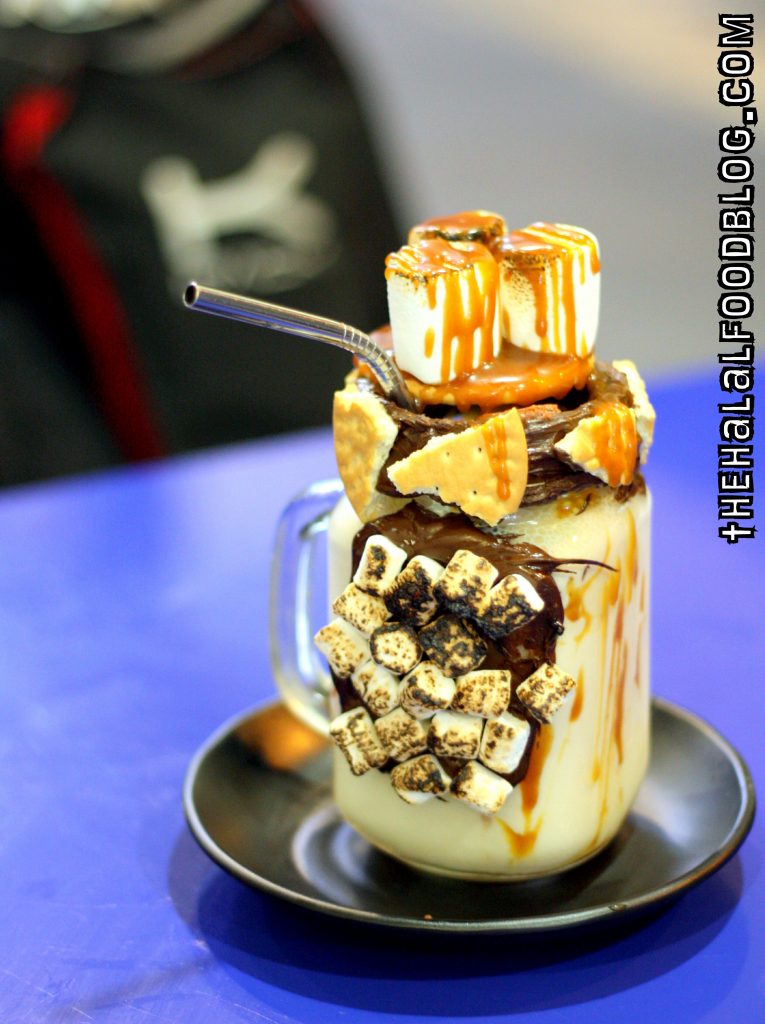 I'd actually really been looking forward to paying a visit to Icebox Cafe ever since the name exploded all over social media a few months back. I mean, we were finally gonna get a chance to enjoy these fantastically 'extreme' looking desserts for real! With all the hype surrounding these 'Monster Milkshakes' and 'Korean Desserts', believe it or not I think this is still the only Muslim-owned one around.
So they have this series of massive milkshakes that they call 'Shakes in your Face' because…. well… these shakes are so big they're pretty much in your face LOL well I like my shakes in my mouth so besides looking fantastic, it was important it also tasted good too!
They have 5 choices on the menu under this section and even though I was feeling like something fruity, I decided to go with something that was being posted A LOT on their Instagram so I went with the Salty Mr Brown.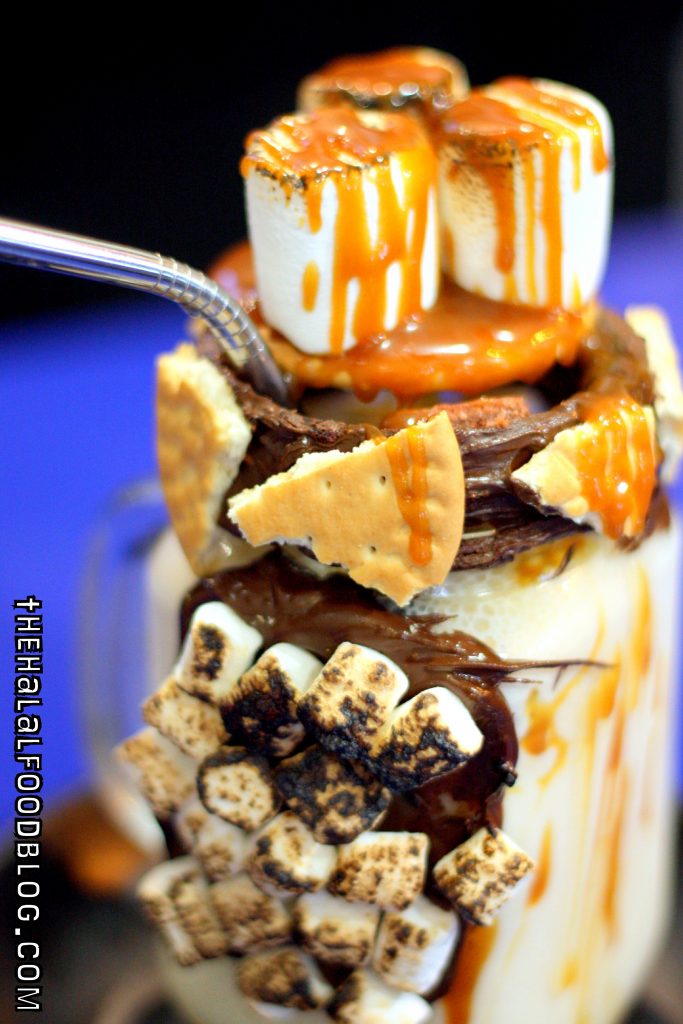 So the Salty Mr Brown is a milkshake with a lot of salted caramel (both in it and around it LOL) and a whole host of trimmings adorn the milkshake exteriors.
For example, we have quite a bit of (what I assume is) Nutella smeared around the exterior of the glass. The coat the Nutella around the rim of the glass to hold some wafer crackers in place and also along the side of the glass too and this acts as a sticky 'wall' to which they stick little mini-marshmallows.
There mini-marshmallows are torched and so are the regular-sized marshmallows that sit atop the milkshake like a nice puffy crown LOL
Errrrrr is it just me? Was I the only one who was unimpressed?
Maybe I set my expectations too high when I started IG-ing and Googling 'Monster Milkshakes' before our visit so I guess this was not quite what I expected.
I find that quite a bit of the it is not very practical. Case in point – the marshmallows on the side with the Nutella. I wasn't quite prepared to go scraping the side of the glass because the Nutella has quite hardened since the glass was cold. And I don't know why but it seems like my mini-marshmallows were torched for a bit too long? I checked through their IG and I don't see anyone else's mini-marshmallows burnt like mine were. Poor mini-marshmallows.
But I will give them points for the kick-ass metal straw though.
PS now that I think about it, $12.90 is quite a hefty price tag for this. I'm not sure if all the other 'Shakes in your Face' are like this but since they are all priced at $12.90, I hope they turn out a lot better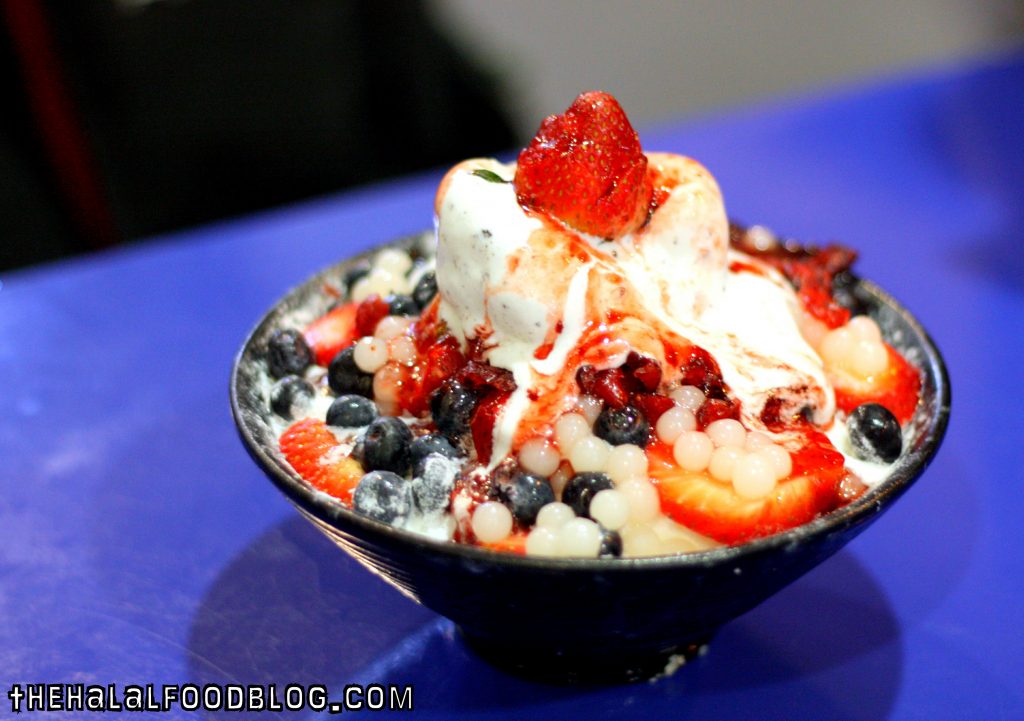 Yeah this is a Bingsu and yes it was all melty when we got it.
I swear I took this photo the very minute it was brought back to out table from the counter inside.
How long it had been sitting on the counter inside before our buzzer went off for collection is another story I guess.
Yes, we ordered the Mixed Berries Tickles Bingsu because… how can you NOT order something with the word 'Tickles' in the name right? It's auto!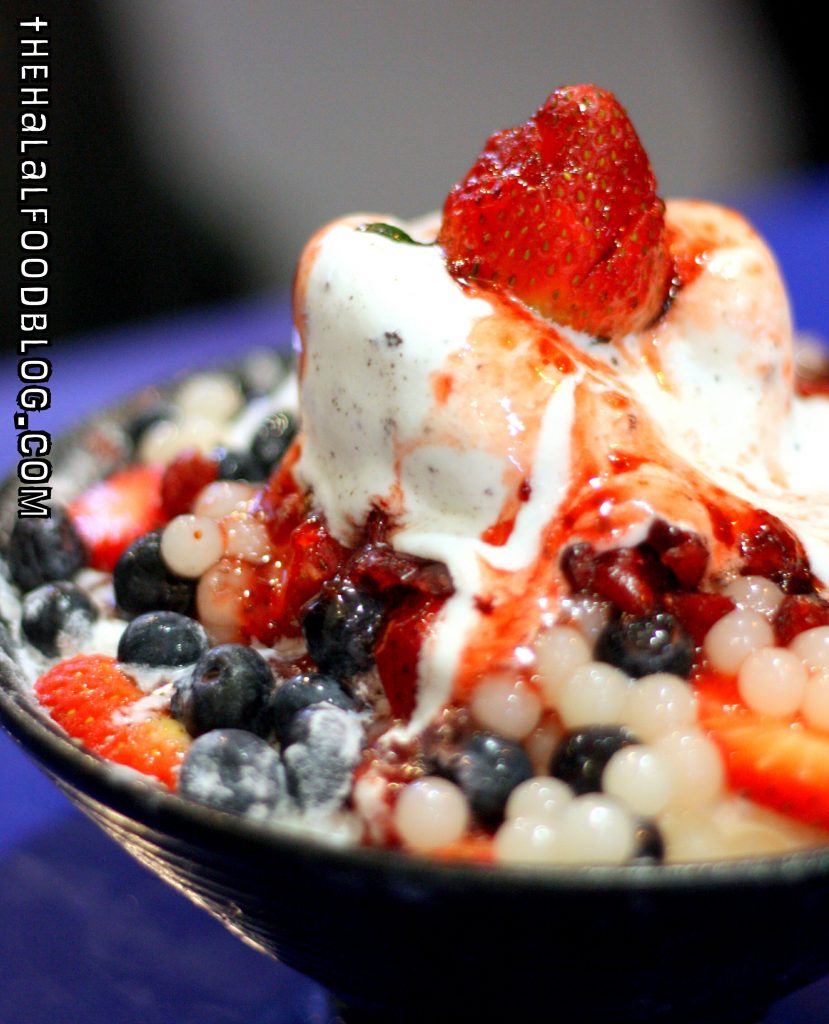 So the 'tickles' appear to be these little balls that pop when you bite into them and they 'explode' with flavour. These 'tickles' were Lychee flavoured and probably the best part of this dish.
The base of this popular Korean dessert is what I love to refer to as 'Snow Ice' which is what it was called when I first tried it in 2000 (and back then it was not so fancy lah). Think of it as… shaved ice but it's milky and creamy.
There's plenty of the mixed berries here including fresh blueberries, fresh strawberries and strawberry compote.
Unfortunately the ice-cream that adorned this dish was really really melted by the time we got the dish which was a major because the ice had already gone a bit melty too. So far, this visit was not going to plan at all.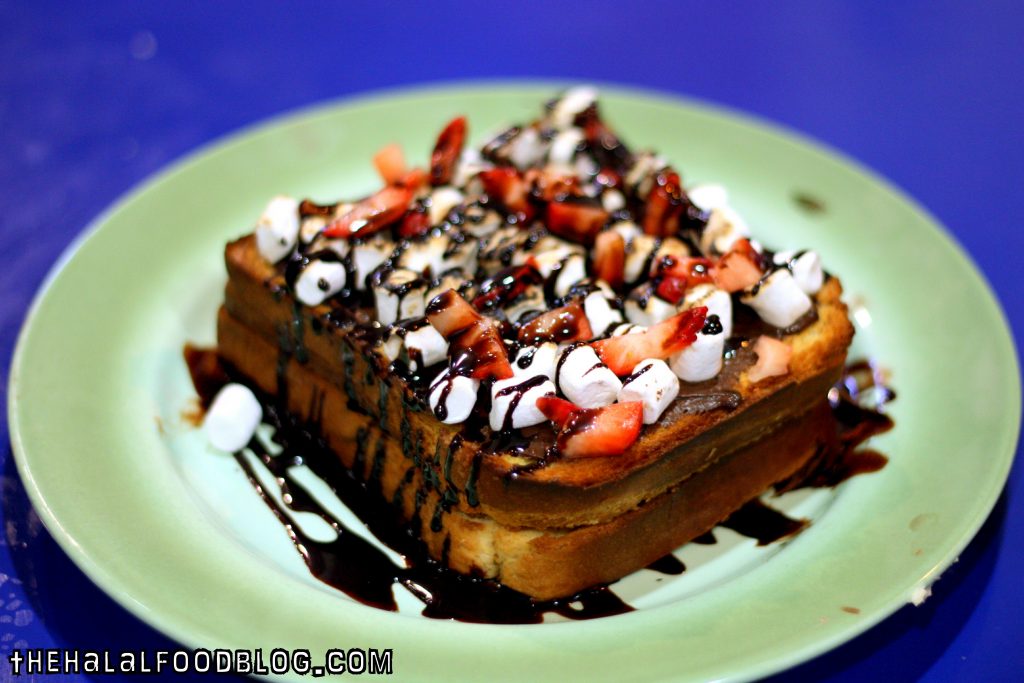 And we had to try one of their famous Toasts and we decided to go off the beaten track a little and order something that was not listed on the menu but something we saw on their IG instead.
The Triple Chocolate Banana Smores Toast definitely looked like something to be reckoned with!
So what's the triple chocolate in the triple chocolate?
They've got Nutella on the top slice, Nutella on the bottom slice and chocolate sauce drizzled all over the toast!
They've got some sweet banana slices in between the toast which goes sooooo well with chocolate naturally and on top they've finished off with a whole load of mini-marshmallows and some pieces of strawberries for good measure.
Definitely give them points for using a good, thick Brioche (am I wrong?) here and I think the bread is really important here. Definitely an extremely sweet dish but what did you expect from a desserts joint right? And this dish arrived nice and hot because I waited at the counter this time after waiting for a bit too long after the first two dishes had arrived LOL oh well.
Adam's Verdict:
Salty Mr Brown 2/5 — Mixed Berries Tickles Bingsu 1.5/5
Triple Chocolate Banana Smores Toast 2.5/5
Maryah's Verdict:
Salty Mr Brown 1/5 — Mixed Berries Tickles Bingsu 1/5 — Triple Chocolate Banana Smores Toast 2/5
Azim's Verdict:
Salty Mr Brown 2.5/5 — Mixed Berries Tickles Bingsu 2/5
Triple Chocolate Banana Smores Toast 3/5
Lynn's Verdict:
Salty Mr Brown 2/5 — Mixed Berries Tickles Bingsu 2.5/5
Triple Chocolate Banana Smores Toast 3/5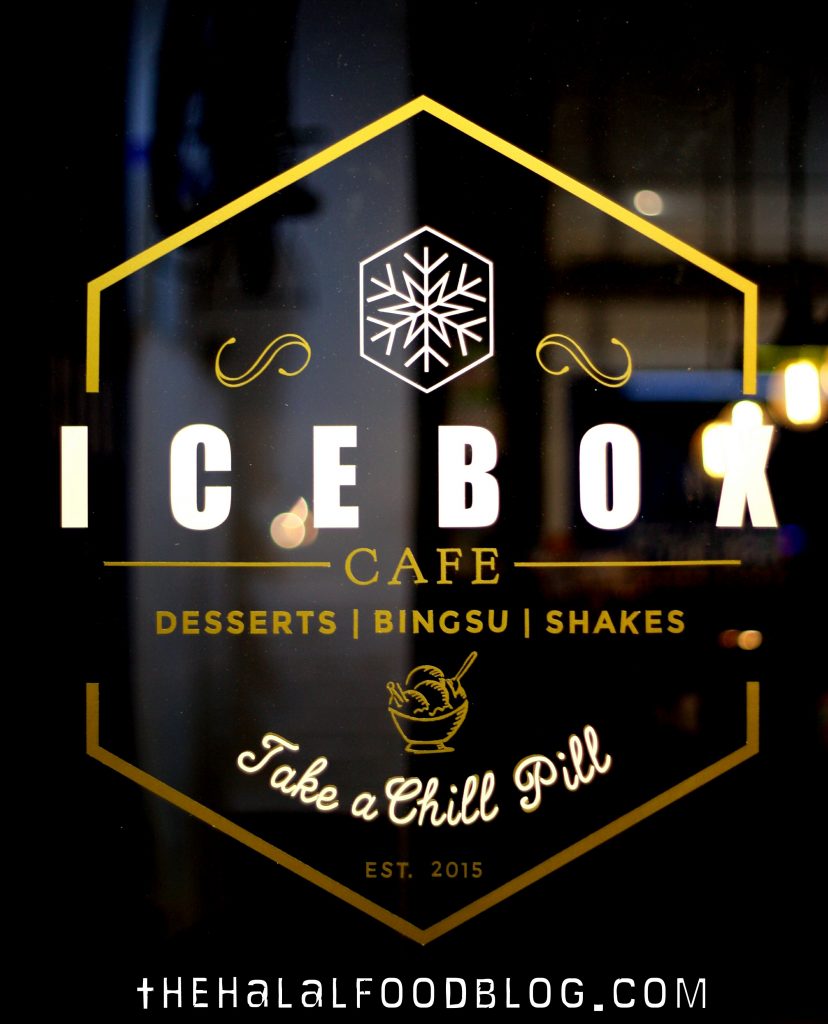 We left the place and as I walked to the car, I was thinking to myself "What the heck just happened?".
I mean, I was really looking forward to trying Icebox Cafe for the longest time and now that we'd gone, I found myself dragging my feet as we walked away, feeling disappointed.
Could it have been another case of bad luck for us (which happens quite a fair bit LOL)? Was the air-con spoilt inside which caused the desserts to melt? Maybe some new staff who was not used to torching the mini-marshmallows? I'd include that maybe my expectations were too high but at those prices, I definitely thought it'd have gone better.
But I will say this – the staff were really nice. There was this guy – who I believe is one of the owners – and he was super friendly and he even complimented me on my pants LOL and not many people notice what great pants I have. And it was obvious that they were having a busy night (and probably short-staffed) but you could see that they were trying their best.
Well, I hope to visit again and next time, I might order some new stuff from the menu. Or I might order the exact same stuff to see if we get the same result. Whatever I order, I hope it's as good as it looks on Instagram.
89 Rangoon Road
#01-02 Urban Lofts
www.iceboxcafe.sg
Facebook: www.facebook.com/iceboxcafe.sg
Instagram: @iceboxcafe.sg
Operating Hours:
2.00pm til 11.00pm Mondays – Fridays
12.00pm til 11.00pm Saturdays, Sundays & PH
All information (including prices, availability of item on menu and Halal status of establishment) are accurate at the time of posting. All photos used in this site are property of The Halal Food Blog unless stated otherwise.