After seeing so many people posting about I Am on their Facebook and Instagram accounts, it's actually very strange that we haven't visited after all these years. Always see our friends especially the #HalalGirls from HalalFoodHunt.com posting about the food they're enjoying there but somehow, we've never been.
Okay lah it's not fair to say we've never been. We've been plenty of times but it's ways packo to max which is a testament to how popular the place is. Well, here we are. Or rather, I Am… here. Or something like that.
Don't worry we'll get the hang of it.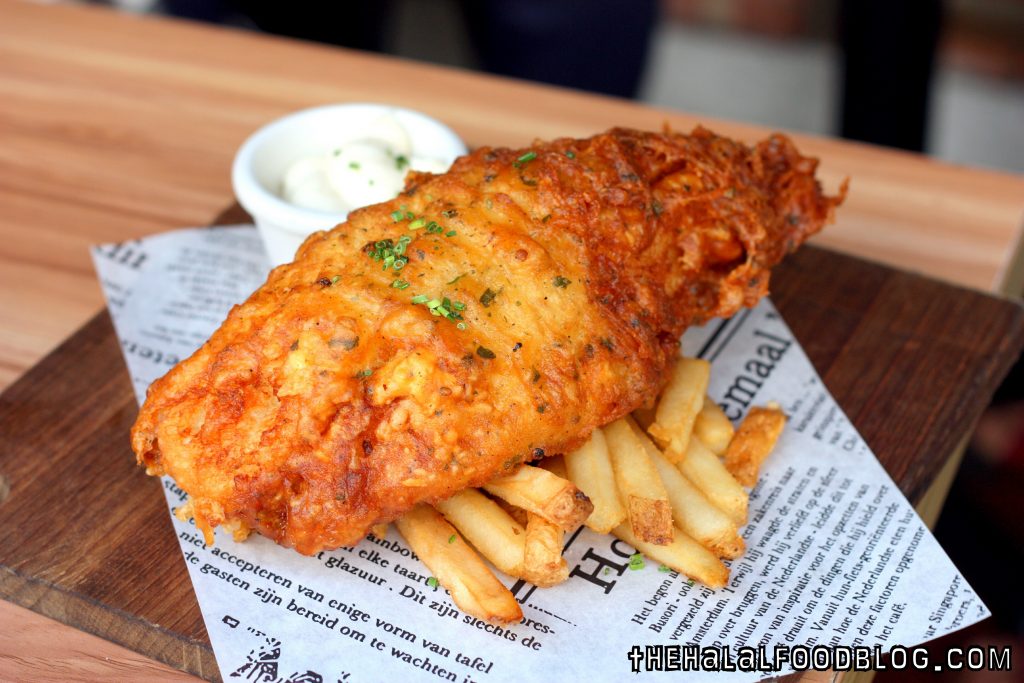 Definitely one of the more popular (and photogenic) items on the menu is the all-time favourite of many – the much loved Fish 'N' Chips! So what make the version at I Am stand out?
So we have a pretty generously-sized Dory fillet here that's been battered and deep-fried to golden perfection in a special I Am batter. And this glorious piece of fish lies upon a bed of skin-on chips. Yes, this is a British dish so it's chips and not fries LOL
The fish fresh but to us, the star is actually the batter. We don't know what seasoning or special secret or magical sorcery they use but this batter is absolutely the bomb! Love that crisp and crunch.
And by the way, the skin-on chips are  nice touch and very much appreciated.
And here's a tip – apparently you'll have to ask for a wedge of lemon (doesn't come with by the looks of it) or even for some malt vinegar which would go very well with the dish. We would have absolutely LOVED some of that malt vinegar but I guess that's what you get when you're so excited about the food that you don't read the menu properly LOL oh well maybe next time.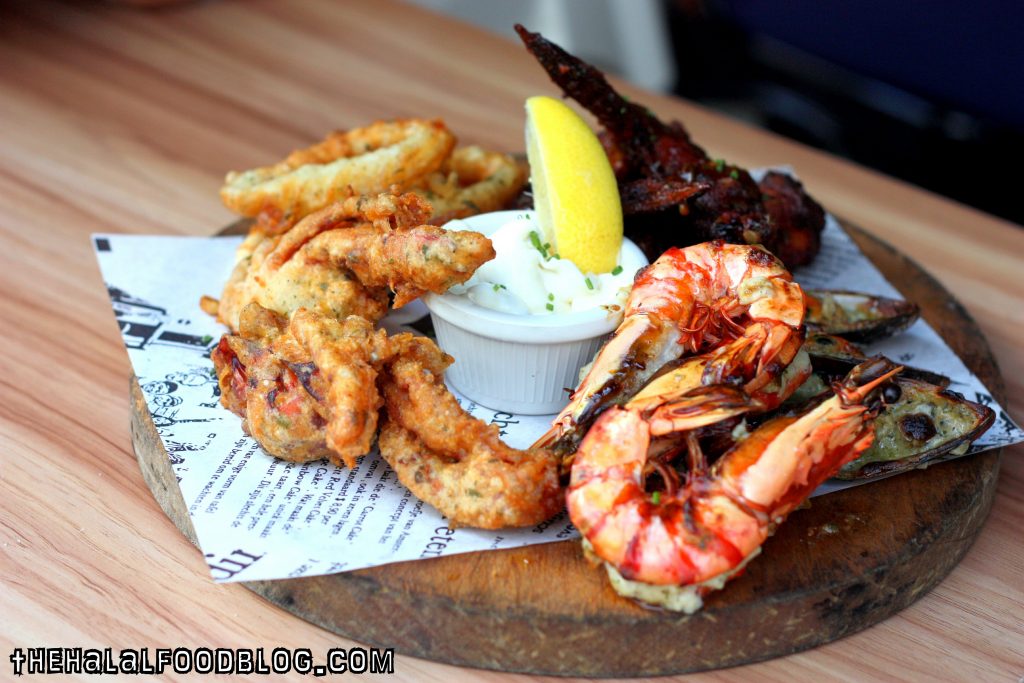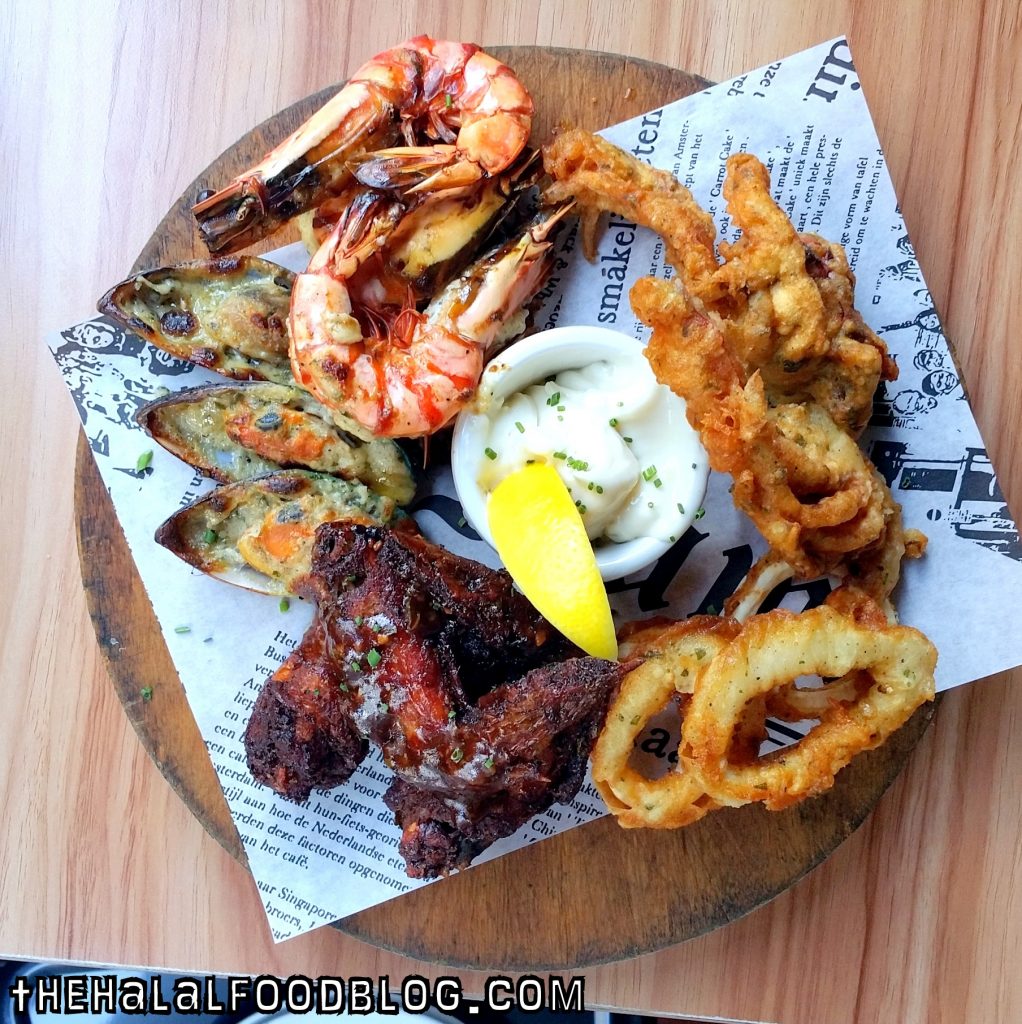 Here's something that we didn't really plan on ordering at first but in the end it turned out to be a really great choice. Platters are always a good idea when you don't know what to have especially when there are so many great Starters on the menu. A bit of this and a bit of that is always a good chance to try everything.
Good thing then that the I Am Platter is a good mix of some of their starters. You've got some seafood and some chicken wings. Plus plenty of fried stuff so that's automatically a win LOL
First up is a quartet of jumbo prawns that this kinda like garlic herb butter thing going on and absolutely delicious. The prawns were fresh and a more than decent size.
I'm guessing they were tossed in the fryer for a bit before being finished off on the grill or oven with some of that garlic herb butter stuffed in between. I'm not a really a prawn guy to be honest but definitely enjoyed this one. You could also order them ala carte at $14.90 for 6 prawns.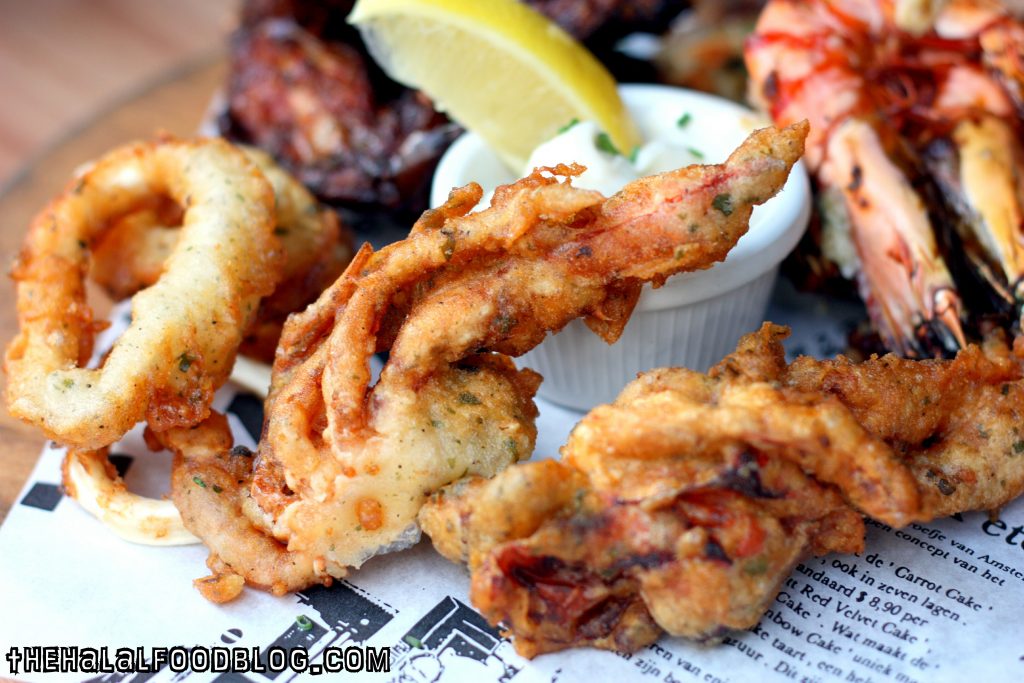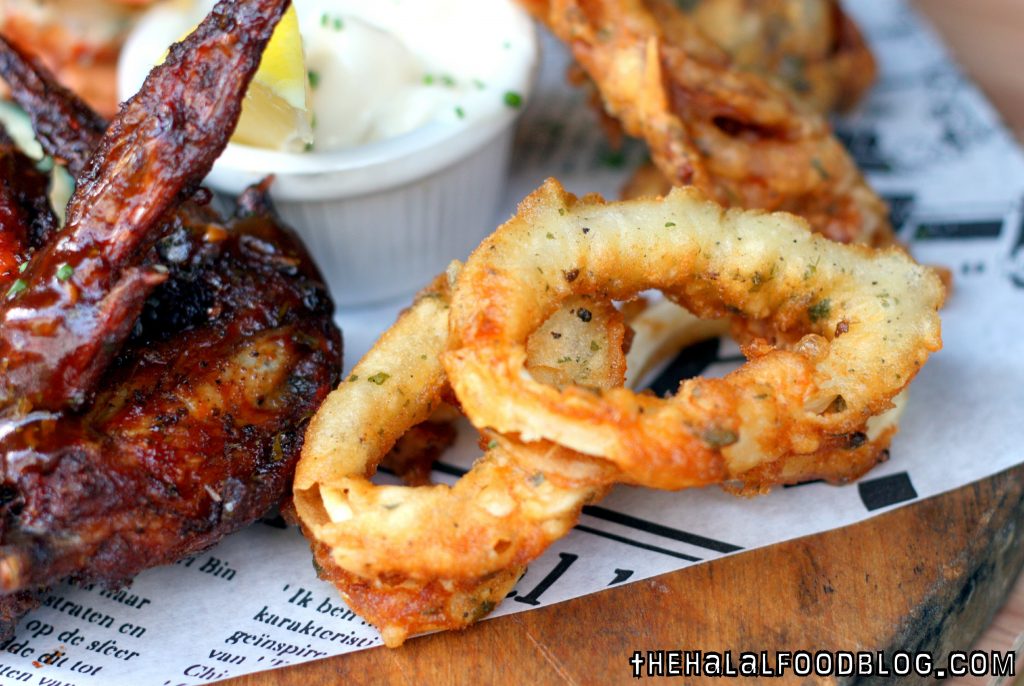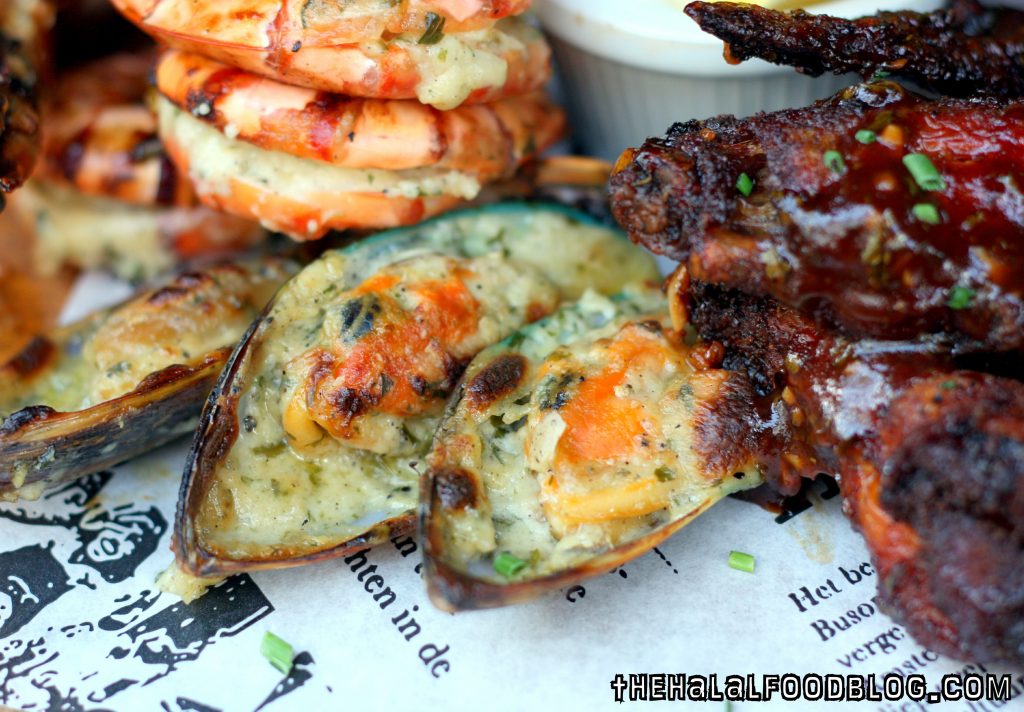 A trio of seafood also awaits on the I Am Platter!
The Soft-shell crab and Squid Rings aka Calamari are battered in the same delicious batter as the Fish 'N' Chips. Nice and crispy and a great crunch when you chomp down and great to dip into the mayo that comes with. So far it seems like everything with the batter is a delight to have.
My Darling Wife did find the Squid Rings a bit tough maybe because they were a bit over-fried but I personally do enjoy the type of Brit fried food where anything and everything is battered and fried up to the max. But good to note in case you're sharing with kids because it is kinda tough to chew if you haven't got the chompers for it.
The Baked Mussels were also nice. They've got a bit of a creamy white sauce which is always great for baking and a great bite for all you seafood lovers.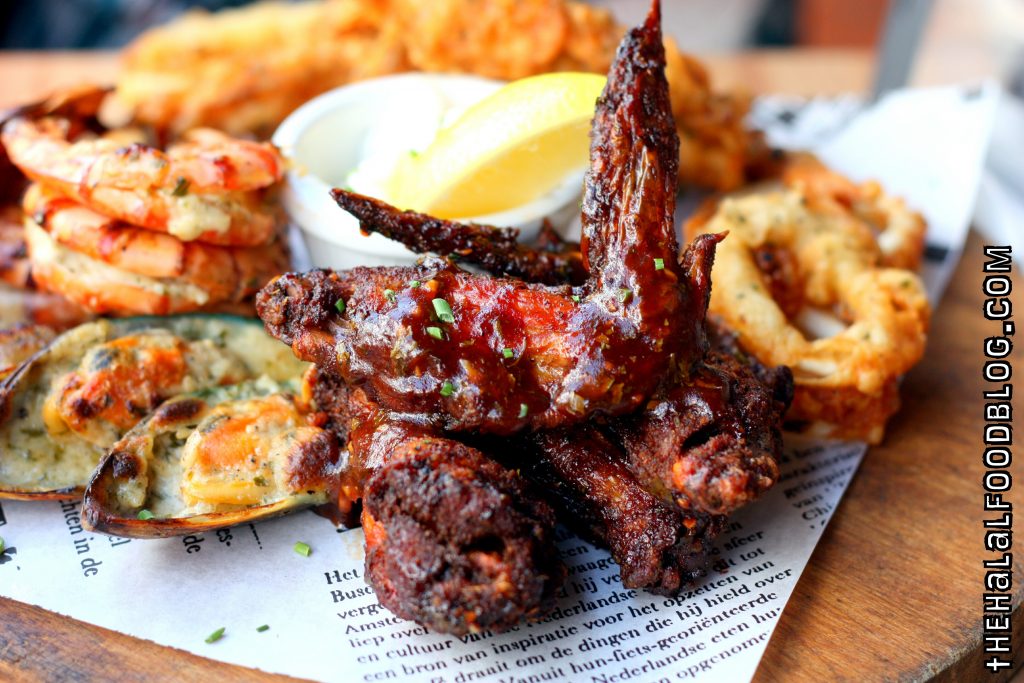 What's a platter without some chicken wings right???
Come to think of it, we think it should actually be made mandatory LOL
So the Hot Wings are not super spicy but you can detect a bit of the heat when you chomp down. The main source of this is the 'hot sauce' that seems to be poured over the top of the wings as opposed to the wings being tossed in the sauce and that means they're not totally coated. But having said that, they never claimed this to be a Buffalo Wing anyways.
Overall a good flavour and it's nice to finally try their famous Hot Wings.
You can also order the Hot Wings as a standalone side at $10.90 for 8pcs.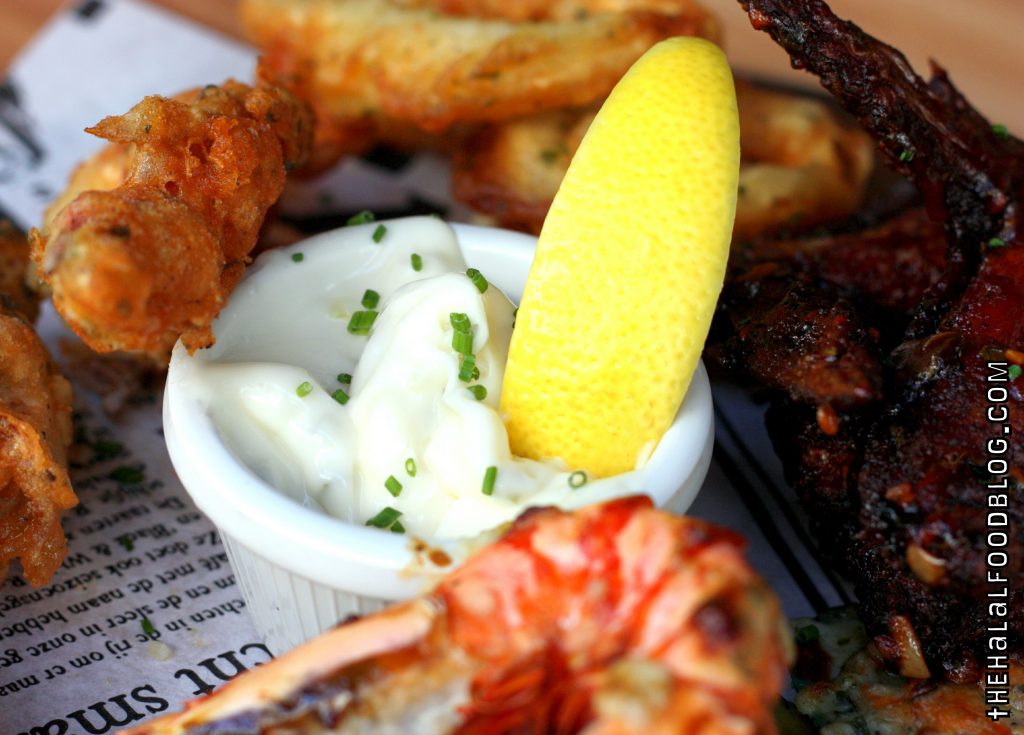 The mayonnaise dip that comes along is also worthy of a mention. It's the same one that comes with the Fish 'N' Chips and it pretty much goes with everything Not sure if they make it themselves or not but it's great.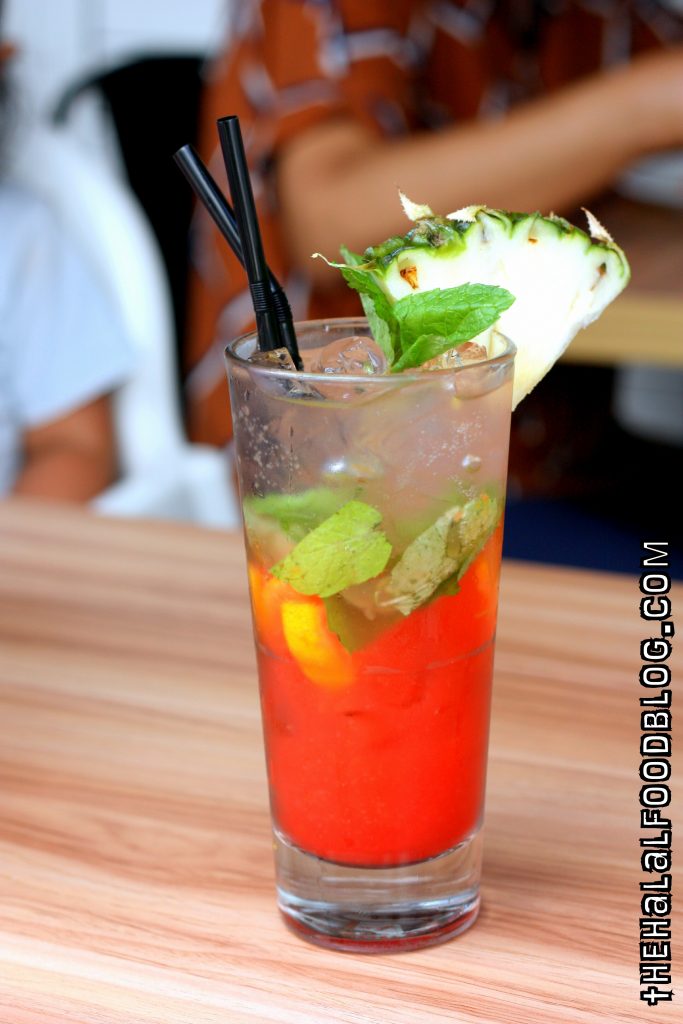 Wasn't too sure what to order for a drink (simply because they have so many choices on the menu) so decided to ask the staff for a suggestion. Little wonder that they'd suggest the drink that's labelled as "the most popular drink" on the menu LOL
The Bushramint is, despite it's reddish hue, actually citrus-based and a little fizzy. Definitely enjoyable and refreshing especially since it was a really hot day.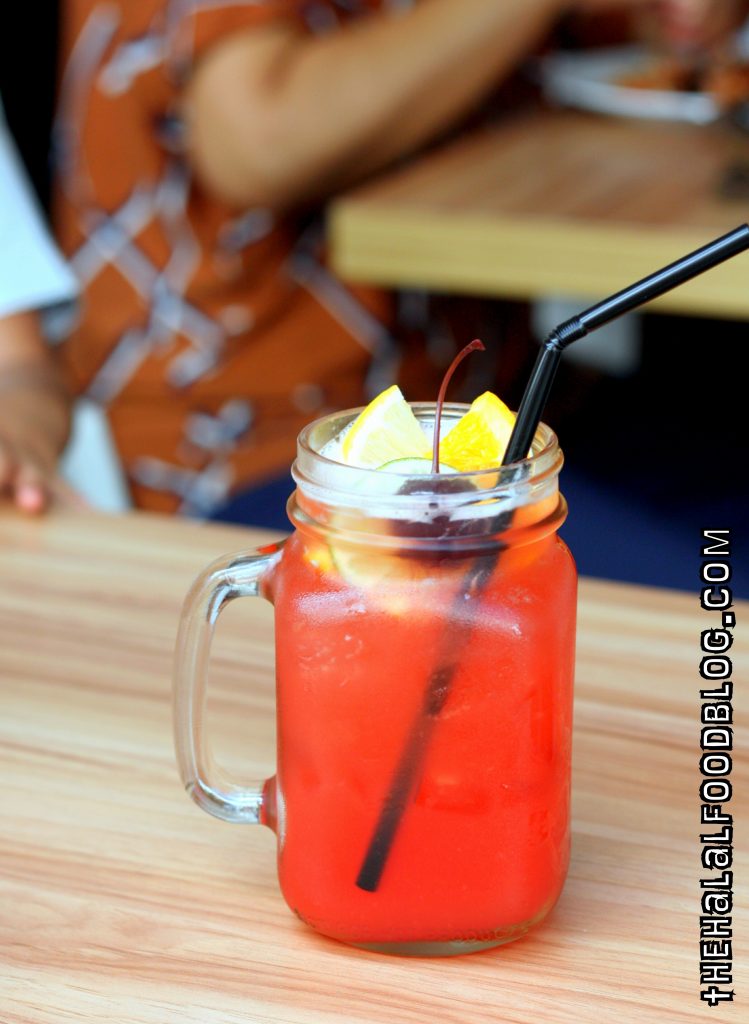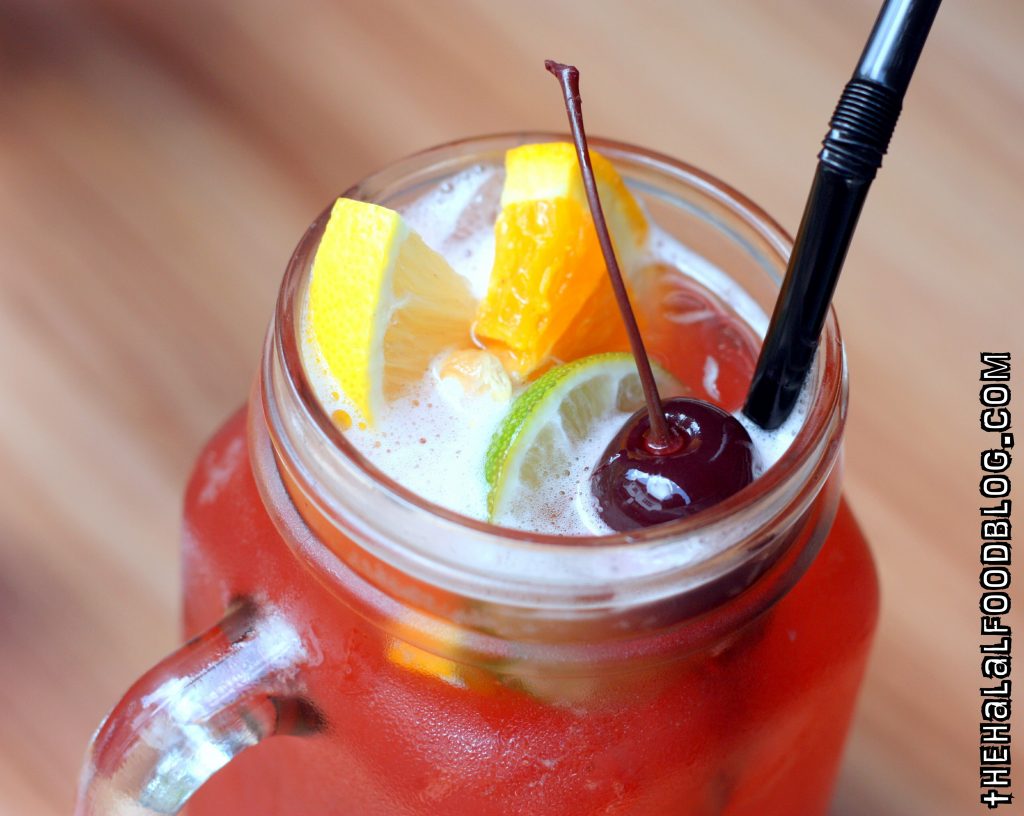 The Fruit Punch was listed under the 'Juices and Others' section of the beverages list but should not be overlooked. It's surprisingly very elaborate (even with a dark cherry!) and a very satisfying drink.
The price at $3.50 is very value for money especially since a soft drink would cost you $2.50 so just an extra buck and you can enjoy this instead.
Adam's Verdict:
Fish 'N' Chip 3/5 — I Am Platter 4/5 — Bushramint 2.5/5 — Fruit Punch 3/5
Maryah's Verdict:
Fish 'N' Chip 4/5 — I Am Platter 3.5/5 — Fruit Punch 4/5
Overall, it was a very good first visit to I Am cafe. They have so many dishes on their menu that seem pretty fantastic. They've got burgers and pasta and even pizza. Plus Haji Lane always seems like a nice place to chillax once in awhile.
I Am… very impressed.
I Am… definitely looking forward to visiting again.
674 North Bridge Road #01-01 (off Haji Lane)
Tel: 6295 5509
www.iam.com.sg
Facebook: www.facebook.com/Iamathajilane
Instagram: @iamathajilane
Operating Hours:
11.30am til 11.00pm Tuesday til Thursday
11.30am til 1.00am Fridays and Saturdays
11.30am til 10.00pm Sundays
Closed on Mondays
All information (including prices, availability of item on menu and Halal status of establishment) are accurate at the time of posting. All photos used in this site are property of The Halal Food Blog unless stated otherwise.