I used to visit Sim Lim Square a countless number of times in my youth. It used to be THE place to go to for all things tech related like computers and games etc. Over the past few years, it's gotten quite a bad image but I think all that is in the past and business is definitely picking up there.
Anyways, it's known for many things but I don't ever remember Sim Lim Square being known for any good food. Well, it seems like that's gonna change with the opening of Hanna's!
I'm not exactly sure how long it's been around and/or certified Halal but we've seen a few of our readers visiting and when I look at the menu and see what a wide variety of Japanese and fusion fare they have, I can see why Hanna's is steadily gaining popularity despite its rather unexpected location.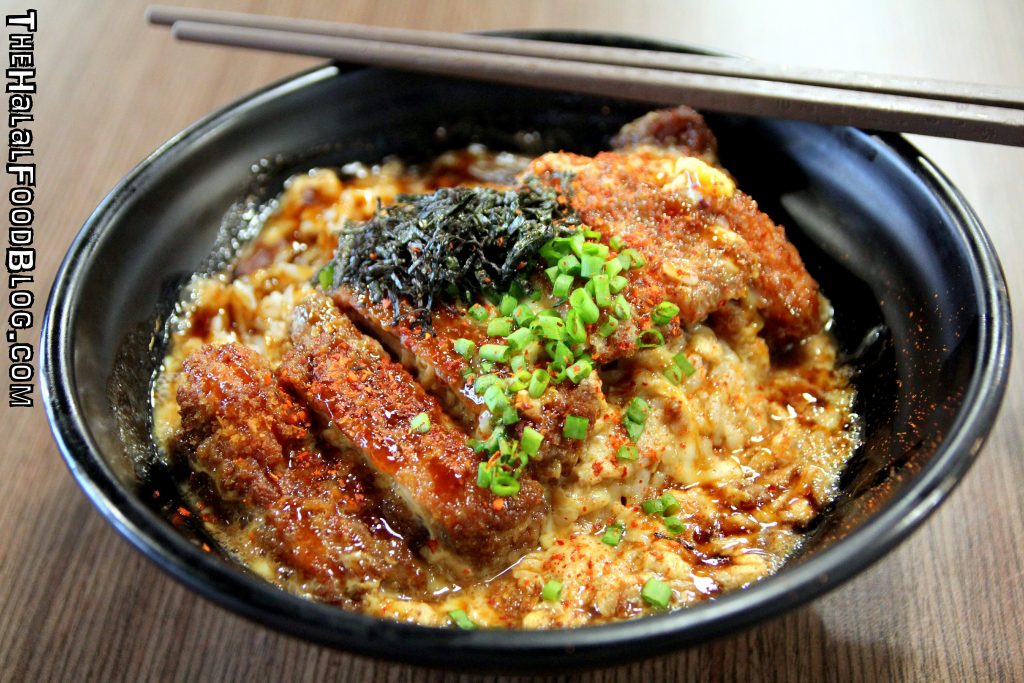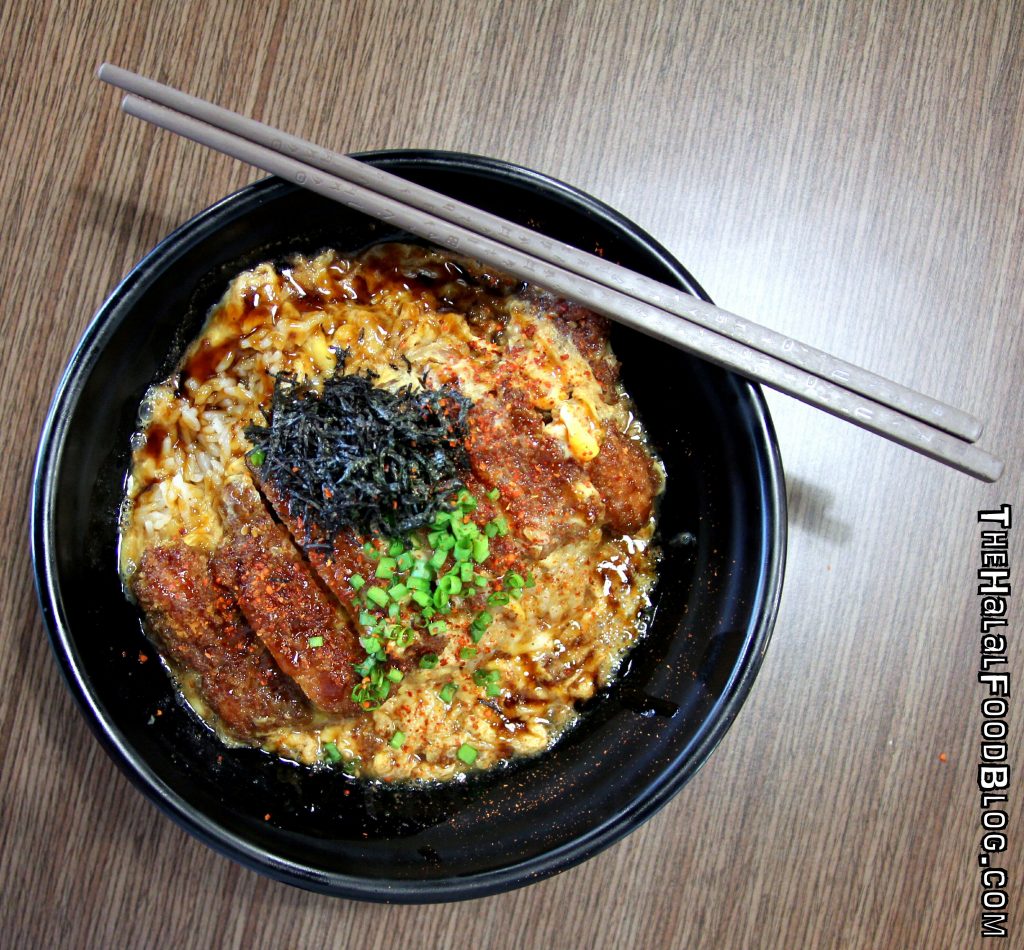 This was not the first thing I'd tried at Hanna's but I am featuring it first because this was THE ABSOLUTE BOMB!! Hands down my favourite dish at Hanna's (so far).
In case you all did not follow our coverage during our trip to Japan late last year, I'd actually tried to find myself some decent Donburi while we were there but only ended up getting to have it on one occasion. Well, it looks like I've found a place where I can enjoy it right here in Singapore and it comes with the works!
So atop a bed of rice lies this absolutely gorgeous piece of Chicken Katsu in all its deep-fried glory. The chicken cutlet is super tender and the best part is obviously the crisp outer layer of skin!
There is the obligatory drizzle of Teriyaki sauce all over the cutlet and also the rice too but something I totally did not expect was a layer of egg. It was an absolutely perfect texture – a little bit runny on the sides – which gave the dish a whole new dimension in terms of flavour and texture.
Since there is chicken and egg, I automatically thought that this might count as Oyakodon (親子丼) aka Chicken & Egg Rice Bowl aka Parent & Child Rice Bowl but then again, they have an Oyakodon on the menu too. Looks like I'll have to try that one next…
Well, whatever you wanna call it, bottom line is that this dish is super sedap in my books.
They also have Gyu Don (Beef Rice Bowl), Oyakodon (Chicken & Egg Rice Bowl) and also Ebi Tempura Don (Breaded Fried Prawn Rice Bowl) so there's something for everyone.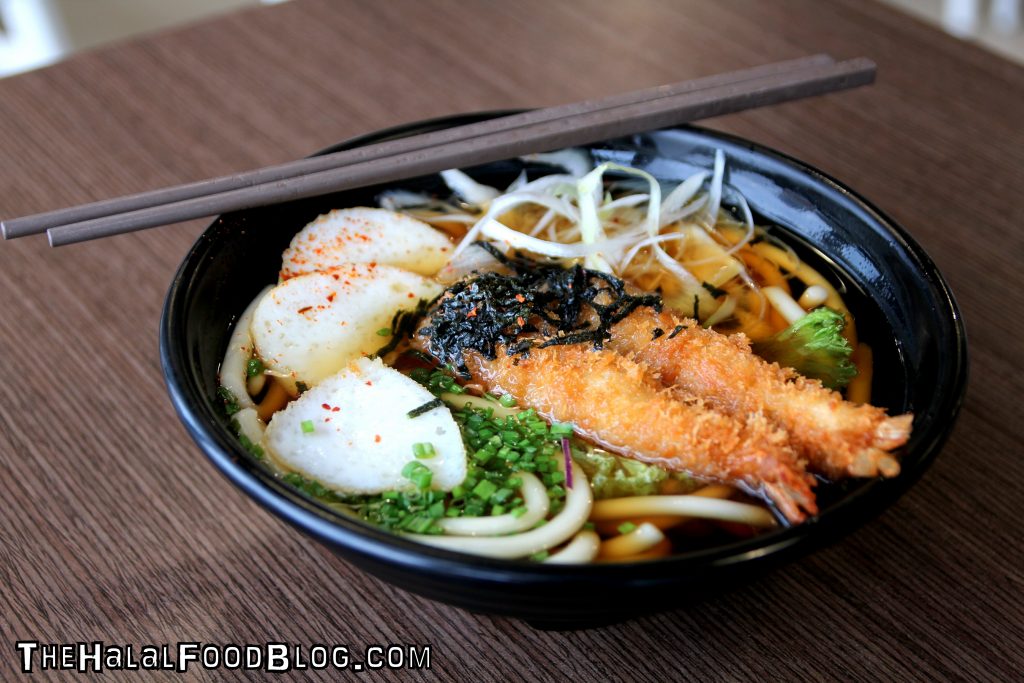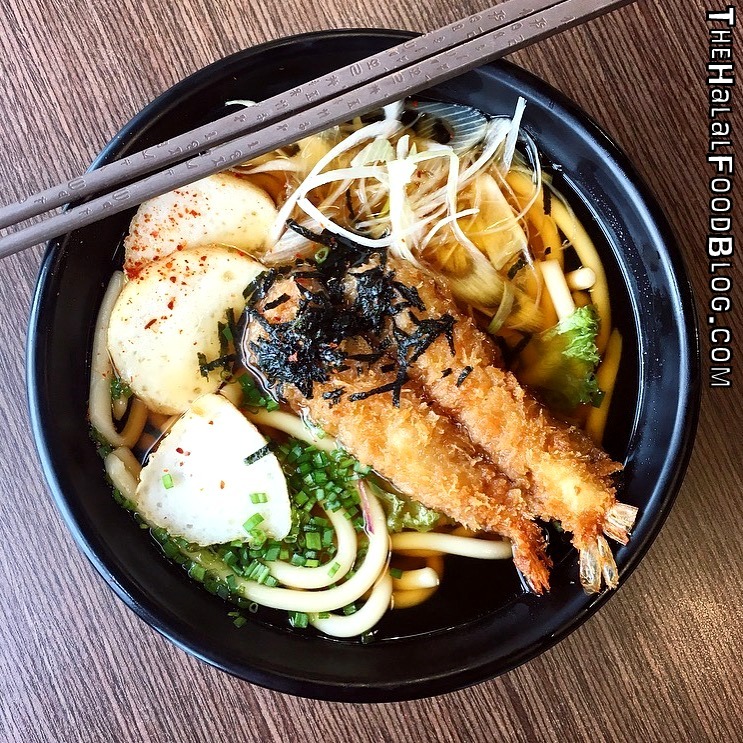 Here's one for all the noodle lovers out there! Hanna's has a few Ramen dishes on the menu but we're saving that for next time. This time, we're going with the Udon.
Udon noodles bathe in a really delicious broth along with some fish cake and 2 golden brown Ebi Tempura crown this dish.
So we've already mentioned that the broth is tasty and all the more when slurped up with some of those Udon noodles. Springy with a great bite. Definitely sedap.
The Ebi Tempura was actually pretty tasty too but unfortunately, the crispy breaded prawns tend to not be so crispy after all because the dish is served with the Ebi Tempura already 'swimming' in the broth. This means the breaded part gets soggy. That would probably be the only fault I found with the dish.
Perhaps Hanna's might consider serving any Tempura (or any other fried items) on the side if served with any soupy dish. Would definitely be more enjoyable to enjoy that crunch of the Tempura.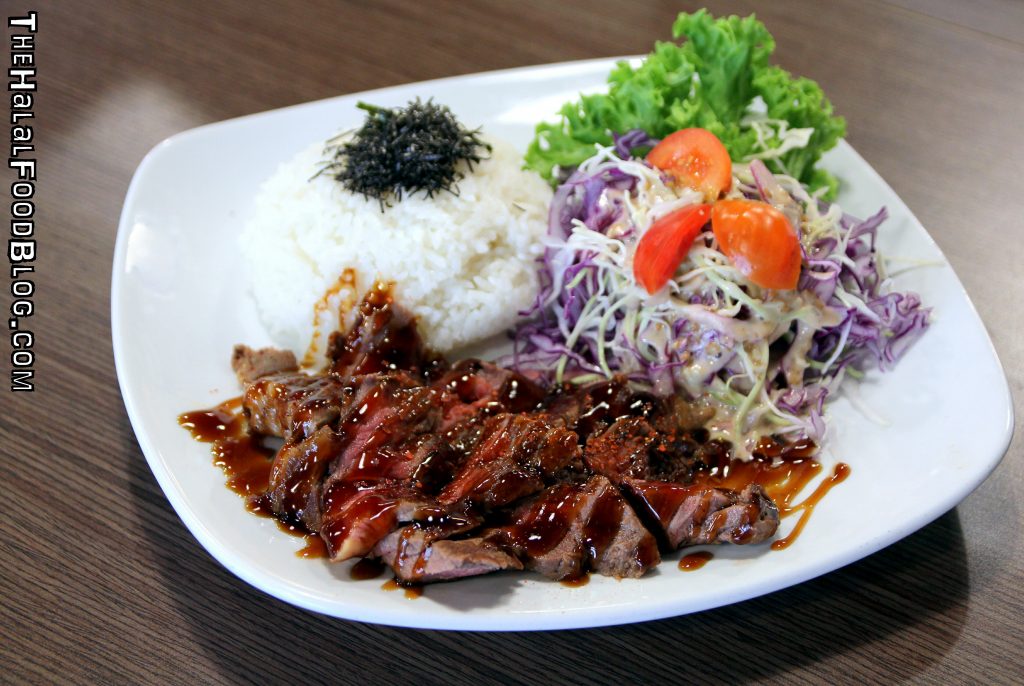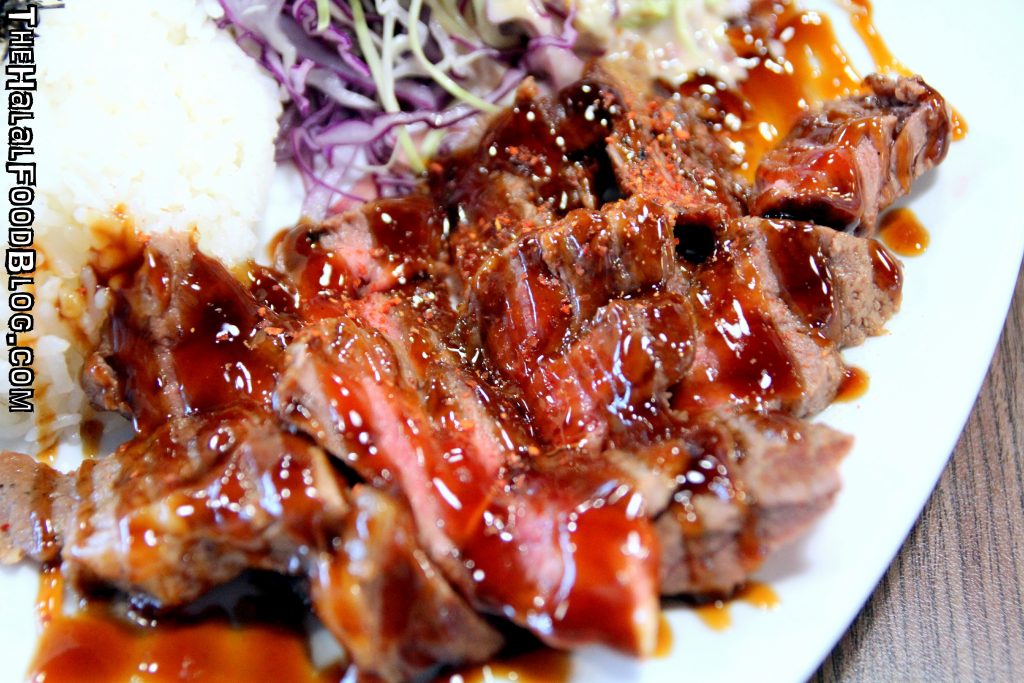 Last but not least for this particular visit was the Beef Teriyaki Bento Rice Set which is pretty much your all-round meal with rice, meat and some veggies on the side. Overall not bad especially if you're in the mood for an all-in-one meal. Plus, it's actually a really big serving!
Saw on Facebook/Instagram that one of the signature items on the menu at Hanna's is the Grilled Angus Steak but I don't think that the beef here is the Angus Beef based on the prices stated on the menu.
Well, I guess we will find out when we order the Grilled Angus Steak next time.
Oh, by the way, other Bento Rice Sets include the Fish & Beef Combo, Beef & Chicken Karaage Combo, Fish & Chicken Karaage Combo, Creamy Onion Beef & Mushrooms (!!!), Chicken Karaage, Chicken Teriyaki, Fried Fish and Chicken Katsu.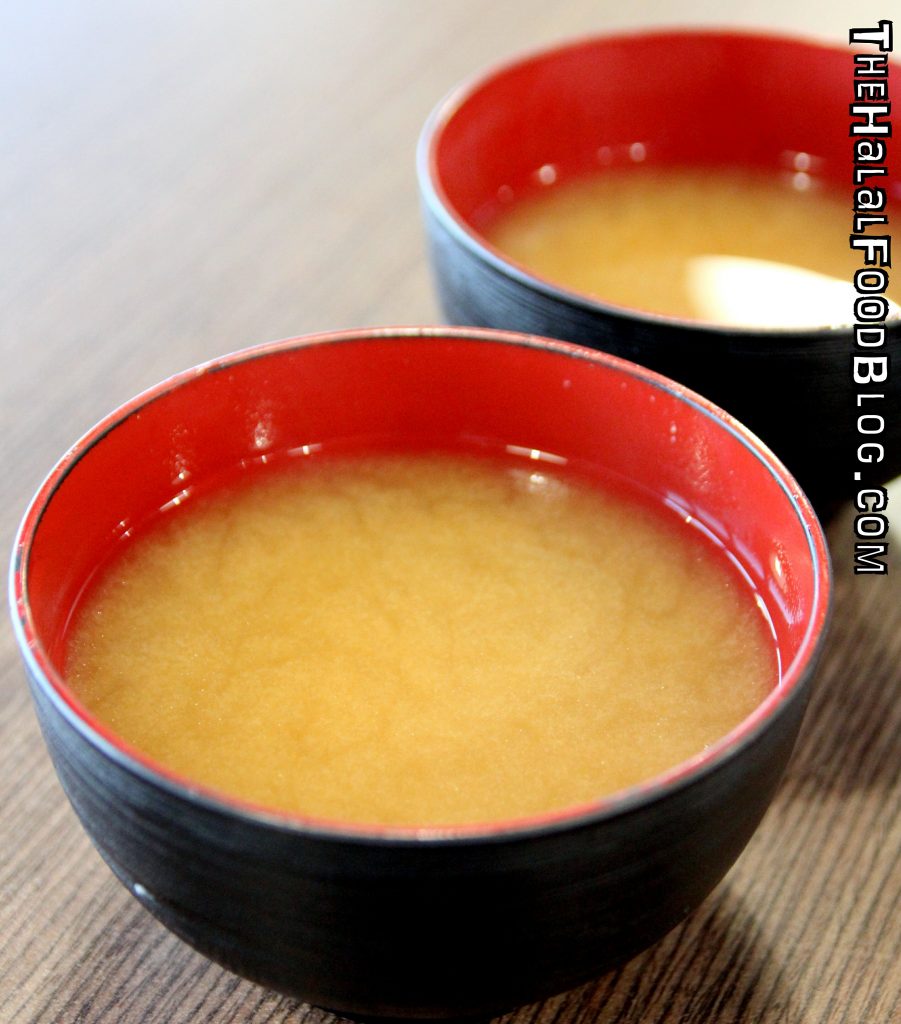 Here's a very special mention for the Miso Soup that was actually super delicious! You can enjoy it as it comes with selected sets on the menu. Weirdly, we don't see it as an ala carte item on the menu LOL
Adam's Verdict:
Katsu Don 5/5 — Tempura Udon 2.5/5 — Beef Teriyaki Bento Rice Set 2.5/5
Azlan's Verdict:
Beef Teriyaki Bento Rice Set 3/5
Well, there you have it folks. We now have a reason to head down to Sim Lim Square other than to look for gadgets and to repair our laptops LOL it's a very interesting menu and we're looking to trying more of the stuff on there especially some of that fusion stuff.
Sim Lim Square
1 Rochor Canal Road Road
#04-02F
Tel: 6337 7540
www.hannas.com.sg
Facebook: www.facebook.com/pg/hannas.com.sg
Instagram: @hannas.com.sg
Operating Hours: 11.30am til 8.00pm Daily
All information (including prices, availability of item on menu and Halal status of establishment) are accurate at the time of posting. All photos used in this site are property of The Halal Food Blog unless stated otherwise.
---
Hanna's Fusion & Japanese Restaurant offers 10% off for all FRIENDS Card holders. Valid all day, any day for non-promotional items only.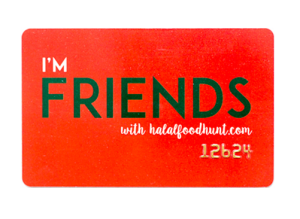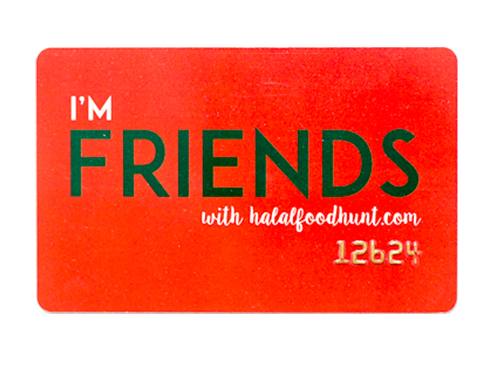 Get your FRIENDS with halalfoodhunt.com Rewards Card now at only $18/year and unlock discounts at over 60 halal restaurants, cafes, bakeries including online e-commerce businesses in Singapore. For a full list of where you can enjoy your card, click here.