With the Mid-Autumn Festival fast approaching (it's in the first week of October!), tis the season for mooncakes! And if you're wondering where to get some, we have you covered! 😀
Even though we do not celebrate a particular festival, these days it's such a privilege that we can still share in the culture and, of course, the food! Definitely one the best things about living in multi-racial Singapore right! Think back a few years ago and Halal mooncakes were a rarity. Thankfully, we're lucky enough to not only have Halal options but a wide range to choose from for that matter!
We skipped our coverage last year but we're back with our list!
Here's our rundown of 10 Halal Mooncakes you can enjoy this Mid-Autumn Festival (in no particular order).
1. Swensen's
We start the list off with some mooncakes that are.. not exactly traditional but still look set to be big favourites nonetheless. I mean, how can anyone possibly resist ice-cream right! 😛
Swensen's Sweet Medallion Mooncakes are a spin on traditional mooncakes with ice-cream fillings within chocolate casings which resemble the mooncakes we all love and enjoy. As an added bonus on top of the ice-cream, a "truffle yolk' treasure lies within!
There are 4 flavours to choose from – Cookies N Cream Surprise, Durian Royale, Rocher Crunch and (the ever popular) Sticky Chewy Chocolate. Enjoy your favourite Swensen's ice-cream flavours and enjoy that chocolate shell as you chomp down to get at that truffle yolk centre.
Swensen's Sweet Medallion Mooncakes are priced at $48.80 for a box of 4 or $12.20 per piece.
Visit THIS LINK to place your orders!
Swensen's Singapore
26 outlets islandwide || Tel: 67888128
www.swensens.com.sg
Facebook: www.facebook.com/SwensensSingapore
Instagram: www.instagram.com/swensenssingapore

2. Crowne Plaza Changi Airport
If we had to choose a winner for Best Packaging, Crowne Plaza Changi Airport would win hands down. A couple of years ago, their metal suitcase-resembling packaging was really a sight to behold and they've really outdone themselves this year with a sleek and very stylish orange case complete with leather luggage tag!
Crowne Plaza Changi Airport has both traditional Baked Mooncakes (White Lotus Paste woth Double Egg Yolk, White Lotus Paste with Single Egg Yolk and While Lotus Paste with Melon Seeds) and also Snow Skin Mooncakes (Salted Green Bean with Taro and Lychee Bits with White Lotus Paste) as well so take your pick!
Crowne Plaza Changi Airport's Mooncakes are priced at $70 (Traditional) and $85 (Snow Skin) for a box of 4. To order, call 6823 5359 / 6823 5367 or email [email protected] Full details can be found at THIS LINK!
Crowne Plaza Changi Airport
75 Airport Boulevard, #01-01, Changi Airport, Singapore 819664|| Tel: 6823 5359
www.changiairport.crowneplaza.com
Facebook: www.facebook.com/cpchangi
Instagram: www.instagram.com/crowneplaza

 3. Heiraz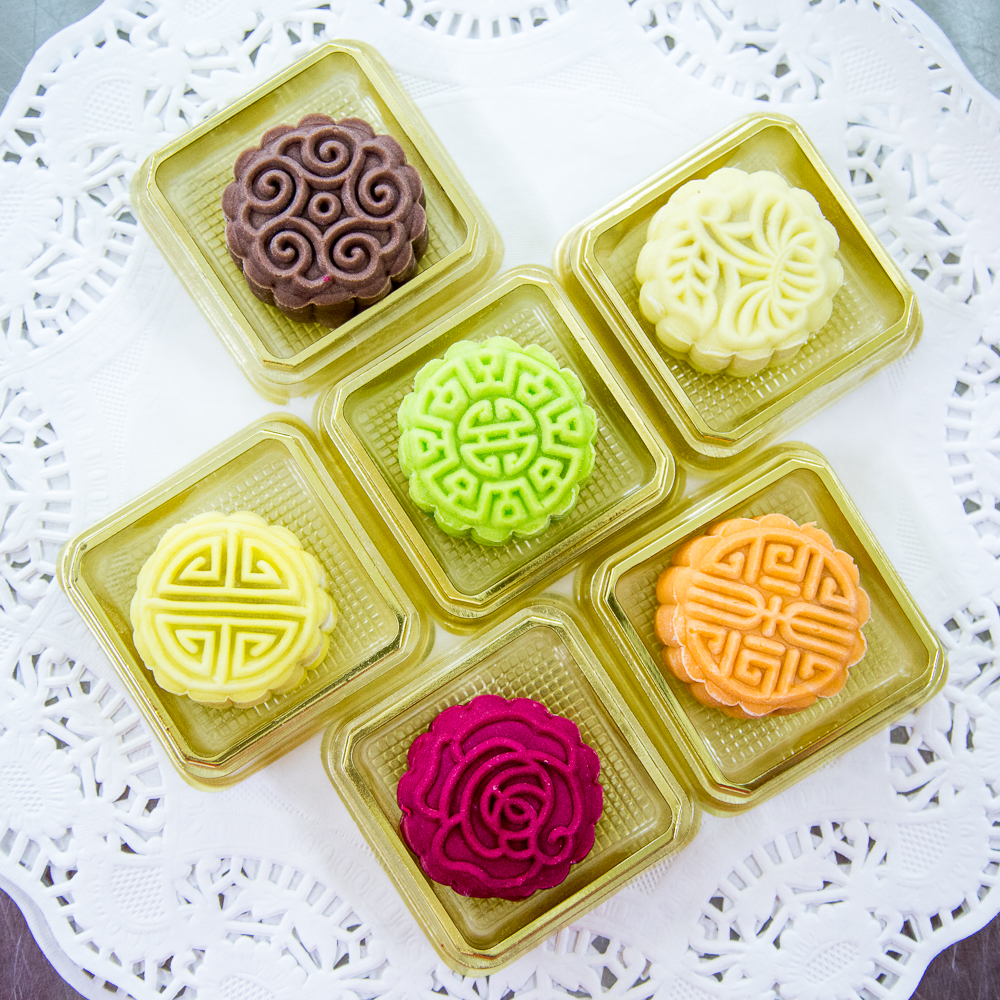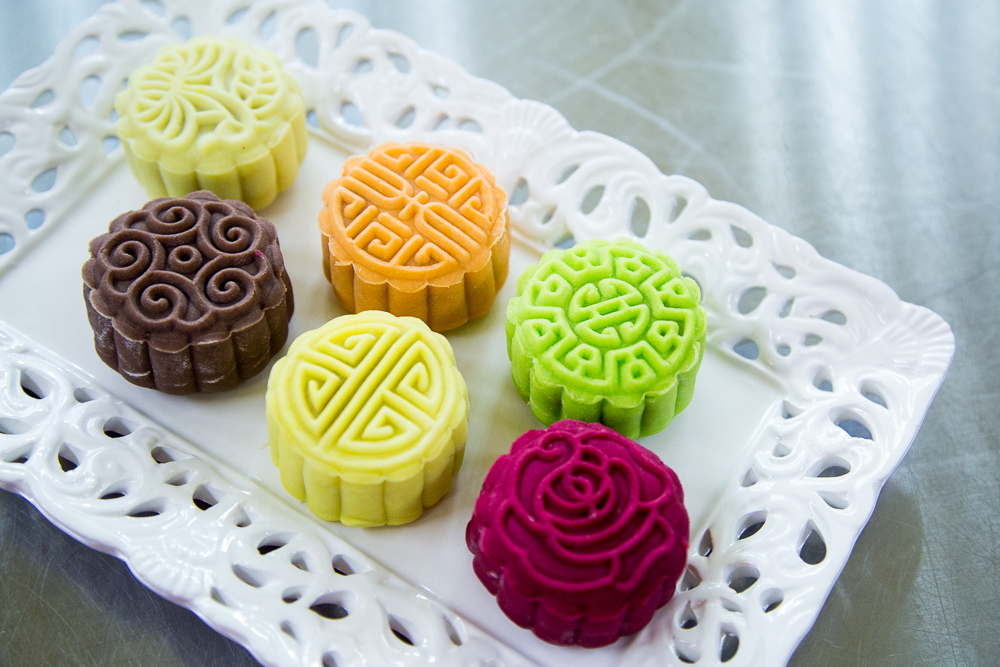 Heiraz Bakery burst onto the scene awhile back and they continue their fine tradition of bakes with this year's range of Mooncakes! And it's not just the traditional Baked ones this year.. they have Snow Skin too!
With interesting flavours like Red Velvet, Lime, Mango and even CEMPEDAK Mooncakes, it's safe to say that these are set to be hot favourites this year! And I really wish we could tell you more but the details are so special that you have to contact Heiraz directly to enquire! LOL
To order/enquire, send a WhatsApp message to 8134 9937 or [email protected] okay!
Heiraz
116 Changi Road, #01-23 || Tel: 8134 9937
Facebook: www.facebook.com/heiraz
Instagram: www.instagram.com/heirazbakery

4. PrimaDeli
PrimaDeli is back with their special range of Mooncakes which consist of both Baked and Snow Skin Mooncakes. With no less than 21 different variations to choose from, you're really spoiled for choice here.
Pure Lotus or White Lotus Paste (with 1 or 2 Yolks) and they even have Low Sugar options too! Or perhaps the Mini Baked Mooncakes might be more to your liking? Snow Skin flavours include Red Velvet, Chocolate Mint, Salted Caramel Toffee, Chendol. Mango Cream Cheese, Cookies and Cream, D24 Durian Chocolate, Black Sesame Almond and Pandan Lotus. All in Mini size by the way!
The Royal Gift Set is priced around $51.30 (or about $6.00 per piece each) and the Baked Mooncakes go for between $51.30 – $56.30 (including the Mini Baked Mooncakes too).
PrimaDeli
39 outlets islandwide || 6276 3333
www.primadeli.com
Facebook: www.facebook.com/primadeli
Instagram: www.instagram.com/primadelisg
 5. Eatzi Gourmet Bakery
In case you haven't already heard, Eatzi Gourmet is the Halal brand under the JP Pepperdine Group – the same group that owns Jack's Place – and they're not just famous for their steaks! I remember the first time we tried their Mooncakes and this year's range has even more interesting flavours.
They have 2 flavours under their Creative Fusions – the Pure White Honey Gui Hua Lotus (Single Yolk) and the Bamboo Charcoal Mooncakes – and 4 flavours under theie Baked Traditions range – White Lotus Single Yolk, Chocolate Cranberry Custard, Green tea Mochi and Latte Rocher.
Eatzi Gourmet's Mooncakes are priced at $48.80 for a box of 4, $24.80 for a box of 2 and $12.50 each individually. Visit their website for full details and to place your orders!
Eatzi Gourmet Bakery
6287 6298
www.bakery.eatzi.com.sg
Facebook: www.facebook.com/eatzigourmetbakery
Instagram: www.instagram.com/eatzigourmetbakery

6. Old Chang Kee
Old Chang Kee's Mooncakes are super cute! Their Mini Mooncakes have the unmistakable design that echoes their iconic curry puffs! But don't worry – they don't taste like curry puffs okay! LOL
Choose from 4 different flavours – Red Lotus, White Lotus, Charcoal Skin with Black Sesame and Matcha Skin with Pandan – all with our favourite Salted Egg Yolk. With every exclusive Gift Box, you also get a special sachet of tea leaves.
Old Chang Kee's Mooncakes are priced at $28.80 for a box of 4 Mini Mooncakes.
Visit their outlets or call 6555 0055.
Old Change Kee
56 outlets islandwide || 6555 0055
www.oldchangkee.com
Facebook: www.facebook.com/oldchangkee1956
Instagram: www.instagram.com/oldchangkeesingapore
7. Tip Top
Tip Top is a name you would associate with those great curry puffs that they are famous for am I right? Well guess what – they have a whole range of Mooncakes too! Not just one or two but SEVEN different variations with really attractive pricing too!
So you've got 7 different traditional baked mooncakes – Pure Lin Yoong (Lotus Paste), Single Yolk Lin Yoong, Double Yolk Lin Yoong, Pure White Lin Yoong, Double Yolk White Lin Yoong, Single Yolk Golden Jade and No Cane Sugar White Lin Yoong. Very interesting selections in their range of mooncakes include the Single Yolk Golden Jade mooncake and also the No Cane Sugar White Lin Yoong with the latter being very suitable for those who are keeping an eye on their sugar intake.
The Tip Top mooncakes pricing ranges between $28-34 for a box of 4 mooncakes depending on your selection. Visit their outlets or email to [email protected] for any enquiries including corporate orders too!
Tip Top
11 outlets islandwide || 6784 1828
http://www.tiptopcurrypuff.com
Facebook: www.facebook.com/TipTopSG
Instagram: www.instagram.com/tiptopcurrypuff
 8. Tung Lok
Lady at Esso: You wanna buy mooncakes? Got offer.
Me: Tung Lok Halal meh? I must have Halal one.
Lady at Esso: Ya Halal mah.
Me: *surprised face*
Actually I forgot that Tung Lok Group recently made a move to have their central kitchens certified Halal which I only associated to catering (especially since I enjoyed one of their sumptuous catering spreads at a recent event) but little did I realize that this also meant that certain products produced at these central kitchens could also be certified Halal. Case in point – mooncakes!
I saw 2 different boxes – the regular ones going for $61.80 and the bite-sized ones (pictured above) are $64.80 per box. Quite a number of interesting flavours too! But do take note that they have a lot of different types of mooncakes and it's not yet verified that ALL are certified Halal (for some reason they are e not making it obvious) so be sure to check for the MUIS logo okay!
According to the brochure, you can get the mooncakes at several locations but I've seen them at almost all Esso petrol stations and Cheers stores!
Tung Lok
www.tunglok.com
 9. Four Seasons Durian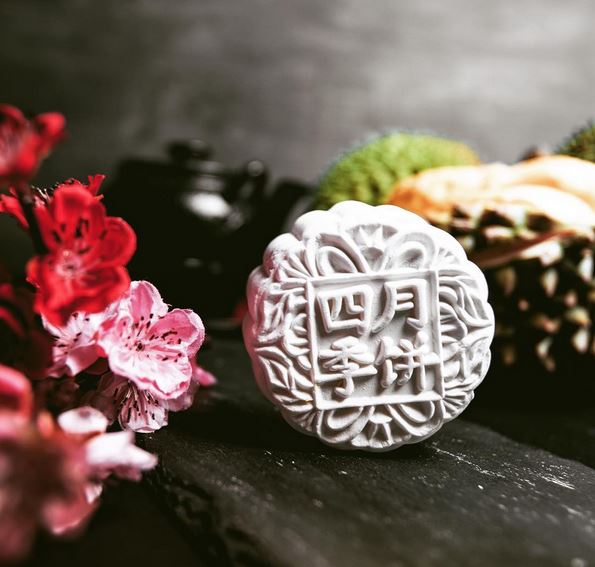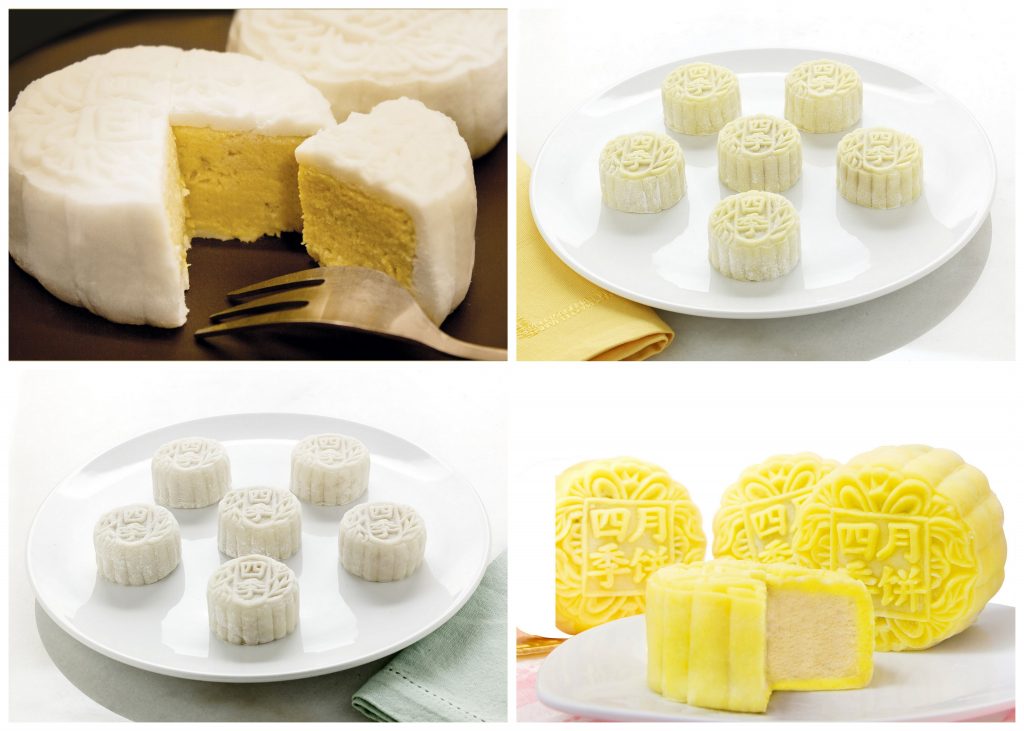 They're known for their durians so it's only natural that their mooncakes also have durians right!
Four Seasons Durians presents their range of mooncakes which are every durian-lovers dream! They've got 4 different types – Mao Shan Wang Mooncakes, D24 Mooncakes and their mini versions too! Prices range from anywhere between $49.90 to $128.00. Drop by their outlets or order online!
Four Seasons Durians
8 outlets islandwide
www.fourseasonsdurians.com
Instagram: www.instagram.com/fourseasonsdurians
 10. TUP.SG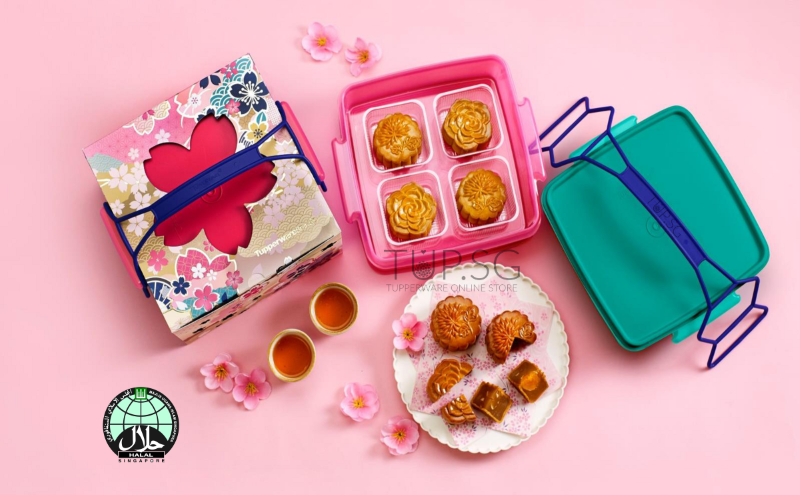 This was one that one of our readers highlighted to us – specially for all you Tupperware fans! LOL
I know that Tupperware culture is really big overseas and I'm sure it has a pretty big following too here. Well, TUP.SG is your trusted Tupperware online store and they have a Sakura Mooncake Gift Set by Tupperware and it's certified Halal!
I'm not sure where they get the mooncakes from but if you're a fan of Tupperware AND mooncakes then this is definitely a good choice for you. In fact, it's a great gift idea! East set is priced at $53.00 and consists of 2x Large Goody Box with Cariolier, 2x White Lotus Mooncakes, White Lotus Mooncakes with Yolk and a special gift box which doubles as a lantern too!
TUP.SG
WhatsApp: 90242048
www.tup.sg
Facebook: www.facebook.com/tup.singapore
11. Swee Heng 1989 Classic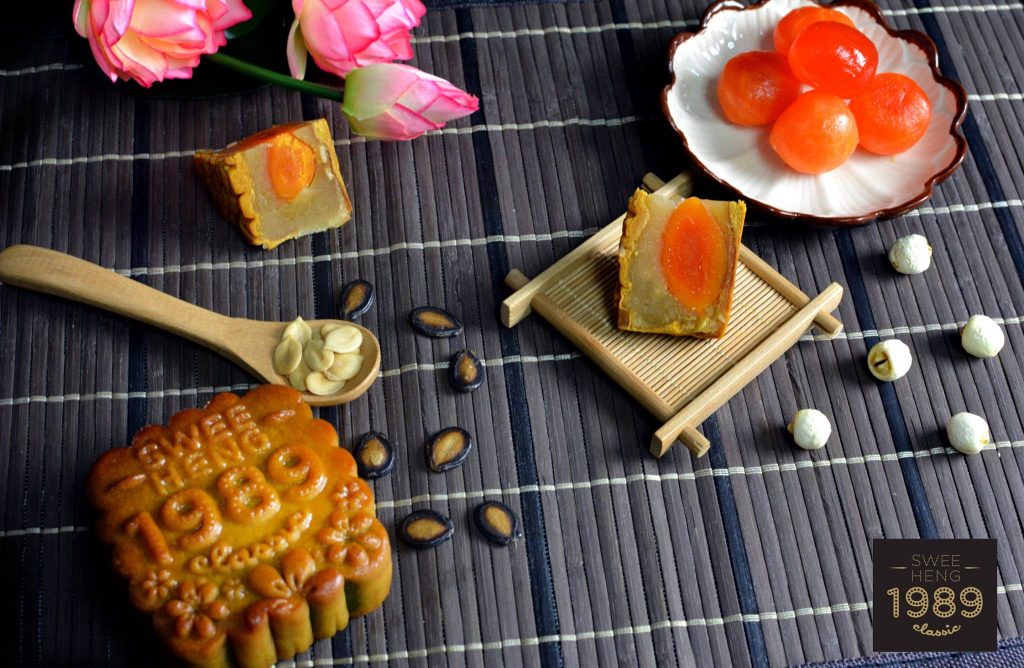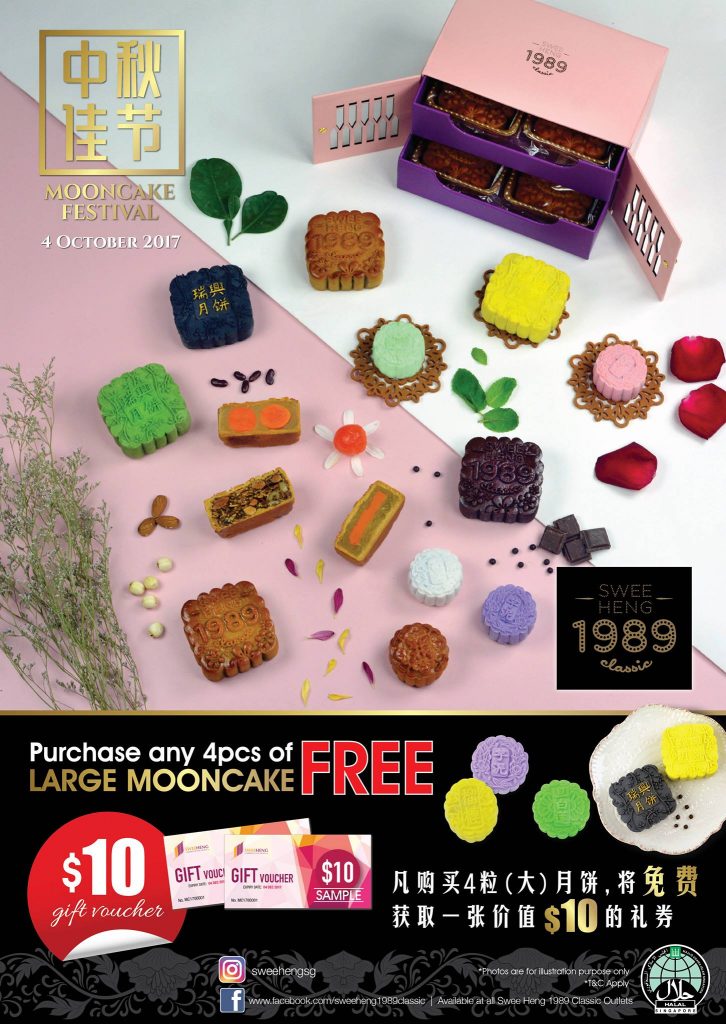 Another tip-off from our readers! Swee Heng 1989 Classic also has their own special range of Halal-certified Mooncakes this year!
Some pretty colourful ones from what we can see from their promotional poster and they have both traditional Baked mooncakes and also Snow Skin ones too! They have a special promotion where if you purchase any 4pcs of Large Mooncakes, you get a FREE $10 gift voucher!
Visit anyone of their 12 outlets islandwide to get yours!
Swee Heng 1989 Classic
12 outlets islandwide || 6755 0300
www.sweeheng1989.com.sg
Facebook: www.facebook.com/sweeheng1989classic
Instagram: www.instagram.com/sweehengsg
12. Polar Puffs & Cakes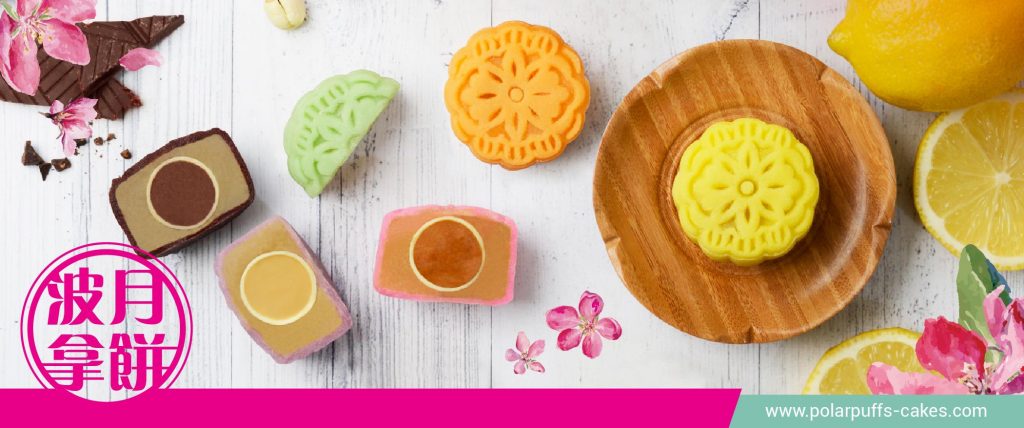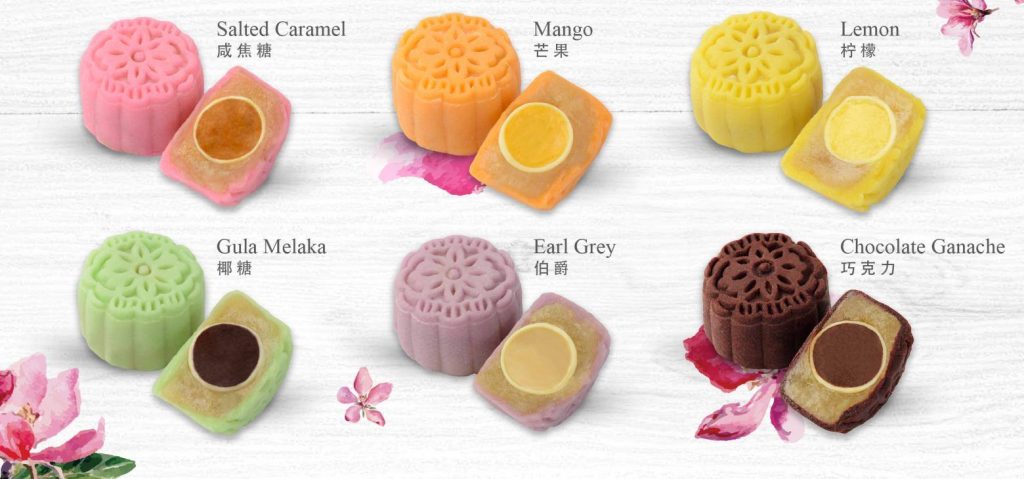 Polar Puffs & Cakes are not just good at making.. errr.. puffs and cakes 😛
Check out their Mooncakes!
We counted at least 6 Traditional Bakes Mooncakes (Pure Lotus, White Lotus Low Sugar, Pure Lotus Double Yolk, White Lotus Single Yolk Low Sugar, Green Tea Apricot and Black Sesame Gold) and no less than FIFTEEN Snow Skin Mooncakes (Salted Caramel, Mango, Lemon, Gula Melaka, Earl Grey, Chocolate Ganache, Black Sesame, Red Bean, Durian, Pandan Lotus, Butterscotch, Pu'Er, Double Chocolate, White Lotus and Pure Lotus) with a good mix of both local and hybrid flavours!
Their Classic Baked Mooncakes are priced between $40-$46 for a box of 4, Royal Snow Skin Mooncakes got for $31.20 for a box of 6 and their Splendor Snow Skin Mooncakes are priced at $40.50 for a box of 9. They also sell individually too by the way.
Polar Puffs & Cakes
30 outlets islandwide || 6269 5877
www.polarpuffs-cakes.com
Facebook: www.facebook.com/Polar.Puffs.Cakes
Instagram: www.instagram.com/polarpuffs_cakes
13. Swiss Cottage Bakery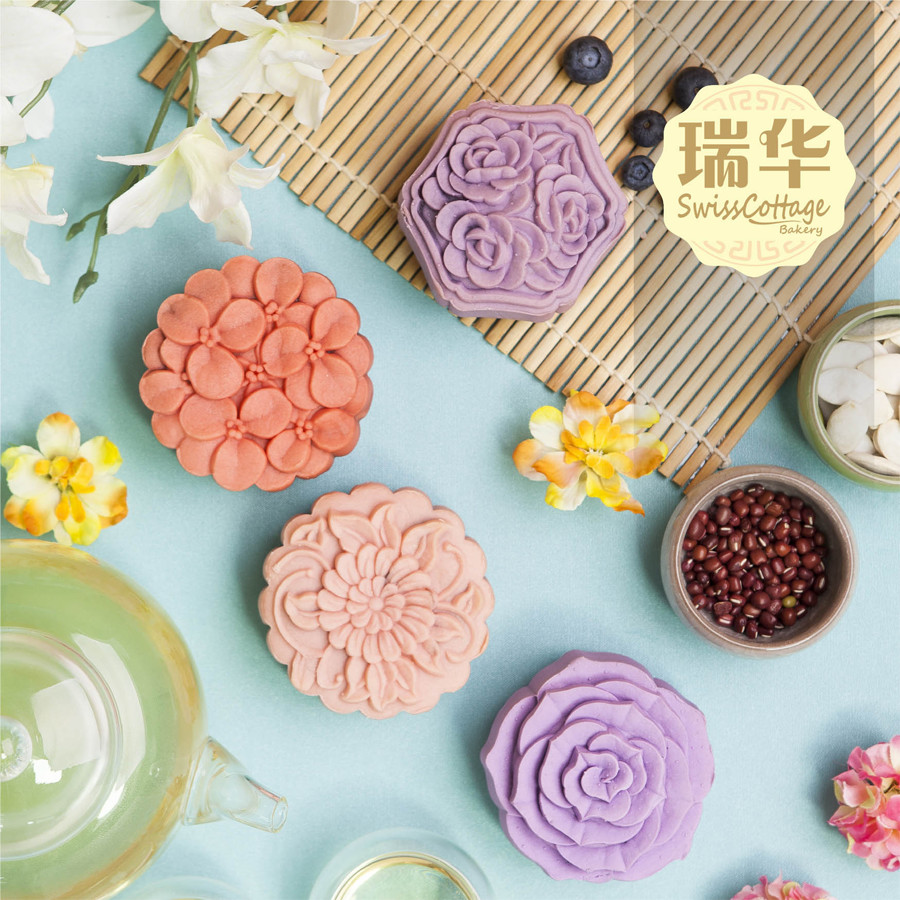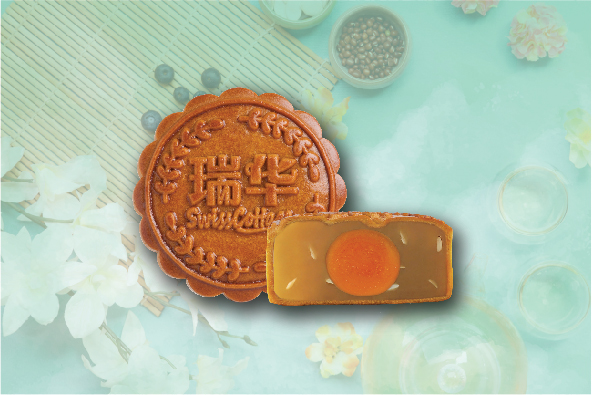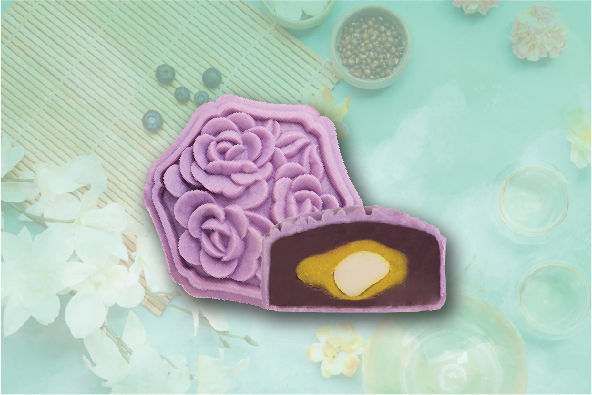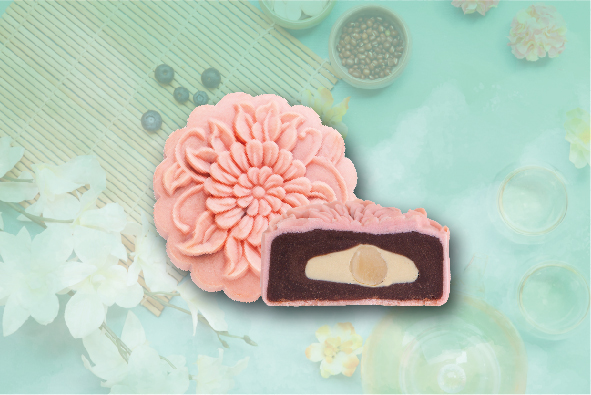 Here comes a recommendation from one of our readers!
Swiss Cottage Bakery has 10 different and delectable mooncakes for your to choose from – some classics and some new interesting flavours!
Lotus and Pandan Paste mooncakes are great but how about some Violet Harmony (Taro & sweet potato with O'mochi), Blue Danube (Blueberries with creamy mung bean cheese paste), Crimson Opera (Beetroot with cheese and creamy white chocolate), Oriental Pearl (Creamy white lotus teams up with macadamia and O'mochi) and many more!
Prices range from betwen $12.80-$13.80 each and you can collect the mooncakes from 5 different locations islandwide – Jurong Point, Causeway Point, Bedok Mall, Novena Square and Lot One.
Thanks to our reader, Junieta, for the tip!!
Swiss Cottage Bakery
5 locations islandwide || 6291 1000
www.swisscottagebakery.com
Facebook: www.facebook.com/Unique-Events-563786717096026
14. The Fullerton Hotel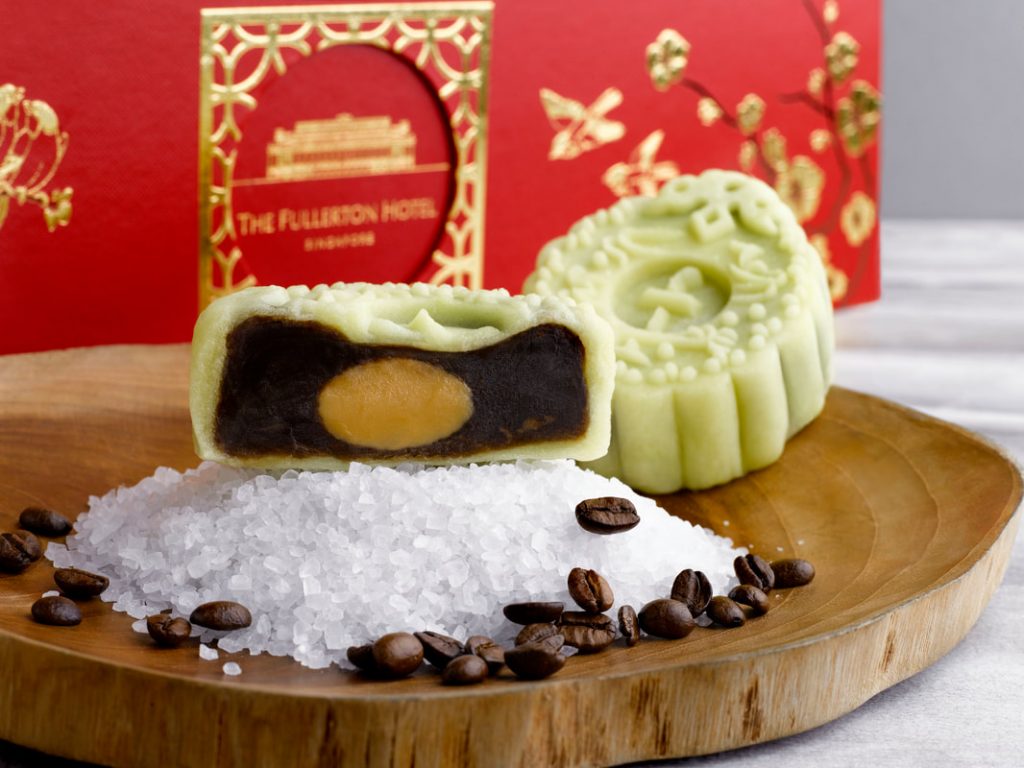 Pretty fancy packaging to match the fancy flavours of mooncakes at The Fullerton Hotel!
Check out their interesting flavours like Kopi with Salted Hokkaido Milk Snow Skin Mooncake; Tangerine Lemon and Pistachio Snow Skin Mooncake; Pandan with Coconut Baked Mooncake; and Salted Taro with Peanut Butter Baked Mooncake. They also brought back their top seller – The Fullerton Golden Custard Mini Mooncake!
Prices range from between $65 to $71 per box or go all out with their The Fullerton 15 Treasures Premium Gift Set for $189! It has EVERYTHING!!
The Fullerton Hotel
1 Fullerton Square || 6733 8388
www.fullertonhotels.com/the-fullerton-hotel/mid-autumn-celebrations-2017.html
Facebook: www.facebook.com/TheFullertonHotel

All information (including prices, availability of item on menu and Halal status of establishment) are accurate at the time of posting. All photos used in this site are property of The Halal Food Blog unless stated otherwise.