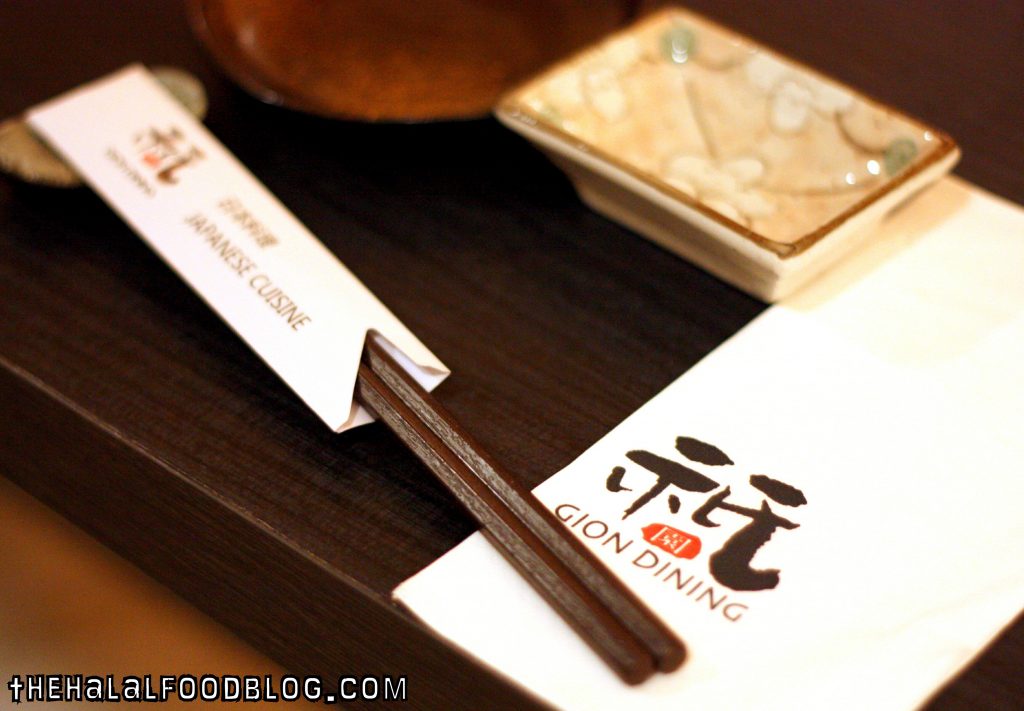 There was such a buzz when Gion Dining opened. Finally, another Halal option when it came to Japanese cuisine. In fact, this would be the first Halal-certified premier Japanese cuisine restaurant! And knowing now much we have come to love our Japanese food, it's little wonder that this was a very exciting prospect for many!
We were very lucky and honoured to be invited to an event for the unveiling of Gion Dining's Halal certification (which you can read about by clicking HERE) but we wanted to go back and try it again on our own time and see how the food really was.
Our plan – to try some favourites and also a few new items. Definitely a good chance to expand our horizons when it comes to Japanese food.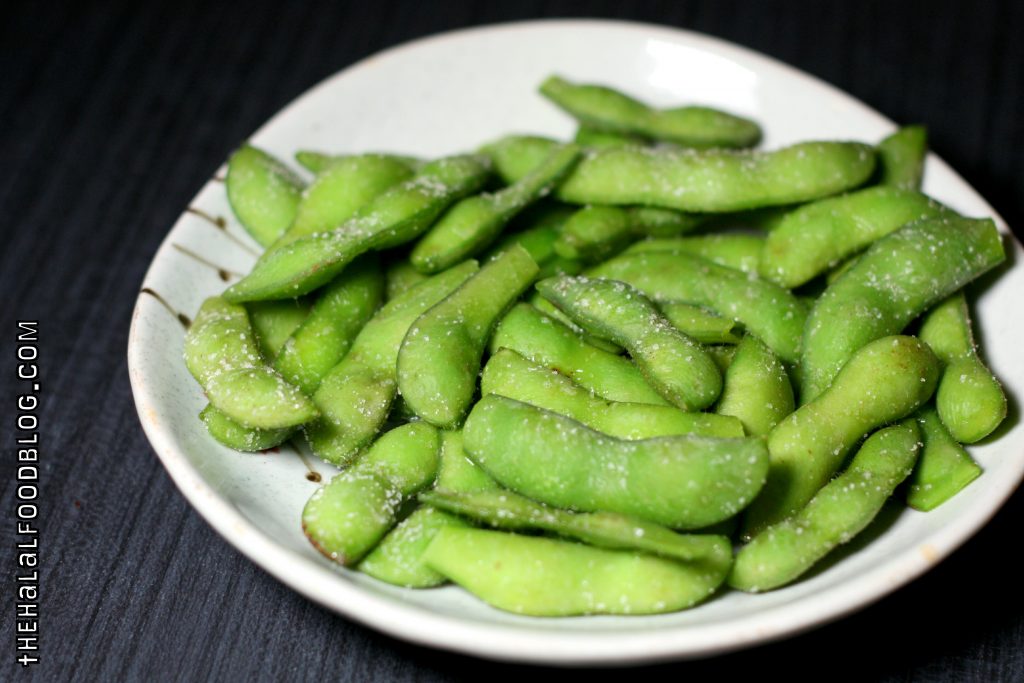 If you have read any of our reviews when we've had Japanese food, if there's Edamame on the menu, we're almost definitely going to order it!!
There's just something about Edamame that even though it's one of the simplest items on the menu, it's often one of the most satisfying. The serving at Gion Dining has a good generous layer of salt which adds to the flavour (and I loves me some salt so I'm definitely okay with it!)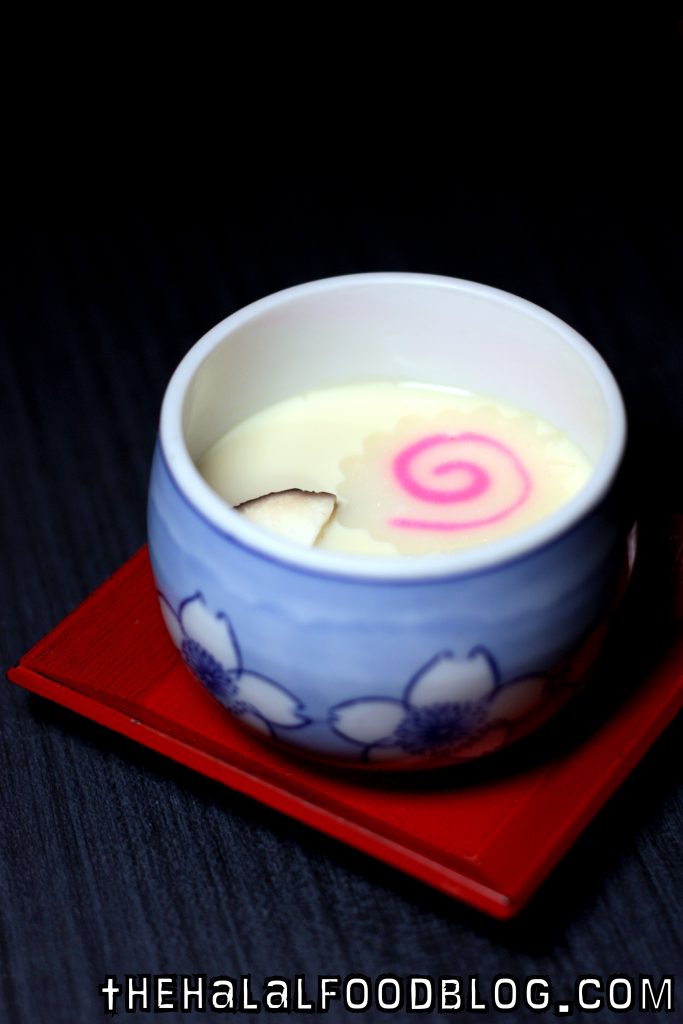 Here's another favourite on the menu (and we're guessing also the favourite of quite a few of you out there too!) – the steamed Japanese egg custard known as Chawanmushi.
The flavour was good and the texture of the Chawanmushi was great – firm but still silky.
But unfortunately, it was not served while it was still hot for some reason and for us, the best is to enjoy Chawanmushi while it's still nice and hot.
Oh well, guess we will have to try this one again when we next visit.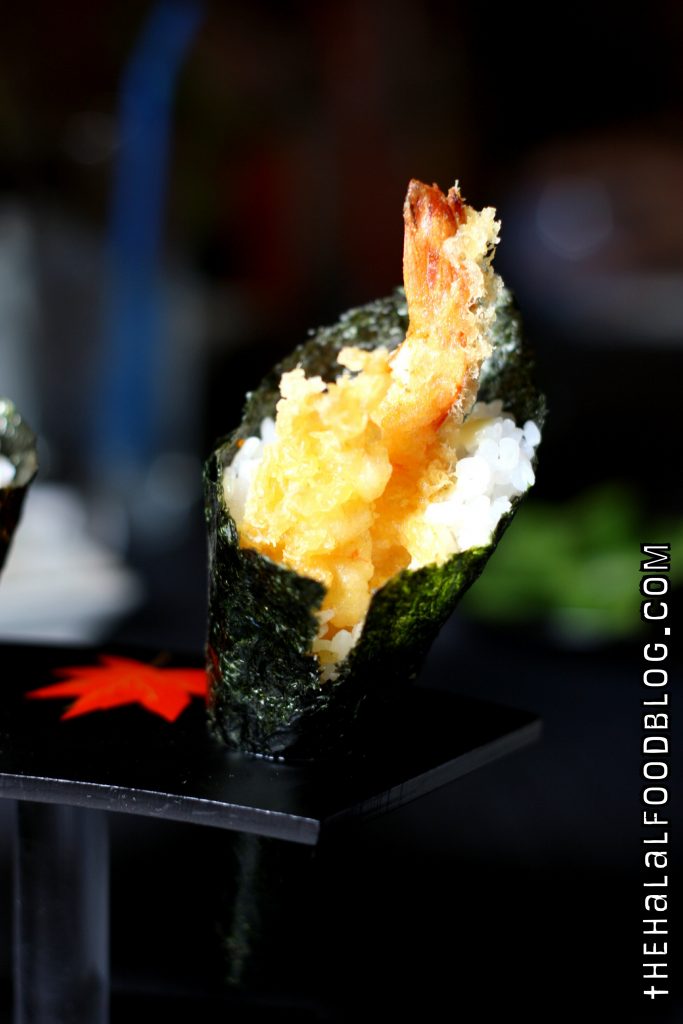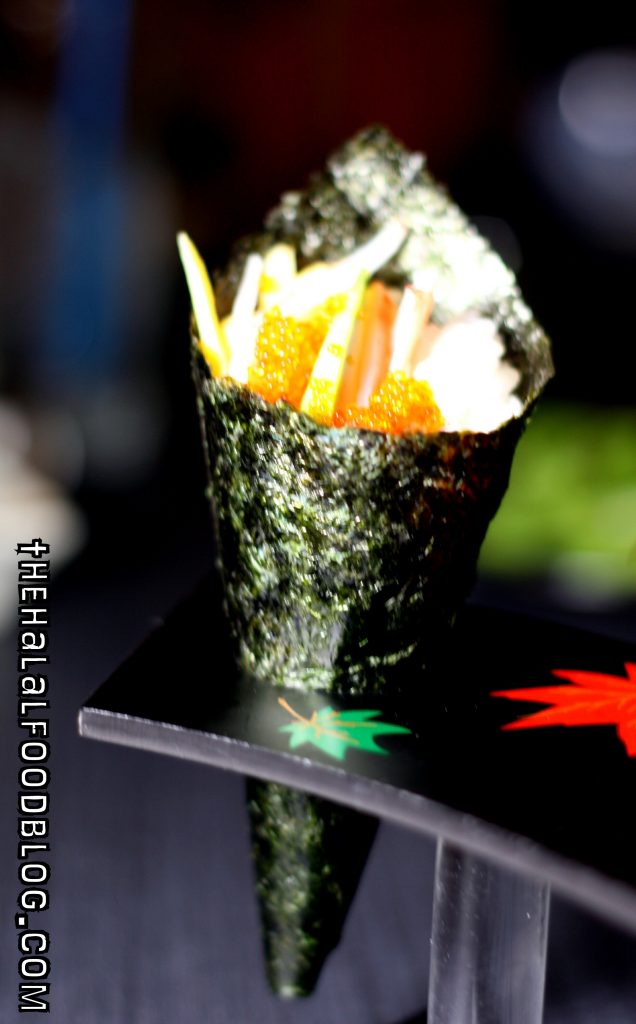 We also decided to have some Temaki aka Japanese Handrolls too because Mein Bruder is a big fan of these.
We had the Ebi Tempura Temaki and the Kariforunia Temaki but were so tempted to try some of the others on the menu but we had quite a meal ahead of us so we stuck to two for the time being.
Ebi Tempura Temaki had some pretty tasty Tempura in there but more on that later because we ordered even more Tempura dishes!
Kariforunia Temaki is basically a California Temaki (in case you couldn't tell from the name LOL) which is quite a classic sushi choice for many. It has Kani (crab stick), cucumber and Ebiko (Cod roe) to top it all off.
Besides those two popular choices, they also have Avocado, Soft Shell Crab or Salmon Skin Handrolls to choose from. Or go for the Gion Temaki Set which allows you to choose 2 Teaki for $15.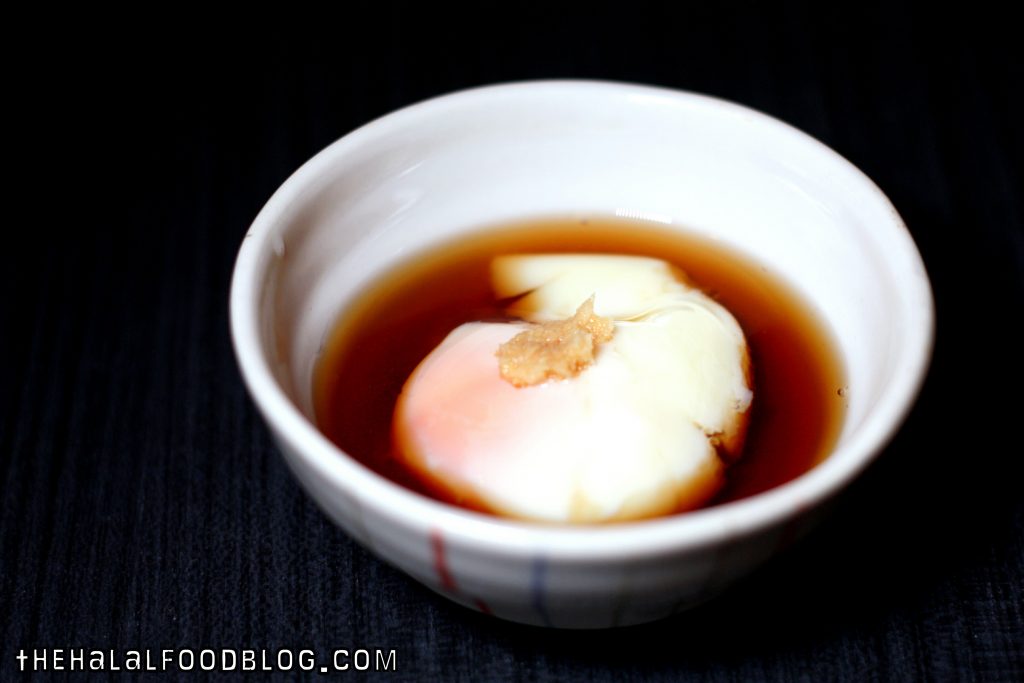 This was the last of the starters we had but definitely not the least!
This was the first time we were trying Onsen Tamago (Hot Spring Egg) and it was definitely something new to us because we haven't seen this item at any other Halal certified Japanese restaurant in Singapore so far.
So 'onsen' means 'hot spring' so this obviously alludes to the way that the egg is cooked. But when it is served, it comes 'bathing' in a cold Dashi (kelp and preserved tuna) stock and this was absolutely delicious. The egg was cooked perfectly so the yolk was still nice and runny and the Dashi was flavourful.
I'm not going to pretend like we're experts on the matter but like I said, this was the first time we were trying this item and it turned out to be one of the best things we tried during that meal.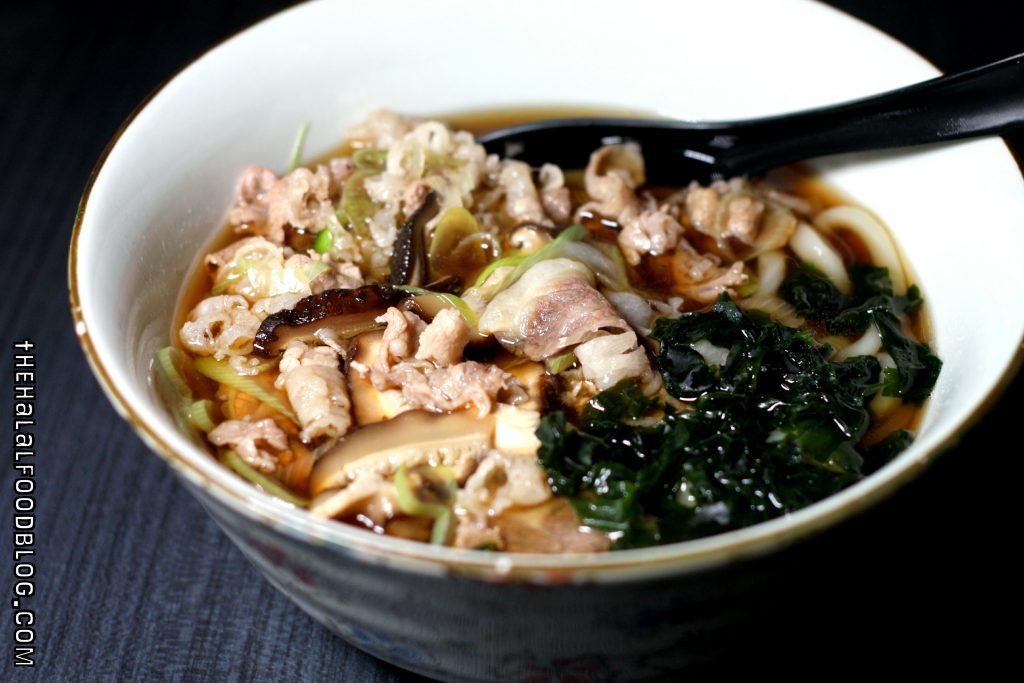 And speaking of delicious things we ate that evening, the Gyuniku Wakame Udon definitely fits that bill as well!
A nice and hot steaming bowl of Udon that is soaking in an intense tasting stock that has a nice and rich beefy flavour with hints of Wakame (seaweed) as well. Generous serving of thinly sliced tender beef comes with with some Wakame and mushrooms for good measure.
Definitely comfort food and a great and satisfying dish!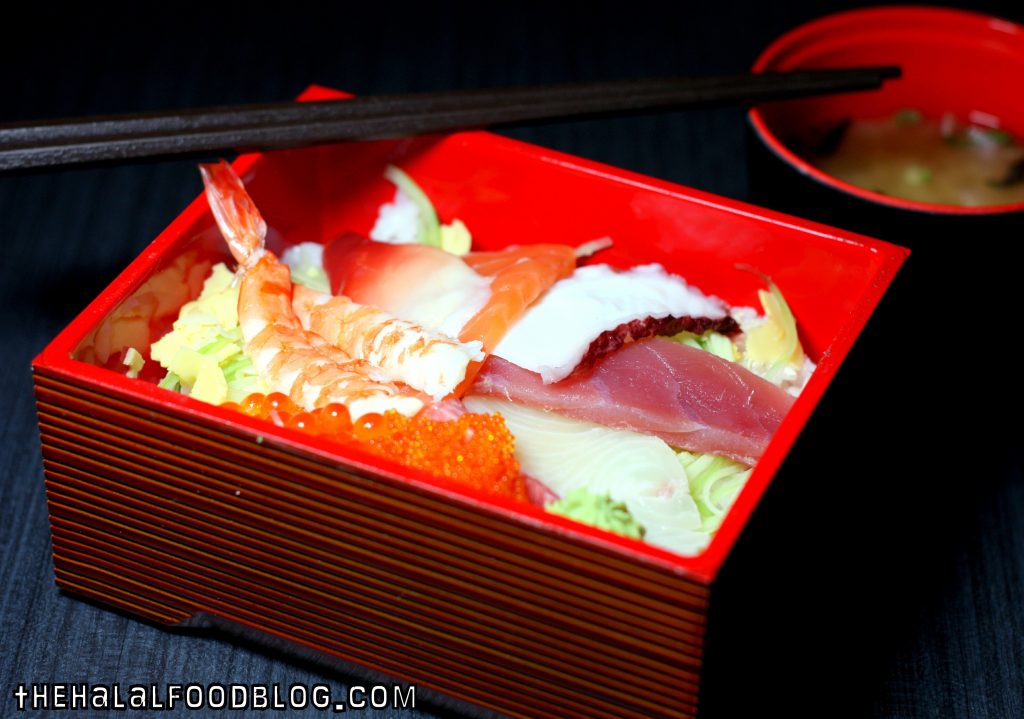 Mein Bruder is actually a big fan of Sashimi and after thinking about it for quite awhile, he decided to skip ordering just servings of Sashimi and go for the Chirashi Don which is Japanese Rice Bowl topped with various Sashimi.
Seems like a great choice especially if you're hungry, still want to enjoy your Sashimi and also to try out some new Sashimi instead of always the usual Salmon and/or Tuna.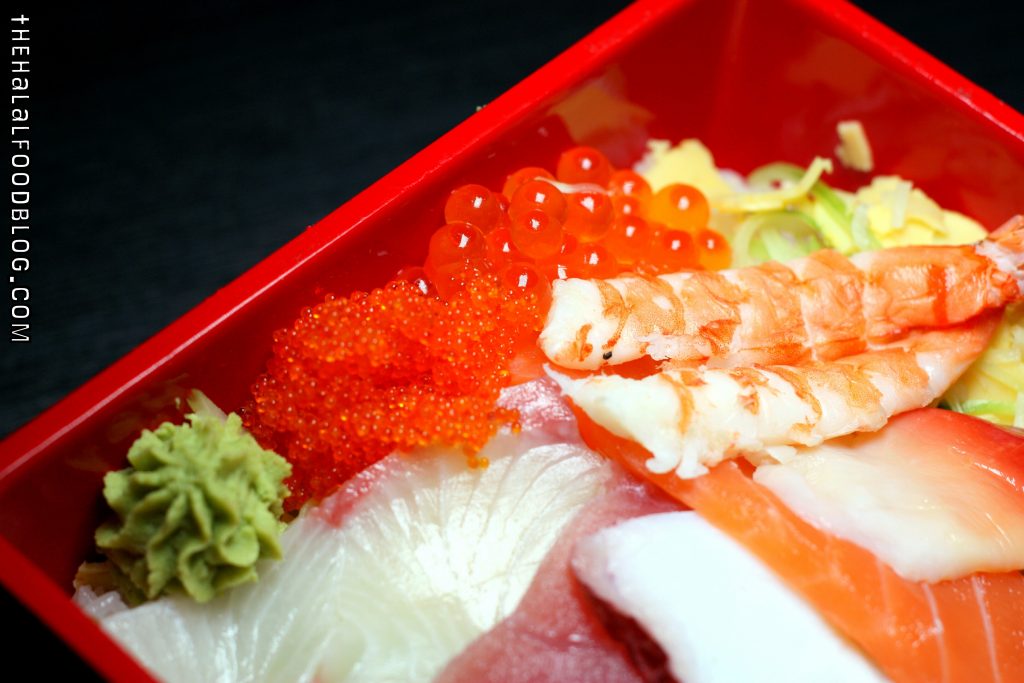 If you love your Sashimi, then this dish will suit you just fine. The Gion Chirashi Don has a myriad of different fresh and premium seafood for you to tuck into. And don't forget that bed of Japanese rice okay LOL
Ebi (Shrimp), Maguro (Tuna), Hokkigai (Surf Clam), Shake (Salmon), Buri (Yellowtail), Tobiko (Flying Fish Roe) and Ikura (Salmon Roe) plus some Tamago (Japanese Grilled Egg) on the side all crown this Don definitely a filler-upper so bring your appetite and savour the fresh seafood flavour.
Gion also offers Yakiniku (Grilled Beef), Tendon (Tempura), Tori Katsu (Chicken Cutlet) and Shake Ikura (Salmon and Salmon Roe) Dons so there's something for everyone if you're looking for a nice filling serving of rice.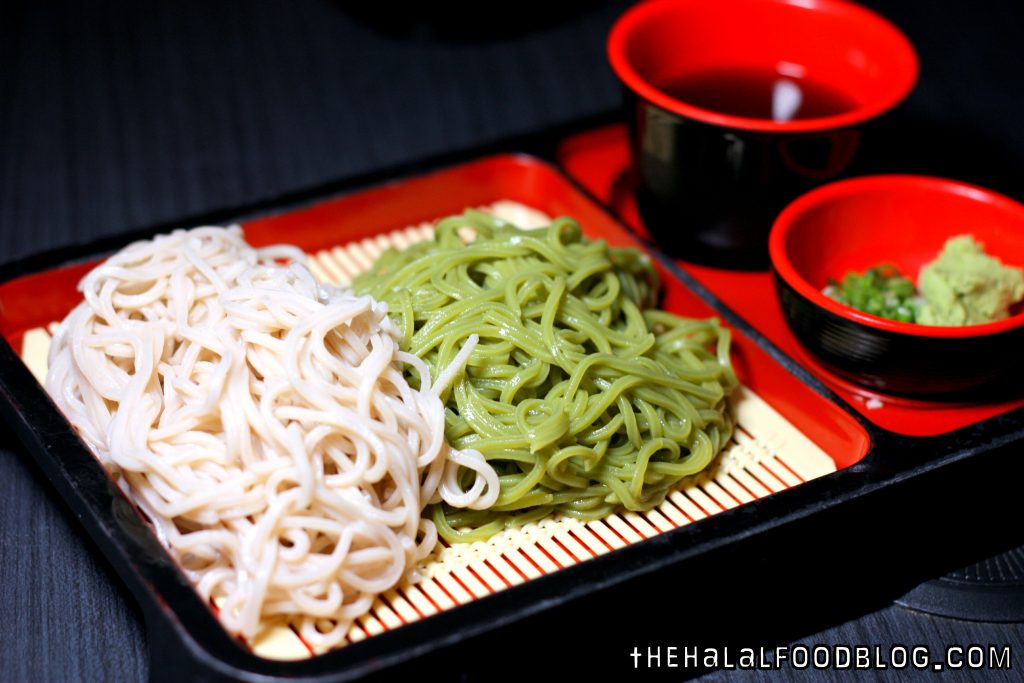 Here's a Japanese dish that I am personally a sucker for – Zaru Soba or Cold Soba.
This is the variety of Soba dishes that is served cold and is very simple. Most of the times, it comes just as the noodles and a dipping sauce and that's pretty much it. You can, of course, choose to order some extras on the side to go along but for the minimalist, it doesn't get more minimalist than this.
Soba is a noodle that is made of Buckwheat flour (and that's pretty much it) and that's the one on the left in that photo above. The green Soba we're more used to seeing (as shown above on the right) is actually made with an extra ingredient – green tea powder – that gives it the Hulk-like shade of green we are accustomed to.
The making of the noodles in itself is quite an art and skill and it's little wonder why this dish is such a joy.
So you take a healthy amount of noodles and dip it into the chilled dipping sauce (Fun Fact: the dipping sauce is known as 'Tsuyu') before enjoying. And from what we've read and been told, you have to really slurp up the noodles after dipping into the Tsuyu. Yeah, we're talking about full on with the slurping sounds and all! It apparently adds to the experience and flavour of the Soba. But…. we do not recommend doing it if you're on a first date LOL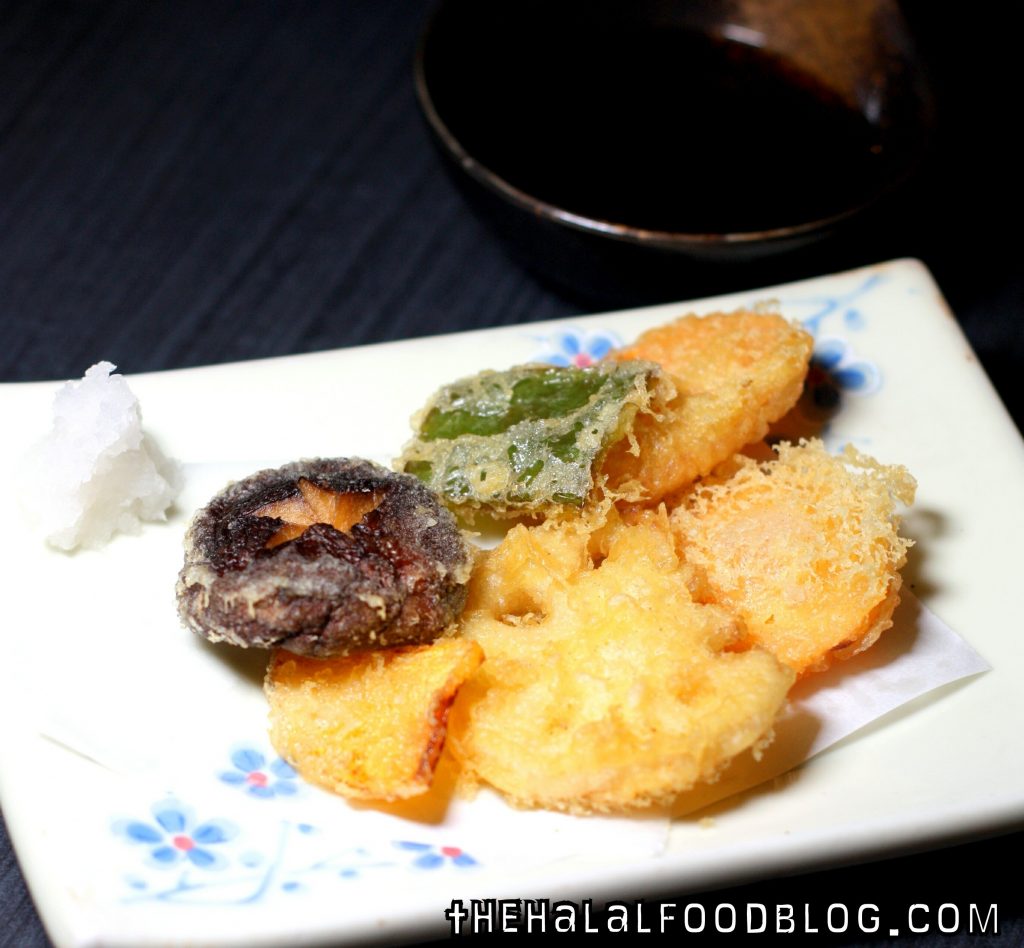 So to go along with my Zaru Soba, I normally order a side of Tempura to go along and this time, I went the all-veggie route with the Tempura Yasai aka Vegetable Tempura.
You get about 6-7 pieces of Tempura per serving including veggies like lotus root, white radish, carrots and mushroom among others.
But if you're looking for a bigger serving…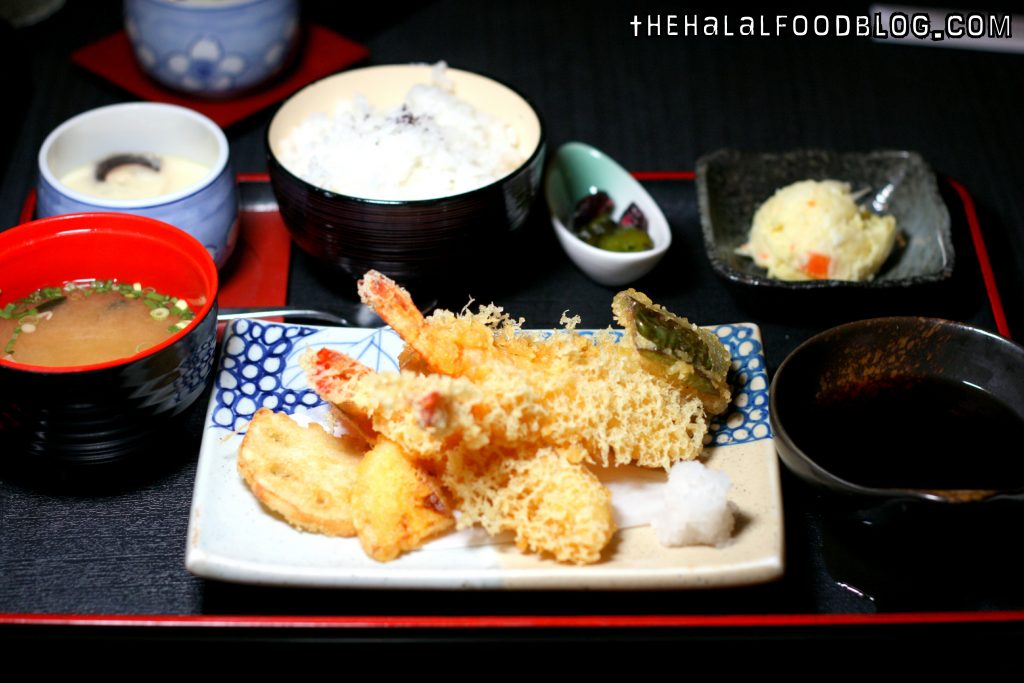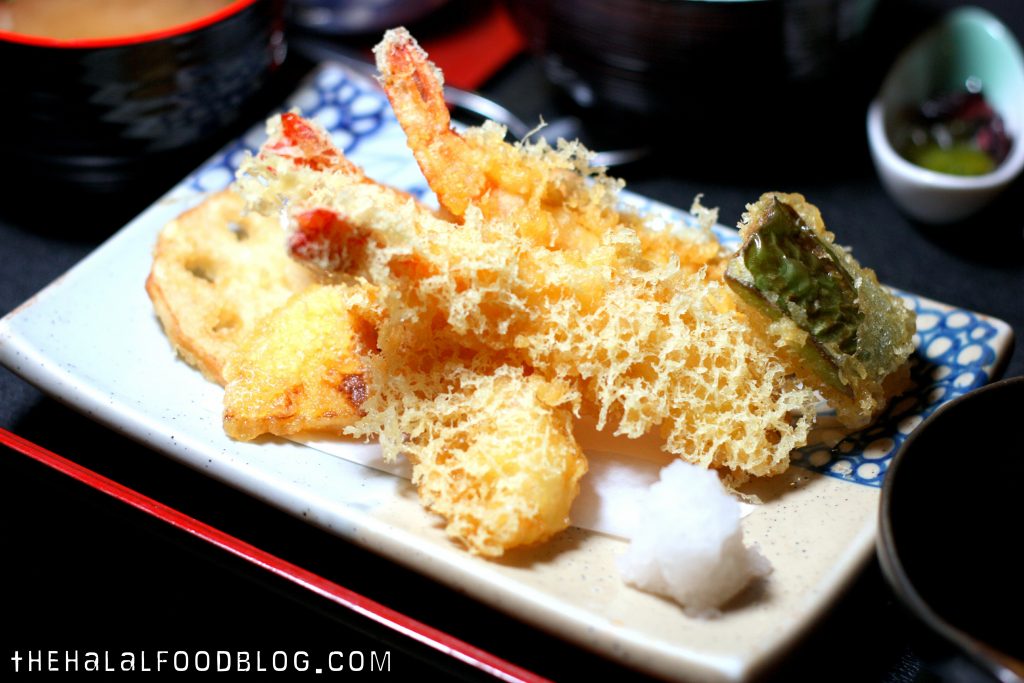 The Tempura Moriawase Set comes with more Tempura including some Ebi (Prawn) Tempura as well.
The set also includes rice (or Udon), Miso Soup, Chawanmushi and a small side of Japanese-style mashed potatoes as well.
We confidently ordered quite a bit of Tempura because when we had attended the event previously, they served some of their Gion Tempura and it was absolutely power. But for deep-fried dishes like Tempura, it's best enjoyed while hot so that the batter is still nice and crisp.
Unfortunately, this dish also arrived a little but later than expected hence it may not have been as piping hot as one would expect. As much as I'd like to say it was a busy night which may have caused a backlog of dishes being brought to tables, it was actually pretty empty when we visited so it was quite unexpected to receive dishes pretty late on. We did highlight to the staff and they of course apologized for the delay.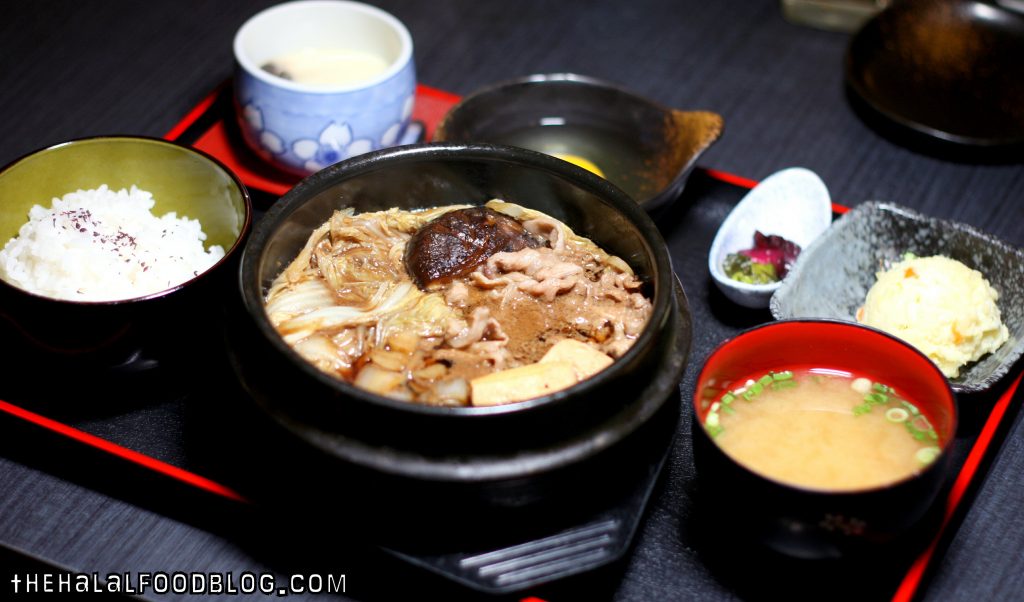 Another set we ordered was the Gion Sukiyaki Set which actually turned out to be pretty nice.
And no chance of this dish being served cold because it comes in a hotpot with a small flame so it's literally bubbling hot when it's served LOL
The Sukiyaki comes all prepared with the beef and mushrooms all mixed in already with the stock but you still have the raw egg so you can dip the meat and then put it back in the bubbling stock. But this was actually kinda weird since this is normally done while the beef is still raw and you cook it in the stock yourself after dipping in the egg.
But the plus side of having the beef already cooked in the stock along with the tofu, mushrooms and cabbage means a very concentrated and favourful stock that is great while you sip it while its hot. In fact, we decided to drop the egg in the stock and let it cook a little since the stock was still bubbling and the result was a poached egg!
The Gion Sukiyaki Set comes served with rice, Chawanmushi and Japanese-style mashed potatoes just like the other Gion set which include both rice and noodle varieties.
You might consider going for other sets like The Saba Shioyaki (Salt-Grilled Mackerel), Torikatu (Deep-fried Breaded Chicken), Gyuniki Shoga-yaki, Surimi Miso Supu (Fishball Miso Soup) or maybe the Miyashinira Itame to Saba Shioyaki (Beansprouts & Leek with Salt-Grilled Mackerel).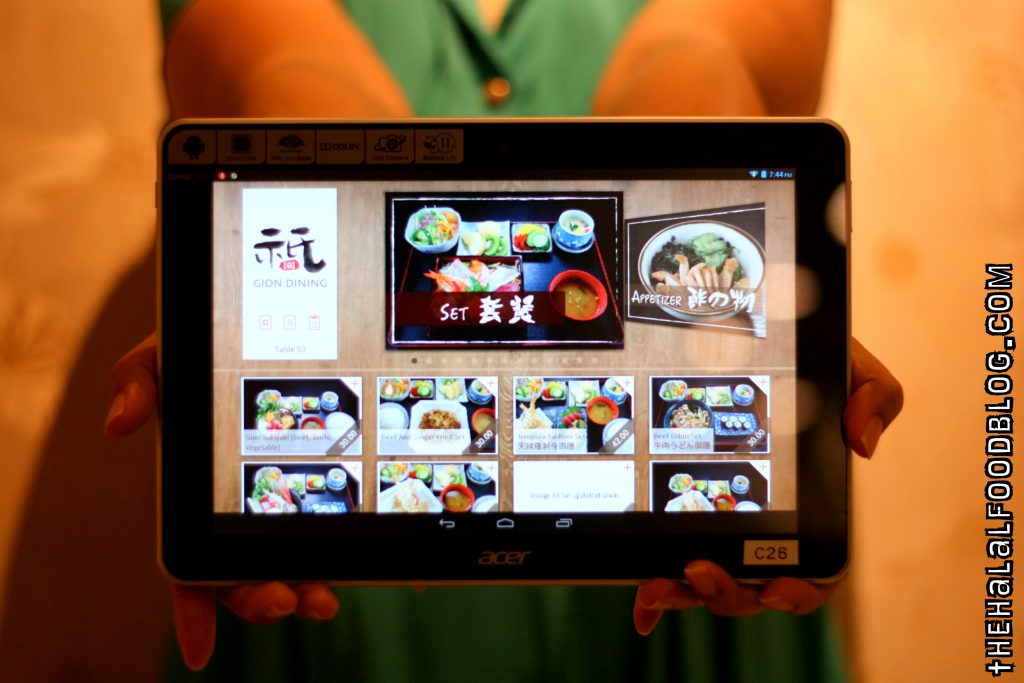 If there was one other feedback we'd have for Gion Dining (besides the rather lacklustre service that evening), it would be about the ordering system.
You will be going through the menu and placing your orders via a tablet and this is all well and good if you're dining in a small group of 2-3 people. But if you're in a large group of 5-6 people, this can be quite time consuming because the Gion Dining menu is actually VERY extensive so people might take quite a while to go through everything and before finally making their decision.
And this could mean a wait of about 30+ mins before your orders are finalized and sent to the kitchen. Maybe they might consider having one more tablet available for large parties who are dining there. I shudder to think about larger groups (e.g. Gion Dining is great for groups of friends and family) who might visit and face the same issue.
But besides that and the hiccup on the service that evening (we'll put it down to newbies or temp staff), I guess we'd probably still want to visit Gion Dining again because there are still so many things on the menu that we'd like to try.
We know a lot of you are probably thinking that the prices are on the high side but we have to remember that this is a premier Japanese restaurant that is serving an authentic Japanese dining experience with premium and quality ingredients. Plus it really is a nice place and great for gatherings and even to impress your date!
Royal Plaza on Scotts
25 Scotts Rd
Tel: +65 6735 6100
www.giondining.com
Facebook: www.facebook.com/giondining
Operating Hours:
11.30am to 2.30pm Tuesday to Sunday (Closed for Lunch on Mondays)
Dinner: 5.30pm to 10.00pm (Last order at 9.30pm) Daily
All information (including prices, availability of item on menu and Halal status of establishment) are accurate at the time of posting. All photos used in this site are property of The Halal Food Blog unless stated otherwise.
---
Gion Dining offers 15% off for all FRIENDS Card holders. Valid on weekdays and weekends. Not valid with other promotion, discounts or vouchers.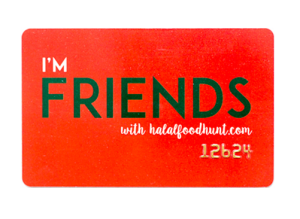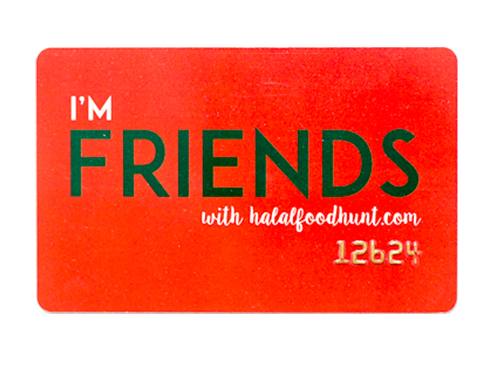 Get your FRIENDS with halalfoodhunt.com Rewards Card now at only $18/year and unlock discounts at over 60 halal restaurants, cafes, bakeries including online e-commerce businesses in Singapore. For a full list of where you can enjoy your card, click here.