This was actually not the first time we were visiting FLAVA. The first time was actually quite awhile back with Shams from the Halalfoodhunt.com team and although we did not do an official review (because silly me did not bring my camera), we did post a few photos on Instagram if you can remember.
Well anyways, saw a poster shared on Facebook about a special promotion they were having –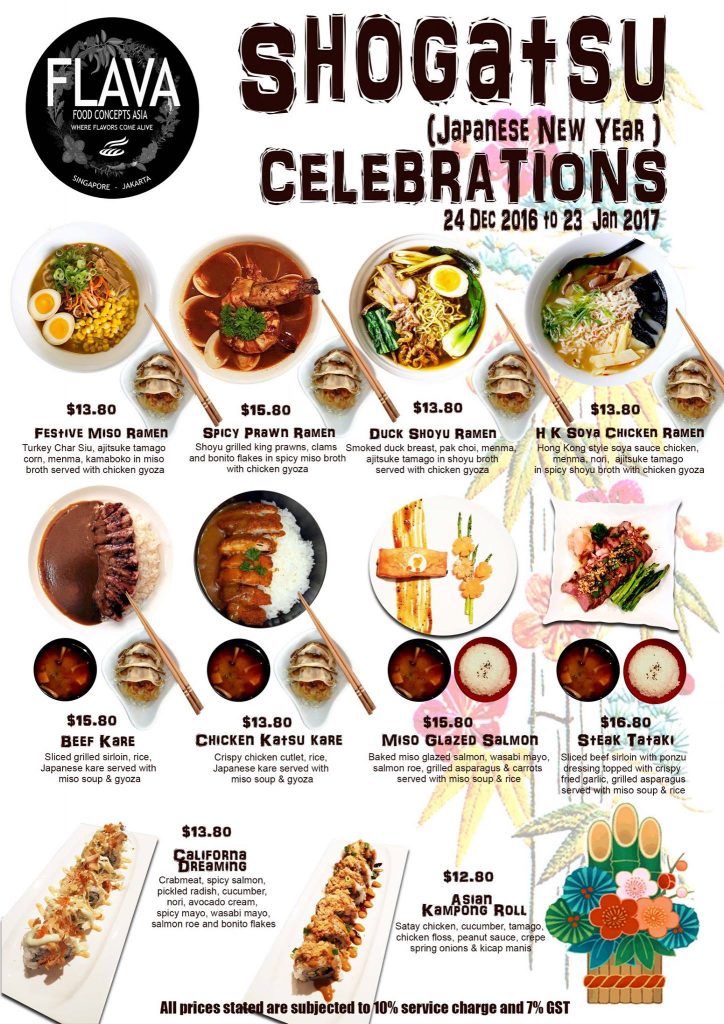 So there's a special Japanese-themed menu that will be available til 23rd January. We saw quite a few dishes that kinda tickled our fancy so we decided to visit with the whole gang in tow to try out as many dishes as possible. Plus, they did still have their regular menu available.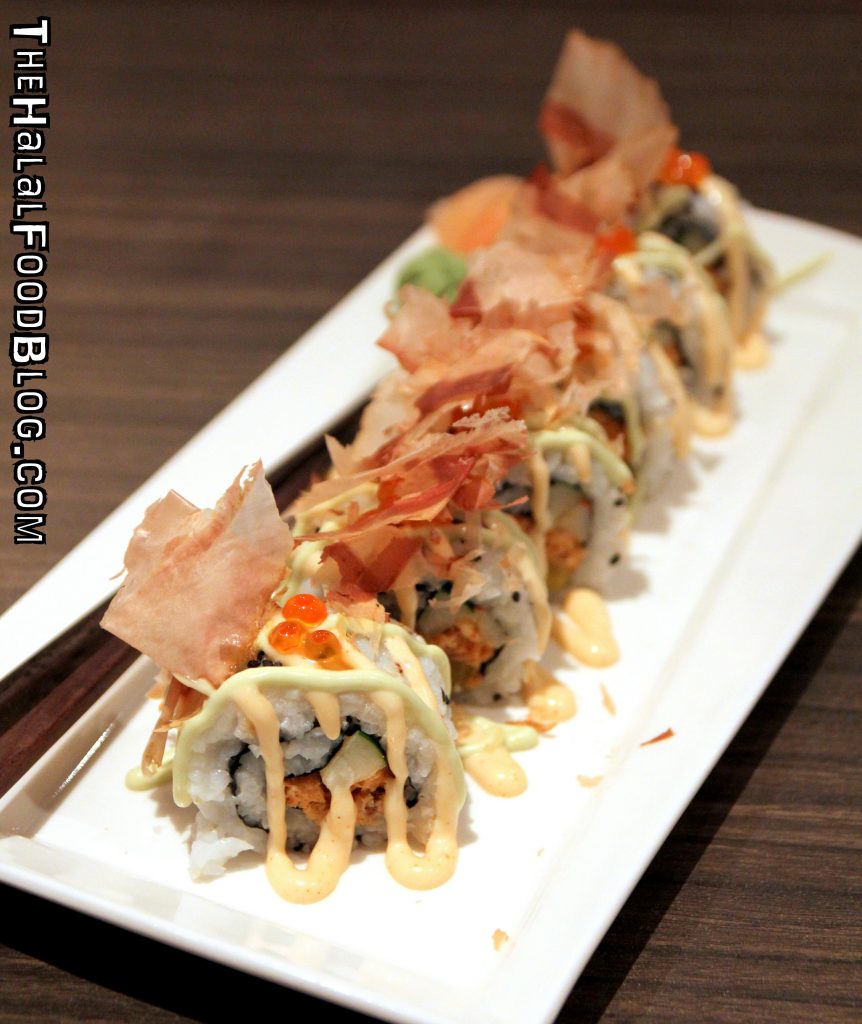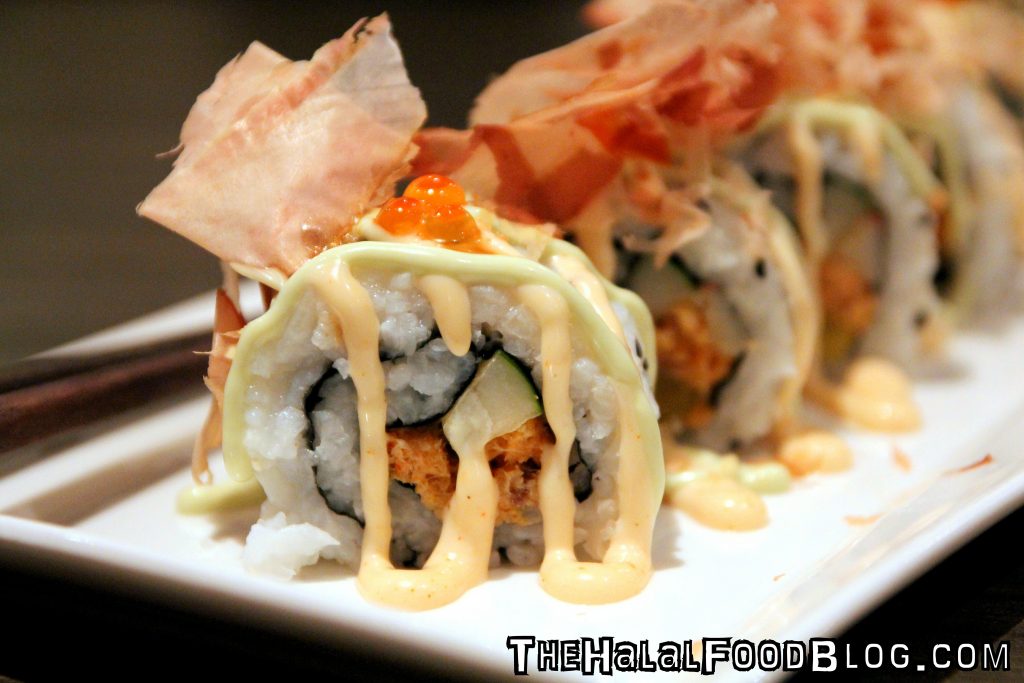 First up was indeed something from the special 'Shogatsu' menu and what's more suited to the theme than some Sushi right? Although I'm not sure if that's a typo or they actually decided to change the 'California' to 'Californa'.
(At least it's not Killafornia LOL! – Wait. Did anyone else from my generation get that joke?)
So you've got crabmeat, spicy salmon, pickled radish and cucumber all wrapped up and finished off with some avocado cream, spicy mayo, Wasabi mayo, Ikura (Salmon Roe) and Bonito flakes.
Overall, the flavour was not bad but the Sushi rice was a tad too mushy (I think you can see it from that photo). Anyways, in the end it's more of a one-bite starter so you'll probably end up just shoving the whole thing in your mouth. I guess the myriad of sauces and also the Bonito flakes kinda enhance the flavour of the dish.
But they should definitely fix the rice.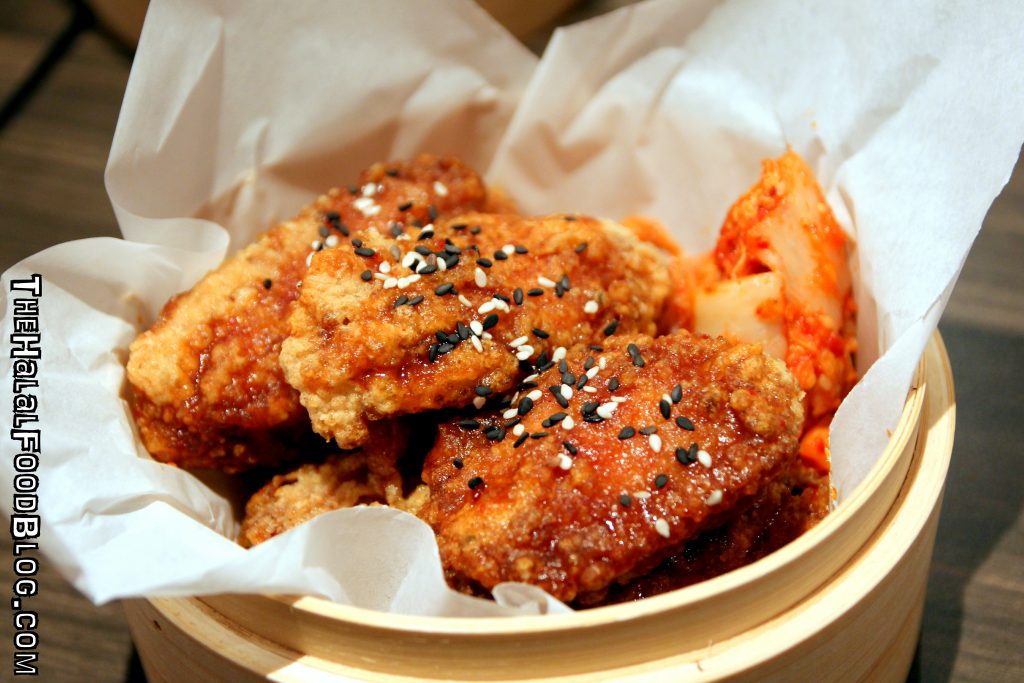 Some stuff from the regular menu now and something that will probably appeal to a lot of people! LOL After all, chicken wings is an automatic win for most I reckon.
The Korean Spicy Mid Joint Wings definitely live up to their name that's for sure. Very very reminiscent of the type of chicken wings you might have tried before at some joints specializing in Korean/Asian chicken wings but it's safe to say that this is a LEVEL UP.
The wings had a great flavour thanks to the glaze and just like the name implies – it definitely has that spicy edge to it. I only had a few bites and I have to say it was actually very impressive. Highly recommended especially if you're big fans of chicken wings like us.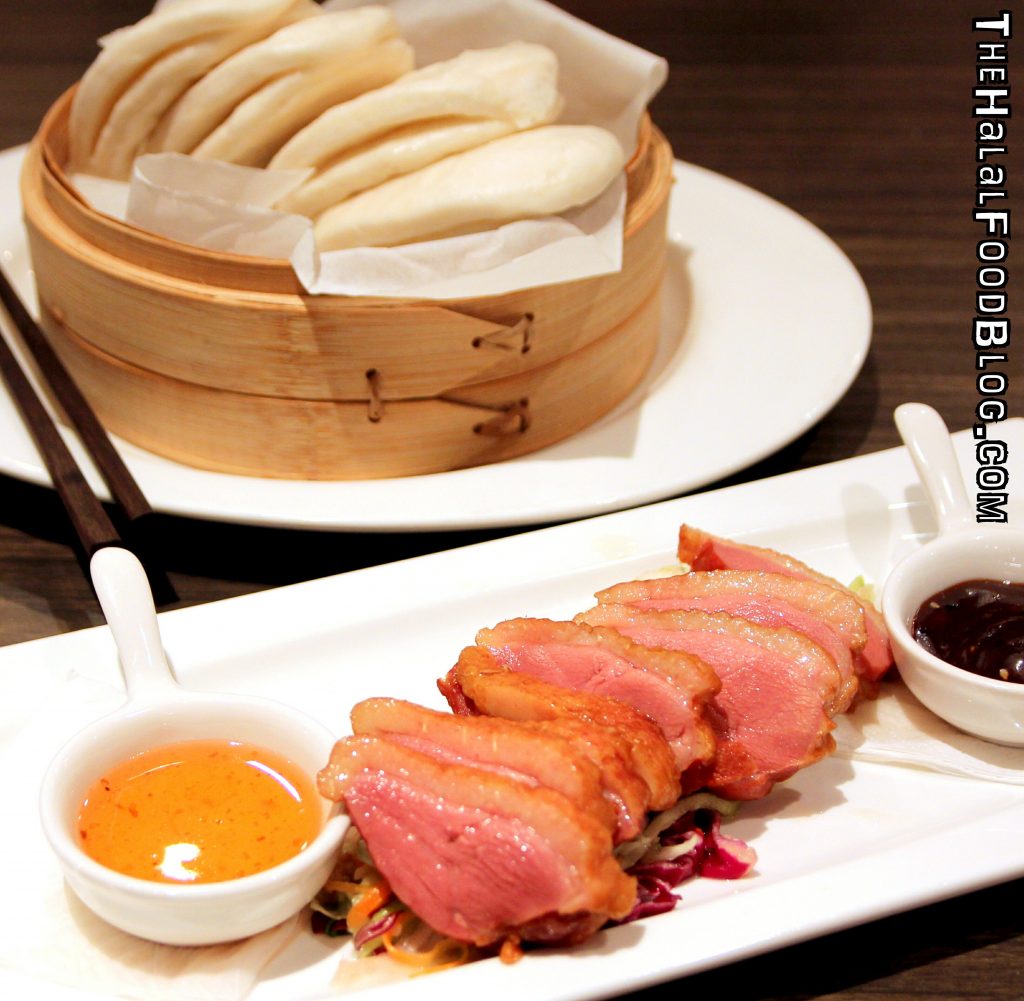 I really wanted to try either the Beijing Smoked Duck or the Chili Crab with Buns as a 2nd starter.
Well, I guess it's safe to say which choice I made in the end LOL see you next time Chili Crab!
This is FLAVA's take on the iconic Peking Duck but definitely with their own twist(s) to it. Not technically a different version but I'd call it more of a… tribute to Peking Duck maybe?
You've got these succulent slices of smoked duck breast which you should stuff into these steamed buns (as in like the Pau type of buns) along with some pickled vegetables, a sweet chili sauce and something like a Hoisin sauce.
The smoked duck was good but because they're sliced so thickly, I'd have to say that this starter should definitely be recommended for sharing because it can get quite filling. Unless you're planning on having only this and no main dish, find some other duck lovers to join you okay LOL
I would like to say that the pickled vegetables could do with a bit more work though. But definitely full marks for the steamed buns! Nice and soft and fluffy and perfect for this sorta dish.
Quite a few other starters to choose from on the menu like the Balinese Skewers (like Satay), Crispy Calamari and Garlic Parmesan Fries among others but I guess we'll just have to try them next time. (That's right – I'm looking at you, Curried Luncheon Meat Fries.)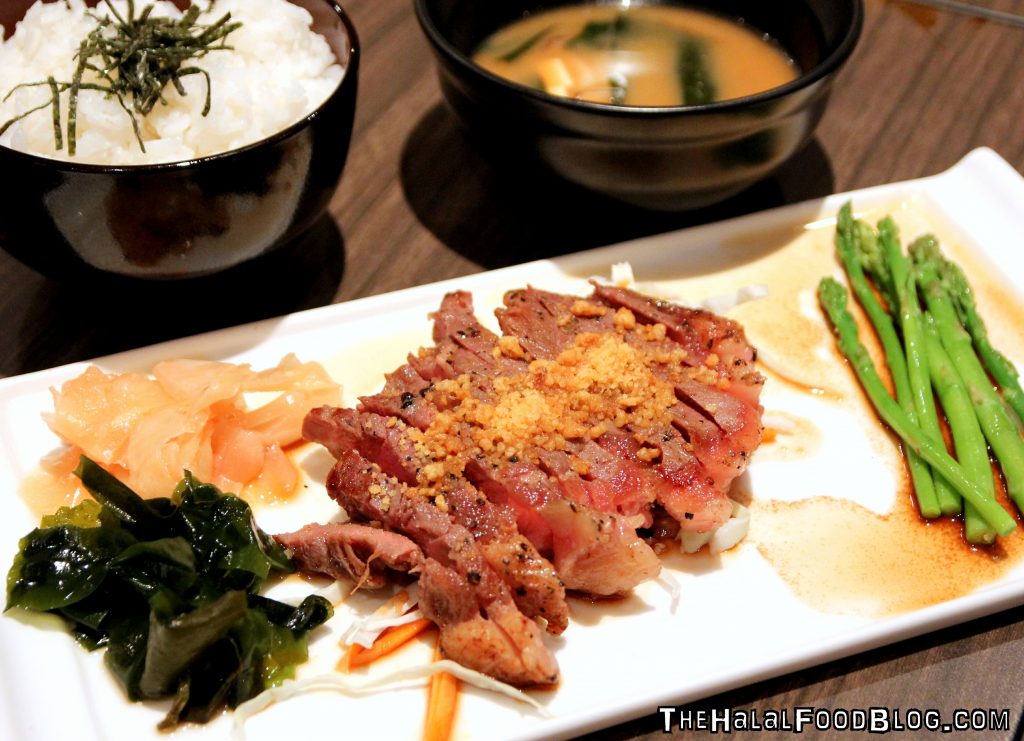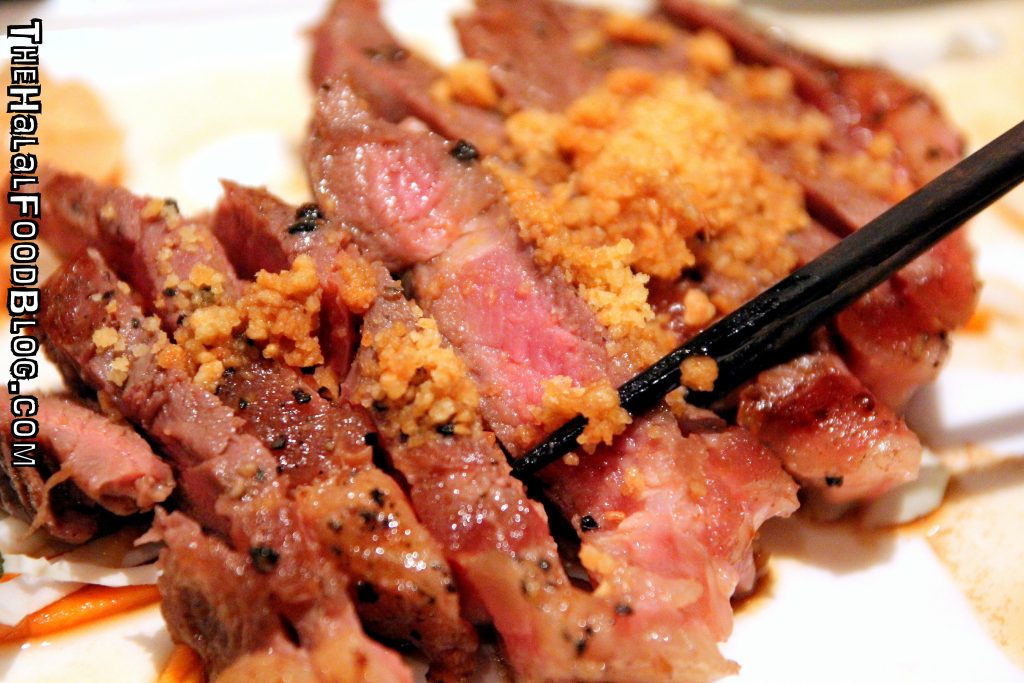 Azim had the Steak Tataki which is one of the dishes on the special 'Shogatsu' menu.
It's sliced beef Sirloin steak that's been dressed with some Ponzu dressing and crispy fried garlic on the top. The serving also includes some rice and Miso soup as well.
The feedback is kinda disappointing overall mainly because the meat was bit too dry. Despite seemingly strong flavours like Ponzu and even garlic, the dish somehow still seemed to be lacking in the seasoning department.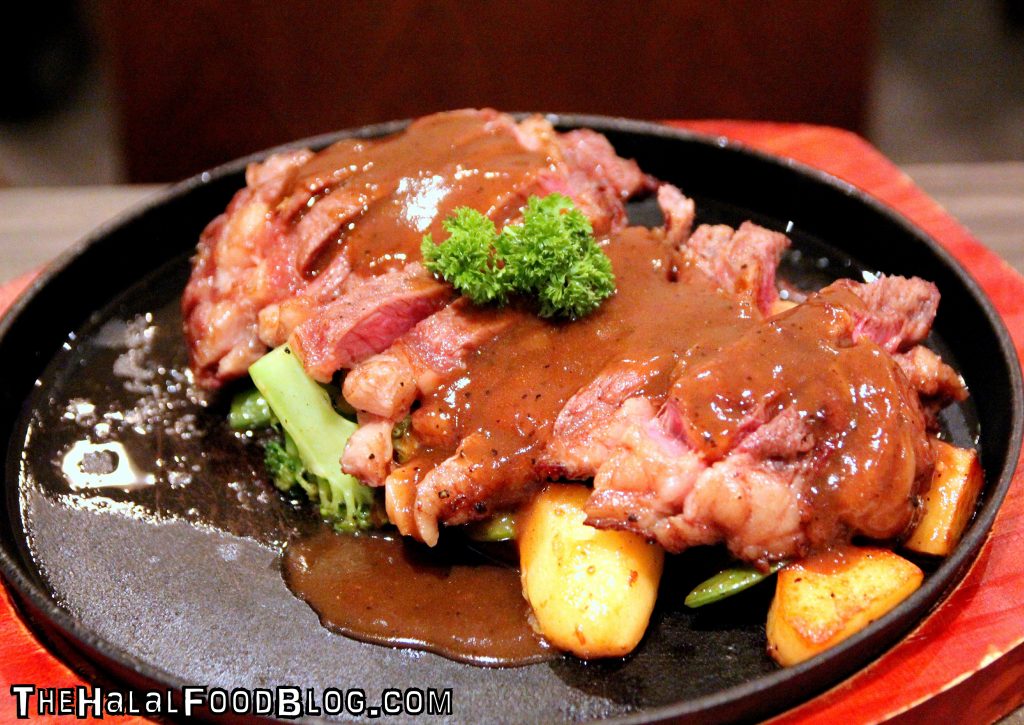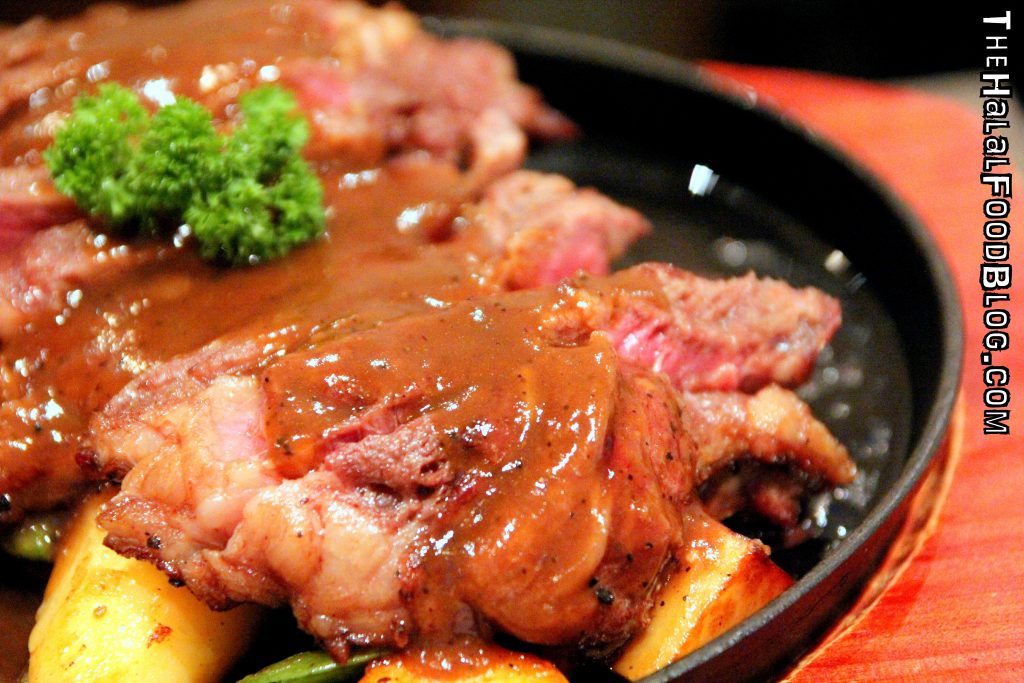 Next up was another steak dish (from the regular menu this time) and not only was it a classic, it was also the most expensive dish on the menu! The Black Pepper Steak is 300gms of prime Australian grass-fed Sirloin served with roasted potatoes, grilled vegetables and a black pepper sauce on a sizzling plate.
Errrr… this one didn't do very well either I'm afraid.
It was a bit on the tough side (maybe not rested long enough?) and seasoning on the steak was also lacking. The black pepper sauce could unfortunately not save it! Razali eats a lot of steak (in fact it's probably what he orders every time we eat out) so I'm placing my steak bets on him.
And for the record – the 'sizzling plate' was not sizzling.
Oh well, looks like the meat dishes are not faring very well. Oh wait! There was a winner in the beef department!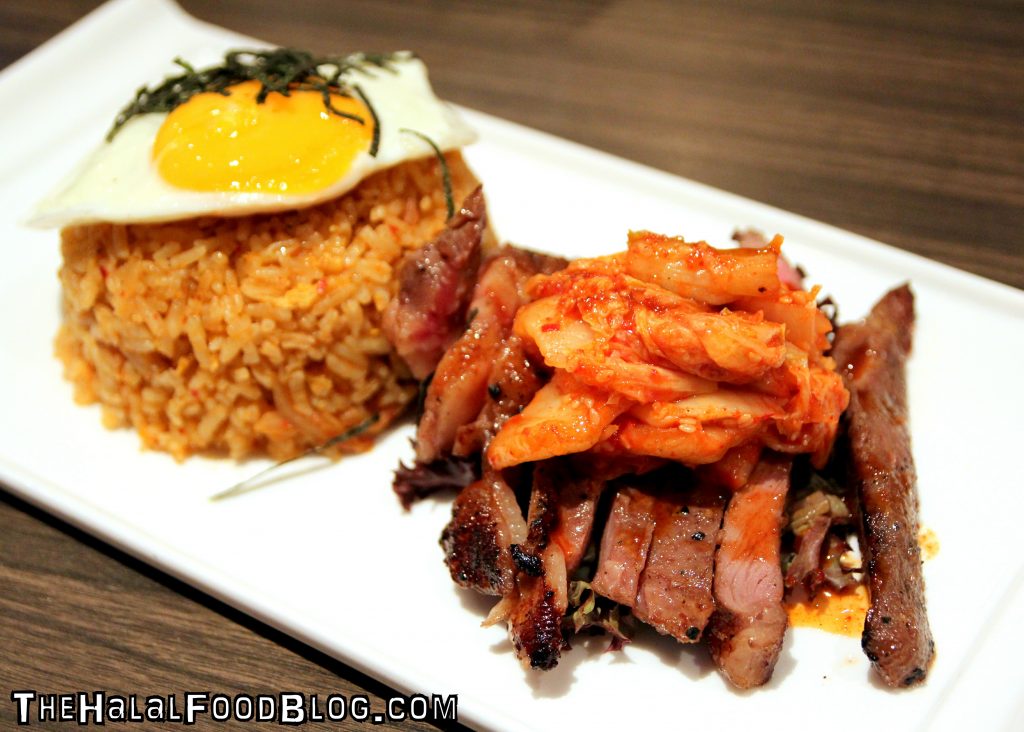 The Korean Steak and Rice seemed to go down pretty well actually.
This one is off their regular menu and has some steak slices marinated with Korean influences and served with Kimchi Fried Rice, a fried egg and more Kimchi for good measure!
Some (who'd been to Korea before) said that the Kimchi Fried Rice was not exactly as authentic as the ones they'd had but I actually thought it was pretty nice! Good Kimchi flavour (in fact could have been more!) and a good serving of well-seasoned beef and the Kimchi made it even better in my books.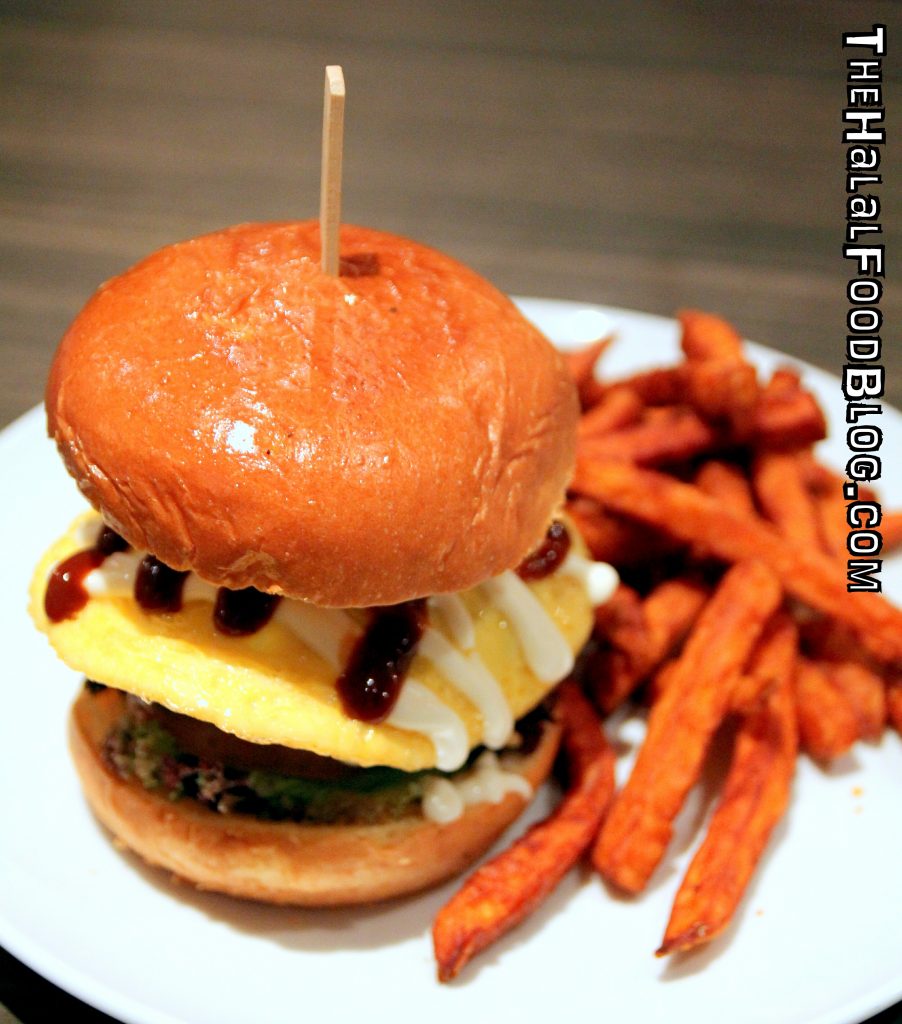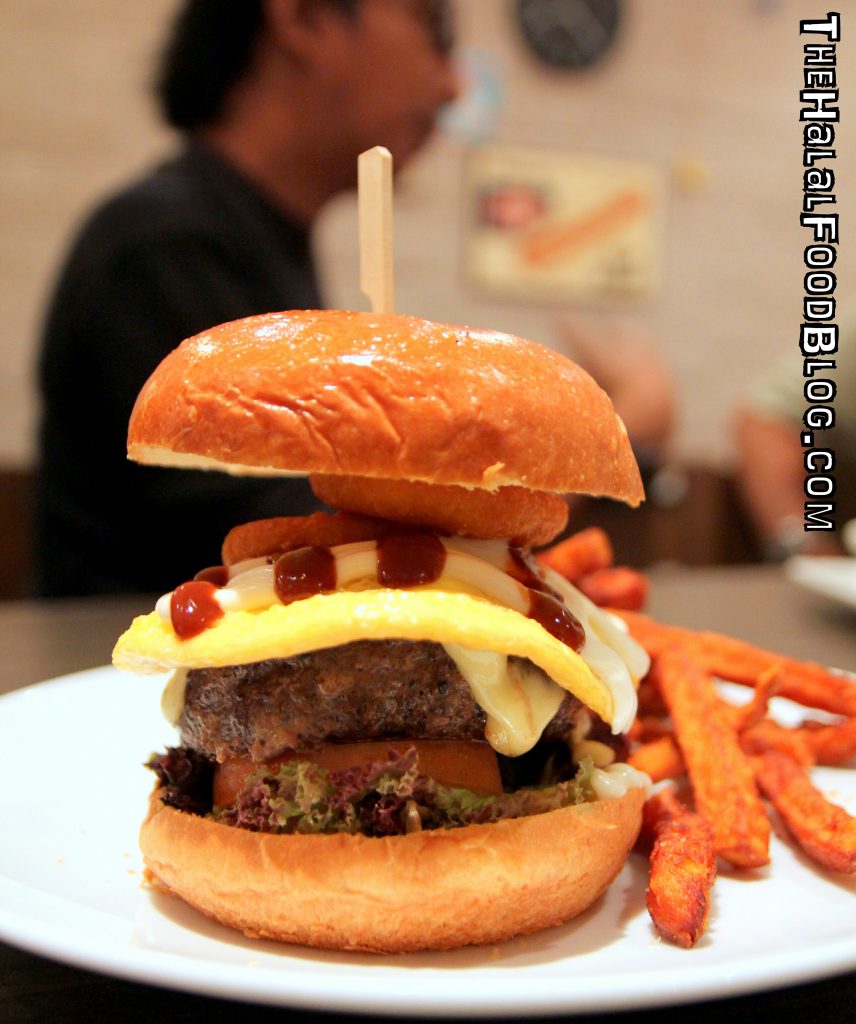 There are about 7 different burgers on the menu at FLAVA. In fact, they were apparently listed under 'Best Burgers in Singapore 2016' on Burpple recently and this is one of the burgers that was mentioned.
So Lynn had this burger and the verdict was that it was not bad. A 180gm Angus beef patty is piled in between butter Brioche buns along with veggies, cheese and some onions rings to round everything up. The only feedback she had was that she would have preferred more of the BBQ sauce and Mayo in the burger!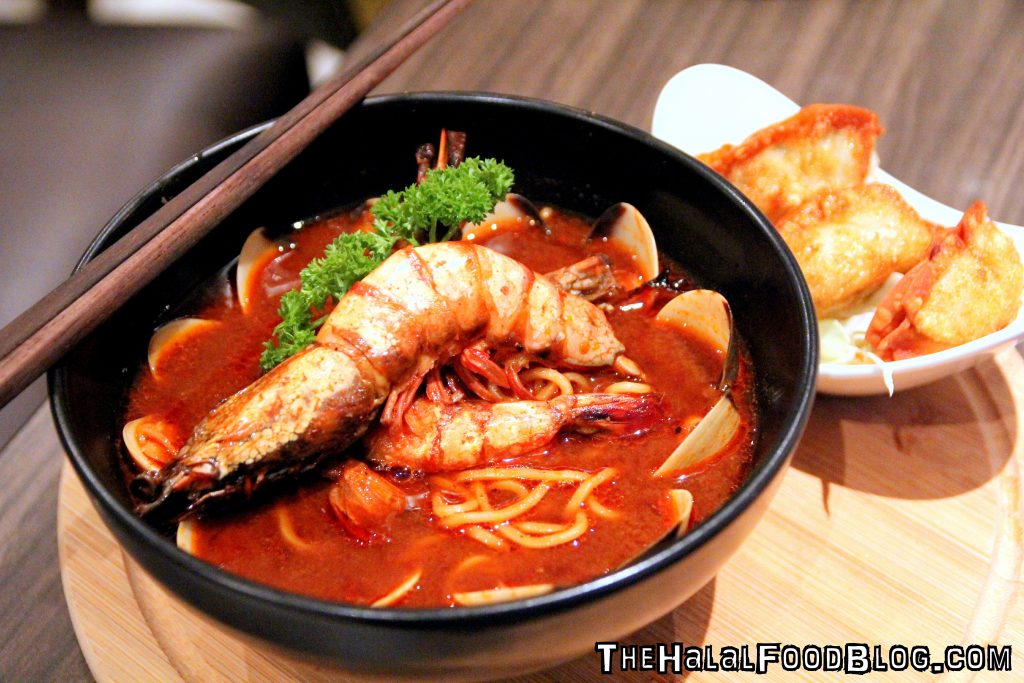 Back to the special 'Shogatsu' menu and we've definitely gotta have some of that Ramen right? They've got at least 4 different Ramen on the special limited time 'Shogatsu' menu!
First up was the Spicy Prawn Ramen – Shoyu-grilled King Prawns, clams and Bonito Flakes (?) in a spicy Miso broth.
Definitely a very generous and hearty serving of Ramen for sure and to me at least, the broth was actually not bad. The flavour was more of a spicy chili broth to me though. Not sure where the Miso and especially the Bonito Flakes come into play here.
But quite a few of us, including Fateha who ordered this dish, mentioned that the aroma of the dish was a bit off-putting. I'm guessing it might be maybe that chili in the broth perhaps? The prawns were a little overcooked but they were definitely fresh at least. Super big!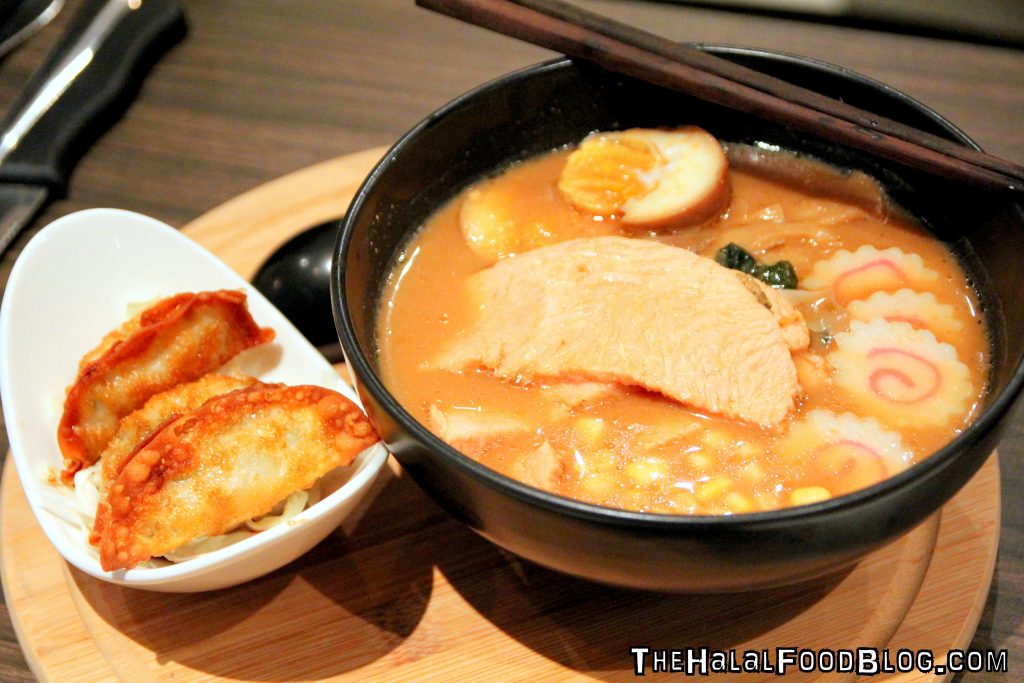 This is probably the Ramen you'd expect as a default Ramen at most places LOL
It's got all the usual suspects like Turkey Char Siu, a boiled egg, corn, Menma (bamboo shoots) and Kamaboko (those cute little spiral fish cake slices) all swimming in a Miso broth.
I guess you can't go wrong with a classic like this!
Besides those dishes, they also have Duck Shoyu Ramen and HK Soya Chicken Ramen on the Shogatsu menu too. But if Ramen is not your thing, you might consider Beef Kare or maybe the Chicken Katsu Kare.
Something that came along with any of the Ramen dishes on the special 'Shogatsu' menu that we simply had to give props too were these Chicken Gyoza.
Crispy on the outside and packo full of meat on the inside. Delightful little bites that definitely complimented the meal. Perhaps FLAVA might consider making this a permanent item on the menu? Would be great as a starter!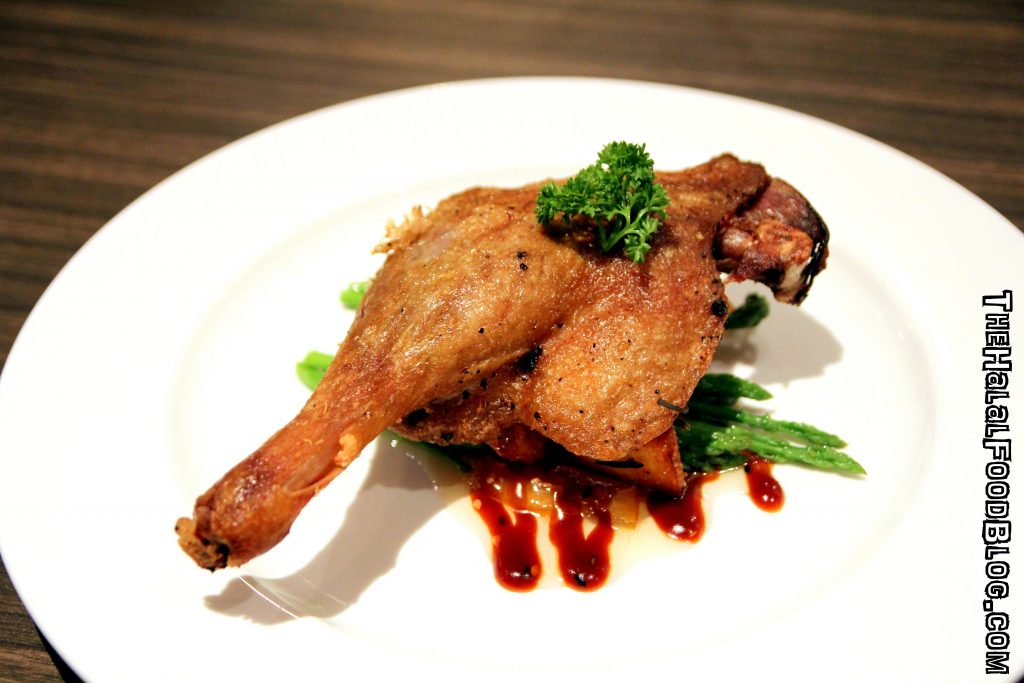 Admittedly, this was not my first choice for my own dish.
I wanted to order the Har Cheong Gai Burger but it was unfortunately not available when we visited so I settled on the Oriental Duck Confit.
I actually love Duck Confit but have only had it like 3 or 4 times because it's pretty hard to find a Halal one let alone a delicious one. I guess it's actually quite serendipitous that the Har Cheong Gai Burger was not available that evening.
The Oriental Duck Confit at FLAVA was gooooooooooood.
You've got a bit of a crisp on the skin and the duck meat is tender and seasoned perfectly before being sous-vide. The problem with some versions of Duck Confit I had in the past was that the meat tended to dry out quite a bit but no such thing here. The duck leg is also a very generous size to be honest.
You have a bed of (very few) roasted herb potatoes and grilled asparagus with some plum and Yuzu sauce that compliments the duck (and also provides the 'Oriental' bit in the dish name). In fact, my only feedback would be the potatoes. There was simply too little of it! Like maybe 5-6 pieces total? Might I suggest to perhaps swap it out with a more traditional companion to Duck Confit – a nice Pomme Purée would pair excellently!
Overall, I'd have to say that the price tag of $19.90 for the Oriental Duck Confit was actually more than reasonable. In fact, pretty much most of the menu at FLAVA is reasonably priced which is a very welcome change from places that tend to seem a bit pricey at times.
FLAVA has been around for just about a year I think and it seems like they are definitely on the right track. Location in Siglap is also quite favourable and ambiance is quite cozy and perfect for family meals like the one we had (including kiddy chairs if you need them too!)
Definitely a big up to the staff at FLAVA. Very friendly and definitely very helpful. Service with a smile is something everyone enjoys and at FLAVA you get to pair that with some pretty good food so it's a gonna be a win for sure.
To the Har Cheong Gai Burger and the Chili Crab with Buns – see you next time okay! LOL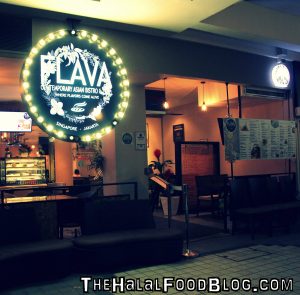 FLAVA Contemporary Asian Bistro and Grill
907 East Coast Road
#01-03 Springvale
Tel: 6702 0302
www.flavaasia.com
Facebook: www.facebook.com/flavaasia
Instagram: @flavaasia
Operting Hours:
12.00pm til 10.00pm Daily
All information (including prices, availability of item on menu and Halal status of establishment) are accurate at the time of posting. All photos used in this site are property of The Halal Food Blog unless stated otherwise.