Here's another makan place which was kind of a familiar scenario for us – heard about it SO long ago, interested in visiting, always tak jadi. Well, with Eighteen Chefs opening an outlet at Bedok Mall which is within lunching distance, there was no excuse for us anymore. It was time to sample the yummy food we have been hearing about.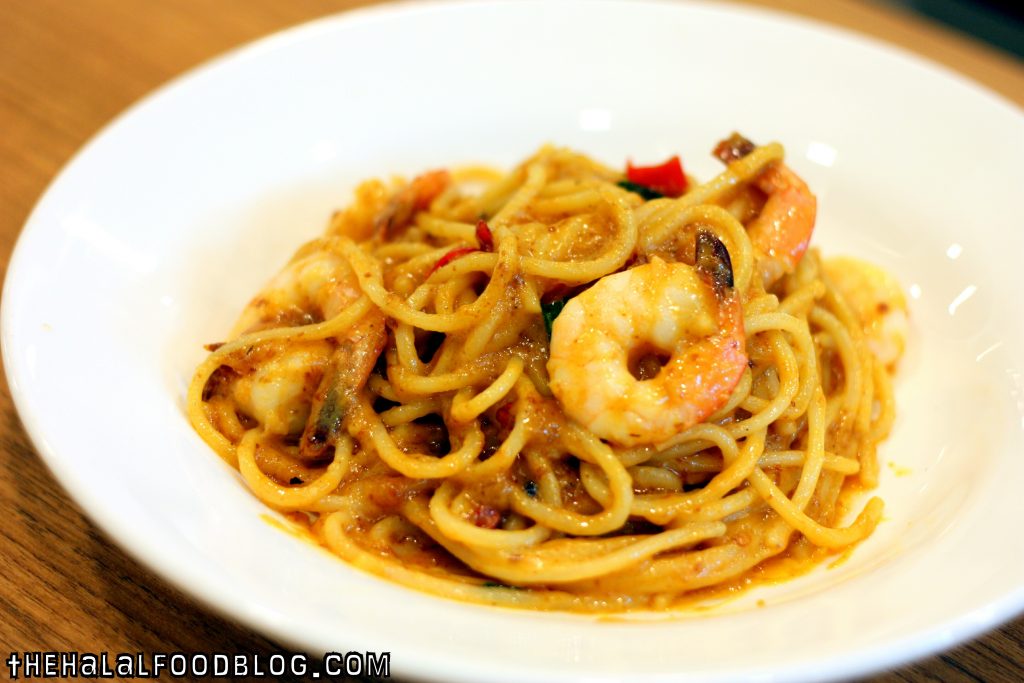 So where do we start? Well, it was just me all by my lonesome one afternoon for lunch when I stepped in to Eighteen Chefs. Looking through the menu, I was tempted to try some of their popular favourites like the Heart Attack Fried Rice, Eighteen Beef Burger or maybe their Fish and Chips?
Well, in the end, I settled on something that was popular and when I saw it, there was never any doubt that I simply had to order it because we all know what a sucker I am for anything 'Salted Egg'.
So the Salted Egg Prawn Pasta has spaghetti that's all mixed-in with some of that yummy salted egg sauce goodness and topped off with some prawns. Seems simple? Well, sometimes simple is best!
I actually really enjoyed the pasta and the salted egg yolk sauce as well. But then again, I am definitely a big fan of salted egg stuff and the fact that this dish packs a very very strong punch in that department is probably why I liked it so much. However, I can think of a few friends who would say that the salted egg flavour was too strong. Well, I say it's really power and all you fans of salted egg stuff should definitely try it.
You will also see on the menu that this dish has a 'chili' symbol to denote it's on the spicy side. Like any good salted egg dish, it does have some chili padi in there for that spicy kick so thumbs up on that too.
I will say that I didn't quite enjoy the prawns though. But to be fair, I'm damn fussy when it comes to my seafood (especially) plus I'm not really the prawn guy if you know what I'm saying.
Adam's Verdict:
Salted Egg Prawn Pasta 3.5/5
Maybe I would have enjoyed it more if it wasn't prawns but maybe something like soft shell crab or even simpler like crab sticks or something who knows.
And a word of advice – you may have the idea of dropping by for a quick meal and chop-chop makan then ciao but to be honest, I think you'd better set aside some time to relax there and enjoy the food a little bit. Because the portions are generous plus you have to take your time to enjoy the food you know what I mean?
But we all know the story about Eighteen Chefs and all the good work they do and all the good opportunities they create so good on them and looking forward to dropping by more often to try more of their food!
Eighteen Chefs
Bedok Mall
311 New Upper Changi Road
#02-03/04
Tel: 6384 9948
www.eighteenchefs.com
Facebook: www.facebook.com/EighteenChefs
Operating Hours: 11.00am to 10.30pm Daily
All information (including prices, availability of item on menu and Halal status of establishment) are accurate at the time of posting. All photos used in this site are property of The Halal Food Blog unless stated otherwise.