You know what I noticed recently? There has been more and more of 2 types of makan places popping up and getting certified Halal. 1 is Korean makan places and the 2 is healthy eating makan places. To me, that's POWER because that means more and more makan options for everyone of course!
But, how many places do you know that serve both Korean AND healthy food all in one handy packaging? And best of all – SEDAP GILER!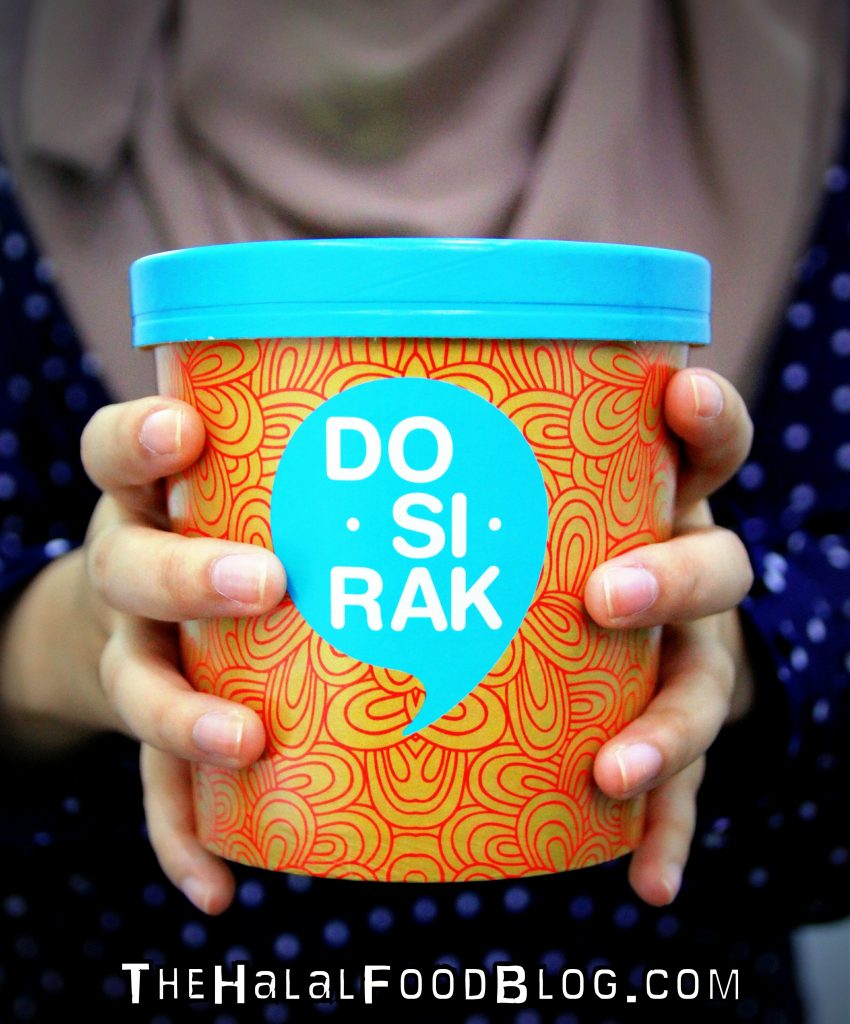 Dosirak is located on the fringes of the CBD (at China Square Central to be exact) and specializes in one thing – churning out delicious and healthy Korean food! But make no mistake – this is not your average run-of-the-mill health food joint. I mean, there are plenty of instances where Korean food is not really considered healthy (yes, I'm looking at YOU, Budae Jjigae!) but here, they manage to combine the best of both worlds.
And how exactly do we know it's healthy? Well, the team at Dosirak worked very closely with the HPB (that's the Health Promotion Board for the uninitiated LOL but we are initiated, aren't we Bruce?) when they were developing their menu so you know they're putting good, wholesome ingredients for some well-balanced 'Food With Value'.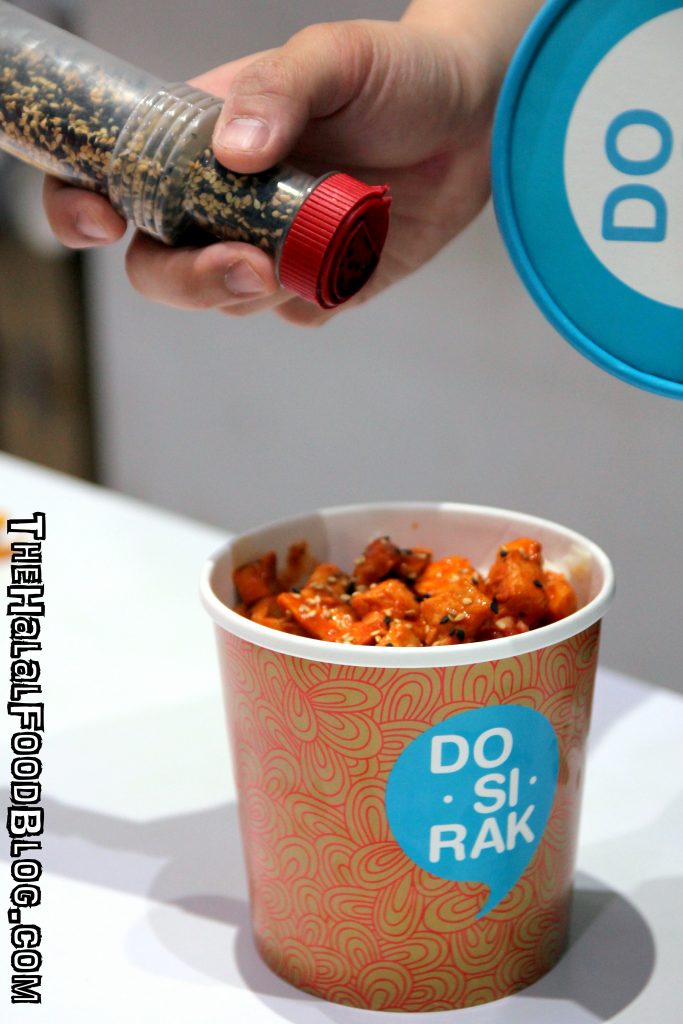 Besides fresh and quality ingredients, Dosirak actually prepares a lot of the ingredients themselves. For example, they make their own Gochujang and their own Kimchi! Well, it helps if you family owns a farm in Korea LOL but to me, the fact that they go the extra mile instead of taking shortcuts (which can be very common these days) says a lot.
But more on the ingredients later okay! Now, time for some makan 😛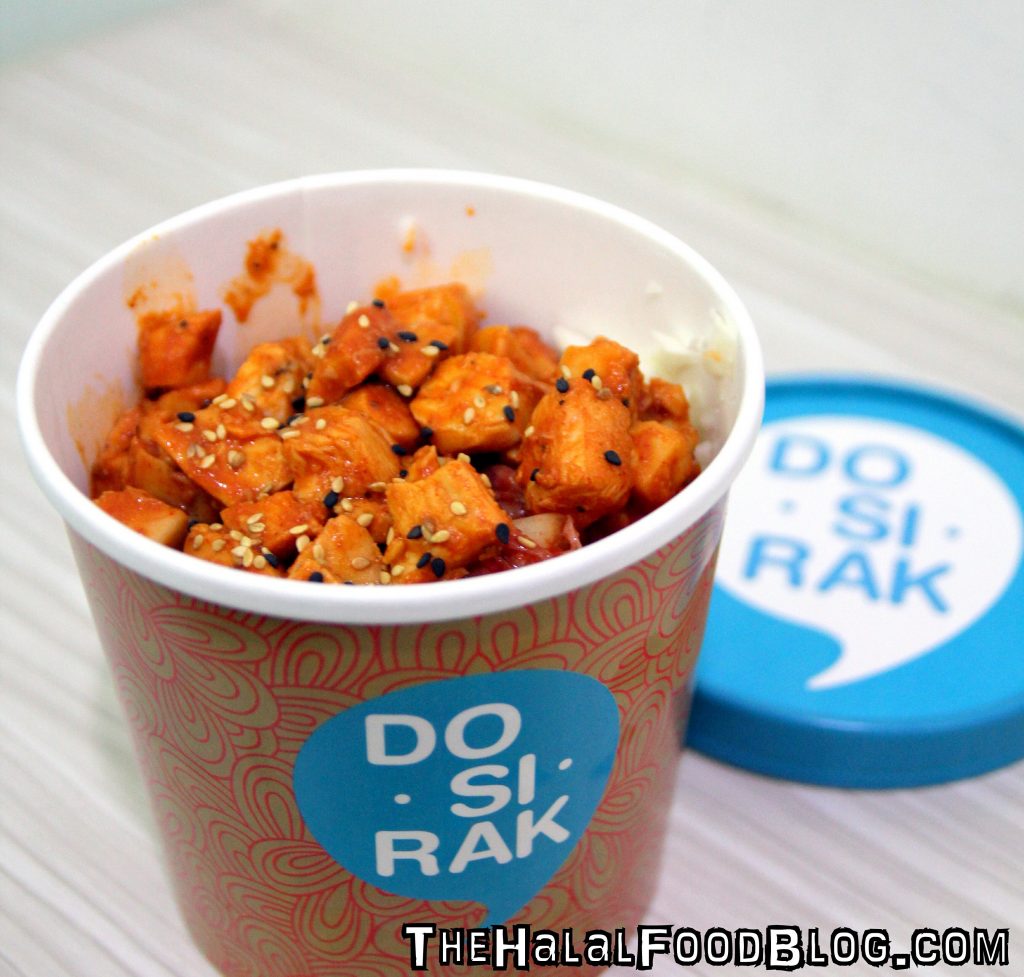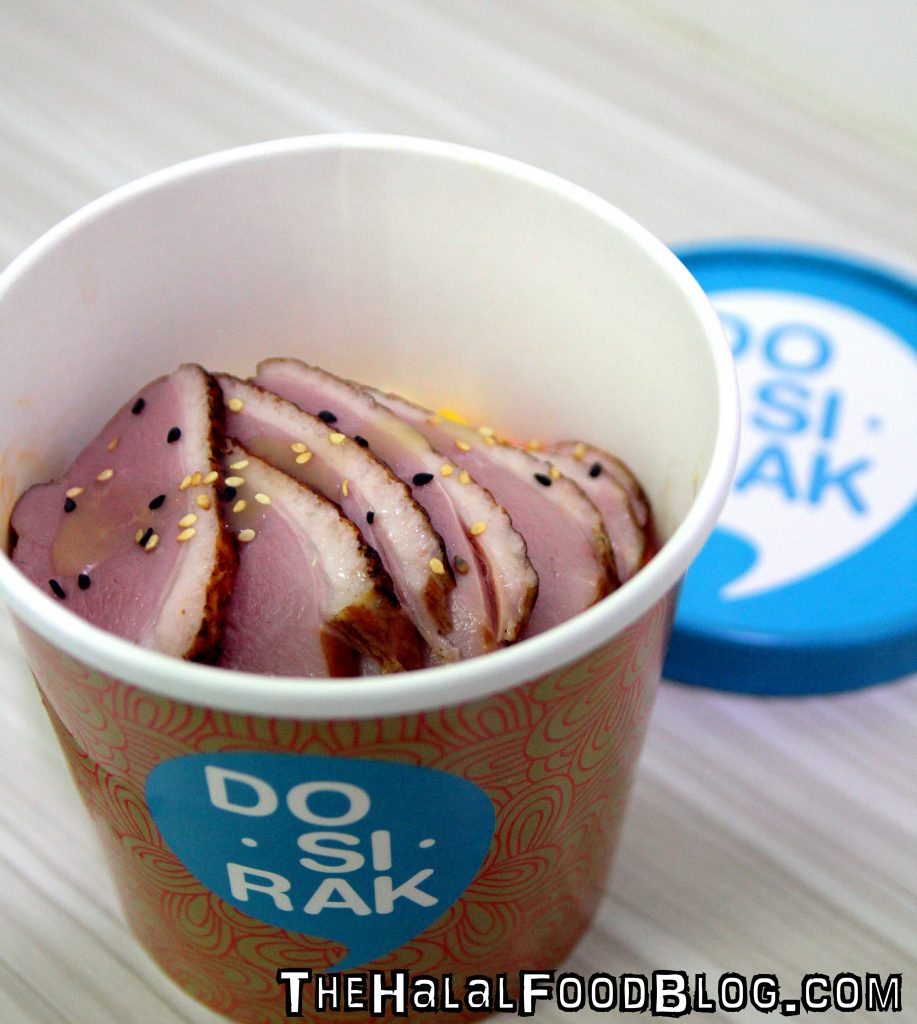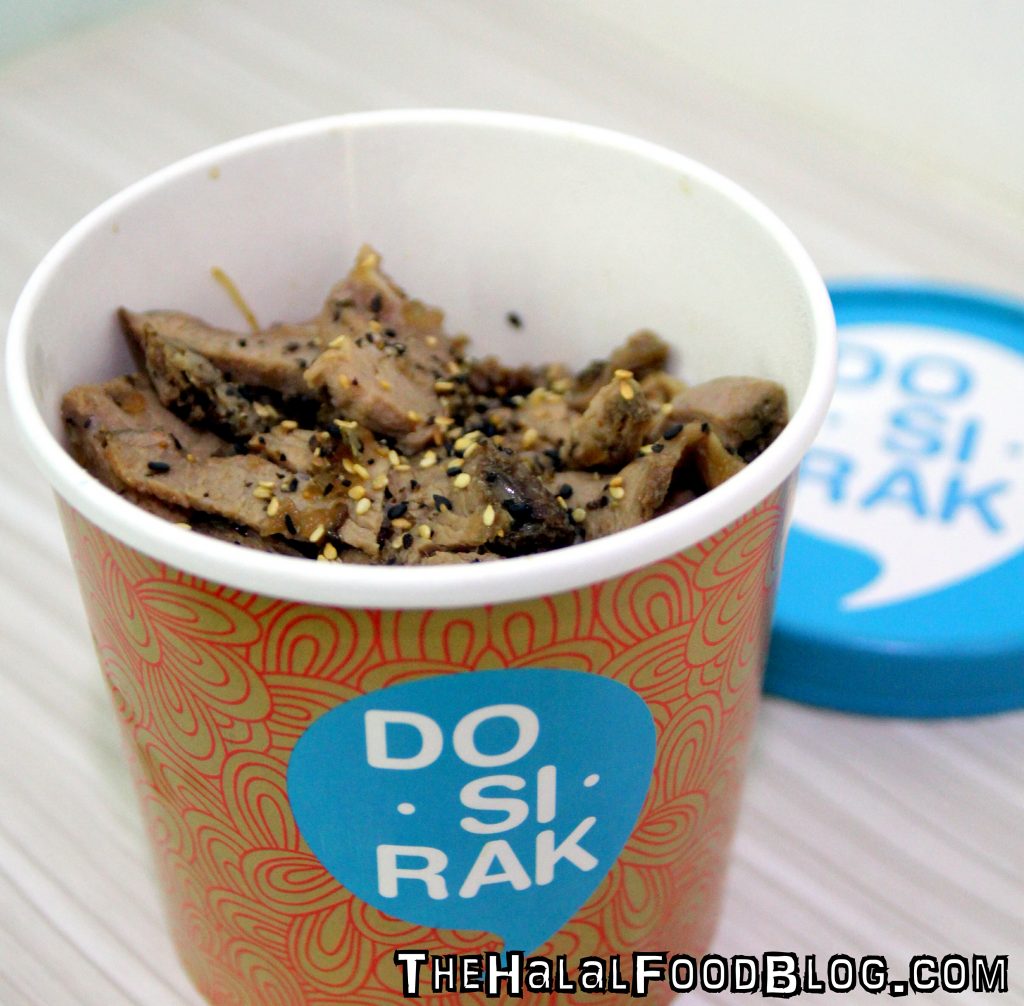 Dosirak (도시락) translates to 'Lunchbox' and that's what you get. Okay lah it's not a square or rectangular box like you'd expect but you get a cylindrical box (still a box okay!) that's kinda like the ones you get when you buy a pint of ice-cream from the supermarket. And in both cases, you have some pretty tasty stuff inside that box.
You can choose from any one of the 10 pre-set options on the menu at Dosirak. They range from the classics like Beef Bulgogi and Spicy Chicken to some interesting ones like Seared Tuna and Crab & Fish Roe. They even have all-veg options like Avocado Sweet Potato, Pumpkin Tofu and Kimchi Tofu by the way.
You also get to choose your base namely Rice, Brown Rice, Cold Noodles, Tofu, Red Cabbage or Cauliflower Rice. In fact, you get to pretty much customize your Dosirak! Add on or leave out anything you'd like! They've got a whole range of ingredients for you to choose from so you can literally build the meal you want.
We tried the Spicy Chicken with Rice (which is an award-winning choice!), the Beef Bulgogi with Rice and also the Smoked Duck with Cold Noodles!
So you make your selections then you shake it up! Literally.
No no, we're serious lah LOL shake up the Dosirak to give everything a good mix inside!
The rice was soooooo good because it's pretty much like Bibimbap in a cup. Totally loved it.
The Cold Noodles reminded me a lot of a cross between soba and bee hoon (maybe because of the thickness LOL) and also good if you're not up for rice.
PRO TIP – Add some Gochujang to add more kick to your Dosirak!
One of the things that makes Dosirak special (and so sedap) is that they really did put a lot of thought into the food they're serving. The owners are half-Korean and their family owns a farm in Korea (and their mum owns a Korean restaurant) which means they obviously know a thing or two about Korean food!
They obviously try to keep it as traditional as possible but there are tweaks here and there that are simply genius. For example, they make their own Gochujang and Kimchi with methods that involve fruit extracts. This means they eliminate the non-Halal elements normally associated with these ingredients (namely alcohol) and we're so lucky we get to enjoy it because it's really really good!
Even their proteins are given the royal treatment. They are cooked using the sous-vide method which is one the best ways to cook nowadays because not only does it lock in (and even enhance) flavours but you're gonna get some really tender and well-cooked meats.
We didn't select the Cured Salmon in our Dosirak but let me tell you – it's some of the best I've ever had. Because it's cured (instead of smoked) with their own special mix, the flavours are subtle and fresh. You're not overwhelmed with an overly smoky/briny flavour that you might with smoked salmon (which I also enjoy very much too by the way LOL)  so this is on a whole new level and definitely fits in with their concept of wholesome and healthy yet tasty food.
I'm totally in love with Dosirak.
I wish I worked in the CBD so I could visit it more often (or at least have it delivered LOL) but alas, I have to await the day when they open more outlets in the future (ahem ahem). In the meantime, this is one place that an East-siders says "Why Central got all the sedap food" instead of the usual other way round.
By the way, I'd also like to point out that the prices at Dosirak are more than reasonable. The cheapest option on the menu is $7.90 (which is the classic Spicy Chicken which is already so power) and the most expensive is the Crab & Fish Roe which is priced at $13.90 which is still really okay. Of course, if you add and add and add stuff then you pay a bit more. But trust us – it's so worth it. (ADD THE KIMCHI!!)
Kamsahamnida to the Dosirak team for having us over and really opening our eyes (and mouths) to some very interesting facts and definitely some very delicious food! And also special thanks to Halalfoodhunt.com and The Halal Eater for sharing a meal with me!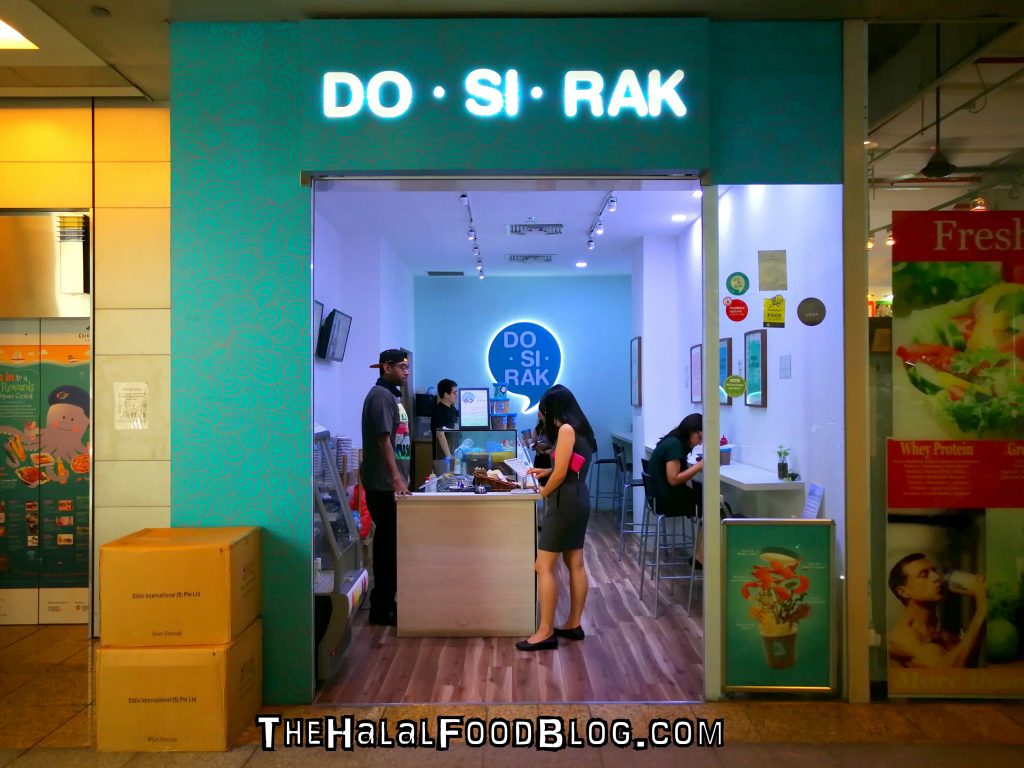 DOSIRAK
China Square Central
18 Cross Street #01-02
Tel: 6536 6034
www.dosirak.com.sg
Facebook: www.facebook.com/DosirakSG
Instagram: @dosiraksg
Mondays to Fridays – 11.30am til 6.00pm
Saturdays – 11.30am til 3.30pm
Closed on Sundays
All information (including prices, availability of item on menu and Halal status of establishment) are accurate at the time of posting. All photos used in this site are property of The Halal Food Blog unless stated otherwise.