The festive season is almost here again! And in festive times (actually all other times too actually LOL), one's thoughts will definitely be of makan! After all, this is the best time to enjoy some of the best food and great deals especially when it comes to Christmas / Year-end feasts and the likes.
Well, we decided to get the ball rolling with nothing less than a sumptuous spread courtesy of the good folks at Deli Hub! We're pretty sure you've heard of Deli Hub before. This Halal-certified brand under the famous Neo Group is one of the most renowned caterers here in Singapore. I remember that I used to enjoy Deli Hub's catering at my old workplace all year round (e.g. CNY, Christmas celebrations etc) and you would probably recognize this brand from similar spreads too.
Deli Hub has a special range of menus just for the festive season and we had the honour of trying their Christmas Party Pack! Yeah, we may not celebrate Christmas but we definitely enjoy the food that comes along with the season LOL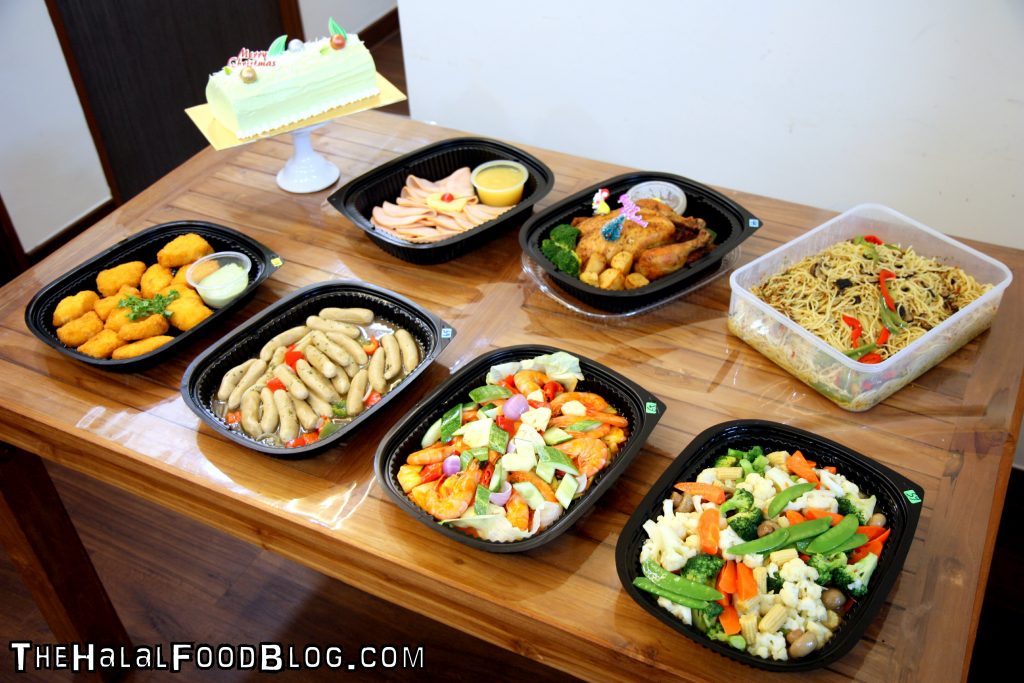 So the Christmas Party Pack is catered for about 8-10 pax but this could even be suitable for a few more pax too. As you can see – IT'S A LOT OF FOOD!!
There's quite a bit of variety and definitely something for everyone so let's run it down for you.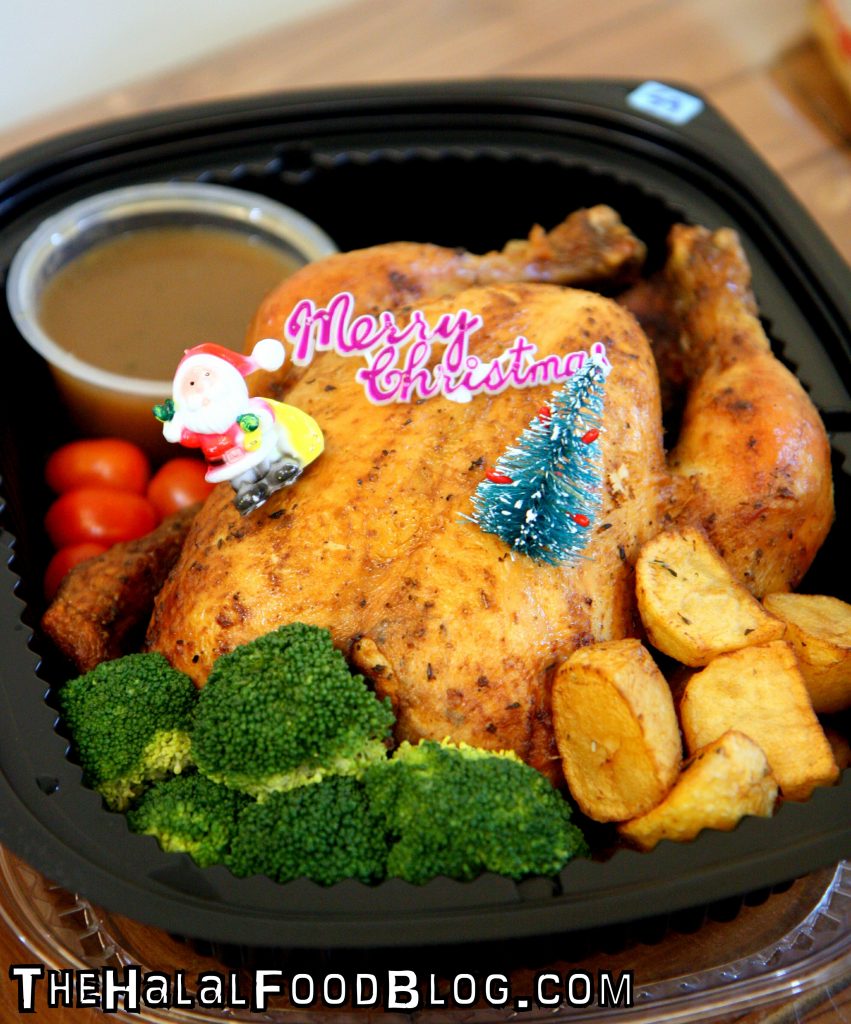 The Oven Baked Rosemary Chicken is the star of the spread and rightly so – it's absolutely delicious!
A generous-sized bird for sure and it's cooked to absolute perfection. The meat was super tender, super juicy and super flavourful. It comes with some brown gravy plus some vegetables and potatoes as an accompaniment.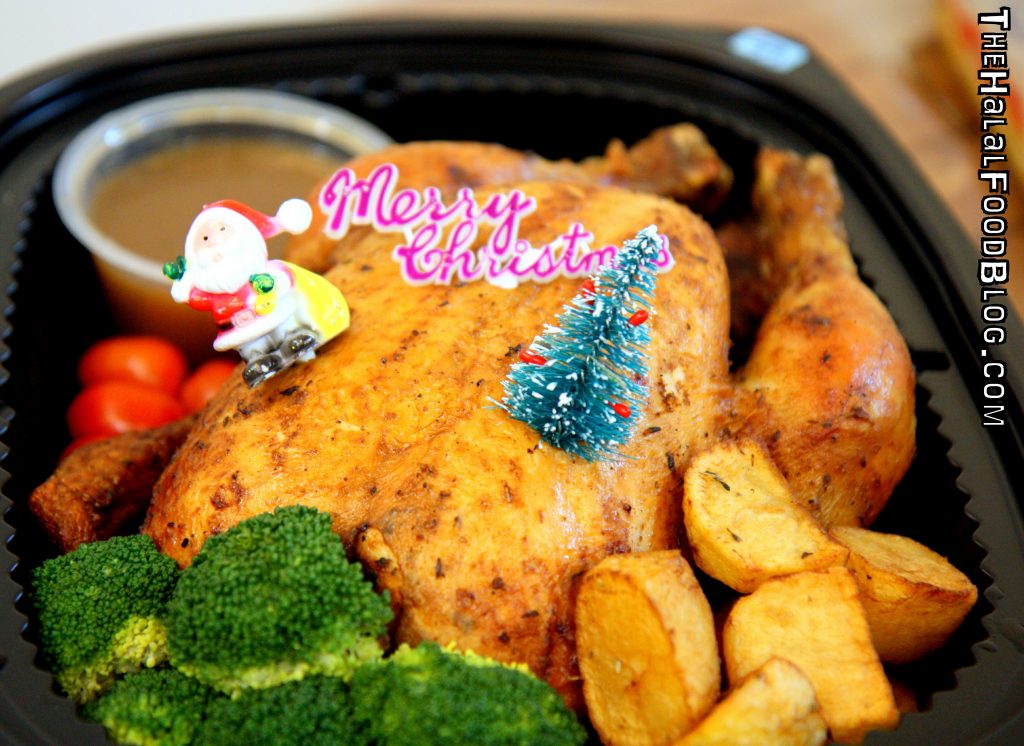 For those of you who are worried that your party may not be able to finish the whole chicken, don't worry because you can always save the meat for salads or sandwiches later on. But to be honest – we're pretty sure the whole chicken is gonna get attacked until it's all gone because it's SO good!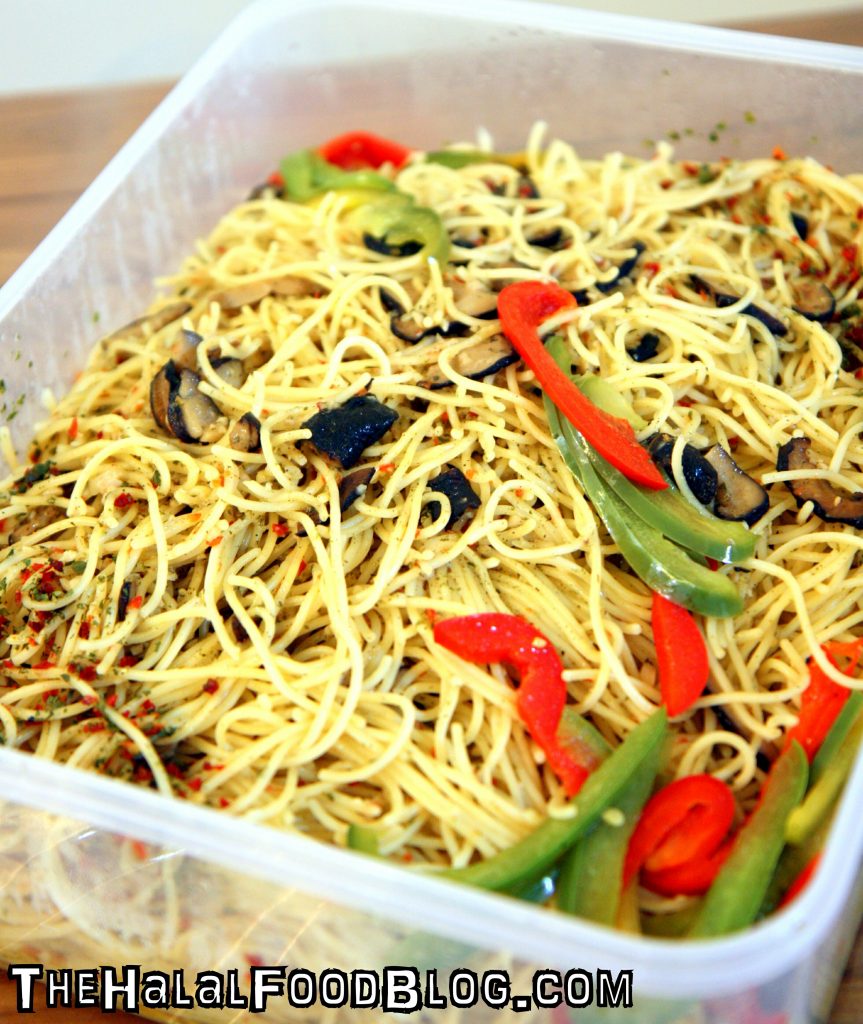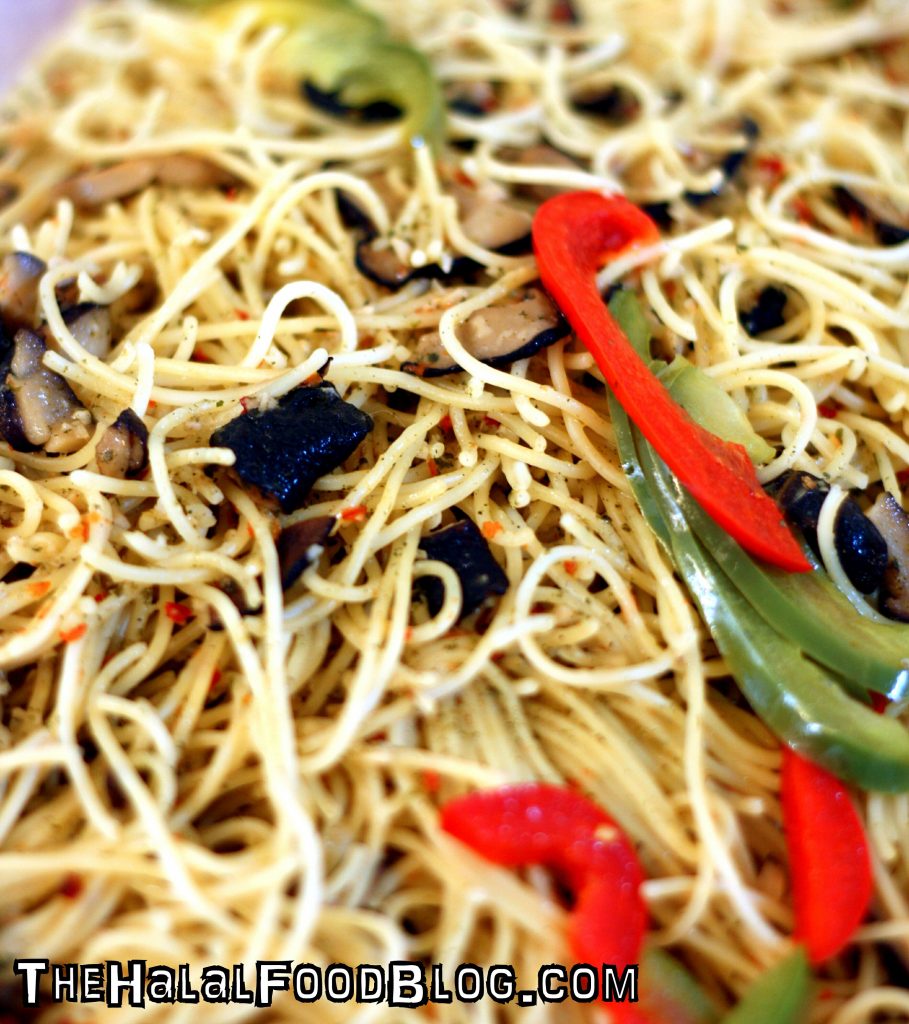 We had a choice between the Oriental Fried Rice with Anchovies or the Italian Spaghetti Aglio Olio. We chose the latter as it seemed more fitting with the whole Christmas theme and all.
Definitely a very generous serving and a good mix of mushroom and peppers along with the spaghetti. Aglio Olio does have some chillies in there but it's not that spicy. Be sure to give it a good mix because the olive oil is resting at the bottom.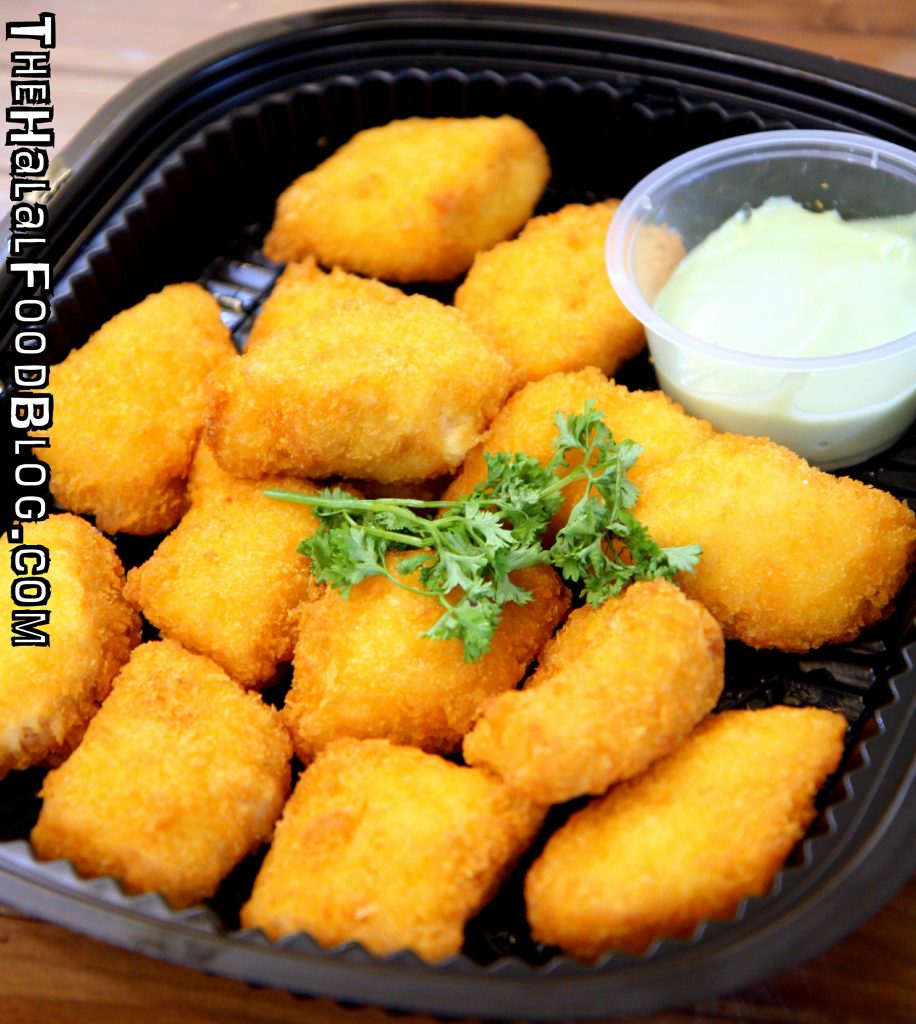 The Golden Breaded Fish Fillet with Wasabi Mayo was another favourite of ours. I remember having it as a firm feature in pretty much all the office function buffets because it was so power so we made sure to order it every time! LOL
So these little golden nuggets of fish are breaded and deep fried to golden brown perfection. And we are not talking about those thin fish fillets okay – we are talking about really plump fish fillet nuggets that have considerable fish meat in them.
And the real kicker is the Wasabi Mayo! We've tried quite a few Wasabi Mayo or Wasabi Sauces over the years and this one is by far the best. Most of the time, it's either not creamy enough or you can't taste any Wasabi. With the Deli Hub version, not only do you still get to enjoy the creamy mayo but the Wasabi flavor is definitely power!!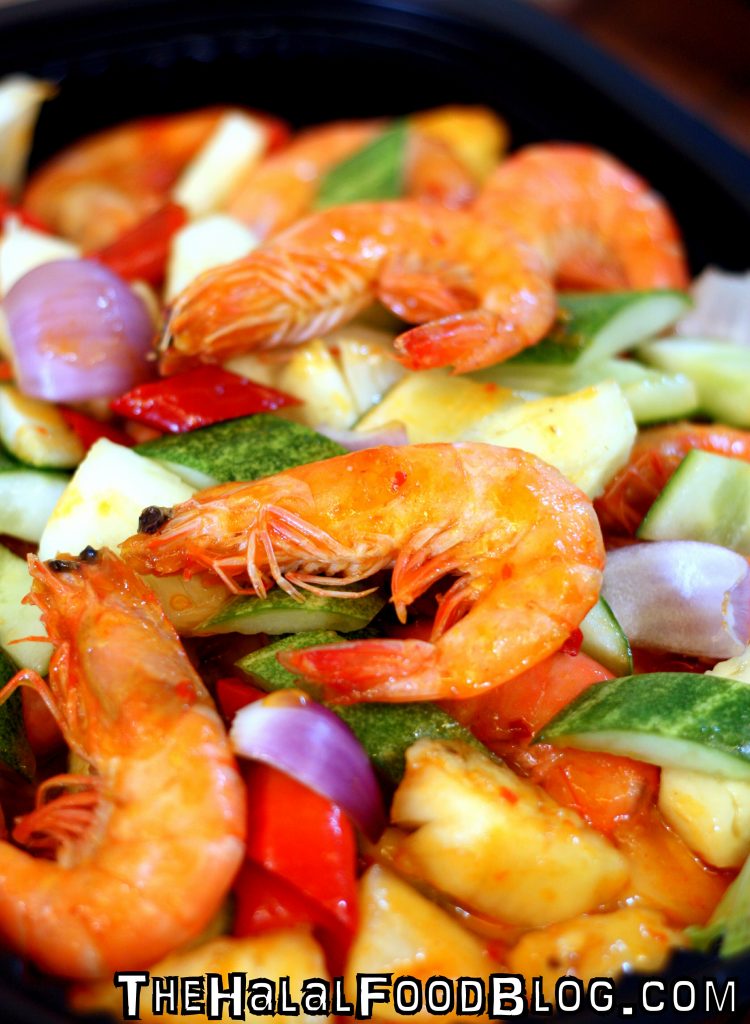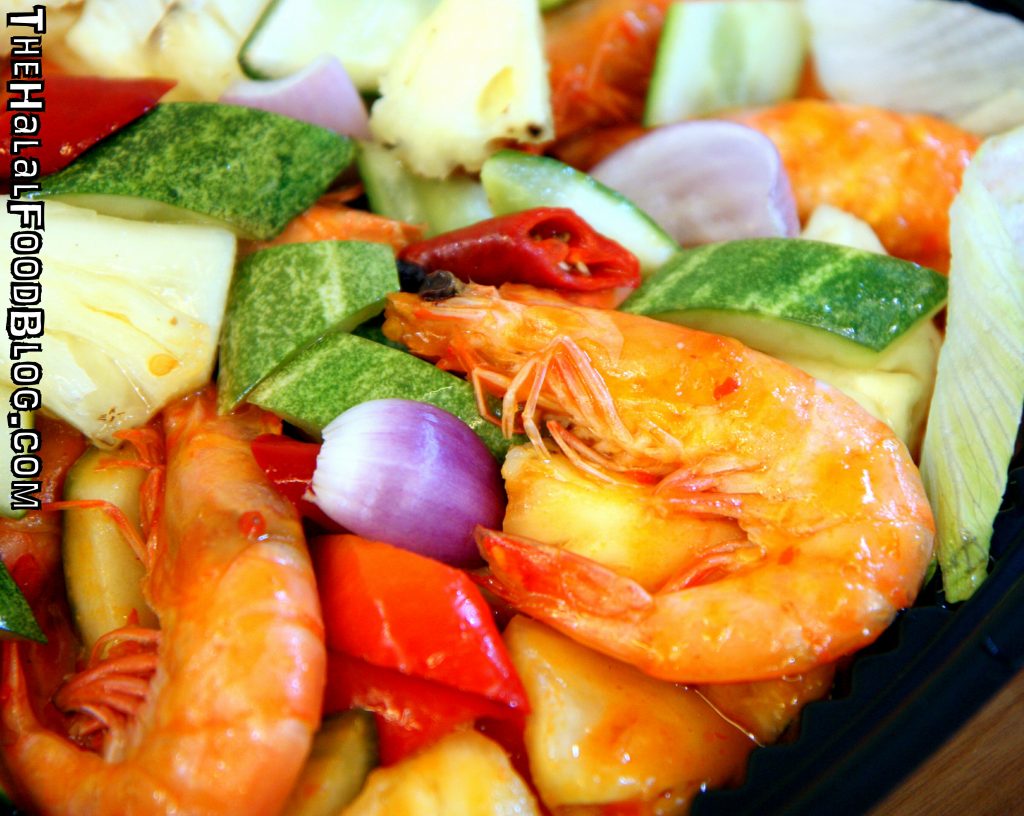 Next up was the Wok-Fried Prawn in Spicy Thai Style Sauce. So these big and juicy prawns are cooked with veggies in a sauce that a lot might classify under the famous '3 Rasa' aka Sweet, Sour and Spicy.
Definitely a must have for prawn lovers (and I know there are a lot of you out there!)
I personally managed to find the spicy side of this dish but a lot of our family are quite the 'hantu chili' aka they can really take their spicy food so they said it was tasty and medium-low range spicy.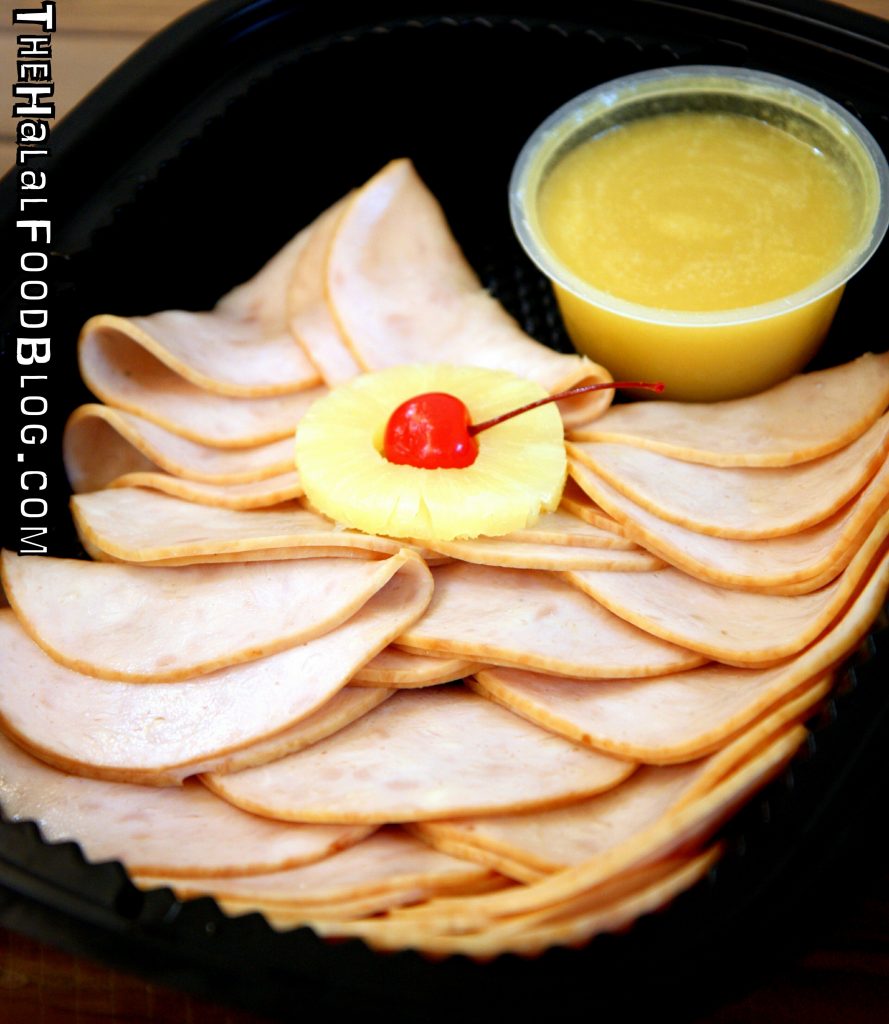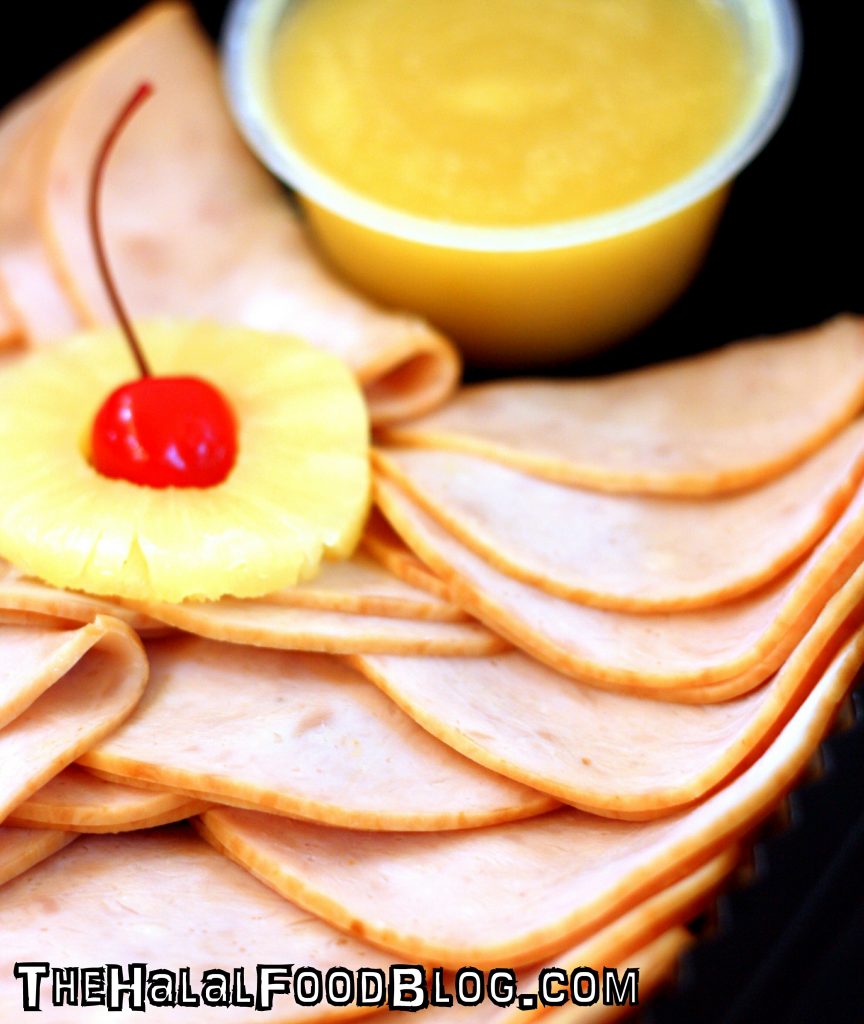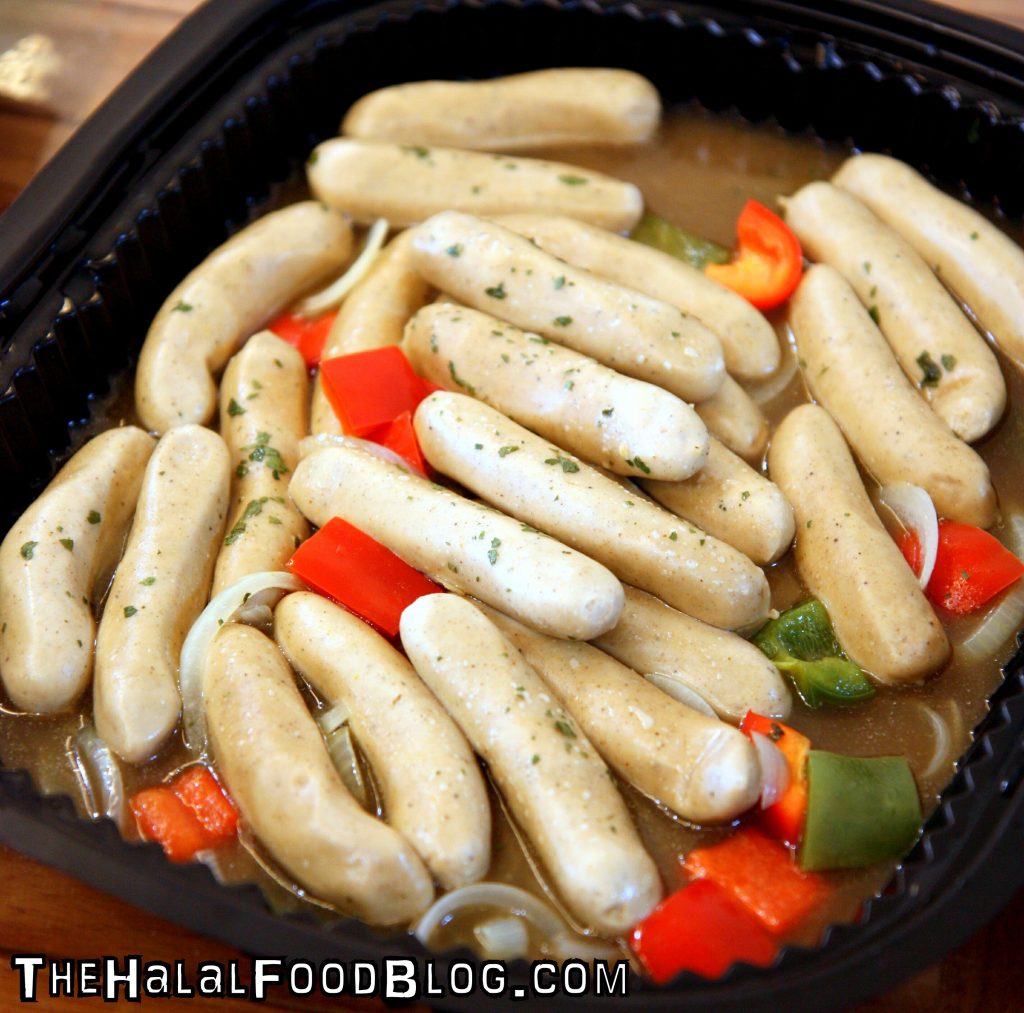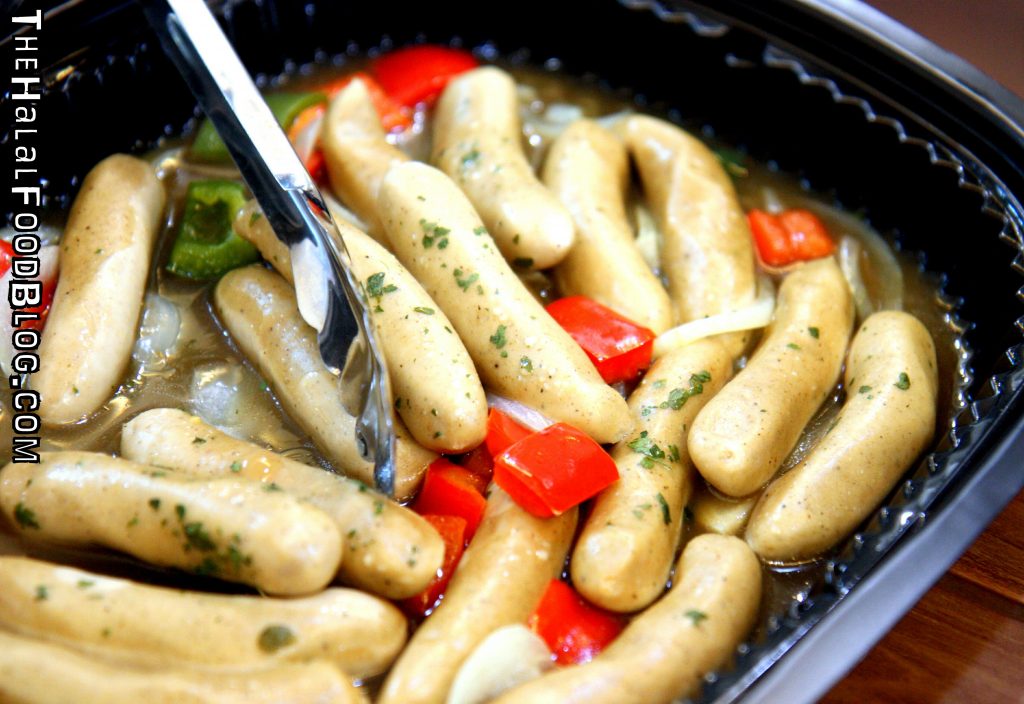 And keeping with the whole festive theme, there was some Honey Baked Chicken Ham and Gourmet Chipolata Sausages too!
I don't know about you but I LOVE Chicken Ham and Turkey Ham and all that so this was a treat for me. It comes with a pineapple glaze which really complements the Chicken Ham very well. Any leftovers can easily be made into sandwiches or sliced up to fry with rice or noodles (but no leftovers for us of course LOL)
The Gourmet Chipolata Sausages are always a welcome addition at any meal because not only can the adults enjoy them but it's sure to be a big hit with the kids as well. We did find the sausages to be on the firm side to be honest but they had a great flavor to them overall.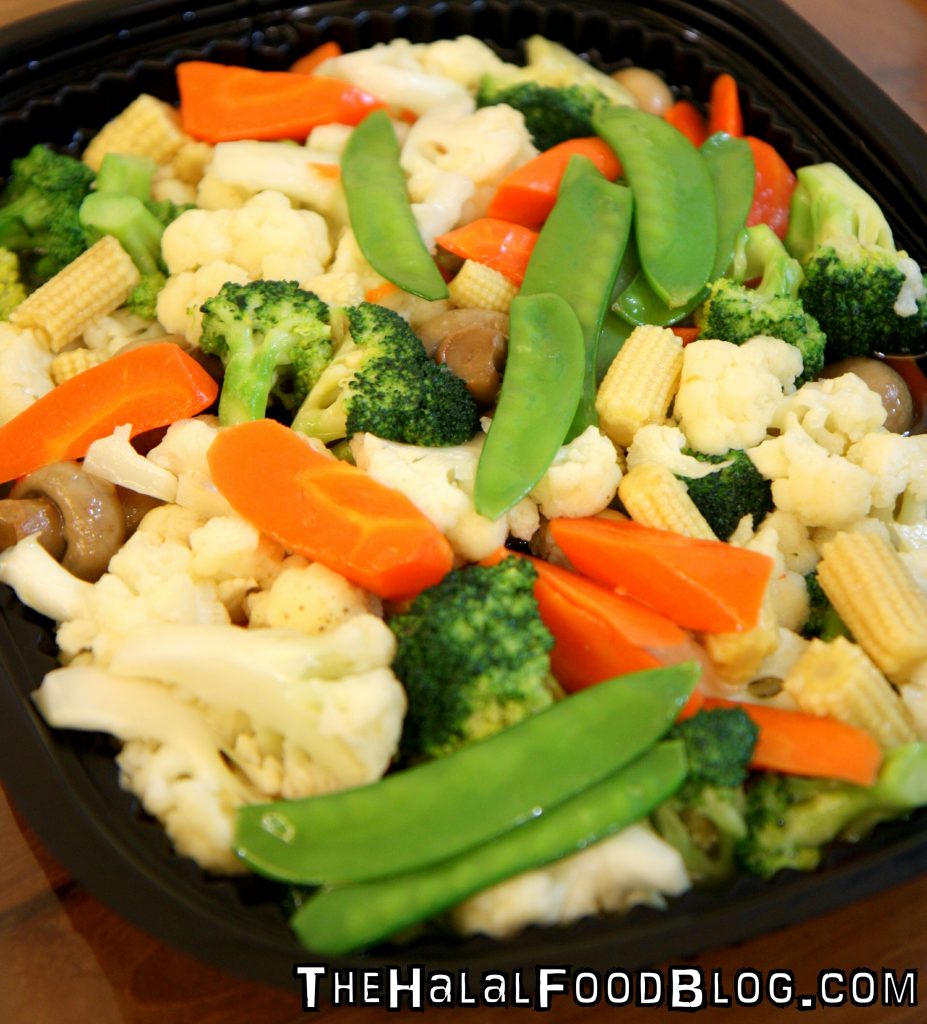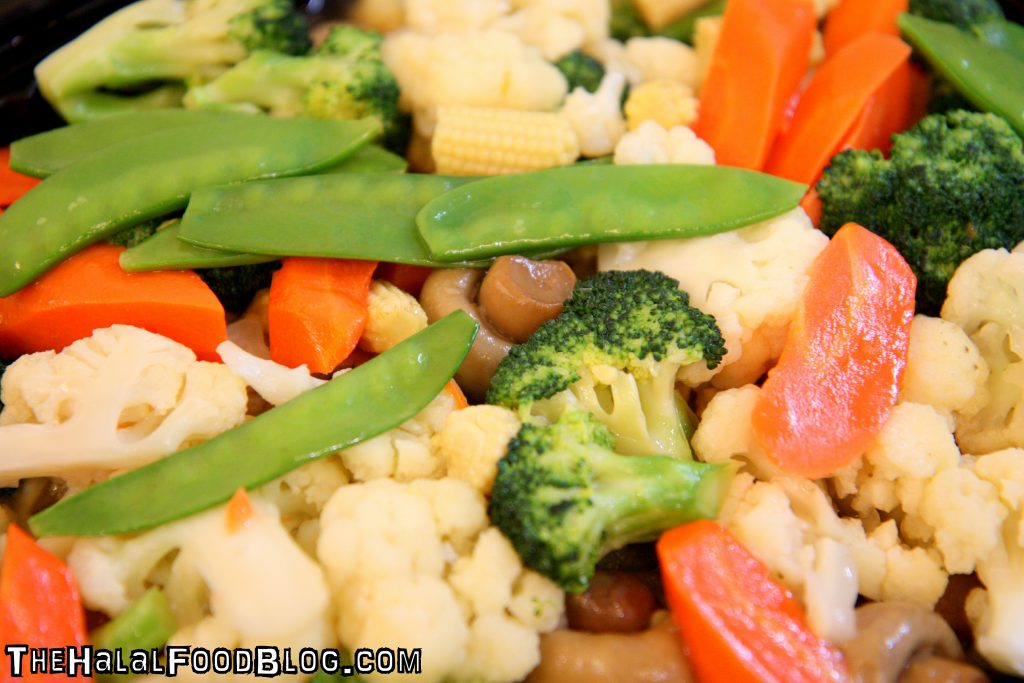 Let's not forget to eat our veggies okay! LOL
At least with Deli Hub, you know that your veggies are gonna be sedap so no issue.
Sautéed Garden Vegetables in Butter Glaze completes your meal. This was a good mix of fresh veggies that go well with the rest of the dishes on the spread for sure.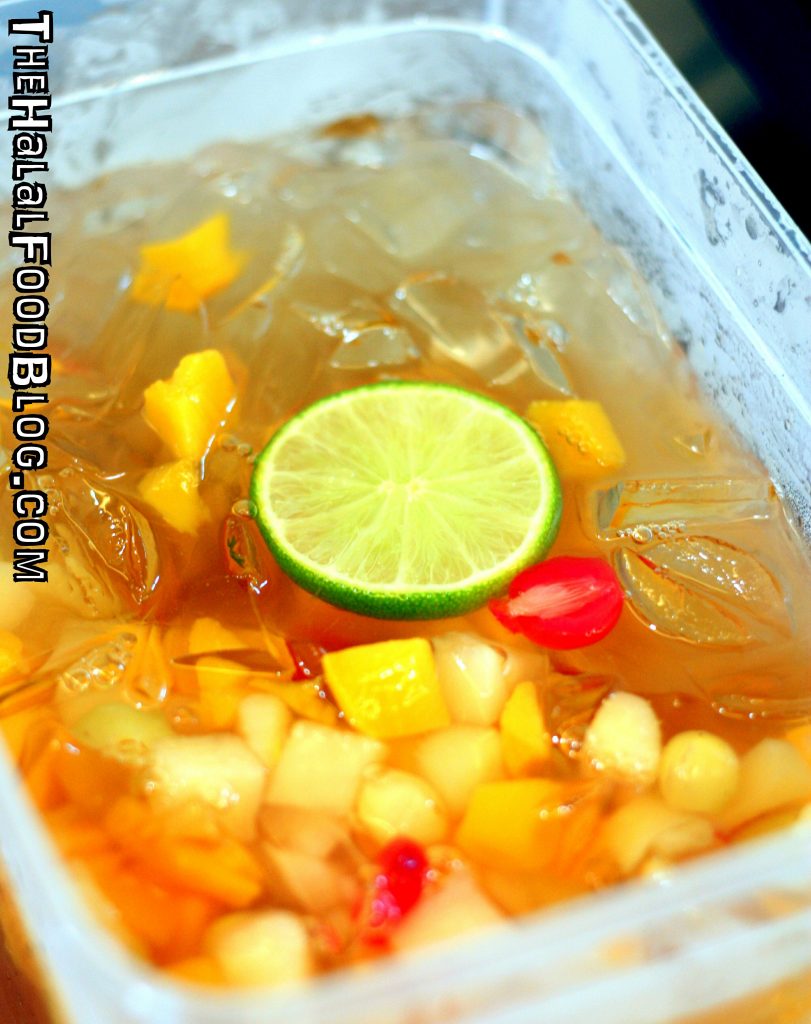 Let's not forget dessert!! Tuck into Chilled Iced Jelly with Fruit Cocktail! A familiar favourite with a lot of us I'm very sure (I always swipe the cherries first! LOL) A great end to a fabulous meal!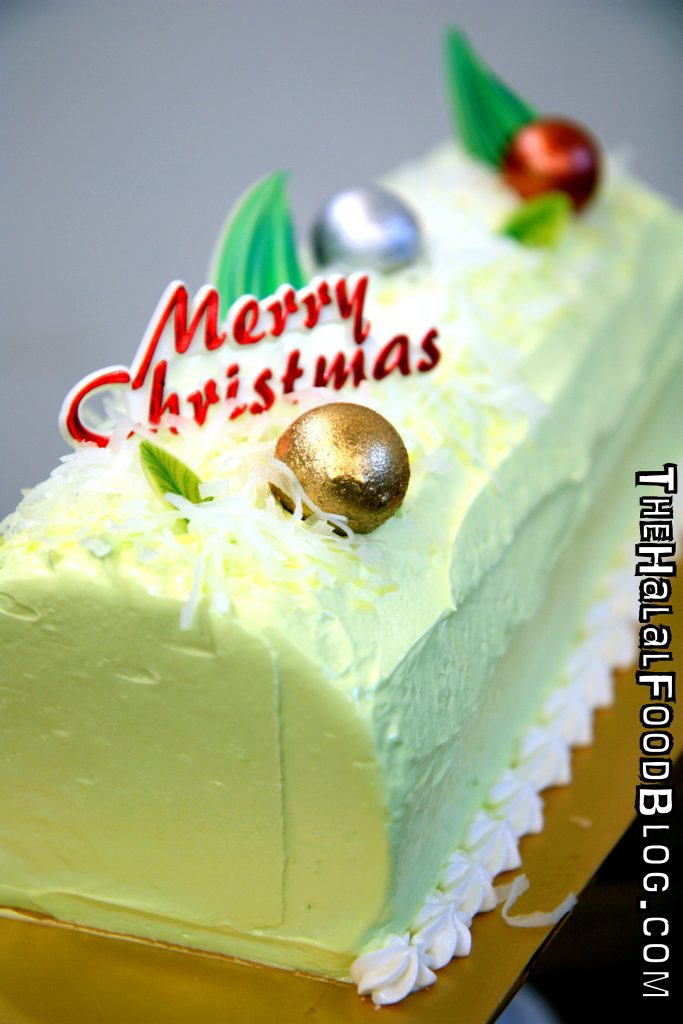 It's quite safe to say that the trending flavor of 2016 was 'Ondeh-Ondeh' right?
Well, Deli Hub has injected that local flavour into a festive season classic – the Ondeh-Ondeh Log Cake!
So you've got a traditional log cake but within, you will enjoy the familiar flavour of Ondeh-Ondeh. In fact, they go the extra mile with actual coconut bits adorning the outside of the cake! Within, enjoy the fluffy Pandan sponge cake with gula Melaka flavour swirl. I quite enjoyed the light cream that coated the log cake too!
With all sweets and desserts, enjoy in moderation but you definitely have to try this. The good thing is that it is not 'over-the-limit' so you don't 'cepat muak' if you know what I mean.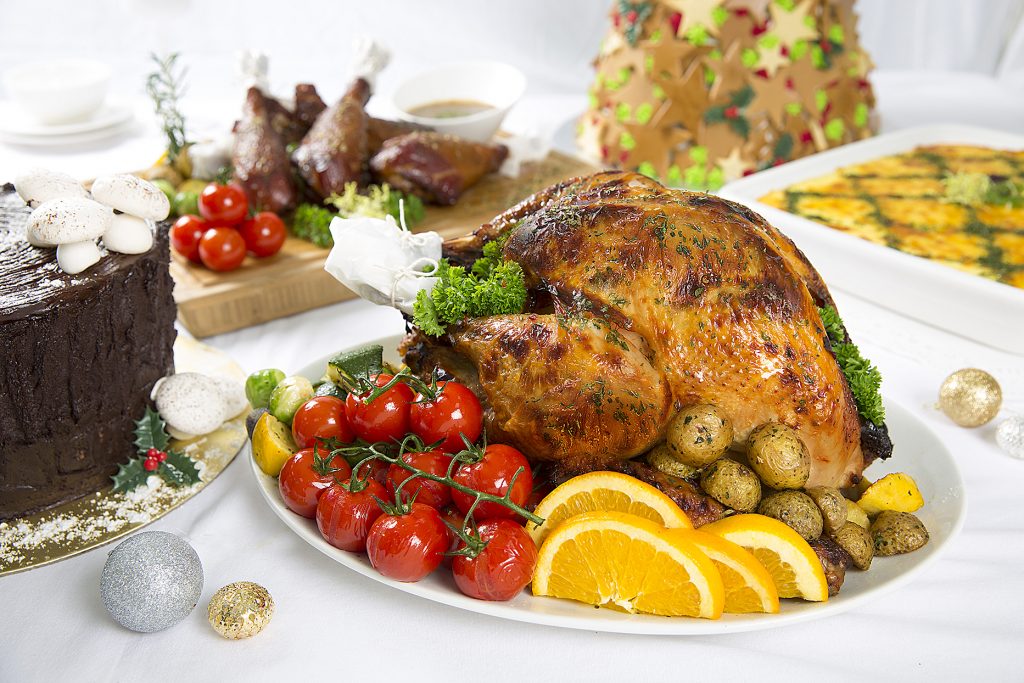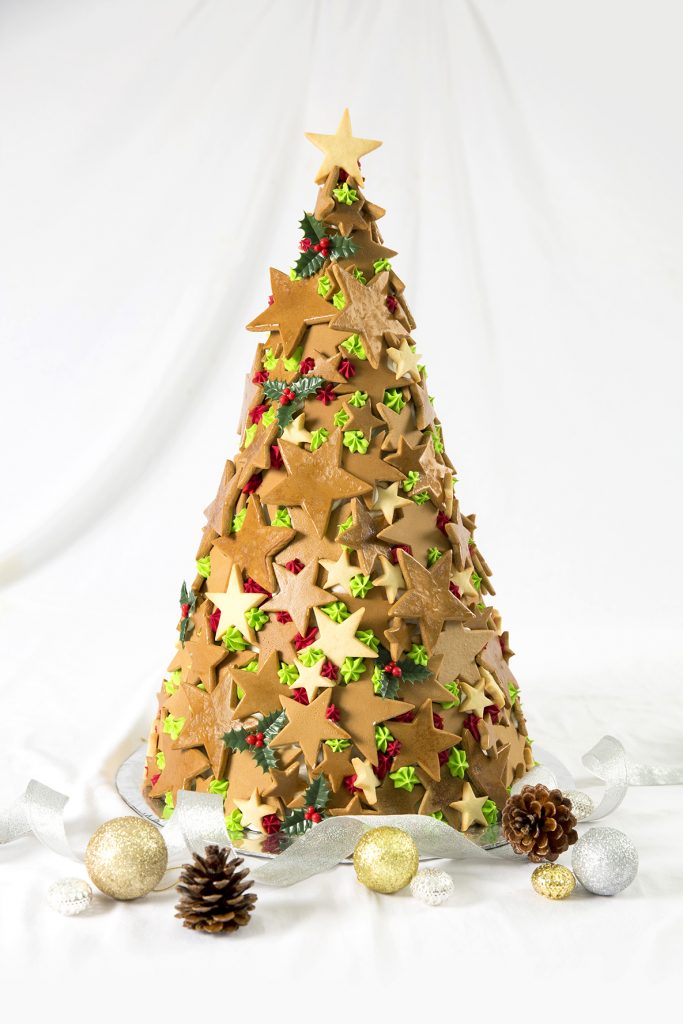 The Christmas Party Pack is priced at $289 (before GST) and is good for 8-10 pax but like we said, Deli Hub has a range of packages that can suit your every need! We've featured quite a few dishes here but they have so many more including even a Traditional Roasted Turkey with Chestnut Stuffing!
They have packages with varying price ranges so whether it's for a small get-together or even for that year-end office party, Deli Hub has got you covered for sure.
Besides the great food, we were also pretty impressed with the Deli Hub Service and packaging over all. As you can see, we served our food in the very presentable disposable containers that the food was sent in! I mean, you could serve the food up in dishes if you like or even get a package that includes the buffet warmers and all that too. But if you're looking for a great deal and fuss-free (no washing!) then this is a great idea. The package even comes with utensils like a ladles, tongs and a big fork and knife for carving the chicken/turkey! Great deal!
In fact, they even have some more special promotions too. Customers who place their orders for Christmas Buffet or Mini Package menu before 9 December 2016, will enjoy a complimentary Chocolate Log Cake or two bottles of DoDo Crispy Crabstick Fritters.
Plus, OCBC Cardmembers enjoy 20% off Traditional Roasted Turkey with Chestnut Stuffing and receive a complimentary indulgent chocolate log cake (1kg) for any order of Christmas Buffet menus by 9 December 2016 (Starlight Joy, Twinkling Hope or Enchanting Love).
You can head down to their website www.delihub.com.sg for the full menus and details or you can call Deli Hub at +65 6515 0020 if you have any questions and would like to place an order too!
So remember – small feast or big feast – home or office – Deli Hub is definitely one of the top choices!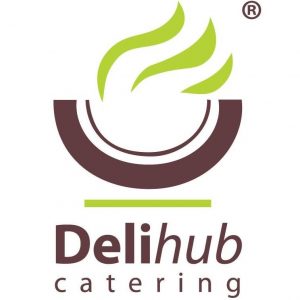 All information (including prices, availability of item on menu and Halal status of establishment) are accurate at the time of posting. All photos used in this site are property of The Halal Food Blog unless stated otherwise.