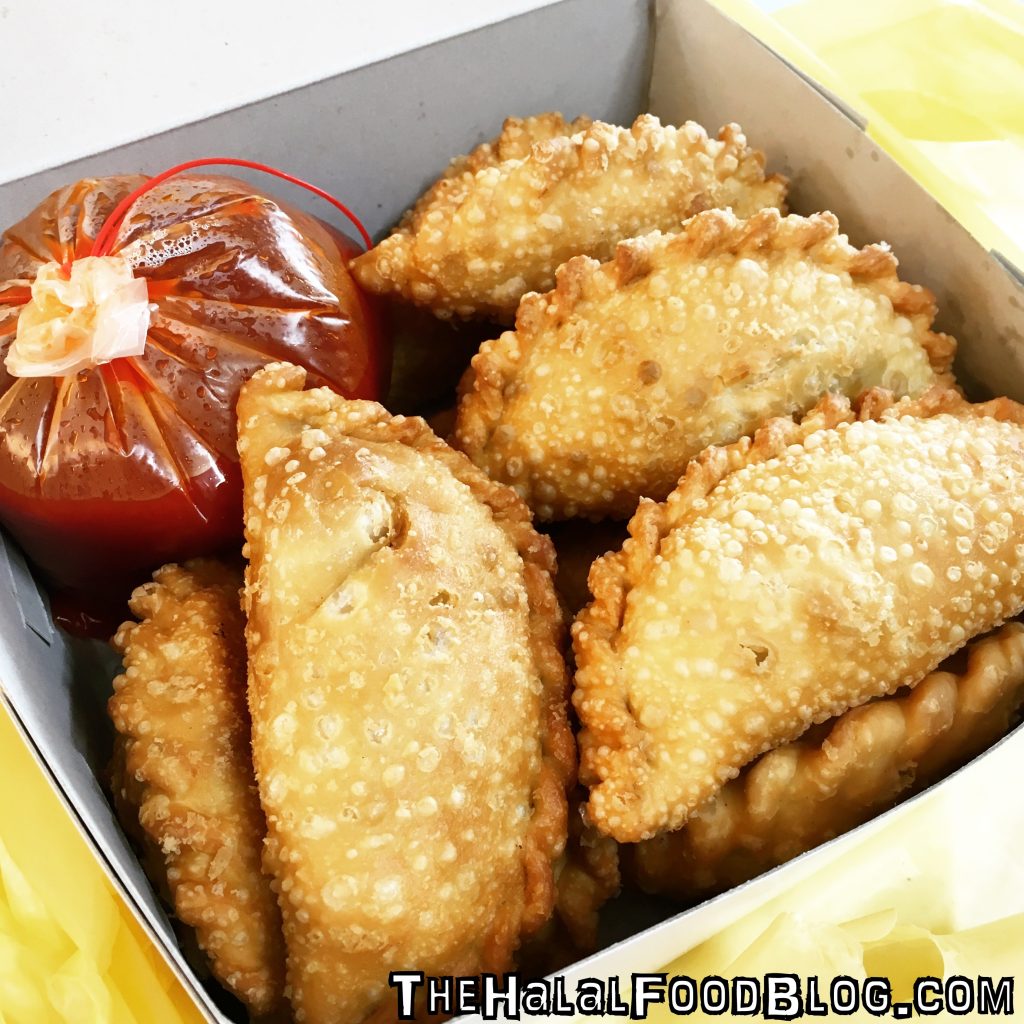 So you might remember seeing that photo on our Instagram about a week or so ago. We got quite a few comments (and even personal messages from friends) asking for more info because the photo apparently stirred some inner craving for Epok Epok Sayur LOL
So we are responsible for the photo but who is responsible for the Epok Epok Sayur?
Dapur Mak Leha that's who!
I've always had a special place for Epok Epok Sayur since I was a kid so I guess you could say I'm actually very particular with it. But then again, I'm generally very fussy lah LOL
So you've got crisp, deep-fried and golden brown goodness with Epok Epok Sayur. The filling is beansprouts plus a little bit of beancurd and daun kuchai (aka Chinese Chives) in there as well for good measure.
As you can see, the Epok Epok Sayur from Dapur Mak Leha is pretty sizeable and there's a generous amount of filling inside that crisp and crusty pastry. The pastry itself was actually pretty thick which I guess is a good thing but this also meant that it's difficult for the oil to penetrate during the frying process.
Solved that problem by making a small puncture when I fried them to re-heat 😀
I also personally felt the chili was tasty but could have done with a bit more vinegar. Don't get me wrong – the chili was very tasty and even had a good spicy kick to it. Just that we prefer a bit more vinegar that's all.
Dapur Mak Leha takes orders for Epok Epok Sayur during the week for collection or deliveries on Sundays!
So far seems like plenty of satisfied customers so means must be quite good lah right. Try and it and see for yourself!
Also saw a few other dishes available from time to time so Insya Allah can get to try those too!
That's right – I'm looking at YOU, Nasi Ambeng. LOL
Instagram: @dapurmakleha
WhatsApp: +65 9010 3670
All information (including prices, availability of item on menu and Halal status of establishment) are accurate at the time of posting. All photos used in this site are property of The Halal Food Blog unless stated otherwise.