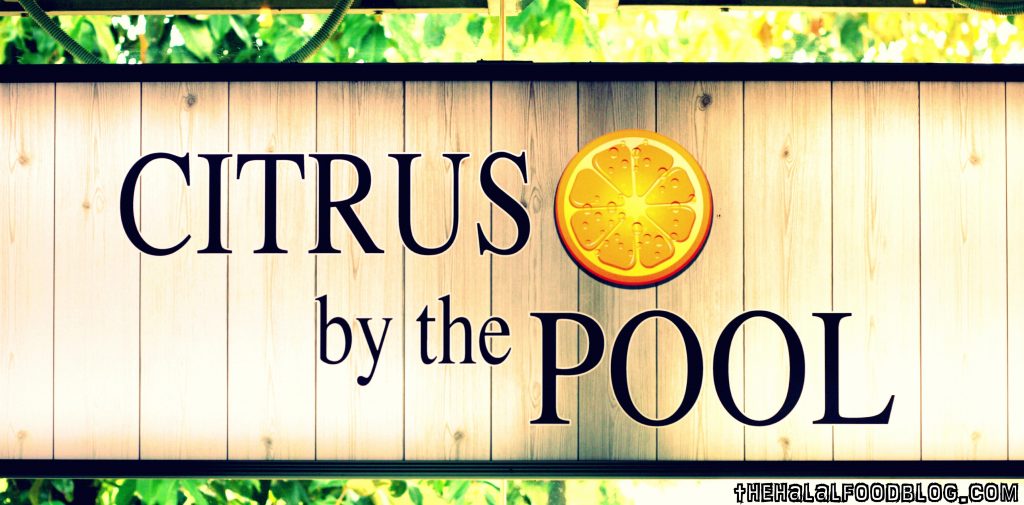 About 2 weeks ago, our friends over at HalalFoodHunt tagged us in a video on Instagram… and boy oh by did they know how to tempt us into making a trip to a makan place! LOL
Citrus by the Pool is a quaint cafe located at Woodlands Swimming Complex (yes it's literally BY THE POOL!!!) which means it's really conveniently located so you walk over from home if you're in the neighbourhood or drop by after having a fun day out at the pool with the family!
They have a very extensive menu so there's something for everyone of all ages and in fact, they have just added some new dishes to the menu which we had the pleasure of trying and they are included in this post!
But first… we start with some.. Starters. LOL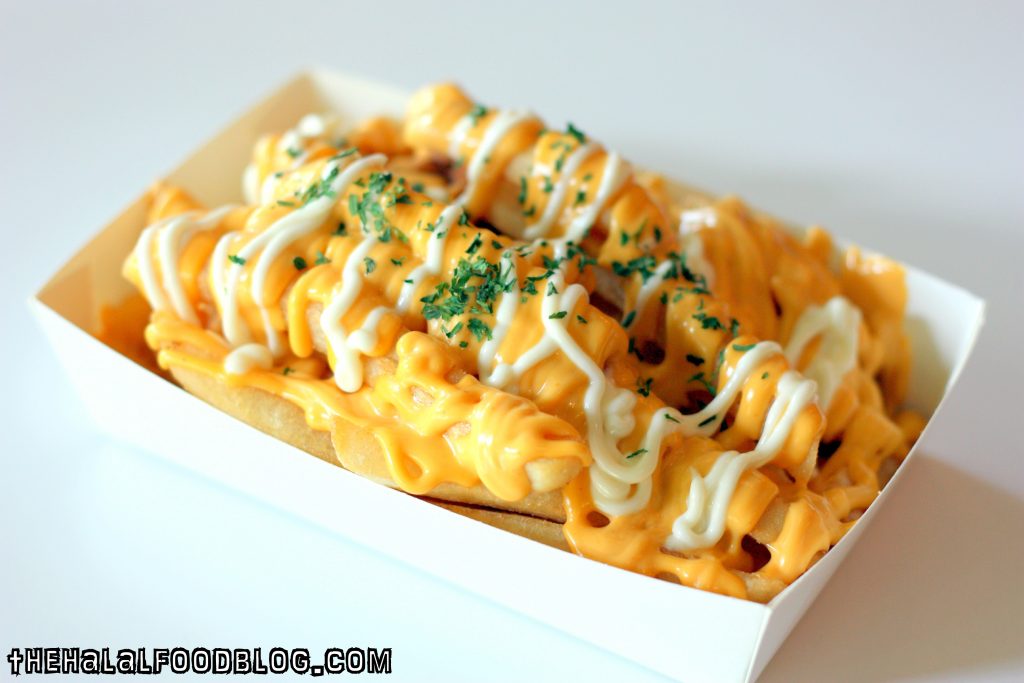 First things first, let's get something the kids to eat so they can stop running around with all the adrenaline from swimming. And what's better than something fried and then put cheese right?
Ambik kau Cheese Fries!!
Nice and hot and freshly fried plus they are generous with the cheese sauce too! Actually I think this one can order more than one because the kids AND the adults also gonna whack. A great snack and a great start. But remember to save some space for the rest of the food okay…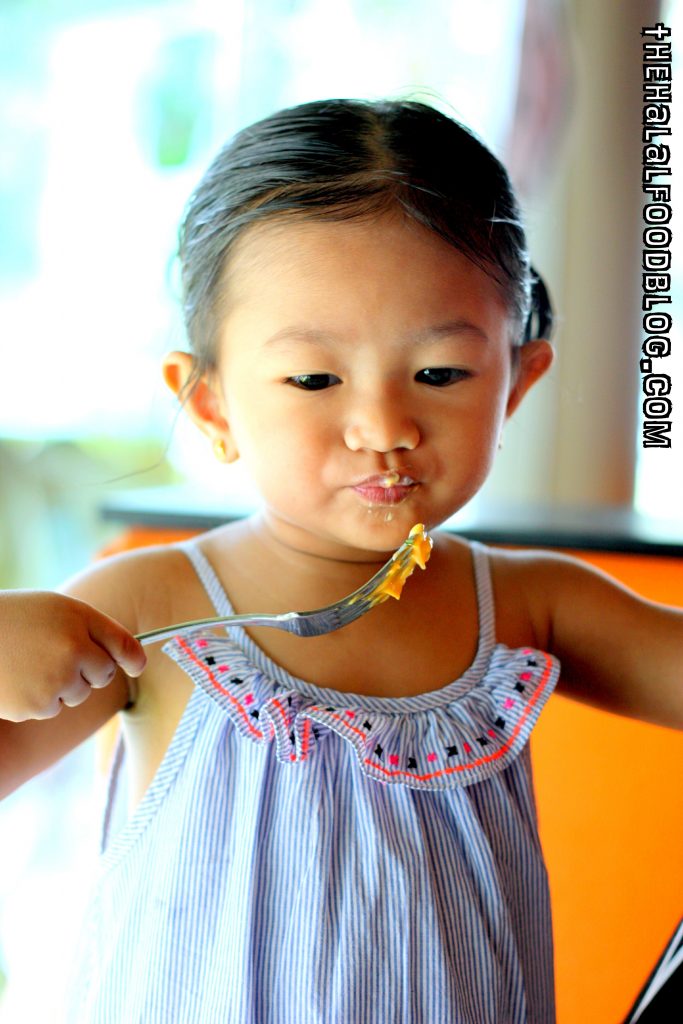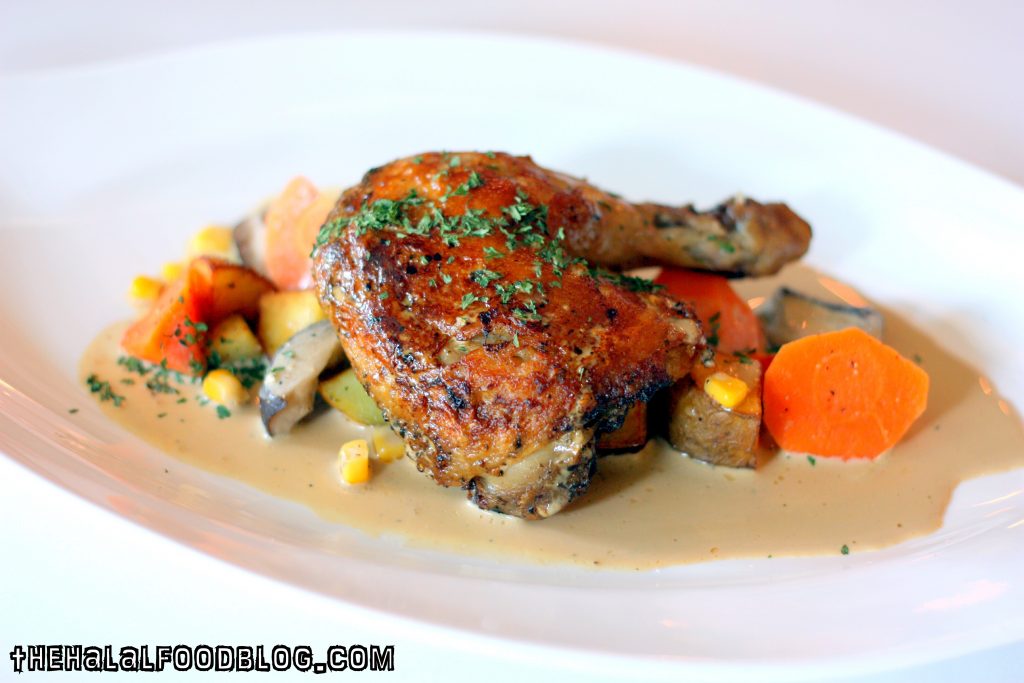 First of the mains arrived and it's a power one.
This dish is cooked using the Sous-vide method which allows the chicken to be cooked perfectly – tender and juicy on the inside before the finish off on the grill to give it a nice and crisp outer layer.
Wah. And it's really power lah.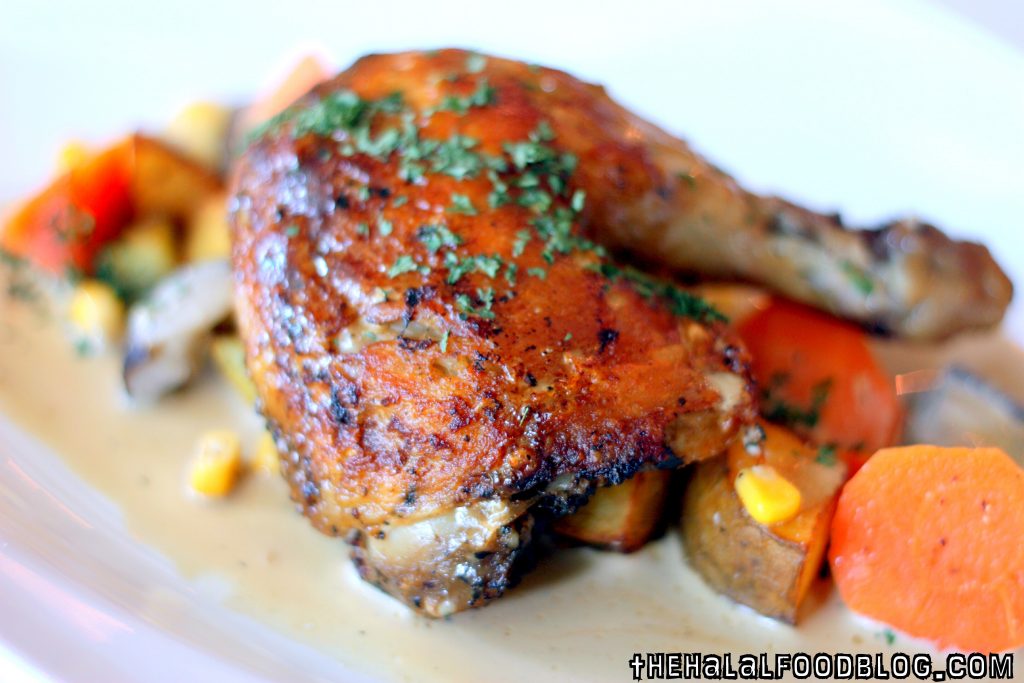 So you've got a beautifully-cooked chicken that tastes as good as it looks and served with some seasonal vegetables including mushrooms and potatoes too plus the signature Citrus sauce.
Up til this dish, we've only seen food being Sous-vide on TV to be honest. But if it's going to be this good then it'd be great to have more dishes cooked using this method! Really power!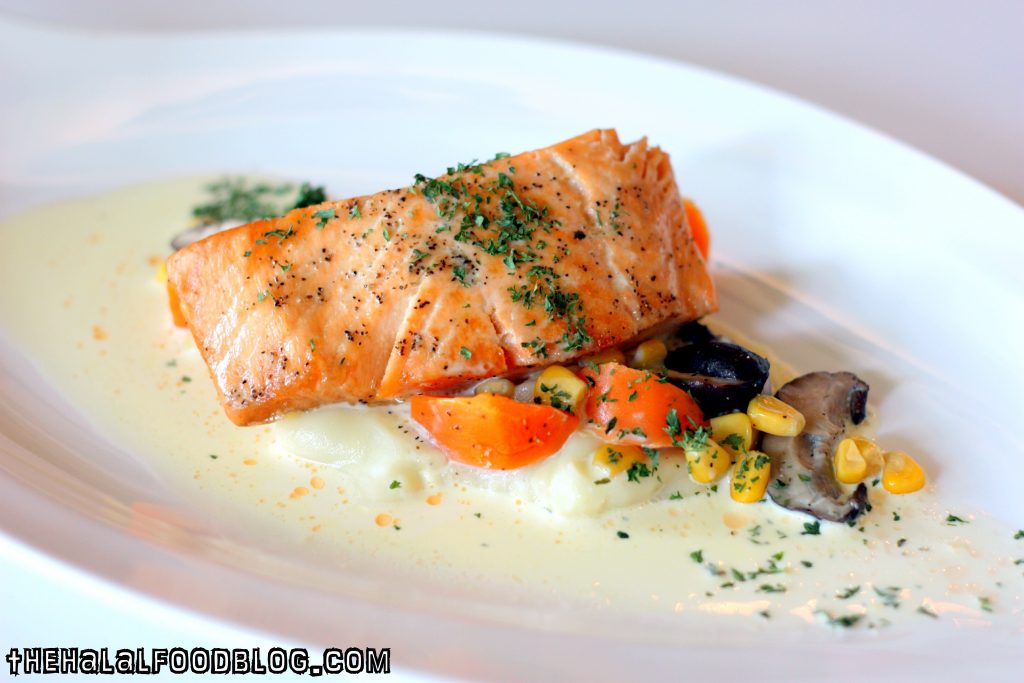 So if you're a fan of seafood, they have a Catch of the Day which will feature pan-seared fish served with seasonal vegetables like carrots, cauliflower and corn plus mushrooms and potatoes and the special Citrus sauce. When we visited, it was one of our faves – Salmon!
As you can see, that's a very healthy and generous serving of premium Salmon with a simple seasoning of salt and pepper then grilled to perfection. A very simple dish that's tasty and plus it's a healthier too.
Hmmmm we should have asked what other fish might be featured for the Catch of the Day… But we think maybe something along the lines of Dory? Maybe Cod? We will update here if we find out!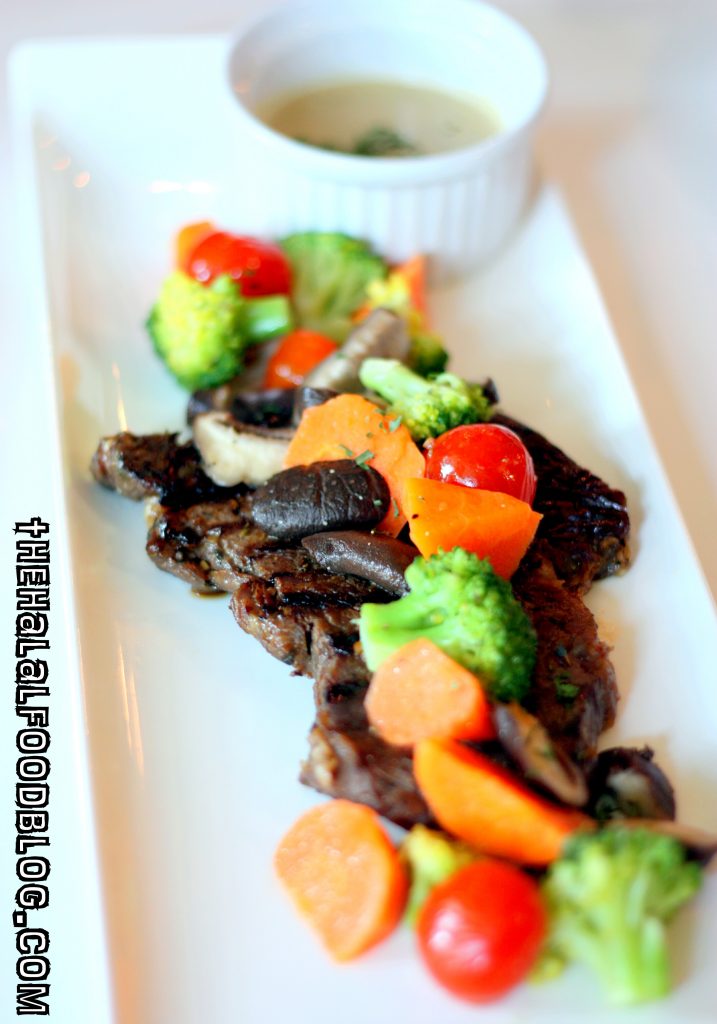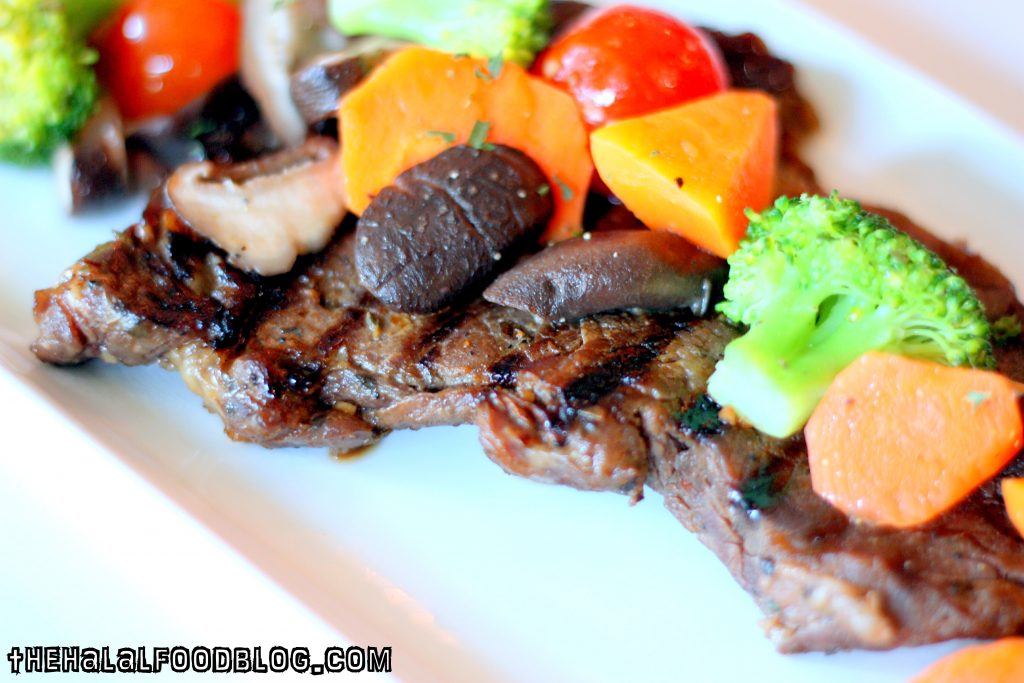 Like we mentioned at the start of this post, Citrus by the Pool has added some new dishes to the menu and it's all because of feedback from diners to include more meaty dishes to the already wide array of dishes available. Well, they have heard you and they have delivered!
Here's a 200gm Ribeye steak that's served medium well by default.
On top of that, you have some veggies and some sauce to go along as well.
Now, please don't be confused by the name okay. There's no citrus-y flavour to the meat. They call it the Citrus Ribeye because the place is called Citrus by the Pool. This is 100% meaty meat  so don't worry LOL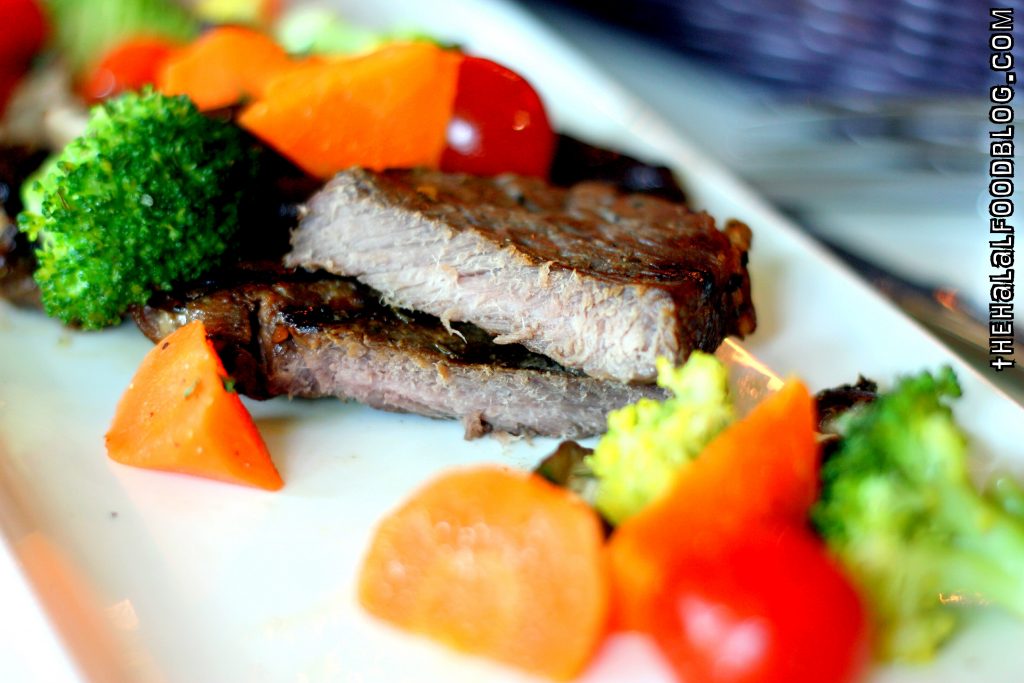 Unfortunately the steak was a little bit over the medium well target.
But no complaints from me actually because I do prefer my steak a little closer to well done anyways. But if you're a fan of meat then you'll probably want to order this.
Or perhaps you're looking for something else…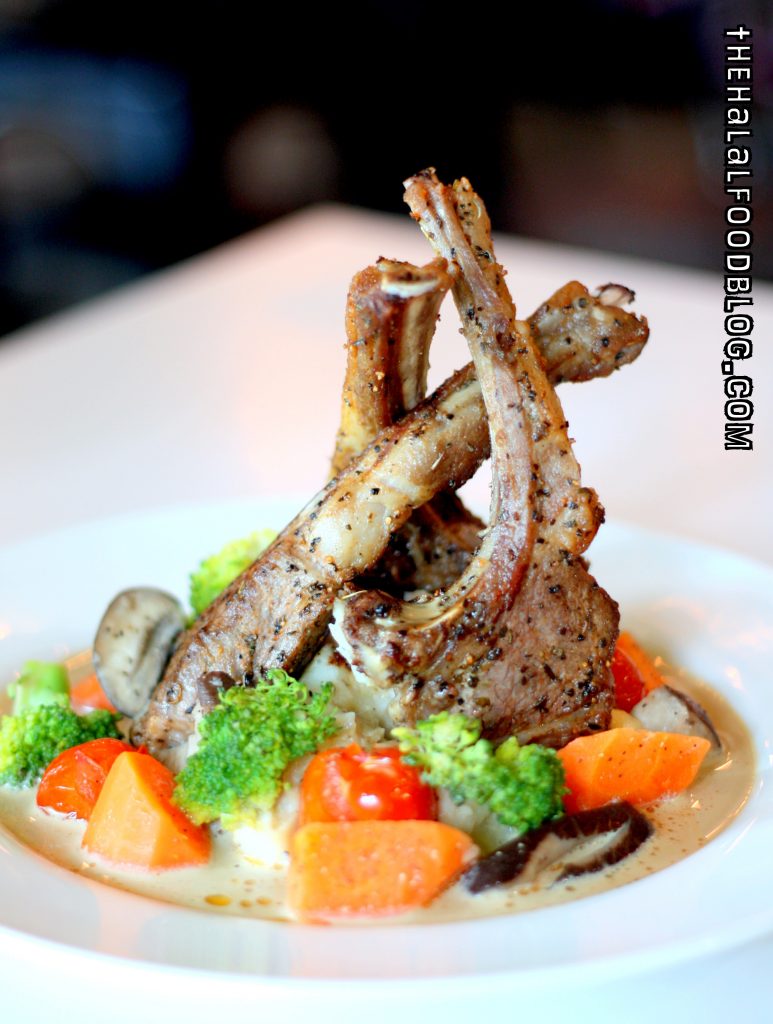 Aha all you fans of Lamb Chops and the likes will be happy to see this new addition to the menu!
Citrus by the Pool now has a nice Lamb Rack that has been seasoned with Cajun spices for that unique flavour. Served on a bed of mashed potatoes and seasonal vegetables for good measure.
The Lamb Rack was served medium which is perfect for lamb so it was nice and tender. The Cajun spice flavour was not too overpowering so you till get to enjoy the flavour of the lamb.
It is noteworthy that the mashed potatoes are the instant mashed potato variety. But before you start complaining, just remember that this is a cafe restaurant plus all the dishes are very reasonably priced. Anyways the the fantastic lamb more than makes up for anything else!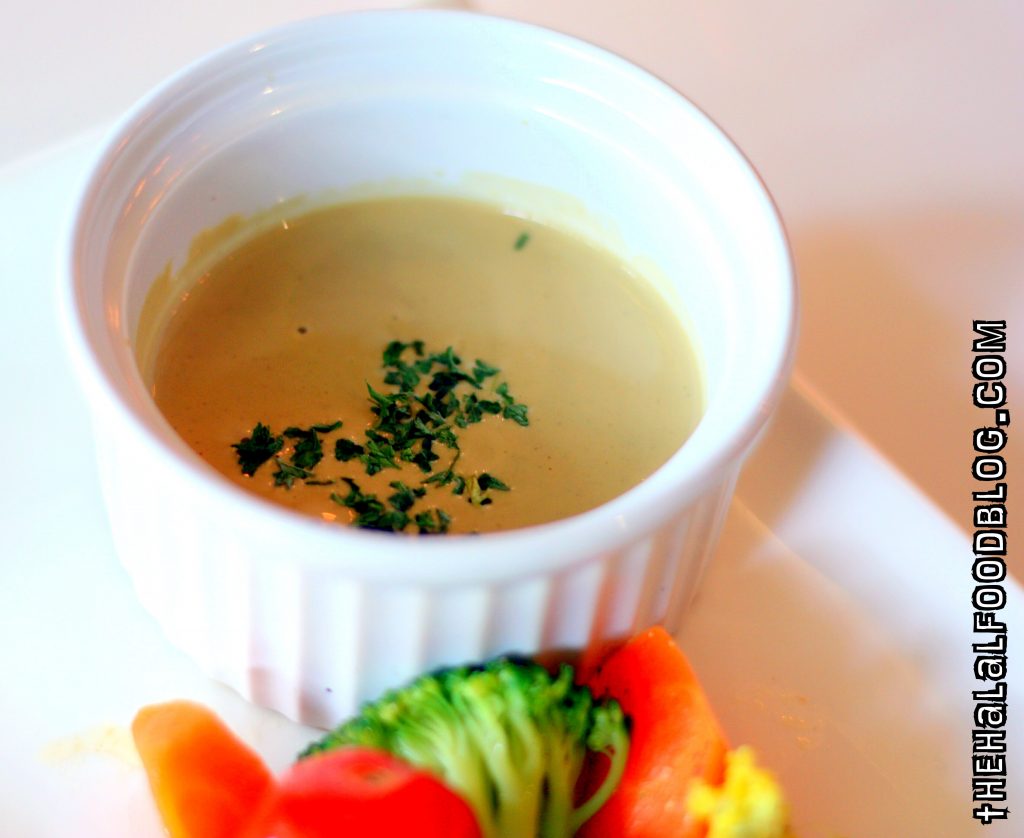 Okay so you've been seeing  this signature 'Citrus sauce' being served with pretty much almost every dish featured in this post so far. So what exactly is this signature sauce?
Well, it is not a citrus based sauce okay. Just like the dishes, the 'Citrus' is there because it's named after the eatery and not the ingredient LOL. This sauce has more of a savoury flavour which is perfect for almost anything especially meats. It has a strong Worcestershire sauce flavour (very similar to HP Steak Sauce) so you know it's gonna go well with dishes like your steak.
Now… onto desserts!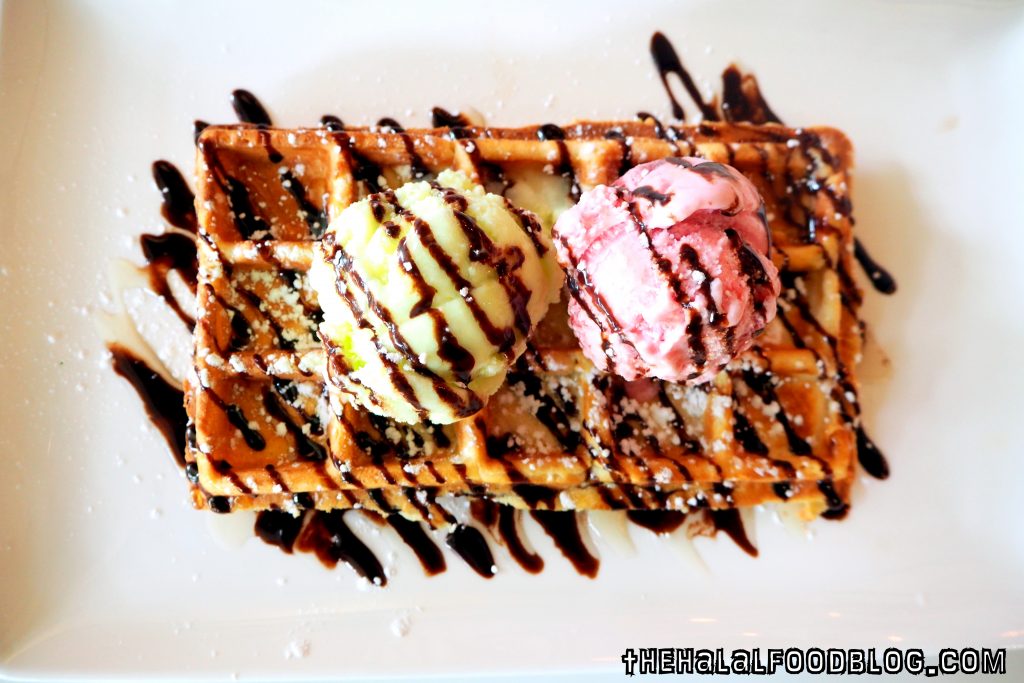 There's always space for desserts!! LOL
We're starting with the Deluxe Waffle which is made freshly upon ordering so you've got a nice hot crispy waffle served with ice-cream!!
They have a few flavours of ice-cream to choose from so you're spoiled for choice. Found the waffle itself a little on the crispy side but it's still good with the ice cream. Finished off with some chocolate sauce and powdered sugar.
You could also have a single scoop of ice cream instead but… naaawwwwwwwww LOL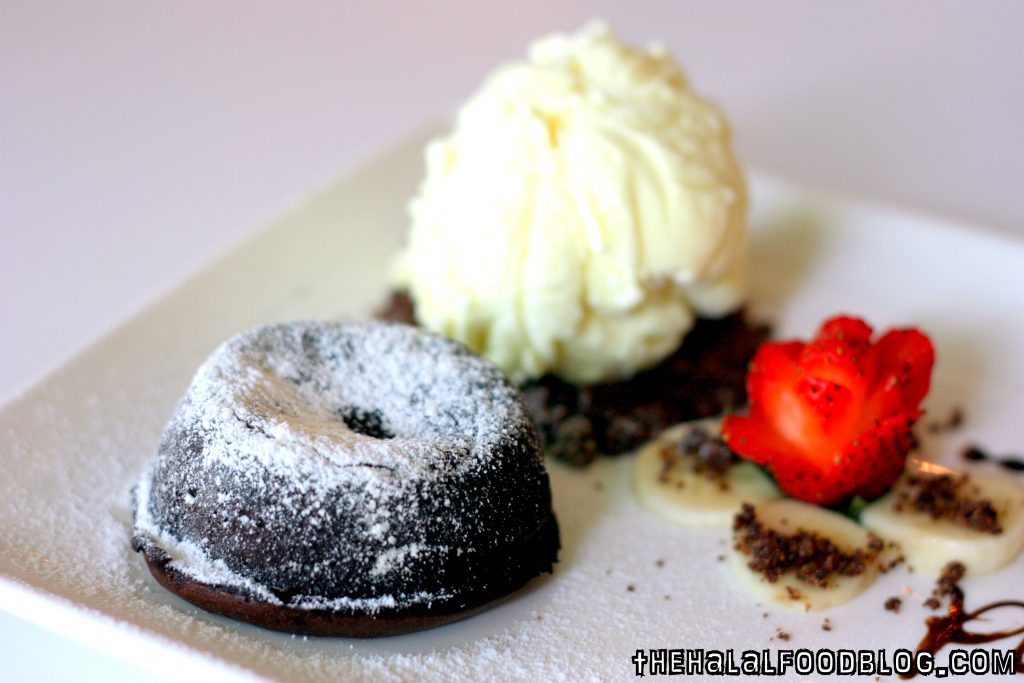 You might have seen up post a video on this dish while we were there… JENG JENG JENG
The Molten Chocolate Lava Cake with Ice Cream is definitely a must have when you visit Citrus by the Pool!
It's a nice soft, moist and rich chocolate cake with a molten lava center. So when you cut into it, all that chocolate glory is just going to start overflowing (like your joy) and boy oh boy what a sight it is! But don't just look at it – you've gotta eat it too!
FUYOH let us tell you this is the real deal. You'd be surprised that there are some places that claim to serve ;Lava Cake' which doesn't actually even have any 'lava' within! Can you believe that???
Luckily for us and everyone else, Citrus by the Pool passes the test with flying colours! LOL
Plenty of chocolate lava to go around here!
Now here's the thing. With all the dishes we have posted here, we haven't even begun to scratch the surface. Like we said, there's really something for everyone and that means so many more items on the menu too!
Besides salads, soups and finger foods for a snack, they also have more mains like Breaded Fish with Salad and Home Fries (aka Fish and Chips!!), Grilled Chicken Steak and no less than 5 types of pasta dishes including interesting ones like Tom Yum Seafood Pasta and Teriyaki Chicken with Tomato Pasta (which looks delicious in the photo in the menu!!)
Still want more? Also got Asian dish choices like Rice with dishes like Teriyaki Chicken, Sweet and Sour Chicken, Sambal Seafood and Thai Style Fish! What's more, every main dish ordered comes with a free can drink! Power! Like we said – something for everyone 🙂
So whether it's headed over after a swim, maybe meeting some friends for a coffee in between studying or even a family brunch session, Citrus by the Pool is a great choice especially when you're in the area. A cozy corner where you can enjoy some good food!
And we repeat – MOLTEN CHOCOLATE LAVA CAKE.
LOL
3 Woodlands Street 12
3-3A Woodlands Swimming Complex
Tel: 6366 6581
Facebook: www.facebook.com/Citrusbythepool
Instagram: @citrusbythepool
Operating Hours:
11.00am til 11.00pm Mondays to Fridays
9.00am til 11.00pm Saturdays and Sundays
All information (including prices, availability of item on menu and Halal status of establishment) are accurate at the time of posting. All photos used in this site are property of The Halal Food Blog unless stated otherwise.