Dishes galore to choose from at Citrus By The Pool (as you probably would remember from our post about our first visit to CBTP) and in fact, we've heard they are even adding new dishes to the menu too! But in the meantime, we are gonna go with something familiar and quite a favourite of Mein Bruder!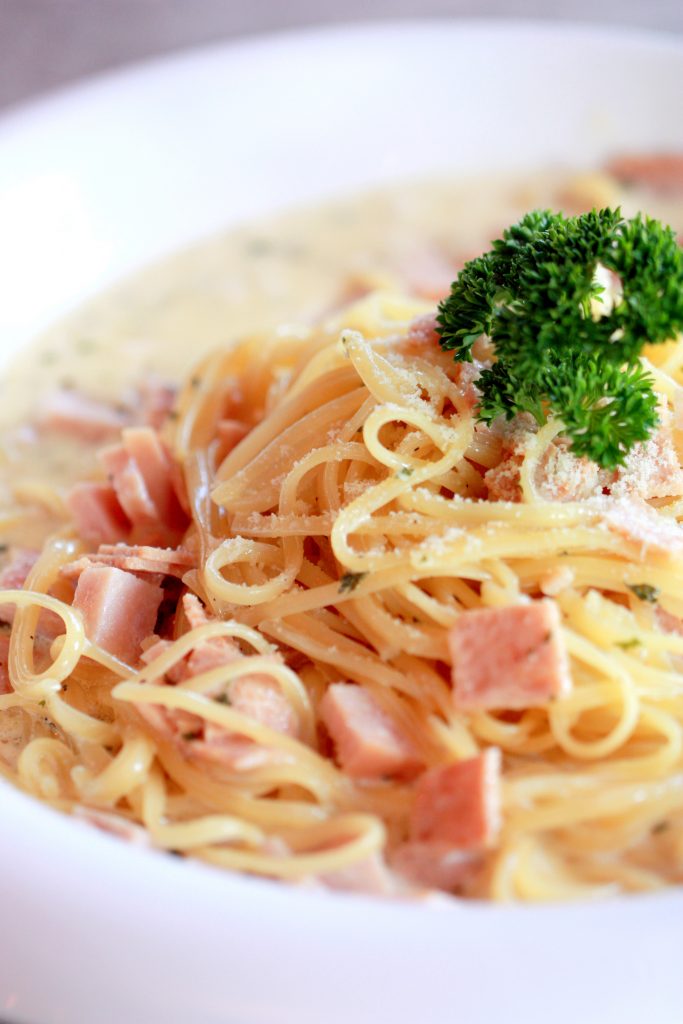 Admit it, when you're not sure what to eat, pasta is a sure choice. Am I right or am I right?
And then there is the whole debate about whether it should be Tomato-based or Cream-based and blah blah blah but it's all down to individual preference. As for us, we do partake in tomato-based pastas often but we do lean more towards creamy pastas for sure.
And Carbonara is a win for us!
Linguine that's cooked al dente and swimming in a creamy sauce with bits and pieces of turkey ham and turkey bacon. How can that not be power to the max??
Generous serving too. And the best part besides the good flavour of the dish is that the cream sauce is not too heavy so you will not be overwhelmed (aka cepat muak) and you're gonna keep eating til the end of the dish. Plus, pasta is considered a heavy meal right? If you're gonna get full, make it worth it! LOL
Adam's Verdict:
Turkey Bacon Ham Carbonara Pasta 3.5/5
Azlan's Verdict:
Turkey Bacon Ham Carbonara Pasta 4/5
Well, it seems like something that is simple but sometimes, simple is better (we always say that).
And let's consider this a warm-up to the new dishes we've heard are headed to Citrus By The Pool!
Watch this space!!
3 Woodlands Street 12
3-3A Woodlands Swimming Complex
Tel: 6366 6581
Facebook: www.facebook.com/Citrusbythepool
Instagram: @citrusbythepool
Operating Hours:
11.00am til 11.00pm Mondays to Fridays
9.00am til 11.00pm Saturdays and Sundays
All information (including prices, availability of item on menu and Halal status of establishment) are accurate at the time of posting. All photos used in this site are property of The Halal Food Blog unless stated otherwise.