Many many many long times ago, we visited Chulop when they first opened their doors (overflowing with Churros) to the world and they've really taken off. Let's face it, people love Churros and when you have a place like Chulop at an accessible location like East Village, you have a win.
But, it's never really enough to just sit on your laurels right? It's always good to see new variations and new ideas being hatched and when we saw on our IG feed some new goodies available at Chulop, we literally drove out just to try some because it was just too tempting.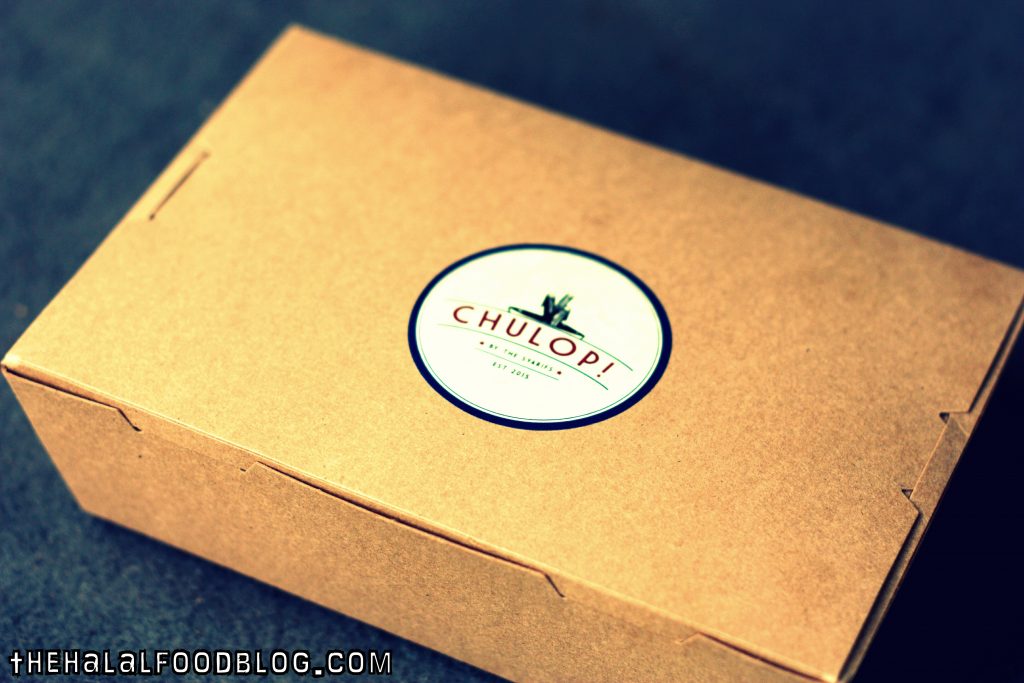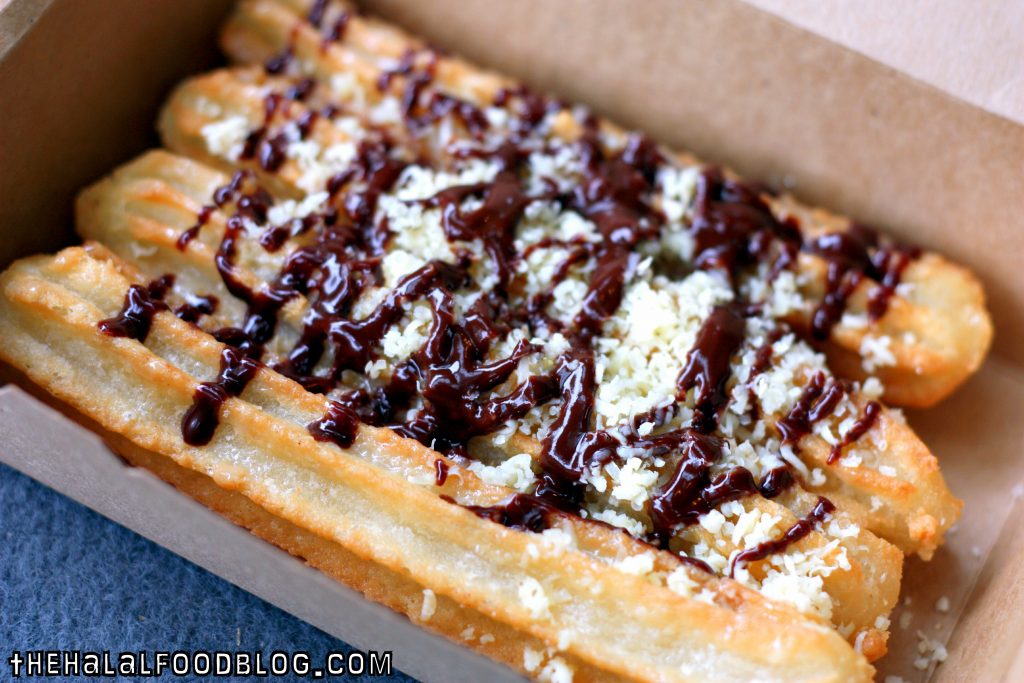 So first up was the Choc & Cheese Churros. Kept seeing this on their Instagram and although we were not sure what to expect, I guess the best way is to just whack lah LOL
This is obviously a play on another familiar dessert snack we all know as Goreng Pisang Cheese but instead of the goreng pisang (aka fried banana fritters), we have some churros instead. These churros are then topped off with some grated cheese and some chocolate sauce.
I will be honest and start off by saying that I have only tried Goreng Pisang Cheese one time. I keep seeing it in Malaysia and at the pasar malams in Singapore but I have only take one piece from someone who offered some to me so at least I have something to compare to.
I will also be honest and say that I didn't quite enjoy this Choc & Cheese Churros for a few simple reasons.
Firstly, I felt the chocolate and the cheese didn't really go well together. I don't mind the whole savoury and sweet idea but somehow the salty of the cheese and the rich dark chocolate sauce clashed more than complimented each other. I'm not sure what type of cheese or chocolate sauce they are using and I'm not sure if changing any of them would make a difference.
Secondly, I think the reason that Goreng Pisang Cheese works is because the bananas add that element of fruity sweetness to the snack. Compare this to the churros which don't really add much flavour overall and I guess you'll be able to see what I mean.
I also notice that the churros at Chulop are the slightly thicker type which means they do tend to get a little doughy towards the centre. I guess I'm more of the crispy churros kinda guy.
I'm pretty sure that plenty of people like this Choc & Cheese Churros but I guess it's just not for me. When we visit Chulop again, I probably won't consider ordering this. I'd much rather order a normal order of churros with some of their dips instead.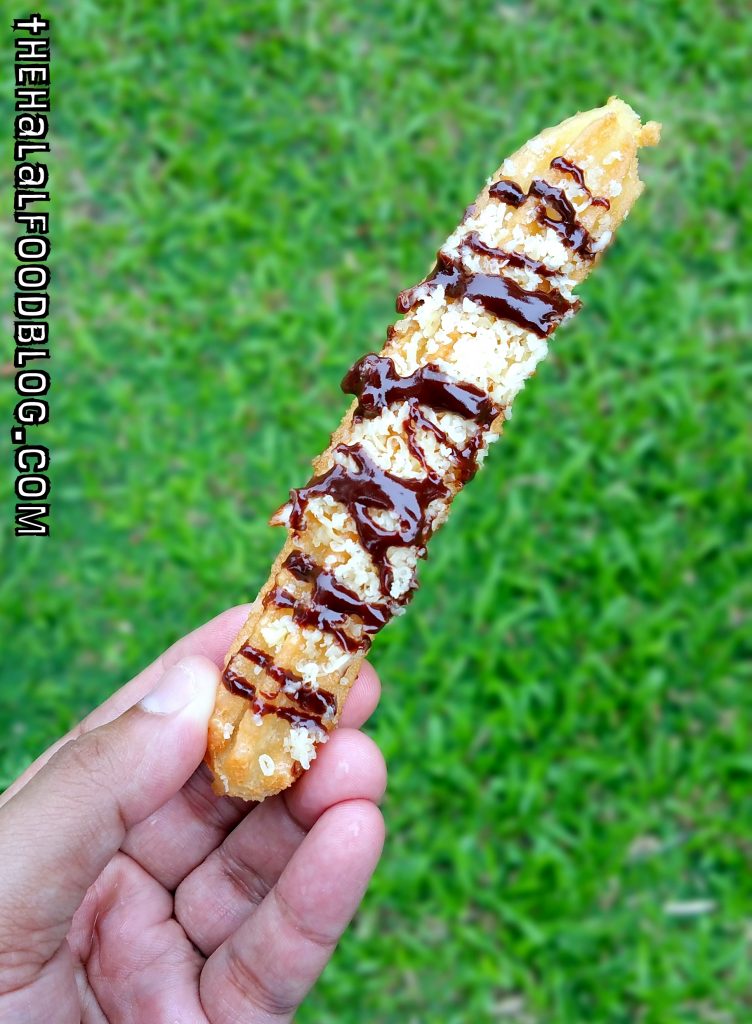 And I've also read feedback online that quite a few people will consider this on the high side in terms of pricing. You get 4 churros for $6.50. But I guess you have to remember that this is considered a 'branded' churros and given the location, it's quite expected.
But anyways, the churros are a pretty generous size so it's not so bad lah.
Whack 4 plus some drink confirmed full.
Oh wait. Did someone (aka me) say drink?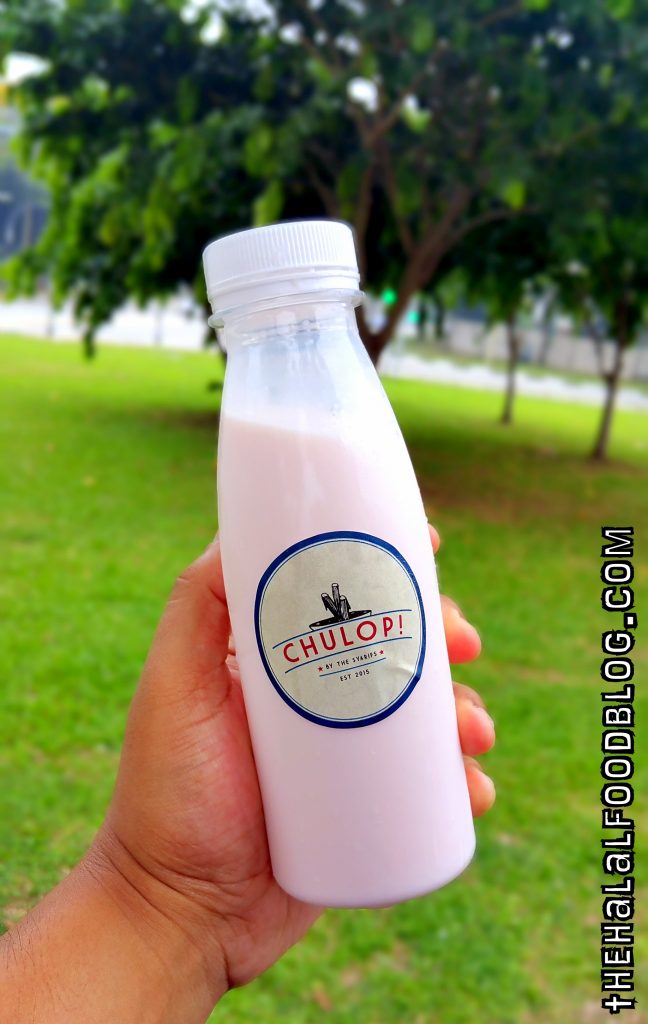 Chulop has some pretty tasty beverages to offer actually. The last time we visited, I tried the Speculoos Milk and I quite enjoyed it because, well, I like sweet drinks LOL
The Watermelon Milk is sweet. You definitely get the watermelon flavour in all its milky glory here but I do think some people might consider this a little bit too much on the sweet side. But you won't hear me complaining because I found it pretty delicious albeit a little pricey.
And on top of that, I drank it really quickly because I was really thirsty and found myself wishing I had paced myself so that I had something to drink along with my churros (which were still in the box at that point) LOL so much for planning!
Adam's Verdict:
Choc & Cheese Churros 2/5 — Watermelon Milk 3/5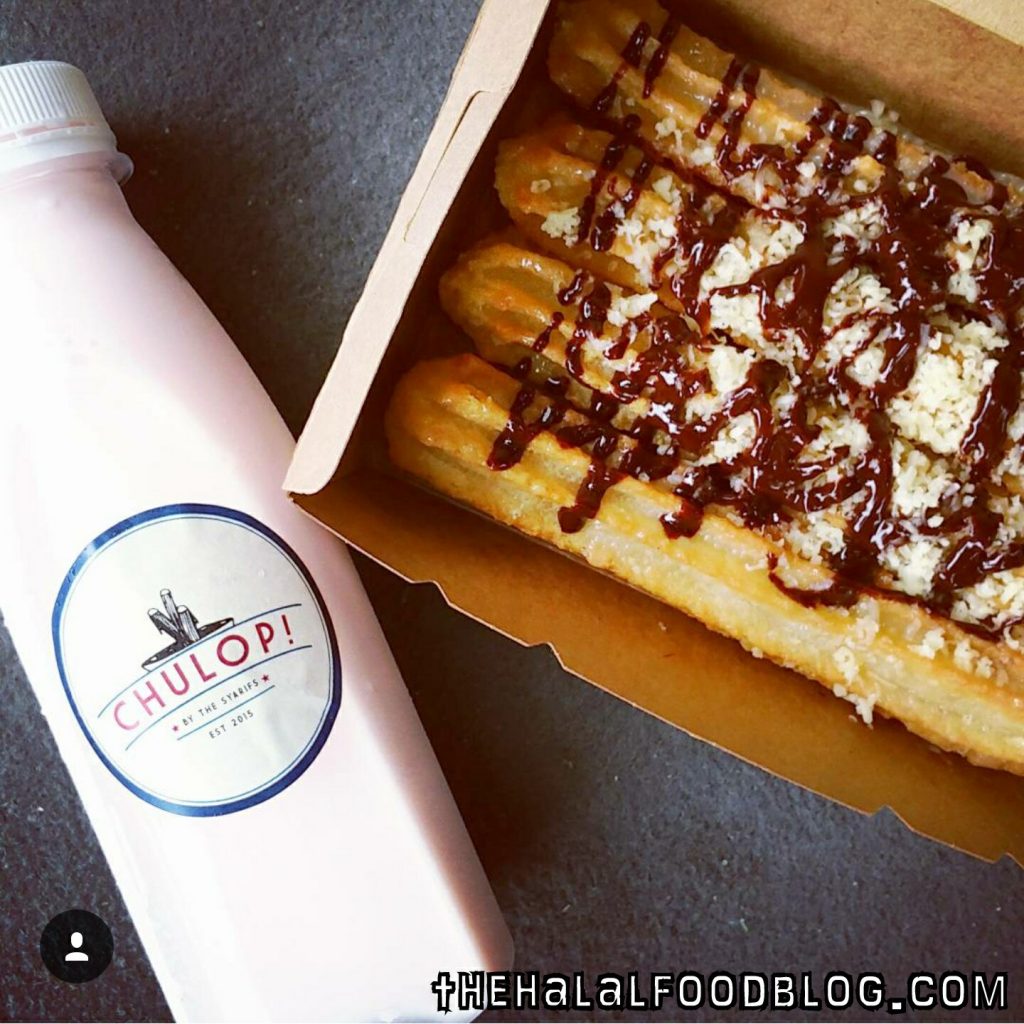 Yeah I guess the popularity of churros and Chulop will not wane any time soon and it'll be interesting to see what else they can come up with. Read something about Banana Nutella Churros this month plus Watermelon Milk will still be available in October too.
Follow their IG for updates on new stuff plus daily stocks too and from experience, they seldom reply to comments posted so if you have any questions about stock or availability, either look out for their updates or try your luck by going down straight.
Big shout out to the Chulop staff manning the counter who are ALWAYS the bomb. Super friendly and super nice.
East Village (Simpang Bedok)
430 Upper Changi Road  #01-93
Facebook: www.facebook.com/ChulopSG
Instagram: @chulopsg
Operating Hours:
2.00pm til sold out Daily
(3.00pm on Fridays)
All information (including prices, availability of item on menu and Halal status of establishment) are accurate at the time of posting. All photos used in this site are property of The Halal Food Blog unless stated otherwise.
---
Chulop! offers 10% off for all FRIENDS Card holders. Valid with minimum spending of $10. Not valid on Public Holidays and weekends.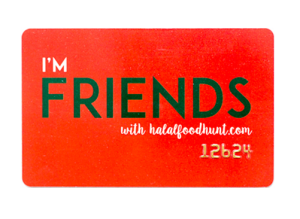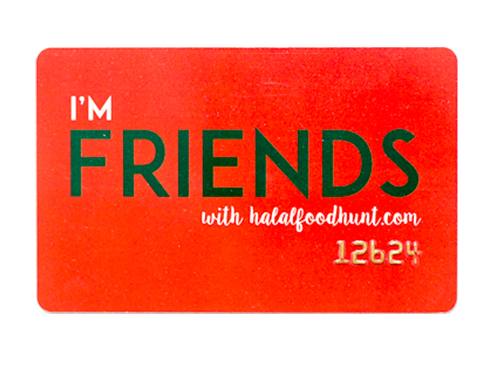 Get your FRIENDS with halalfoodhunt.com Rewards Card now at only $18/year and unlock discounts at over 60 halal restaurants, cafes, bakeries including online e-commerce businesses in Singapore. For a full list of where you can enjoy your card, click here.