The Nasi Lemak Collection – makes me wonder if I'm headed to a food tasting or a fashion show 😛
But then again, Nasi Lemak does seem to be.. fashionable these days.
Oh, and fret not! Although I have been told many many many times that I should be a model, this is definitely a food review and not a fashion review okay!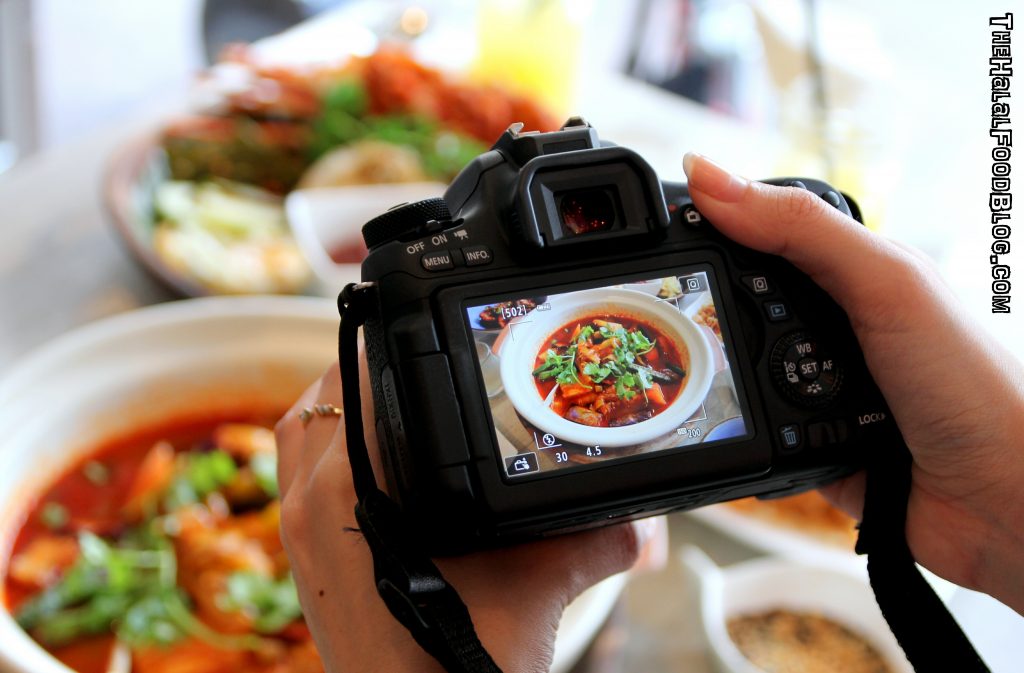 Oh yes Chef Wan is a name synonymous with makan and evermore so since the opening of his latest foray into the dining scene in Singapore – Chef Wan's Kitchen – at The Esplanade Mall. Here's a showcase of Chef Wan's top favourite dishes are available for all to savour. And of course, it's more than just Nasi Lemak but more on that a little later.
We'd visited Chef Wan's Kitchen when it first opened and some of the dishes were actually really impressive! Well, to add on to the already extensive menu, Chef Wan's Kitchen is the latest to hop onto the bandwagon for the craze of 2017 – the beloved Nasi Lemak.
There are 2 specials versions to choose from and both are definitely in the 'Level Up' section in the category of Nasi Lemak LOL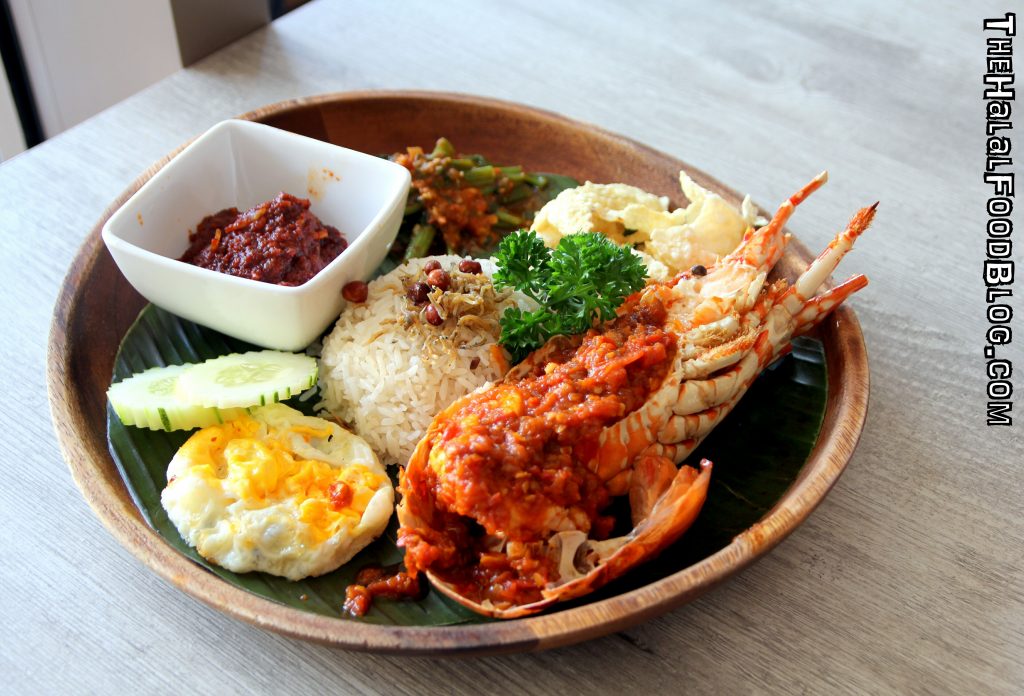 First up was the Balado Lobster Nasi Lemak which comes served as a whole platter that's just nice as a full portion for 1 pax. Trust us – this one is gonna fill you up LOL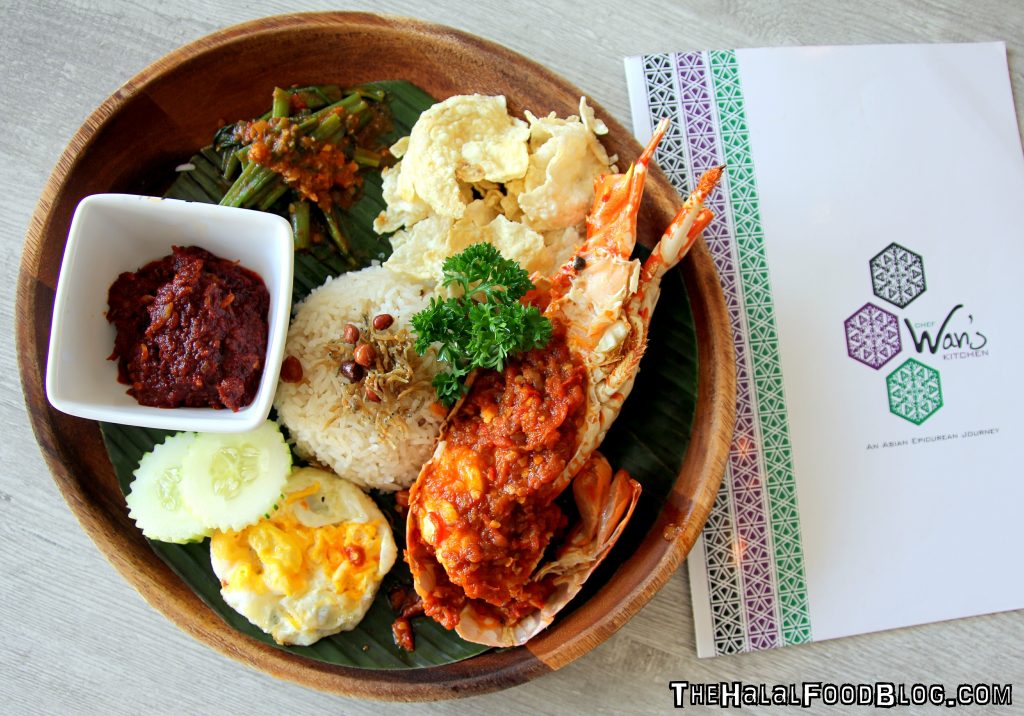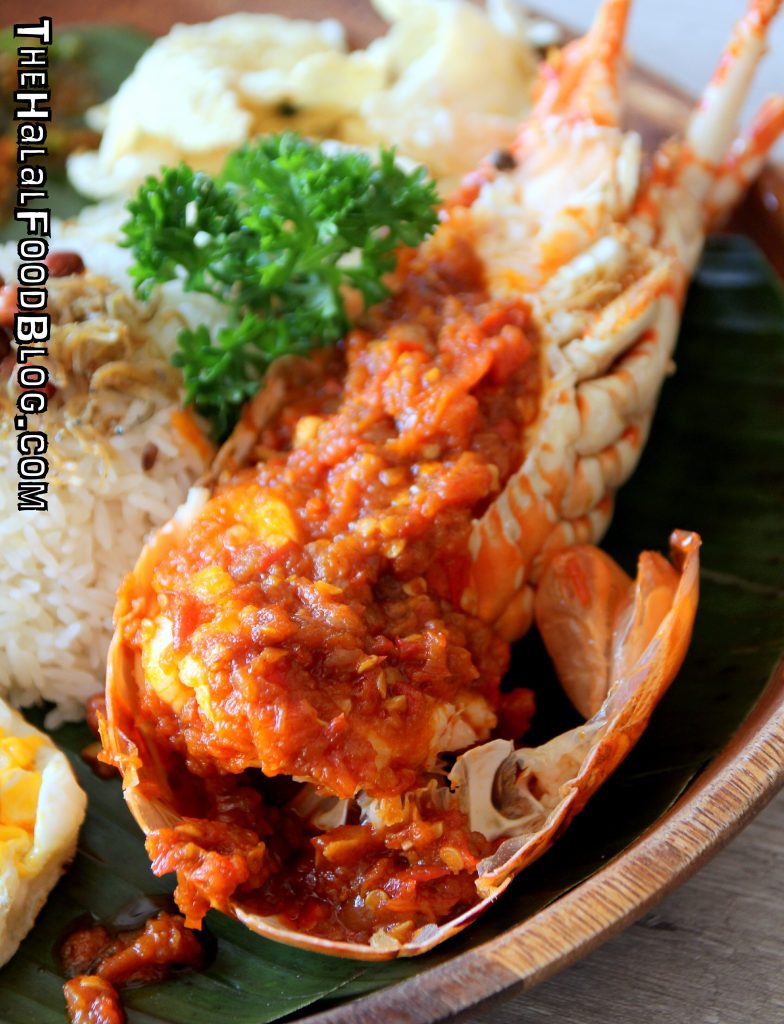 The Balado Lobster Nasi Lemak comes with that fragrant coconut-infused rice we all love along with a few friends like Belachan Kangkong, fried egg, cucumber, Chef Wan's signature Sambal and also some Belinjo crackers for good measure. But the star of the is (rightfully so) the Belado Lobster.
It's pretty interesting that it's Balado Lobster with the Nasi Lemak here. I say this because I recall that a version of Lobster Nasi Lemak which started this whole obsession with Lobster + Nasi Lemak (yes, the one with the 2hr queues and also selling at around the same price) served their version with a Lobster that had more of a Thermidor topping (i.e. cream, cheese and herbs).
Balado sambal seems more of a natural fit with Nasi Lemak and this one seemed like a big winner on the day with a lot of people gushing over this Indonesian sambal that gives you quite a kick not only in the spicy department but the flavour department as well.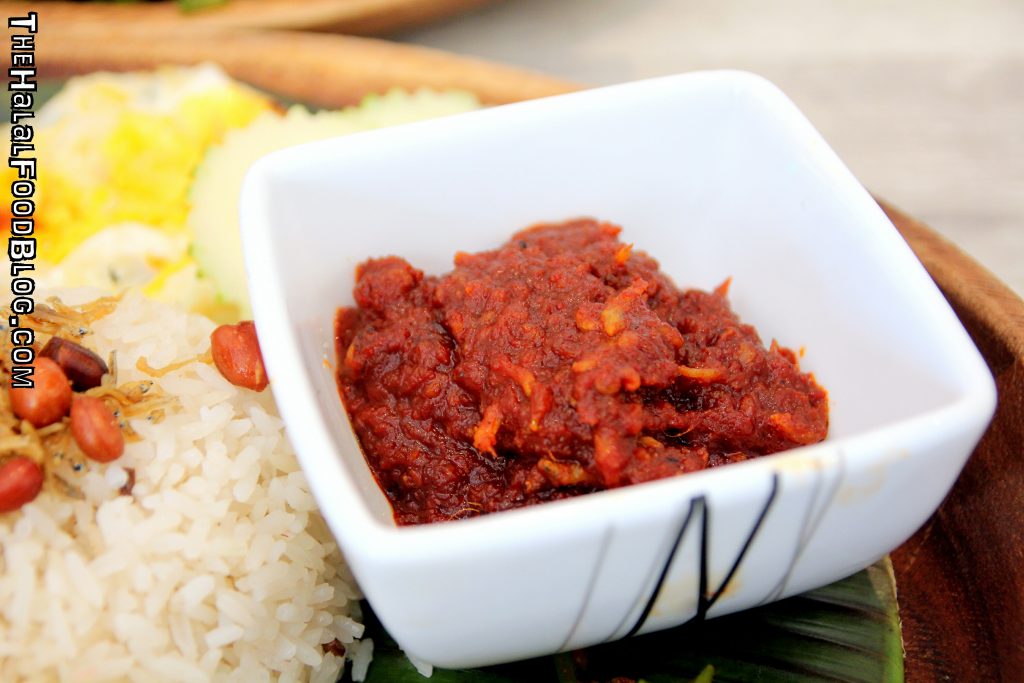 The Lobster was fresh and pretty fleshy so you get nice big chunks of lobster to enjoy with your Nasi Lemak. The Nasi Lemak sambal (which I later learned is their version of sambal ikan bilis) was also really good by the way!
I personally would have preferred if they skipped the Belachan Kangkong which is nice but I guess I'd enjoy more with something else i.e. not Nasi Lemak. Give me more ikan bilis and peanuts (which were relegated to just being a garnish) any day!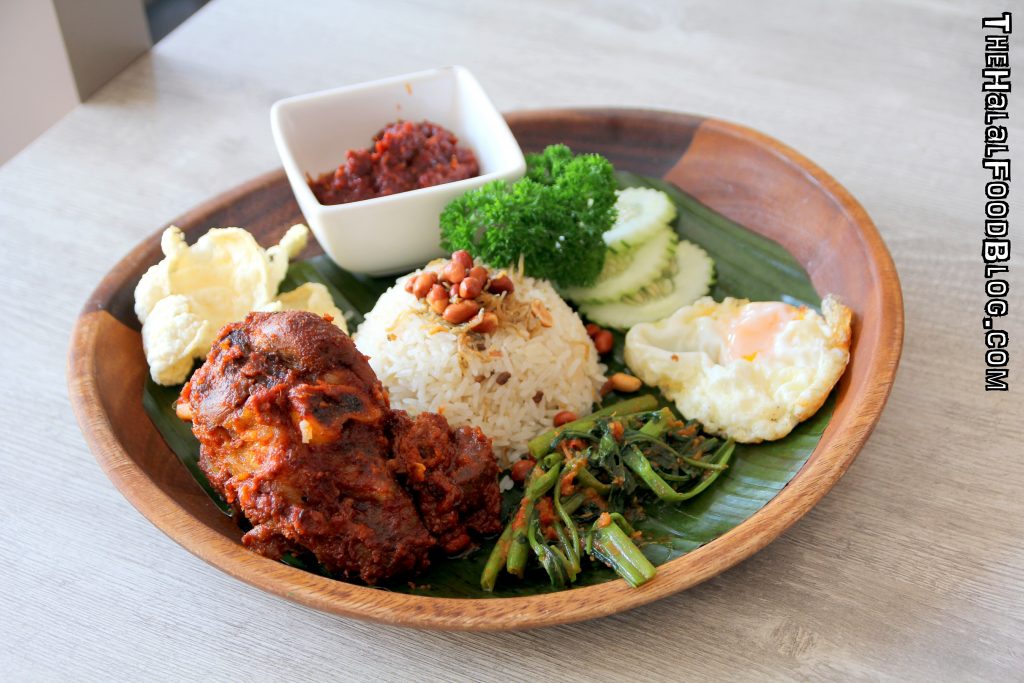 The 2nd offering in the Nasi Lemak Collection is something that's a bit more unique in the sense that I cannot recall seeing this being offered anywhere before. Plus – it's something the meat eaters might appreciate.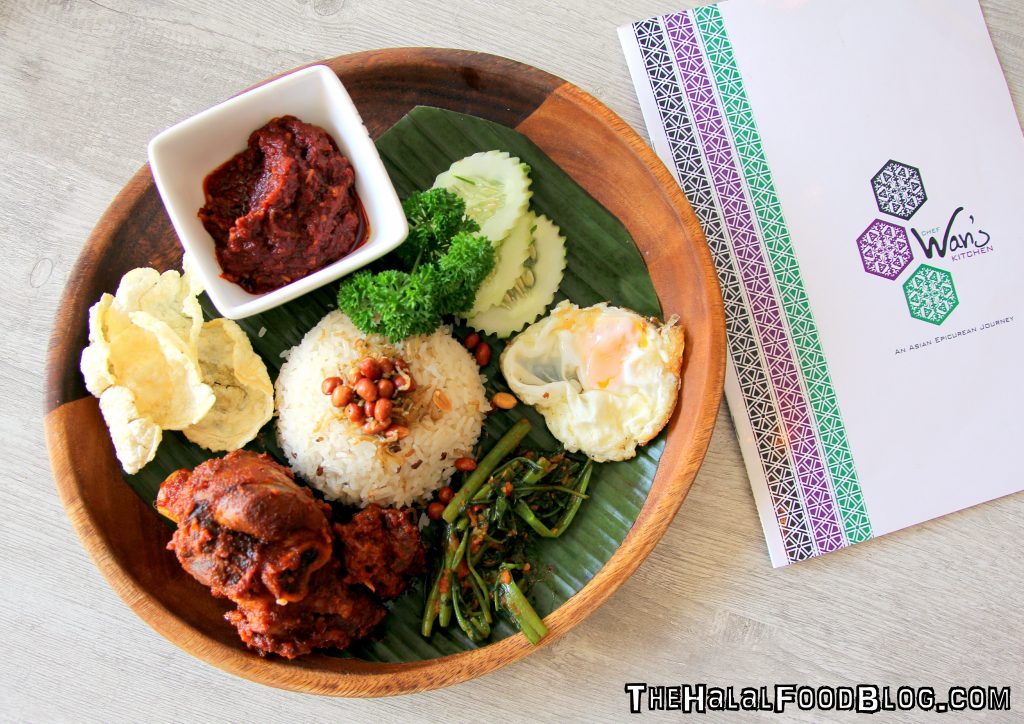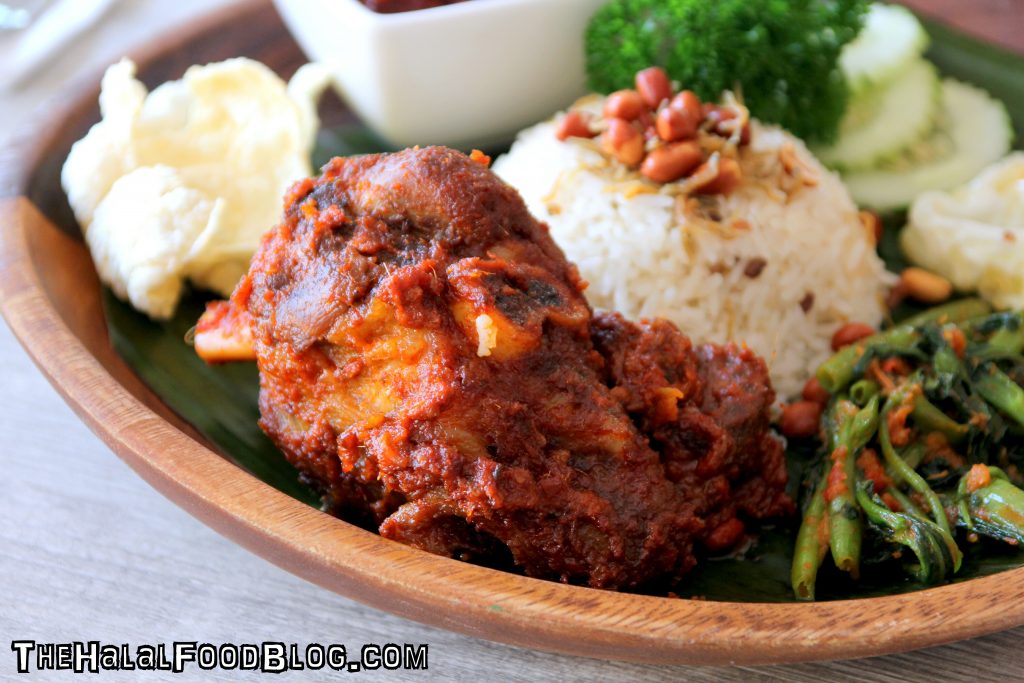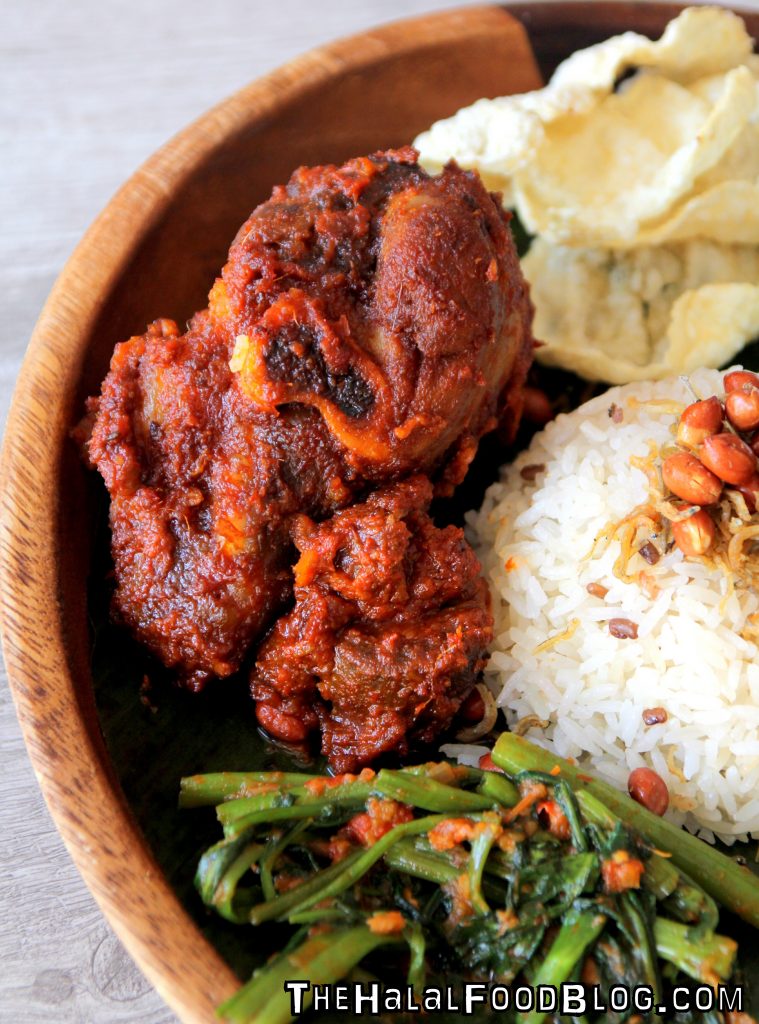 Y'all know we're big meat eaters here and Lamb Shank is something that would definitely get us excited. But as much of a good idea as it seemed – this one kinda didn't work or us. Why?
Well, the flavour was actually okay. The Lamb Shank is cooked in a Rendang-style so the flavours are still familiar and would go well with the Nasi Lemak. The flavours may go well with the dish but the choice of meat somehow does not. The meat was uncharacteristically tougher than you'd expect with a lamb shank.
But now that I think about it, it would be pretty difficult to achieve the same tenderness we get with our usual Braised Lamb Shanks because they are just that – braised. Well, who knows. Maybe we got the one lamb shank that was a little tough that day? Oh well.
Anyways, both the Belado Lobster and the Lamb Shank Nasi Lemak-s are going for a special price $23.80 (usual price $35++) until 2nd January 2018 so if you're gonna try them, take advantage of their introductory price okay!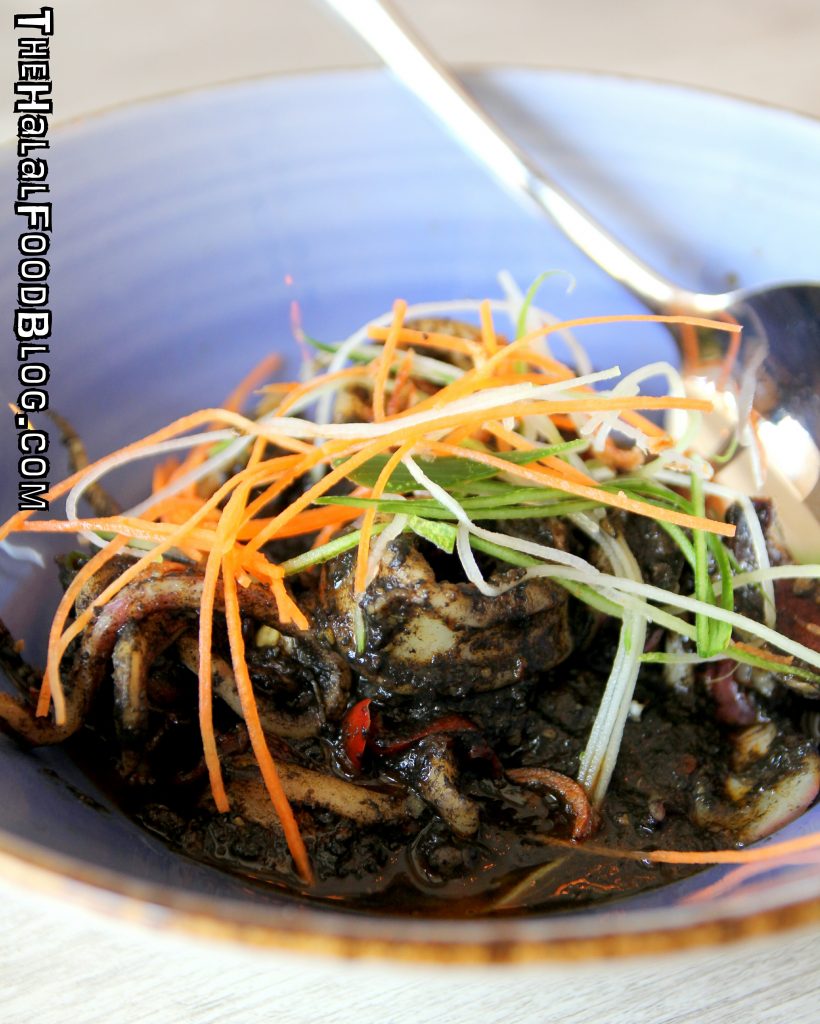 Chef Wan's Kitchen is still serving their popular regular menu of course. They've even made a few tweaks here and there thanks to the feedback they've received over the past few months since they opened.
Familiar favourites like the Sotong Masak Hitam are there. I'm REALLY not the Sotong Masak Hitam so I'm not sure how this one was. But if you want it, there got 😛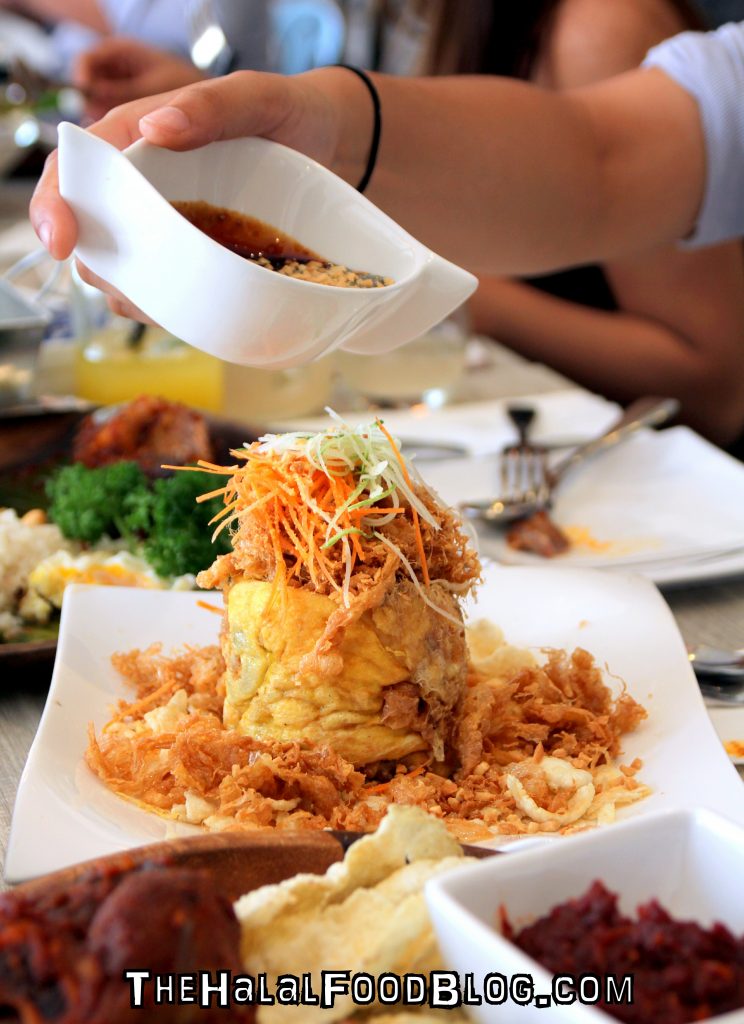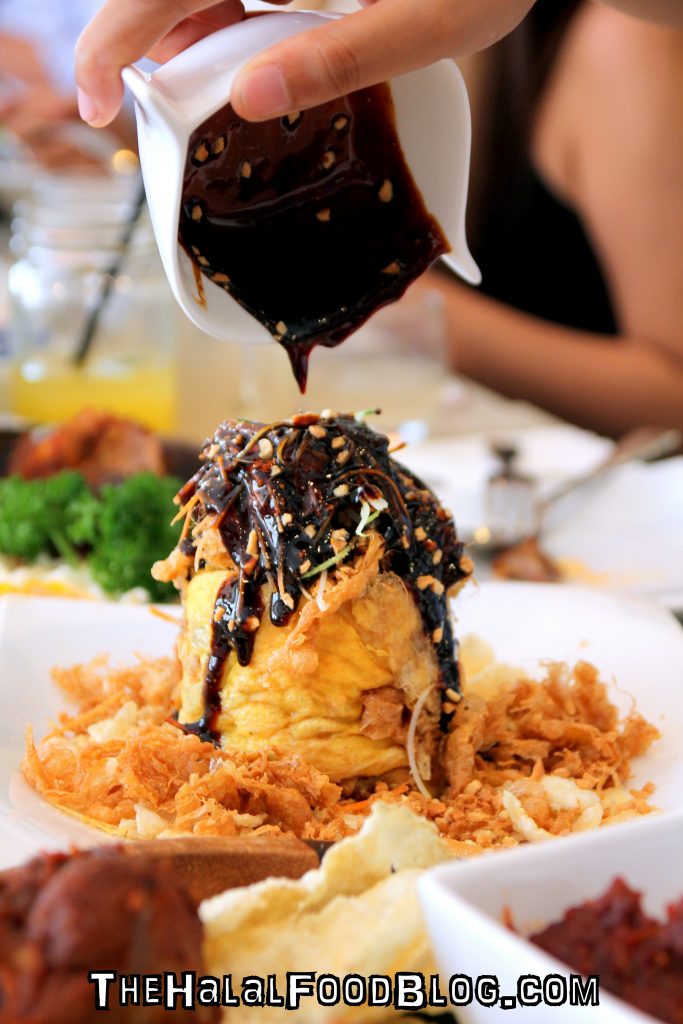 But what I, and pretty much everyone there, DID really enjoy was the Tauhu Telur. I think it was unanimous that the Tauhu Telur at Chef Wan's Kitchen is one of the best versions around today!
Tofu (premium grade apparently! And I believe them!!) and egg – deep fried to perfection so you get a nice eggy, crispy exterior with soft and steaming hot tofu within. All coming together with a delicious sauce that is sure to get your mouths watering.
Good luck fighting off everyone at the table because this one is a hit.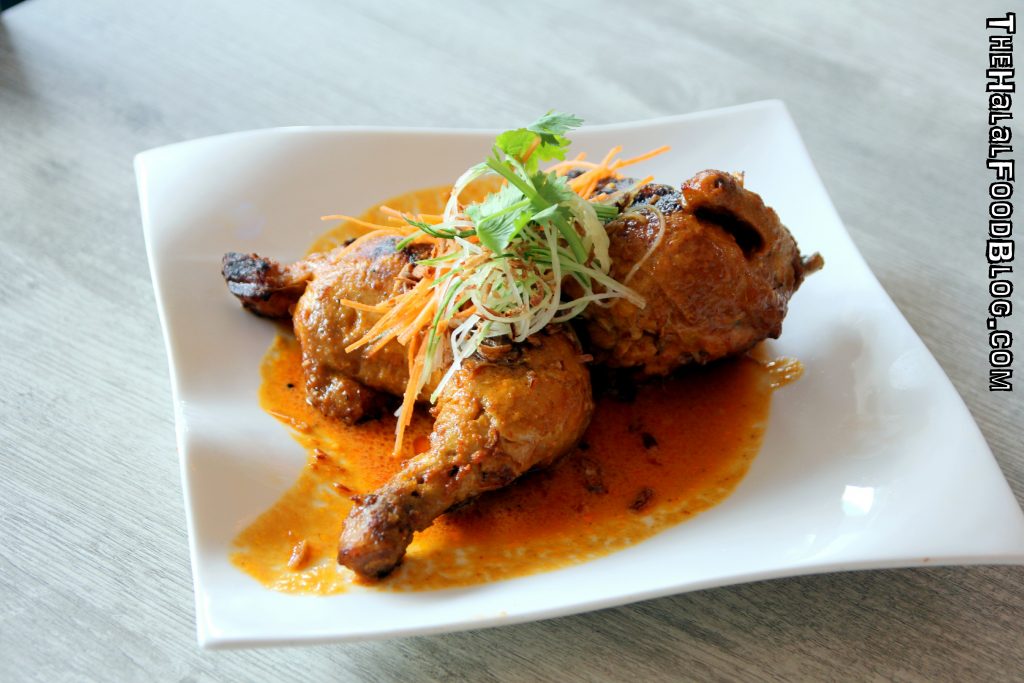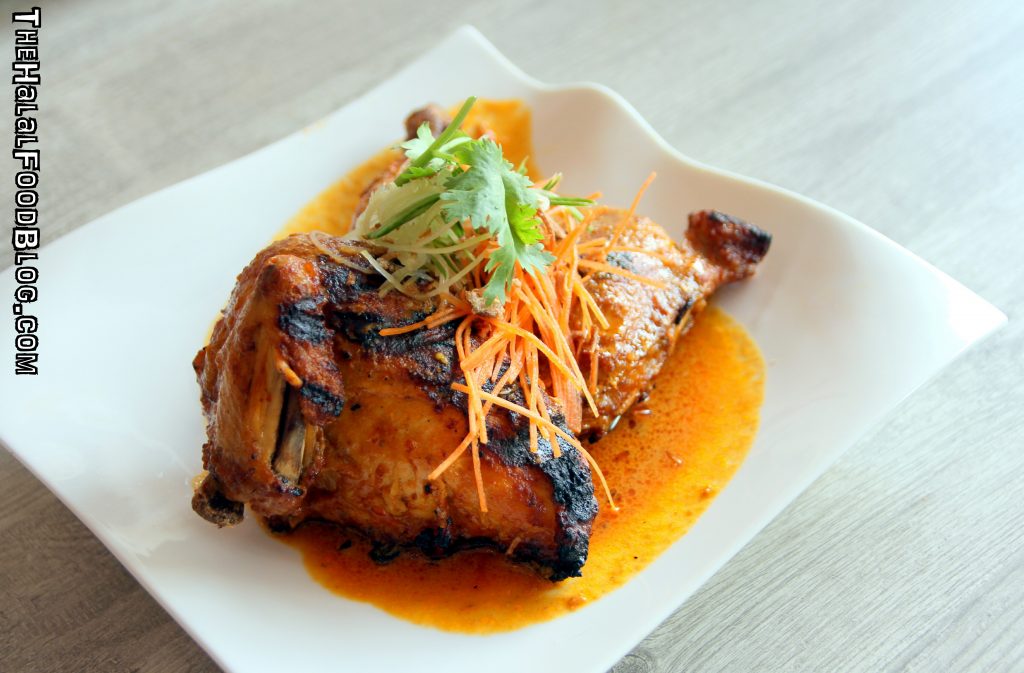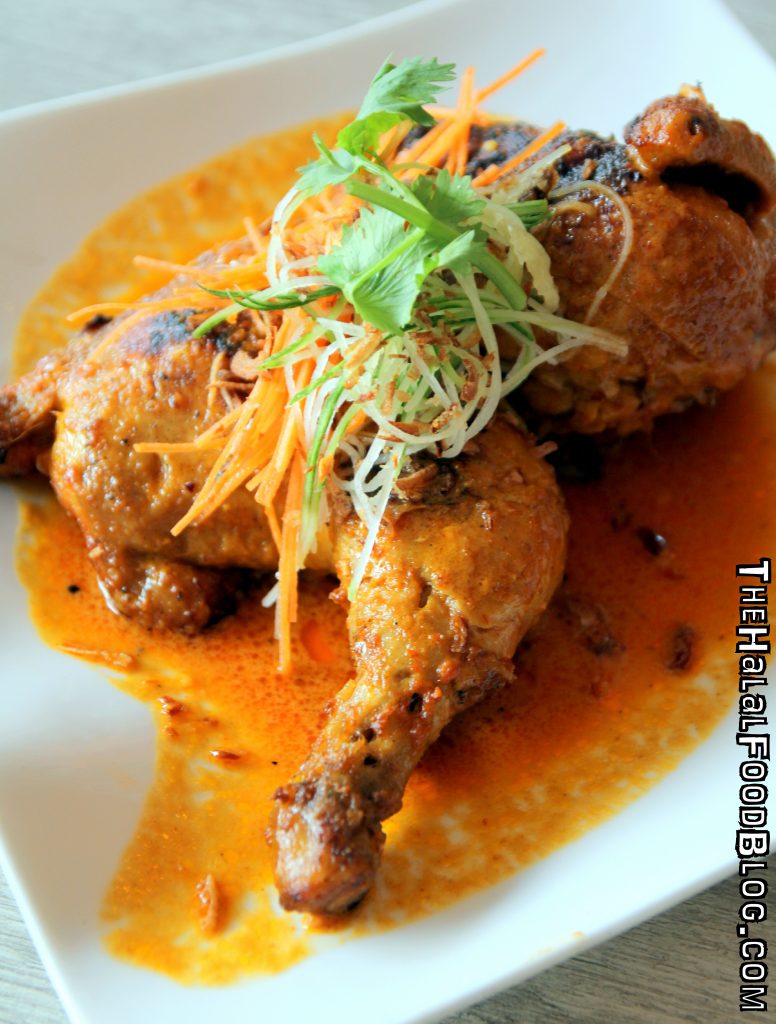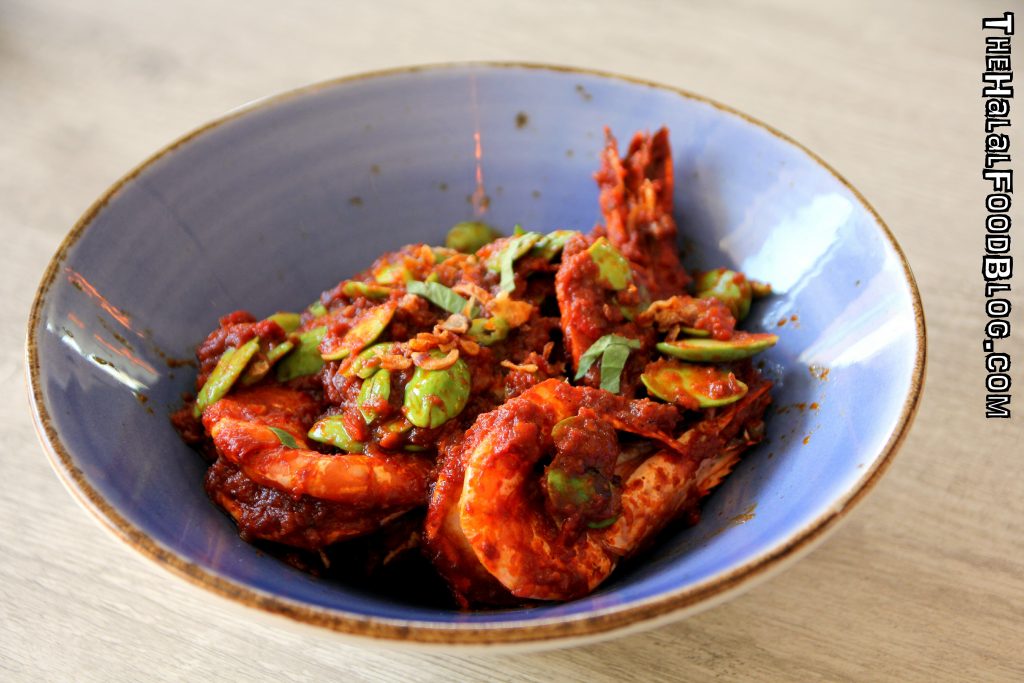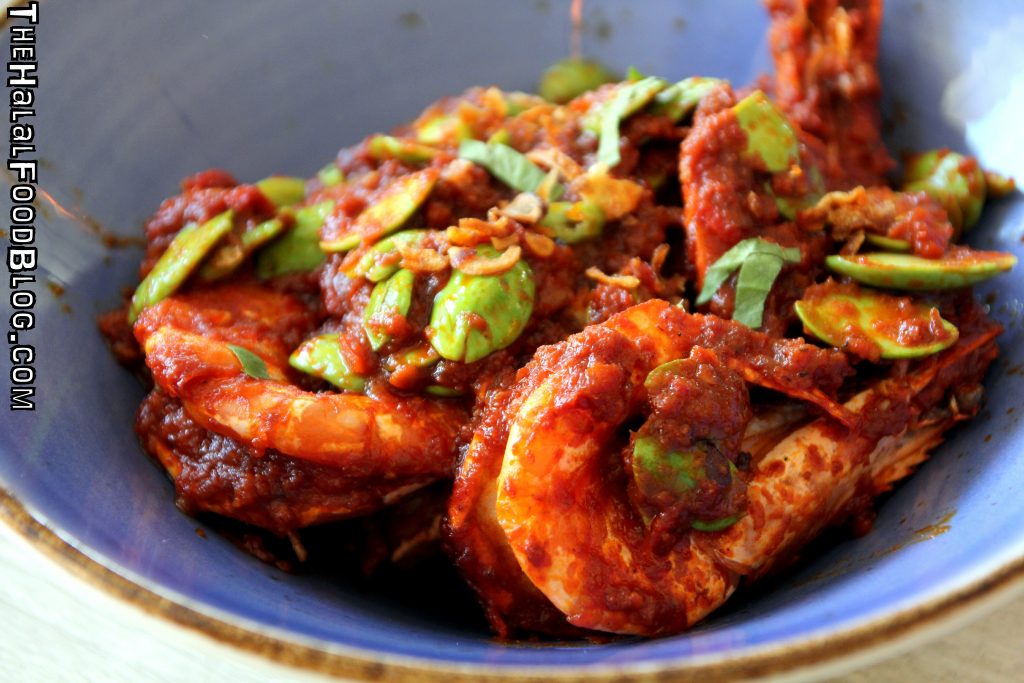 I remember the Ayam Percik from our first visit but the Sambal Petai Udang does not really ring a bell so I'm guessing it might be new on the menu.
Definitely familiar dishes with that Chef Wan touch and a good match with plenty of the other dishes on the menu too. In fact, you will see a few other dishes that might grab your fancy namely the Sambal Mussels, Lala Masak Kunyit and the Stir-fried Winged Bean with Chilli & Dried Shrimps (aka Kachang Botor!) among others.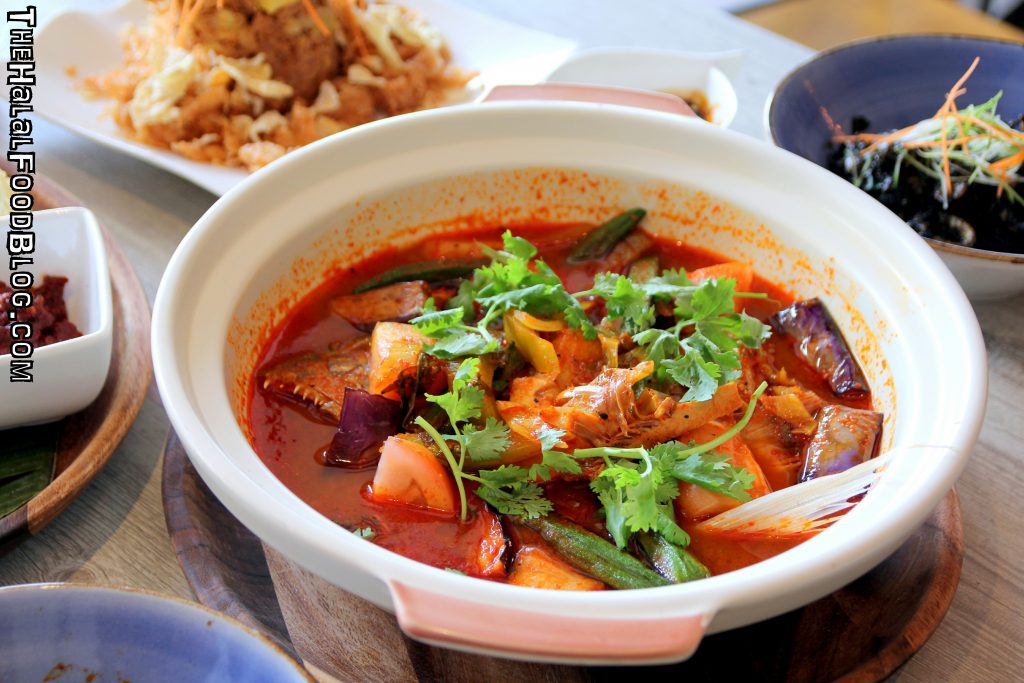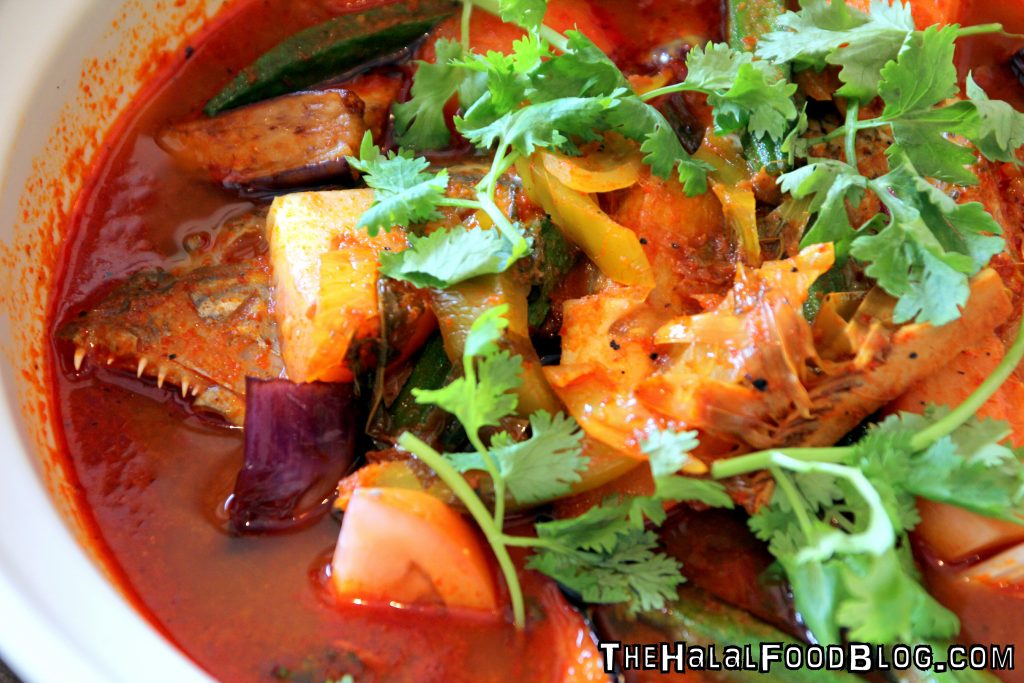 Wanna hear about my "duh" moment involving this dish?
When they brought it out and I tasted it, I kept thinking to myself "Why is the taste so different from what I know for this dish??".
Well, I had apparently misheard this as "Assam Fish Head" instead of "Asam Pedas Fish Head" which are obviously two very different dishes LOL 😛
Well, "duh" moment aside, if you're a fan of fish head and/or Asam Pedas then this should be a good choice for you. Gather the gang to help you tuck into this pretty generous serving. Best enjoyed with steaming hot white rice and pick a few tasty side dishes on the menu to go along! And they have a Fish Head Curry too by the way!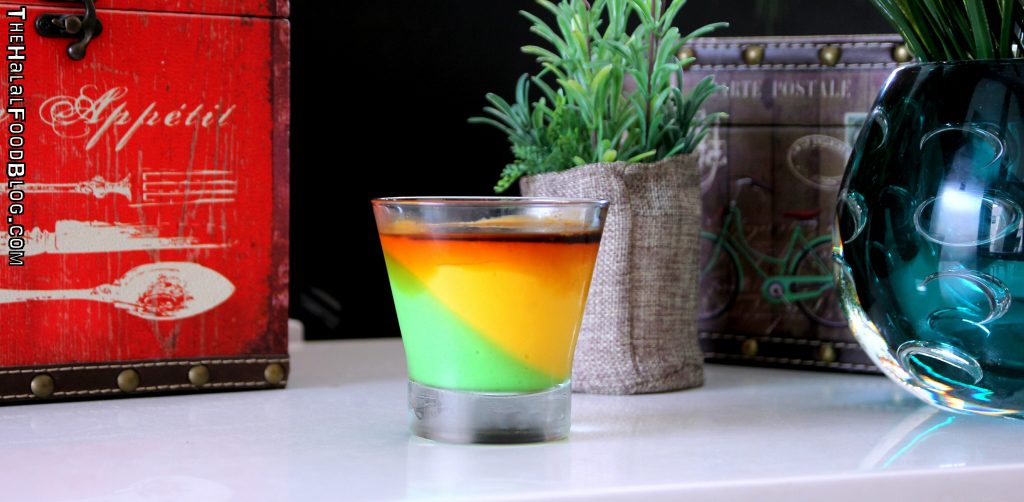 JENG JENG JENG!!
How can we not have some dessert to end off our meal right? Chef Wan's Kitchen has 2 special ones for you to indulge in and both involve flavours that we all love…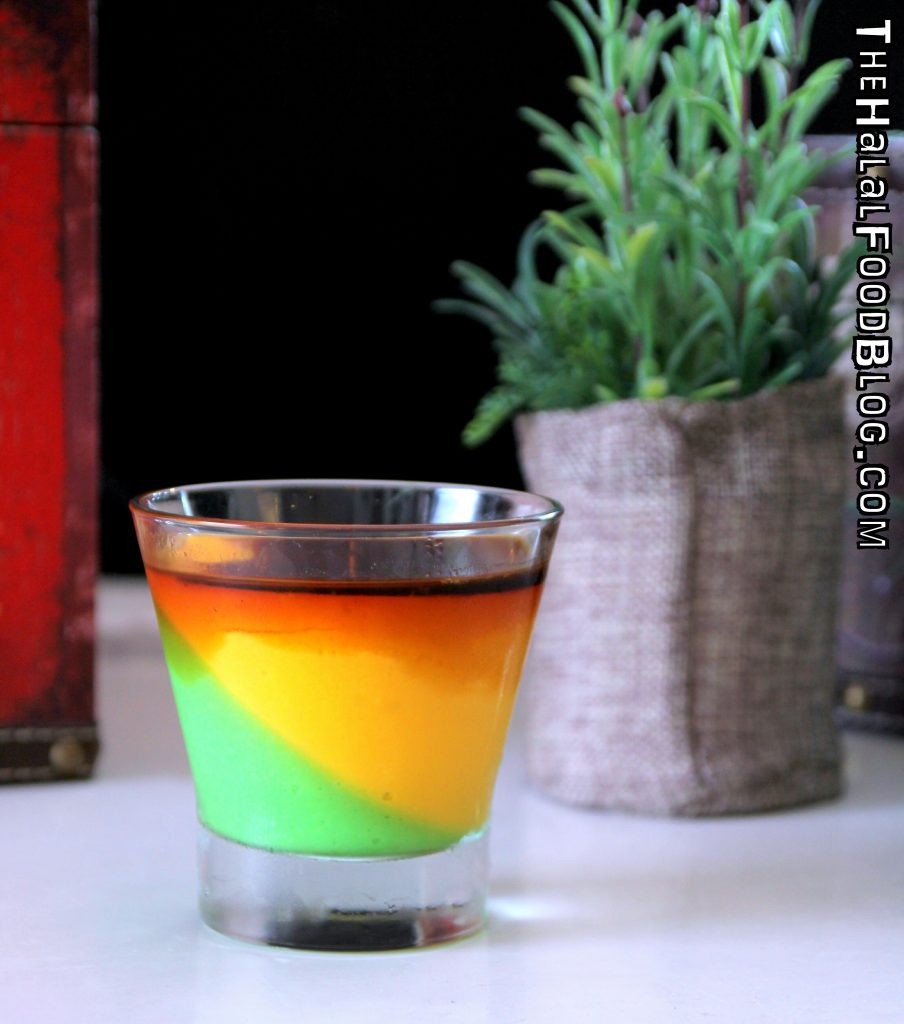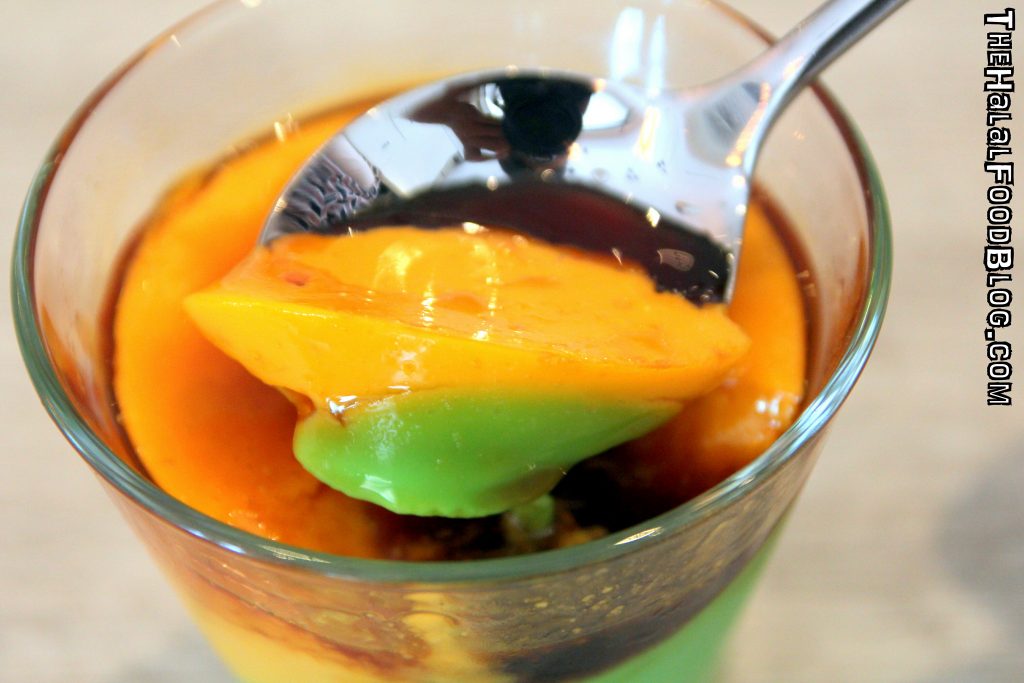 You had me at D24…
Yassssssss check out the D24 Durian Custard Pudding at Chef Wan's Kitchen – the King of Fruits is alive and well! (The other dessert is the Chocolate Custard Pudding by the way but we didn't try it)
You've got a layer of D24 Durian custard pudding and some Pandan custard pudding and to top it all off, a crown of thick gula melaka syrup! Sounds sinfully sweet? Yes, it is.
Even though there are a few flavours here, the most prominent one is definitely the durian which, I have to honestly say, was really good. I'm quite a purist when it comes to durian and it almost always has to be the actual fruit but this custard pudding did manage to get the durian flavour just right.
The gula melaka syrup was pretty much the component that pushed this dessert a little over the top for me. And for me, someone who has an extreme sweet tooth to say that, means it must have been pretty darned over the top LOL
Well, there you have it! Some new dishes and some regular favourites to be enjoyed at Chef Wan's Kitchen. There are dishes that are actually REALLY good (and we haven't even tried them all yet!) so we're pretty sure you're gonna find something you're gonna like there.
Although a lot of the dishes on the menu may seem pricy, we have to remember that it IS located at The Esplanade so you've gotta expect 'Esplanade prices' right. But having said that, I think that the Nasi Lemak Collection is more than reasonably priced for its introductory offer. $23.90 may seem expensive for Nasi Lemak albeit with Lobster but when I put it into perspective, the other Lobster Nasi Lemak place (which operates out of a hawker stall) sold theirs at only slightly cheaper than this version and the queues were still super long.
So, I repeat, go makan faster to enjoy the introductory price of $23.90 okay! 😀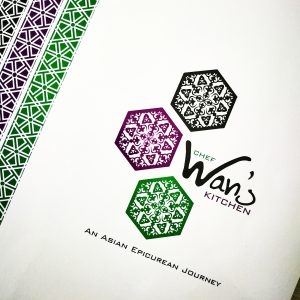 CHEF WAN'S KITCHEN
Esplanade Mall #02-14
8 Raffles Avenue S 039802
Tel: +65 63974911
Facebook: www.facebook.com/ChefWansKitchen
Instagram: www.instagram.com/chefwanskitchen
All information (including prices, availability of item on menu and Halal status of establishment) are accurate at the time of posting. All photos used in this site are property of The Halal Food Blog unless stated otherwise.