Tucked away in a little nook in the Eunos area just before entering the Geylang Serai area, there sits a cozy little cafe that many people might miss if they don't look closely. But hey, you're missing a whole lot let us tell you that.
Cafe Borsa is a newly-opened cafe in a somewhat newly-opened building in that area. It's a family-run cafe that injects passion into its cooking while trying to make it a healthier but still yummier experience for all.
They're in the midst of expanding their menu but the dishes they already have on there are pretty impressive already. Besides getting your coffee fix, there are quite a few dishes which might tickle your fancy (and appetite) too!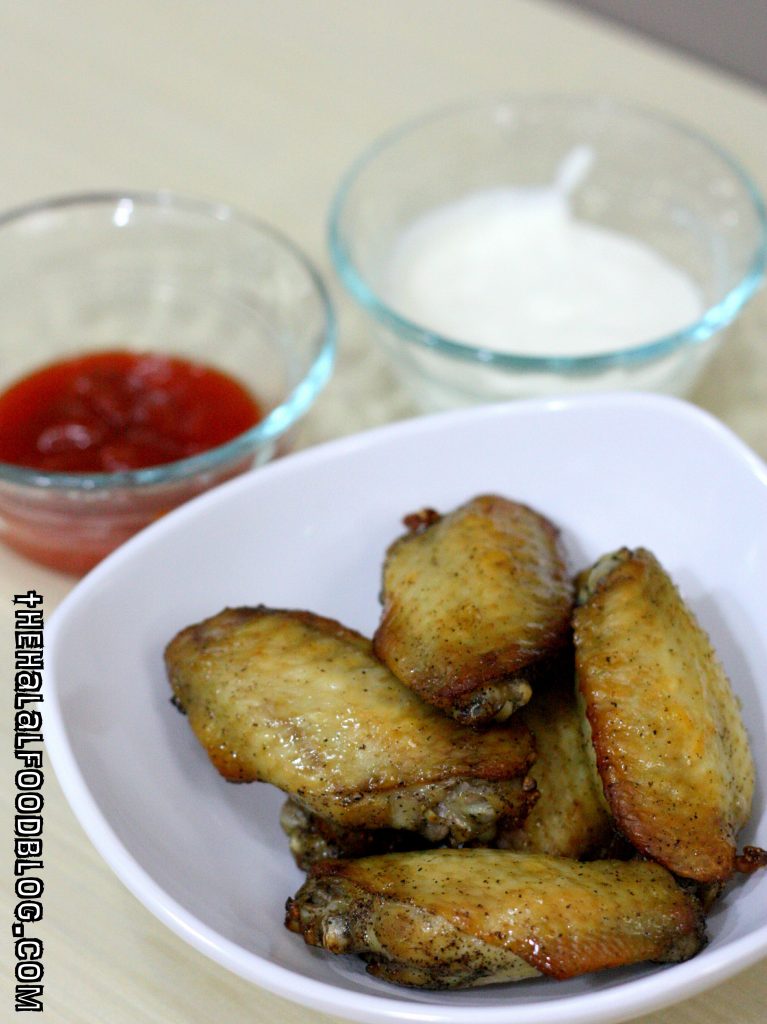 A simple serving of 6 mid-wings and yet so super satisfying!
There are plenty of chicken wing options out there today as we all know. I guess there's something that always appealing about picking up a chicken wing and taking a nice big chomp out of it! Well, most of the choices out there now are pretty extreme in terms of the flavours. You've got all kinds of sauces and coatings and dips and that kind of thing which is actually really power. But Cafe Borsa simplifies it all down in case you're looking for something different.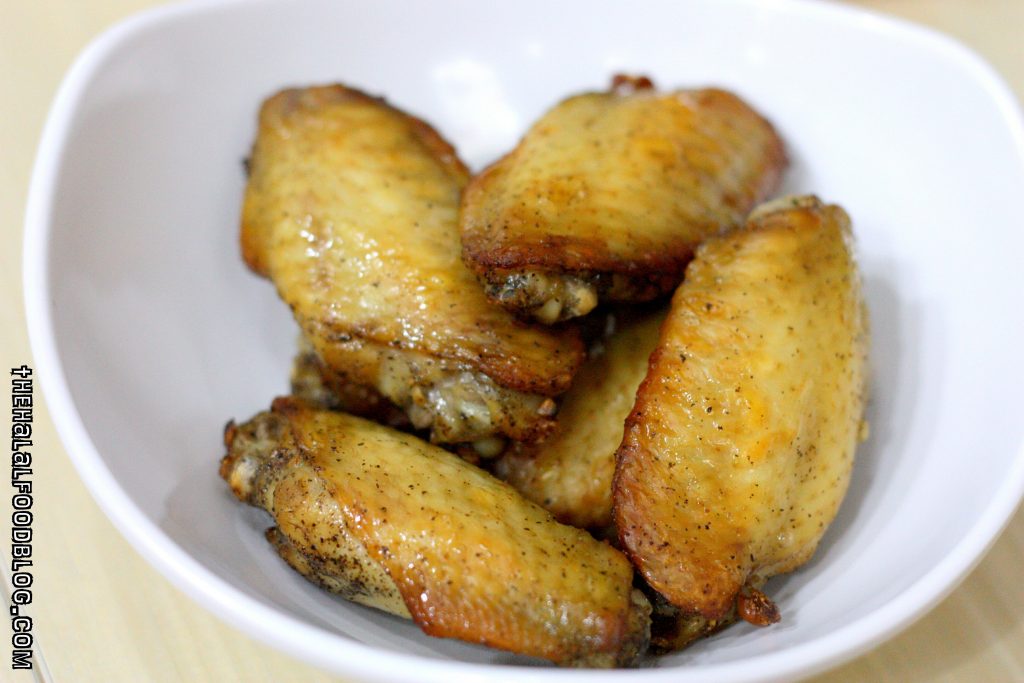 Simple basic seasoning of garlic, salt and pepper. That's it!
The mid-wings (and pretty much almost everything else on the menu) is oven-baked with little or no oil so you've automatically taken a step-up if you're the health-conscious type.
It was actually really nice to savour the simple flavours of the chicken. With minimal seasoning, it was a welcome departure from the 'complicated' chicken wing scenes elsewhere. LOL don't get us wrong – we love the complicated chicken wings too – but at least we know where we can get some simple good stuff!
It also comes with a special home-made sour cream dressing that goes perfectly to give you that extra flavour kick if you need something to dip into!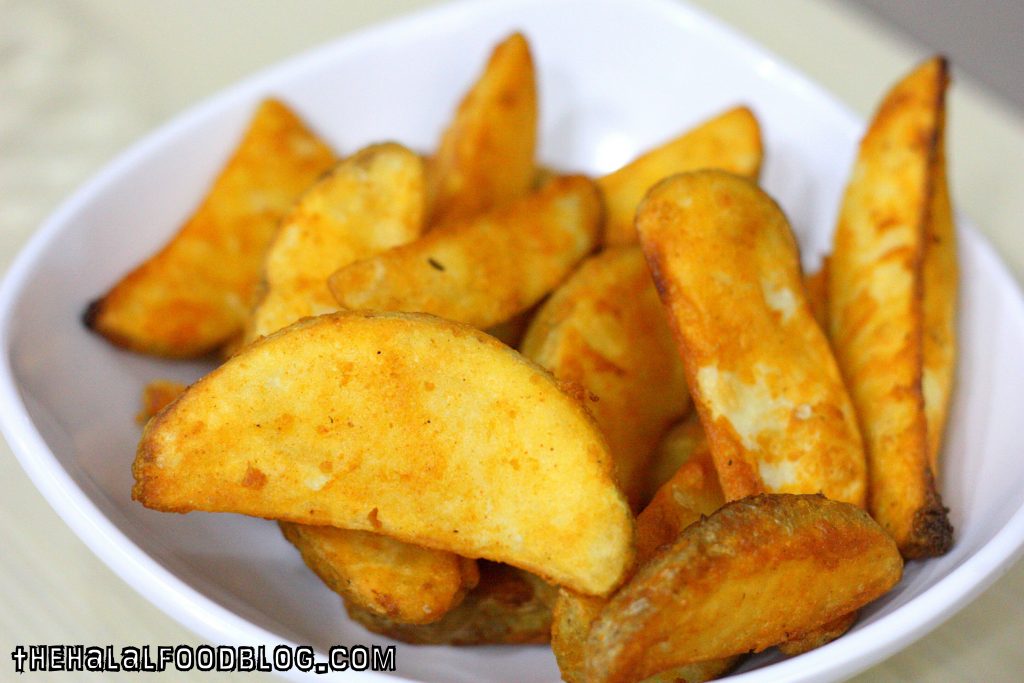 Perfect accompaniment to the chicken wings? Wedges!
Get them while they are piping hot! They also come with the sour cream dressing too! 🙂
Well, onto the mains!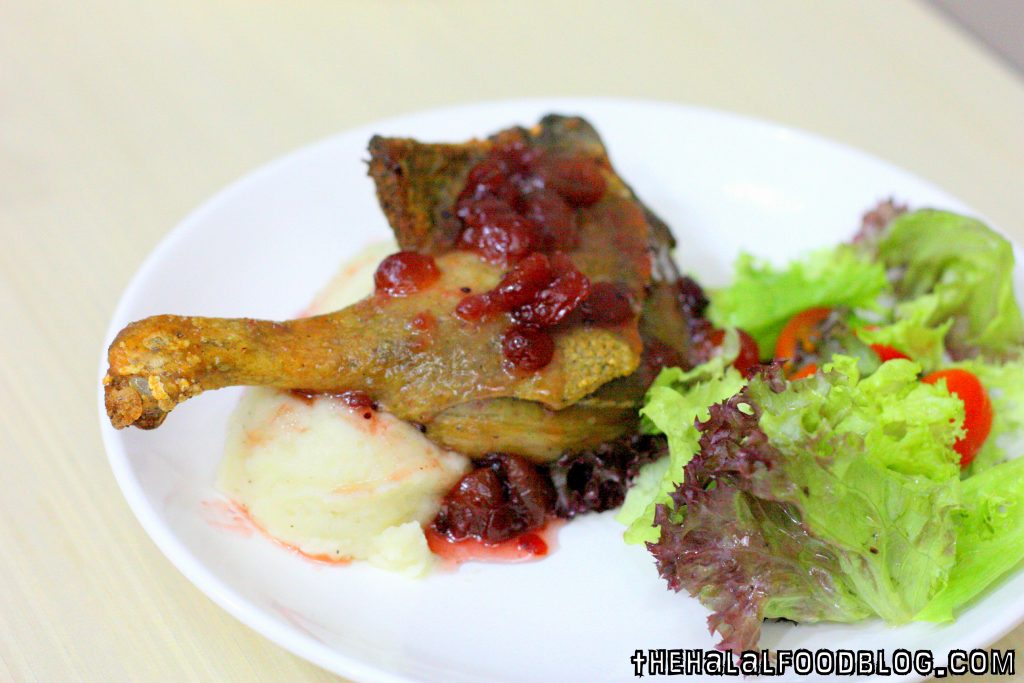 We're definitely going to feature the most unique dish on the menu first and it's the dish that got us all excited when we heard it was available. After all – how many other Halal-certified places serve Duck Confit!
And this one was a winner!
The duck is marinated for 24hrs to infuse and lock in all that seasoning and then it's oven-baked for more than 2hrs so it can get super tender while still crisping up that outer skin! Oh yeaahhhh!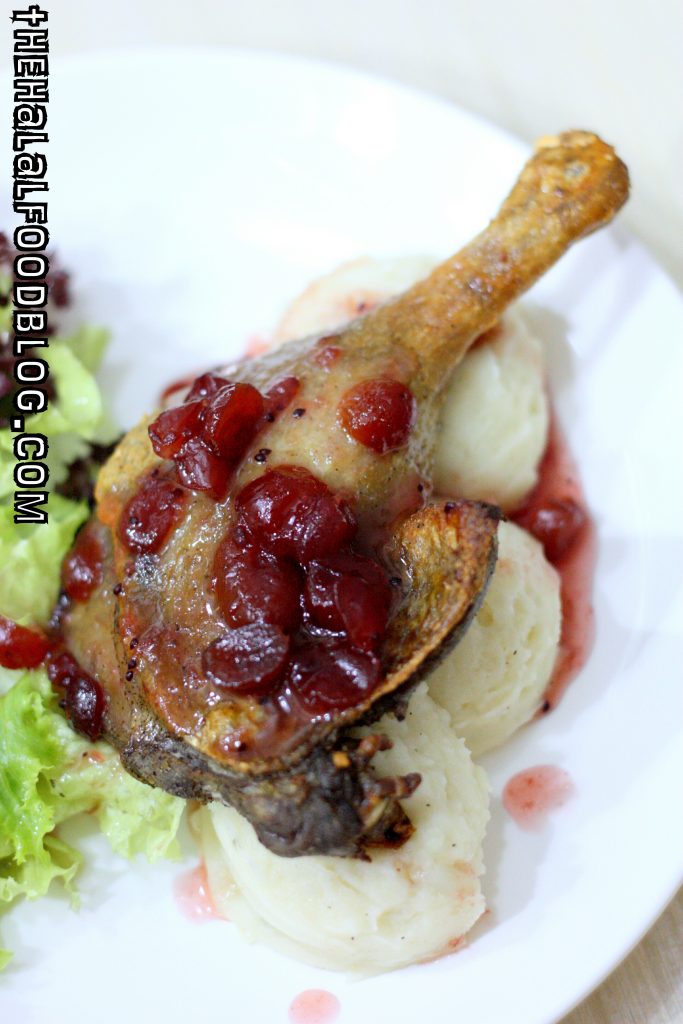 Another interesting fact about this dish is the way it is cooked.
'Confit' is generally a cooking method where the food (in this case, the duck) is cooked at low temperatures so that the meat is cooked slowly to ensure tenderness without drying out while being able to crisp up the outside and there you have a nice contrast of textures.
In some cases, a Confit will also involve cooking the food in oil or fats (i.e. Duck Confit = duck fat etc) but here at Cafe Borsa, they confit this duck with chicken stock instead! This explains why the duck is super flavourful and super tender plus healthy cooking method too!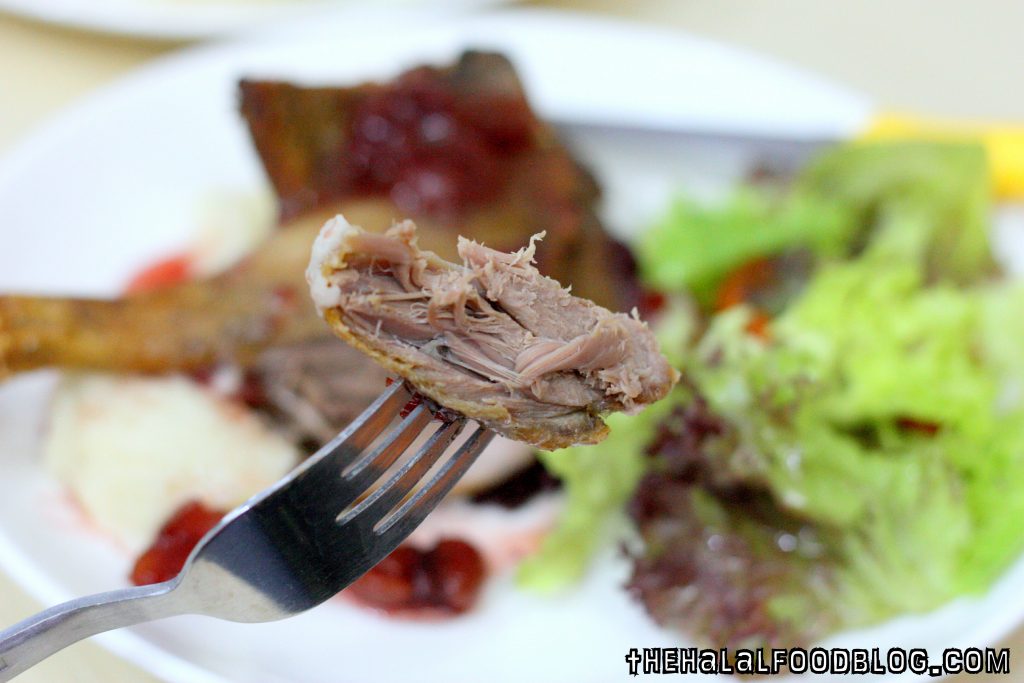 The expertly-cooked duck is accompanied by some mashed potatoes (which are also handmade with real potatoes at Cafe Borsa too!), a salad with vinaigrette and lemon juice plus topped off with some cranberry sauce reduction too!
Okay so I am admittedly quite a lover of duck so I totally enjoyed this meal. The duck was tender and full of flavour and it was simply a satisfying dish! And with only handful of available options to get Halal duck, this is definitely a big plus.
Anyways, they also have a Baked Chicken option too 🙂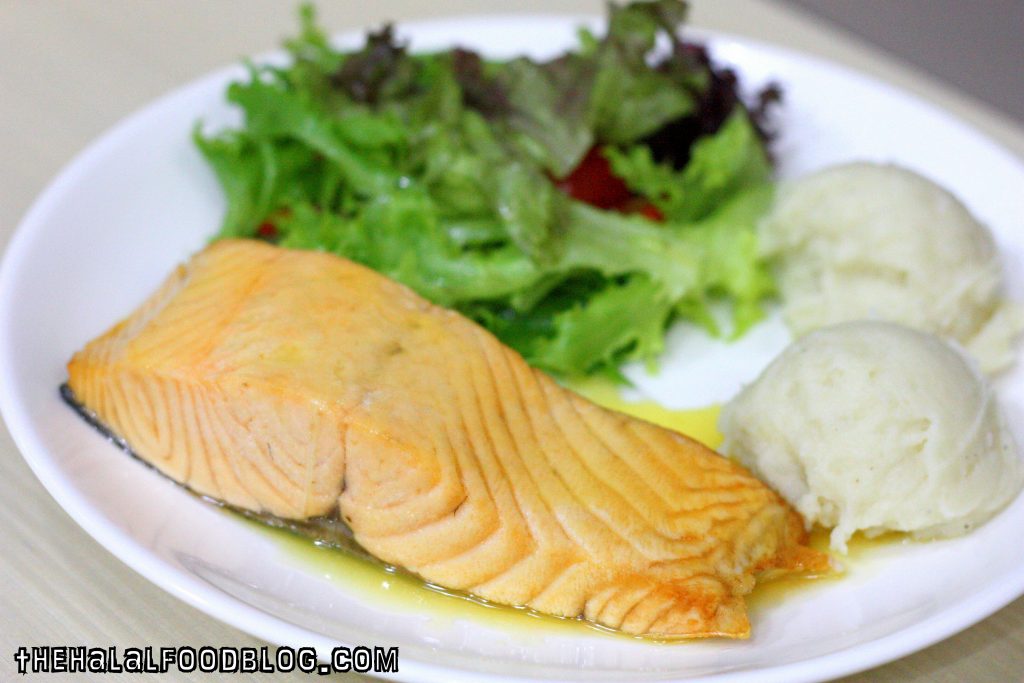 If you're not in the mood for meat, then how about some seafood instead?
The Baked Salmon is a great and healthy choice!
The salmon is minimally seasoned so you can still enjoy that Salmon goodness and then oven-baked. To finish off the dish, there's a Lemon Butter Sauce that gives a nice tang but does not overpower the flavour of this rich fish.
If you're in the mood for pasta, got also!! LOL don't worry they have you covered here at Cafe Borsa.
They've got Spicy Chicken Meatball Pasta, Ham and Al Funghi Pasta and the Turkey Bacon and Al Funghi Pasta as pictured above. As you can see, it's a really hearty serving and great for sharing too if you wanna order dishes but can't resists some pasta!
Great idea for if you're dining with kids too! Our Little Princess has a ball when we order pasta and enjoys feeding herself one strand at a time LOL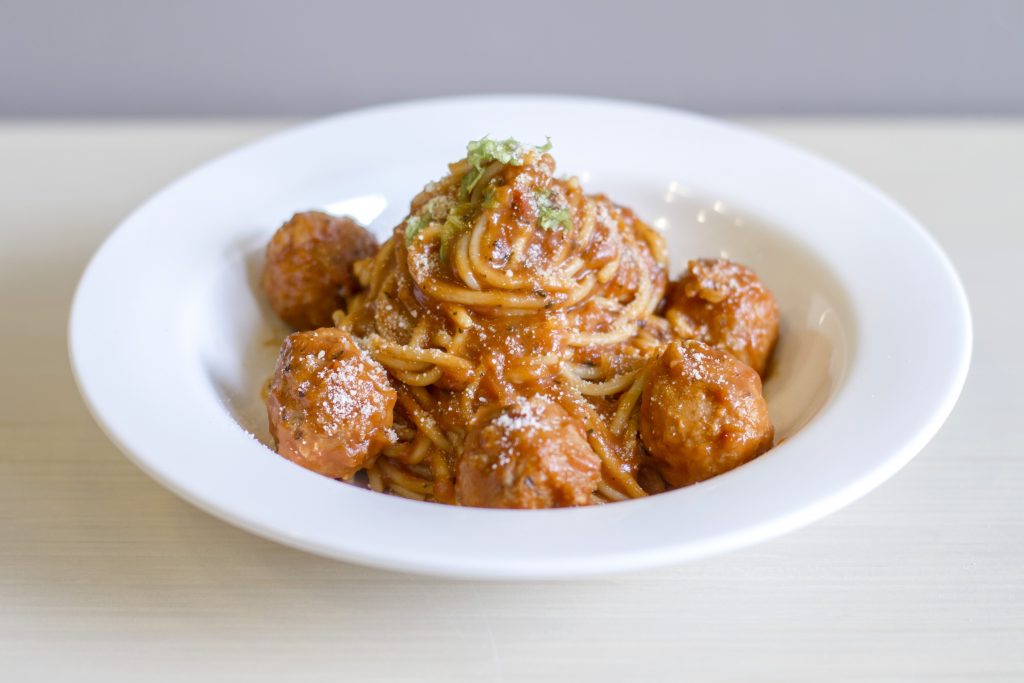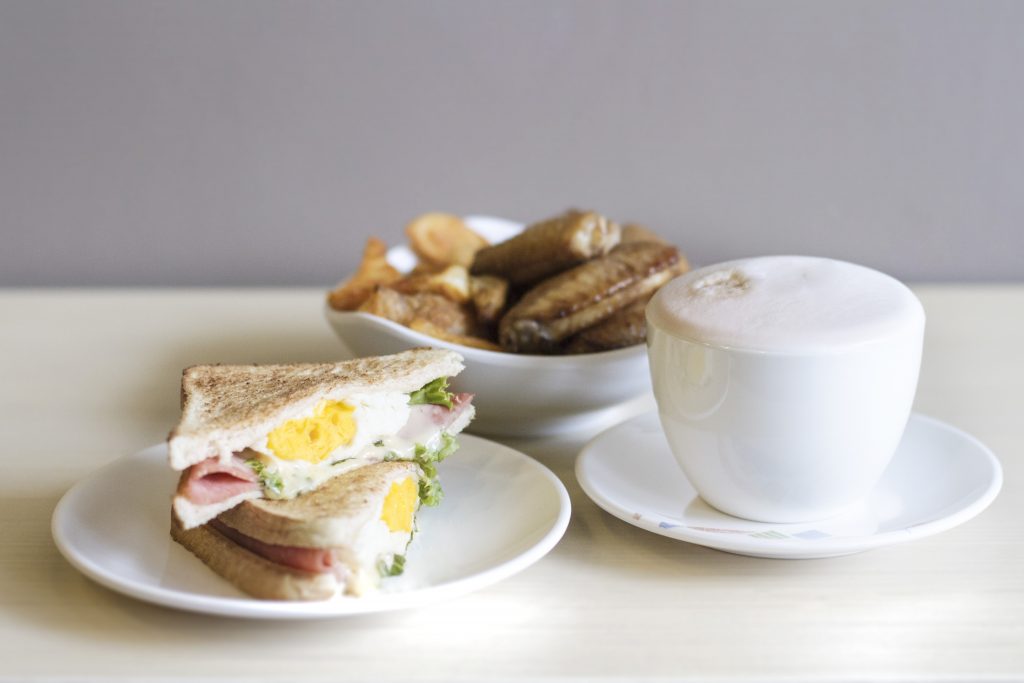 For a newly-opened establishment, Cafe Borsa already has quite a few impressive options from their existing menu. They've even got Brunch options too! We're pretty sure that they'll make a few changes here and there to the menu eventually and it'll be really exciting to see what's in store in future.
One of the things we enjoy most about our journey here with The Halal Food Blog is not just that we get to eat all kinds of interesting and delicious food but also meet the people behind the food and learn more about them and the entire process and ideas behind their vision.
It's great to see that family-run makan places are still abound nowadays and as always, we're gonna support as much as we can especially if the food is good!
So if you are in the area, drop by Cafe Borsa! It's very close-by to the stretch of shophouses where Rex Mackenzie and Pattaya Garden is situated. Literally in between the journey between Majid Darul Aman and Kampung Ubi CC!
It's a great place to sit down and have a coffee and chit-chat with friends while you're there but guarantee you that the food there is gonna tempt you to have more than just coffee 🙂

116 Changi Road
WIS @ Changi #01-10
Tel: 6348 7688
Facebook: https://www.facebook.com/pages/Cafe-Borsa/616960158449670?fref=ts
Operating Hours:
11.00am til 9.00pm Mondays til Saturdays
Closed on Sundays
All information (including prices, availability of item on menu and Halal status of establishment) are accurate at the time of posting. All photos used in this site are property of The Halal Food Blog unless stated otherwise.