I'm prone to saying that, these days, you can pretty much get all sorts of makan in sorts of places. I mean, gone are the times where we were restricted by a lack of Halal, quality, affordable makan joints. These days, we're pretty much spoiled for choice.
What if I told you that you could get delicious, great quality burgers at a more than decent price? And what if I told you that it was available in a hawker centre (that you're most probably visited before)? And here's the kicker – what if I told you it was set-up and run by 3 young chaps who were brave enough to follow their dream?
Well, this is Burgs. And they sell burgers.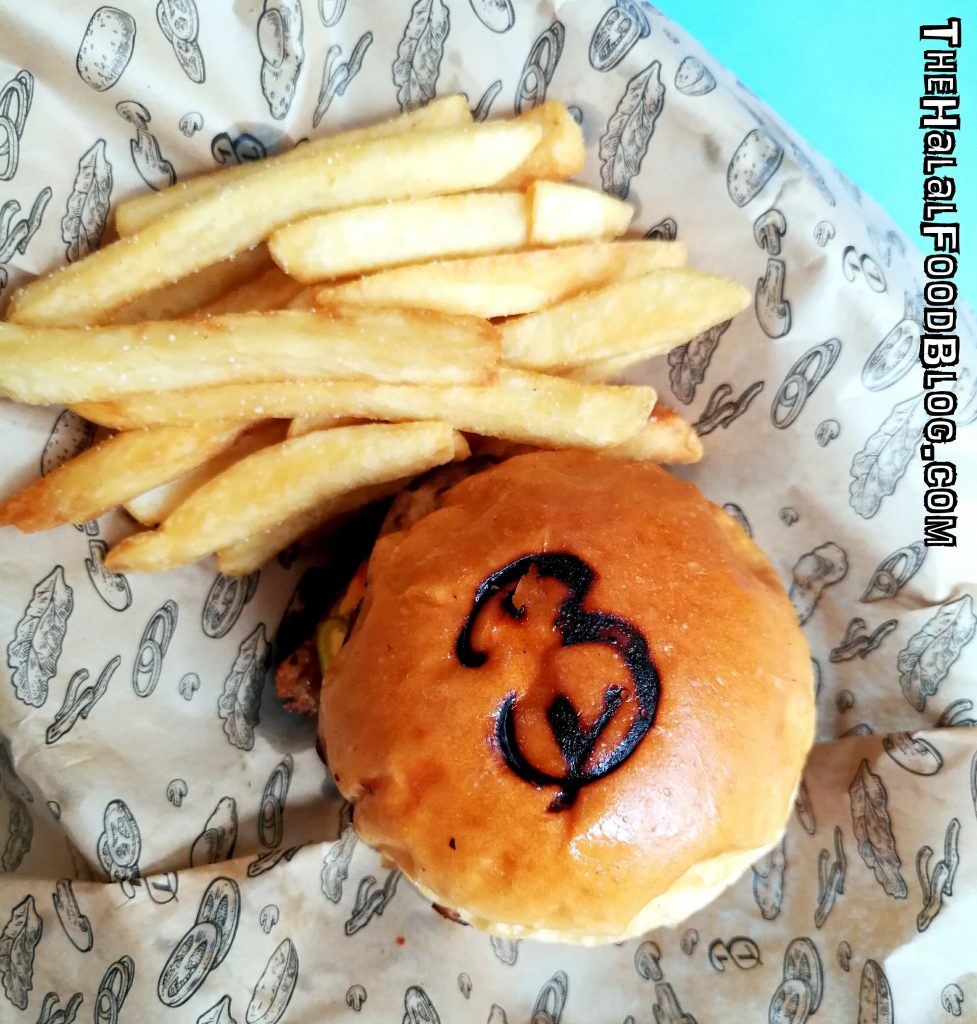 You would probably have seen a few videos about Burgs that have been making the rounds on social media. Yes, this is the burger joint that's operating out of the Golden Mile Food Centre at Beach Road (yes, the Tulang place).
Well, videos (almost) always look fantastic but as always, we like to check things out for ourselves, no matter late we are to the game LOL 😛 So when our friends from Suara Magazine asked us to come along and check out this interesting (and definitely exciting) new concept, how could we say no right?
So Burgs by Project Warung is actually the brain-child of 3 ambitious and obviously talented young men. 3 friends who may have taken different paths in their culinary journey but ended up working towards the same vision – to serve great quality, affordable and (most importantly) Halal food to the masses. All this while staying true to their roots and still having fun along the way. Because all work and no play makes Jack a dull Burg.
But a little more on their story a little later on okay.
We're all about the food and there's plenty of good stuff at Burgs!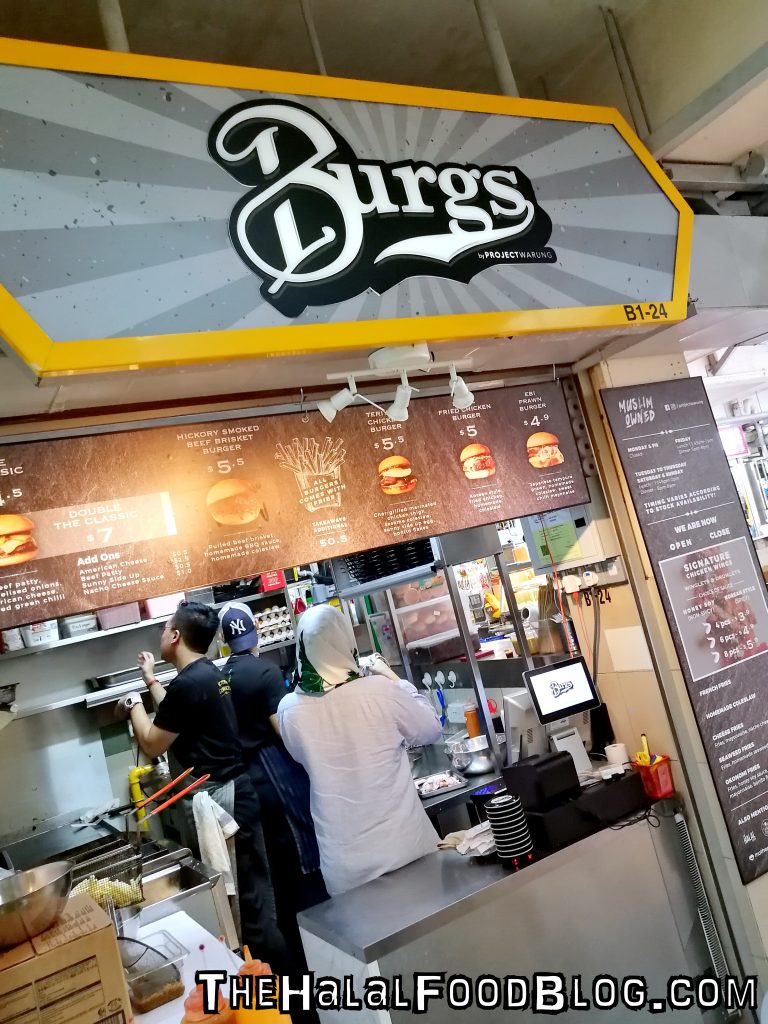 Operating out of the iconic Golden Mile Food Centre aka Beach Road Army Makan aka tempat makan Tulang Merah (and soon to be known as tempat makan burger sedap giler), I would never have guessed that I'd find a burger joint in the middle of a place that many of us have visited before.
I think operating hawker-style is great because it has a more chillax vibe and, more importantly, helps keeps costs down and these savings are passed on to us consumers in the form of really attractively-priced grub.
Their menu, like their stall, is simple.
Burgers and a couple of sides and you'll see some of these menu items rotate on a regular basis. This means that not only are they keeping it fresh but they're also churning out new creations that might just be your next favourite.
But they've got to have a signature right?
So their basic is aptly called 'The Classic' and is made up of an all-beef patty, American cheese, caramelized onions and a little pickled green chili for that piquant kick to take the flavours a notch up. And in case you were wondering, we got Double The Classic, which has 2 patties instead of the usual 1, because we're The Halal Food Blog.
And also, #PerangaiBudakGemuk to the max LOL
Oh, you glorious burger you.
Truth be told – I'm a fan of smaller-sized burgers. I have nothing against big, towering burgers but I will almost always choose a burger that I can pick up and chomp down on when it's up against a burger so big that I probably have to use a fork and knife to dissect it.
I guess I just find a certain satisfaction in a burger that fits in one hand and yet is a big bite. As you chomp down, you get all that great juicy flavour for the meat and the rest of the accompanying components of the burger. This is the balance we find in the burgers at Burgs.
The patties are seasoned perfectly and cooked nicely so you can enjoy that nice beefy goodness. Cheese is always welcome in my burger. In fact, it's actually A MUST HAVE for us so you might actually consider adding extra American Cheese (or maybe even some Nacho Cheese Sauce) for the nominal fee of between $0.50 to $1.00. So totally worth it, trust me.
The caramelized onions are a nice touch but I think the real kicker is the pickled green chili. In case you haven't caught it yet, it's actually chili hijau jeruk! Yes, they could have gone with jalapenos or something but hey, they like to keep it with a local touch at Burgs.
And yes, I'm craving for this burger as I type this out.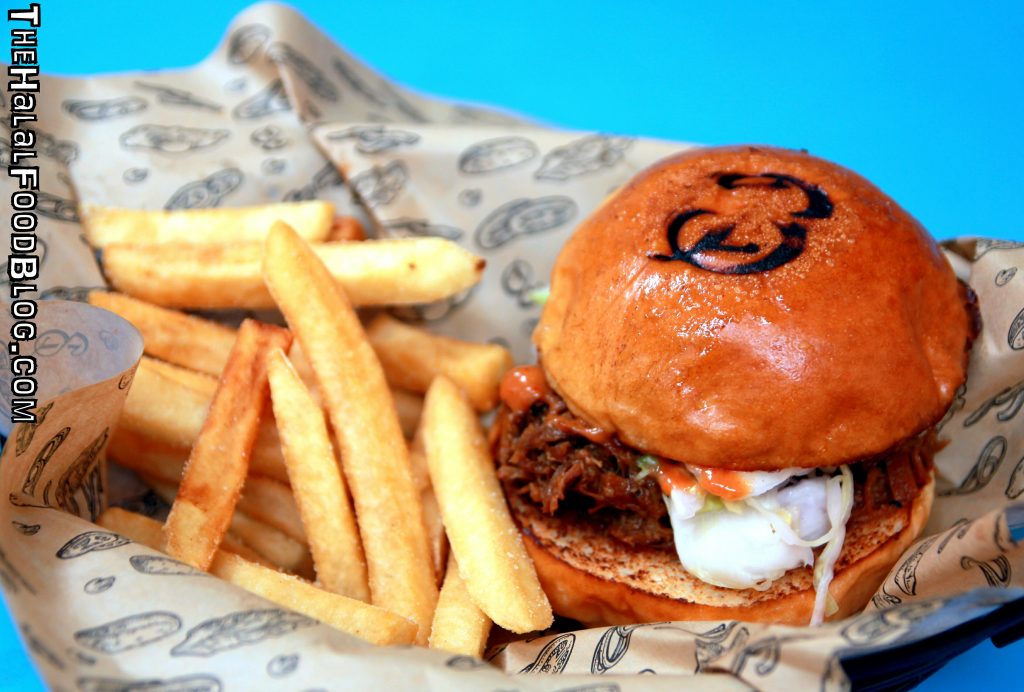 I thought that The Classic was a good burger but ZOMG everyone.. this Smoked Beef Brisket Burger is THE BOMB! Maybe because I've a thing for Pulled Beef anything, this was so up my alley.
And I know that they rotate their menu from time to time but I hope that they keep this burger on the menu forever ever ever ever ever ever ever ever ever ever and ever. AND EVAH!
Now that I'm all done swooning over it, let me tell you a little bit more about the burger LOL
So the geniuses at Burgs lovingly prepare, season and cook the beef brisket to the point that it's so tender that it's almost effortless to pull into shreds. Then they add their special BBQ sauce (that they concoct and prepare from scratch by the way!
The 'standard' version of the Burgs Smoked Beef Brisket Burger (if there is such a thing) also comes with some of their special coleslaw which is, not surprisingly, also made from scratch. The creamy coleslaw cuts the tangy BBQ sauce flavour nicely resulting in that "Mmmmm" moment we all look for in our burgers.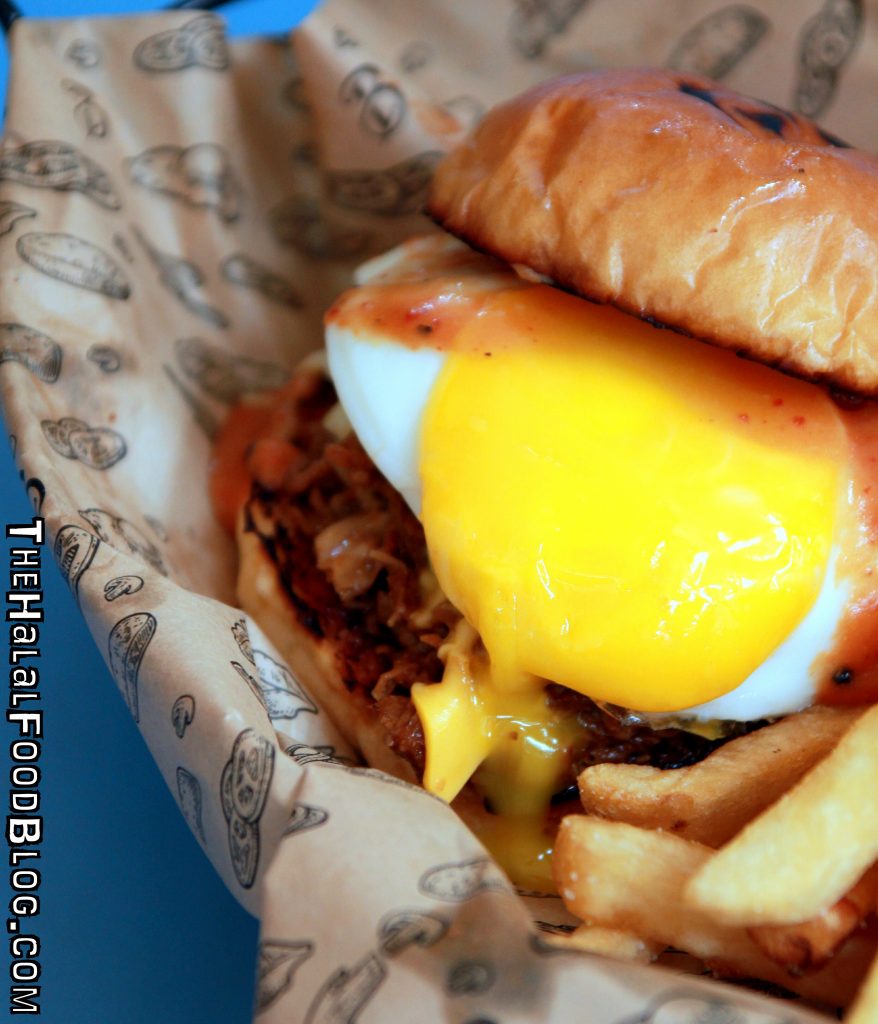 You could take the extra OTT option of adding a nice, runny, sunny side-up eggy weggy to your burgers here at Burgs. I personally normally only add eggs to chicken burgers (which they also have at Burgs by the way) because I find it a bit off when paired with beef, especially flavourful pulled beef brisket like this. But hey that's just me.
I've been told that adding of eggs to burgers is super popular at Burgs and apparently very highly recommended especially for all you #YolkPorn lovers!
This might be a good time to mention the buns they use at Burgs. Good ol' regular burger buns but not the type you get off the shelves. Burgs actually has their bread custom-made and baked by a local baker to their specifications. Another example of how they really like doing things their way at Burgs. I reckon about 95% of the stuff at Burgs is made from scratch or custom-made for them – a sign of quality control and perfectionism which I can definitely appreciate.
Anyways, in case you were wondering, the other burgers on the menu when we visited were the Teriyaki Chicken Burger, the Seoul Fried Chicken Burger and the Ebi Prawn Burger. So pretty much something for everyone on the menu and it'll be pretty interesting to see what comes up when the rotation comes about!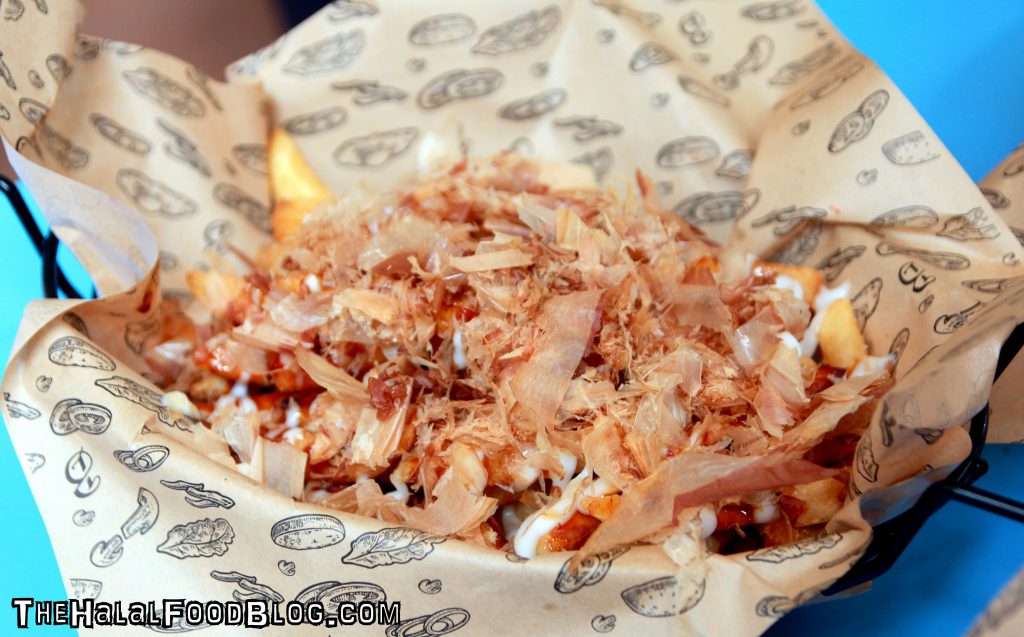 I swear that under that copious amount of Bonito flakes, there are fries! LOL
If you are a big fans of Takoyaki / Okonomiyaki (like us), then this is definitely a must-have for you. The Okonomi Fries is the perfect accompaniment to any burger on the menu at Burgs! It's got a generous amount of fries that have been doused with honey soy sauce (aka that sedap giler Takoyaki sauce), some of their own mayonnaise and, of course, Bonito flakes.
A little sweet, a little salty, a little creamy, a lot sedap.
(PS they also have Cheese Fries)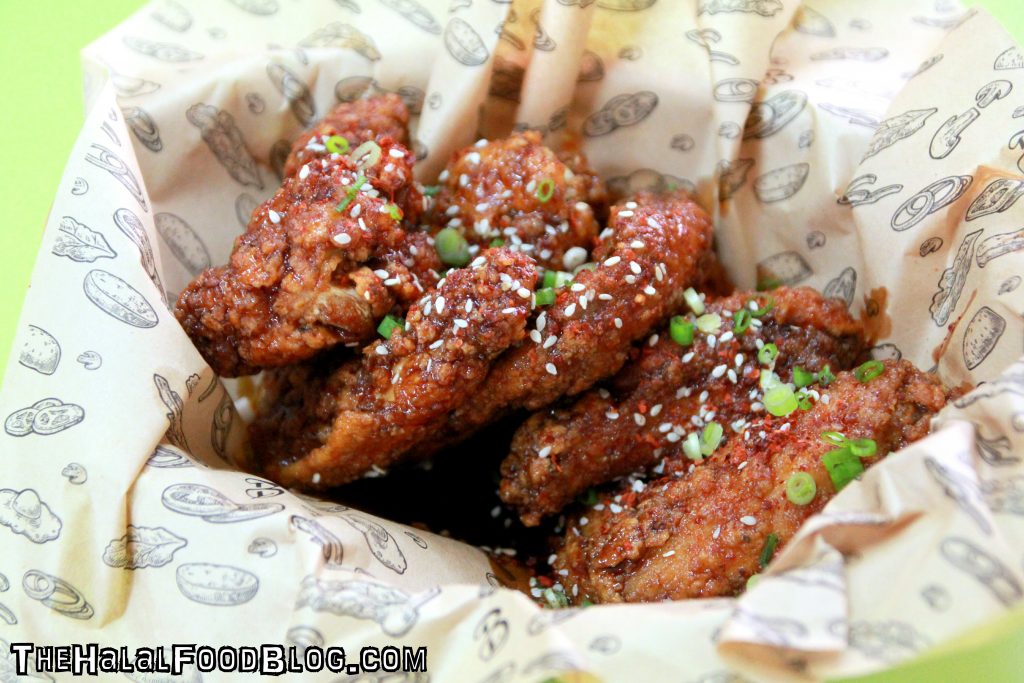 Another must-have that's prefect for sharing (unless you're like super greedy and whack it all yourself, which is actually quite possible) is their Signature Chicken Wings. You can have it Honey Soy style which is not that spicy or you can have it Korean Style which is supposed to be spicy.
But okay lah not that spicy lah to be honest.
I'm a sucker for anything with a sweet, salty, sticky glaze and although they do not measure high on the Pedas-O-Meter, these chicken wings are still something you should try!
And in case you have not noticed – the prices of pretty much everything at Burgs is like super affordable lah! A right proper burger is going for as low as $4.50 and you can pay for almost all their side dishes with a $5 and still get change. ZOMG power or what!!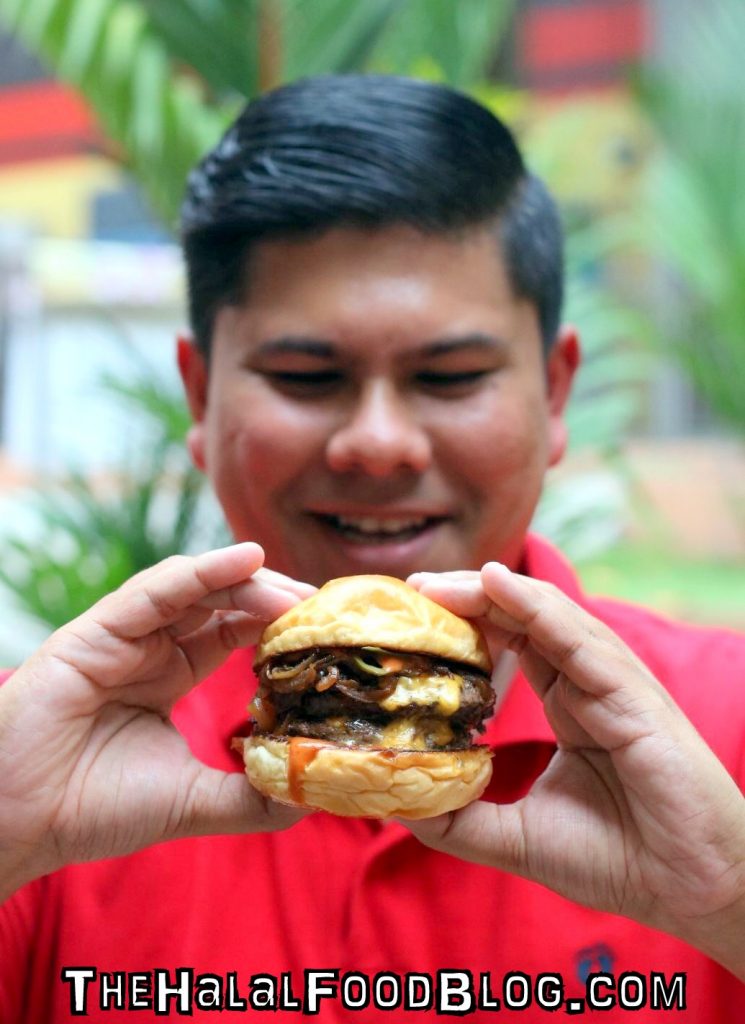 To say that I'm impressed with the food at Burgs is quite an understatement.
In fact, I'm even more impressed that all this awesomeness is being executed by a a bunch of guys out of a hawker stall in Beach Road!!
I can tell you that it's not easy work even with all the skills and experience they have amassed over the years. We're talking about excellent quality makan here and that's just NOW. Who knows what's next on the fantastic journey being plotted out by Project Warung?
Whatever comes next, it's probably gonna be awesome too if Burgs is anything to go by.
If you want to learn more about Burgs and the hardworking men behind it, read up at Suara Magazine (click HERE!) and you can also get your FREE download of the latest August edition of Gaya Magazine! It's a really interesting read and you get the chance to learn more about the people behind Burgs!
By the way, that awesome video above… the most awesomest part is between 00:31 and 00:36.
Okay lah, the burgers part was not bad also LOL
Big up to the ladies of Gaya Magazine and Suara Magazine for letting me tag along to Burgs!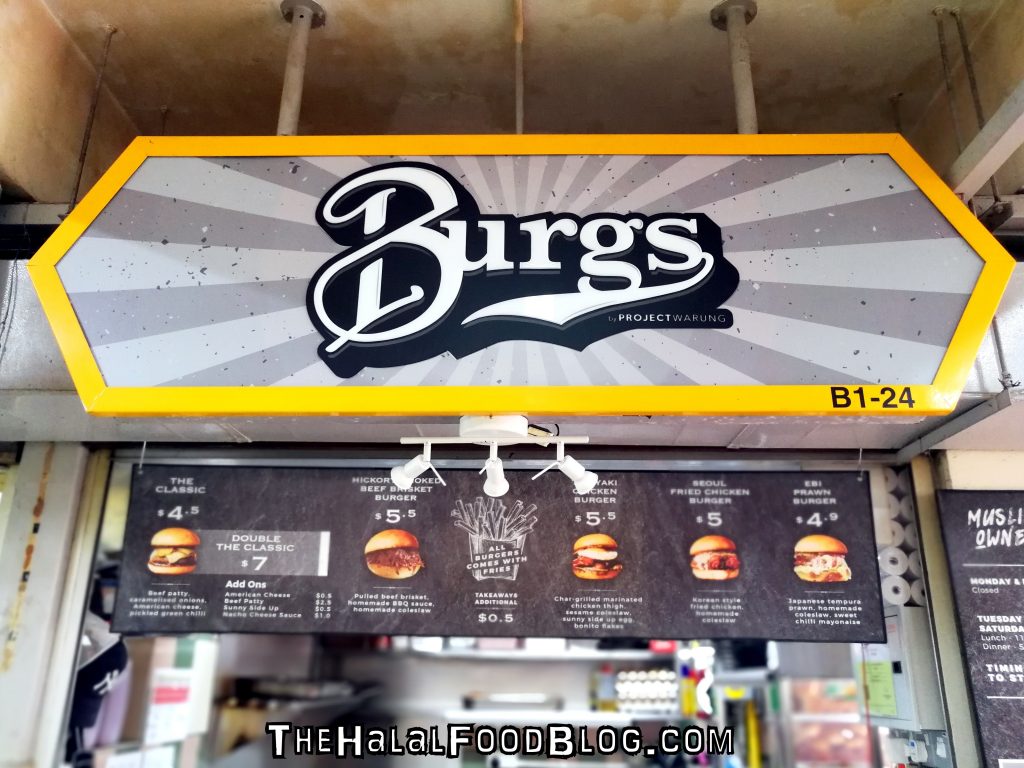 Burgs by Project Warung

Golden Mile Food Centre B1-24
Singapore 199583
Tel: 9154 4038

www.projectwarung.com
Facebook: www.facebook.com/ProjectWarung
Instagram: @projectwarung
Operating Hours:
Tuesdays, Wednesdays, Thursdays, Saturday & Sunday
11.45am til 2.00pm (Lunch)
5.00pm til 8.00pm (Dinner)

Fridays
11.45am til 1.00pm (Lunch)
5.00pm til 8.00pm (Dinner)

Closed on Mondays and PH

All information (including prices, availability of item on menu and Halal status of establishment) are accurate at the time of posting. All photos used in this site are property of The Halal Food Blog unless stated otherwise.