You know we absolutely love to #SupportLocal so we were super excited to learn about a new burger joint that was not just certified Halal but it was the type of place where you could customize and 'build' your own burger!! And with all the buzz we saw about it on social media, it looks like we'd be hard-pressed not to make our way to check it out ourselves!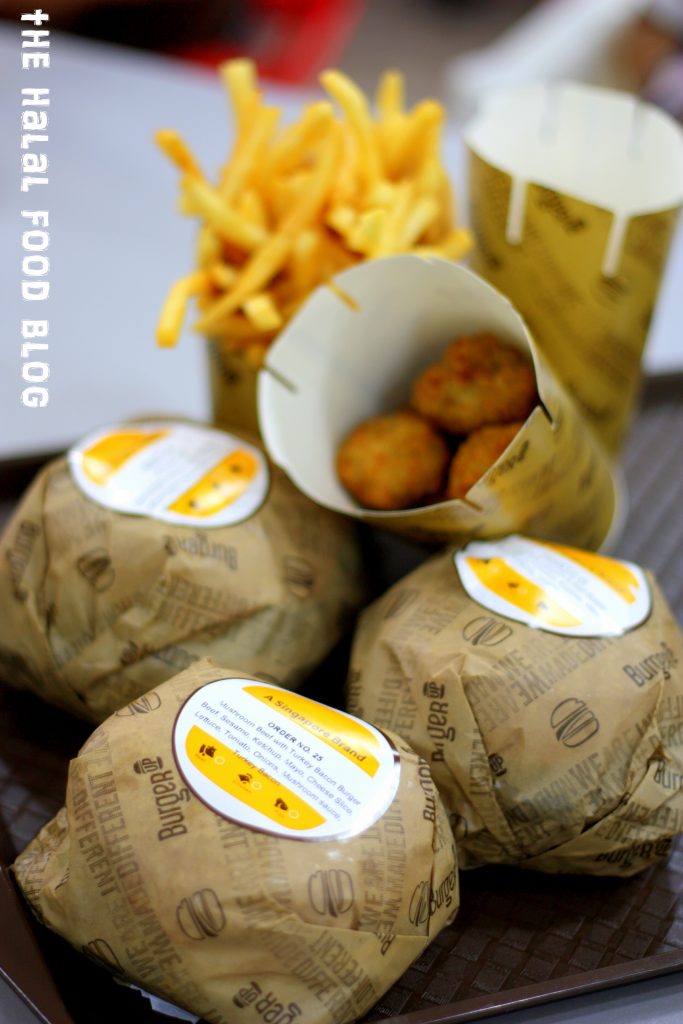 So what exactly sets BurgerUp apart from other burger places and I am specifically talking about the other fast food joints. Because after all, you would consider a burger as fast food plus we have McDonalds already doing something similar where you can build your own burger right?
Well, BurgerUp surely must have something that gives it an advantage right?
Okay let's start it off with how it works when you visit BurgerUp.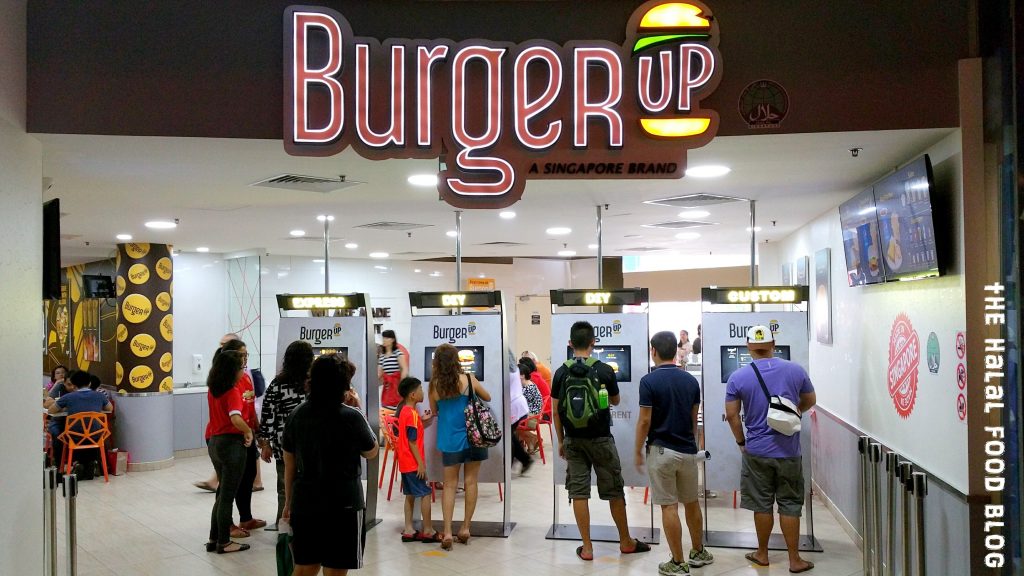 So there are these booths with big touchscreens. And these technological wonders is where you begin your journey to building you burger! Just a few simple steps and you're done. It won't take long unless you're reeaallllyyyyyy choosy but then again, they do have quite a number of things to go through.
Hmmmmm….
Maybe it's easier if we… show you?
Yes yes we damn semangat go and do video of the selection process LOL
What can we say… Everything we do… We do it for you…. *so-called Bryan Adams voice*
So let's recap.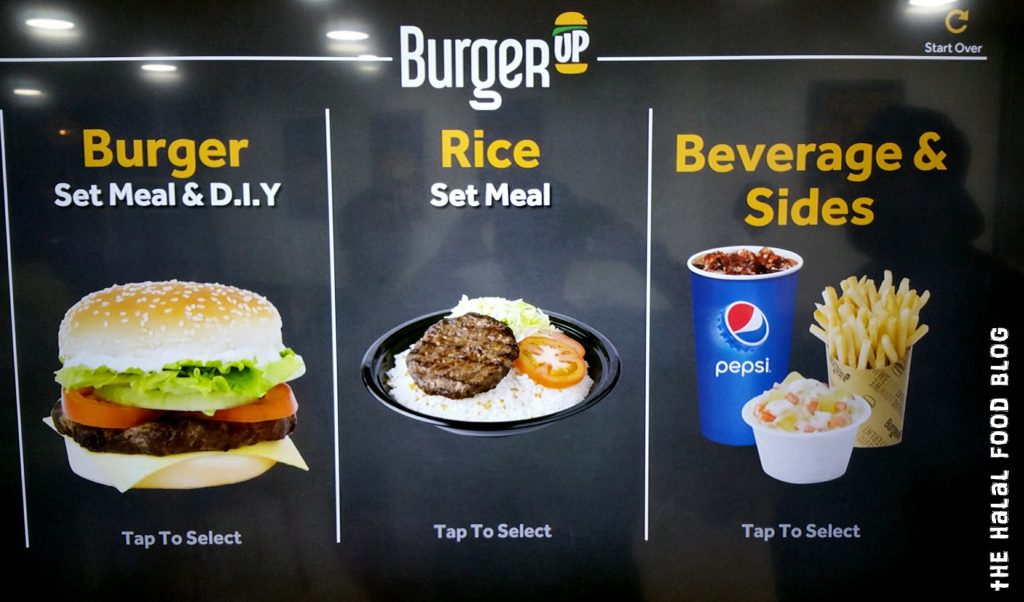 So step 1 is you choose whether you're looking to order a Burger, Rice or just some Sides.

The Rice platters are pretty straightforward so you choose which patty you'd like and you have the option of adding on some sides and such.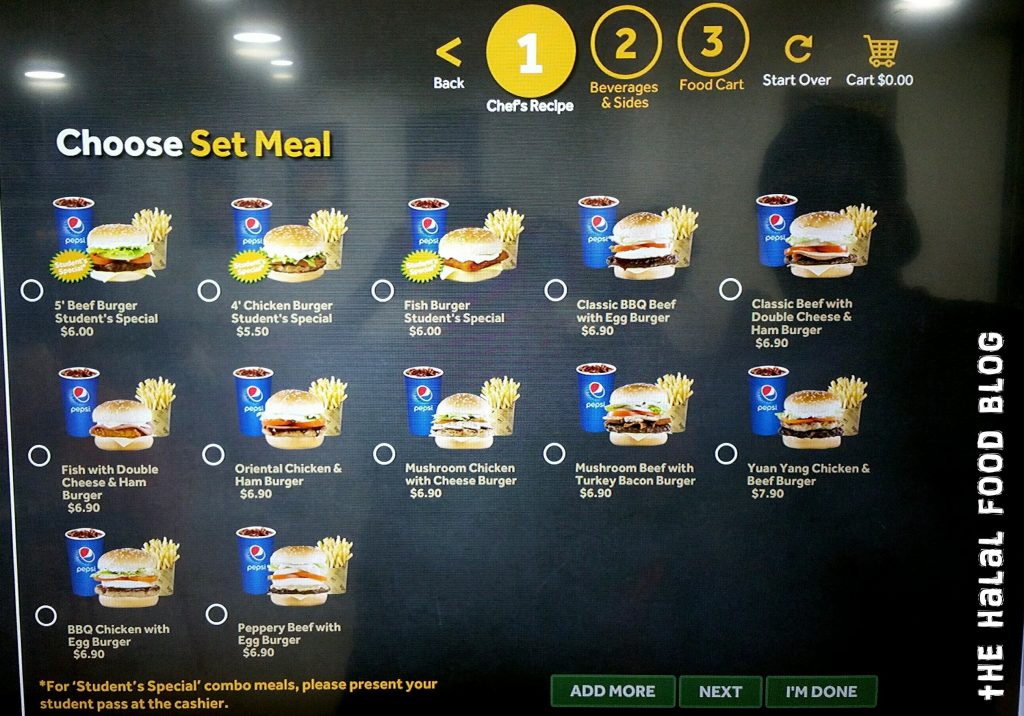 It'll take a little bit more thought when it comes to the Burgers though.
First you've gotta decide if you wanna Custom D.I.Y build your burger or if you want a burger that comes from the set menu. And I have to say they have quite a wide range to choose from.
You've got classic burgers and even familiar choices like the 'Peppery Beef with Egg Burger'. Sounds familiar? 😛
But if you're not sure what you're gonna choose if you're gonna build a burger from scratch, then maybe it's a good idea to choose from this Set Meals.
But as you saw from the video, building your own burger can be quite an adventure!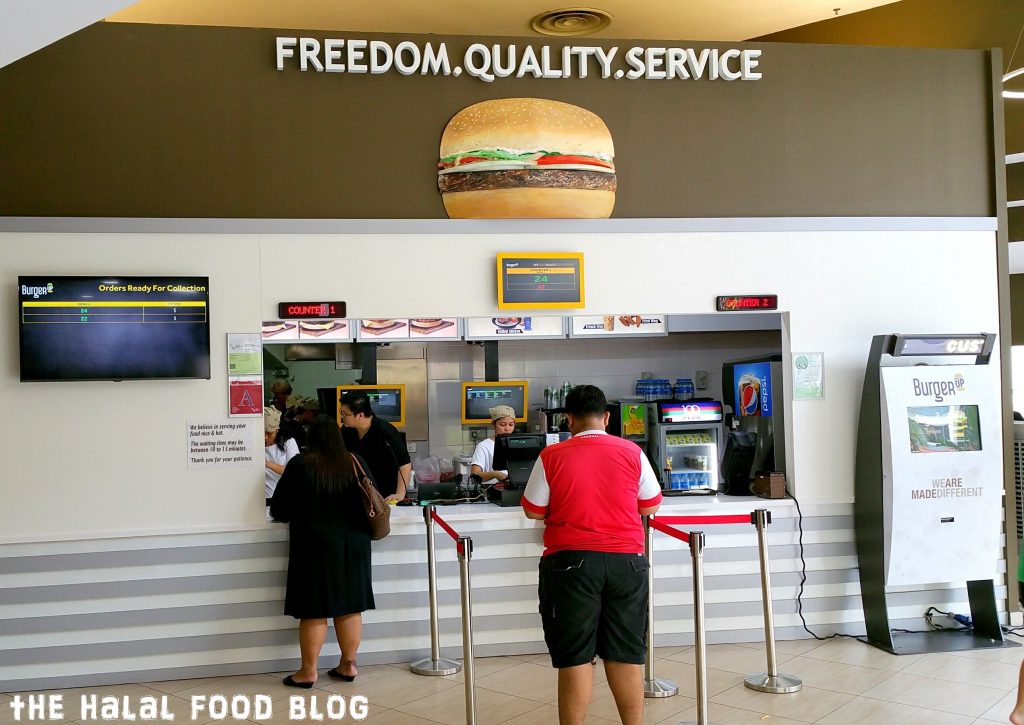 So anyways, once you're done at the machines, you'll be given a receipt with a breakdown of your order and the amount it will cost you for your meals. Here's a word of advice – DOUBLE CHECK YOUR ORDER!!!
It's all fun and games until you press a wrong option and end up choosing something you actually didn't want so do your part and make sure you re-confirm your order is correct!
You head to the counter (that's the one with the big burger above it) and hand them your receipt. This is also where you pay and your order starts getting prepped once you have done so.
And then it's just a waiting game until your number is flashed and you're ready to collect your food.
There's some writing on the wall that says the average wait is about 10-15 minutes because they "believe in serving your food nice & hot". That's definitely something we like to hear! But… more on that a little later.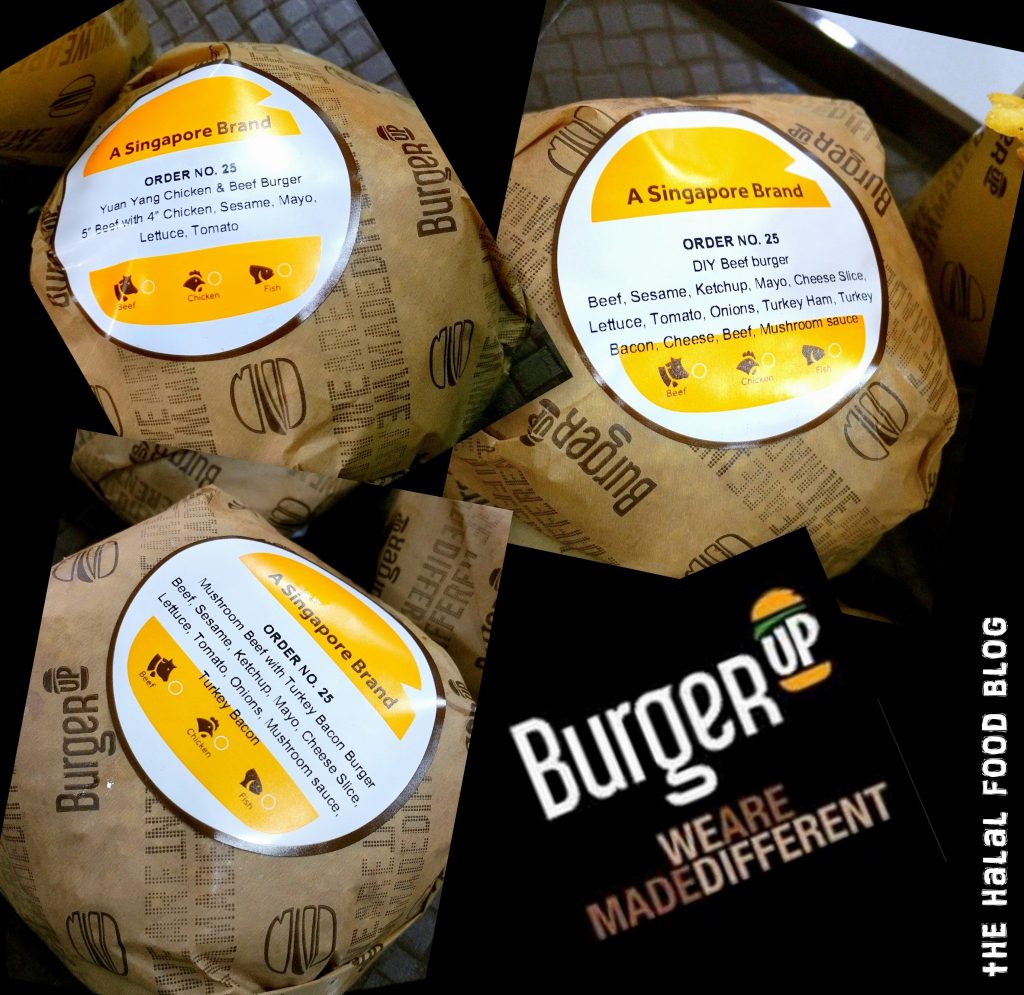 So once you've collected your order, you will see that the burgers are marked individually with what's inside them. Its a great help especially if you've ordered a lot of burgers for a large group and maybe some people chose similar stuff so read and you can't go wrong.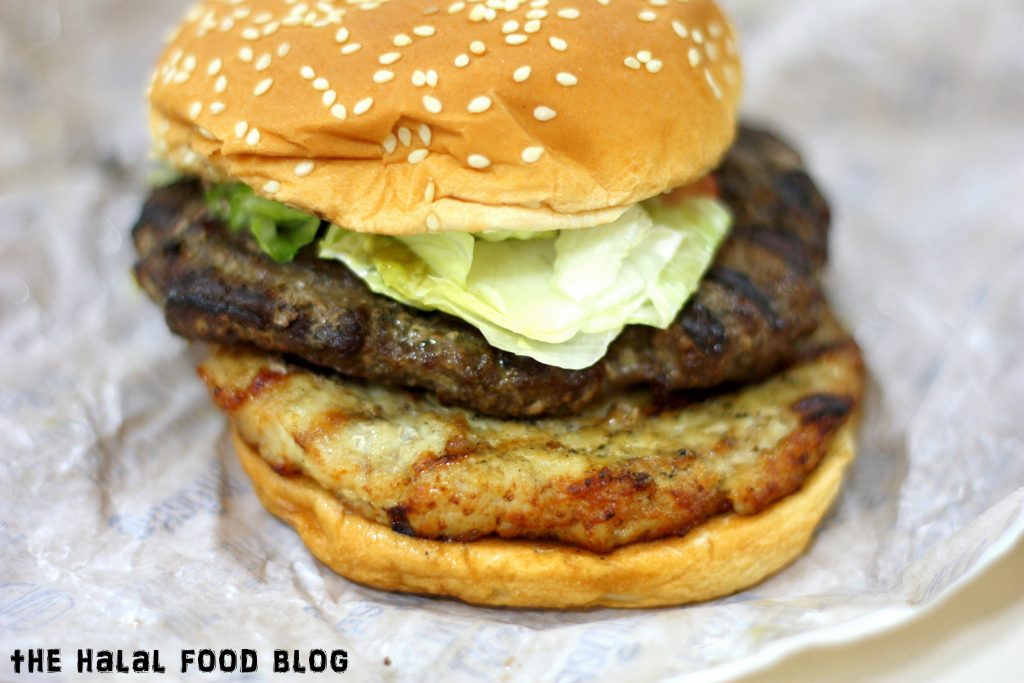 Yuan Yang Chicken and Beef Burger ($7.90)
So Yana decided to try something from the set menu and the Yuan Yang Chicken and Beef Burger seemed like a really good choice. Chicken? Beef? Can't decide? Then have both!! LOL
The patties were absolutely delicious! I think that's one of the things the whole team was unanimous about with all our burgers. And I repeat – THE PATTIES WERE ABSOLUTELY DELICIOUS!
I guess there's just something about chargrilled beef patties that rocks. Anyways there's mayo, lettuce, tomato and all served on a sesame seed bun. The set meal comes with fries and a drink and will set you back $7.90.
Just one problem though – the food was cold when it arrived! Both the fries and burger too!
And I'm not talking about warm or anything like that. I'm talking about cold. Maybe the food was placed next to a cooler or something while everything else was being prepared… But it was so weird.
Here's the burger I made and I had decided it was gonna be a DIY burger from the time we set out to BurgerUP. I was here to build my own burger and I was gonna pile on as much as I could LOL
I actually wanted to pile on 3 patties but the machine only allowed me a maximum of 2 patties and both had to be beef. But we found out later on that apparently you can add on more patties or even mix and match the patties at the counter when you present your receipt and you can pay the difference there too. Wish that the system can be enhanced to allow more patties and even mix and match patties if someone wanted.
I added Turkey Ham, Turkey Bacon, Cheese and Mushroom sauce plus the lettuce and tomato of course.
But a few observations about my burger if you don't mind please –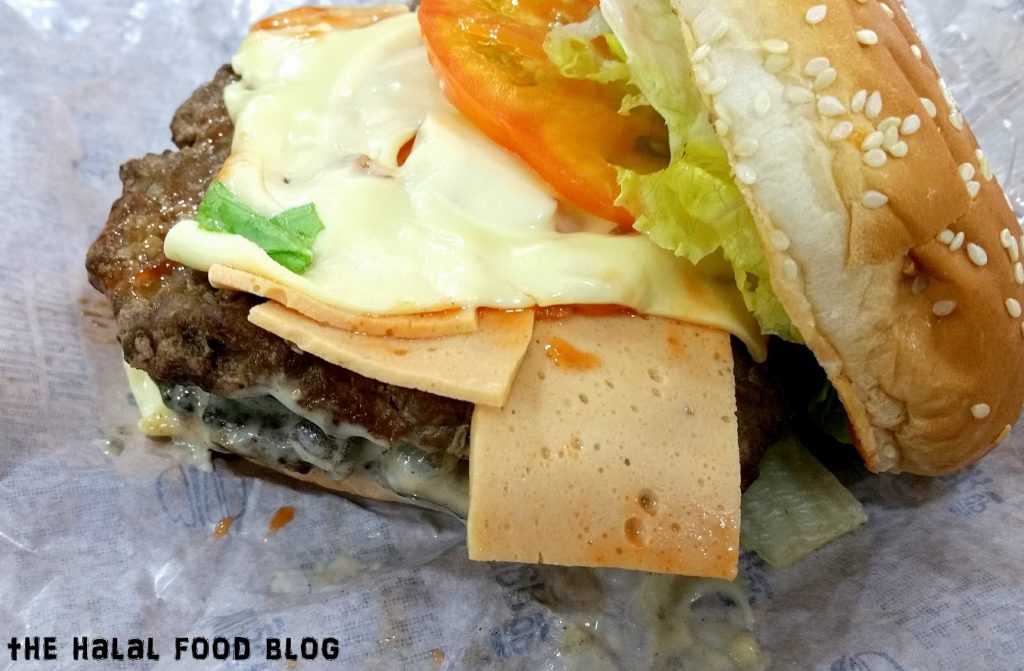 When someone says Turkey Bacon, the first thing that comes to mind is the crispy type of turkey bacon (yeah the type you get in the BBQ Turkey Bacon burger at Burger King). The Turkey Bacon here is errrrr not that type. It's more like a turkey loaf kinda deal here which is not bad but just wanted to let you know that it might not be the type you're expecting.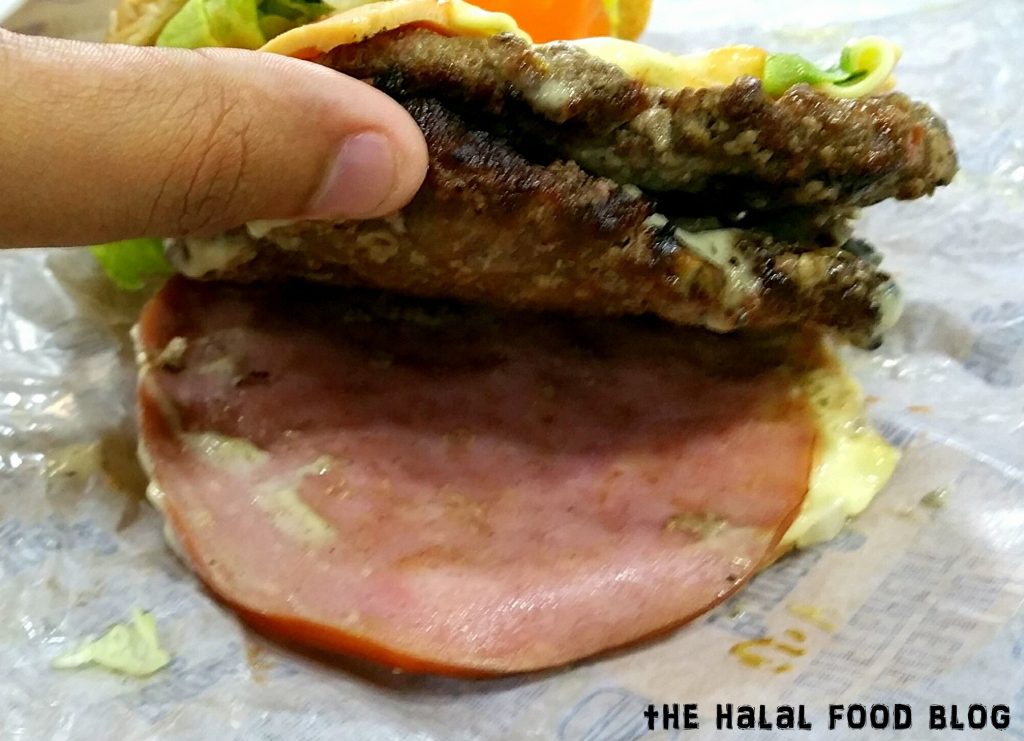 The turkey ham is thankfully just as expected. I don't know about you but I absolutely love Turkey Ham and much prefer it to Chicken Ham. And double thumbs up because I got 2 slices! Hehehehe
But I also noticed that they place it right at the bottom of the burger between the bottom patty and the heel of the bun (oh yeah I'm using technical terms like heel and crown of the bun now LOL) and that tends to make it a little soggy. But hey – anything for my turkey ham!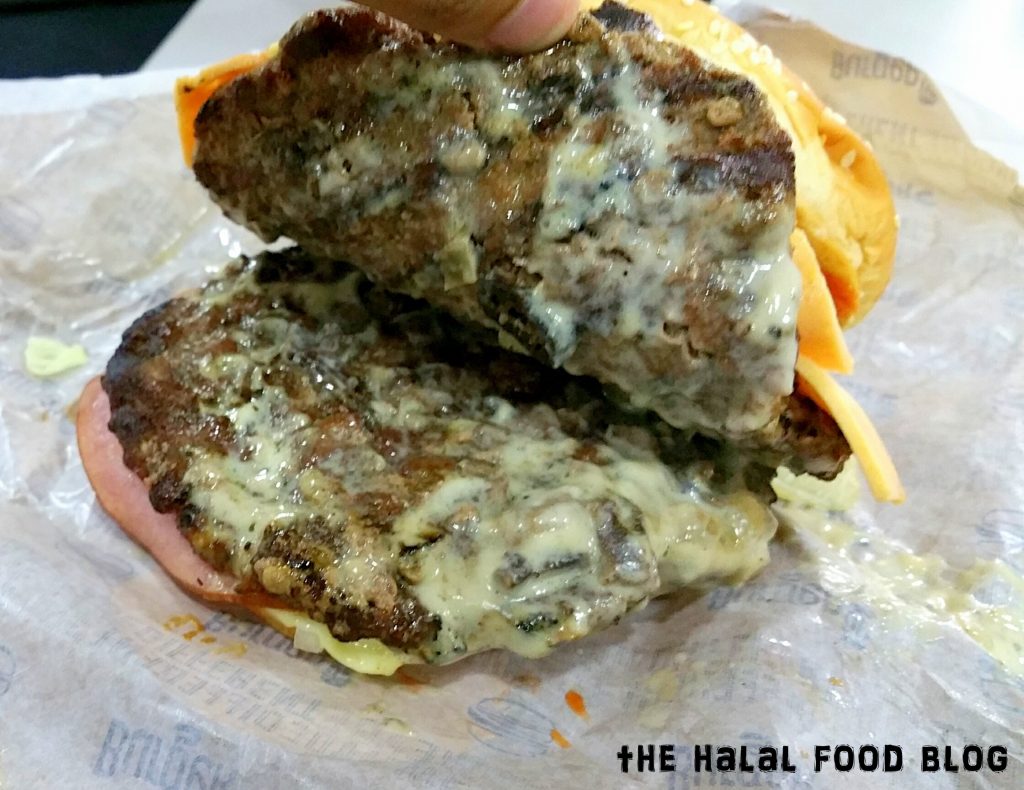 And maybe it was my bad luck but my mushroom sauce was errrr kinda lacking… Maybe more mushroom pieces in the sauce might be nice. I'm thinking maybe the scoop of sauce into my burger wasn't mixed so the mushrooms were not scooped in? Who knows. The Mushroom Sauce is an extra $0.80 which is a very very good price but I guess I was still expecting more.
My burger totalled up to $12.30 by the way.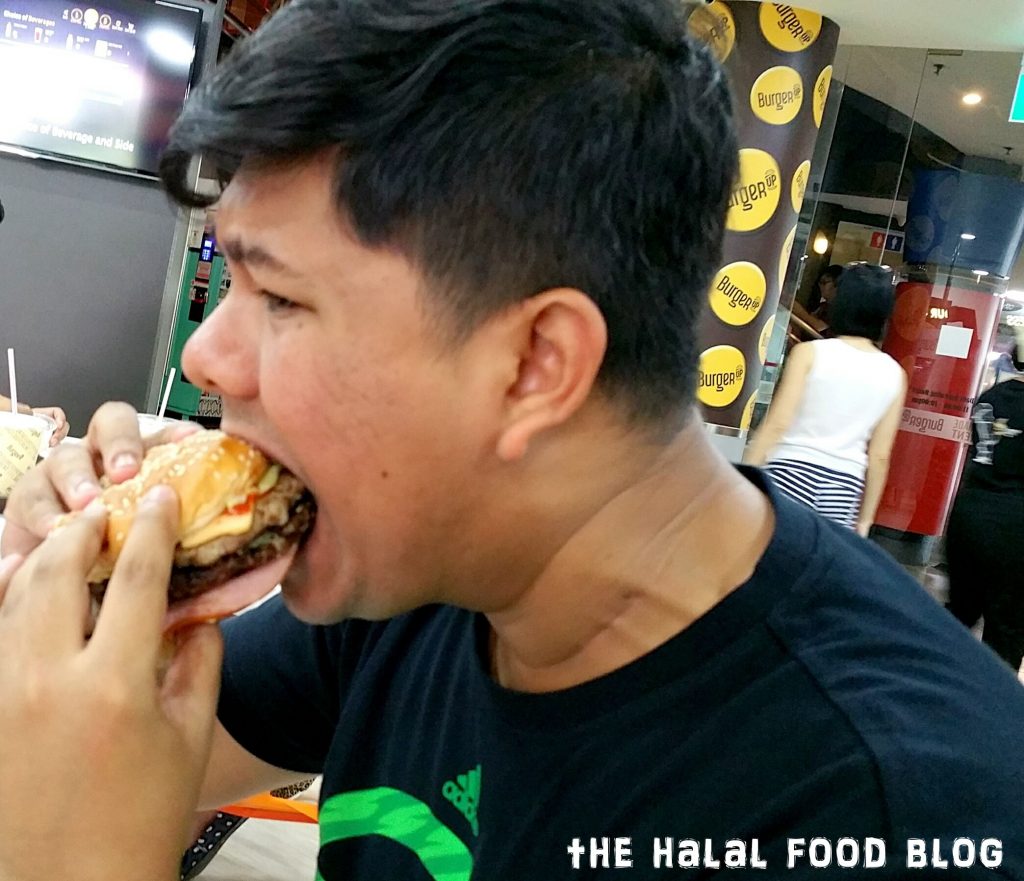 Here's a tip – if you're gonna build a big burger, please be prepared for it to be a BIG mouthful LOL
That means trying extra hard trying to look cool when you're taking a nice big chomp.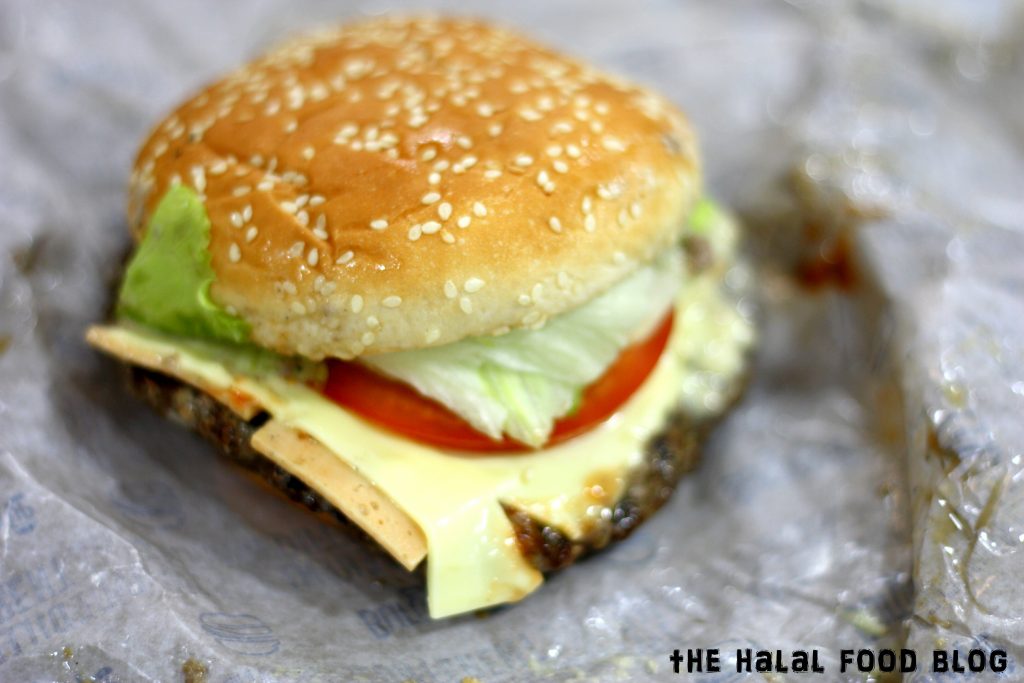 And last but not least, my Darling Wife also had something from the set menu.
Guess I was the only one who wanted to go big with the burger LOL
Besides the burgers, there are also some tasty sides you can have with your meal and some of them are actually really quite nice!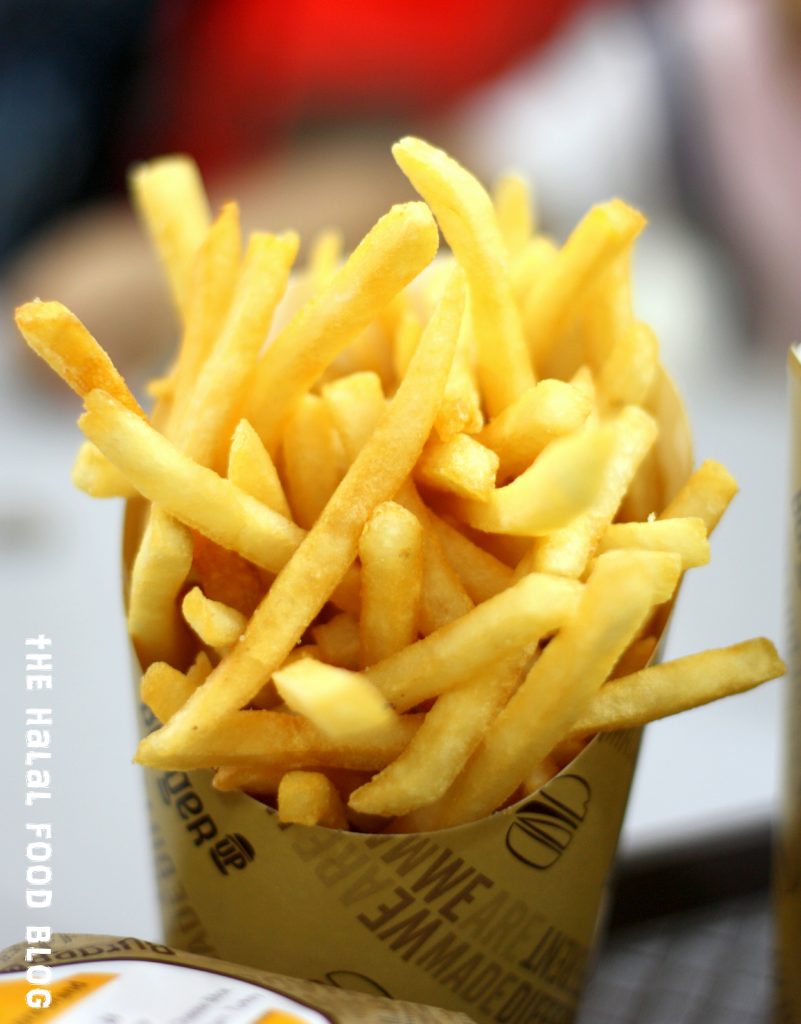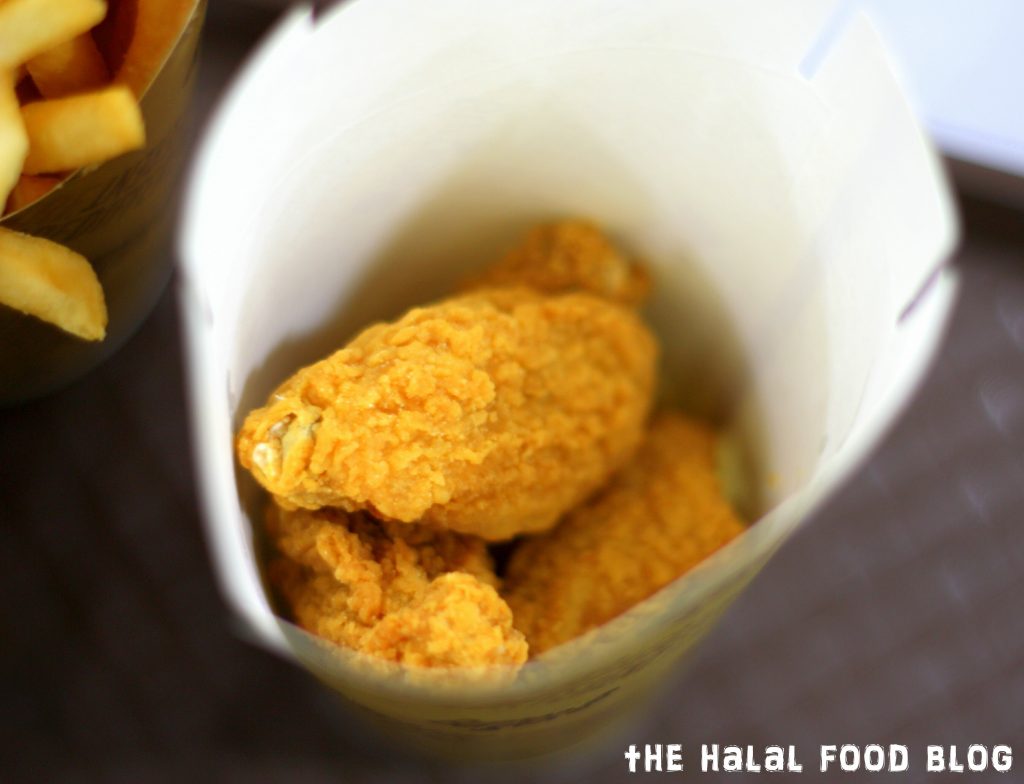 The fried wings were nice and breaded and best enjoyed while still hot. It's all mid-wing joints and they remove one of the bones so it's really easy to dip into sauce and then chomp down on the nice meaty section of that mid-wing. SLURP!!
The prices above are for ala carte but if you order a meal that comes with fries, you can upgrade to the wings and just top-up the difference of $2.00.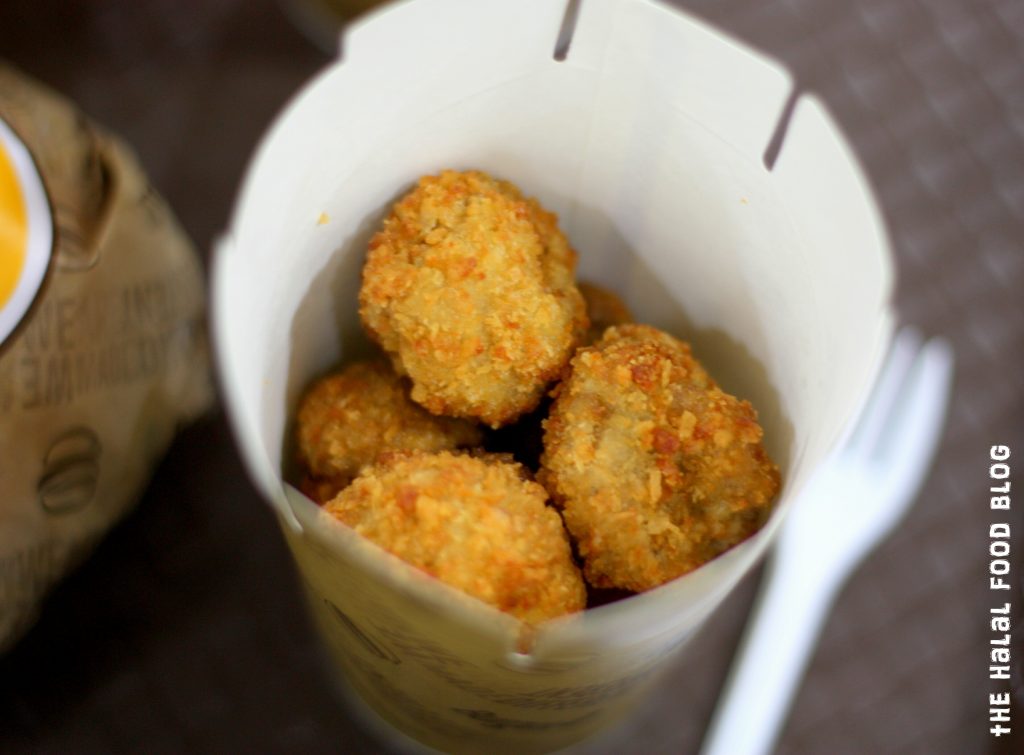 I REALLY enjoyed the Breaded Mushrooms! Maybe it's just me but damn power lah. The were nice and breaded and crispy and the tasty mushrooms inside. As you can probably tell by now, I really love mushrooms. Perfect little bite-sized tasty morsels!
Adam's Verdict:
DIY Beef Burger 3/5 — Fries 2.5/5 — Fried Wings 3/5 — Breaded Mushrooms 4.5/5
Maryah's Verdict:
Mushroom Beef with Turkey Bacon Burger 2/5 — Yuan Yang Chicken and Beef Burger 2/5
Fries 1/5 — Fried Wings 3/5 — Breaded Mushrooms 3/5
Azlan's Verdict:
Yuan Yang Chicken and Beef Burger 0.5/5 —  Mushroom Beef with Turkey Bacon Burger 0.5/5
Fries 0.5/5 — Fried Wings 2.5/5 — Breaded Mushrooms 1/5
Yana's Verdict:
Yuan Yang Chicken and Beef Burger 1/5 —  Mushroom Beef with Turkey Bacon Burger 1.5/5
Fries 2.5/5 — Fried Wings 3/5 — Breaded Mushrooms 5/5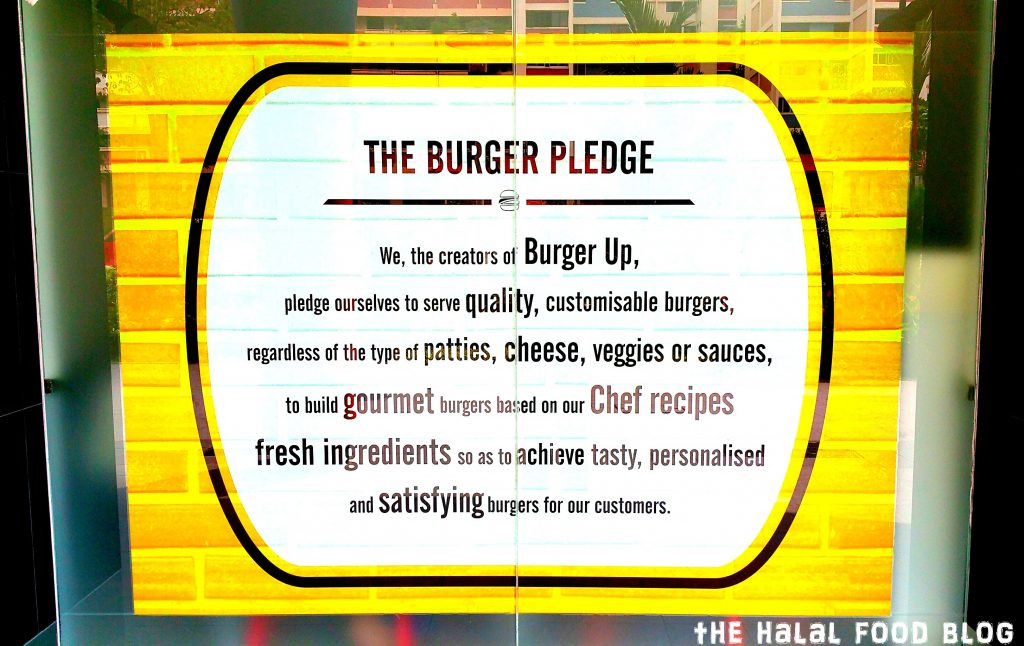 We think it's great that there's finally a Halal-certified place in Singapore that allows you to build customized burgers just the way you like it. That's right – you are in control. Not only is the food tasty, it's also very very reasonable priced. But as always,
Maybe it was our bad luck. Maybe it's because they're still considered quite new. Maybe there's still a little tweaking needed here and there. Well, whatever it is, we hope our feedback makes a difference somewhere and we're sure that BurgerUP will be on the up and up (see what I did there) and we can't wait to visit again to see if things turn out even better than our first visit! 🙂
Yishun Ten Complex #01-03
Facebook: www.facebook.com/BurgerUpSG?fref=ts
Instagram: @burgerup.sg
Operating Hours: 11.00am til 10.00pm Daily
All information (including prices, availability of item on menu and Halal status of establishment) are accurate at the time of posting. All photos used in this site are property of The Halal Food Blog unless stated otherwise.