Just before we departed for Japan, we caught wind of a new makan place opening pretty close to where we lived. Just about a 15 minute walk (or a 5 minute bus ride) from our place is the Tampines West CC. And in that CC resides Brothers In Fine Food (BFF), a new eatery from the same minds that brought you the popular Penny University.
(Plus, Alt Yard is just downstairs!!)
We really wanted to visit before we flew off but alas time was not on our side.
So, the very weekend after we got back from the Land of the Rising Sun, we decided to drop in and see what they had to offer.
We didn't really know if we had arrived at the right place because there was no sign above of or on the door of the place but then we spotted their emblem along one of the outer pillars so we knew we were in the right place LOL
I was actually quite taken by the decor. Plenty of seating both indoors and just outside of the main dining area. Simple (almost industrial) decor really went well with the whole vibe of the place. Yeah, maybe you can place it in the 'Hipster' category and I could definitely see myself chillax-ing there to pass the time.
Plus, the booths at the far side provided absolutely beautiful light! Perfect for selfies or, in our case, great photos of the food we were about to enjoy.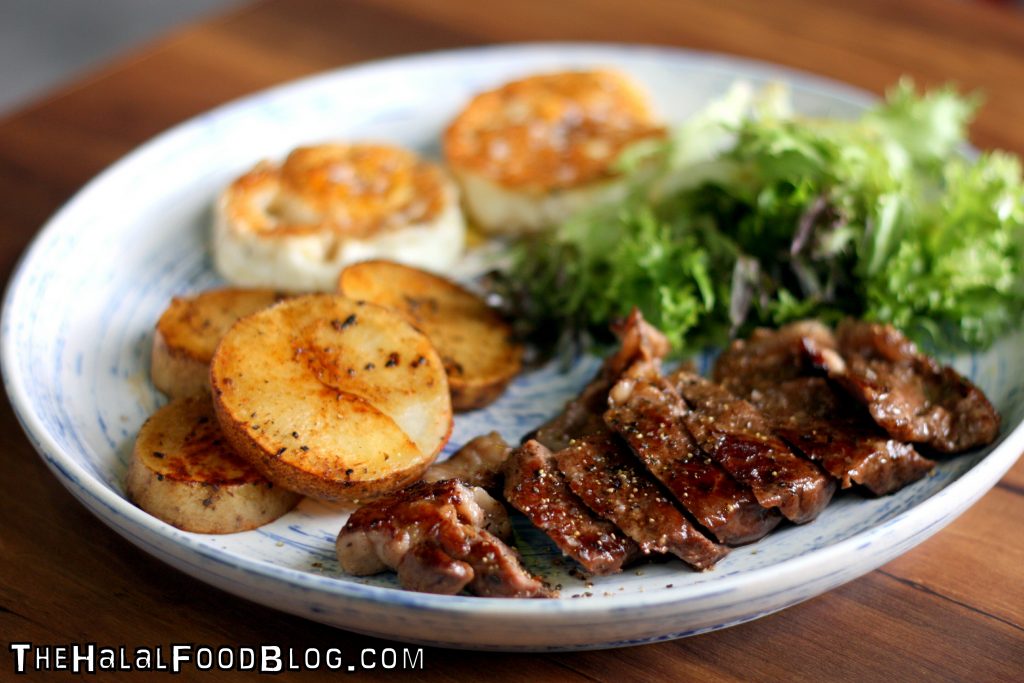 Looking at the menu, we were actually having a bit of a hard time deciding what we wanted to have LOL especially since this was the first time we were visiting, it seemed like almost everything on the menu was something we really wanted to try. Anyways, it was the Breakfast / Brunch menu on offer at the time we arrived (just around 1pm).
In the end, we narrowed it down to either Butcher's Daughter or Builder's Breakfast because we were in the mood for a bit of meat. In the end, we (obviously) chose the former!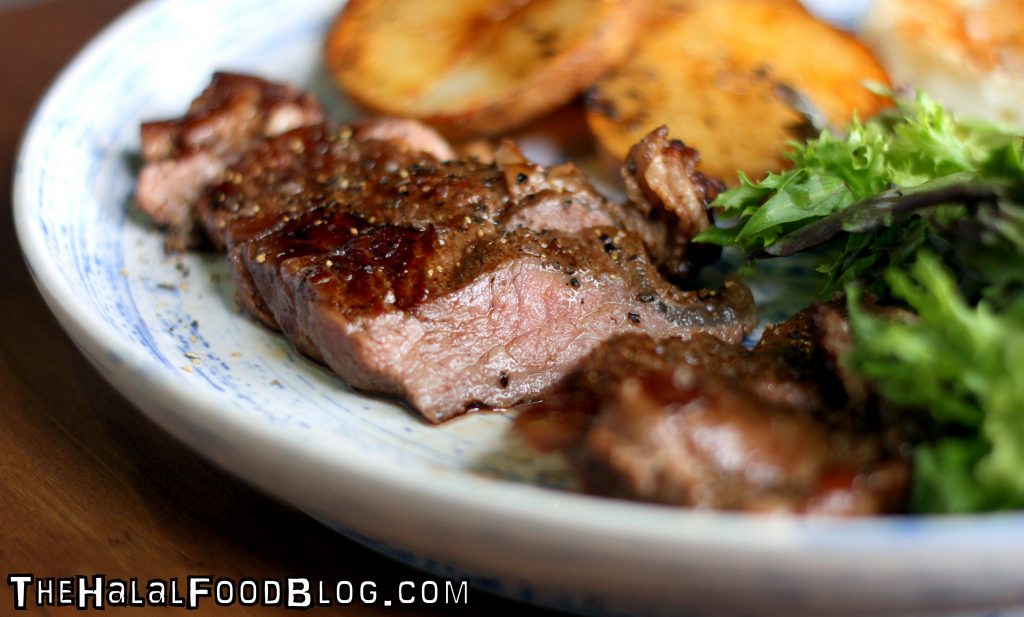 So the star of this dish is a fillet of beef that has been sous-vide and then seared for good measure. We have absolutely fallen in love with sous-vide cooking because so far it's yielded some really tasty and tender food especially when it came to meats.
Same case here – a beautifully tender serving of beef that's been seasoned simply with salt and pepper so you still get to enjoy the flavour of the beef that's been enhanced with a quick sear. They do ask your preference of done-ness when you ordered and we went with the Medium Well by the way.
So besides the meat, you get some eggs, sliced potatoes and a bit of a side salad. You can choose if you'd like your eggs done Scrambled, Sunny Side Up or Over Easy (like us). Again, seasoned simply with pepper and salt and very enjoyable since meat goes best with some potatoes and eggs and I right?
I do wish they'd have added an extra component onto this platter though. Maybe a slice or two of grilled tomatoes or perhaps some small strips of that Sourdough bread that appears in other dishes on their menu would have been nice.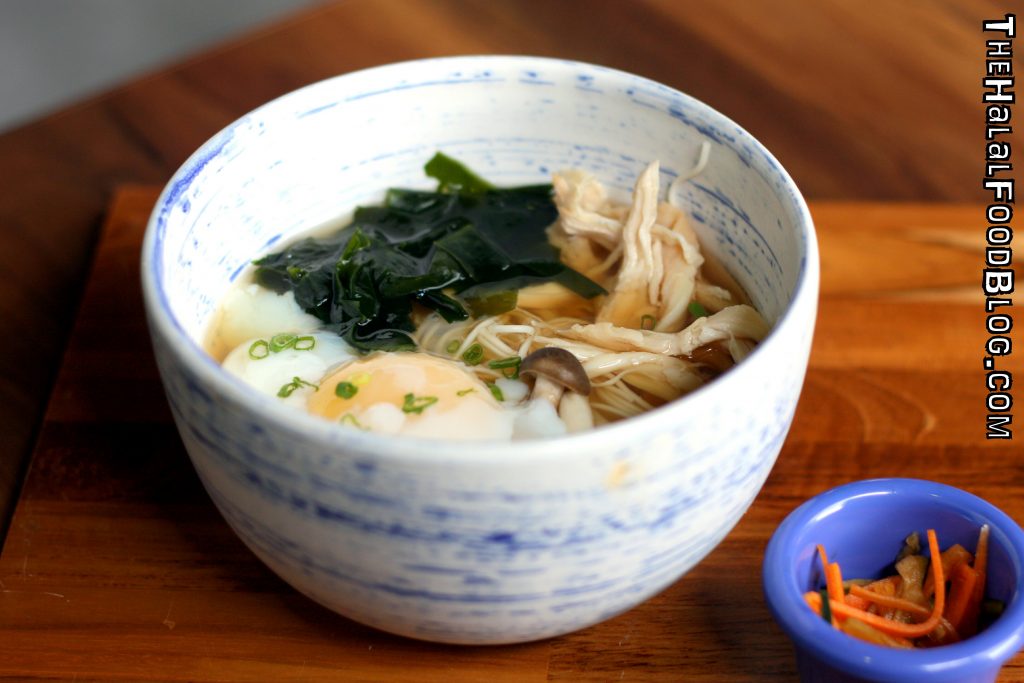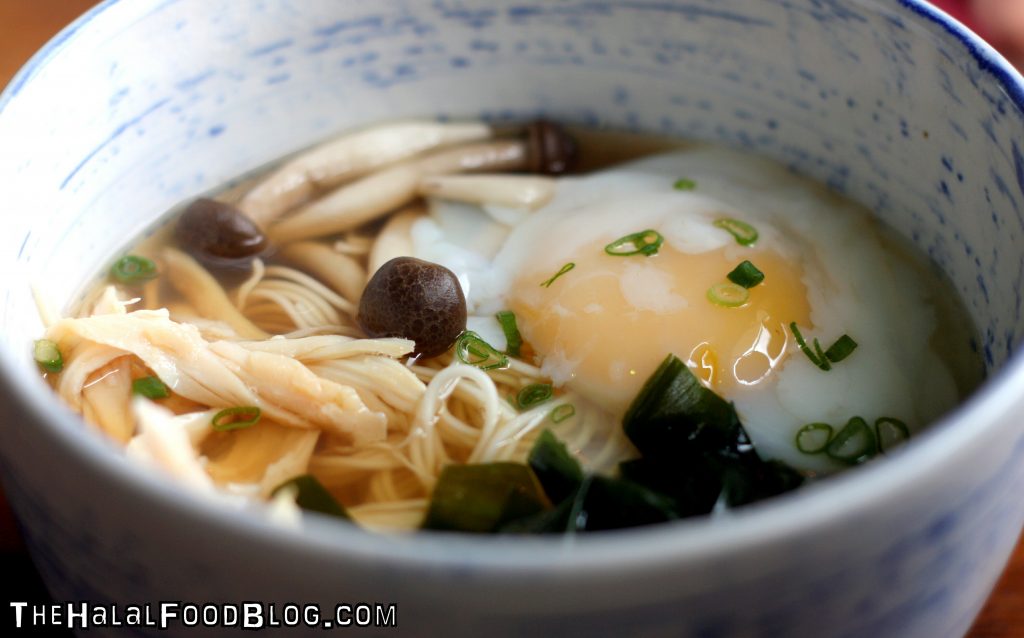 I had a few options on the menu (which I have put on a list to try the next time we visit) but for some reason, I chose the most Japanese-related dish on the menu despite just returning from Japan a few days ago. Was it going to be a mistake?
So you've got some noodles, which is actually Mee Sua, swimming in a Dashi broth accompanied by some shredded chicken, seaweed, Shimeji mushrooms and a poached Onsen egg to make up this dish.
And to answer my own question – yes it kinda did turn out to be a mistake ordering this…
I think the main concern for me was the noodles. I mean, don't get me wrong – I love Mee Sua.
But this serving seemed a bit out of sorts. I can't quite put my finger on it but I think the noodles were not cooked through which resulted in a pretty weird texture and a bit of a starchy aftertaste which is not something you'd get very often with Mee Sua from my experience.
I did quite enjoy the rest of the dish though. The Dashi broth was delicious and runny yolks are always welcome at our table. Pity about those noodles though.
I knew I should have gone for those Moroccan Baked Eggs.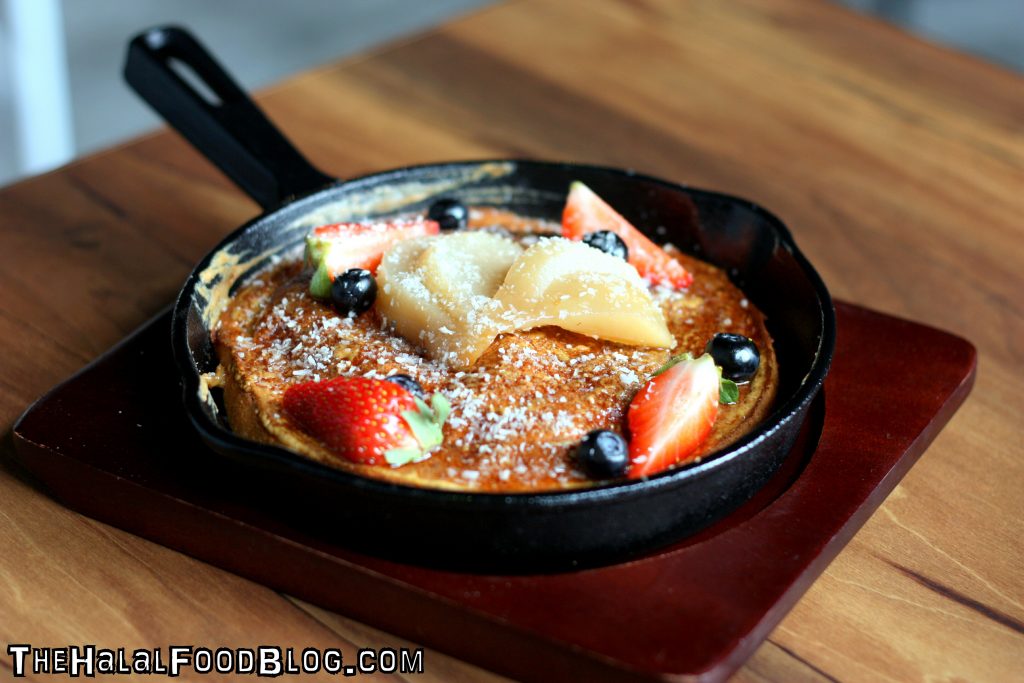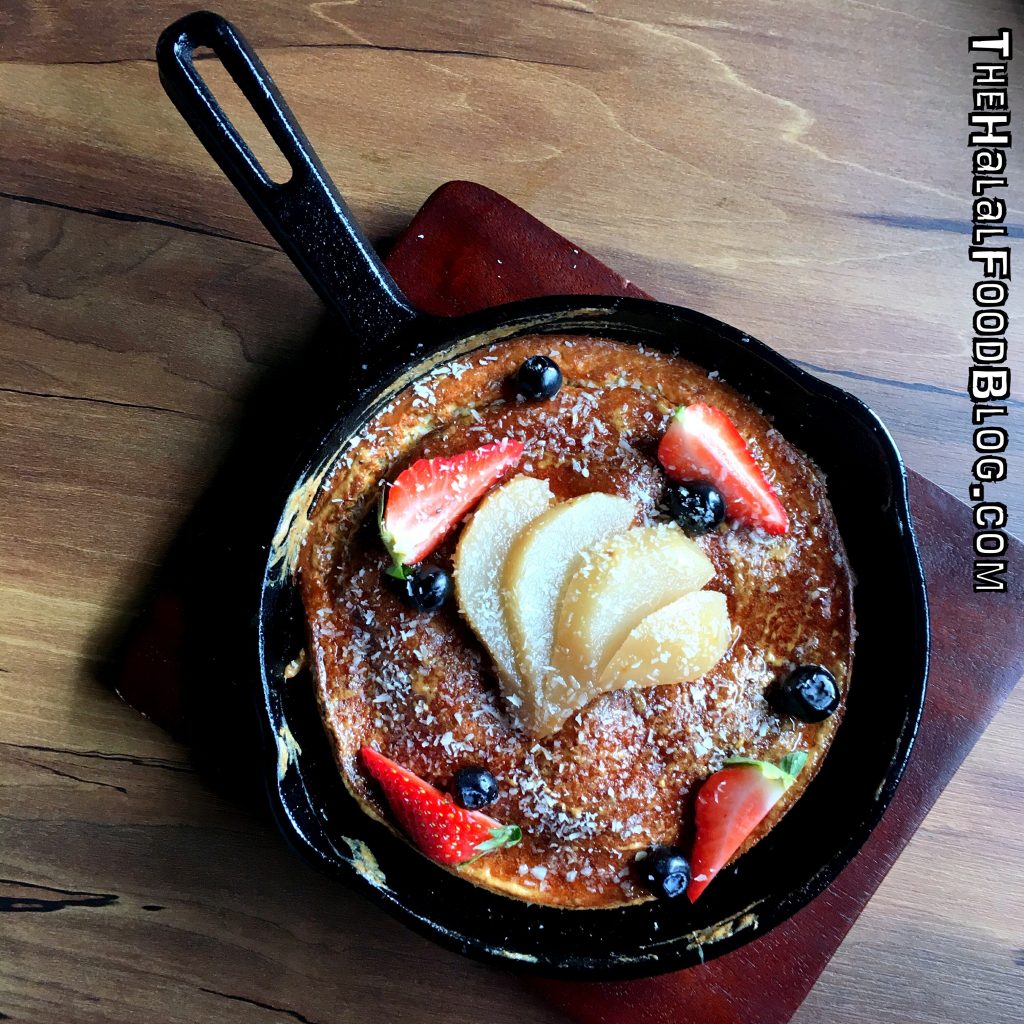 Quite a few options for a sweet breakfast (aka dessert time!).
The Smoothie Bowl seemed a bit too light for us and we almost decided on the Peanut Butter Jelly Toast but in the end, the temptation for pancakes trumped everything else!
The menu says "coconut flour" in the pancake but we didn't really taste it. Got the buttermilk but the only coconut flavour came from the desiccated coconut sprinkled all over the pancake that's been cooked in the hot pan it's served in. Quite tasty to be honest!
Hmmmm but I do wish they'd have included a bit of maple syrup on the side though. For people like us who like it extra extra sweet. Maybe in one of those small jars or something.
The only other gripe we had was the poached pear… It was still a bit too firm and the only flavour we got from it was from the spices they poached the pear in. Maybe a bit longer to make it softer and more sugar syrup to give it that extra kick.
Seems like everything we're asking for is to make our dessert extra sweet LOL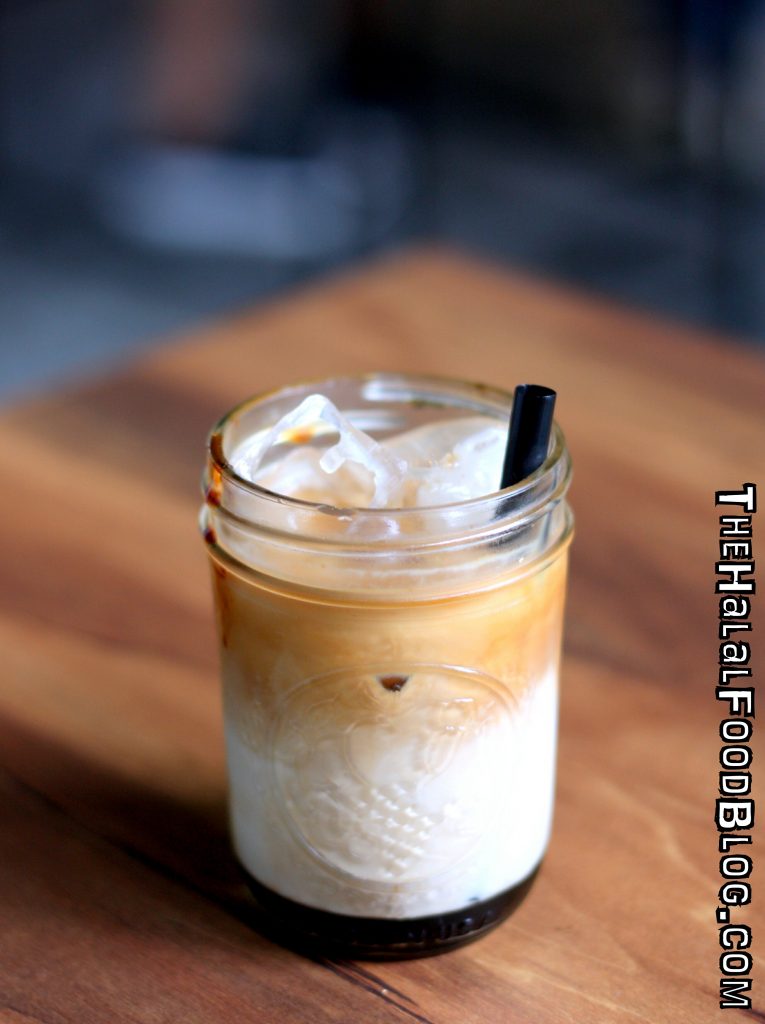 So we asked the staff for their signature beverage and the Spiked Muddy Espresso was recommended.
At first, we were wondering why it was so small (that straw is literally 1/3 the size of a regular straw) and then now I realize that Espresso is normally served in small doses which explains it.
So you've got coffee, milk and the special ingredient – gula melaka. It kinda reminds me of a Three Layer Coffee but… a mini version LOL overall okay lah but a bit pricey to be honest especially if you're not a coffee lover and/or you're like me and want a full-sized beverage.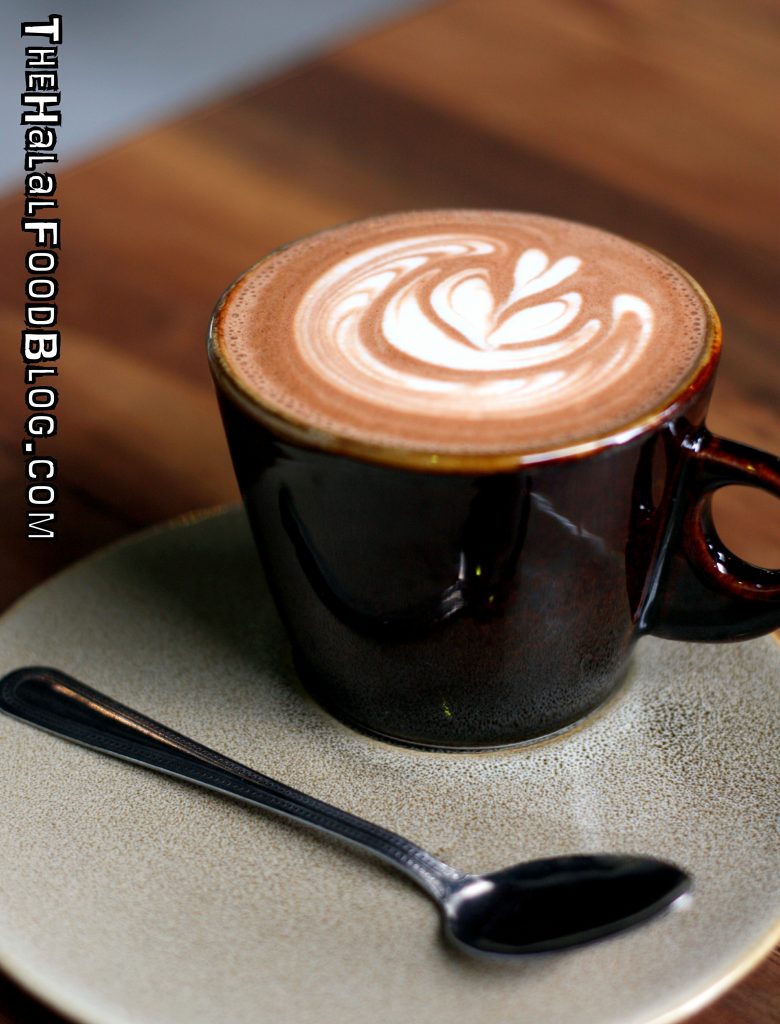 I went with the Jaffa Orange Mocha which I did quite agree with. If you love Orange Chocolate, this one is the one for you! This Mocha is infused with orange flavours and absolutely delicious.
But as I sipped on this delicious beverage, I could not help but wish there was a small cookie or biscuit to accompany the coffee. Especially since the saucer definitely had some space for it LOL
Anyways, they do have a selection of cakes and pastries to choose from at the counter to go along with your coffee or even your Mocktails.
Overall, I think it was quite a promising start for our first visit to BFF. Plenty of choices on the Breakfast / Brunch menu and we haven't even taken a look at the Lunch / Dinner menu. Maybe a few touch-ups here and there as time goes by and it's always great to see more and more Halal / Muslim-owned makan places opening. Always great to #SupportLocal right!
Anyways, watch this space for more in the future hopefully. Since we're technically close by, I guess we have no excuse for not visiting again in the future?
Tampines West CC
5 Tampines Ave 3 #02-07
Facebook: www.facebook.com/brothersinfinefood
Instagram: www.instagram.com/brothersinfinefood
Operating Hours: Closed on Mondays
12.00pm til 10.30pm Tuesdays til Fridays
9.00am til 10.30pm Saturdays and Sundays
All information (including prices, availability of item on menu and Halal status of establishment) are accurate at the time of posting. All photos used in this site are property of The Halal Food Blog unless stated otherwise.
---
Brothers in Fine Food offers 10% off for all FRIENDS Card holders. Valid until 6pm on weekdays.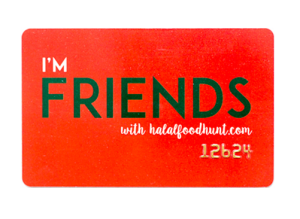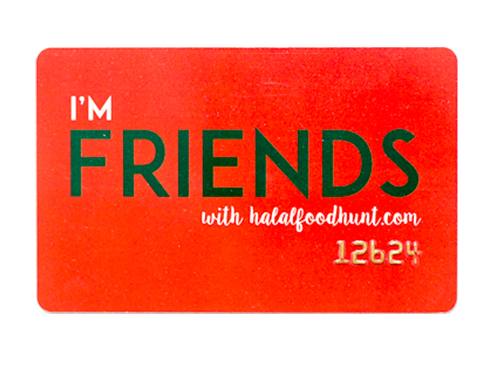 Get your FRIENDS with halalfoodhunt.com Rewards Card now at only $18/year and unlock discounts at over 60 halal restaurants, cafes, bakeries including online e-commerce businesses in Singapore. For a full list of where you can enjoy your card, click here.