You know what they say right? You can find delicious food in the most unexpected of places.
Case in point – Brothers In Fine Food!!
Believe it or not, this hip and trendy cafe is located within… *wait for it* a community centre! Tampines West CC to be exact which also happens to be my very own CC (as in not I own it but I serve there as a volunteer LOL) But then again, they also say that, sometimes, the closer something is to your location, chances are you might visit less. Which is kinda true in my case with Brothers In Fine Food (BFF).
Despite spending quite a bit of time at the CC (and I also stay about 15 mins away), I tend to say to myself "I'll just visit it next time since it's so nearby" and next time becomes next time and next time. Well, I started visiting recently with quick short trips to get coffee and the likes in between meetings but never found the time to have a proper sit down makan y'know what I mean. Plus, people seem to have this idea that cafes within a CC are nothing special for some reason?
Well, they dropped us an invitation, I decided to gather the whole gang and try their (recently updated) dinner menu! And boy oh boy there was some pretty good stuff there!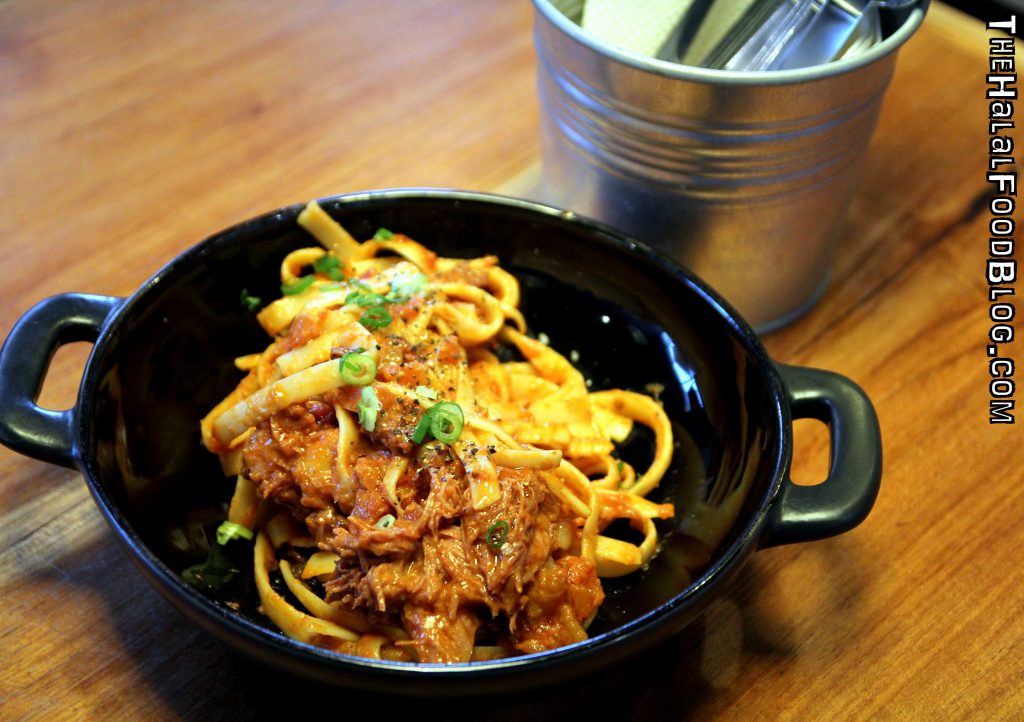 If you remember our first visit to Brother In Fine Food, it was the brunch menu so it was great to finally get to review their dinner menu nice and proper. And since we had the whole gang with us, we decided to go all out and try as much as possible!!
The Duck Ragout (pronounced as Rare-Goo btw) is from their 'Smalls' section on the menu (which is pretty much appetizers/starters) but to be honest, this dish is anything but small if you know what I mean.
ZOMG this Duck Ragout is a star! The 24hr pulled smoked duck is as tender as you can imagine. If you are not a fan of duck, this might very well change your mind. The creamy tomato-based ragout sauce is really full of flavours that bring out the best of this dish. A little tangy from the tomatoes and a little sweet basil here and there.. FUYOH!!
I also want to pay special mention to the pasta itself. They use Tagliatelle which is not exactly common when I come to think about it. But I do tend to favour it because it is a slightly thicker cut than most pastas which means a nice bite when you chomp down. The tagliatelle also does a great job of retaining a nice coat of the ragout sauce which means you are guaranteed full flavour with every mouthful.
At $9, this dish a steal! A definitely must have when you visit BFF!! (We had 2 servings FYI LOL)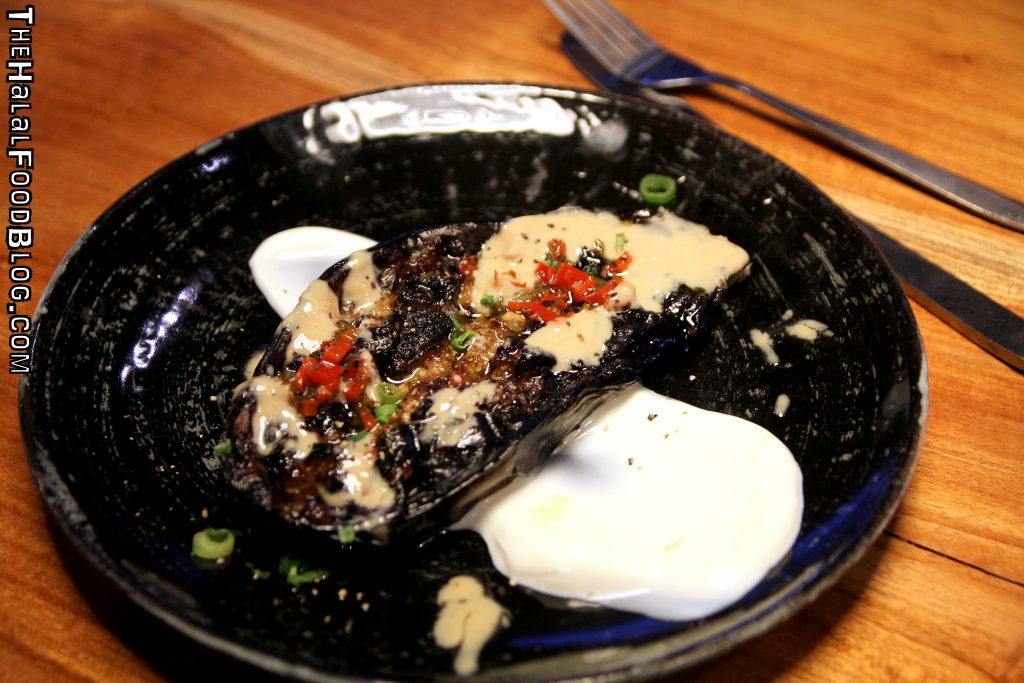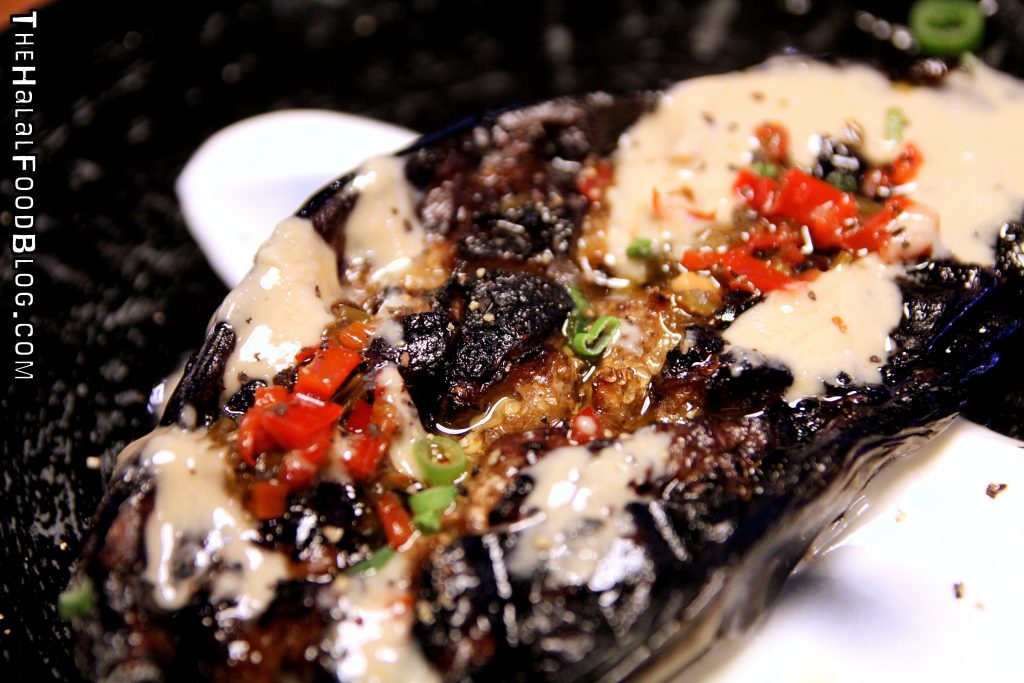 I think that if I hadn't put down the dish name there, a lot of you will probably be scratching your heads now trying to figure out what exactly is on that plate right? LOL
Well, to be honest, I think they Grilled Aubergine With Tahini looks absolutely gorgeous. Whether you're a fan of aubergine or not, I think the plating is genius. Black on black, a little abstract, a little mysterious. After all, we are talking about fine food here right?
I am a big fan of aubergines (aka eggplant aka brinjal) but to be honest, I've never had them served up so fancy before *cue Iggy Azalea's Fancy* and it was actually quite nice!
I know plenty of you may not be fans because y'all think that aubergines are all gooey and slimy etc but no leh that's not always the case. In fact, you can see from the photos above that the aubergine flesh is pretty firm enough to slice through.
The Tahini (sesame seed ) keeps with the Mediterranean theme of this dish and the (pickled?) chilies give it a bit more depth if flavour. There's also a good swipe of yoghurt on the dish (which I didn't quite fancy) that also keeps thing Mediterranean and helps cut through the strong flavours already on the dish.
Anyways, other 'Smalls' on the menu which may be a good start to your meal include the Arugula and Parmesan Salad (more on that later!), Beetroot Hummus and the Seared Tuna with Sesames.
Talk about Lamb Shank Level Up!
Harissa is a chili pepper paste that is very popular in Arab, African and Mediterranean cuisine thanks its distinct and spicy flavour. As a matter of fact, I tend to see it being paired very often with lamb!
If I had to guess, I'm going to say that the Harissa played very heavily in the marinating portion of this dish because you can get hints of that Harissa flavour when you tuck into your lamb. The lamb shank itself is braised at a low temperature for no less than 12 hours! In the words of Michael Bolton – that's some "time, love and tenderness" right there if you know what I mean!
The lamb shank is served with a spicy tomato reduction, glazed raising (for a little bit of sweetness here and there) plus some Israeli pearl couscous.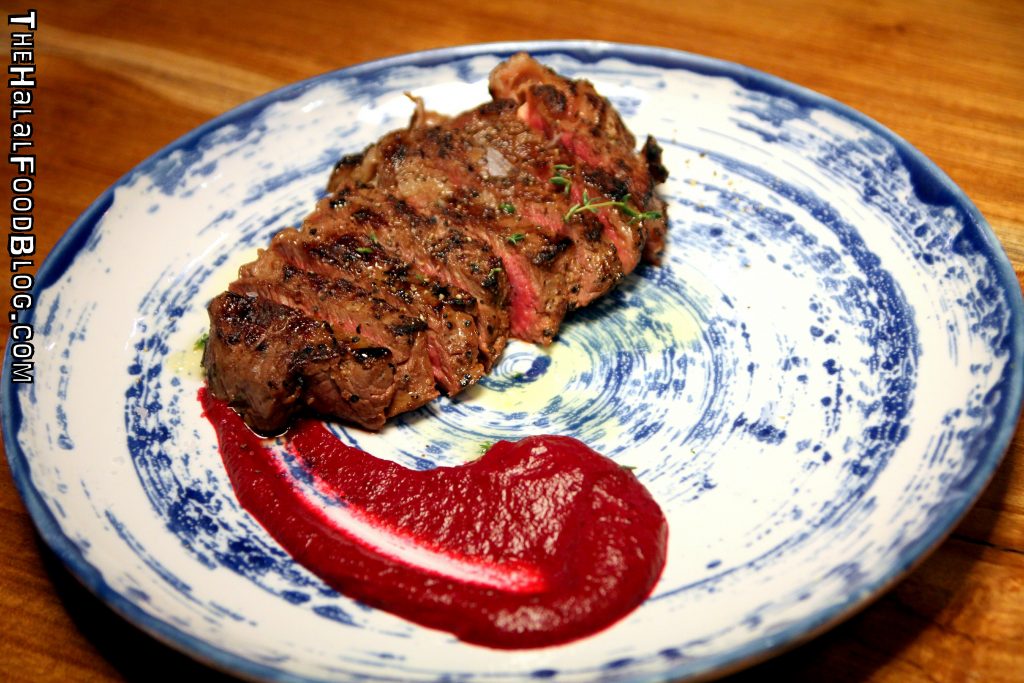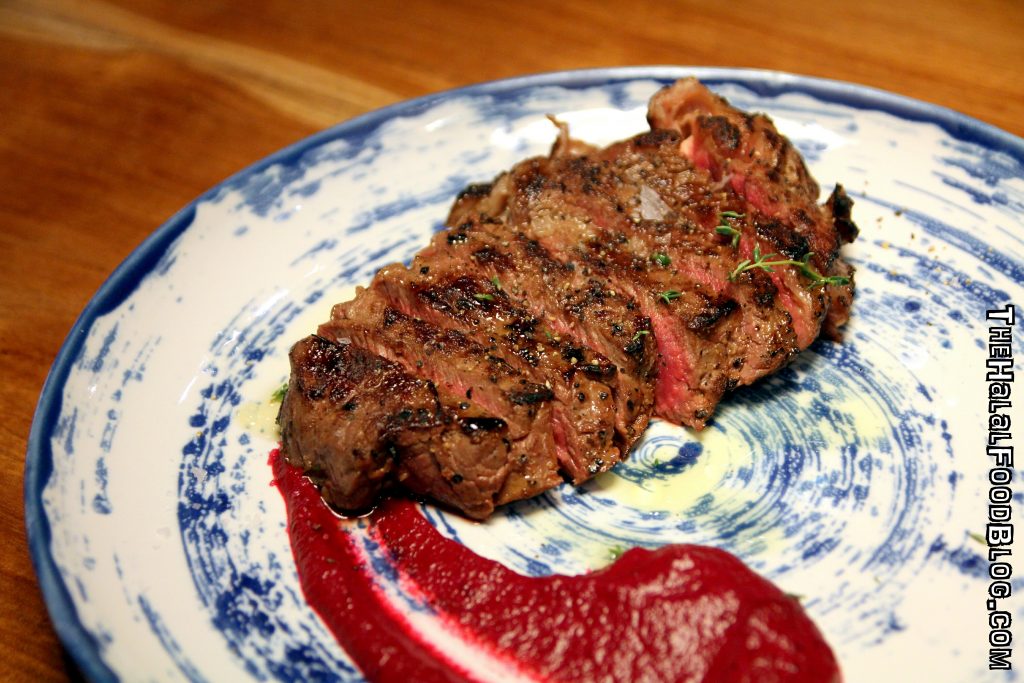 Here's one of their most popular dishes – the Beef Steak.
In fact, it's so popular that when they took it off the menu for rotation, they got an overwhelming call from their fans to bring the dish back LOL so here it is!
Hmmmm… now that I think about it, this is the dish from BFF that I always see being posted on Instagram!
Who can say no to good quality beef that's been given the sous vide treatment to achieve the done-ness of your choice right? Meat lover unite!
The one you see above is actually done to medium rare which is probably the most popular choice for a lot of you I'm sure. For me personally – I actually like to go well done or maybe even just medium well. Yeah yeah yeah I know I know a lot of people will say that's horrible and is not the way to enjoy your steak. But hey, that's the way I (and some other people) like it and I guess we should all eat food that we like am I right? LOL
Well, let the staff know how you'd like your steak done and I'm sure they'll be happy to oblige whether it's Blue or Medium or Well Done.
But what I will mention is that I wish there was a bit more on the plate to accompany the meat. There seems to be a a glaring void on the dish when you look at it LOL maybe some potatoes (maybe sliced and roasted like The Butcher's Daughter or maybe even mashed?) or veggies (roasted or fresh also can) might be nice. If you still want the atas-atas touch then perhaps some brussel sprouts (ooohh!) or asparagus might do the trick! Just some humble feedback 🙂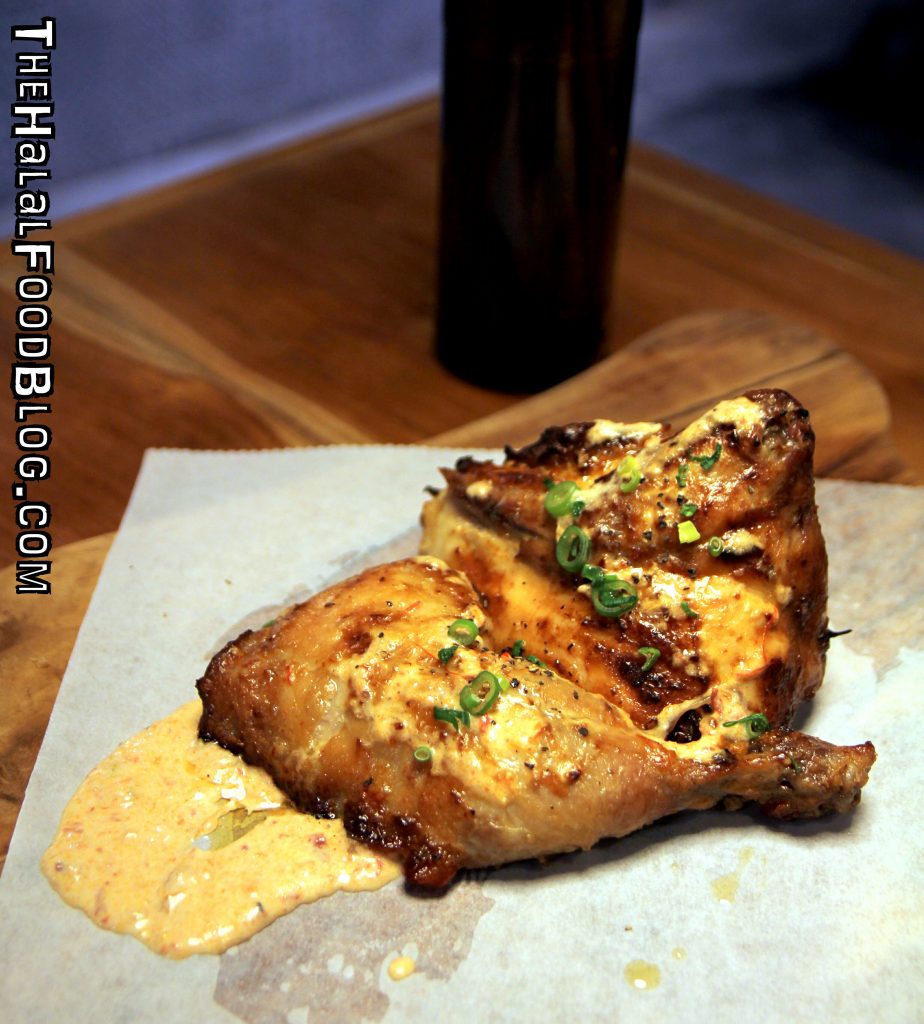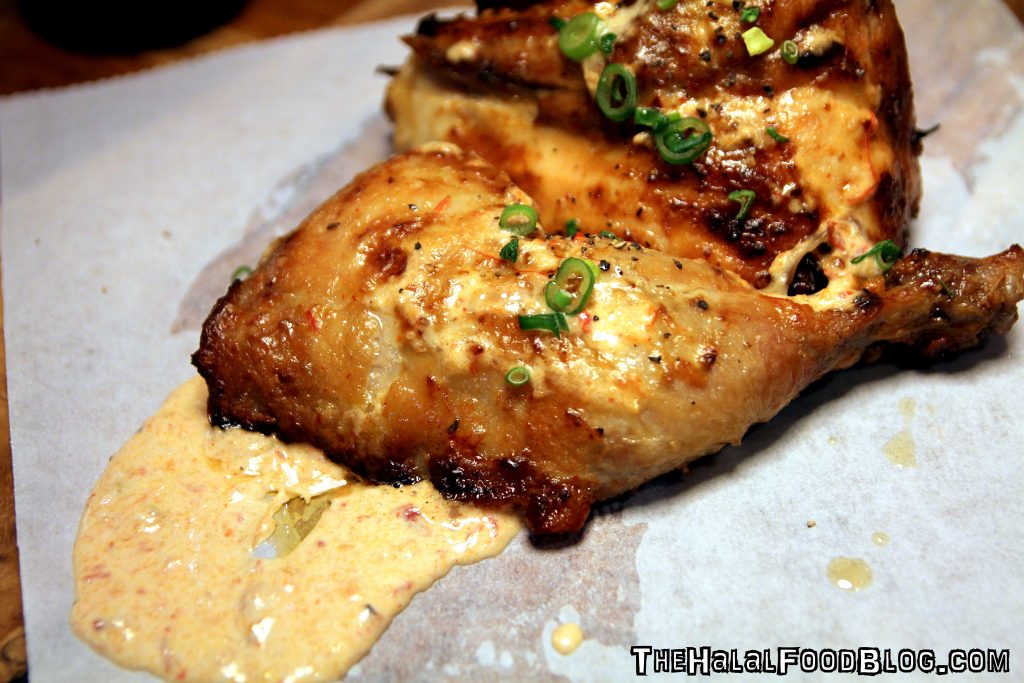 Let's leave the red meats out of it for awhile. Let's not neglect the poultry, people!!
Now, I have to admit that the Kelantan Roasted Chicken looks as fantastic in person as it does in the photos above. It's half a chicken that has been sous vide (to ensure it's juicy and tender) and then roasted (for that nice glazed finish). It's also paired with what they describe as a "Kelantan perchik spicy coconut cream glaze".
That's actually a very accurate description!
The first thing that comes to your mind is 'Lemak.. Chili.. Padi.." LOL but it's not that spicy lah btw. More of the lemak flavour.
I have to say this is another thumbs-up dish. Delicious despite appearing simple. Hmm.. maybe a bit too simple? I think this is another great dish that might be even greater with a little something served on the side. Even though it's Kelantan style, I don't mean serve with white rice lah LOL maybe some potatoes or veggies or what might up the ante!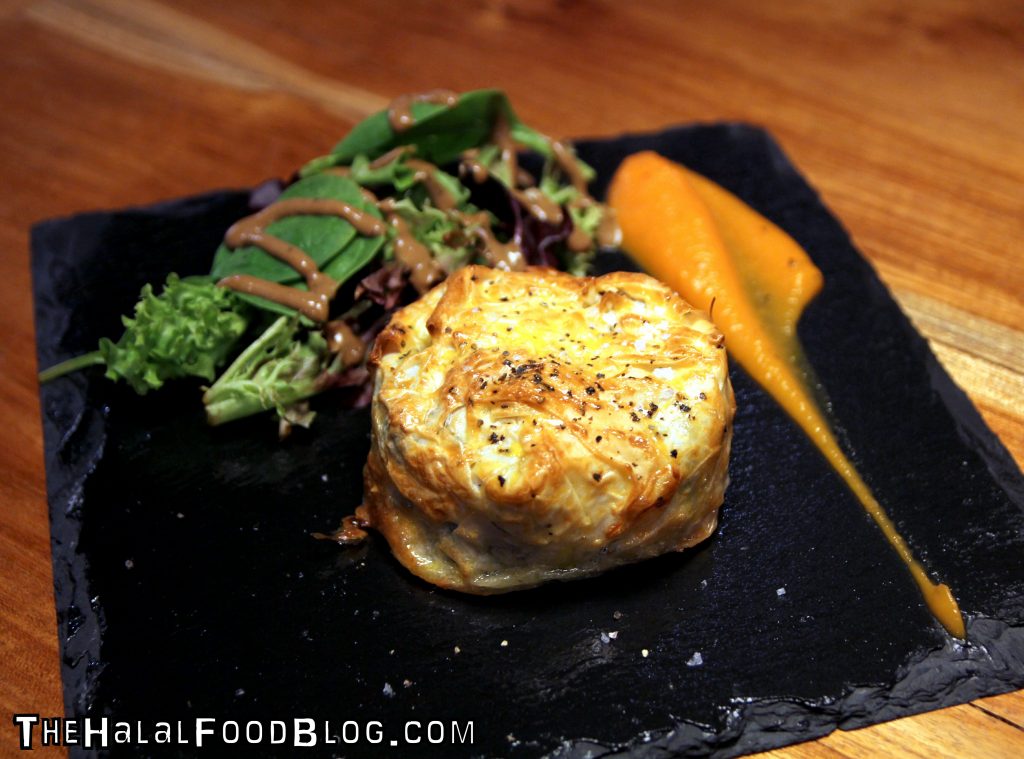 If you are not feeling particularly carnivorous, perhaps you might try the Spinach And Feta Pie!
It has… absolutely NO MEAT!! 😛
The components are simple – spinach and feta cheese – all baked into a pie.
The pie 'crust' is actually made up of Filo pastry which they make themselves at BFF by the way. So you get a nice crisp bite when you take a nice big mouthful.
And fair warning – this is surprisingly very filling!
On the side is some Sweet Potato Carrot Puree and some salad.
Aha! That salad! It has some of that Balsamic Vinaigrette which you would also enjoy if you ordered the Arugula and Parmesan Salad and it's totally the bomb!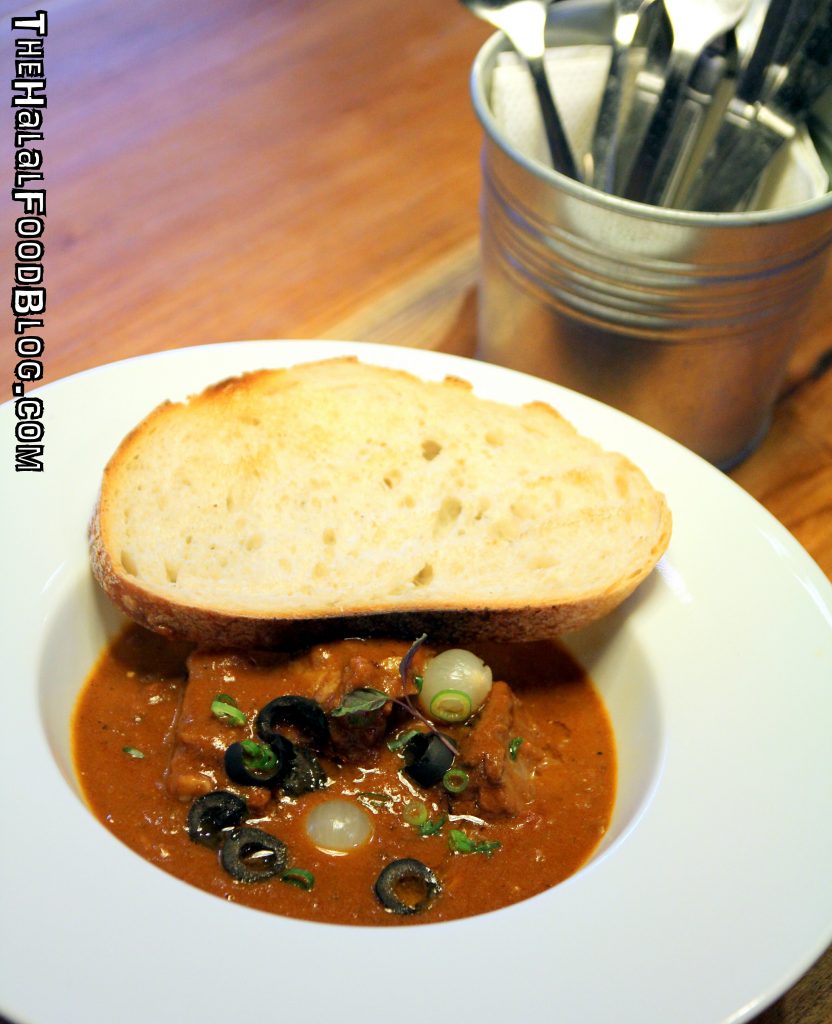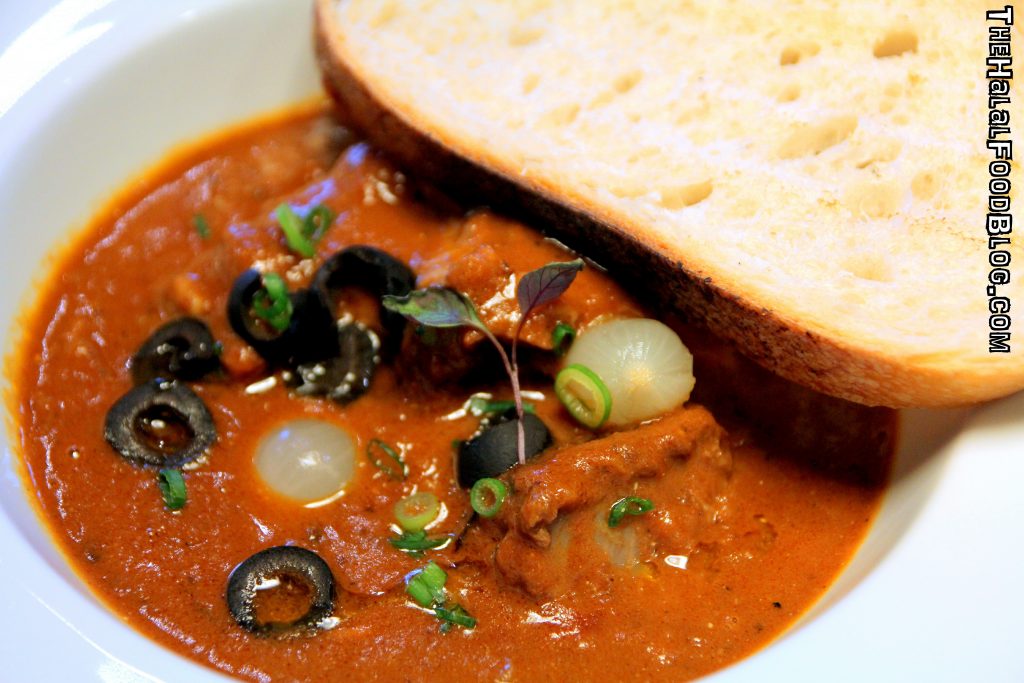 Okay back to the red meats and the last dish from the 'Mains' section of the menu that we enjoyed that evening at BFF. This is one that definitely screams comfort food and also perfect if you're looking for something that's not too heavy.
The Beef Stew has got some pretty interesting flavours incorporated into it!
Well, for one, what if I told you that was chocolate in this stew?
YES! They have actually infused dark chocolate into the tomato-based stew which not only give it a deep, dark gorgeous hue but also a very rich flavour as well.
The beef chunks are considerable but fork-tender nonetheless and blend perfectly with the flavours of the stew.
One of the best things is when you dip into the stew with that delicious slice of sourdough bread that comes with. FUYOH talk about satisfying and this is it! Next time, I'm gonna order more of that bread to mop up all the stew!
And believe it or not – that's like pretty much almost the entire 'Mains' section! The only dish we didn't order was the Pan Seared Seabass which we will most definitely get during our next visit!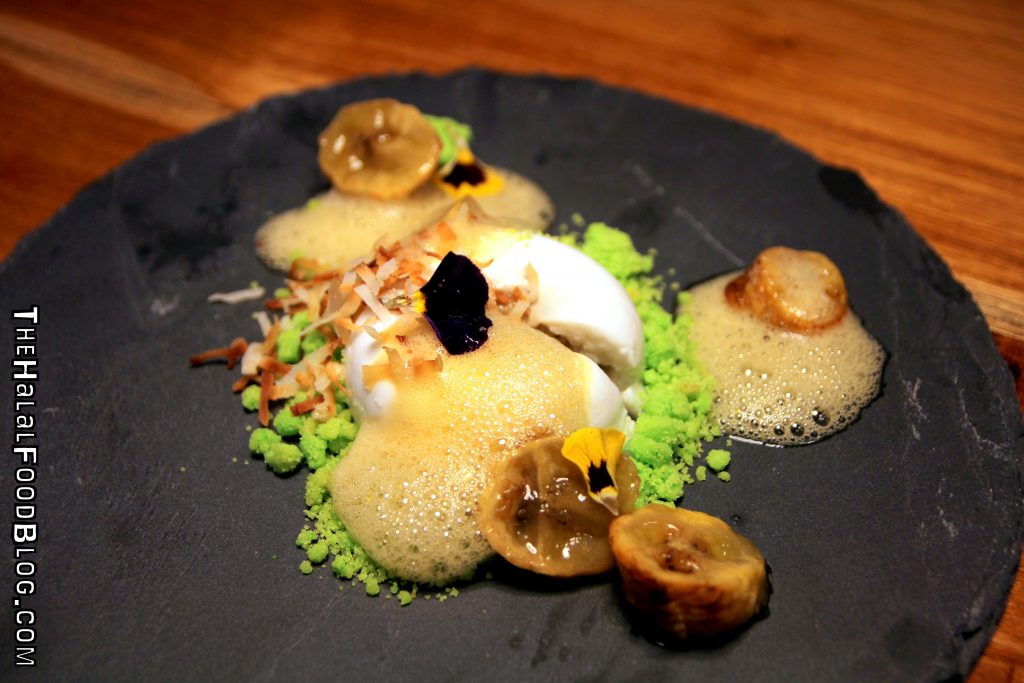 No matter how much we ate, there's ALWAYS room for dessert am I right?
And we definitely needed to access that special space reserved in our stomach because the desserts at BFF have definitely been catching plenty of attention recently!
They've definitely levelled-up and pushed the envelope with their desserts and the Nagasari is a prime example of how BFF has managed to put a modern twist on a traditional classic.
In case you are wondering if something so pretty tastes as good as it looks, let us confirm for you – YES! The Nagasari (and pretty much everything on the menu at BFF) is visually stunning and the best news is that the dishes match up in taste as they do in looks.
The Nagasari is broken down into different parts – the main part is the caramelized bananas encased in a floury dome surrounded by Pandan crumbs, sauteed coconut shavings and the absolutely genius Gula Melaka foam.
I see as kinda like a deconstructed Nagasari. Where all the parts combined together really do give you quite a unique experience…
And speaking of deconstructed…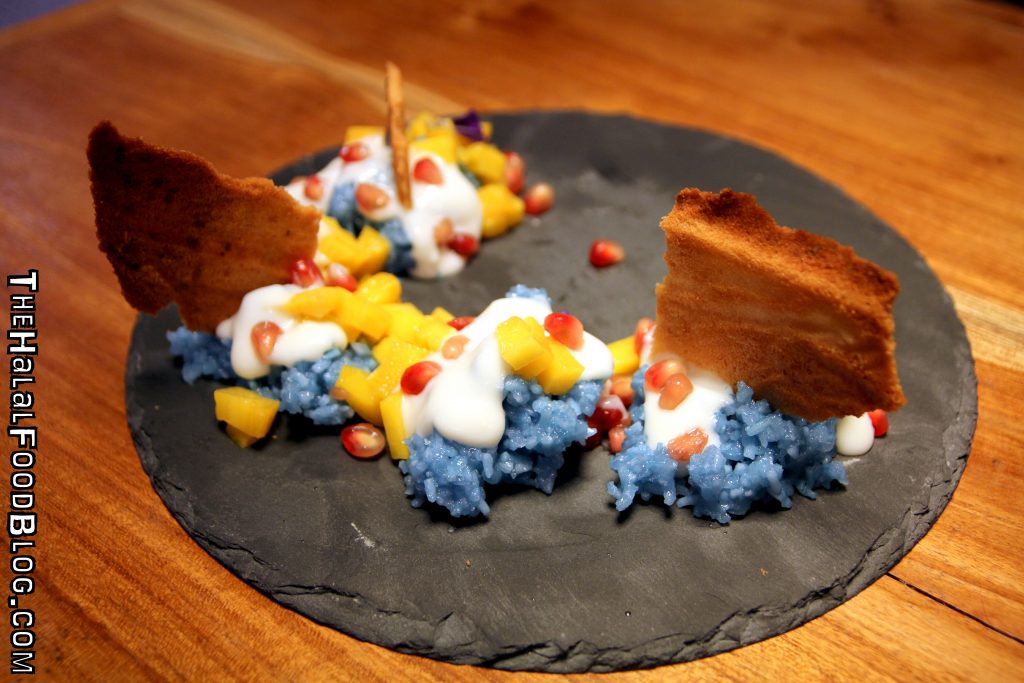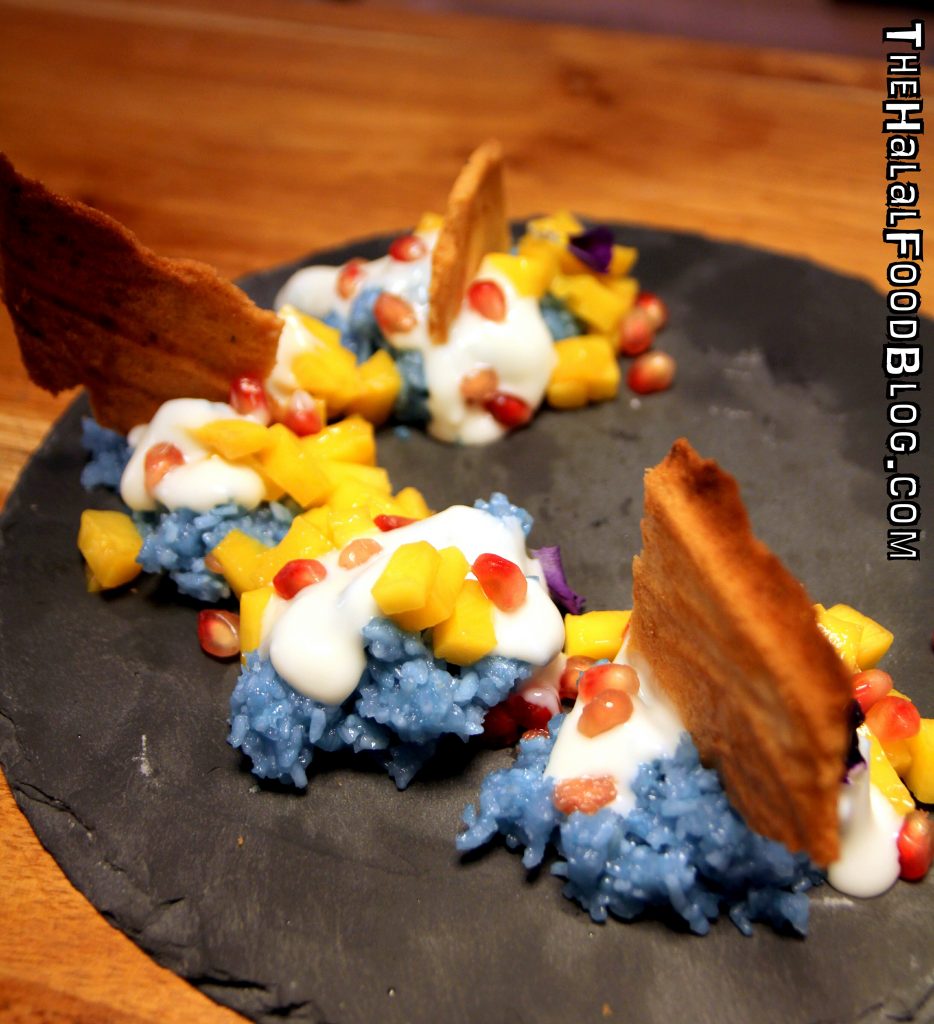 The Blue Sticky Rice with Mango is another classic dessert that's been re-imagined to epic proportions by the team at Brothers In Fine Food. Quite a myriad of colours!
The original version is a big hit in terms of flavour but it does tend to look a little plain especially when compared to this version with all its pretty colours and what nots. Definitely one for the Instagram account 😛
The mangoes were diced and super sweet and you also have a bit of tang and added texture added thanks to bits of pomegranate scattered around the dish. BFF has also added some butter wafers to add a little crunch!
The sticky rice achieves its blue hue thanks to butterfly pea flowers (which I think is the edible flowers used to decorate this dish as well). I've read somewhere that it may not be suitable for expectant mothers so maybe just take note of that.
The rice itself is nice and soft and that silky, creamy coconut cream is definitely the perfect finish to this dessert. The best way to enjoy is to assemble a bit of everything and have it all in one mouthful. Super sedap!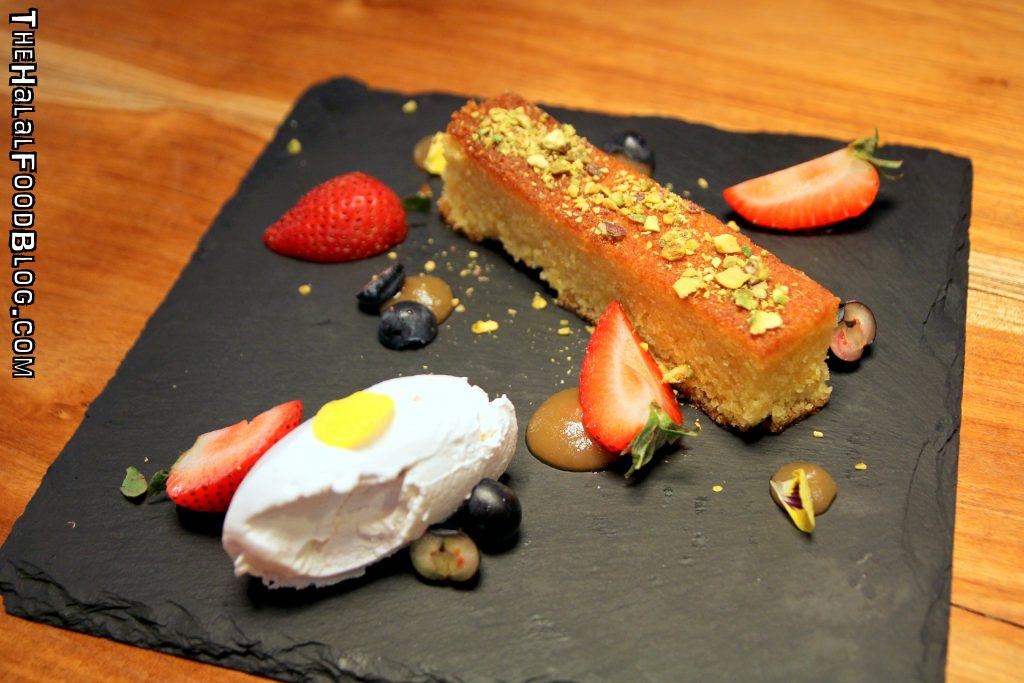 If you're looking for something that looks a little less colourful but no less sedap, then the Polenta Cake might be a good choice for you. Something a bit more traditional in a sense but still pretty unique.
So the Polenta Cake is infused with some orange and comes with drops of apple coulis, cardamom syrup for some contrast in flavours and the creme de la creme – some flavoured fresh cream on the side. (And let's not forget the pistachio nuts sprinkled on the cake!)
Let's not forget that Brothers in Fine Food also serves up some of the best coffee as well! They take their coffee seriously here at BFF and it's definitely evident from the brews that they meticulously prepare with love.
Black, white, special. You name is and they probably have it.
Espresso, Mocha, Long Blacks, Piccolo, Muddy Espresso and you can even add shots of chocolate, gula melaka or salted caramel for that extra kick too!
PRO TIP – try the special Jaffa Orange Mocha!!! (It's the one in the last 2 pics above!)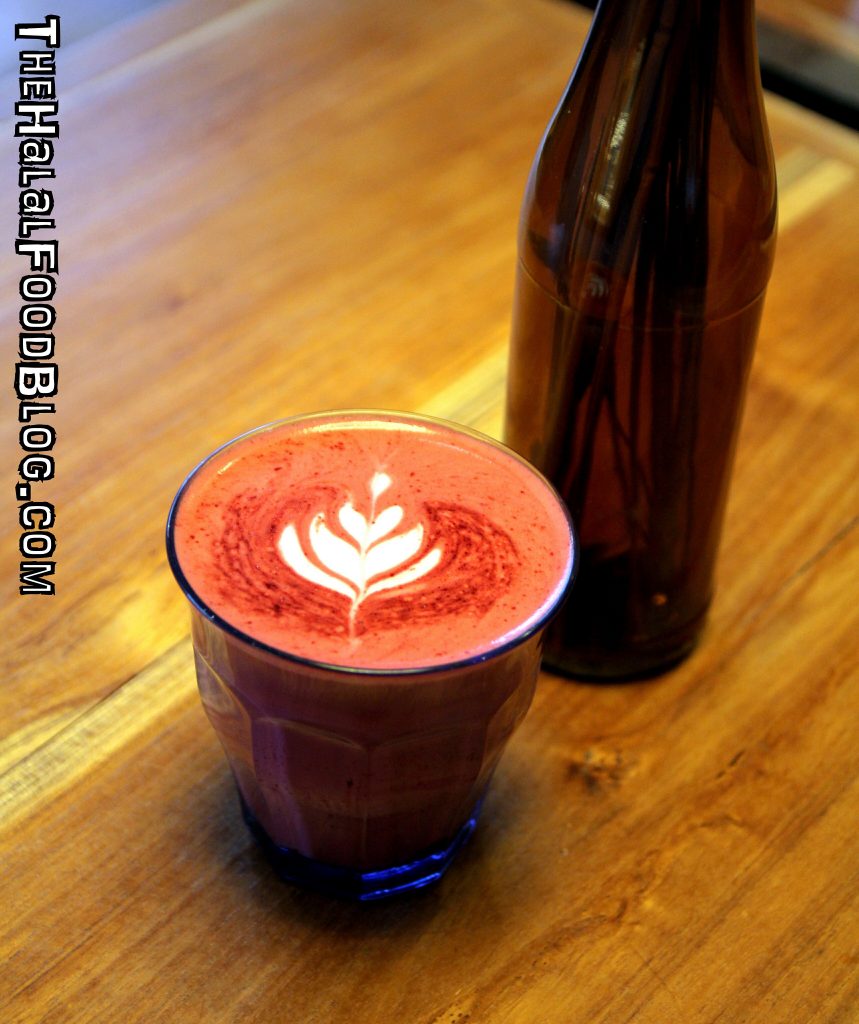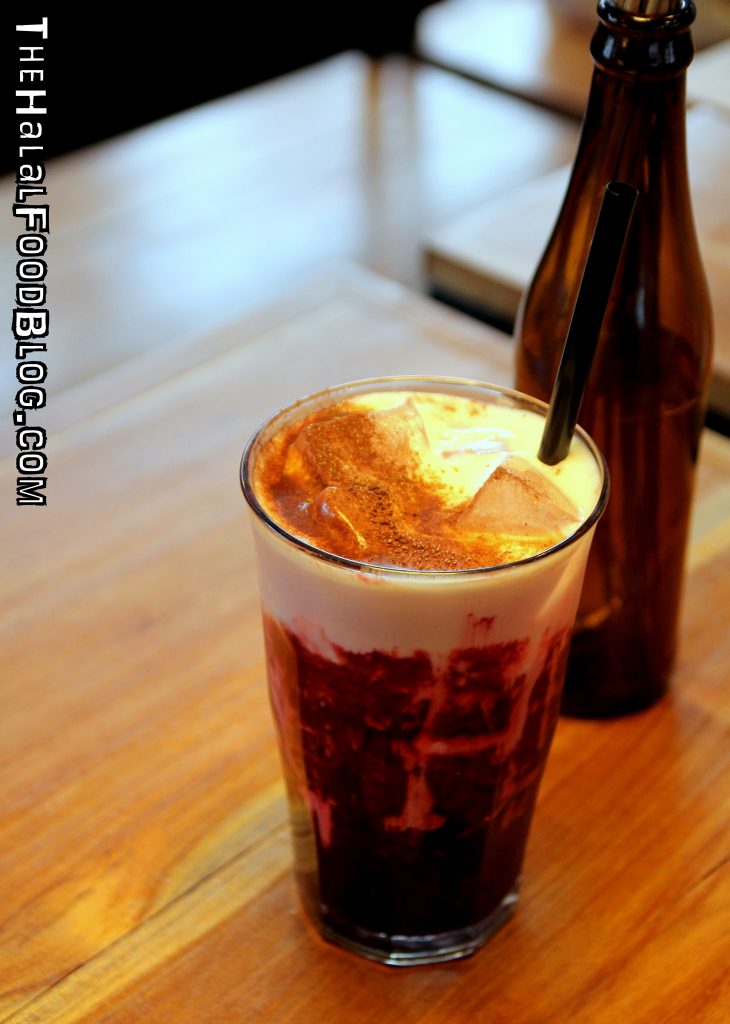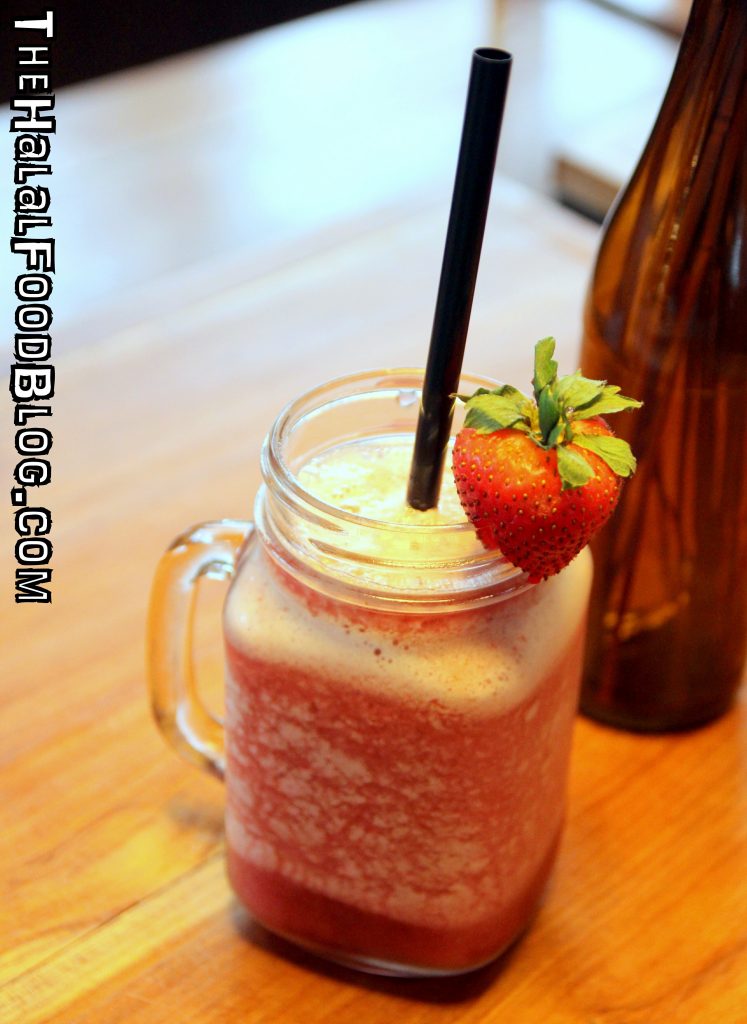 Not a fan of coffee? No problem! They have plenty of non-coffee beverages too.
Check out the Red Velvet (both hot and cold) Chocolate drinks for a start. They also have Matcha, Chai, traditional Chocolate and even Orange Hot Chocolate too.
They also have some mocktails including Thai Milk Tea, Yuzu Mojito, Lychee Iced Tea, Peach Iced Tea and Very Berry (which is ice-blended and pictured above)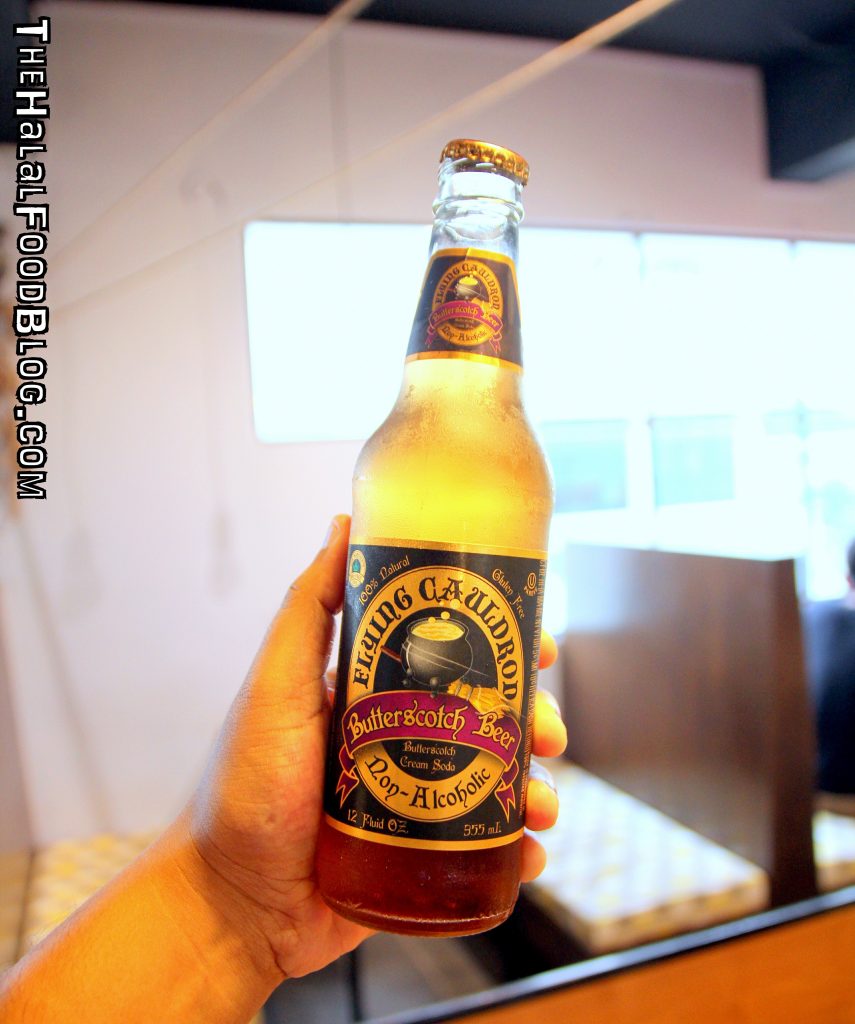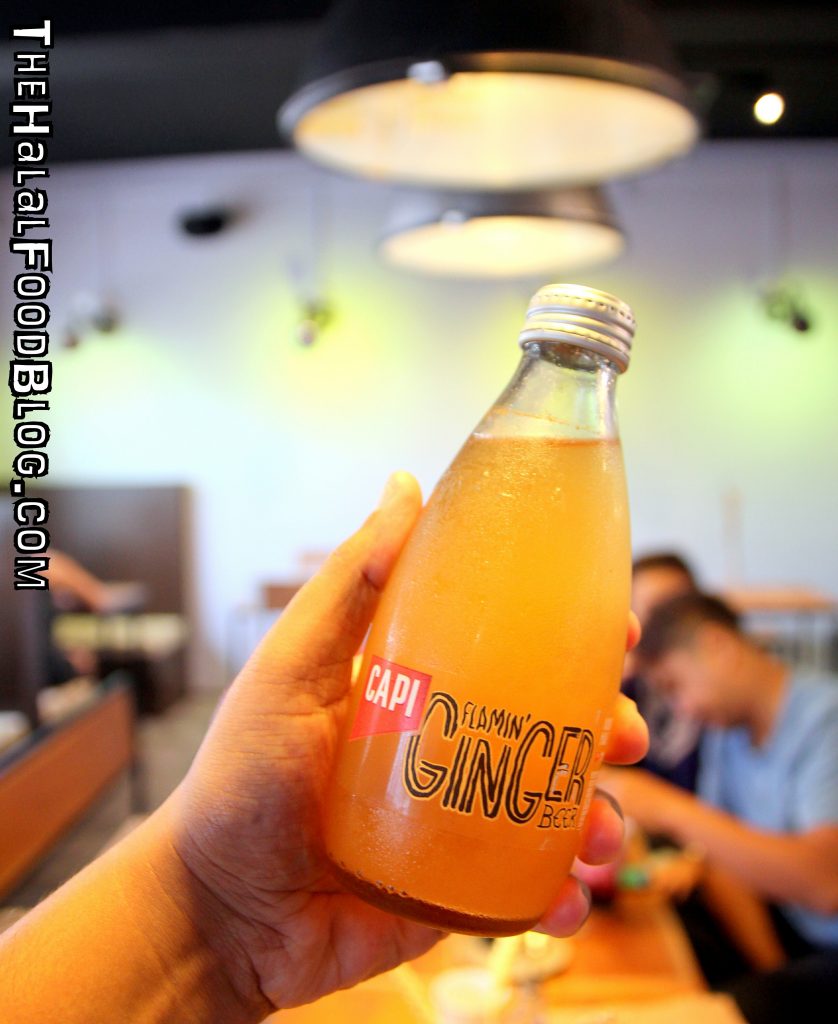 We also tried a few sodas while we were there. I simply could not resist the Butterscotch Beer (which is obviously non-alcoholic by the way). I'd seen it being sold outside but for the super high price of $8 so it's great that BFF was retailing it for $6.50. It just goes to show that you do not have to take advantage of popular trends to overcharge your customers. Power lah BFF!
Anyways, it tasted good but obviously you don't get that creamy foam that you may have enjoyed at some bazaar events recently.
The Flaming Ginger Beer was actually my favourite! If you like a nice, strong ginger flavour then THIS IS THE ONE FOR YOU! Really power. But be warned – it's really.. errr.. good at removing wind from your body LOL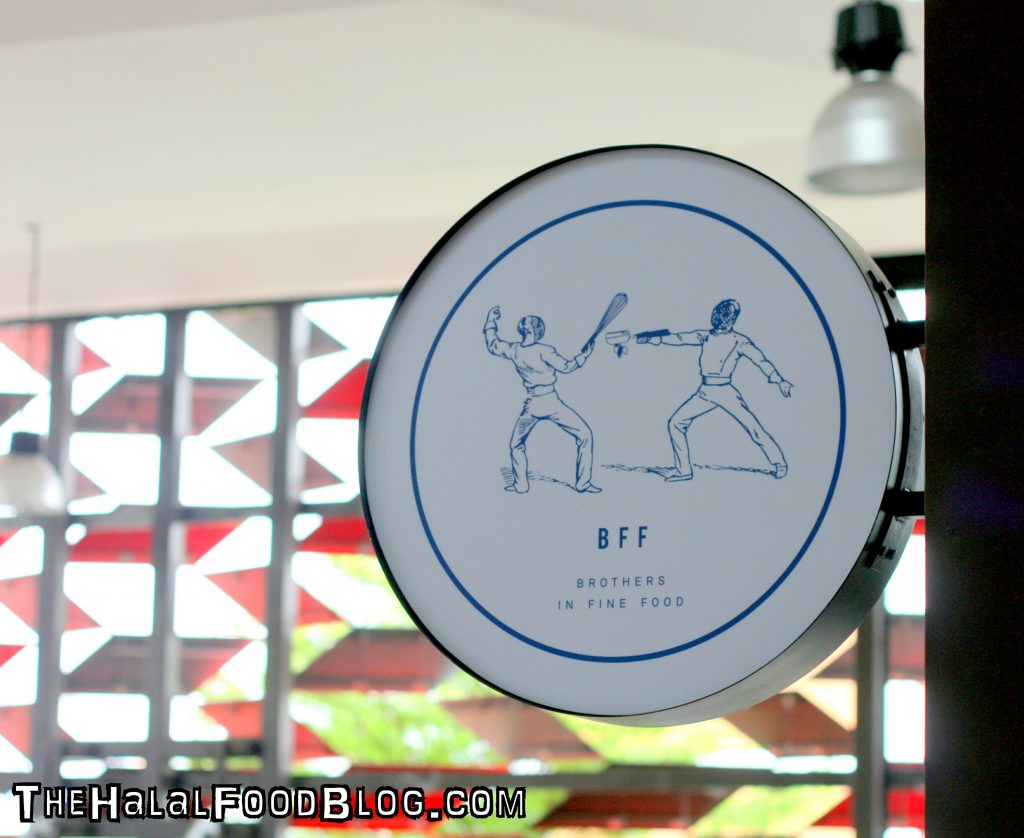 Brothers in Fine Food is really a gem. I'd say it's a hidden gem but now that I think about it, it's become so popular since they opened that it's not quite a secret anymore. Despite being located in a CC, I think people are more than willing to make the trip from all over just to visit them from what I can see.
Their hard work and excellent food and service has really propelled them to excellence and it's going to be really exciting to see what new concepts they will introduce in the future. Definitely looking for new ideas and also the next menu rotation too!
Just another cafe in CC? Not at all. Brothers In Fine Food is a cut above the rest.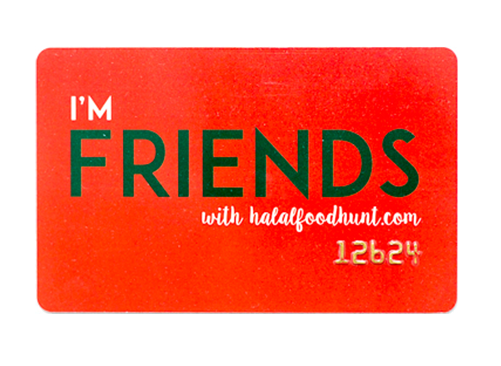 Friends with Halalfoodhunt.com Rewards Card holders enjoy special perks at Brothers In Fine Food! Read up on all the perks you enjoy there (and at over 100 other merchants islandwide!) when you click HERE!
Get your FRIENDS with halalfoodhunt.com Rewards Card now at only $18/year and unlock discounts at over 100 halal restaurants, cafes, bakeries including online e-commerce businesses in Singapore. Sign up HERE!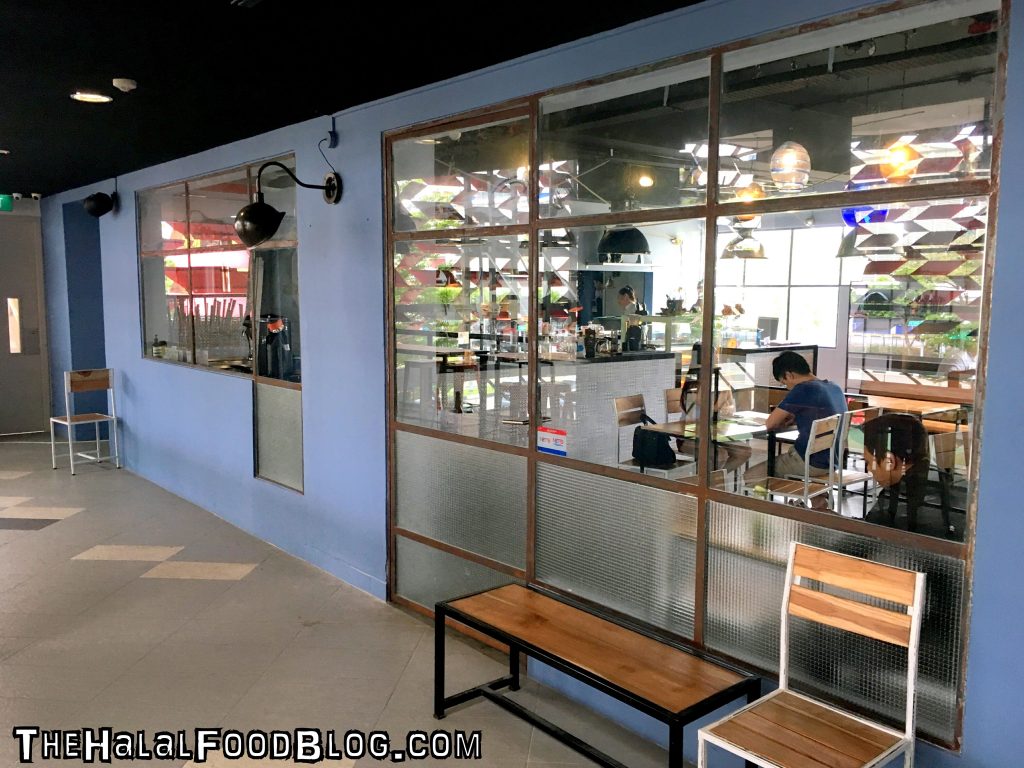 Brothers In Fine Food
Tampines West CC
5 Tampines Ave 3 #02-07
Tel: 9008 9314
Facebook: www.facebook.com/brothersinfinefood
Instagram: @brothersinfinefood
Operating Hours:
Closed on Mondays
12.00pm til 10.30pm Tuesdays til Fridays
9.00am til 10.30pm Saturdays and Sundays
All information (including prices, availability of item on menu and Halal status of establishment) are accurate at the time of posting. All photos used in this site are property of The Halal Food Blog unless stated otherwise.