So a friend tells me over lunch that she heard about this shop selling Mee Wak Katok near our office. After checking, we realized that it was only available on Fridays and Saturdays and while stocks lasted. Hmmmmm this was going to be a bit of challenge.
That evening (which was this past Thursday), I told my parents about it.
What's so special about this Mee Wak Katok anyways?
Well, apparently, Mee Wak Katok was very famous in the 1970s and was peddled by this pakcik called Wak Katok. He's have this mobile stall and he plied his trade, which happened to be this very delicious noodle dish up and down the kampungs. Based on what I've been told, he used to sell all the way from Jln Masjid and Pacitan all the way up to Jln Wijaya. But eventually, he stopped selling and it seemed like Mee Wak Katok was gone forever.
Over the years, I'd spotted some places selling Mee Wak Katok (including Asli Village and Lucky Plaza) but apparently these were not the real deal.
But how exactly were we going to confirm whether or not the Mee Wak Katok is the same as the original one from the 70s? Well, my Mum and Dad  used to have it all the time in their younger days. In fact, my Mum says she used to eat it almost every other day because it was her favourite dish.
Well, on Friday evening after work, we were already heading home when my Mum says why not go and check if got the Mee Wak Katok? So we drove over from my office and we were in luck!
And when the dish arrived, we asked the guy who brought us the dish how the recipe came about to end up at Bread & Batter and he mentioned that the cook happens to be a relative of Wak Katok. This looks promising!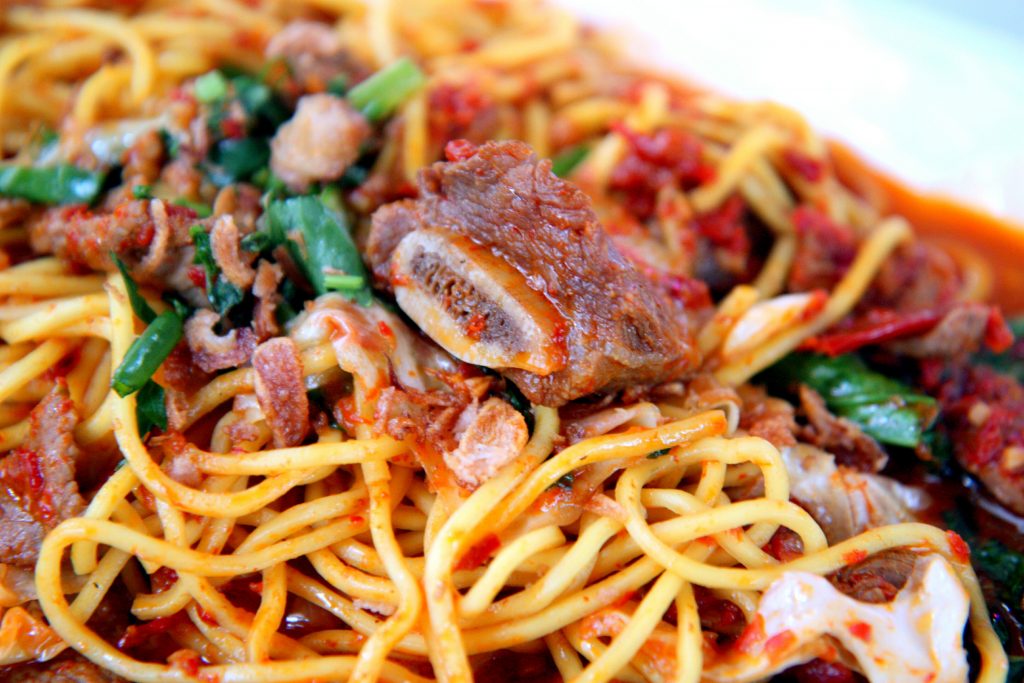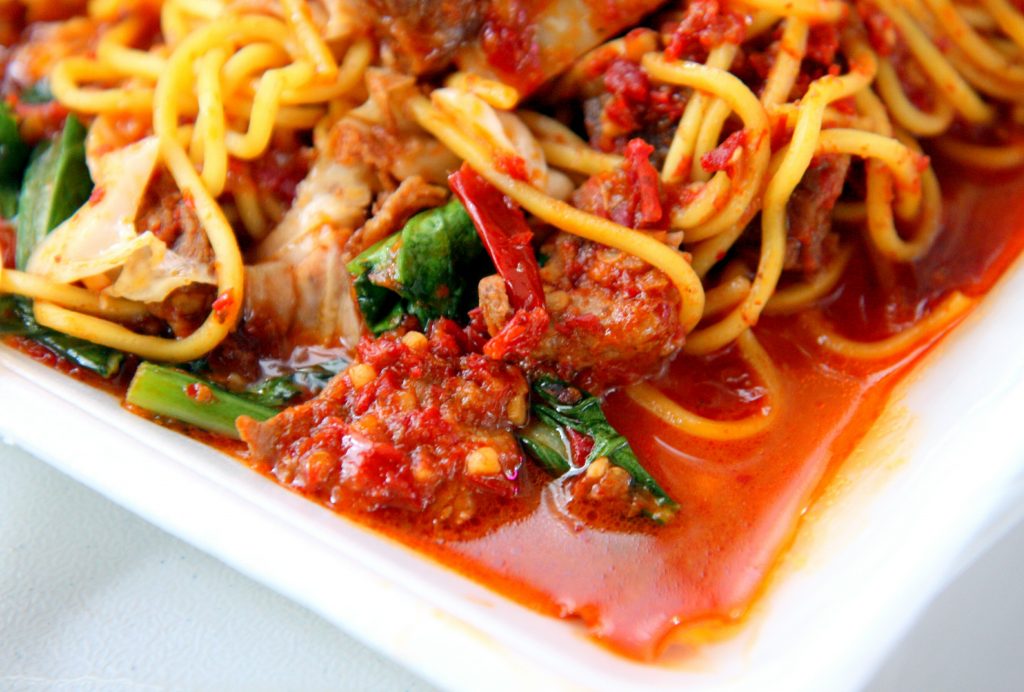 So Mee Wak Katok would probably be classified as a Mee Goreng. It's got a chili base with some meat pieces and some sawi (mustard leaves) and cabbage in there as well.
The chili seems to be a simple chili bo concoction that has a strong chili flavour and quite a spicy kick too but I guess chili lovers will probably prefer it to be even spicier. Maybe can try and ask next time for extra spicy LOL
The meat was tender! And I am talking about fork tender (and we were using plastic forks okay!) but we noted that even though the original Mee Wak Katok did have a bit of a beef broth base, there were bits of tetelan (fats) in the original whereas the tetelan were missing her but you'd get bits of rib bone which is quite a good choice of cut actually in this case.
Another difference is the gravy. The original Mee Wak Katok had some gravy but was actually drier than this version. But having said that, I personally thought that the gravy was not bad as a Chili Mee Goreng.
Adam's Verdict:
Mee Wak Katok 3/5
Mum's Verdict:
Mee Wak Katok 3/5
Honestly, those ratings above of 3/5 are based on this dish as a Chili Mee Goreng.
Because, according to my Mum's experience, this dish unfortunately is not quite up to the same scratch as the original Mee Wak Katok.
There were quite a few differences but I guess the biggest difference which we can't even put into words is the personal experience someone has with a dish. You just know whether or not that dish is the same or not you know what I mean?
But like we said, it's not a bad dish at all. It's actually very tasty and the serving size is very generous. Definitely okay to share between 2 people if you're not that hungry. Anyway they also have other stuff at Bread & Batter like Lemberoth (a stew), cakes, puffs and pastries too. Plus the people seems really friendly! But it's quite a small space with 3 small tables FYI okay so drop them a message at the number listed below to check on availability.
In the end, a nice dish but I guess the search for the elusive Mee Wak Katok goes on…
Blk 42 Chai Chee Road
#01-68
Tel: 9451 4465
Facebook: www.facebook.com/BreadBatterBagus
Facebook: www.facebook.com/MKuking
Operating Hours:
10.00am til 7.30pm Mondays to Thursdays
2.00pm til 8.00pm Fridays and Saturdays
Closed on Sundays
All information (including prices, availability of item on menu and Halal status of establishment) are accurate at the time of posting. All photos used in this site are property of The Halal Food Blog unless stated otherwise.